DMP Factory 500 3D Printer
The DMP Factory 500 is an industrial 3D printer that produces outcomes related to metal parts and functional prototypes. The printer is based on powder bed fusion technology.
PROS
Modularity for a Scalable Factory Solution.
Uniform, Repeatable Quality
Metal 3D Printing with Lower Part Costs
High Productivity
Seamless Large Parts
CONS
Cost may be an issue for most of the people willing to buy this 3D printer.
Product
Specification
Videos

With a large build volume of 500 mm * 500 mm * 500 mm and high throughput enabled by multiple layers, DMP 500 delivers high productivity in metal 3D ...
| | |
| --- | --- |
| Model | DMP Factory 500 |
| Manufacturer | 3D Systems |
| Price Range | > $ 250000 |
| Release date | 2018 |
| Country | United States |
| Availability | Available |
| Classification | Industrial |
| Technology | Powder (SLS- SLM…) |
| Material | Metal |
| Generic material | Yes |
| Max. build size | 500 × 500 × 500 mm 19.69 × 19.69 × 19.69 in |
| Max. build volume | 125.00 L |
| Heated print bed | No |
| Heated build chamber | No |
| Automatic calibration | No |
| Closed frame | No |
| Dual extruder | No |
| Independent Dual Extruder | No |
| Full color | No |
| LCD screen | No |
| Touchscreen | No |
| On-board camera | No |
| Mobile app | No |
| 3D scanners | No |
| CNC mill | No |
| Electronics 3D printing | No |
| Laser engraving | No |
| Conveyor belt | No |
| Air filter | No |
| Pellet extruder | No |
| USB | No |
| Wifi | No |
| Bluetooth | No |
| SD card | No |
| Ethernet | No |

Table of Contents
metal additive manufacturing system which is designed for seamless large parts and functional prototype manufacturing.
New equipment inside the DMP Factory 500 offers manufacturers from the field of Aerospace, Automotive, Motorsport as well as high-tech industries increased efficiency.
You can build consistent parts and functional prototypes of high-quality using this printer.
An important marketing point of this printer on which the printer manufacturer banks upon is lower Total Cost of Ownership.
This point applies to original equipment manufacturers and suppliers in the field of Aerospace.
For building this printer, 3D Systems which has been a reliable name in the 3D printing industry for years now has partnered with GF Machining Solutions.
The latter offers a vast range of Aerospace component manufacturing solutions.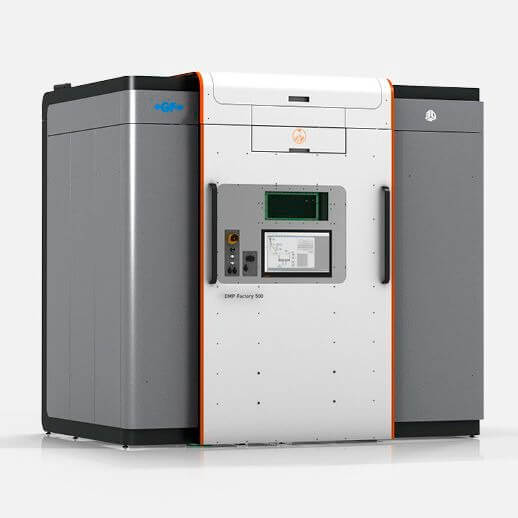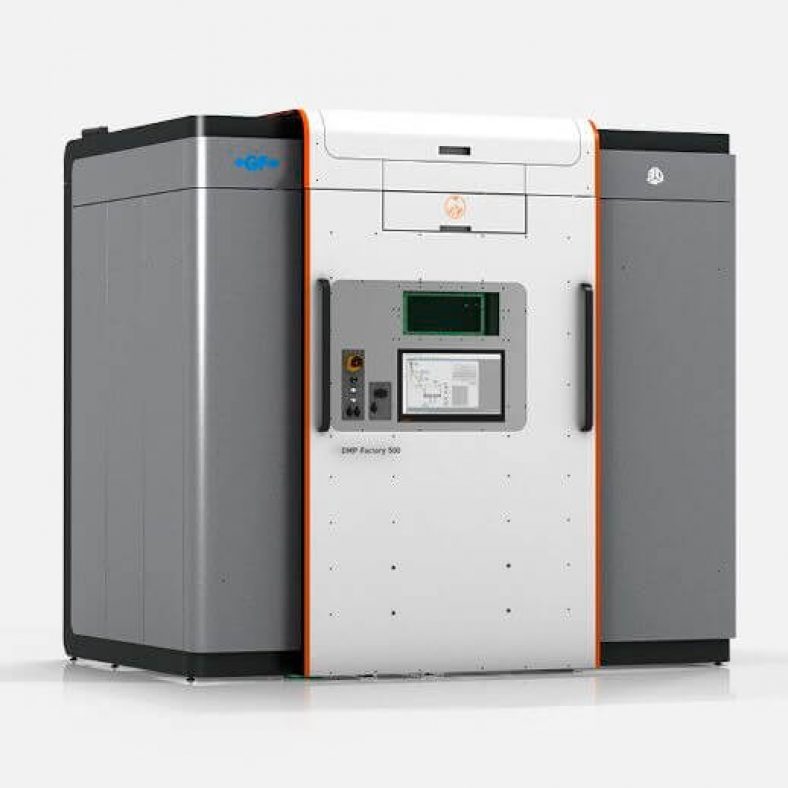 This 3D printer produced by 3D Systems was released in the year 2018. DMP Factory 500 has a scalable
Not everyone knows about the contribution of additive manufacturing in making Aerospace components.
You'd be shocked to know that the growth rate of additive manufacturing in making Aerospace components is 23 percent.
This might be the highest for additive manufacturing when compared with other industries such as Automotive, Jewelry, or healthcare.
Now that we have associated this printer a lot with Aerospace components, let's see what makes this printer more efficient in that field. We'll now see different aspects of the printer one by one.
Features
The DMP Factory 500 enables Aerospace manufacturers to develop their own dedicated additive manufacturing factories.
The printer is optimized in terms of the workflow. And it ensures massive scalability combined with high throughput and low TCO as mentioned above.
The printer is essentially used for metal 3D printing which is known as the technology that is best suited for producing small, intricate metal parts, and achieving consistency in building high-quality parts and functional prototypes.
This is a challenge for most of the printers in the 3D printing market. But not for DMP Factory 500, it has achieved some sort of expertise in dealing with the challenge.
Modularity for a scalable factory solution
DMP Factory 500 features a viable modular factory solution as it allows you to overcome a wide range of hurdles such as control of part quality, cost, and workflows, additionally, scalability.
It is because of this feature that the printer can print by reducing the weight significantly and increasing stiffness to weight ratio.
The printer manufacturer boasts about the fact how it was able to build a satellite bracket, complex in shape, and larger in size, in just 35 hours.
Seamless large parts
DMP Factory 500 has the largest offering in terms of build volume.
This printer has an intelligent laser configuration in combination with 3DXpert software that drives the scanning technology of DMP 500 Solution.
When all of these work in combination, what you get as an outcome is the production of seamless large parts which are the size of the full build volume.
The highest surface quality for metal 3D printed parts with outstanding material properties is guaranteed by the company.
Uniform, Repeatability Quality
When you are up for mass production this printer is extremely helpful because as claimed by the company, this printer can repeat its part quality.
There is consistency when speaking of the DMP Factory 500 for power control, batch production, and delivering scalable metal additive manufacturing.
The printer features a vacuum chamber for ensuring the lowest oxygen content which produces high-quality metal parts in the printer's module.
The waste of powder is also eliminated and the vacuum chamber can be used again and again without needing any sort of replacement.
High Productivity
The build volume offered by this 3D printer is 500 mm * 500 mm * 500 mm. It also offers high throughput as multiple layers are present inside the printer.
Overall, the printer leads to producing a high-quality metal part or a functional prototype.
The printer, when paired with its modular design, scaling production is straightforward by the installation of the additional metal printer and powder modules.
Lower part costs
This has been made possible by the modular design of the 3D printer which enables continuous function of all metal 3D printing and powder management modules for maximizing uptime, as well as its throughput, as well as operational value.
Your investment will be optimized by the ability of the printer for matching its number and types of modules required for the production of parts or functional prototypes.
This feature of the DMP Factory 500 differentiates the printer from other competitors in the same price range.
It is especially attractive if you are a manufacturer who builds parts and functional prototypes on a massive scale.
Because that's when you are looking for a printer that manufactures parts at lower costs! Also,
Specifications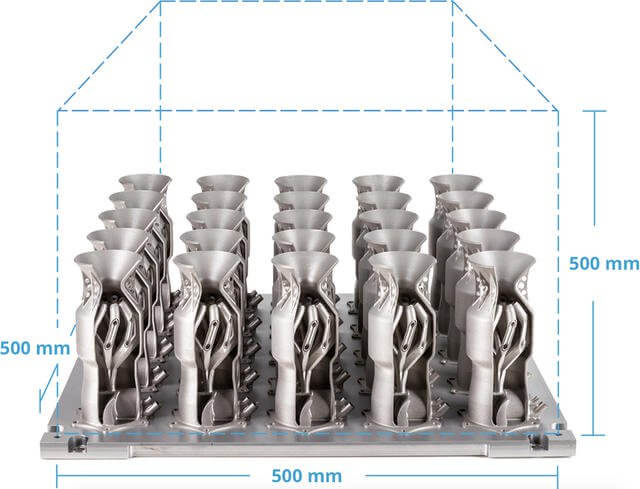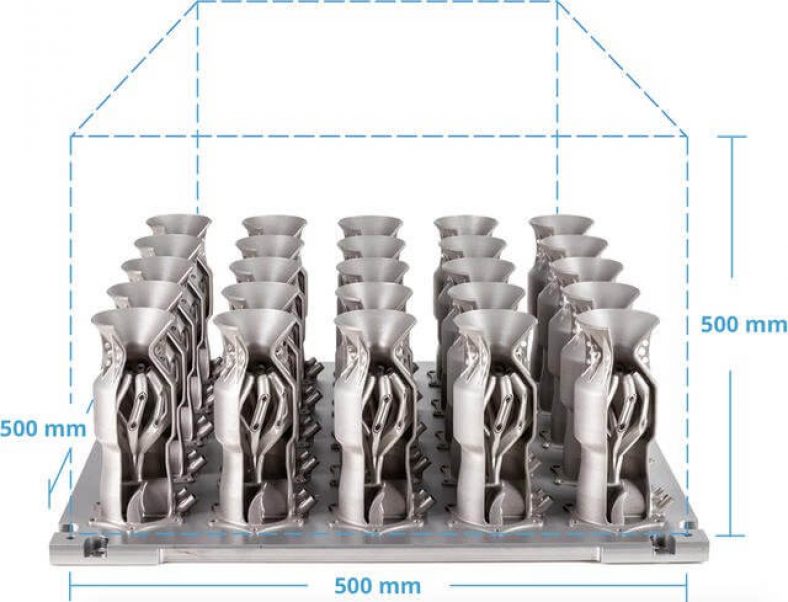 Credit: siusystem.ru
The DMP Factory 500 is an industrial 3D printer that produces outcomes related to metal parts and functional prototypes. The printer is based on powder bed fusion technology.
The build material inside the printer is a powdered form of metal. It can offer a build volume of 500 mm * 500 mm * 500 mm.
It comes equipped with a unique vacuum chamber concept which allows oxygen less than 25 ppm inside it.
The printer also comes with quick-swappable removable print modules that can be very helpful during the post-production of parts or functional prototypes.
It uses the fast bi-directional deposition which ensures that the distribution is uniform so that nowhere in the part or functional prototype, the layer is seen as non-uniform.
It is also easy for the laser to cure the layers after they are laid down.
Price
For getting the exact price of this printer you need to contact the manufacturer of this printer i.e. 3D Systems.
First Impressions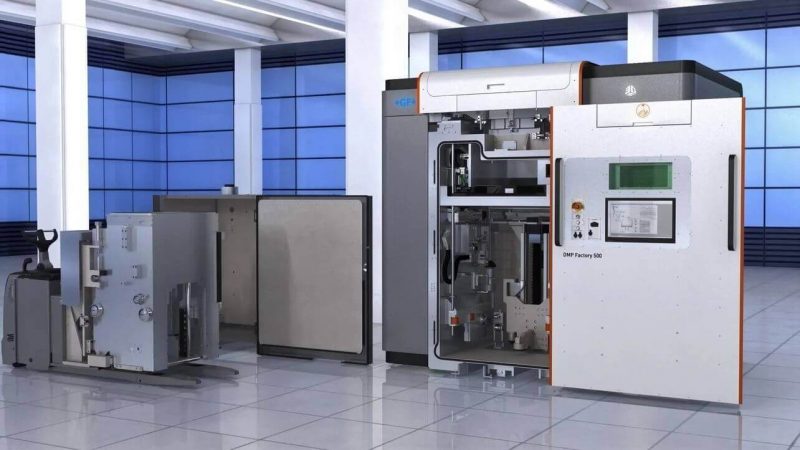 Credit: all3dp.com
The system consists of four units. One of them being the transporter module, the function of which is to take one part from one location to the other.
The other one is the storage box, the function of which is to store powdered metals in a safe and secure way.
There is the 3D printer and apart from them, the part seems like a preheater wherein the material is taken before it is taken to the 3D printer.
Overall, the system looks pretty much connected; all you need to do is learn how to monitor the complete process.
The color combination of black and grey is able to attract anyone's eyes.
Since the complete production system has four units, you will need more space than you do for general industrial 3D printers.
So, if you do not have a warehouse or a room specially dedicated to the 3D printer, you are definitely going to need one.
There is a parking module, printer module, power management module, and a removable print module with a transport module that comes with DMP Factory 500.
You need to learn how to monitor and control each one of these modules for optimizing your workflow.
Managing each of these modules according to your need gives you an opportunity to produce customized parts and functional prototypes.
After having gone through three of the most important aspects of DMP Factory 500, let's shift our attention to the way in which one must set this printer up!
Setup
Since it is an industrial 3D printer, like all other industrial printers, the printer manufacturer will provide you with installation instructions on-site.
Apart from that, there is a complete set of instructions manual regarding the management system of the module as well as the monitoring system of the printing process and controls of a different part of the printer.
In addition to this should be the instructions that are necessary for the powder storage part as well as the preheater part.
In case you need the company's support all you have to do is figure out the contact number of this company, its email address and ask your doubt.
Printing Type/Cost
As mentioned in the specifications section, the printer is based on powder bed fusion technology.
Here the laser is used for curing parts and functional prototypes, once layers of them are formed inside the print bed of the printer.
The higher-powered the layer, the higher the quality of parts is printed.
Logic is, the more uniformly distributed the powder, the higher quality of parts are 3D printed.
The printing cost of this printer is higher than printers operating on other techniques that do not use laser or electron beams.
Print Quality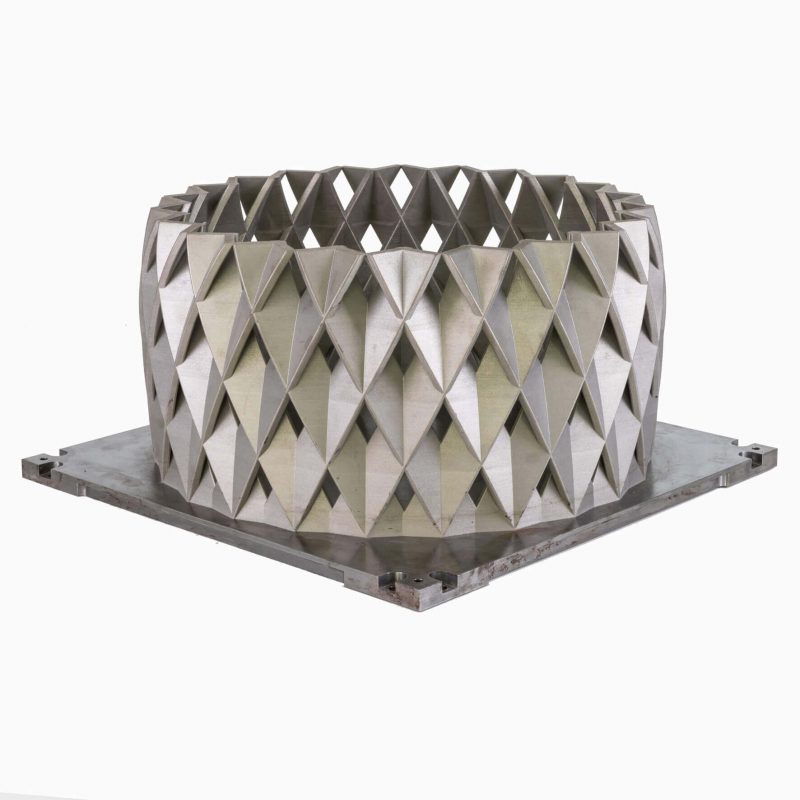 Credit: siusystem.ru
As this printer has its application in the areas of aerospace, automotive, medical, dental, and consumer goods the parts and functional prototypes that are produced by the printer are of high quality matched to the dimensional accuracy.
Additionally, the modular design of the DMP Factory 500 solution lets the continuous function of all the metal 3D printing and powder management modules to Increase and maximizes:
The uptime.
Throughput.
Operational Value.
The layer height that is seen in the parts and functional prototype produced by DMP Factory 500 is very low.
Meaning that the objects made by the printer are equivalent to the objects made by the traditional methods of manufacturing.
Software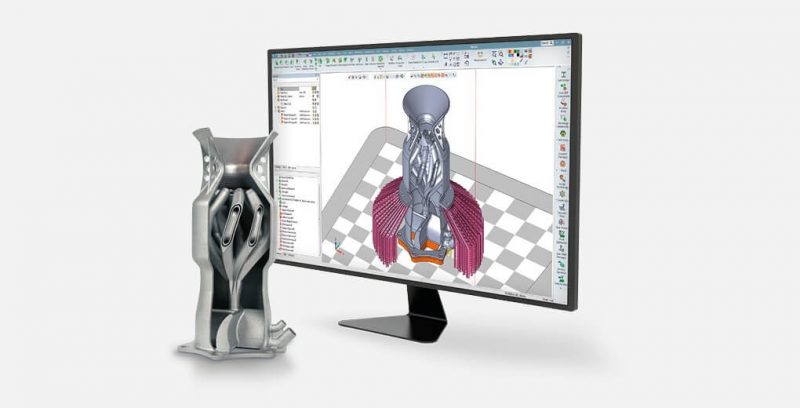 Credit: gfms.com
3DXpert is the software solution used by this printer; it is an all-in-one integrated solution provider.
This software solution is used for preparing, optimizing, and manufacturing 3D CAD models that use industrial additive manufacturing.
The software supports you in every step of the additive manufacturing process, starting from the workflow, to the design, ending with post-processing.
3DXpert will let you transform from a 3D model to a successfully printed part within a short span of time and in an efficient manner.
Customer Support
3D Systems has been in the field of the 3D printing industry for years. All the complaints of its customers are entertained professionally, with patience by the technical team of the DMP Factory 500. You can reach out to them via phone call, email, as well as Skype.
Parameters Influencing Buying Decision
The factors that should be taken into account while purchasing this printer are mentioned below.
3D Printer cost: Need to request from the manufacturer.
3D Print quality: Capable of printing parts and functional prototypes that can be used in many industries.
3D Print speed: Industry-standard.
3D Printer capability: Capable of printing with lower part costs.
3D Printer Practicality: Parts manufactured by the printer are used in the healthcare, aerospace, jewelry, and dental industries.
3D Printer User expectations: Industrial manufacturers' expectations would be completely satisfied with this printer.
The Verdict
All of you who are looking for a long-term future in the field of additive manufacturing must consider this printer while buying one for your business.
Companies that have discovered a desire to produce metal additive manufacturing applications in an in-house laboratory setting will be able to realize the true value of this printer.
Very often, in metal additive manufacturing the costs of human resources requires an unrealistic approach for volume parts production.
DMP Factory 500 allows you to build higher quality large parts with a lower TCO.
The process of producing parts or functional prototypes is a simple one based on a seamless workflow.
There are too many upsides to buying this printer if you have enough budget. Every module of the printer is completely integrated with a sealed Removable Print Module.
This module delivers a controlled print environment and is engineered for moving between the printer and its powder modules.
A combination of both of these points results in a continuous production workflow.
To an extent, that you can configure a custom metal additive manufacturing factory by choosing the right combination of modules for optimizing their specific production application.