Artec Space Spider
If you are a professional wanting to invest in a 3D scanner offering additional accuracy and benefits, the Artec Space Spider could offer the desired results with ease.
PROS
Offers amazing scan resolution
Easy to use
Do not require calibration
Lightweight and portable
CONS
Expensive
You might feel the scanning distance a little limited
Table of Contents
Designed to offer enhanced quality and precision to engineers, CAD artists, and other professionals, Artec Space Spider is a handheld 3D scanner popular for many of its amazing qualities.
Capable of scanning small to large objects, the scanner finds plenty of applications in different domains. It can effortlessly capture intricate details in high resolution. That too, at a faster speed and in brilliant color.
Based on blue light technology, Artec Space Spider can render complex geometry along with thin ribs and sharp edges. Artec 3D, the Luxembourg-based manufacturer is known for creating popular 3D scanning solutions and Space Spider is one of them.
After winning the 2019 3D Scanning/Metrology Company of the Year award, Artec 3D further instilled its reputation among professionals and businesses.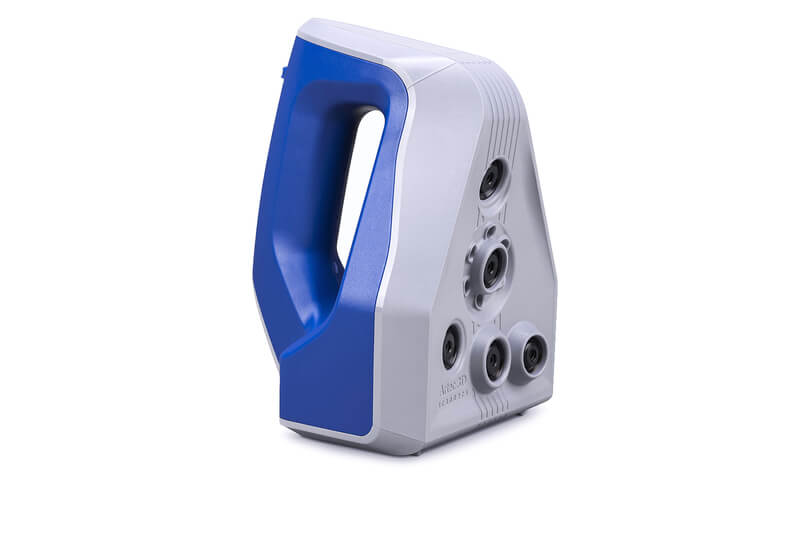 Artec Space Spider is an upgraded version of the Spider 3D scanner and flaunts a number of premium features. Helping companies digitize objects seamlessly, the device is one of the top-notch choices among professionals.
To further understand the benefits and challenges the machine entails, read our detailed Artec Space Spider 3D scanner review.
Features
For a price of $24,800, the Artec Space Spider 3D scanner is surely not for hobbyists and focuses on helping industries realize complex geometries with ease. Hence, you will find an array of advanced features linked with this device.
Highest Level of Accuracy
Boasting multiple lenses, the 3D scanner is capable of achieving high accuracy of 0.05 mm. It also offers a precise 3D resolution of 0.1 mm. Not just that, one can also use this scanner to capture fingerprints including the curves and ridges.
Users can simply point to the 3D scanner and digitize objects as small as 5 mm.
The Space Spider is the perfect solution for rendering intricate parts or even acquiring minute designs in larger objects. Hence, you can consider this machine as one of the handiest and capable handheld scanners.
Designed for Serving the ISS
According to the manufacturer, the Artec Space Spider 3D scanner was primarily designed for the application within the International Space Station (ISS). This also reflects the name of the device.
Therefore, you can expect the scanner to boast top-notch electronics. In addition, it can easily regulate the temperature inside for performing easily in case of change of situations or environment.
No Need for Calibration
Artec's "hybrid geometry and color-based" tracking, when coupled with its studio software, make the setup of the scanner a piece of cake. One does not need to calibrate the device or even prepare targets for digitization.
In short, to scan objects using Artec Space Spider, one just needs to point and shoot. Not only it simplifies the overall process exponentially but also completes the task in less time.
Putting the cherry on the cake top, the scanner can even work without disturbing the target needing to be scanned. Therefore, the device is very useful for complex applications such as medicine or research.
Amazing Results When Scanning Intricate Objects
The scanner has a smaller working distance along with a brief field of view. This means that the Artec Space Spider can easily scan smaller objects and intricate geometries. Given its accuracy, the results are highly detailed and precise.
Further, the device can capture textures, that too with a high-resolution ranging up to 1.3 MP (megapixels), as well as colors up to 24 bpp (bits per pixel). This allows seamless rendering of mechanical assemblies that are complex to capture otherwise.
Overall, you can trust this machine for a number of applications. From results to ease of use, there are many reasons to choose Artec Space Spider over other competitors.
Fast Operation
The speed may lag a little when compared to the other scanners designed by the Artec 3D, it still is one of the fastest solutions. With a scanning speed of up to 7.5 fps (frames per second), the scanner can easily capture 1 million data points every second.
Bypassing the scanner for once over the object, users can create accurate files. However, multiple passes are recommended to ensure increased scan resolution.
Integrate Multiple Scanners and Customize the Work
Artec Space Spider with their Studio software allows users to integrate multiple scanners together for synced operation. Not just that, one can also combine scans from Space Spider together with the ones captured from Artec's Ray or Eva for creating better and speedier scans.
Specifications
| | |
| --- | --- |
| | |
| Technology | blue light technology |
| Price | 24 800 $ |
| 3D accuracy over distance | 0.05 mm + 0.3 mm/m |
| Working distance | 0.2 – 0.3 m |
| Volume capture zone | 2,000 cm³ |
| Texture resolution | 1.3 mp |
| Colors | 24 bpp |
The scanner has a footprint of 190 × 140 × 130 mm and weighs around 0.8 kgs. It's very portable and easy to use.
Offering a point accuracy of up to 0.05 mm and 3D resolution of up to 0.01 mm, the scanners can perform at their best in varying environmental conditions as well.
When considering the 3D accuracy over distance, the device showcases impeccable results of up to 0.03% over 100 cm. By maintaining a working distance between 0.2 to 0.3 m, the Artec Space Spider can produce amazing scan results.
It has a volume capture zone of 2000 cm³ which again is exemplary. As mentioned, the speed is fast and reaches up to 7.5 fps. For USB streaming, one must use an external computer. For a 3D scan, the device has a Blue LED with 6 white LED lights 2D scan.
Price
As expected, the professional handheld Artec Space Spider is expensive and costs $24,800. Therefore, it is not for enthusiasts and caters to professional applications.
First Impressions

Innovatively designed, the looks of the 3D scanner do resemble its name. Instead of eight eyes as spiders, the Artec Space Spider only boasts five, but still seems familiar.
The center eye works as the RGB camera. On the contrary, the other LED flash bulbs surrounding the center eye are for capturing textures. Therefore, one does not need any special light setup for object preparation.
The right corner eye at the bottom acts as the blue light pattern projector while the rest of the eyes work as sensors to capture the pattern.
What makes this scanner unique is its selection of three cameras at different angles as well as depths when compared with its competition using just two.
Setup
It's easy to set up the scanner for the first time with the proper instructions available in the box. Mostly, it is a point-and-shoot device with no need for calibration when used with Artec's studio software.
Scanning Type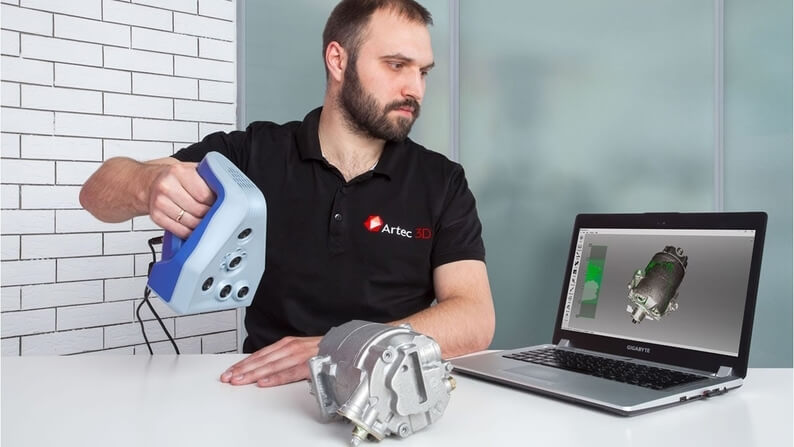 The Artec Space Spider 3D scanner is based on blue light technology.
Scan Quality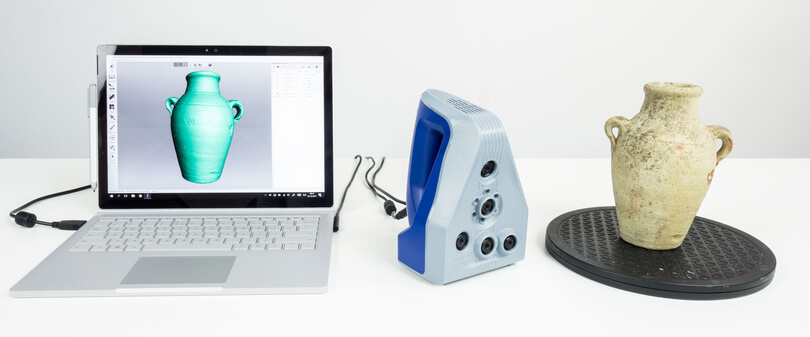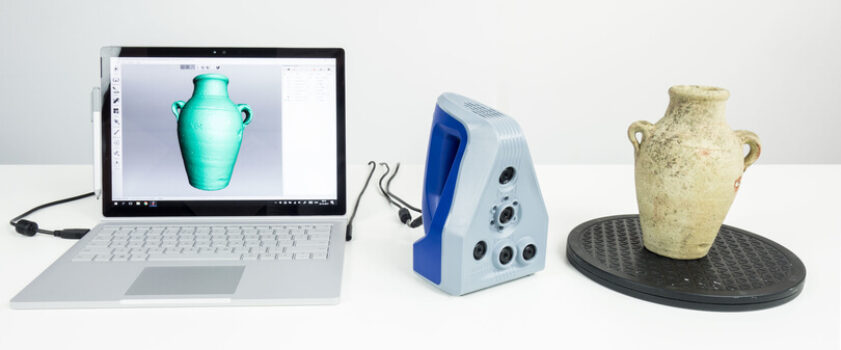 Credit: 3dscanexpert
Without any hesitation, you can consider this device to outperform most of the 3D scanners available in the same price range and even above. With hybrid geometry and color-based target-free tracking and an accuracy of up to 0.05 mm, the scanner works exemplary.
Software
Artec's Studio software works seamlessly for Space Spider. The device also couples well with 3D System's Geomagic programs.
In addition, the manufacturer has come up with a separate scanning application for Mac, ScanApp. Moreover, the Scanning SDK from Artec helps developers in customizing their scanning workflows as per specific needs.
This also assists developers while creating automated scanning. Using these two solutions, the Studio as well as ScanApp apps, one can prepare and export digital files to a huge selection of CAD programs for making any additional edits, if required.
Not to forget, the Geomagic programs enable in-app editing and further enhance the overall scanning process.
Parameters Influencing Buying Decision
Here is a quick bite from the detailed review. Do not forget to give these parameters a glance, if you are planning to buy the Artec Space Spider.
3D Printer cost: One of the expensive 3D scanners, the Artec Space Spider comes for no less than $24,800. Hence, you can consider this if you are a professional.
3D Print quality: It offers amazing 3D resolution and accuracy of 0.1 mm and 0.05 mm respectively.
3D Print speed: With 7.5 fps, the scanner boasts a 3D acquisition speed of 1 million points per second. Hence, it's fast along with being capable of capturing precise details.
3D Printer capability: Good for small as well as large objects, the scanner can also integrate with multiple devices to create customized solutions.
3D Printer Practicality: Perfectly designed for a number of applications, the Artec Space Spider is useful for many industries including medicine, automobile, aerospace, and more.
3D Printer User expectations: Apart from being a little expensive and with limited working distance, the scanner fulfills most of the users' expectations with ease.
The Verdict
If you are a professional wanting to invest a little more in a 3D scanner offering additional accuracy and benefits, the Artec Space Spider could offer the desired results with ease. With no need for tedious setup and installation, the device is also a great choice for beginners.
In short, it offers accurate digitization of targets, either small or large through a seamless workflow.