Table of Contents
One of the most running questions in the mind of people currently is, what does 3D scanning technology do? A simple answer to that question is, it analyses a real-world object to collect data on its shape and appearance. An example of this is the object's color.
The data that is analyzed is then used to construct digital 3D models of the object. High-resolution 3D Scanners find their use in the 3D printing industry.
Since their invention, they have become an important, if not an essential part of the process of designing and modeling a piece on 3D software.
The market is filled with different types of 3D scanners that respond to different needs and therefore target different users. Our list of high-resolution 3D Scanner has been divided according to your budget because high-resolution 3D Scanners come in various price ranges.
And you as a user may be required to purchase a 3D Scanner in the low price range, high price range, or medium price range. These 3D Scanners are also different in terms of the accuracy, or capture speed for professional applications.
But in this article, we are focused on professional high-resolution 3D scanners, ranked by price. There are many professional 3D scanners, but we have after viewing many handpicked some of the wonderful devices. So, let's get started.
List of high-resolution 3D Scanner according to your budget
This list is divided into three others wherein the first one will be a low price range of 3D Scanners, the other one would be medium price range 3D Scanners and the last one would be a high price range 3D Scanners. You can choose one from this according to your budget.
The Low Price Range of 3D Scanners
In this price range, there will be 3D Scanners that are currently priced under $1000.
Murobo Atlas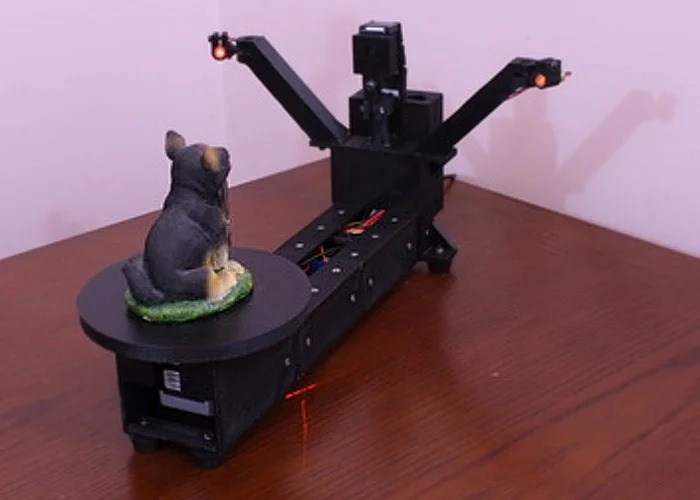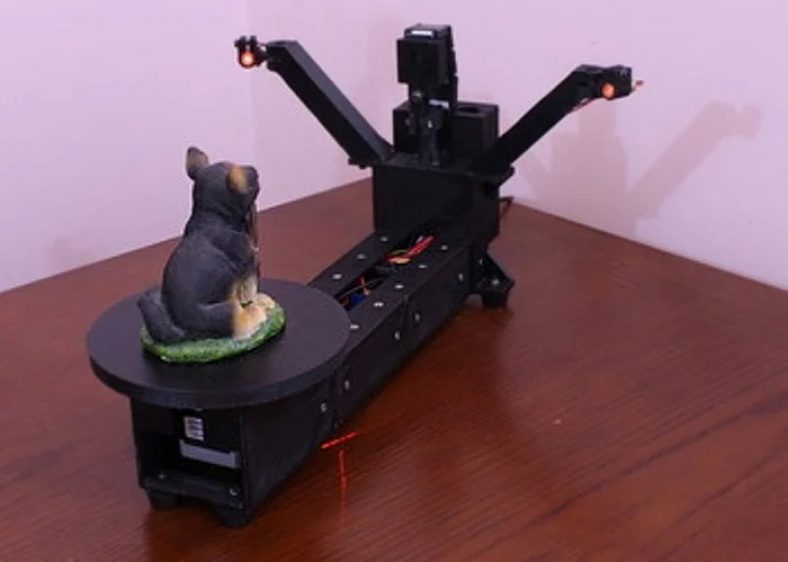 The Murobo Atlas is a DIY 3D Scanner that anyone can construct from scratch, including the 3D printing of the frame, provided if, you choose an acrylic add-on purchase which is also available.
So the condition, while you sit for purchasing this printer, is that if you already own a Raspberry Pi for installing inside the scanner, the scanner itself will cost you $209.
But if you don't, it will cost $244 for a kit that includes a Raspberry Pi 2 or you can even opt for $229 that has the Raspberry Pi B+.
What this Raspberry Pi camera does is, feeds into the Atlas 3D scanner by producing crisp textured 3D scans. Like most other DIY 3D scanners, this one too comes with its own tailored program, called the FreeLSS.
Something unique about this 3D Scanner is its usability, which is particularly convenient for a DIY 3D scanner in the sense that you can access the device in your browser via the built-in WiFi adapter. Overall, Murobo Atlas is a great high-resolution 3D Scanner at a very low price.
Scan Dimension SOL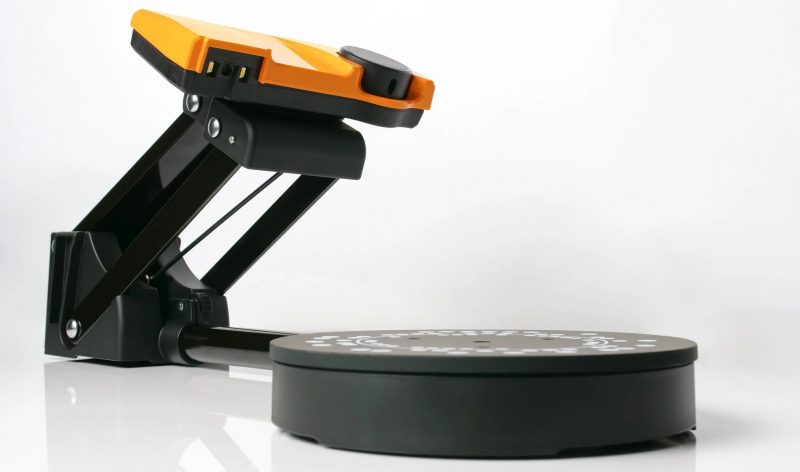 We have already mentioned this 3D Scanner and the website that sells it in one of our articles.
The reason why we are mentioning it again is the fact that it is one of the many 3D Scanners which is available in a lower price range and is effective.
The Scan Dimension Sol was created for being not just precise and portable, but also to be easy to use, and affordable.
Primarily geared towards hobbyists, everyday makers, and 3D Printing or Scanning entrepreneurs, the 3D Scanner can handle a variety of applications.
Ranging from replacing or matching broken parts to replicating unique items, the scanner scans both the geometries of objects as well as their texture.
Priced at $599, this 3D Scanner is compatible with Windows 10 or Mac 10.14 operating systems.
Matter And Form V2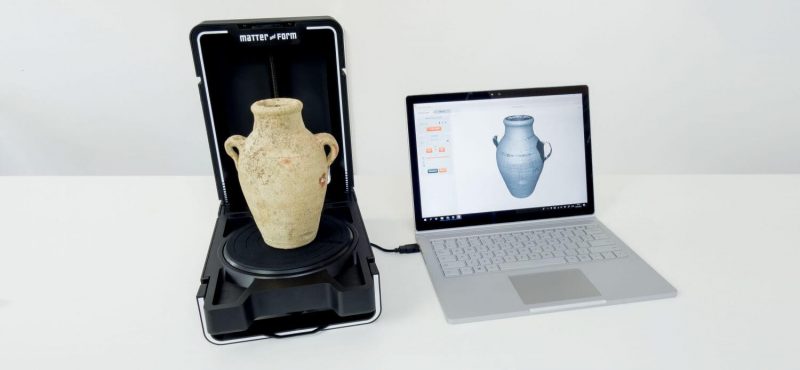 As you can guess from the V2 that is written at the end of its name, it is the successor to the Matter and Form V1.
What this one retains from the Matter and Form 3D Scanner V1 is its hardware, what this one offers more than its V1 is, the introduction of usability improvements.
So, overall this one is an optimization of the V1, after learning about what they can do better in the former product the company has worked on creating something more meaningful and complete.
This high-resolution 3D Scanner does an admirable job for its price.
Something that this 3D Scanner also comes with is the new MFStudio software. Version two is capable of capturing geometry faster than its former version. And when used alongside the optional +QuickScan software upgrade it is a joy to play with.
Although as you had in version one, the USB connection to your computer makes the Matter and Form V2 a desktop scanner completely. And its foldable form factor lets you collapse it down for easy portability.
After exploring three options in the lower price range, let's explore three in the middle price range.
The Middle Price Range of 3D Scanners
You should really look at the vast price range of 3D Scanners that are available. Above mentioned high-resolution 3D Scanners were all in the range below $1000. These ones are in the middle price range which starts from $1000 and ends up being at $10000.
HP Pro S3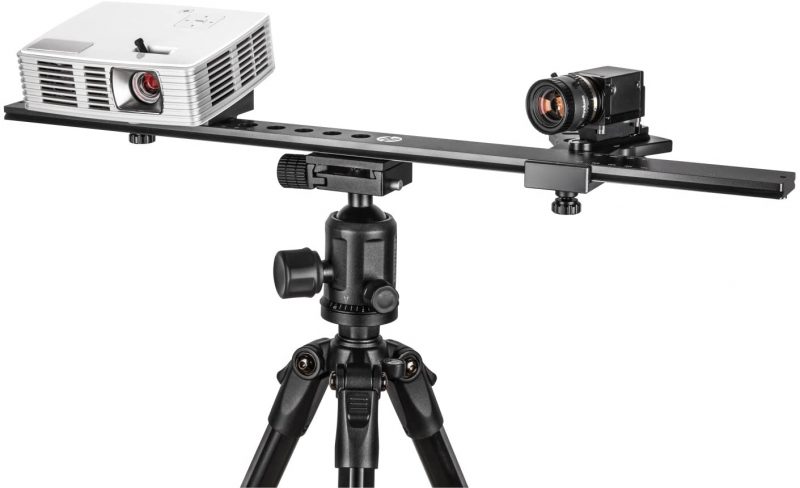 The HP Structured Light Scanner Pro S3, was previously known as the David SLS-3. This 3D Scanner uses structured light for capturing objects. HP Pro S3, to ensure quality, has paired with an industrial-grade HD camera making it a standard for high-quality output.
Its stationary attitude makes some users think, it is restrictive and unwieldy. But, overall the S3 boasts the trick of modular expandability that allows for the use of a second camera.
What this essentially means is, you can increase the scanner's precision. This 3D Scanner is available as a full package packing with two of its industrial-grade cameras for $3899.
It is compatible with Windows. If you wish to define the S3, it is actually a modular 3D scanner powerhouse that although is at a higher-end than the scanner mentioned before this, is an affordable printer seeing its modular setup and high-quality output.
Ein Scan Pro or Pro Plus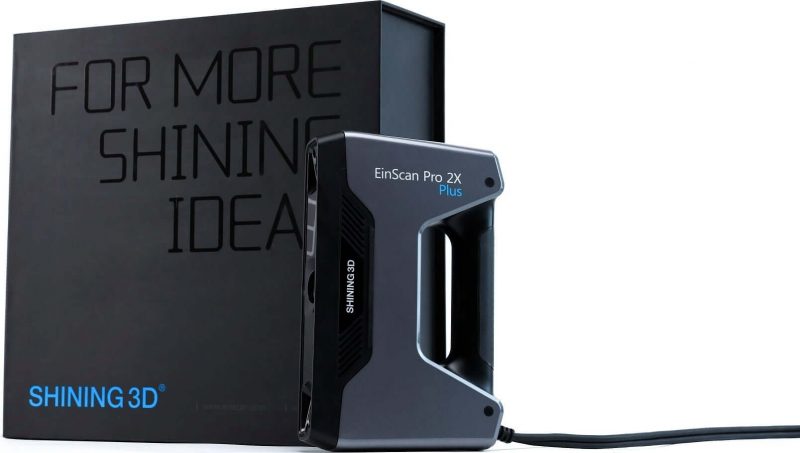 Both of these 3D Scanners, the EinScan Pro and the EinScan-Pro+ are exceptionally multi-functional 3D scanners. In fact, Ein Scan is a company that is very rare on the list and we have said this about them before as well.
Because it is a company that focuses completely on the manufacturing of 3D Scanning only. These high-resolution 3D Scanners can capture objects that can be big or be small.
The multi-functionality of these 3D Scanners is in the way they can be operated i.e. either fixed or handheld 3D scanners. And the way they offer both rapid and HD scanning modes is just like the cherry over the cake.
Overall these printers, are well-suited for a variety of 3D scanning situations. The complete series of EinScan-Pro uses white light 3D scanning technology that enables its user to achieve high accuracy, not at the cost of speed.
This professional-grade 3D Scanning system can utilize good color texture capture for features as small in a range that their sizes are anywhere from 0.03mm up to 4 meters.
These 3D Scanners were recently succeeded by the newer Shining 3D Pro 2X line.
It is to be noted that, then too, the original Pro models offer value for money you pay; even when they're just not as fast or capable as the newer models. The cost of these 3D Scanners is just like the HP one.
Peel One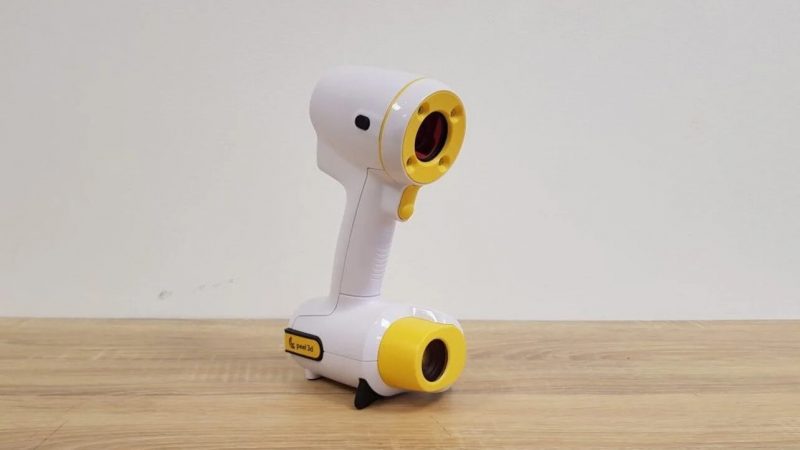 This distinctly designed Peel 1 3D scanner, strikes a perfect balance between quality and speed.
The users commenting or thinking about the higher price of Peel One than any of the 3D Scanners mentioned in the list should look at the reviews of the people who have used this 3D Scanner and are commenting that this 3D Scanner is lower priced than it actually deserves.
The market price of this printer is $5,900. Peel 3D scanner offers some fascinating features that are absent from other devices in the same price range. Some of those features include the ability to accurately scan flat or shiny surfaces.
It has a banana-like system that utilizes stick-on targets for adequately capturing flat and smooth surfaces.
When used for typical 3D scanning applications, using the scanner is as easy as pointing it to an object and shooting. It is either little or no preparation required.
Using an LED system to generate the structured light, the peel 3D scanner is also safer to use than other laser-based systems. When employing the stick-on guides, the peel 3d is able to reach a scanning accuracy of 0.25 mm and volumetric accuracy of 0.5 mm.
Although the base resolution is a mere 0.5 mm, which is lackluster compared to other models, it's a sacrifice that must be made for the sake of cost-effectiveness.
The Higher Price Range of 3D Scanners
This one contains a high-resolution 3D Scanner that is priced at about $10000.
Artec Space Spider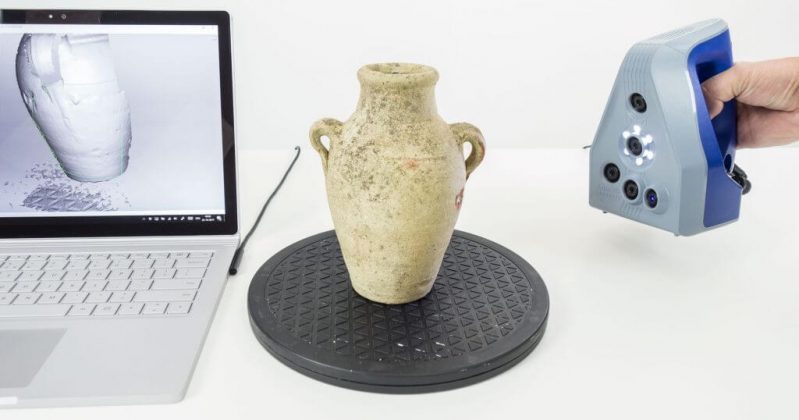 Being on the higher end of the 3D scanning spectrum, this scanner is a high-resolution 3D scanner that uses blue light technology for capturing anything from small, intricate objects to large parts in high resolution.
Priced just below $25,000, Artec Space Spider's industrial system generates 3D models with premier accuracy and vibrant color.
Being an advanced version of the original Artec Spider, this is an industrial-grade scanner is designed for experienced CAD users who require high precision for applications.
Examples of fields in which these are required include reverse engineering, additive manufacturing, quality control, and mass production. The scanner is able to conquer those pesky features that other scanners can't handle, such as sharp edges and thin ribs.
Creaform Go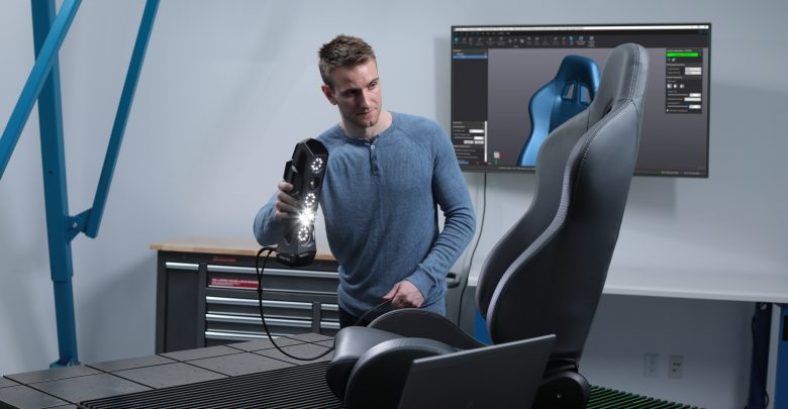 This is a white-light 3D scanner that packs a lot of power into a portable package. The output of this 3D Scanner includes professional-grade geometries and textures that take 1.5 million measurements per second.
Imagine the amount of accuracy! Add it up with the allowance of 3D Scanner for free movement of both the object and the scanner with an accuracy up to 0.05 mm with a resolution of 0.1 mm.
The complete system of 3D Scanner uses hybrid positioning to allow for simple and convenient handheld scanning of larger objects. Combined with a workflow that could be considered point-and-shoot.
Artec Eva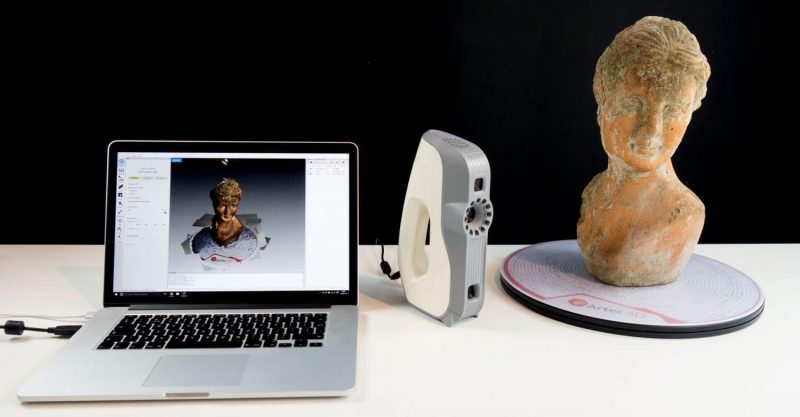 Particularly suited to medium-sized objects, the Artec Eva, captures accurate full-color scans quickly and reliably. It's possible to set up more than one Artec 3D scanner to speed up or improve the scanning process.
Although that would be an expensive proposition, a welcome one to note the versatility of the device.
Because it utilizes structured light for its scanning method, this makes the high-resolution 3D Scanner particularly safe for scanning people and animals.
Eva requires no calibration or warm-up time and is compatible with tablets to make the whole system easier to lug around. Isn't that wonderful?
The Conclusion
All the 3D Scanners mentioned in this list have one thing in common and that is, their ability to provide high resolution in their outputs. Overall, the 3D scanner market is a diverse space with a wide range of products.
They come at all shapes, sizes, capabilities, and prices as you might have seen in this article. With the availability of such wide choice it is a great thing in itself, and also can make sorting the goods from the duds a chore.
High-resolution 3D Scanners enable you as a user to capture the accurate real-time data of the world and the objects around you. With such data, you can precisely study and use it for inventing techniques.
While buying the most important thing is budget, and hopefully, after reading this article you will be able to classify the budget that you have for buying your 3D Scanner into one of these categories and then figure out the choice wisely.