Axiom Precision AR4 Pro+
To be precise, you can accomplish astonishing projects without involving yourself in too much manual work. Also, the learning curve is easier, considering all the assistance available online.
PROS
Very powerful spindle offering 24,000 rpm
It can work with different materials including nonferrous metals
Reasonably priced as an industrial CNC router
Open for upgradation
Backed with prompt and skilled support team
Interlocking aluminium plate
Enough workspace
CONS
Expensive for enthusiasts
May require prior experience with routers for setup
Table of Contents
It's certainly no secret that CNC machines could speed up the completion of your projects to a great extent. As well as, these tools happen to be much more efficient than any traditional device out there for cutting or engraving.
Being said, let us talk about one such robust and reliable CNC router, the Axiom Precision AR4 Pro+ 4 axis.
Known for its precise attention to every detail, the Axiom brand has been always able to impress users with its capable machinery designs. And, this time, it has done even a better job with the AR4 Pro 4+ axis. Continuing the same innovative trend, this product carries a number of additional and advanced features, even stronger and better than its previous versions.
The best part is that this CNC machine can help different industries with complex tasks and projects, not possible otherwise. For enthusiasts and makers, who are planning to pay more for their serious obsession with cutting and engraving, can also look into this option.
With many amazing features, the machine also packs the trust of many customers, offering huge perks. Hence, if you are interested in working with this machine, do not forget to check our complete review.
Features
Undoubtedly, the AR4 Pro+ 4 axis has made various upgrades over the Pro series from Axiom.
Apart from the 4th axis capability addition, the machine brings with itself higher stability and better performance. When compared to the other industrial routers, it seems compact and reasonably priced.
So, let us check some of the major features making this machine a complete solution for a variety of different niches at the same time.
Reliable Design
With its robust design, the machine offers great reliability to the users. Its metal parts and crisp definition of each of the components work together to provide users stability and high work performance.
Overall, the CNC router has everything one needs to accomplish industrial-grade projects with the highest level of satisfaction.
Powerful Electro Spindle
For CNC machines, spindles are a really crucial component adding power to their overall performance.
Hence, Axiom ensures that there are no loopholes when it comes to including the most efficient and advanced spindle. You can assess the same with the highest speed the spindle in AR4 Pro+ 4 axis can attain.
Yes, the machine is able to reach a spindle speed of around 24,000 rpm. Isn't that really intriguing? Not only this feature helps in accomplishing the jobs faster but increases the efficiency of the projected manifold.
In addition, this 3HP electro-spindle that comes along with the integrated liquid cooling system manages to work continuously for longer durations without any hiccups.
Integrated MDF Spoil Boards
For enhanced precision and highest accuracy, the machine hosts the integrated MDF spoil boards offering the best results.
As these boards are easy to mill flat for a perpendicular surface to the spindle, these make this machine even more exact in its working.
Quite Spindle Operation
It is difficult to expect the industrial-grade machines to make any less noise than a rocket trying to take off. However, taking ease of customers into consideration, Axiom has installed the quitter spindle that does not compromise on the quality though.
Multiple Controllers
In order to create the best version of what already exists, Axiom includes quite a few powerful controllers to make this machine capable of working without much assistance.
Either it's the Richauto B18 DSP 4-Axis Controller or the CNC motion control system or the USB port offering easy file transferring, the machine has got it all.
Optional Rotatory Kit
What's fascinating is that the machine is prewired to accept the optional rotatory kit. This means that you do not need to buy a completely new router to enhance the capabilities of the tool when scaling your business. With a little investment, you can easily turn this AR4 Pro+ into a better and stronger machine.
Interlocking Aluminium Table
When working, you get the stable precision with the interlocking aluminum table that stays at its place and locks the parts for engraving the whole time. Isn't that thoughtful? With such simpler but efficient inclusion, the company really seems to care a lot for the users' needs.
Offline Operation
Using the USB for transferring files, the users do not need to connect the machine to the computer for work. One can simply download all the related files in the USB and connect them to the CNC router for engraving, cutting, and all sorts of projects possible.
Multiple Material Support
This powerful CNC router can work with a variety of different material types. Starting with simple wood, acrylics, wood-fiber composites, certain plastics to the strong but nonferrous metals. Simply put, you can use the kind of material you wish to work with and get the best precision for all your projects.
Specifications
| | |
| --- | --- |
| | |
| Price | $ 10599 |
| Footprint | 28.4″ x 39″ |
| Work Area | 24″ x 24″ |
| Spindle Speed | 24,000 rpm |
| Z Travel Capacity | 6" |
| Positional Accuracy | 0.1 mm |
| Software | V-Carve |
Offering a footprint of 28.4″ x 39″, you get to work around an area of 24″ x 24″. It comes with an ER20 spindle configuration offering a speed of 24,000 rpm.
It has a 6" Z travel capacity which allows users to work on parts having a sufficiently bigger size. The spindle when coupled with the integrated liquid cooling system becomes even more powerful to work for longer durations.
It offers a positional accuracy of 0.1 mm. Overall, the machine is an industrial-grade router, offering one or more reasons to every level of users to buy AR4 Pro+.
Price
The Axiom Precision AR4 Pro+ 4 axis costs around $10599. However, this price may differ a little depending on the dealer you choose to buy from. Clearly, it is an affordable machine for industrial applications. However, it may seem a little far from reach to enthusiasts and makers.
First Impression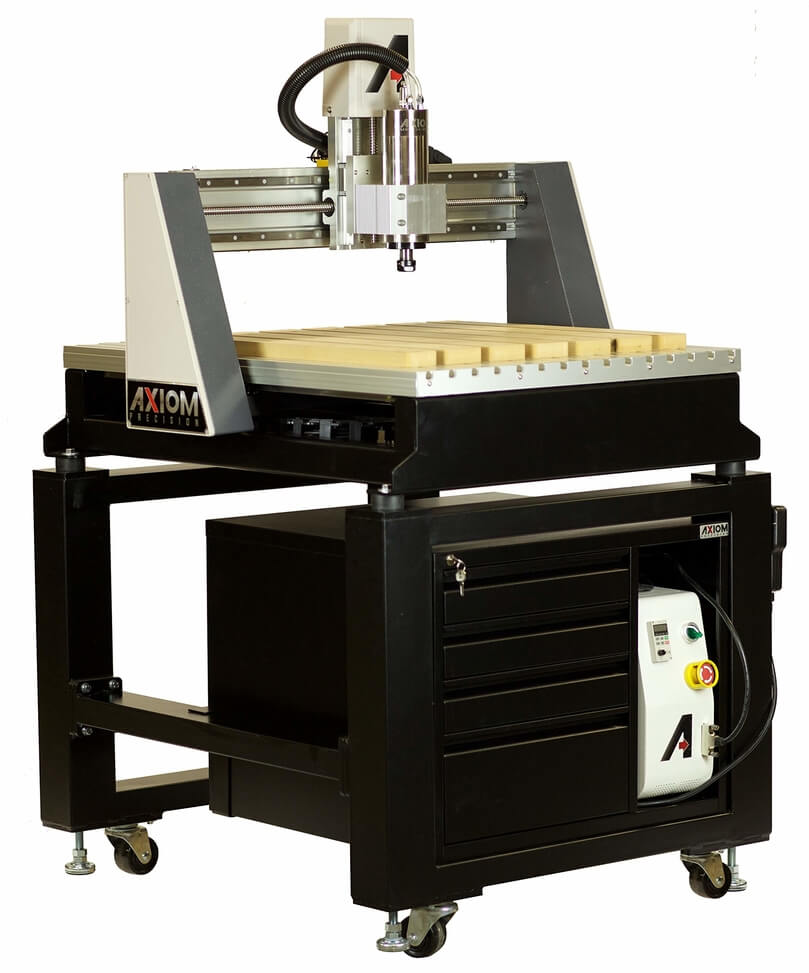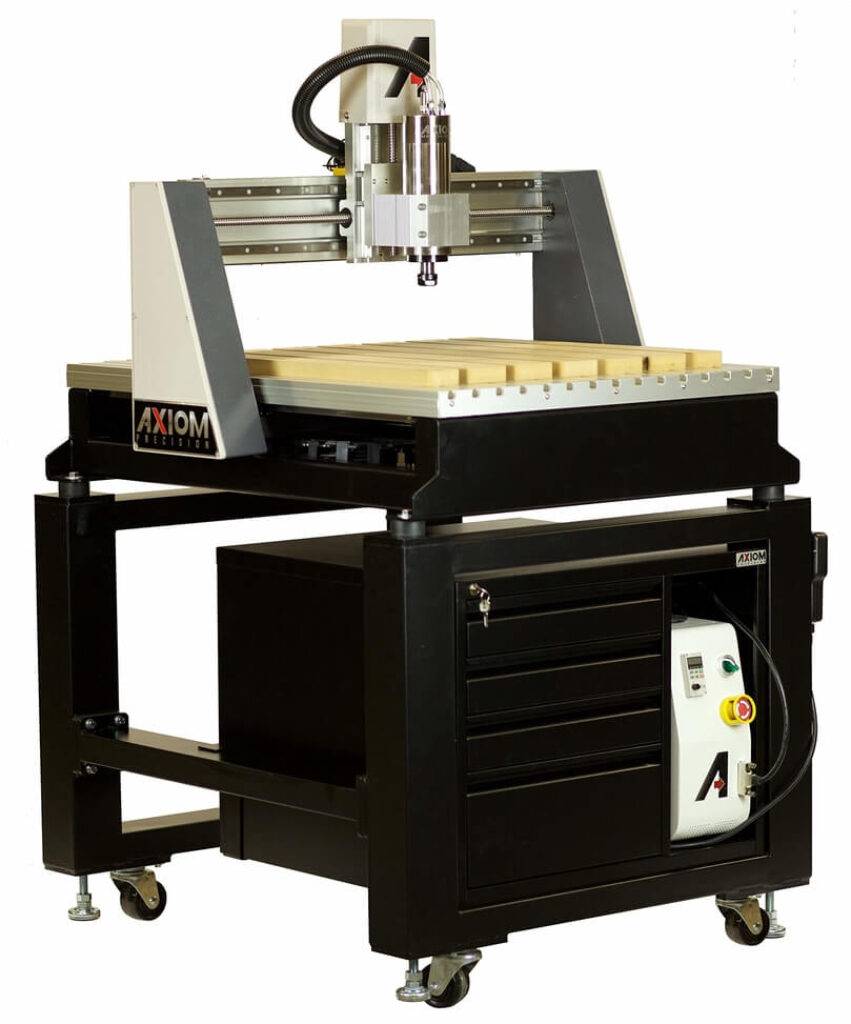 As already discussed, the machine isn't light and can weigh around 600 lb to 700 lb including toolbox, stand, and bed. It does look professional and works in a similar manner. With a complete metal frame, it's easy to gaze at its robustness.
Setup
Those with little to no experience setting up a CNC router may find it complex. For installing the machine, you must connect the components correctly. In addition, it is important to follow the guidelines properly for avoiding any excess effort you may need for correction otherwise.
CNC Machining Quality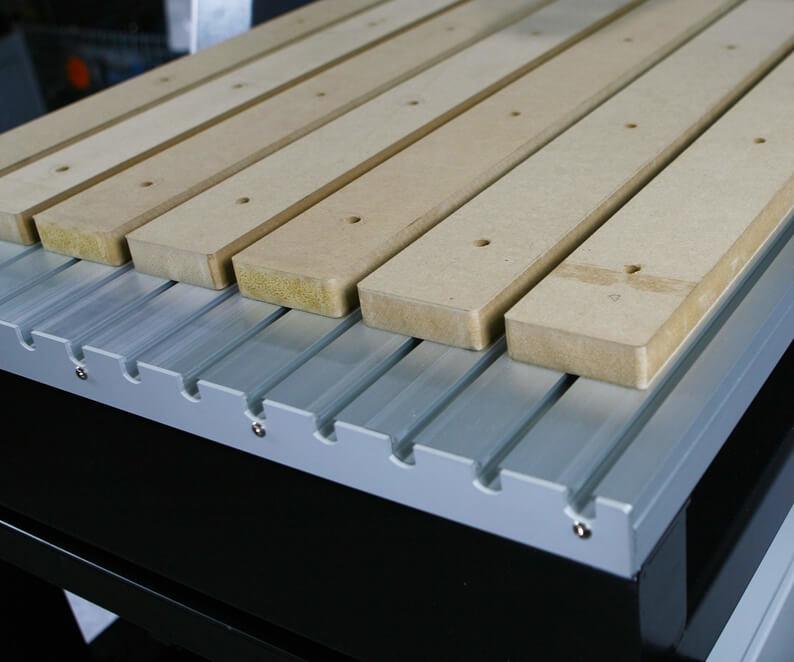 One of the best among the machines falling in the same price range. It has an accuracy of 0.1 mm with a spindle motor speed of 24,000 rpm. To put the icing on the cake is its robust design offering high reliability.
Software
The AR4 Pro+ uses V-Carve and Aspire applications to provide great results to the user.
Customer Support
Axiom is very diligent when it comes to helping customers with their products. They have a great support staff offering assistance either by phone or by email. The team also gets over video calling to resolve any problem that you might find difficult to resolve on your own.
Either you break apart accidentally or want some tips for not cutting too deep or shallow, the team is always there to hear your issues. Plus, their manuals are descriptive and helpful too. Or else, you can even connect with existing customers on Facebook groups.
Parameters Influencing Buying Decision
To make the final decision about buying Axiom Precision AR4 Pro+, it is crucial to take a look at these important parameters. Find out if the machine is really worth your investment and suitable for your specific applications.
CNC machine cost: Priced at around $10599, the machine really offers a fair deal to the small shop owners along with big companies.
CNC machine quality: Its great quality machine offers a precision of around 0.1 mm with a spindle speed of 24,000 rpm.
CNC machine capability: The AR4 Pro+ 4 axis CNC can cut through a variety of materials such as woods, plastics, acrylics, as well as non-ferrous metals. Plus, the accuracy is very impressive. Not to forget, you can even upgrade the machine when needed.
CNC machine practicality: Best suited for professional applications, the machine can help industries such as automobile, aerospace, jewelry, and more.
CNC machine user expectations: Being able to offer everything possible at a reasonable price stand, certainly meets users' expectations.
The Verdict
CNC machines are often too complex to use or too simple to perform even the basic projects. However, this one sits right in between these two categories. Axiom Precision AR4 Pro+ offers seamless operation without a lot of effort needed to learn about the machine basics.
To be precise, you can accomplish astonishing projects without involving yourself in too much manual work. Also, the learning curve is easier, considering all the assistance available online.