Structure Sensor Mark 2
This scanner lets you scan objects from a closer distance i.e. 0.3 meters. An outcome of this is the capability to capture even more details than before.
PROS
Extremely compact
Easy to carry and operate
Needs no typical cabling
Improved SDK
Specialized in healthcare applications
Outdoor scanning with ease
CONS
Cannot be used without an iPad
Scan quality is average
Table of Contents
An upgrade of Mark 1, Mark 2 has an improved depth resolution of 1280 * 960 pixels from 640 * 480. The other improvement has been in the scan range.
The scanner lets you scan objects from a closer distance i.e. 0.3 meters as opposed to 0.4 meters as its predecessor. An outcome of this is the capability to capture even more details than before.
Moving on, the maximum range is beyond 5 meters, the built-in wide-angle lens permits better scanning of large objects. Also, the in-built IMU gyroscope and accelerometer assure tracking is even more robust. Moreover, the scanner manufacturer has also worked considerably on the inner part of the sensor.
Mark 2 is capable of working directly in sunlight. Meaning that users can scan immobile objects outdoors.
There will be a betterment in texture quality and a typical pre-requisite i.e. scanning in a professional lighting setup wouldn't be the case anymore.
Note that each of the above-mentioned improvements is packed in a 50 percent smaller device which makes working with the scanner even more compatible than before.
Excited, let's look at the scanner in-depth to know more about it.
Features
To help operators with room scanning, in particular, the manufacturer has introduced something called a fish-eye lens. This feature widens the scanner's view which assists in performing better when scanning in smaller rooms.
Improved design
Mark 2 is 38 percent thinner and 31 percent lighter than its predecessor. Both these qualities indicate how users can even more easily carry the scanner around the object. Also, the machine uses Structure SDK and delivers an unparalleled amount of 3D scanning. Moreover, included in the scanner is the environment mapping with 6-DoF position tracking of new as well as existing cases.
Light and compact
The scanner can be combined with an iPad and can be carried everywhere afterward. So, majorly the weight and size which you ought to hold are that of your iPad and not much of the sensor.
This gives a sort of flexibility in moving with the scanner. You need no typical power sources or cable connections as with other scanners. With Mark 2 it's all about the bracket that connects the device with your iPad.
Specialized scanning of human body parts
Mark 2's makers have designed the scanner in a way that it does optimize scanning of human body parts such as Face, foot, elbow, leg, head, and torso. If you are wondering where such a scanning will be put into application, remember healthcare!
The scanner can be used to create parts that are needed to put into the bodies of patients after operation. Typical areas of application where it can be used are:
Prosthetics
Orthotics
Plastic surgery
Wound care
Free applications compatible
The machine is completely compatible with free iPad applications such as 3DsizeME – a combination of Structure sensors. It's available for free if you are an iPad user.
Outdoor 3D scanning
Mark 2 can scan objects in outdoor lighting conditions. With its predecessor, this was out of the question. The limitation of the old sensor is removed and the new sensor is made compatible with the natural infrared conditions.
Specifications
| | |
| --- | --- |
| | |
| Technology | Structured Light Technology |
| Price | 399 $ |
| Maximum Depth Resolution | 1280 * 960 |
| Range | 0.3 m to 5 m |
| Depth FOV | 59 in * 46 in |
| Color FOV | 120 degrees diagonal |
| IMU | 6-Axis |
Mark 2 hosts an Active Stereo depth that provides a maximum depth resolution of 1280 * 960. The device has a comfortable recording range of 0.3 to 5 meters.
It has a depth FOV of 59 inches * 46 inches and a color FOV of 120 degrees diagonal. The scanner can be used for scanning objects indoors as well as outdoors.
A 6-axis IMU ensures more power and precision while scanning parts and functional prototypes of various geometries. Also, a global camera shutter able to do IR and tracking comes along with the scanner.
Price
Structure Sensor Mark 2 costs $399 including the bracket that connects it to the iPad. Thanks to the scanner manufacturer for offering dedicated brackets for various versions of iPad and iPad Pros.
First Impression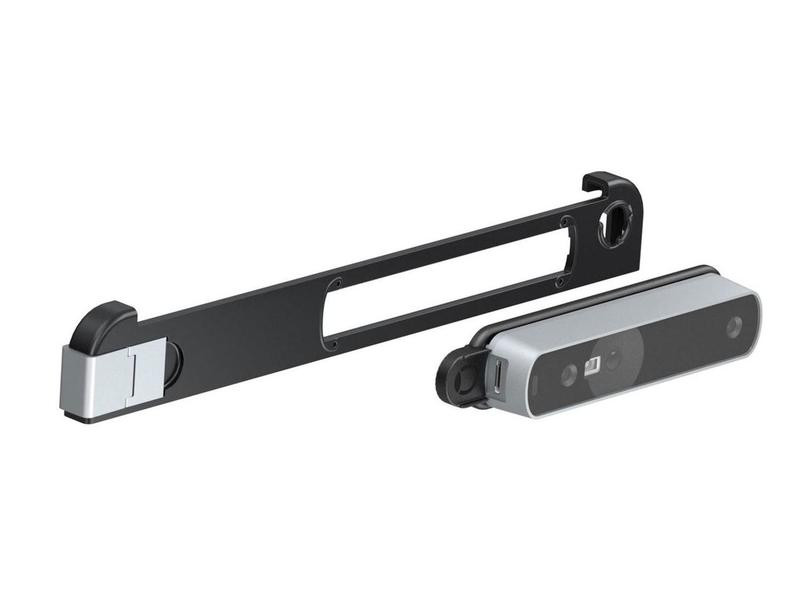 Mark 2 has dimensions in the order of 30.2 cm * 7 cm * 7.3 cm. It weighs 0.96 kilograms. By completely redesigning the projector module of its predecessor, the scanner manufacturer was able to get to a 50 percent more compact despite tripling the camera count.
Also, the machine's height has decreased from 27 mm to 18 mm. It's got a cuboidal shape with curved ends. With the bracket, it becomes exactly like an inherent component of your iPad. The black and silver color draws the attention of every eye passing by because it's visually very appealing.
Setup
The scanner is a plug-to-play device. All that one needs to do is attach the bracket with it and his or her iPad. And before scanning, download the free application that does work like the typical software of any other 3D scanner.
Scan Type
The machine scans parts and functional prototypes using structured light technology. Herein a light source emits rays of light to gather data about the object.
This data is collected in the form of various points, on joining which one gets a typical pattern of the scanned object. The patter, after being processed via software, creates a scan in various formats that one can download and further use for making a model accordingly.
Scan Quality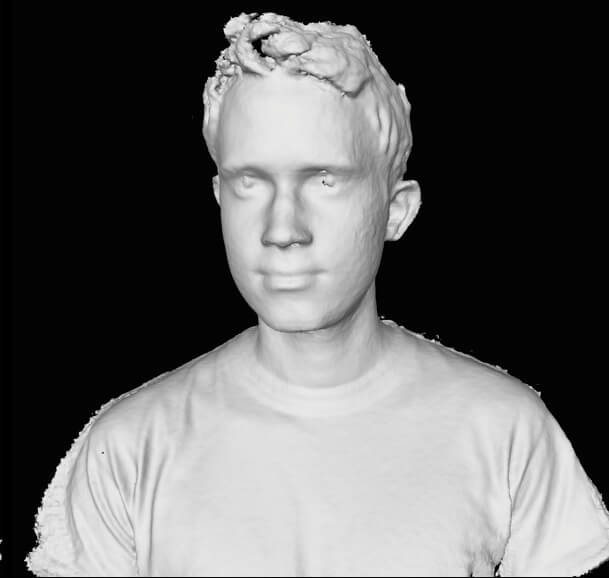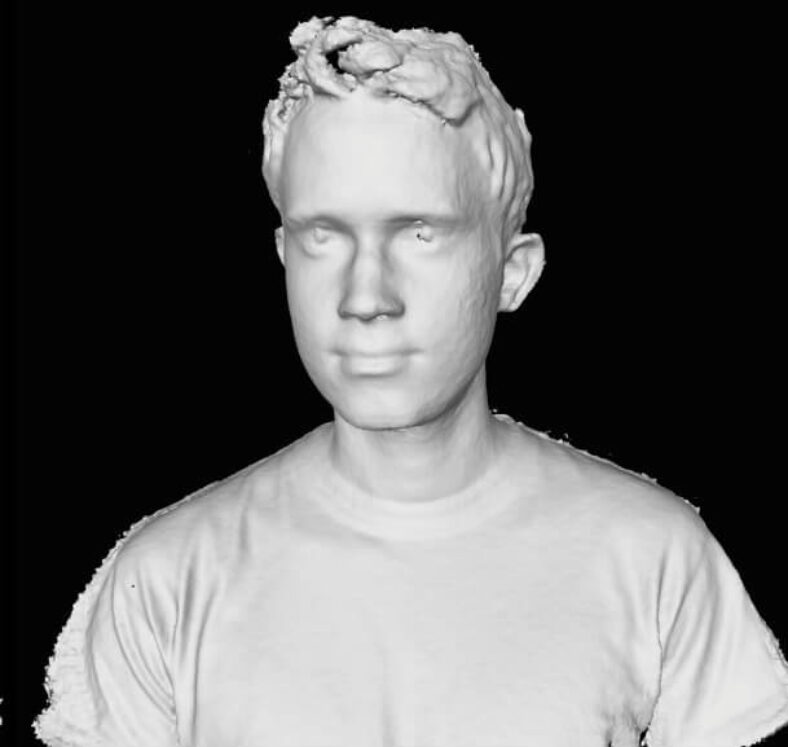 Being an extremely affordable and compact 3D scanner, Mark 2 generates decent scan quality. Objects of varying geometries can accurately be scanned to make their models which replicated them closely.
The scanner is capable of having higher-precision depth and new mode presets using which it can carry out never before carried out scans.
An ultra-wide camera permits the machine to track even in the most extreme locations like blank wall scenarios without any need to add a lens on it. Be it a small object or large, Mark 2 captures them all in a precise, full-color manner.
Software
Free applications available on iPad can be used to typically process a scanned file into standard file formats. Working with these programs is not at all difficult. It's as easy as dealing with other daily life applications that we use on our phones.
A typical example of one such dedicated free software is 3DsizeMe. However, nothing is strictly recommended. Users have the freedom to make their own choice when it comes to deciding which software to use with the device.
Customer Support
Occipital provides:
Product information
How to get started with its scanner
Technical support
Information about parts and accessories
Returns and warranties
Use Cases
On its website. Users can typically refer to the concerned material to find an answer to his or her question. Note that the Technical Support section also has access to particular FAQs. Apart from this one can reach out to the company for any troubleshooting they need with the scanner.
Parameters Influencing Buying Decision
Now let's look at some of the key factors concerning the scanner that one may want to have a glance at, quickly, before making a buying decision.
3D Scanner Cost: Mark 2 is extremely affordable. If there was a synonym to functional scanners at a cost-effective price, it would have been Mark 2.
3D Scanner Speed: Mark 2 offers average scanning speed.
3D Scan Quality: Considering the price at which the machine is available, its scan quality is justified. The depth sensor works tremendously well to ensure that whatever is scanned, is processed in a commendable quality.
3D Scanner Capability: The scanner is capable of scanning rooms with high resolution. Thanks to the added camera. A built-in IMU allows it to track in a better manner and work outdoors in sunlight.
3D Scanner Practicality: Majorly, the machine is used for processing human parts for application in various fields relating to healthcare.
3D Scanner User Expectations: Mark 2 stands upon expectations of such users who are willing to scan objects quickly, decently without spending much money. So, beginners in the field, academicians, etc. would benefit from working with the scanner.
The Verdict
Mark 2 has a striking upgrade from its predecessor. Clearly, the scanner manufacturer has used state-of-the-art technology with a minimalistic thought process for creating the scanner. How else would it be that a scanner as compact as Mark 2 is able to provide scan results that of a typical entry-level 3D scanner costing more than it does?
Also, the manufacturer has focused a lot on making it user-friendly. And that's why we have features such as an upgraded depth sensor, IMU, one more camera capable of capturing in wide-angle and new optics that allows for best-in-class sensing range.
All of this in a device that weighs not even a kilogram and can be joined with a bracket with your iPad to produce decent quality scans. Amazing, isn't it?