Do you have a CNC Router but are confused about what to do with it? Do not worry; we have listed down a few cool projects that you can make up by following their steps carefully. Whether you are a beginner or an expert, we tried to cover all types of projects to ensure you can find something great to try or build at your home.
The easy accessibility and affordability of CNC Routers have made it convenient for you to take on a few cool CNC projects.
They are great to plan and fun to execute yourself. From musical instruments to robotic arms, there are always amazing new things that you can make with a CNC router.
There is a wide range of CNC router projects, and choosing your first or next project can be difficult. We have tried to make it convenient for you by listing the ideal CNC projects that are simple and easy to carry on. We have also stated the difficulty level of each project to enable you to select one based on your skills.
Computer Numerical Control (CNC) Router
As the name clearly indicates, a Computer Numerical Control (CNC) router is a machine that is controlled by a computer and is used for cutting various softer materials. These include wood, foam, acrylic, glass, plastic, and various soft metals.
A Computer Numerical Control (CNC) router is a great tool for makers. They were previously used in large industries but now the technology has advanced and you can even build it at your home. It comes in a wide range of sizes and shapes. The equipment resembles an FDM printer a lot. However, the hot end is being replaced by the router.
The CNC router is ascended on a stable and large workspace bed and can move along all three axes (X, Y, and Z). It uses high rotational speed to make 3D cuts. Though most routers have three axes, these can be customized to 4 to 6 axes for complex projects.
Uses of a CNC Router
A CNC router has a wide range of applications. It is used to produce objects that include furniture, wooden decoration pieces, windows, doors, sports equipment, advertisement billboards, molds, musical instruments, nameplates, signboards, and boat parts, etc.
It has great potential in various industries. The CNC router is versatile. It can be used as a router, drilling machine, mill, saw, or lathe.
Lists of Funniest CNC Router Projects
| Name | Link | Difficulty Level |
| --- | --- | --- |
| Paddle Board | | Moderate |
| Kinetic Sculpture | | Moderate |
| Skeleton Clock | | Moderate |
| Elephant Puzzle | | Easy |
| Ukulele | | Moderate |
| Parametric Desk Cubby | | Easy |
| Robot Arm | | Hard |
| Teddy Bear Coin Bank | | Easy |
| CNC Scissor Chair | | Hard |
| Cryptic Calendar | | Moderate |
Paddle Board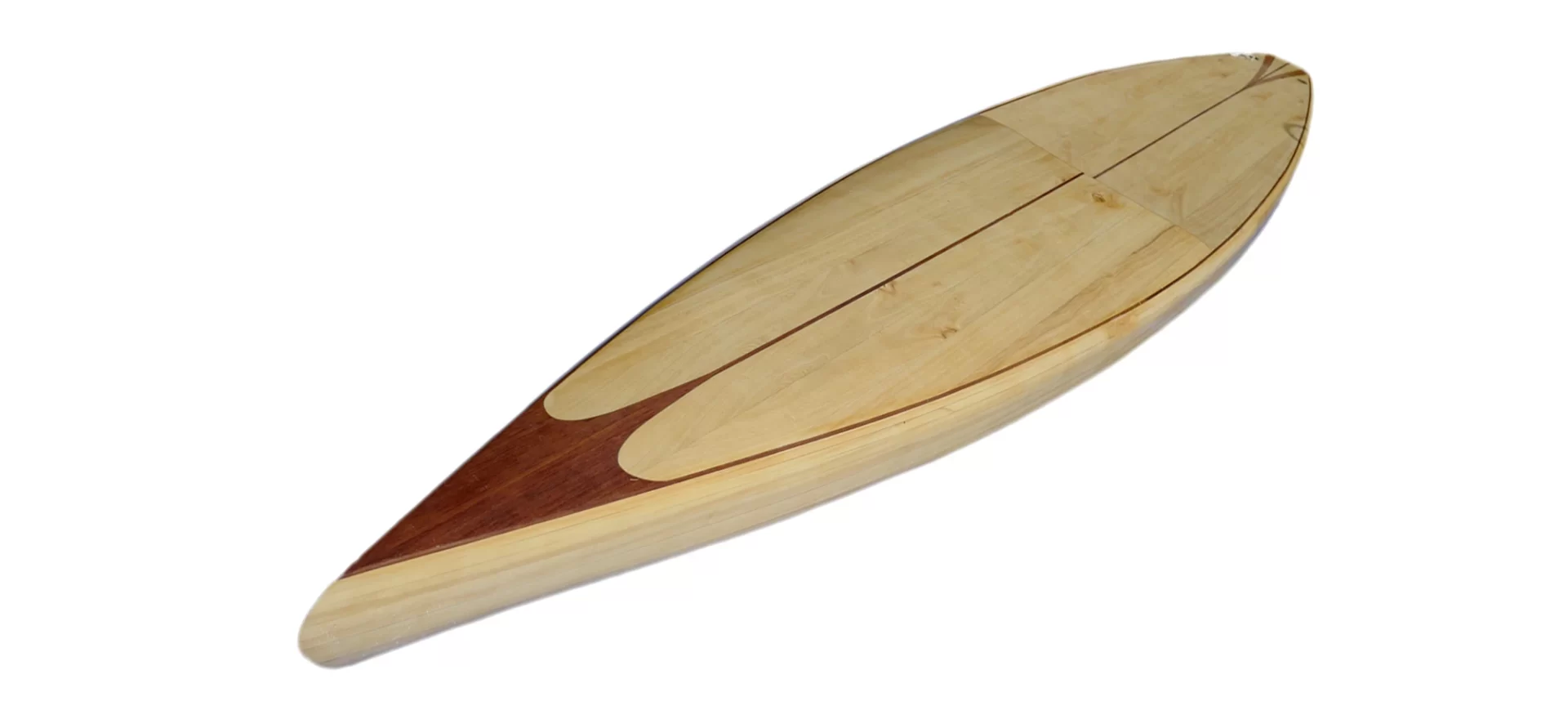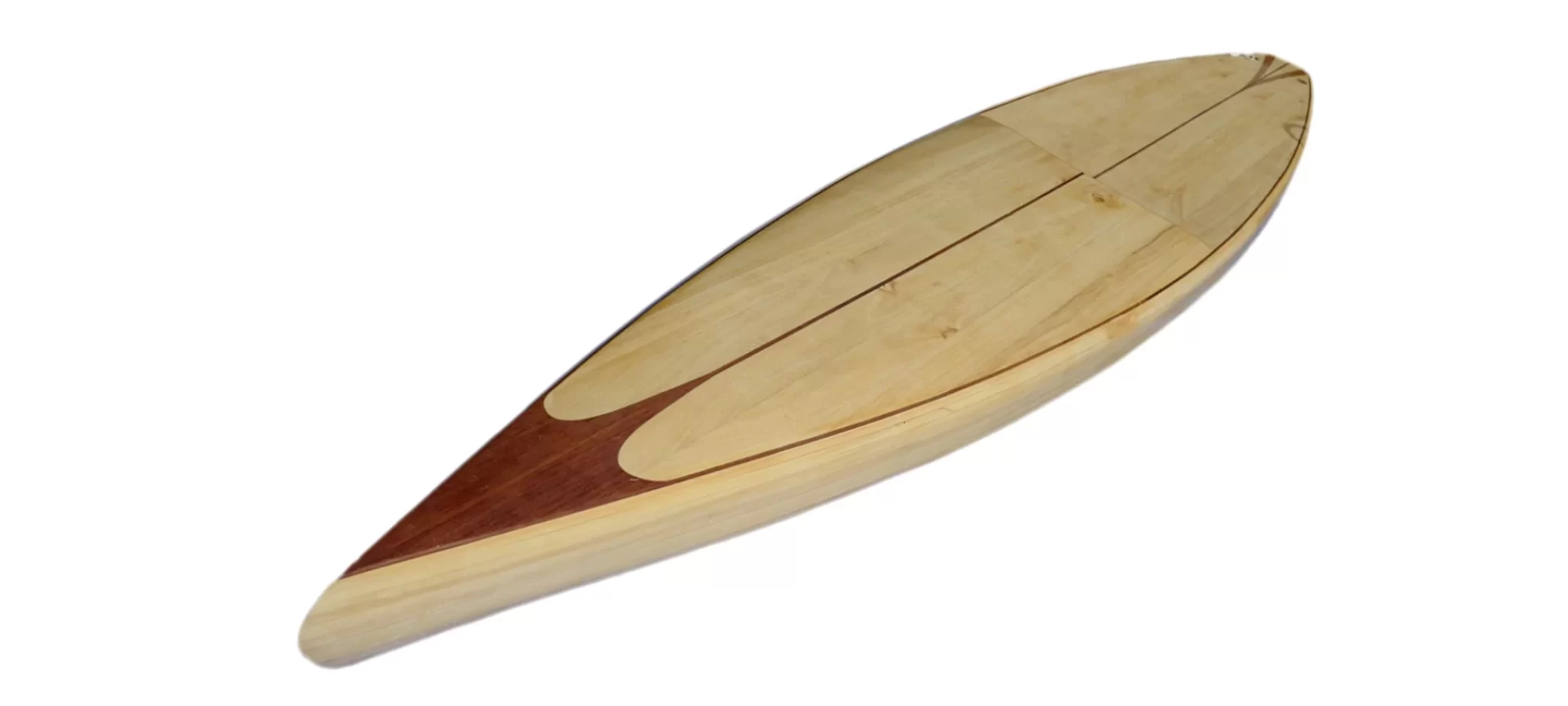 Do you love surfing? If yes, then this project will definitely capture your interest. It is about building a stand-up paddleboard by using a CNC router and vector images. You can easily replicate it by carefully following the instructions provided by Sonny Lacey upon Make: Magazine.
To build the paddle board, you need to first mill a single sheet of marine grade 1/4″ plywood by using a Maslow 4′ x 8′ CNC router. Then you should plank it with cedar and finish it with epoxy for waterproofing and strength.
This project will cost you between $120 and $400. You can also create it with a large commercial CNC router.
Uses: It is great for surfing, finishing, scuba diving, and even doing yoga on it.
PROS:
Portable
'Never Sink' system
Infinite ways to do final covering
CONS:
Large space is required to build it.
At Least 16 hours are required to build it.
Kinetic Sculpture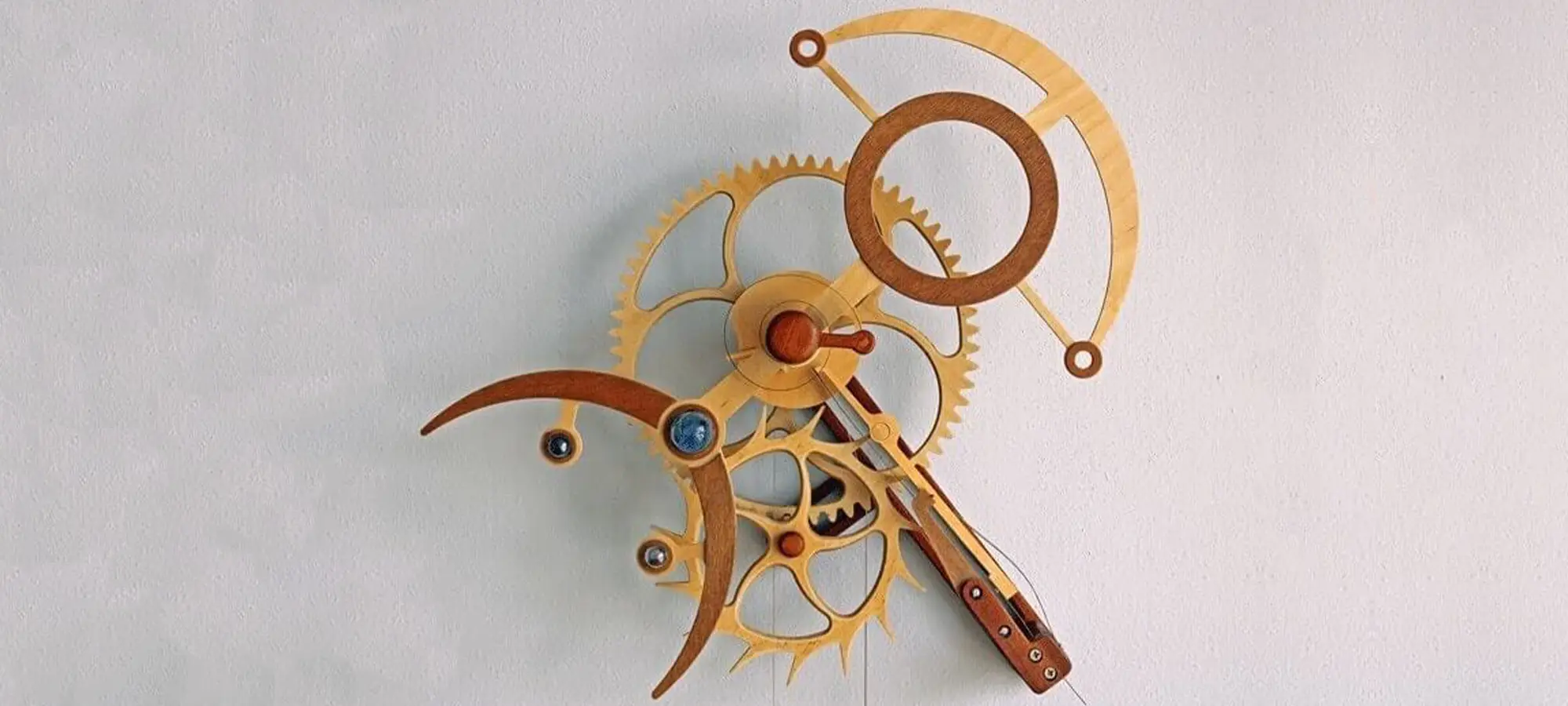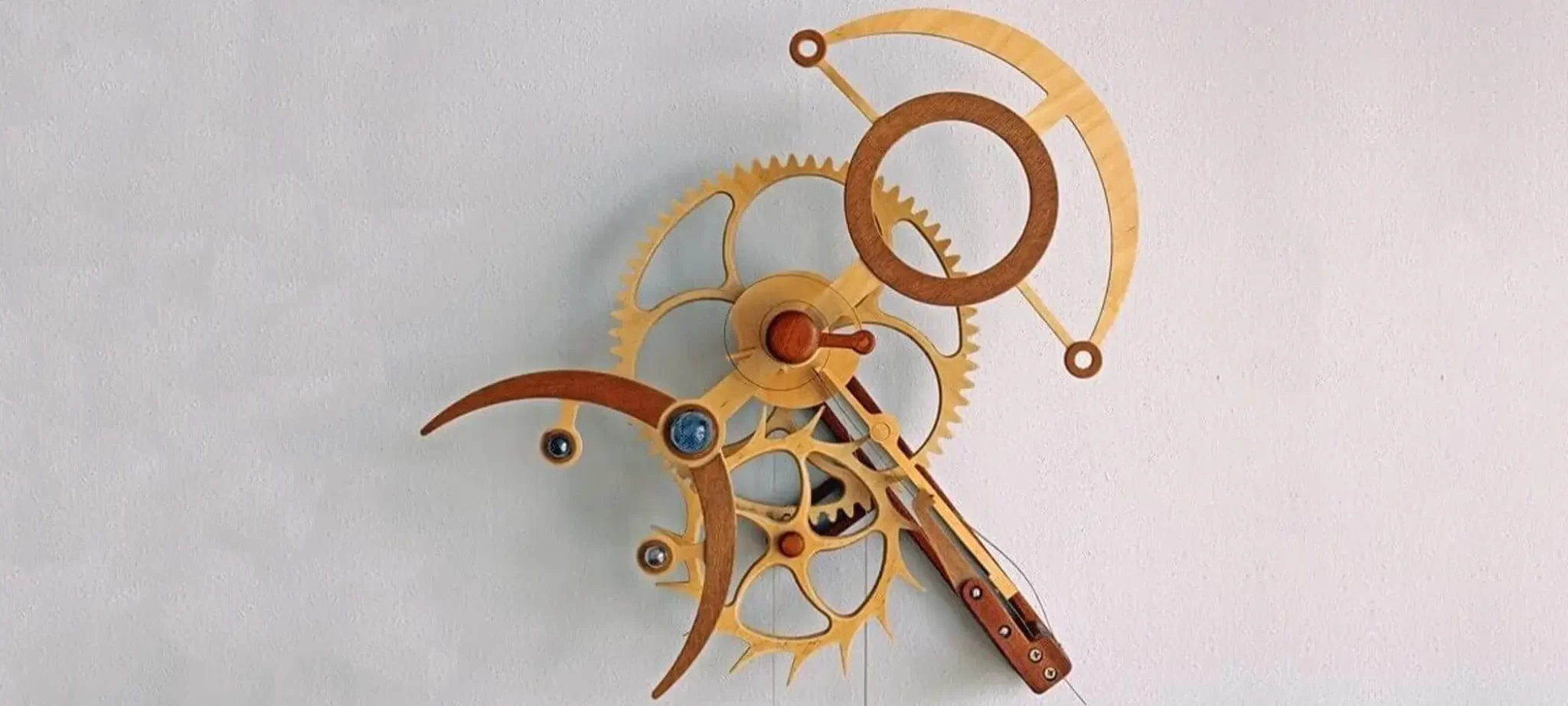 If you are looking forward to decorating your room wall with a great clock, then you should go for this project. The CNC kinetic sculpture by Clayton Boyer will definitely look great on your wall. It is 20 inches wide and can run for hours on a single wind.
You can easily execute this project using any hobby-level CNC router. There are several designs, you can select any and build your own masterpiece.
Getting a complete paper plan via mail will cost you around $42. Instead, you can even get an electronic plan via email within 24 hours at a cost of $37.
Uses:
It serves as a great decoration piece.
The clocks are unique and work on the wind.
PROS:
Easy to build.
No need to cut metallic parts.
Art piece.
Creative and fun to execute.
CONS:
Wood is not a good material for accurate and reliable mechanical assembling.
Skeleton Clock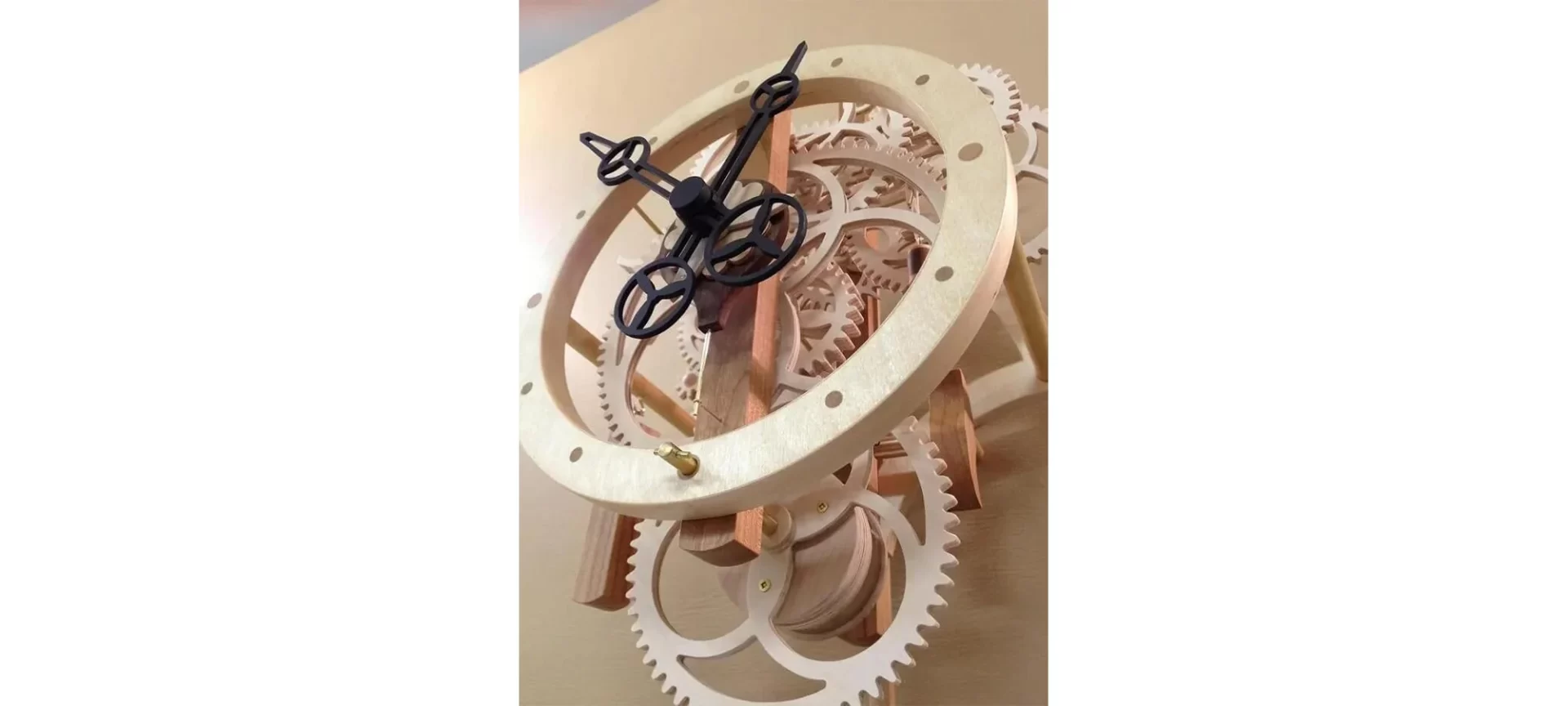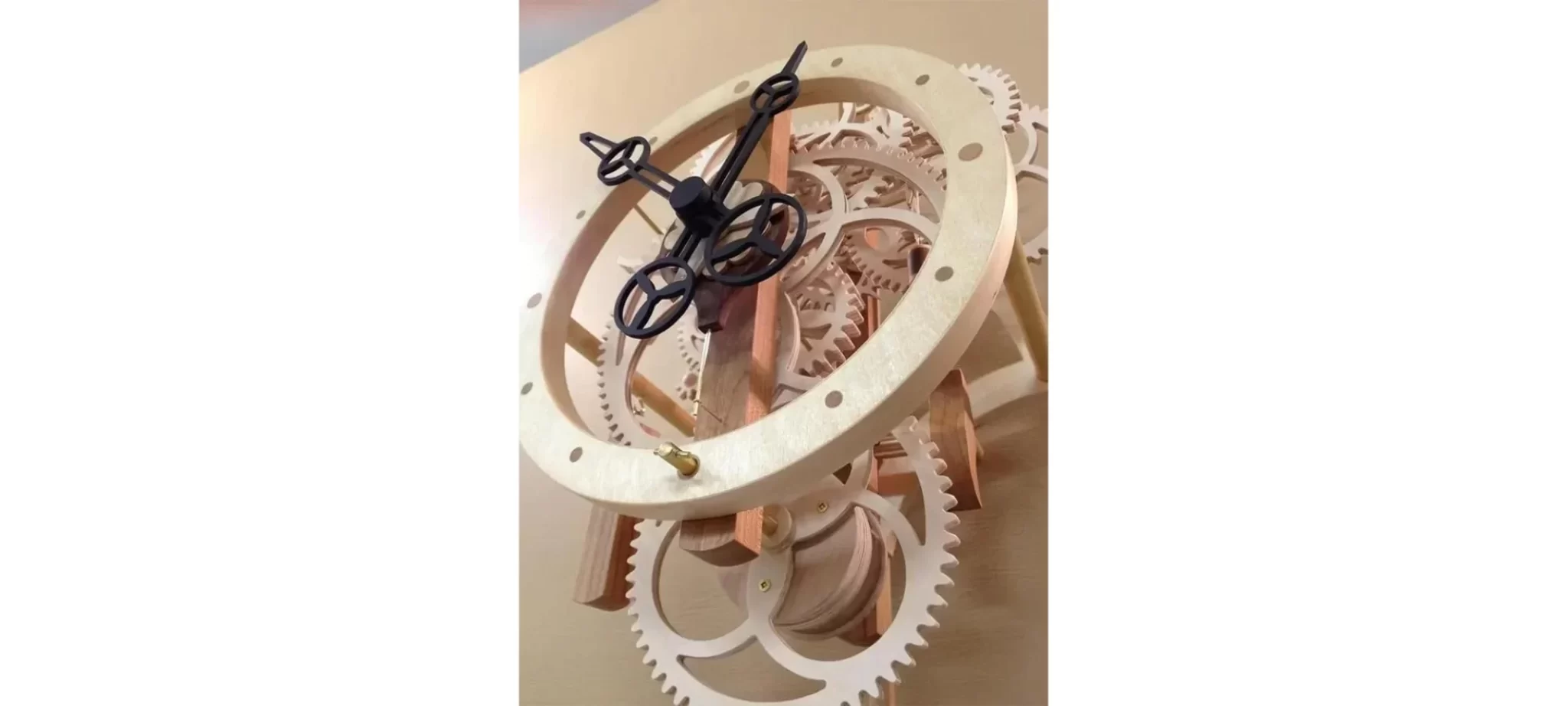 Another CNC cut wooden clock project on our list is the Skeleton clock by Djgtor, a member of FineWoodworking. It is known as Remonter and has a remontoire-escapement style design. It was designed using ACAD and tool paths created by Cut2D.
The clock is made using a wide range of materials. These include Cherry, birch, walnut, brass, and Baltic birch plywood. For finishing the frame and dial, you can use tung oil varnish and wax.
Uses: The clock is a masterpiece that you can use to decorate your home wall.
PROS:
Creative and fun to build
Tutorial available
Great learning experience
Building from scratch
CONS:
Consumes a lot of time
Not an easy task
Elephant Puzzle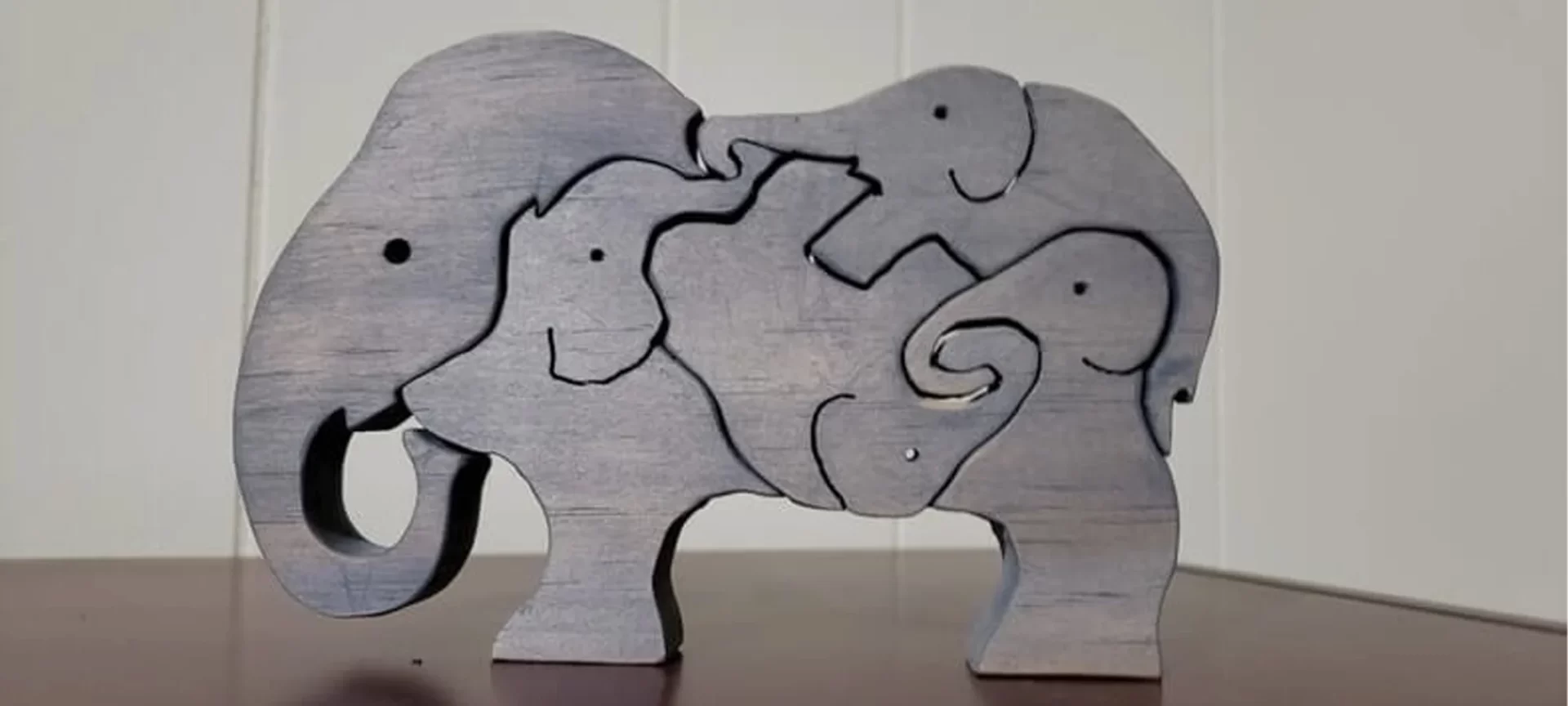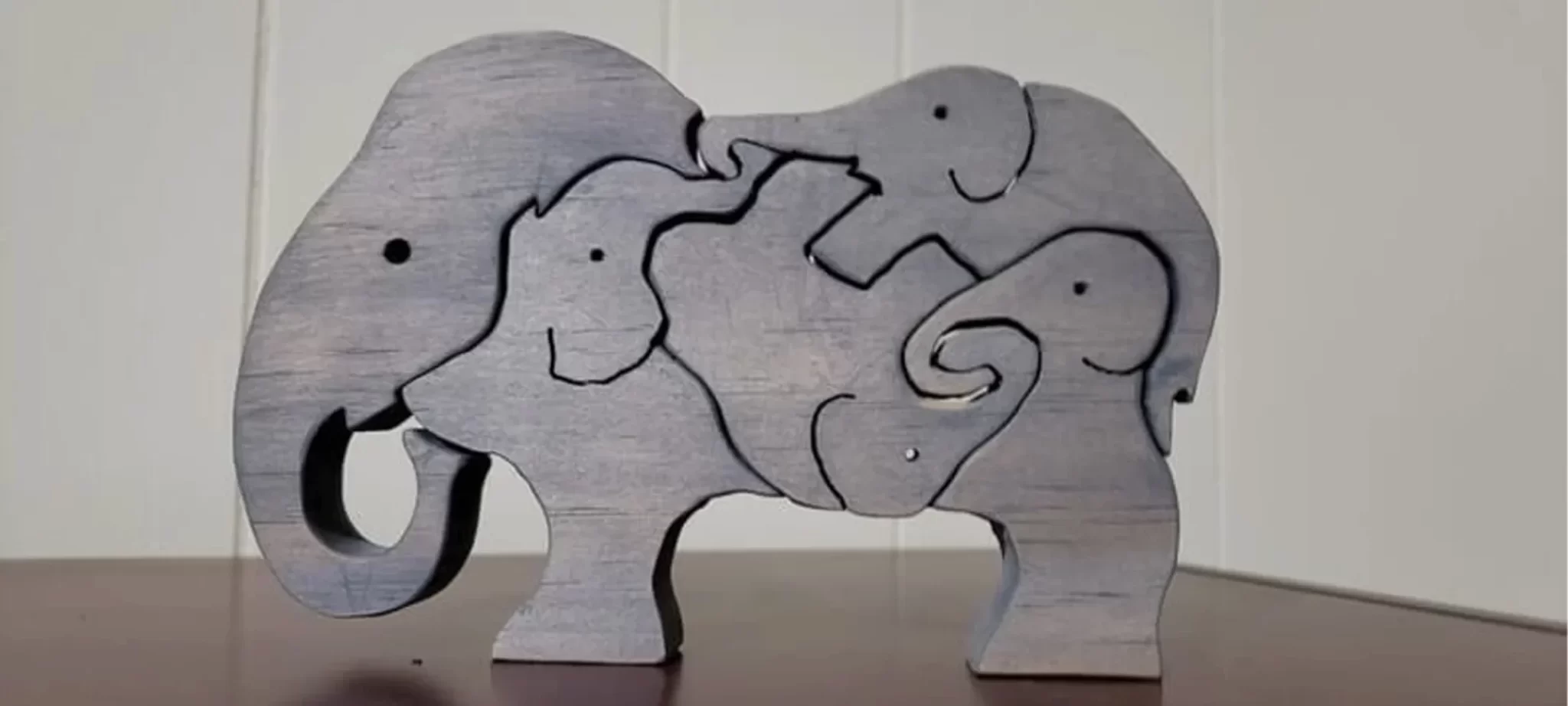 Willing to work with your kids on a simple project? This project is ideal for kids of all age groups. It can be made within one hour only, which also includes the drying time. It was initially designed to be made by using a scroll saw and spiral blade but it can also be made by using a small CNC router.
The original project is completed by using 1-inch pinewood to enable it to stand upright. However, you can instead use a thinner wood and make a flat puzzle from it.
Uses: It offers educational entertainment for children of all age groups.
PROS:
Easy to build
Can use a small CNC router
Offers Stem learning
Great for kids
Customization
Ukulele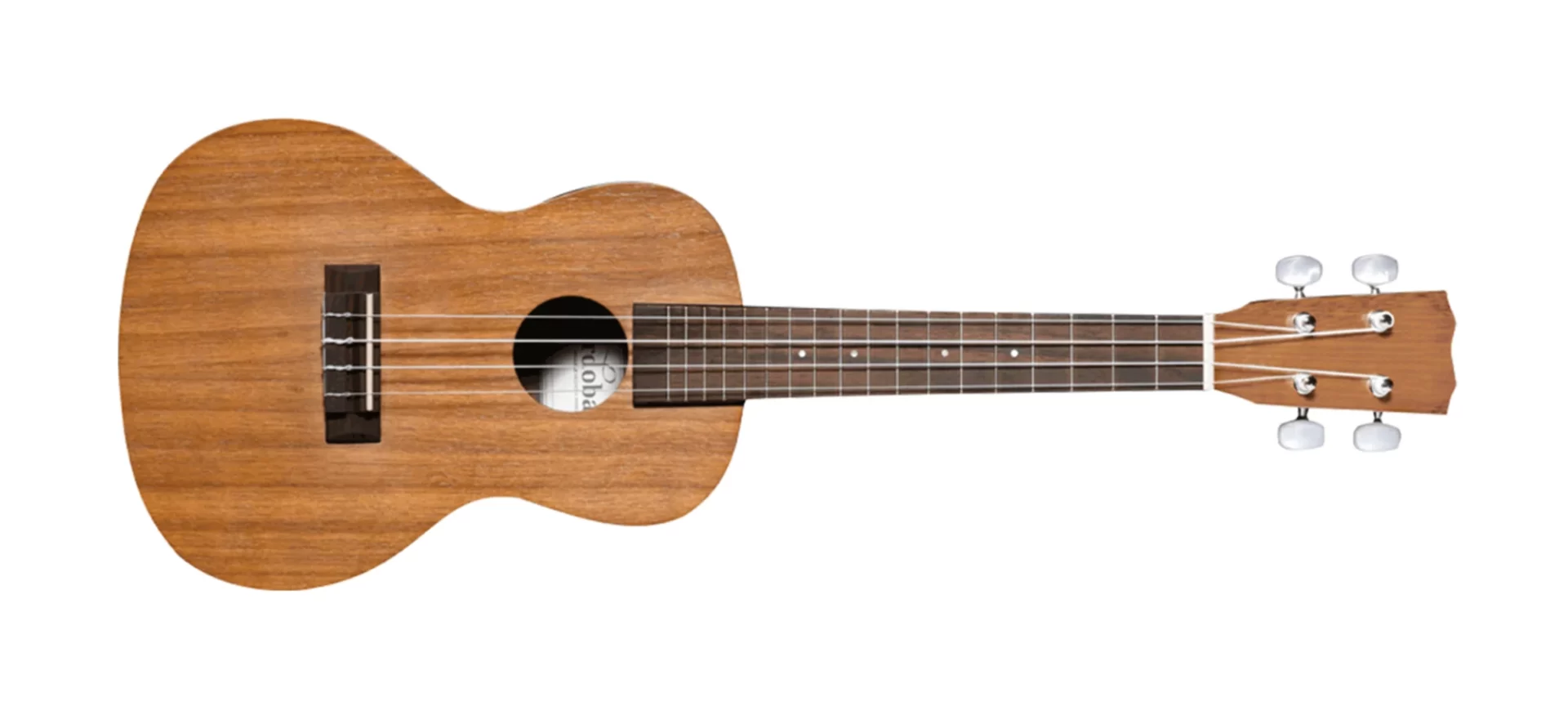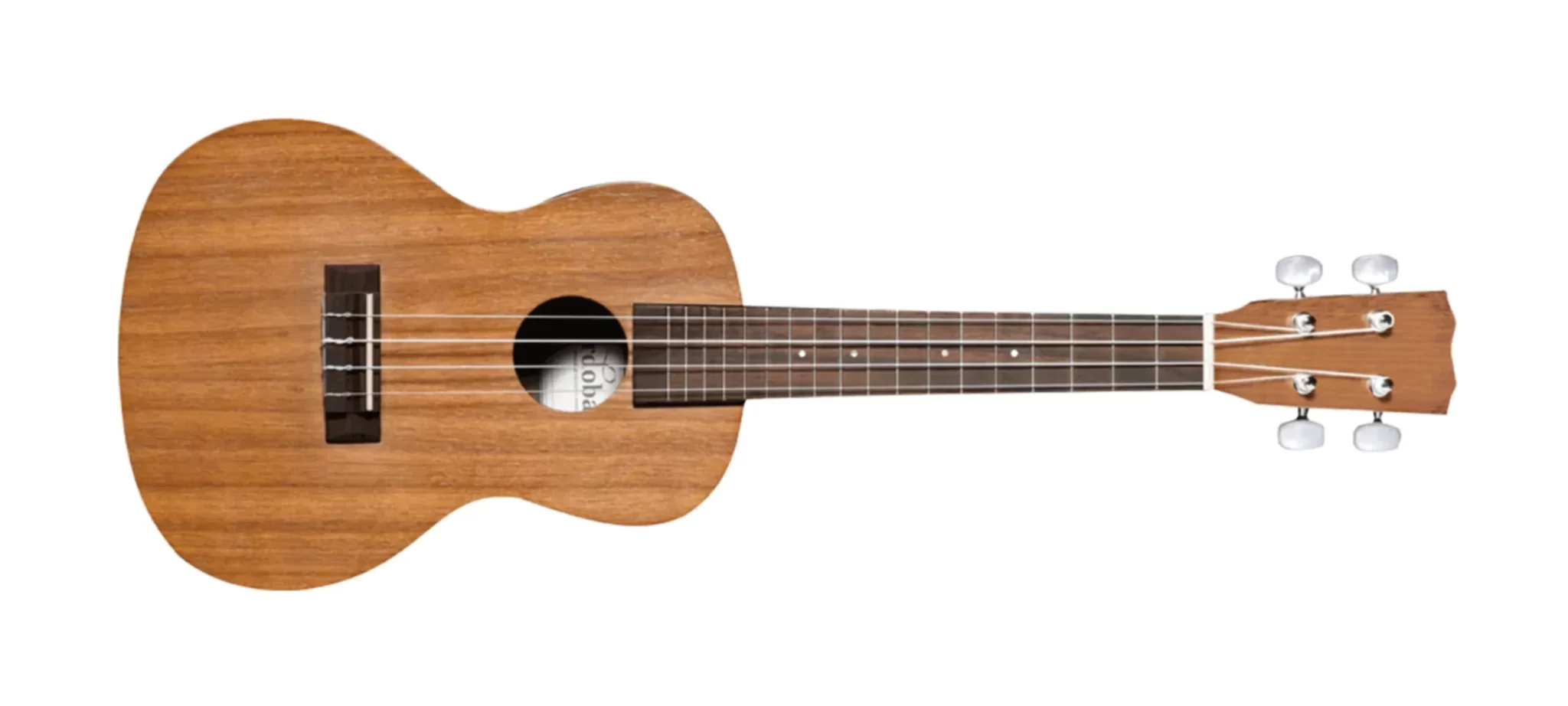 One of the coolest projects on our list is building your musical instrument using a CNC router. Not all instruments like piano and guitar are hard to build. However, some are simpler than you think. Ukulele is an easy project that even beginners can try to have fun with.
To complete the project, you will also need some additional things. These include Tuners, a Ukulele bridge, and a fretboard. If you have a 3D printer then you can print those. Otherwise, you can even purchase them.
CNC routers are ideal for making stringed musical instruments as it offers accuracy and control rather than building these from hands. It is perfect for all complicated curves, inlays, and joints.
To build a Ukulele, you should use an Avid CNC router that is both a commercial and hobbyist machine. It is compatible with tricky materials like aluminum and hardwood that are ideal for making a Ukulele.
Uses: This project seeks the attention of all music lovers and it is always fun to play an instrument you build yourself.
PROS:
Ideal for beginners
Customizable
Fun and creative project
Satisfying when completed
Parametric Desk Cubby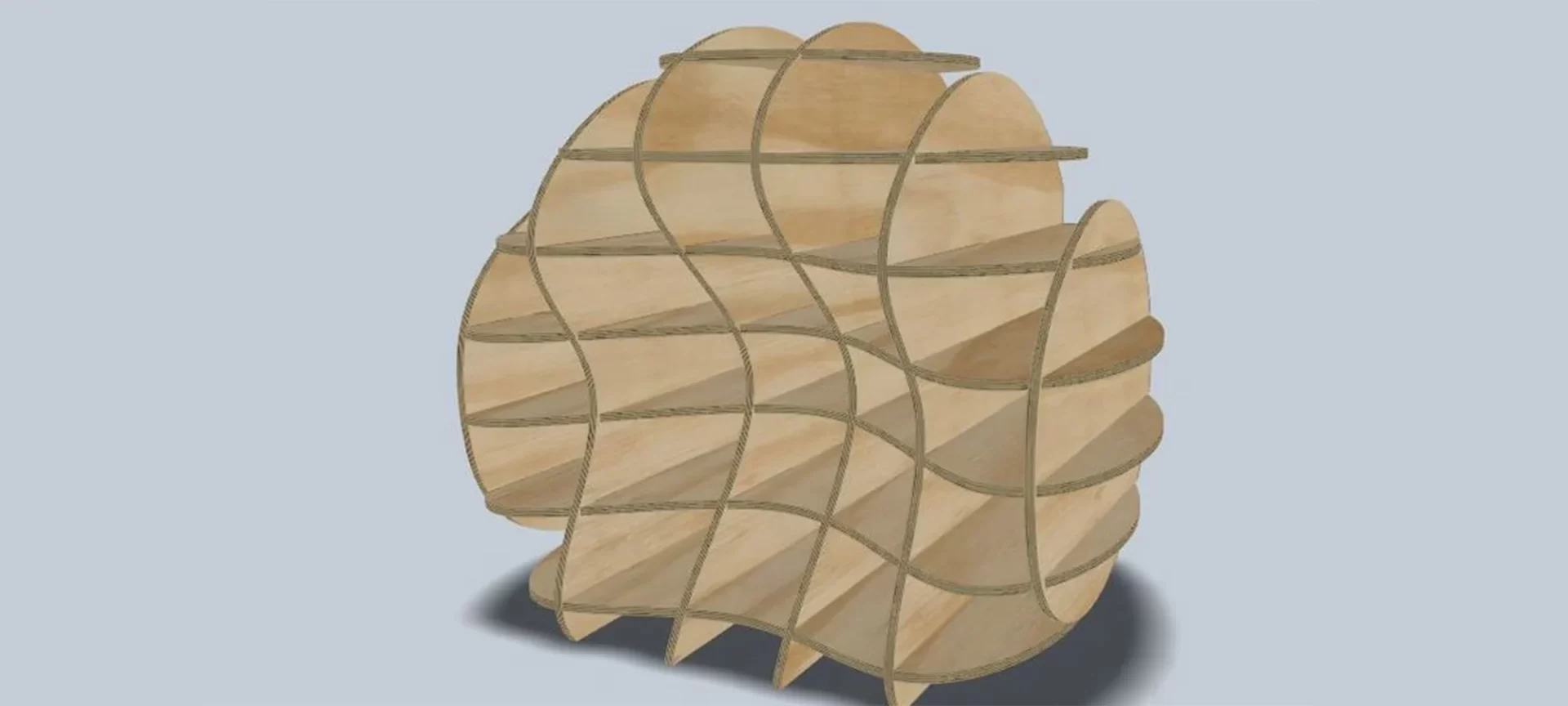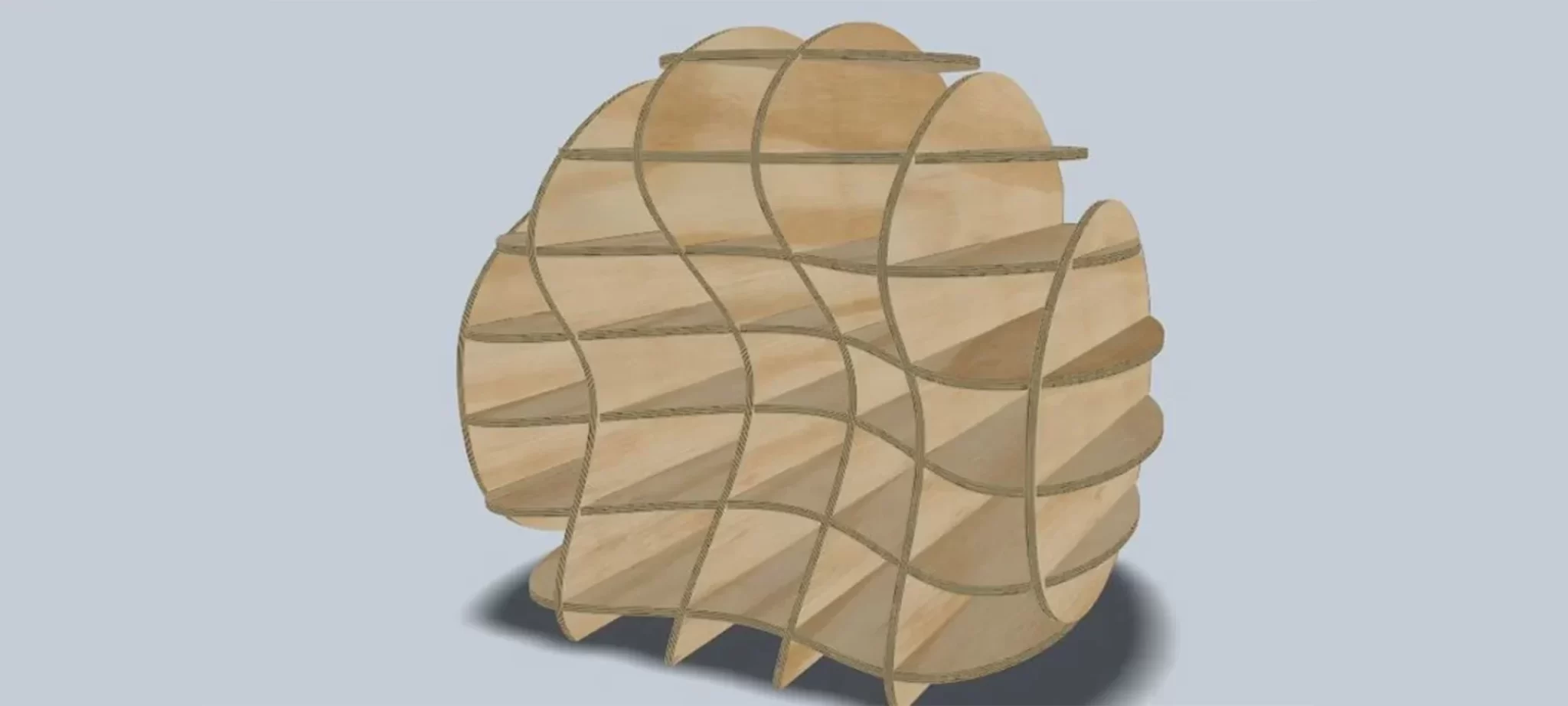 It is great to sort and organize things as it makes your tasks easier, especially when a lot of tools and materials are required to complete a project. These also include a CNC project. Thus, you should first build your own parametric desk cubby shelves to always remain organized.
The project is easy to carry out with little or no technical knowledge required. It is simple to make and assemble. You can use any material to build these shelves. It greatly depends on your taste. Some have even built it with acrylic.
Although the designer suggests using 8 pieces of 12 x 12 inches material with at least 0.25 inches thickness, any wood will work as long as it is durable and does not break when you put them together.
Consistency is the key to successfully complete this project. The cubby shelves are like a giant 3D jigsaw puzzle. You need to fit all the pieces together comfortably to ensure stability. We do not want our shelves to wobble or fall apart!
Uses:
It is idle for those who are looking for extra storage space and need additional organization.
These organizers are also in great demand. You can even sell them online to earn some money.
PROS:
Easy to build
Can use any durable material
No extra hardware required
Saves money
Customizable
Practical and useful
CONS:
Difficult to assemble all the pieces
Robot Arm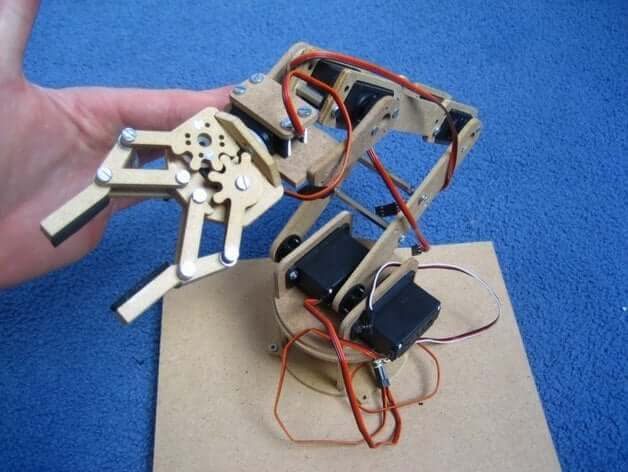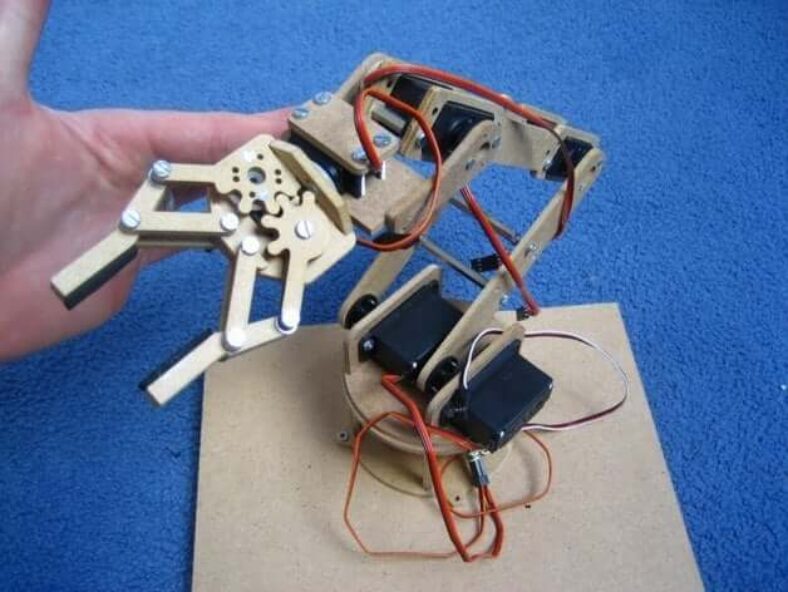 Do you wish to build a robot? Well, now you can also build a Robot arm by using a CNC router. Very few versions are found online. Most of them require a 3D printer for making some robotic arm parts. However, this one is solely made by using a CNC router.
The arms are made from 40mm plywood that is milled. They can be moved by seven servos attached to an Arduino. Detailed instructions are available on the Thingiverse website.
Uses:
It is ideal for those interested in robot building and engineering.
Great for students to learn about robotics and computer programming.
Ideal for Stem learning.
PROS:
Develop interest of students and adults
Can overpower using other servos
Teddy Bear Coin Bank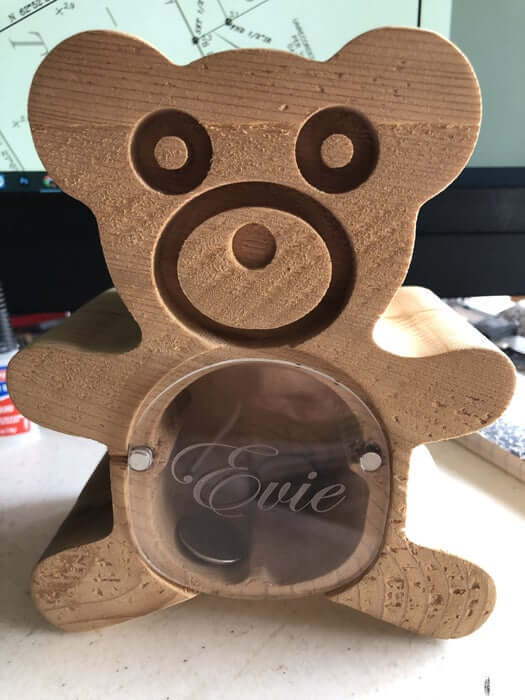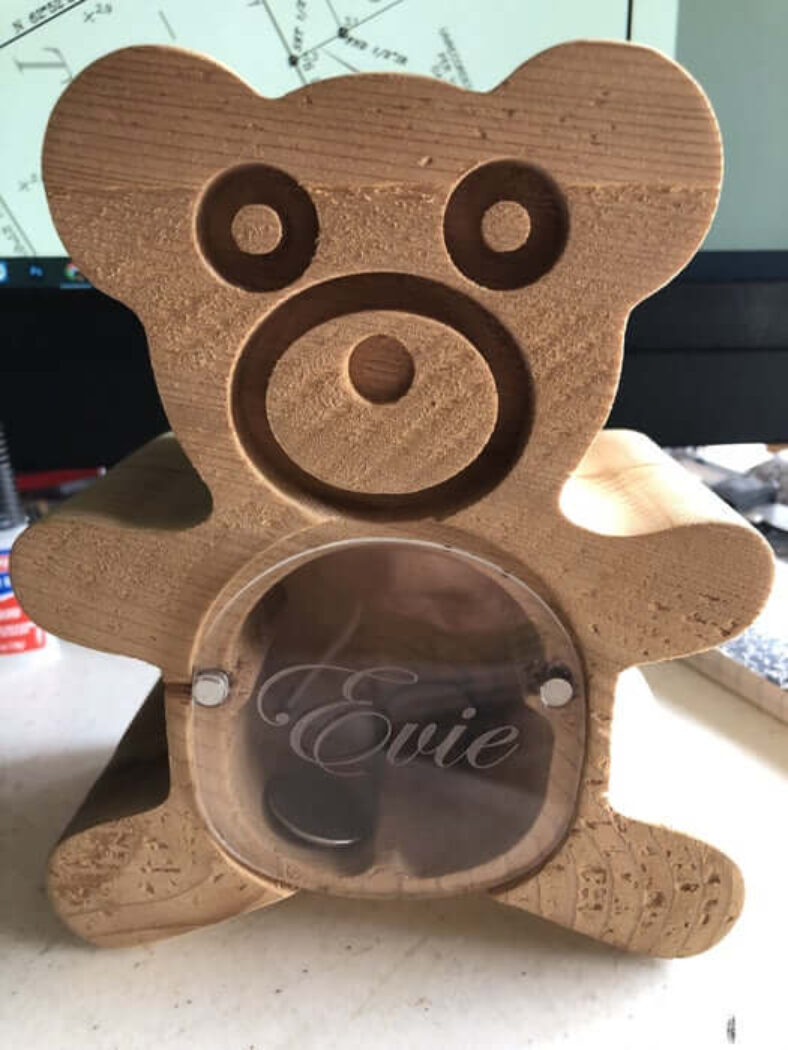 Do you have too many coins lying around your house and you fear losing them? Do not worry. You can now save them securely in a piggy bank. This is a cute CNC project that will make a great addition to your house.
First, you should draw the outline of a bear using Adobe illustrator. Do not forget to include eyes, nose, mouth, and other details as you move along. Then create a toolpath using a CNC Router software. The depths can be altered based on your requirements.
Make sure to align everything correctly and ensure equal parameters for a better end look. To add the front cover, you can use either an engravable Plexiglas or any clear material.
Uses:
Ideal for children and family members to securely save their coins
Can be used as a personalized gift item
PROS:
Easy to build
Customizable design
Develop interest of students and adults
CONS:
Requires laser cutter if using an engravable Plexiglas to make the front cover.
CNC Scissor Chair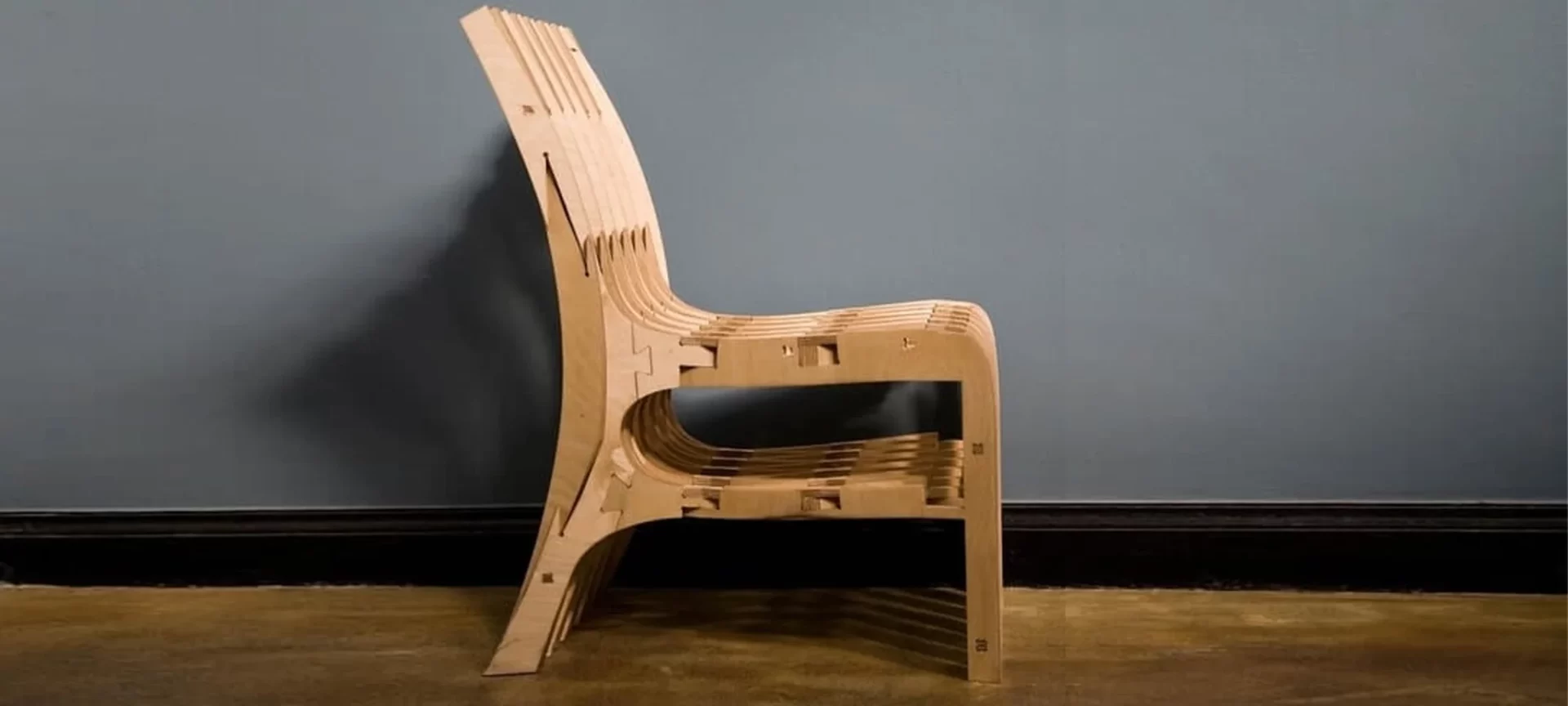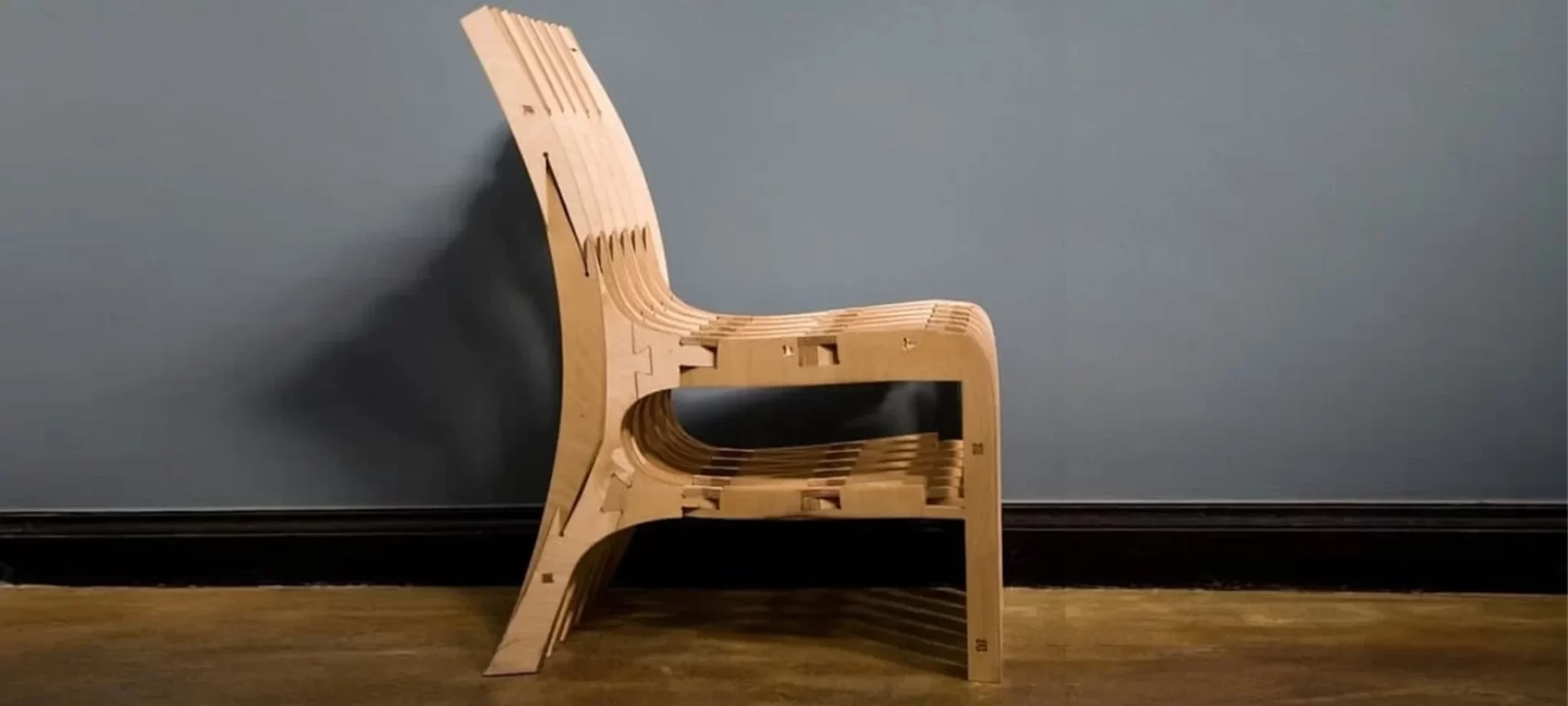 It feels awesome and extremely satisfying to build your own furniture piece by using a CNC router machine. Thousands of CNC furniture ideas are available online.
This particular project, the Scissor Chair, is inspired by the non-orthogonal joints. It requires only one sheet of standard 1/2″ plywood. You do not require any extra parts, glue, hardware, or other tools to build it.
Uses: It is great for those who love constructing furniture. It will be a great piece of art. You can use any material or color you want to build it.
PROS:
Creative
Satisfying
Customizable design
Cryptic Calendar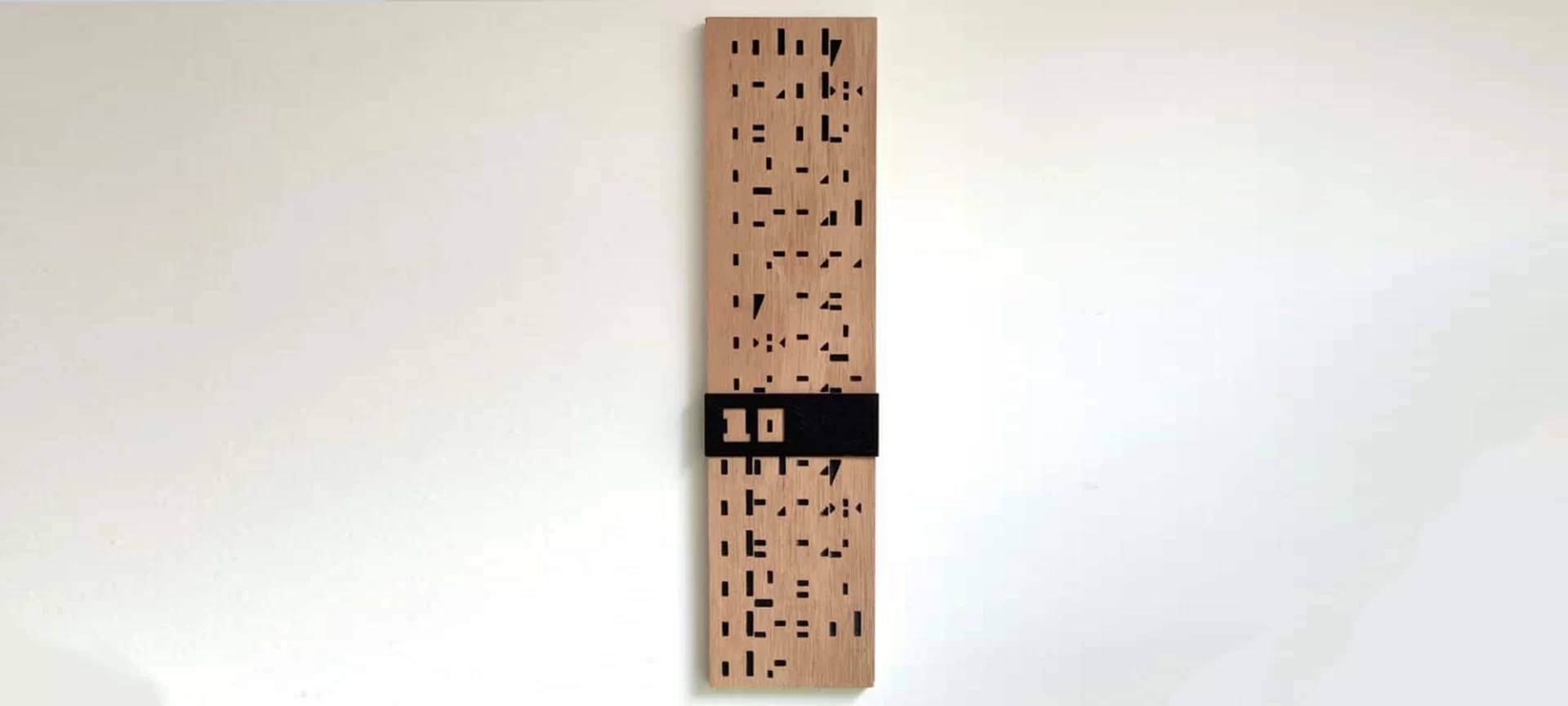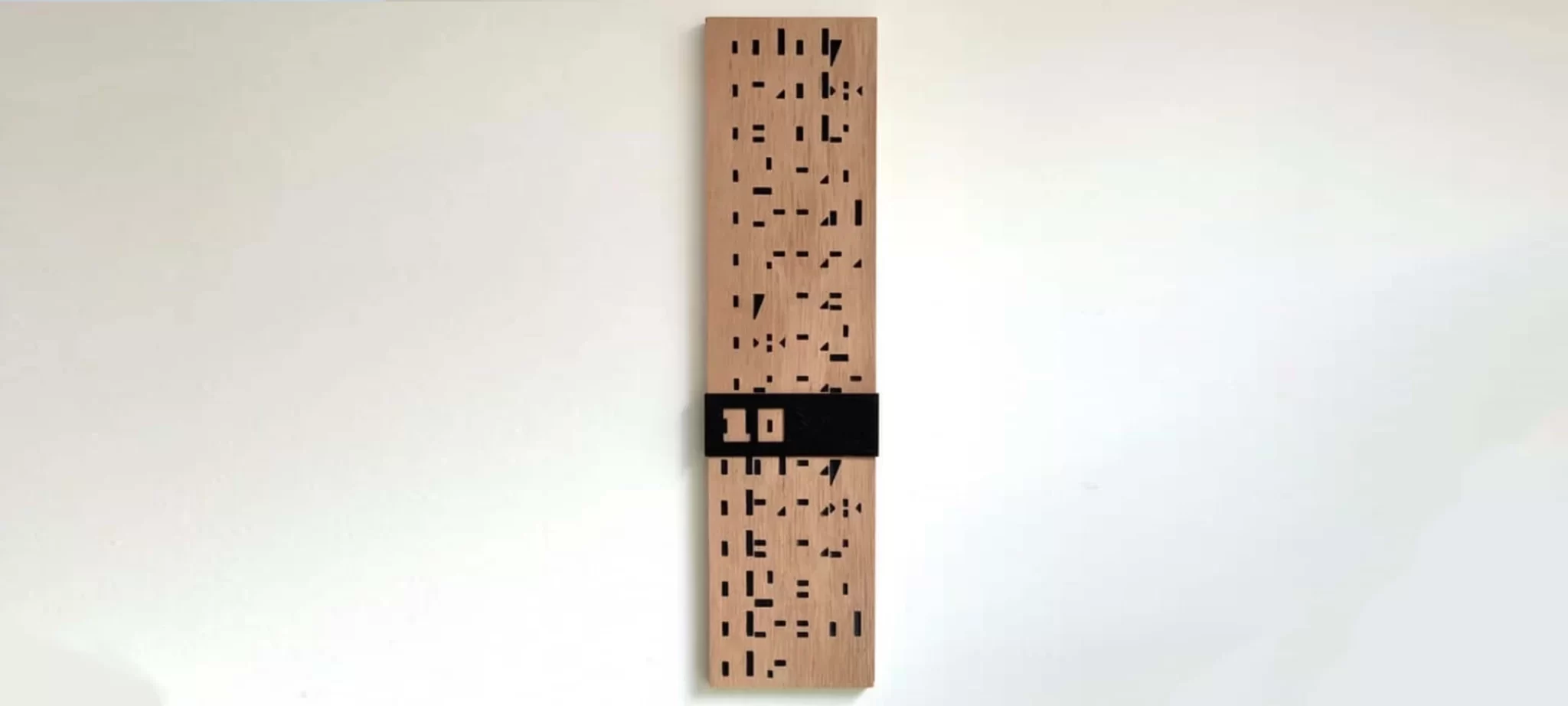 Many people love buying gadgets, so why not make one by yourself, if you own a CNC router? This project is both practical and intriguing. By using an engraved slider and hieroglyphic-like markings, you can build a functional calendar that is eye-catching.
Uses:
It is ideal for those who want to make something unique and different.
You can hang it on any wall of your home by attaching a wall hanger to it.
These calendars are also in great demand. You can even sell them online to earn some money.
PROS:
Marketable
Customizable
Practical and useful
CONS:
Difficult to create accurate patterns
Conclusion
There are multiple CNC router projects that you can choose from. Each one has its pros and cons. You should select one based on your interest, capabilities, and resources availability.