Delta WASP 2040 Clay
Creative artists would love to use this printer and make art pieces that interest the world to see.
PROS
Open design.
Post-processing is easy.
CONS
temperature generation is an issue.
Product
Specification
Videos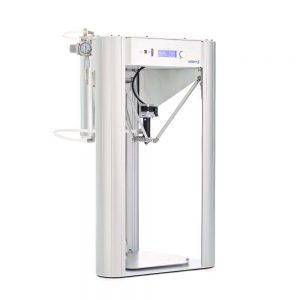 Delta WASP 2040 Clay is an open 3D printer that's accessible from all three sides. It accurately and speedily prints parts and functional prototypes ...
| | |
| --- | --- |
| Model | Delta WASP 2040 Clay |
| Manufacturer | WASP |
| Price Range | $ 3564 |
| Release date | 2019 |
| Country | Italy |
| Availability | Available |
| Classification | Desktop |
| Technology | LDM (Liquid Deposition Modeling) |
| Material | Ceramic |
| Generic material | Yes |
| Max. build size | 200 x 400 mm 7.87 x15.57 in |
| Max. build volume | 0.08 L |
| Max. print speed | 150 mm 5.91 in /s |
| Min. layer thickness | 0.5 mm 0.02 in |
| Power input | 220 – 240 V | 50-60 Hz |
| Weight | 40 kg 88.18 lb |
| OS compatibility | Linux, Mac OS, Microsoft Windows |
| Heated print bed | Yes |
| Heated build chamber | No |
| Automatic calibration | No |
| Closed frame | No |
| Dual extruder | No |
| Independent Dual Extruder | No |
| Full color | No |
| LCD screen | Yes |
| Touchscreen | No |
| On-board camera | No |
| Mobile app | No |
| 3D scanners | No |
| CNC mill | No |
| Electronics 3D printing | No |
| Laser engraving | No |
| Conveyor belt | No |
| Air filter | No |
| Pellet extruder | No |
| USB | No |
| Wifi | Yes |
| Bluetooth | No |
| SD card | Yes |
| Ethernet | No |

Table of Contents
There is not just one printer by the name "Delta WASP 2040," there are three.
Delta Family list of printers lists Delta WASP 2040 Pro. According to our best guess, this printer should be for people who have a family and want to do 3D printing.
"Clay" list of printers mention Delta WASP 2040 Clay. According to our best guess, this printer should be for people who wish to print parts and functional prototypes made from clay material.
"Industrial list of printers states Delta WASP 2040 Industrial X. According to our best guess, this printer should be for people who wish to buy it to run their industry for mass production.
How do we know all this? Because we have visited the website of this 3D printer's manufacturer.
This article will be an in-depth review of the second one from the three printers mentioned above.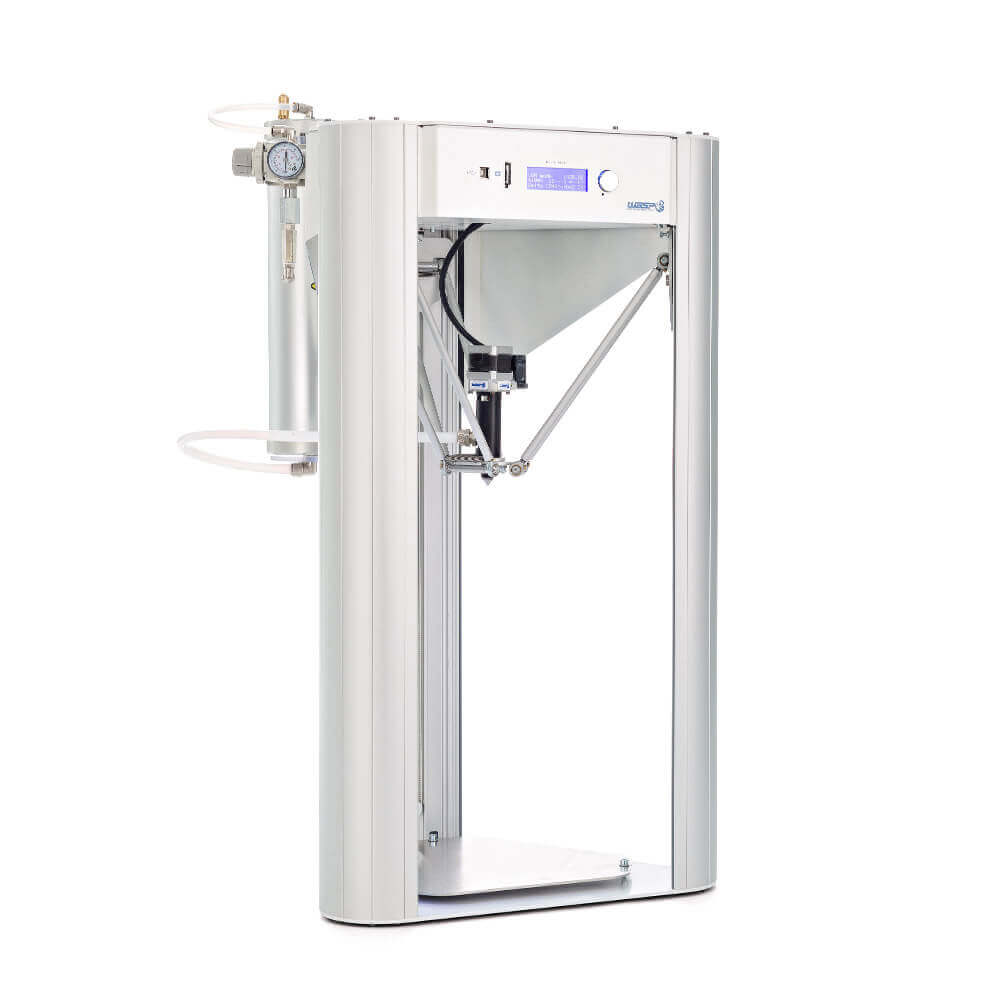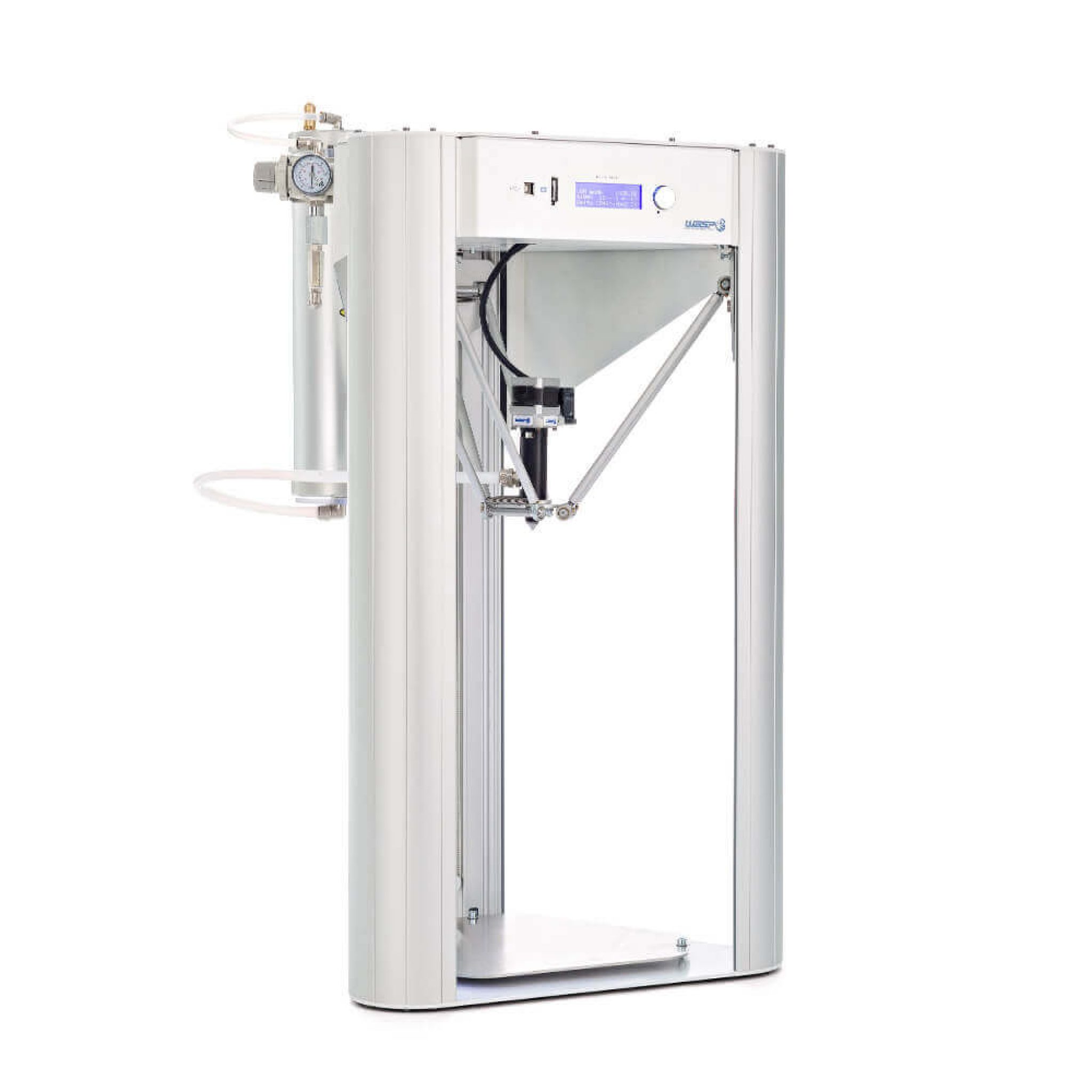 We will start with Features, follow up with Specifications, chain them with Price, voyage with First Impressions, inform you how to Setup, what is the Printing Type/Cost of this printer, the recommendation of Software, Print Quality, printer's Pros, and Cons, company's Customer Service, Factors that will influence your buying decision, and finally provide you the Verdict of this printer.
Features
In total, there are eight features of the printer listed on their manufacturing company's website.
LDM Clay Extruder Compatible
LDM stands for Liquid deposition modeling. This modeling is the most adapted technique for ceramic 3D printing worldwide.
The manufacturer of this printer has used LDM to enable its users for 3D printing with materials such as porcelain, clay, alumina, zirconium, and other advanced ceramics.
The use of such materials is in the promotion of digital handicraft and self-production.
The extruder of this printer is based on a pneumatic system wherein the pump sends paste of ceramic materials through to the deposition arm.
Due to the combination of screw extruder and pressure extruder, it is possible to reach a level of precision that is very close to plastic polymers extruders.
It is also possible with this technology to control the flow of material and also use retraction to interrupt deposition.
Although LDM was created to be installed in top-selling Delta WASP printers, it can be adapted to most of the existing machines that are into ceramic 3D printing.
Removable Plan and New 32-bit Board*4 Power
These are the second and third features that are mentioned on the website.
The first one has to deal with the removable body part that the manufacturer has provided. Doing so would enable the printer to be used as open or closed whenever needed. Whilst the second one has something to do with the print speed.
As written, there is a new board that is used for governing the inner mechanism of the printer i.e. the nozzle and its distance from printing the layer as well as moving it against the gravity after generation of the first layer of part or a functional prototype.
Also written is how the new board is not just 32 bit, but also four times more powerful than the board before.
This indicates how the print speed that you would be getting with this board would be somewhere around four times more powerful than the board before this one.
The removable plan has one more benefit i.e. overall the number of materials that you can 3D print with, increases on a whole.
Because you can print with materials that demand 3D printing with a closed system printer as well as with the ones that demand 3D printing with an open system.
Free Zeta System
Zeta is an operating system (OS) based on BeOS. Zeta is an attempt to update BeOS with support being added for new hardware, USB 2.0, VoIP, and other new support features.
Zeta Version 1.0 was released in the summer of 2005. It has a large worldwide following, mainly based in Germany. Such a system is in place inside this 3D printer.
Resurrection System and High Temperature:
Let's understand the second one, firstly. Higher Temperature means that the complete system including the printing chamber of this printer can withstand higher temperatures.
The resurrection system here is composed of a resistive divider which is based on an Arduino input. This reads the voltage present on the divider itself and a series of code lines.
So, next time when the voltage goes below a certain level, the Arduino automatically performs the Stop and Save function.
In case, if the electrical plug were removed, Arduino would try to perform the Stop and Save function but the machine's motors, which absorb a lot of currents.
And what this would do, is prevent it from being able to carry it out successfully.
Instead, in this printer, they have used a diode in series with the microprocessor power supply, by which they have set aside the energy necessary to complete the rescue.
So, all your work will be saved i.e. both in terms of the electricity failure as well as if the plug is removed.
Wifi module for remote control and Adjustable Zero plays Scroll
If you have surveyed 3D printers before this one, you would probably understand the trend of making a printer that is wi-fi compatible.
This trend is to make a 3D printer operatable even from distances over the net. Some companies have gone very far using this technology that allows their users to operate 3D printers over the browser.
Here, WASP has enabled the Wi-Fi module in the printer giving them the ability to remotely control the printer from a distance.
The second one looks as if it has something to do with the print bed because we see a print bed ty0pe of structure drawn about the text.
Although, it is not drawn in three dimensions, two dimensions. Zero's here seem to mean the gears that are responsible for invoking some kind of mechanism inside the printer.
And by saying they are adjustable, the company is claiming that since they are not fixed, you can easily adjust the mechanism.
Easily play the scrolling, or flexibly play the game of scrolling up the mechanism or scrolling down.
It can be about the rails that are used to carry the nozzle upwards as soon as the first layer of the part that you want to print has been printed. And every time after having printed a new layer.
Specifications
The Printing volume offered by this printer is 200mm x 400 mm. 0.5 mm is the number of minimum layer height offered by this printer, whereas the maximum print speed offered by Delta WASP 2040 Clay is 150 mm/s; so is the maximum travel speed. The Acceleration of this printer is 500 mm/s2.
You can print using ceramic mixtures, Clay, Porcelain, Gres, Earthenware, and other material.
The LDM WASP extruder comes with a nozzle diameter of 1.2 mm and 2mm. The overall dimensions of this printer are 440 mm * 490 mm * 870 mm. The machine weighs 40kg.
The input power needed to operate this printer is 220/240 V 50/60 Hz whereas the absorbed power is 180 Watts.
The air compressor needed in this printer should be able to generate is at least 8 bars.
The suggested using temperature is 20 to 30 degrees Celsius. Whereas the warehouse temperature can vary from zero to thirty degrees Celsius.
The material is delivered to you within four weeks from the date of the order placed.
Price
On the website of the printer's manufacturer, the price is mentioned in pounds which is you convert into dollar comes around $3876 approximately.
First Impressions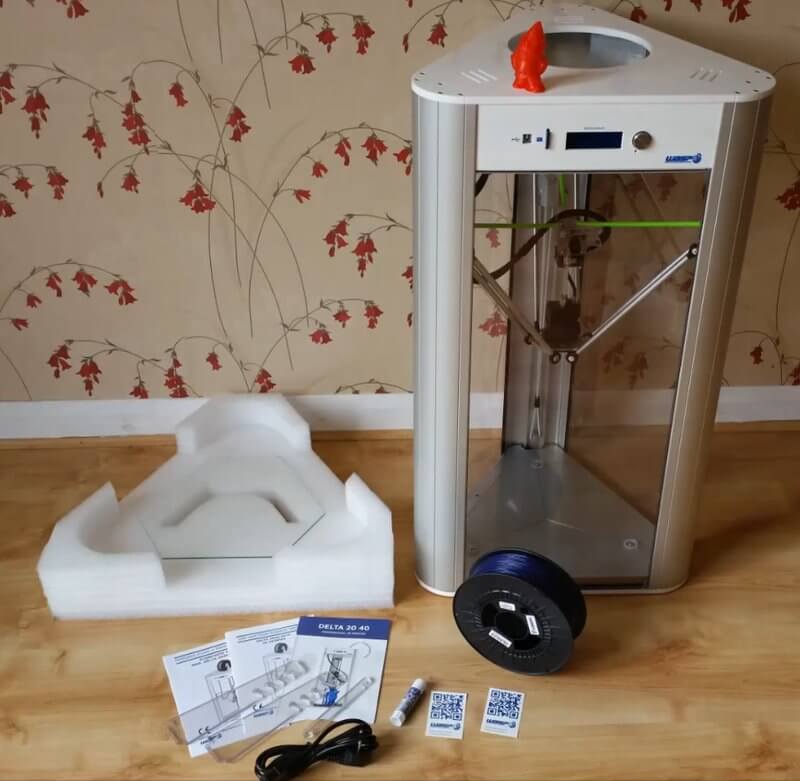 Credit: top3dshop.com
Three photographs are showcasing the printer's different ends given on the website. On the head of the front view of the printer you get to see a small screen that displays some information, just beside it, there is a button.
The printer stands still with the use of three pillars that form a triangle and to connect these three pillars there is some base material used which acts as the print bed for this printer.
Each of these pillars constitutes the nozzle movement, which is going be against the gravity, via motors as soon as one layer is printed.
Setup
The printer comes is a box with many other things such as an LDM Wasp extruder with the nozzle in inox steel in two diameters which is also mentioned above i.e. 1,2 mm and 2 mm.
There is one tank of three liters which you will need to store the liquid printing material.
Since it is of three liters, there would be a lesser possibility that you run out of the material during the printing process, unless you decide upon printing some of the other large part or a functional prototype.
There is one printing bed that is marine multilayered with 10 kilograms of porcelain. That's all that comes with the printer.
Printing Type/Cost
As mentioned above, the 3D printer works on the principle Liquid Deposition Modeling which is the name of the technology that is claimed by WASP to be invented by them.
The need for the invention of this technique is because WASP has been since long focusing on developing a system that would allow users to use materials like porcelain, clay, alumina, and zirconium other than normal ceramics.
So, this technology came into being. The company claims how this technology can be used for promoting digital handicraft as well as self-production.
The printing cost of this printer depends on various factors and cannot be generalized. It also depends on the kind of application you are using the printer for.
Print Quality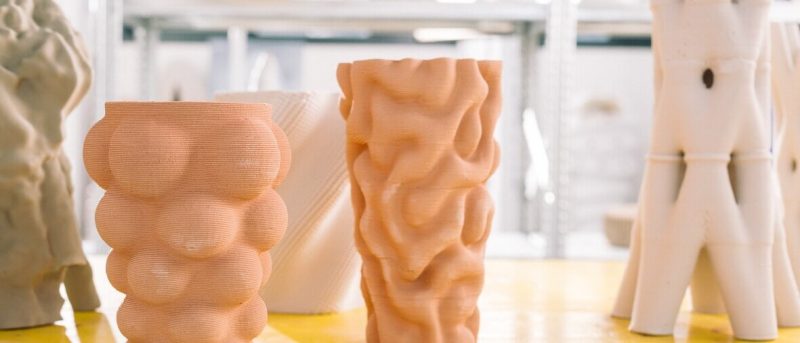 Credit: 3dwasp.com
There are seven photographs of different products which are supposed to be made on this printer. All of them depict the quality that the printer claims to produce.
The first one is a colorful showpiece that has intricate lining over it, which is very suitable when kept in the living room of your place.
The second picture looks like some kind of intricate maze structure, it can be used for multi-purpose. The third picture is a closer view of the second.
The fourth picture appears as an egg-holder. The fifth one appears to be an art-piece with curves all over itself.
There is also a picture of some kind of flower stand which is amazing.
All of these structures possess intricate curving and linings and it's amazing to see how a 3D printer such as Delta WASP 2040 Clay is able to do it.
Software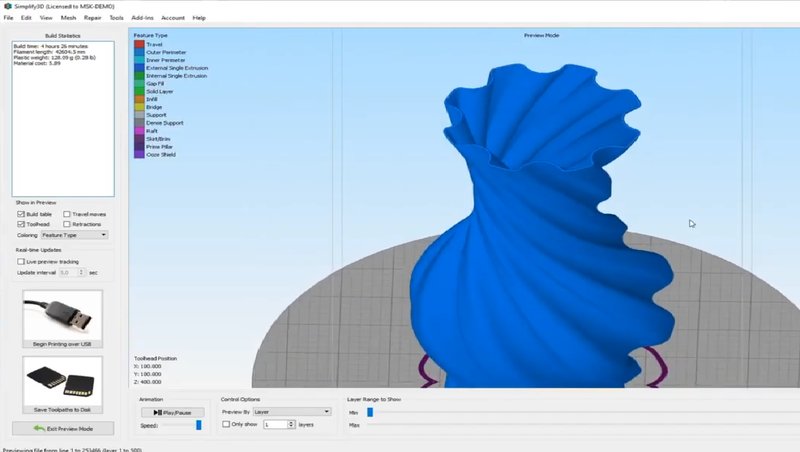 Credit: top3dshop.com
The slicing software of this printer can be operated easily using operative systems: Windows, Mac, as well as Linux.
Delta WASP 2040 Clay is compatible with all slicing software such as Cura, SLic3r as well as Simplify3D.
The types of file extensions that can be printed using this printer are .stl, .obj, .gcode.
Customer Service
Apart from the chatting option that is available on the right bottom corner of this website, you can also click on the Contact tab which will open a webpage with a contact number, email id as well as contact form.
Parameters Influencing Buying Decision
Below mentioned are a few factors that will matter to you while purchasing this printer.
3D Printer Cost: Affordable for a desktop 3D printer.
3D Print Quality: Above average.
3D Print Speed: Industry standard.
3D Printer Capability: A variety of 3D printing materials can be printed using this printer.
3D Printer Practicality: Universities and art institutions are primarily where this printer can be used.
3D Printer User Expectations: For potters, this printer is a gem!
The Verdict
Creative artists would love to use this printer and make art pieces that interest the world to see.
There are also pictures and videos of the amazing art pieces that are already in existence, made using the Delta WASP 2040 Clay, so being a part of this printer is being a part of a great legacy.