Dremel Digilab 3D40 Flex
The printer has its own administrative portal on which you can configure a proxy or Static IP settings. This enables you to connect the Digilab 3D40 with multiple printers to the cloud over Wifi or Ethernet.
PROS
Print removal is easy.
30 percent faster than 3D40.
Reliable 3D printing.
CONS
Oozing of the filament is a bit of a problem.
Product
Specification
Videos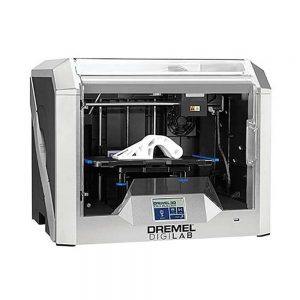 Making print removal as easy as emptying an ice tray is the printer's 3D40 Flexplate. The printer is 30 percent faster than its former version. ...
| | |
| --- | --- |
| Model | DigiLab 3D40 Flex |
| Manufacturer | Dremel |
| Price Range | $ 1399 |
| Availability | Available |
| Classification | Desktop |
| Technology | Extrusion (FFF- FDM…) |
| Material | PLA |
| Filament diameter | 1.75 mm 0.07 in |
| OS compatibility | Mac OS, Microsoft Windows |
| Max. build size | 255 × 155 × 170 mm 10.04 × 6.1 × 6.69 in |
| Max. build volume | 6.72 L |
| Nozzle diameter(s) | 0.4 mm 0.02 in |
| Dimensions | 515 x 406 x 394 mm 20.25 x 16 x 15.9 in |
| Weight | 16 kg 35.27 lb |
| Power input | 100-240 I 47-60 Hz I 8-1.8 amp |
| Heated print bed | No |
| Heated build chamber | No |
| Automatic calibration | Semi-automatic |
| Closed frame | Yes |
| Dual extruder | No |
| Independent Dual Extruder | No |
| Full color | No |
| LCD screen | Yes |
| Touchscreen | Yes |
| On-board camera | No |
| Mobile app | Yes |
| 3D scanners | No |
| CNC mill | No |
| Electronics 3D printing | No |
| Laser engraving | No |
| Conveyor belt | No |
| Air filter | No |
| Pellet extruder | No |
| USB | Yes |
| Wifi | Yes |
| Bluetooth | No |
| SD card | No |
| Ethernet | Yes |

Table of Contents
Apart from manufacturing 3D printers, Dremel is also into laser engraving as well as providing 3D printing materials.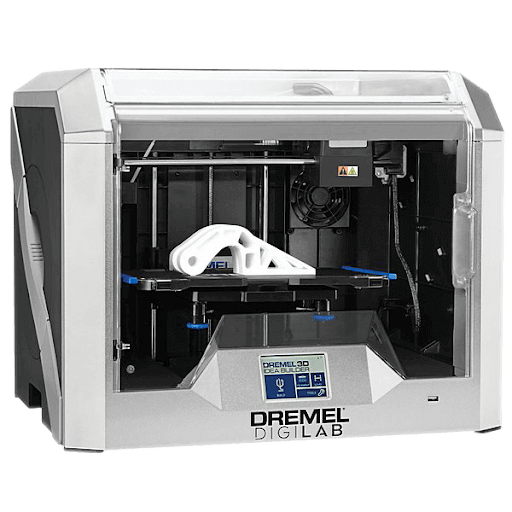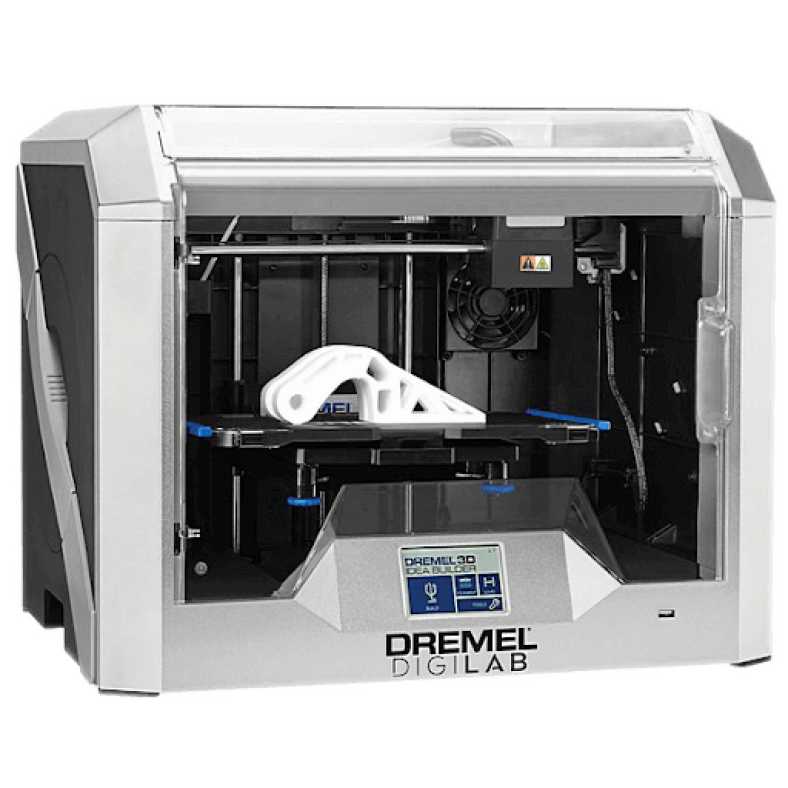 In this article, we are going to look in-depth at 3D40 Flex which is an upgrade of the 3D40 printer.
Features
There are some of the points which set the printer apart from the 3D printers overall.
Let's look at the nuances and start our journey of gaining in-depth insights about the printer.
Strictly Tested and best customer service
There are many claims made about the printer on the webpage dedicated to the printer on its manufacturer's website. One of those claims is about the testing of this 3D printer.
Digilab 3D 40, Dremel claims, is tested for thousands of hours before it comes out in the market.
This the manufacturer has done to ensure longevity and reliability in the printer.
The 3D printer manufacturing field is full of examples wherein companies which did not do sufficient testing before launching their printer had to then take back the printer because of customer complaints.
Dremel, by its strict testing, has ensured that's not the case with their printer, Digilab 3D40.
Dremel has its in-house customer service team that is available nine hours a day, 5 days a week, as per the company's claim on the webpage dedicated to the printer.
This team is available over the phone, through chat, as well as via email to help you in any situation that occurs with their printer.
There is a special tab titled Support on the company's website on which you can go through for getting an idea of ways the company can support you.
Effortless networking and Cloud printing management
The printer has its own administrative portal on which you can configure proxy or Static IP settings.
This enables you to connect the Digilab 3D40 with multiple printers to the cloud over Wi-Fi or Ethernet.
The more a printer is connected, the more it can exchange. The more it can exchange the newer designs you expose someone else as well as yourself too.
Basically, 3D files are known to be easily accessible when a printer has such type of networking rather than SD cards or USB cords.
With the printer's cloud printing management you are able to share your printer or printers with hundreds of people and print easily as well as remotely with Dremel's cloud printing and management software.
This feature is very lucrative to have when you have a print farm with many different kinds of printers.
And you wish to share from one printer to the other, easily. That's when the interconnection comes into play.
As well as, there are times when you cannot be physically present near the printer, that's when the remote management software comes into power.
Overall the sharing and hence printing becomes a lot easier using this printer.
Plug and Play, painless bed leveling, and hassle-free printing
The Digilab 3D40 comes fully assembled, all you have to do is unbox the printer on your desktop or workplace and then start printing, by connecting the printer to electricity.
Making sure that even the newbies in the field of 3D printing who buy this printer need to go through no pain of giving more effort than any professional in the 3D printing field, the company assembles the complete 3D printer at their factory outlet and only then ships it to you.
The manufacturer of this printer claims on the website that using this printer you can get your first prints on hand in 10 minutes.
Digilab 3D40 has a reliable assisted leveling process in which at every step you as a user are guided through.
So, at any point in the process, you do not need to guess anything which can then result in the failure of the printer.
Dremel acknowledges the importance of bed leveling in making a 3D print part or functional prototype of high quality, hence it takes away from the complete task, all the guesswork and pitches you with the surety you need for ensuring the correct leveling before starting to print the 3D part or functional prototype.
To ensure the interaction between you and the printer happens correctly, the company has accommodated an intuitive touchscreen interface using which you can easily access print files.
Not only that, but you can also start, pause, and stop the 3D printing process in case of uncertainty or realization of things going wrong.
In short, you can manage the complete process of your printer easily using the touch screen interface which is simple and intuitive.
Specifications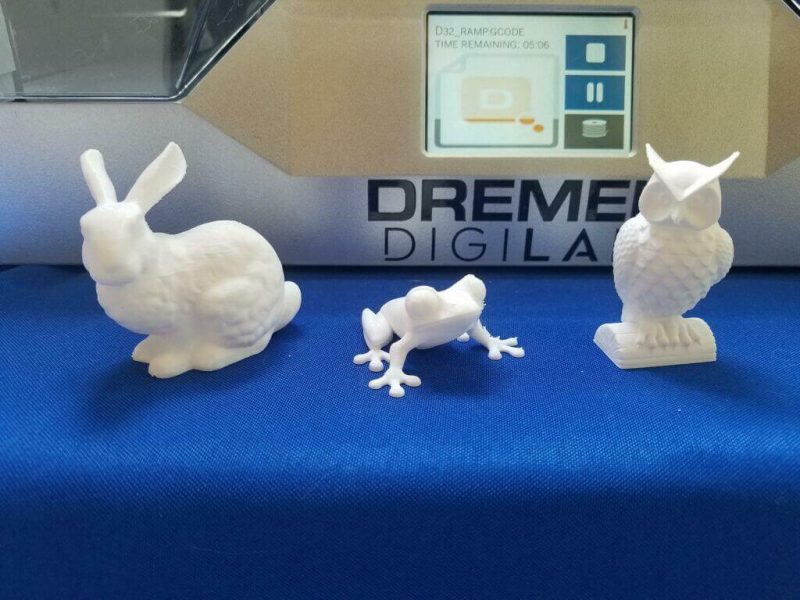 Credit: 3dprinting.com
Dremel Digilab 3D40 Flex is based on the Fused Deposition Melting process of 3D printing technology.
The diameter of filament that can be used in this printer is 1.75 mm. Digilab 3D40 Flex comes with a direct drive single extruder and offers a build volume of 255 mm * 155 mm * 170 mm.
The Z-axis resolution of this printer ranges from 100 to 300 microns. You can print with PLA 3D printing material on this printer.
The diameter of the nozzle that you can use with this printer is 0.4 mm. The file format with which you can 3D print is G3DREM G-code.
The internal storage capacity of this printer is 8 GB. It can be operated using a 4.5-inch full-color IPS touch screen.
The printer features a semi-automated bed leveling. The maximum extruder temperature that this printer can withstand is 230 degrees Celsius.
The company recommends using this printer in an operating temperature range of 16 to 29 degrees Celsius.
The input power needed by this printer is 100 to 240 Volts, 47 to 60 Hz, 0.85 to 2.3 Amperes.
You can connect with this printer using Wi-Fi, USB, as well as Ethernet.
The weight of this printer is 19.8 kilograms, whereas the printer's dimensions are 20.25 inches * 16 inches * 15.5 inches.
Price
As soon as you land on the webpage dedicated to this printer on the website of Dremel company, you get to see the price of this printer in the foreground of a picture that shows a wall, behind Digilab 3D40 printer with three spools of filament and three parts, you see the price of the printer $1399.
There is also an option to Get a Quote for the printer which is mentioned just below this text.
Clicking on which, opens a webpage in front of you which gives the phone number of a sales rep and contact form.
On the right of which there is information about the Purchase and Order Quotes, Catalogs and pricing, Digilab Authorized resellers, Return policy, as well as warranty information.
First Impression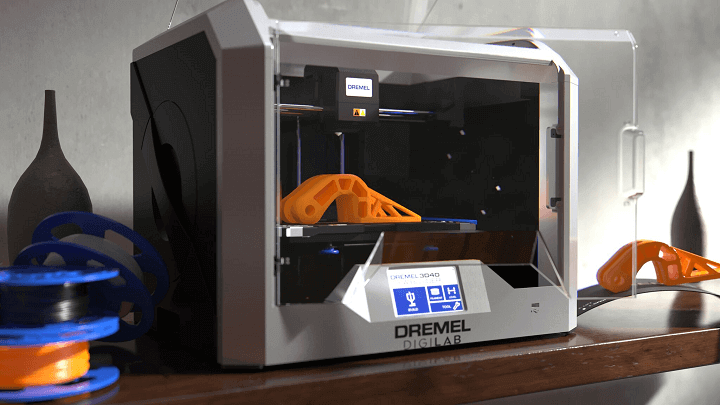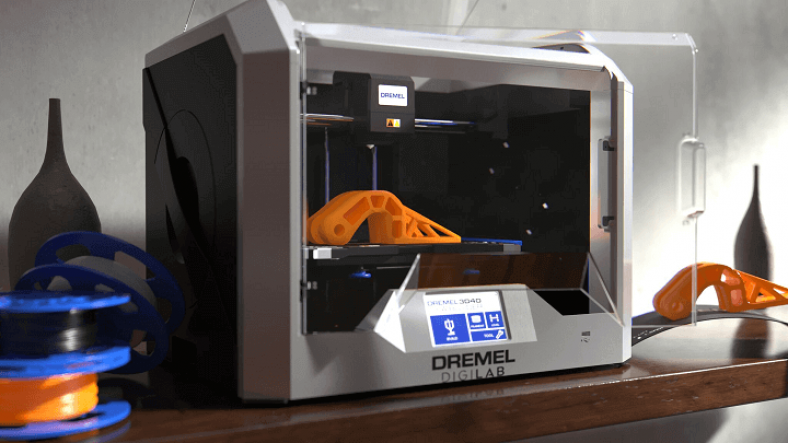 Credit: 3dprint.com
When you scroll down the webpage dedicated to this printer, you get to see some more pictures of this printer.
The first one shows a printer with the door of its print chamber opened as well as the top of the printer open to the environment around.
Both these parts on the body of the printer are made of transparent material which lets you see the print bed of the printer as well as the extruder and the nozzle system of the printer respectively.
The rear ends of the printer are colored, which makes the body of the printer look attractive enough to catch your eyes when the printer is present on a table with few others.
The filament spool holder is present on the left part of the body of the printer, as you would be able to see when you scroll down and see another schematic of this printer taken from the top at an angle.
The nozzle system of the printer is assisted with rails that are attached to the X and Y-axis of the back of the printer which lets it come upwards after printing a layer of 3D part or functional prototypes.
Setup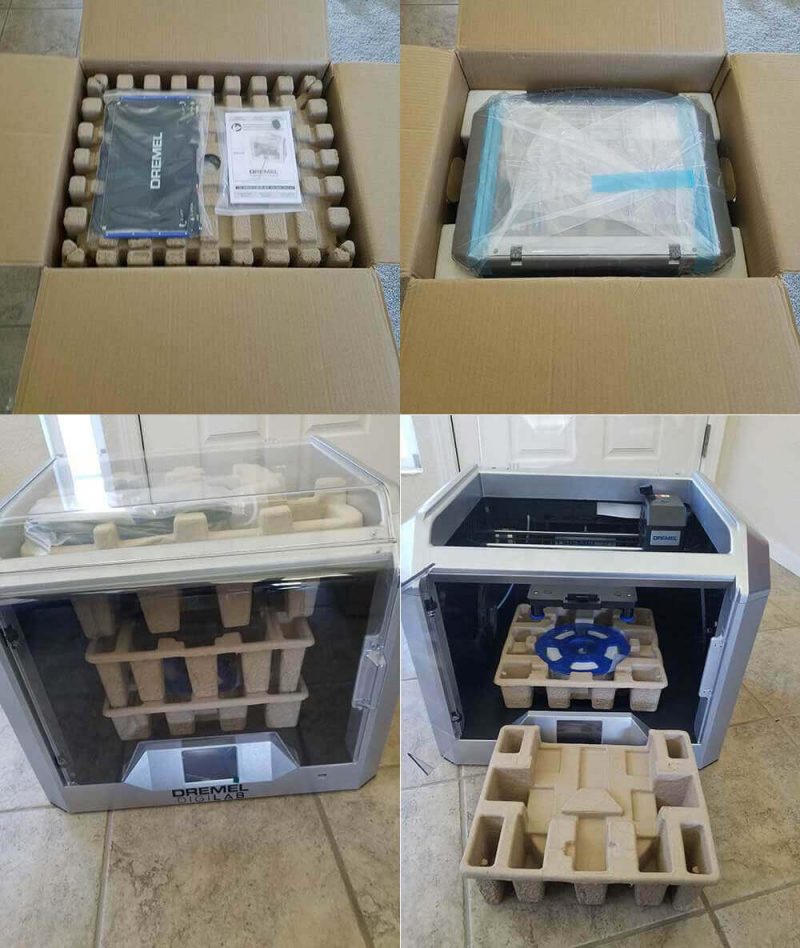 Credit: 3dprinting.com
As mentioned in the features section of this article, the printer comes fully assembled and if the manufacturer's claim is to be believed you can start printing after 10 minutes from the time you have unboxed the printer.
However, you should, if you are a newbie in the field of 3D printing technology, read the instruction manual that comes with this 3D printer.
As well as you can click on the "learn from the best printer tutorials," which an option on the webpage dedicated to the printer on the manufacturer's website.
The company offers video support to all its users of any of the 3D printer, 3D printer supplies as well as Laser Engraver.
Printing Type/Cost
The printer is based on Fused Deposition Melting 3D printing technology.
As you can see in the first impressions of the printer, the parts of printers like filament spool holders, extruder, and nozzle system along with print head are able to lay down the first layer of melted filament on the print bed.
And then layer after layer the complete part or functional prototype is built.
The cooling of the part or functional prototype that is printed using this printer is done generally via exposing it to the ambient temperature or cooling via blowers.
In this printer, there are no coolers used for post-processing, so it must be through exposure to ambient temperatures.
The printing cost per part is lower in this printer compared to printers that use laser sources or electron beams to cure the part.
But the overall printing cost per part depends on other factors too, so you must compare it specifically.
Print Quality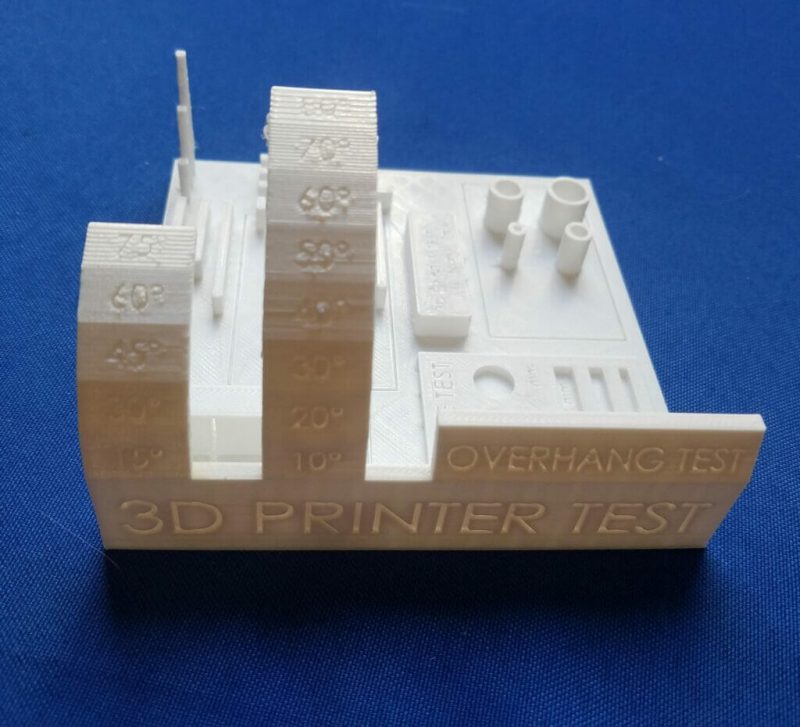 Credit: 3dprinting.com
Dremel Digilab 3D40 Flex can print parts up to 300-micron resolution, as well as up to 50-micron resolution.
It depends on the speed which you choose for the 3D print part or a functional prototype.
Overall, the pictures of parts that are uploaded on the webpage are toys or showpieces which look to have good quality.
Also, the reviews mentioned just before the webpage ends show good ratings given by the customer to this printer.
Software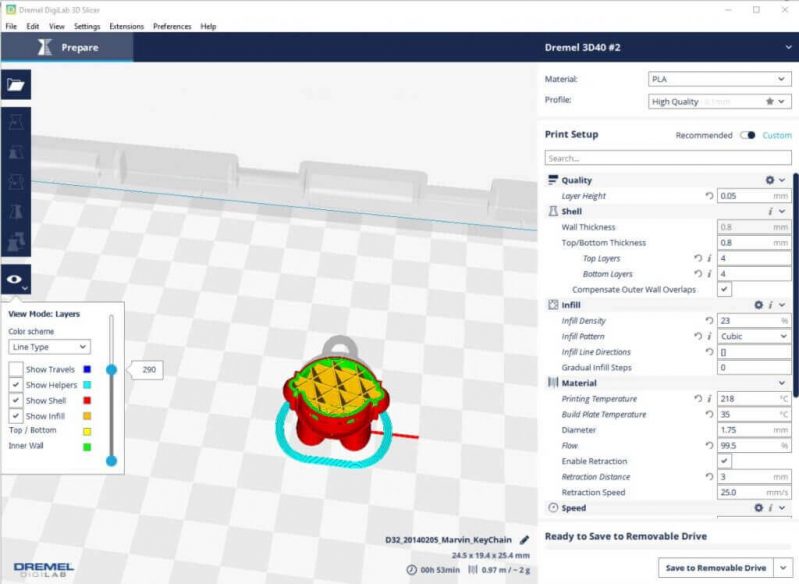 Credit: 3dprinting.com
Dremel Digilab 3D Slicer, based on Cura software is included with the printer.
Whereas Dremel Print Cloud-based on 3D Printer OS is included with the printer. It is a web-based software.
Dremel Digilab 3D40 Flex is also compatible with Simplify 3D software.
The file extensions that are compatible with the above-mentioned software are STL and OBJ.
These softwares are suited with MAC OS X version 10.9 plus, windows 7, 8, 8.1, as well as 10.
Customer Service
The Support tab has options for each printer that is manufactured by Dremel.
When you click on 3D40, you are left with clicking choices of Mechanical and Electrical, Extruder, Filament, Print Quality, Setup as well as Documentation, Software, and Firmware.
Clicking on any one of those will give you a solution related to that specific section.
Apart from this, you can call, chat, or email the in-house customer service team of the company.
Parameters Influencing Buying Decision
Points which you should remember while comparing one printer with the other when you are out in the market and are buying are mentioned below.
3D Printer cost: Affordable.
3D Print quality: Print range resolution of 50 to 300 microns is above industry standard considering the price of this printer.
3D Print speed: 30 percent faster than its predecessor is the claim made about Digilab's 3D 40 Flex which is pretty fast.
3D Printer capability: You can play with the highest quality of filament out there in the market.
3D Printer Practicality: The website boasts about how strictly each printer of theirs have been tested, which is pretty amazing to read about.
3D Printer User expectations: Given the fact that 3D printers are also available in a cheaper range than this one, this printer will fulfill the expectations of experts and professionals in the field.
The Verdict
When you are out there buying you should look out for comparing print speed, quality, as well as layer resolution of the printers in the same price range, and do not forget about the world-class customer support provided by the company.