Fuel 3D Scanify
Fuel 3D Scanify 3d scanner combines numerous image processing technologies to ensure that the result is up to the mark.
PROS
Affordable face 3D scanning.
Intuitive processing.
Good end results.
Sleek design.
Varied areas of application.
CONS
Low resolution after scanning.
Table of Contents
Fuel 3D Scanify is an entry-level portable 3D printer. Its process of scanning is intuitive and delivers good results compared to other cheaper and extensive options.
The scanned files could then be used for merging realistic 3D captures on a stock head thereby producing great representations, not only for animation but also for video games.
The scanner has a sleek design with a high-end finish that attracts the eye at a glance. Also, the resolution of captured scan images is amazing.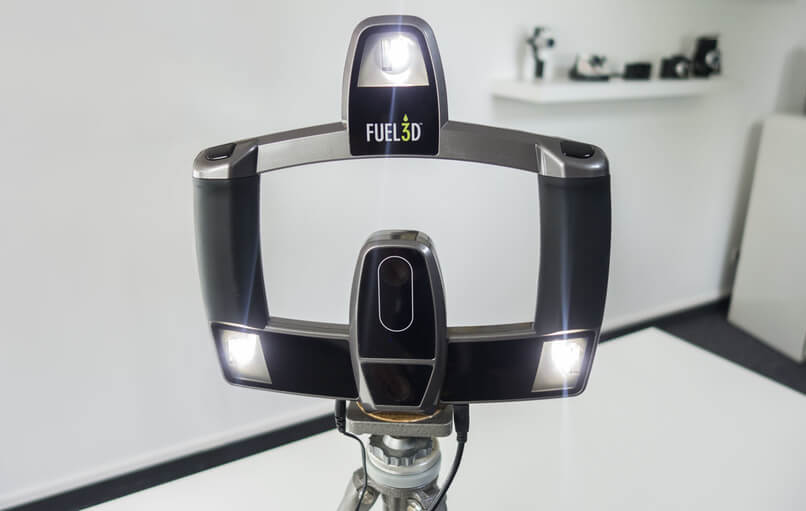 Thanks to the photogrammetry 3D scanning technology used by the machine. It combines numerous image processing technologies to ensure that the result is up to the mark. But, overall, is the scanner worth the price it demands from the user? Well, let's find out by looking at the scanner in-depth.
Features
Fuel 3D Scanify uses Fuel 3D proprietary tracking targets i.e. small round black and white markers.
It can be optimally held while scanning objects of smaller size. Also, the scanner has an intuitive process that ensures capturing is instantaneous. Moreover, its compatibility and portability allow users to easily manage their working conditions.
Below mentioned are a few features that separate it from other scanners in the same price list.
Cropping
This feature typically differentiates Scanify from other photogrammetry-based 3D scanners.
While other 3d scanners generate 3D data by capturing a subject from a wide range of angles all the way up to 360 degrees, Scanify's results always contain the background. Unlike others, Scanify doesn't need to differentiate between the subject and the background.
And for doing this, the cropping tool is extremely helpful. This allows you to create more than one positive or negative cropping zone. A mechanism specifically connects all the points you need to create a shape.
Stitching
In case you need more than normal geometric details of the object's sides, the Fuel 3D Studio contains a feature that allows you to stitch multiple captures into a single 3D object.
If you are using a free version, you can stitch up to 6 captures, whereas the unlimited version allows for 9 captures. Having stated that, the entire process is semi-automated.
Geometric detailing
The MetCap rendering mode of Scanify will make you wonder "how come the scan just took place in a fraction of a second!" Even the cloud rendering is very fast. It just takes a few minutes and will further improve with time.
Application in various industries
The scanner can be used in many industries starting from eyewear to creating tailored sunglasses. Also, the machine creates fine textures in small objects that can be used in archaeology fossils and forensics footprints.
An intriguing product of Fuel 3D is called Press and Scan compound that enables users to capture imprints of objects that are impossible to scan, such as reflective and metal objects.
Specifications
| | |
| --- | --- |
| | |
| Technology | Photogrammetry technology |
| Price | 1490 $ |
| Dimensions | 24.5 x 3.5 x 25.5cm |
| Weight | 0.51kg |
| Exported file types | STL, PLY and OBJ |
| Connectivity | USB cable |
| Min hardware specification | 2GB RAM, 1GB hard disk space, dual core processor |
Scanify scans parts and functional prototypes using photogrammetry 3D scanning technology. It can deliver files in OBJ, PLY, and STL file formats. The scanned files have a maximum resolution of 0.3 mm.
Objects are scanned in a scan area of 210 mm * 300 mm. The overall dimensions of Scanify are 245 m * 35 mm * 255 mm. It weighs 0.51 kilograms hence you can easily transfer it from one place to the other. You can connect to the machine using a USB port.
Price
Fuel3D Scanify is available for a price of $1490.
First Impression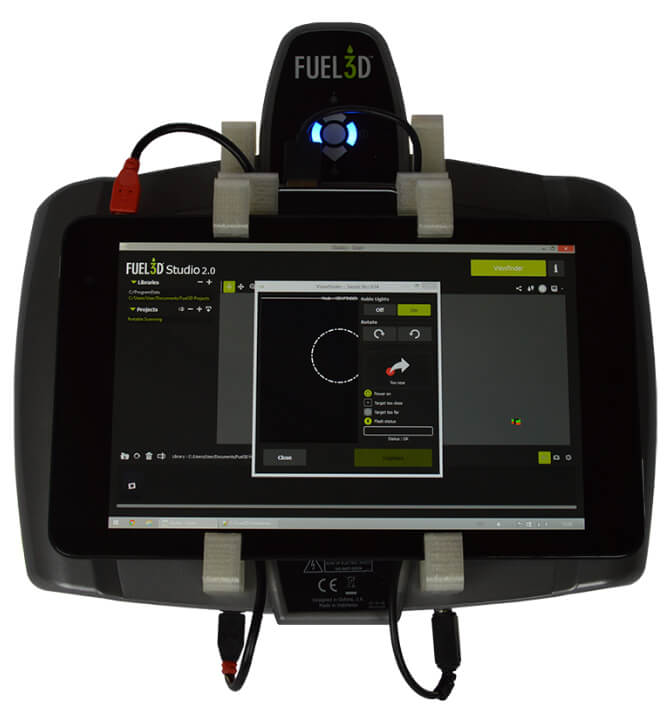 For an affordable product, Fuel3D Scanify comes in nice packaging. Its accessories are all packed in sleek-looking cardboards with protective foams.
There are two instruction manuals providing setup steps as well as how to install the Fuel3D software. The scanner comes along with:
A USB cable
An AC plug with worldwide adaptors
A microfiber cloth
Three round black and white markers
A precision target tracker
Setup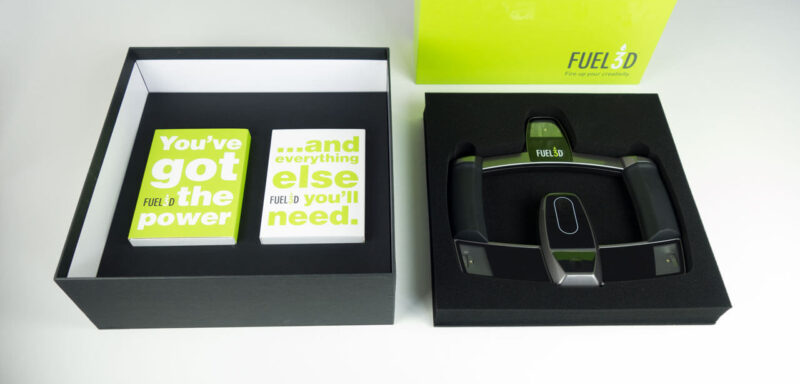 Credit: 3dscanexpert
Connection wise Fuel 3D Scanify is very simple. All you need to do is plug the power supply into the wall socket and the USB cable into a computer. The only thing missing in the list of things that comes with the scanner is the target disc.
Scan Type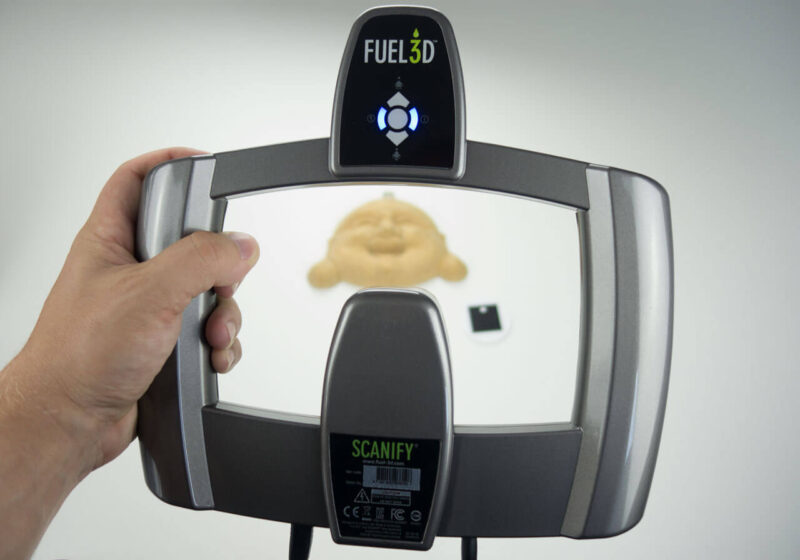 Credit: 3dscanexpert
Fuel 3D Scanify is based on photogrammetry 3D scanning technology that employs no laser, projector, or visible light patterns.
Instead, the technology uses algorithms for distilling depth information from multiple captured images. It is the same technology that is used in mobile applications for 3D scanning.
Photogrammetry has a huge advantage over other technologies and that is speed. It allows capturing a single 3D image in a split second without requiring you to keep the subject still.
Another advantage of the method is that it usually delivers more high-quality 3D geometry than other entry-level 3D scanners.
Scanify has two 3.5 megapixel cameras and three xenon flashlights. It takes two pictures at the same time on the same scene from two different angles. Also, the lighting conditions are different.
The scanner does this with the help of a small round black and white marker. And then the software reconstructs a 3D model of the object.
Scan Quality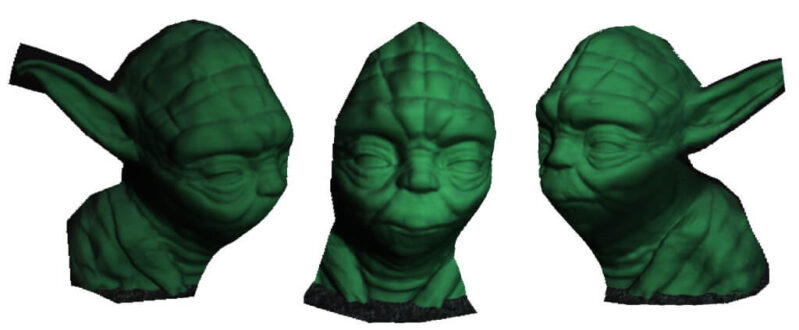 Credit: 3dscanexpert
The scanner is for generating precise scans of small objects. Even intricate geometries can be replicated precisely using Scanify. The end scans are used in creating dimensionally accurate complexed parts and functional prototypes.
Software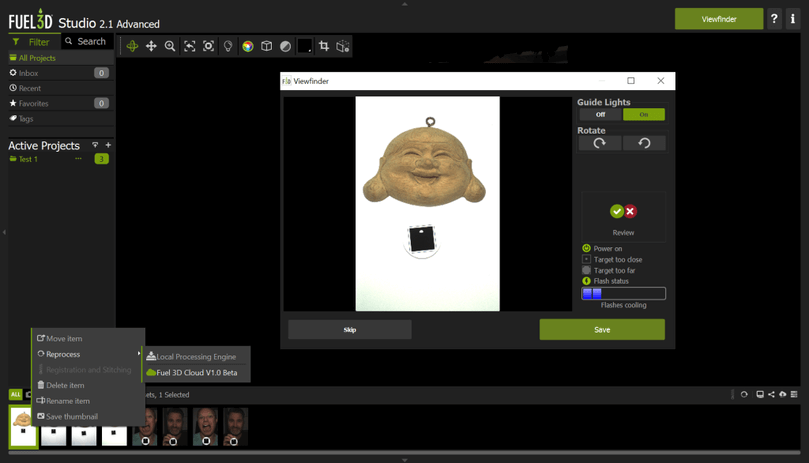 Credit: 3dscanexpert
Scanify comes with basic Studio Starter software. But users can also opt for one of the two paid subscription-based options. But that depends on whether you wish to use all the tools the paid version offers or not.
The software's user interface is well designed in a green-grey color scheme. It's as captivating as a project management tool. Users can completely organize their projects on the left side of the bar and add tags to identify them particularly.
The thumbnails located at the bottom are typically the captures selected during a project. You can rename and reprocess them. Also, located locally or through the cloud.
There are small icons to their right for exporting .STL, .OBJ, or .PLY file formats to popular 3D showcasing websites such as Sketchfab.
The software is very intuitive to use with not a lot of options and menus, it makes it easier for a user to navigate.
3D scanning of each object requires an extensive amount of work not only for cropping but also for stitching several captures together.
Although cloud computing is a little bit slow, it's paramount to get the best results. Also, users can easily export 3D scans in file formats such as STL, PLY, and OBJ.
Customer Support
Fuel 3D offers complete support related to any of its 3D scanners. There is a lot of information available online from its website. Apart from that, users can also reach out to its technical team via call or email.
Parameters Influencing Buying Decision
Below mentioned are a few of the most important factors one must think about before buying the scanner.
3D Scanner Cost: Scanify is one of those rare entry-level 3D scanners that offer Face 3D scanning. Also, its amazing list of features makes it one of the most affordable 3D scanners compared to others in the same price range.
3D Scanner Speed: The cloud rendering software makes working with Scanify a lot faster relatively. You will be surprised how fast the scanner can scan various objects of typical geometries. Being a scanner based on photogrammetry 3D scanning technology, Scanify maintains its reputation as a fast 3D scanner.
3D Scan Quality: Two 3.5 megapixel cameras and three xenon flashlights work in superb coordination to ensure the resulting scan is up to the mark. They take pictures from two different angles, under different lighting conditions, and work superbly.
3D Scanner Capability: Although the capture angle is limited to around 60 degrees, the machine is capable of scanning round objects in more than one scan. Specifically, the software is highly capable of easing the user's work. It streamlines the workflow and provides some awesome tools that can be utilized to decrease the overall scan time.
3D Scanner Practicality: Scanify can be used in vivid areas of application such as full-body scanning, reverse engineering, etc.
3D Scanner User Expectations: The scanners work fine for all kinds of users. Beginners can easily grasp it, intermediates can work on their skills for betterment, whereas professionals can make use of the extremely useful tools present in its software.
The Verdict
Scanify is affordable to all kinds of users. After just adding a few hundred dollars more you can get the complete mobility package which is all you need for a dedicated professional shoot.
The scanner is not used for generating 360 degrees full HD scans. Instead, it is for creating scans of textured objects that aren't bigger than sheets of paper. That is when the machine can deliver impressive outcomes.
A particular highlight of the scanner's software is its cloud rendering feature which can depict awesome scan speeds with quality. Overall, the machine works great for specific applications and all kinds of users be it a beginner, intermediate or professional.