ScanTech iReal 2S
ScanTech iReal 2S 3D scanner is a great deal for all those who can afford it and are thinking to go long way with 3D scanning.
PROS
Infrared and blue light technology
Safe and comfortable scanning
HD textures of extremely good quality
Hairlike detailing possible
CONS
The cost might be a huge issue for users who are not looking to invest much
Table of Contents
iReal 2S is a handheld 3D scanner produced by ScanTech – a manufacturer based in China. The machine uses double scattering 3D scanning technology using a blue LED and infrared light. It pays special attention to increasing texture reproduction, scans accuracy, and detail capturing.
The scanner features a wide scan area enabling users to process objects of large geometries. Also, the machine has a faster scanning speed than most of its competitors. Moreover, the machine's intelligent alignment system ensures that there isn't any compromise on its scan accuracy.
But is the scanner worth buying or not, we can only say after looking at it in-depth. So, let's get started.
Features
iReal 2S comes with a fully automatic post-processing algorithm that makes the after-scanning phase extremely easy for users. An HD color reproduction guarantees that the end result meets the texture acquisition requirement of customers.
Being a 3D body scanner, the machine delivers top-notch performance while scanning different parts of the body, especially eyes and hairs.
Below mentioned and explained are some of the most amazing features of iReal 2S.
Specialized body scanning
Although based on infrared light technology, iReal 2S is not only safe but also comfortable for the body as well as face scanning. It captures 3D data of human eyes without any lack of precision. Also, extremely difficult hair scanning becomes possible using the scanner.
This makes the scanner extremely useful in the field of healthcare specifically to surgeons, healthcare professionals, and medical equipment manufacturers.
Apart from that, the scanner is used in education and research and other fields where it is important to have a measurement of body parts for customizing the experience of a user.
Super HD Texture capturing
iReal 2S is designed to give importance to texture capturing which is one of the most important aspects that most scanners miss out upon.
The machine can profoundly fulfill the visual experience of texture capturing in various fields. Due to this, the end result will always be capable of generating dimensionally accurate models.
The scanner's precision finds it an application in the fields of energy, VR showcase, antique and sculptures manufacturing, as well as entertainment.
Scanning without markers
This feature separates iReal 2S from other scanners that are provided with markers to help users scanning difficult geometries.
The device can scan all kinds of objects, be it one with continuous or irregular textures or geometric features. All of them can be processed without any markers base on texture and geometric alignment.
A blend of alignment modes
iReal 2S combines texture, geometric, and markers alignments to make a perfect scan of continuous or intricate irregular geometries. Such a process ensures users that the end result does not miss out upon any kind of detailing they are particularly in search of.
Accurate scanning
The scanner can process objects with a point accuracy of 100 microns in blue light and 150 microns in infrared light.
When scanning with the former, the machine hosts a point distance of 0.2 to 3 mm, whereas in the latter it increases from 0.5 to 3 mm. iReal 2S can capture even tiny hairs and fibers with equivalent accuracy.
It produces 24-bit color images with an alignment accuracy of 0.2 mm per meter in blue mode, and 0.25 mm per meter in infrared mode. By fusing the texture and geometric alignments, the machine is capable of scanning irregular textures without using markers.
Specifications
| | |
| --- | --- |
| | |
| Color Scanning | Support |
| Price | $ 9980 |
| Color Reproduction | 24 bit |
| Measurement Rate | 1,500,000 measurements/s |
| Optimal Scanning Distance | 350 mm ~ 650 mm |
| Effective Working Range | 250 mm ~ 1000 mm |
| Scanning Area | 520 mm x 510 mm |
iReal 2S processes parts or functional prototypes using Blue, and infrared light. The former is visible, whereas the latter is not. Also, the former is an LED light that is eye-safe, whereas the latter is Class 1 eye-safe.
Both of these light waves support colored scanning and reproduce an outcome in 24 bits.
The typical measurement rate of the scanner is 1,500,000 measurements per second which is extremely impressive considering its competitors.
The point distance ranges from 0.2 to 3 mm while dealing with the Blue light, it changes to 0.5 to 3 mm while scanning with infrared light.
A point accuracy in a single frame is up to 0.1 mm per meter while processing with the blue light, and up to 0.25 mm per meter when scanning with infrared light.
The scanner's best scanning distance ranges between 350 mm to 650 mm. Its effective working range is from 250 mm to 1000 mm.
Users can scan an object with an area lesser than 520 mm * 510 mm. iReal 2S is able to deliver end-results in file formats such as OBJ, STL, PLY, ASC, and SK.
Price
iReal 2S is available for $9980.
First Impression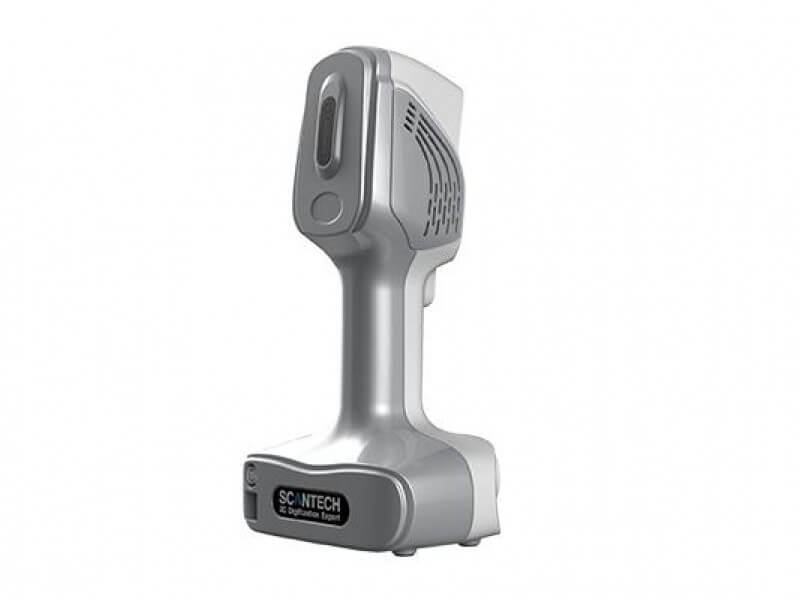 The scanner comes in a box along with:
HD cameras.
USB cable.
User's manual.
Its body is white in color which gives iReal 2S a professional look. The machine weighs 2 kilograms only and hence doesn't require too much effort while transferring from one place to the other.
Setup
There is no need to assemble the scanner. As soon as it is delivered to your place, you give it the needed power supply to start scanning.
Although experts recommend using a user manual, it's only for those who do not have any past experience with 3D scanning. Doing so would help you gain an idea about the components present inside the machine.
Scan Type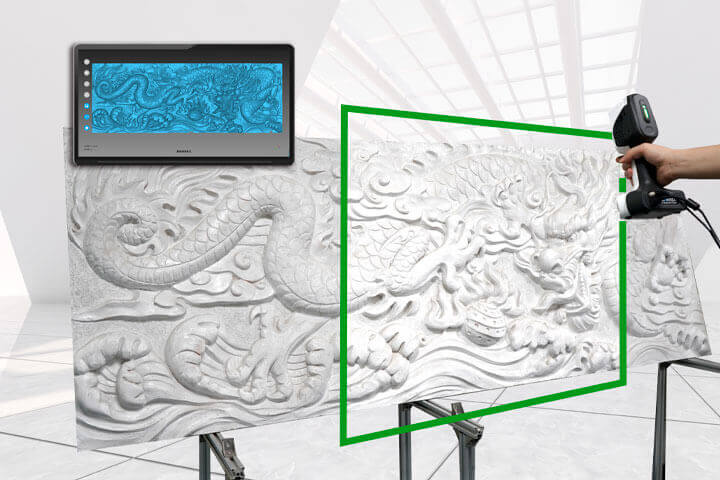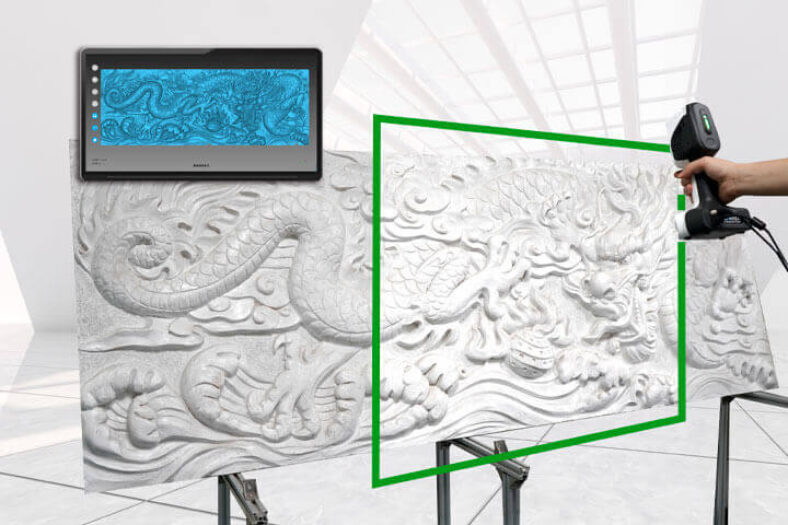 Credit: 3d-scantech
The scanner is based on double scattering 3D scanning technology in which two light sources typically project blue and infrared light on the object.
Based on the reflection given by the objects, the sensors present in the scanner create dots which are then connected to form a pattern that becomes a basis of the end-scan.
Scan Quality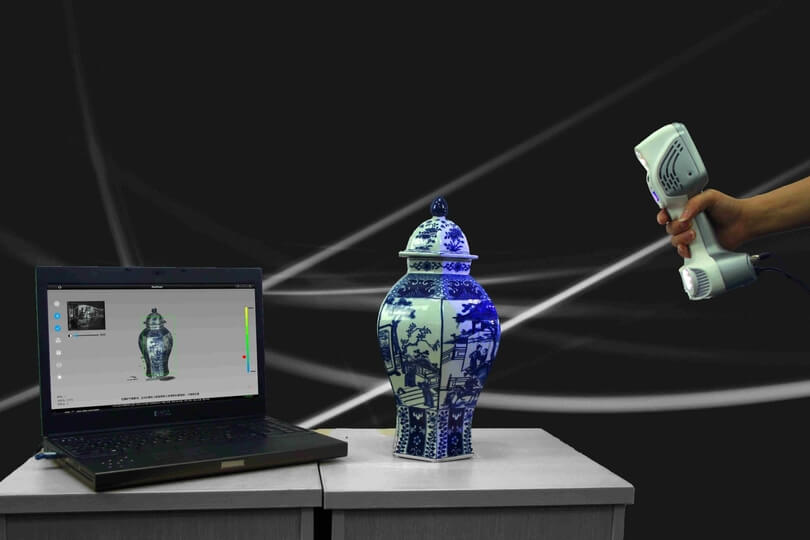 Credit: 3d-scantech
iReal 2S is primarily a body scanner. And it does a perfect job of scanning parts as small in size as human hair.
When it comes to scanning intricate geometries, the machine does it without making use of any kind of markers which is something not many scanners are capable of doing. Also, the mixed alignment modes make it easier for the user to combine the data collected either for continuous or irregular textures.
Software
ScanViewer 3D software is a free yet powerful 3D software that includes inspection as well as scanning functions like Distance, GD&T, and color map. You can get to use the demo version of the program from the scanner manufacturer's website.
Customer Support
There are many ways in which users can reach out to Scan-Tech, the most vital being via phone or call.
Parameters Influencing Buying Decision
The complete summary of the 3D scanner can be summed up in the following pointers mentioned in brief.
3D Scanner Cost: Being a professional 3D scanner, iReal 2S does feature on the higher end of the bar. However, with the kind of flexibility it offers and amazing characteristics, it is relatively affordable.
3D Scanner Speed: The scanner doesn't take much time in the pre-scanning phase, the average time in scanning, and is superbly fast in post-processing. So, you'd be astonished by the speed at which parts are scanned on it.
3D Scan Quality: Many components work fabulously with each other in iReal 2S to deliver up-to-the-mark quality. Small body organs like human eyes, even hair can be scanned with accurate precision. And most importantly, intricate surfaces can be processed without any use of markers.
3D Scanner Capability: With two kinds of technology in the application and multiple alignment modes being used for scanning a single object, the scanner is definitely more capable of delivering excellent results than its competitors in the same price range.
3D Scanner Practicality: The machine is typically ideal when used for professional applications like healthcare, energy, motion graphics, VR showcase, education and research, entertainment, and antique and sculpture.
3D Scanner User Expectations: iReal 2S manages to stand upon expectations of intermediate and professional users who are looking for in-depth scans capable of generating dimensionally accurate parts and functional prototypes. Typically, replicators and individuals in archeology can make comfortable use of the machine to excel in their work.
The Verdict
Scan-Tech iReal 2S comes in an intriguing kit that comes with software that lets you get the data exactly where you need. Its combination of blue light and infrared light technology in a single machine makes it stand out among other 3D scanners as well as makes it a little more appealing.
Professional individuals are always looking to capture hard as well as organic surfaces in a single 3D scanning project. And with iReal 2S this is possible.
It is a very feasible option for scanning human or animal parts. Apart from capturing excellent data, it is appropriate for more than one workflow. Overall, the scanner is a great deal for all those who can afford it and are thinking to go long way with 3D scanning.