VirtuCube 3D Scanner
VirtuCube 3d is not only inexpensive to create on your own but is also simple to use and offers high-quality scans.
PROS
Easy to setup
Upgrades are available for free
3D designs for printable parts are available online
High quality scans
User-friendly device
Fully automated
Affordable
CONS
It is a DIY Kit. So, you must put some efforts to complete the setup on your own
Not suitable for large objects
Table of Contents
Also known as a 'David Laserscanner in a box,' VirtuCube is a DIY 3D scanner. All parts of the scanner can be downloaded as well as printed on the go. It uses structured light technology with a pico projector instead of a laser for creating top-quality scans of varying geometries.
The overall design of Virtucube gives the vibes of the 70s. It can be placed inside a cardboard box for optimal scanning conditions.
By covering the scanner from all sides while it's working, no other sources can create any sort of anomalies. In terms of the looks, the scanner isn't too attractive. However, the performance is amazing.
Being an entry-level device, Virtucube incorporates all the necessary functionalities to make this scanner functional. Most importantly, it is easy to set up. If you have a 3D Printer, you can create components and assemble them together with a few other parts to start scanning right away.
Well, it does sound interesting as well as a little tedious. However, it's the right fit for those not wanting to pay for a very expensive scanner and want to stick with some basic device that allows them to perform the usual scanning with ease. Instead of working with the CAD programs for hours, simply get what you need with this portable scanner.
Let's look at the scanner in-depth to know more about its amazing set of features.
Features
Although created for basic scanning, Virtucube is equipped with great features to help create high-quality designs. Apart from being easy to use, the scanner is safe to use as well.
One button scanning
Unlike other scanners that need to undergo a long procedure before starting the actual scanning process, Virtucube is pretty much automated. All you need to do is place the object inside the scanner and hit the start button. That's it!
Such a design not only minimizes human effort but also decreases the time required to undergo the pre-scanning phase. So, in case you get a requirement of on-demand scanning, Virtucube is completely capable.
Open-source
Because Virtucube is an open-source scanner, all the information needed to construct it is accessible online. This offers immense freedom to those with no technical expertise to create their own scanner without investing huge amounts for expensive devices.
You can find all the files on Thingiverse. The project aims at making 3D scanning accessible to as many people as possible.
There are many tutorials available online on how to use this printer for scanning various objects. Overall, if one wishes to learn 3D scanning, undoubtedly Virtucube is the best choice.
Completely Automated
With a turntable to complete the rotation while the scanning completes, Virtucube 3D scanner happens to be fully automated.
It is contained in a box with all the lids closed. You can place the object on the turntable and wait until the scan completes. Hence, it does not require any manual intervention during the scanning process.
Use of Pico Projector Instead of Lasers
Unlike other scanners that make use of lasers, the VirtuCube works with structured light technologies using a pico projector. Hence, it is safe to use and can also create high-quality scans of small objects without any hassle.
Specifications
Virtucube is an entry-level device, offering non-technical individuals an opportunity to create their own 3D scanners. Hence, one does not require to spend time working with CAD files.
The scanner is automated and can be started using the 'Start' button on the DAVID-Laserscanner Software. It's compact and can fit in a cardboard box.
To be candid, when scanning, the creator of the scanner recommends placing the entire device inside the box in order to avoid anomalies that other sources may cause during the process of scanning.
Overall, it is functional and works on the latest structured light technologies to offer users the best possible results.
Price
You can consider Virtucube to be completely free. Being an open-source project, all the related parts needed for installing the scanner can be printed using our own 3D Printer. However, you certainly need to invest in the materials, and a few other components listed later in the article.
Overall, it's affordable to set up and use.
First Impression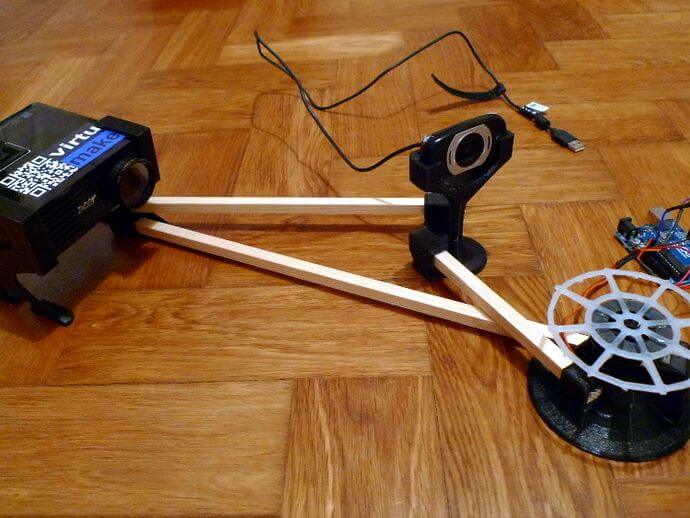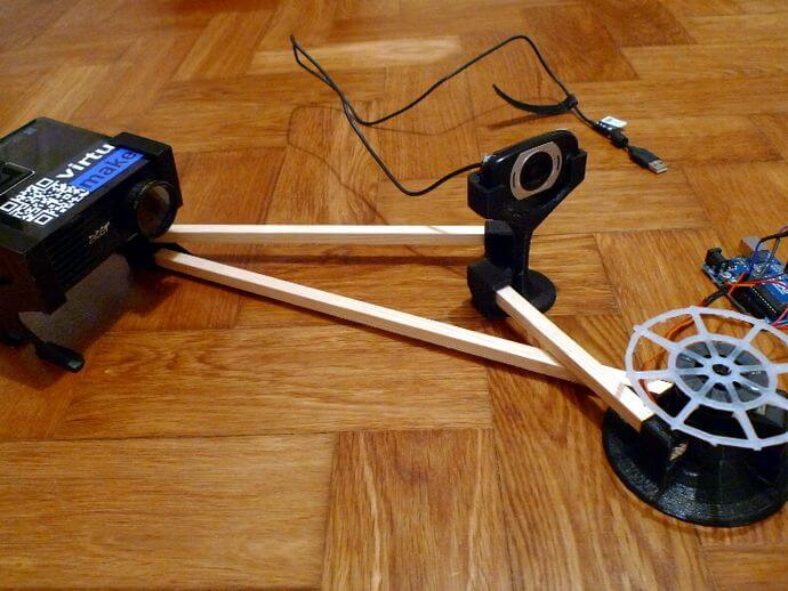 Credit: pinimg
The scanner consists of:
An Acer K-11 beamer
A Logitech HD Webcam C615
An Arduino Turntable
Free software David-Laserscanner
Setup
There is a reason why the scanner is called A David-Laserscanner in a box. Because you literally scan objects by placing the device inside cardboard. When it comes to set up, the process is simple. You can connect each of the components from the beamer, the camera, and the turntable relative to each other.
To print the related parts for completing the assembly, you can refer to the Thingiverse website which has free downloadable models for the same.
Later, you can just calibrate the device once and scan as many objects as you want. Virtucube offers high-quality designs without requiring much effort from your end.
Scan Type
As mentioned, the Virtucube 3D scanner is based on popular structured light technologies. However, instead of using lasers, the scanner incorporates a pico projector. The entire arrangement enables a great ease of use for the individuals. It's safe yet can carry complex scans with high-quality results.
This is the reason why this DIY 3D printer stands out among the other open-source designs while still portraying the simple retro looks.
Usually, the DIY 3D scanners use either laser triangulation of photogrammetry technology. However, taking special care of the user's convenience, the manufacturers have ensured that the design stays simple and handy to use while the scanner's technology is easy and safe to work with.
In simple words, the Virtucube 3D scanner is a great example of tradition because of its looks alongside innovation in terms of its technology.
Scan Quality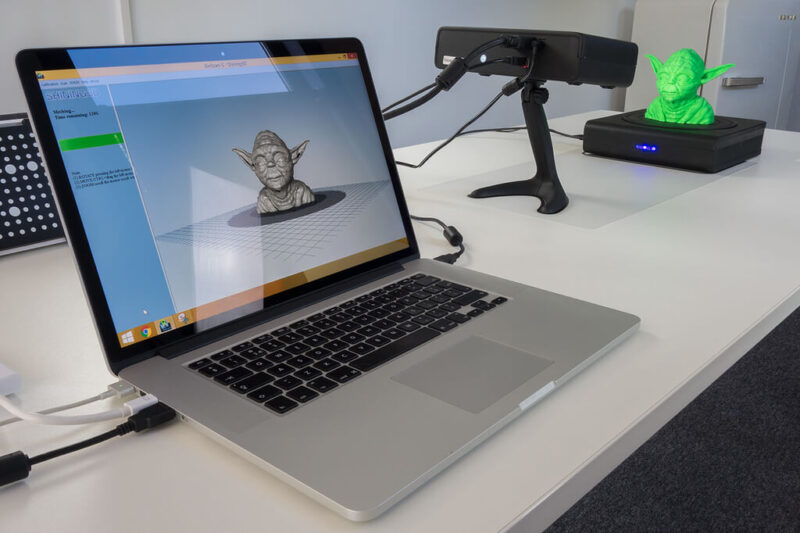 Credit: hubs
Virtucube, although being an entry-level device, provides great quality scans. Using the pico project and the structured light technologies, the scanner is able to create amazing output files. You can right away use these files for 3D printing with a few minimal and unavoidable changes.
Software
The scanner uses DAVID Laserscanner software. This is free for users and easily available online. You can simply download the setup file and install it on your device. Its user-friendly interface is highly interactive, allowing users to get acquainted with the menus right away.
Customer Support
Virtucube is a popular scanner. Therefore, you can find various forums and subreddits offering great assistance related to the device's setup. In addition, there are YouTube videos and readily available 3D files on Thingiverse for printing-related parts of the scanner.
Overall, if you decide to work on this scanner, you will easily be able to find help online.
Parameters Influencing Buying Decision
3D scanners are becoming popular alongside 3D Printers. However, these aren't as accessible as the latter. Therefore, DIY kits happen to be a great choice for those seeking budget-friendly alternatives for usual scans. And, Virtucube is one such scanner.
So, let us assess the device based on some crucial parameters before you plan to make the purchase.
3D Printer Cost: It is free of cost. All the setup and installation files are available online for download without any cost. However, you must invest a little in the materials for printing and other few components to complete the setup.
3D Printer Speed: The print speed is optimal. It's not as fast as commercial and professional 3D scanners yet fast enough to avoid a long waiting time.
3D Printer Quality: This device is capable of creating high-quality scans.
3D Printer Capability: If you are looking to scan small objects, this device is a great choice. However, Virtucube is not suitable for scanning bigger objects.
3D Printer Practicality: No doubt, in spite of all the best qualities, the scanner still is an entry-level device. Therefore, it's good for some practical uses for homes and small offices.
3D Printer User Expectations: Apart from the retro look that isn't too amusing, the 3D scanner fulfills all the expectations of the users.
The Verdict
There are many scanners available today in the market. Some are highly expensive and not fit for home users or enthusiasts. Others are cheaper but fail at offering a decent quality result. Unlike all these choices, Virtucube not only is inexpensive to create on your own but is simple to use and offers high-quality scans.
So, if you love challenges, this could be your chase for the next adventure. Create Virtucube 3D scanner at home and enjoy scanning.