Fusion3 F400-S 3D Printer
Fusion3 F400-S can perform as good at a higher speed as it would at a lower speed. Without worrying about the quality of the prints, you can keep printing at high speed.
PROS
Large build space
2 years of warranty
Easy to operate with automatic bed leveling
High-quality prints
High speed
Value for money
CONS
Missing dual extruder
The expensive choice for beginners
Product
Specification
Videos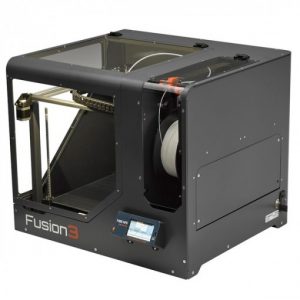 In the on-going competition to create desktop 3D printers, Fusion 3 F400-S is completely out of the box. It is an industrial 3D printer and so not ...
| | |
| --- | --- |
| Model | F400-S |
| Manufacturer | Fusion3 |
| Price Range | $ 4499 |
| Release date | 2016 |
| Country | United States |
| Availability | Available |
| Classification | Professional |
| Technology | Extrusion (FFF- FDM…) |
| Material | ABS, Other plastics, PLA |
| Filament diameter | 1.75 mm 0.07 in |
| OS compatibility | Linux, Mac OS, Microsoft Windows |
| Generic material | Yes |
| Max. build size | 355 × 355 × 320 mm 13.98 × 13.98 × 12.6 in |
| Max. build volume | 40.33 L |
| Max. print speed | 250 mm 9.84 in /s |
| Min. layer thickness | 0.02 mm 0.001 in |
| Dimensions | 777 × 713 × 641 mm 30.59 × 28.07 × 25.24 in |
| Weight | 38.5 kg 84.88 lb |
| Nozzle diameter(s) | 0.4 mm 0.02 in |
| Power input | 110V 6A peak / 230V 3A peak | 24v DC | 600W |
| Heated print bed | Yes |
| Heated build chamber | No |
| Automatic calibration | No |
| Closed frame | Yes |
| Dual extruder | No |
| Independent Dual Extruder | No |
| Full color | No |
| LCD screen | No |
| Touchscreen | Yes |
| On-board camera | No |
| Mobile app | No |
| 3D scanners | No |
| CNC mill | No |
| Electronics 3D printing | No |
| Laser engraving | No |
| Conveyor belt | No |
| Air filter | No |
| Pellet extruder | No |
| USB | Yes |
| Wifi | Yes |
| Bluetooth | No |
| SD card | Yes |
| Ethernet | No |

Table of Contents
We saw huge progress in the field of 3D printing, especially within the desktop printers. However, the industrial-grade printers still remained inaccessible to most of the small industries who were unable to afford these expensive machines.
Without spending a minimum of $10,000, an industrial-grade 3D printer wasn't possible to own. The cost, hence, overweighed the related rewards related to the use of 3D printers.
However, the times have gone and these days, one can expect these machines for a much affordable price. There are many 3D printers manufactured to provide small businesses with an option to spread their technology to a better tomorrow.
One such printer offering everything that industrial-grade printers provide and at the same time possessing the look and feel of the desktop printer is Fusion F400-S. The printer has everything that a business would desire.
Hence, let's review the 3D printer and know what it entails for the users and businesses.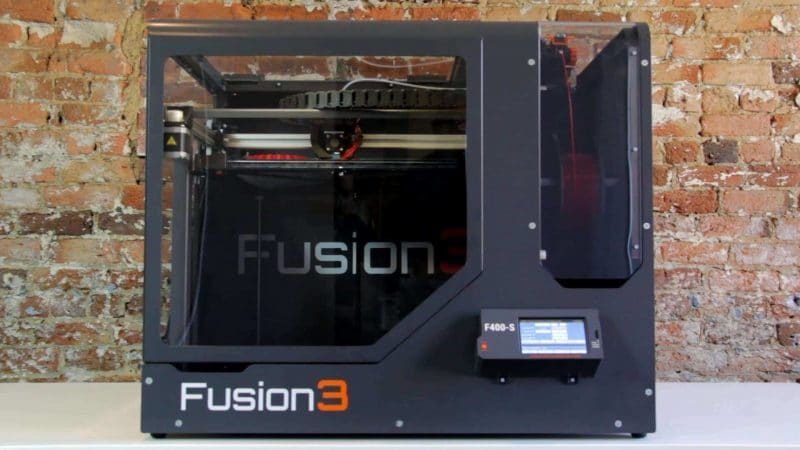 Features
Among the many great features that the printer embodies, there are few that cannot be ignored. These features make this 3D printer different from other competitors and challenging to beat.
E3Dv6 Hot-end: This hot end needs no introduction. Those who are already aware of the benefits of this hot end would know that there is no better option than this one. For those, who haven't been through its details, E3Dv6 is an all-metal hot end, made of stainless steel that is completely customizable.
Above all, the hot end can withstand 300 degrees Celsius of temperatures, making itself compatible with a variety of materials. Not just that, you are free to upgrade this hot end if willing to move to something more powerful.
This is due to the fact that E3D many options for hot ends. And, provide feasibility to change or upgrade to other options.
Modular Design: Without any doubt, you can note that the printer looks awesome framed with the aluminum body while exhibiting large windows. This design is highly thoughtful and allows for better accessibility when disassembling the machine while cleaning.
Fully Enclosed Body: How can we forget to mention the fully enclosed design that is a must for a machine operating at such high temperatures. This provides safety to those working with the 3D printer. It also safeguards the sensitive electronic pieces that may damage when handled carelessly.
However, the large window ensures that the users are capable to keep a clear watch on the print process. The enclosed design also cuts down the noise when the printer is operating.
Carbon Filter: The Fusion3 F400-S incorporates a carbon filter system. This ensures the clearance of harmful gases along with the unpleasant smells. Hence, further enhancing the safety to the next level.
Filament Options: Unlike many other 3D printers that do not work on multiple filaments or with limited options, Fusion3 supports almost every type of filament users may think of.
This is mostly due to the inclusion of E3Dv6 hot end. You can print with PLA, ABS, PET, ASA, Nylon, Acrylic, Flexible, Polyester, Polycarbonate, and various others. The company offers many certified filaments and is working progressively to add more to the list of existing ones.
A Balanced Operation: The F400-S is designed to ensure that the users don't fall short at any front. Either it's the speed or the print quality, one must get the best of both worlds. And, it has been very well implemented in this machine.
The 3D printer can perform as good at a higher speed as it would at a lower speed. Without worrying about the quality of the prints, you can keep printing at high speed.
To further enhance the print quality, just slow down the speed a little bit and work on a minimum resolution. You would find the lines diminishing providing you the smoothest surface finish.
Automatic Bed Leveling: The machine is equipped to measure the height between the print bed and the nozzle, hence, allowing users to concentrate on other important things. According to the measurement taken by the printer, it adjusts the Z-axis for the best results.
Full-Colour Touch Screen: The printer boasts a 4.7 inches full-color touchscreen which equals the size of a smartphone. The interface is user-friendly and at the same time intuitive. Users can use this interface to tweak almost every setting of the machine.
WIFI Access: The number of features is huge. While including all the important ones, how could Fusion3 have missed this one? The printer provides access through a WIFI connection. One can control the print process remotely when working with this printer.
All these features add value to the printer. The 3D printer makes it easier for businesses to realize their manufacturing goals easily and before time.
back to menu ↑
Specifications
Fusion3 F400-S has a huge build space of 14"x14"x12.6". This means that the users have the freedom to work around with their creativity and print almost everything that is useful. With a high speed of 250mm/second, the 3D printer stages huge possibilities and a great aid for businesses with production.
One can make use of more than 30 types of filaments which is huge. And, the layer resolution between 20 to 300 microns is possible.
This again is a great addition to the machine. However, the printer is a single extruder machine. At such a price point, one may have expected a dual extruder 3D Printer.
The nozzle diameter is the standard one with 0.4mm. Overall, amazing specs to put your trust in.
back to menu ↑
Price
The printer is priced around $4499. It may seem expensive, however, comparing with the 3D printers that match its specs are much higher and expensive than Fusion3 F400-S.
Hence, it can be considered not so expensive option. It has brought the price range for professional 3D Printers to a considerably lower minimum.
back to menu ↑
First Impressions
You would notice a highly sturdy and reliable machine when witnessing it face to face for the first time. The 3D printer possesses the huge potential and it is evident by the first look of it. The printer comes fully assembled with most of the parts intact and in place.
The box is properly packed with necessary safety measures to ensure that the printer stays put inside the box.
back to menu ↑
Setup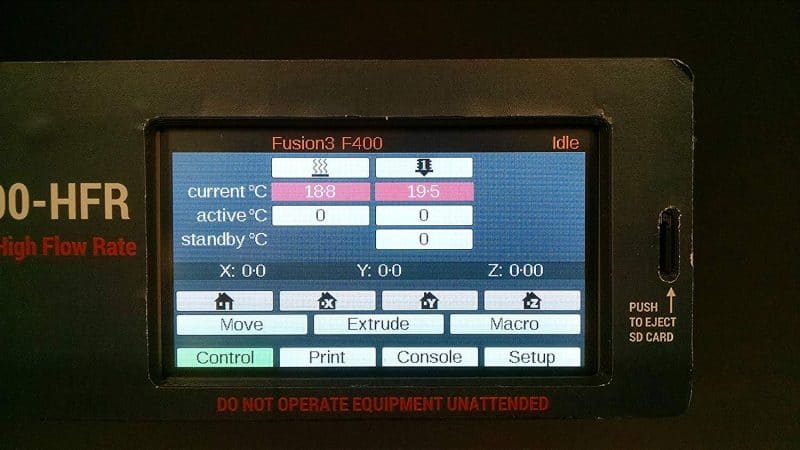 The F400-S is packed inside a box with a set of full-color instructions. The instructions are detailed with the help of colorful pictures making it easy for users to understand everything that is important.
Rare to find such detail in an instruction manual. It also covers the right ways to unbox the 3D printer. Hence, giving everything that a user would need to set the printer as quickly as possible.
While most of the parts are already intact, you need just a few things to fill in. Place your printer at a suitable space and load the filament. To do so, all you need is feeding the spool into the extruder by turning the hand-feed wheel.
You receive a few test models to print first and you should choose to do that first before printing anything that you have been wanting to. This would help you verify the settings and check if every setting of the printer is as needed.
The glue stick is also included to spread on the glass bed and then pressing print. The instructions keep helping you throughout the print process, even for the steps that happen automatically such as bed leveling, heating of print bed and others.
back to menu ↑
Printing Type/Cost

The printer is an FDM printer. Also, the printer is capable to print with more than 30 different filament types.
Hence, one can choose the cheap filament if wanting to keep the prices for operation down. Apart from the initial price, the rest would be similar that goes with any other FDM printer. Read more about how to minimize 3D printing costs here.
back to menu ↑
Print Quality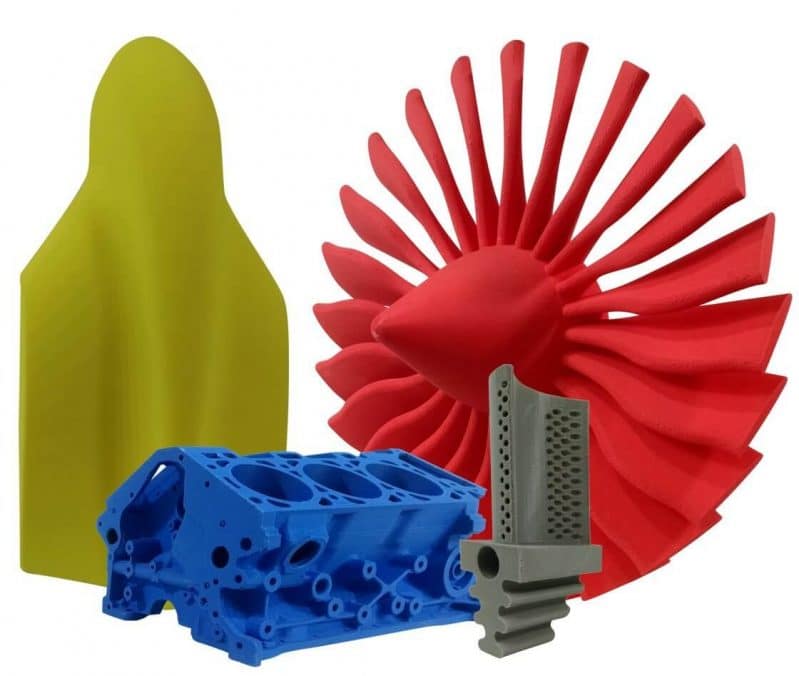 What else to say? The kind of freedom the printer offers while choosing the resolution of the models, you must expect the best results.
You can play around the resolution and speed to find the then best suitable combination for your models. The F400-S boasts its proprietary version of the Core XY drive system. The system is capable of achieving precise results.
The printer features the most brilliant quality of the motion system. Hence, the part quality is very fine providing minimal layer definition.
back to menu ↑
Software
The printer includes a free license for Simplify3D worth $149. Working with this software is easy and it exhibits excellent features. The application is simple to understand and highly intuitive. Even beginners would find it easy to learn and use.
The software includes almost every tool required to turn the 3D models into the most optimized designs. A lot of other 3D printers use the same software because of the ease of use it offers.
back to menu ↑
Customer Service
The company is best when it comes to providing customer support services to its users. Unlike most of the companies that offer one year warranty, this one offers two years of warranty.
Moreover, reaching out to the support representative is very easy and approachable. The company ensures to address every request at the earliest.
The company has dedicated free lifetime email as well as phone support for users. Users have often reported about the flawless support that the company is able to provide to its users.
back to menu ↑
Pros/Cons
Like every other machine, this one also has a few cons alongside the benefits it offers.
Pros:
Large build space
2 years of warranty
Easy to operate with automatic bed leveling
High-quality prints
High speed
Value for money
Cons:
Missing dual extruder
The expensive choice for beginners
back to menu ↑
Parameters Influencing the Buying Decision
The 3D printer isn't for a few dollars, hence, it must be opted for purchase looking at all the factors that make it useful for your specific need.
3D Printer cost: It is an expensive option for beginners and home users. However, pretty affordable for small businesses and companies involved in small scale production.
3D Print quality: Exceptional print quality. The printer can print within the resolution of 20 to 300 microns. You can achieve results with no visible layer lines. And, that too, without oppressing the speed of the printer. Hence, best suited for continuous production.
3D Print speed: As mentioned, the print speed is something you must not worry about when working with this 3D printer. The maximum speed offered is 250 mm per second. However, it would depend on various factors including the design and resolution of the model.
3D Printer capability: The 3D printer is very much capable to do everything. It can support more than 30 filaments. Also, speed and quality are exceptional. Moreover, it's very reliable. What else would you need for such a price quote?
3D Printer Practicality: One can utilize this 3D printer for manufacturing commercial products as well as designing prototypes. Industries can use the printer for various applications.
3D Printer User expectations: The 3D printer has included everything except dual extruder. So, it may seem a little held back when deciding if to include it or not. Users may have wanted to see some more from the company. And, dual extruder would have completed the list. However, it does plainly surpass every other front.
back to menu ↑
Verdict
The printer is packed with amazing features and is capable of doing almost everything that a user would expect. The printer has been designed in such a manner that it would be difficult to outline the flaws.
Fusion3 has staged the option that has almost beat every machine on the market with a similar price tag. The 3D printer is way ahead of other variants in terms of price, warranty, usability, reliability, parts, performance and whatever you name it.
Fusion3 F400-S shouts out loud of its extraordinary offering to its customer base including the unmatched customer support. Few may find the lack of dual extruder an issue if not experienced the machine themselves.
However, the performance and quality beat almost every claim arising against the 3D printer. It does is one of the top choices among users and all thanks to its perfect design and offering.