Fusion3 F410 3D Printer
Fusion3 F410 is been designed to cater to those groups of users who are looking for reliable and fast printers with impressive print quality.
PROS
Large build space
Automatic bed leveling
Great print quality
Fast speed up to 250mm per second
Sturdy design
Three interchangeable nozzles
Remote monitoring through an ethernet connection
CONS
Lack of WIFI connection
Not affordable for home users
Product
Specification
Videos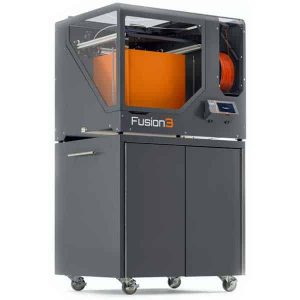 This 3D printer is designed to cater to those groups of users who are looking for reliable and fast printers with impressive print quality. However, ...
| | |
| --- | --- |
| Model | F410 |
| Manufacturer | Fusion3 |
| Price Range | $ 4599 |
| Release date | 2018 |
| Country | United States |
| Availability | Available |
| Classification | Professional |
| Technology | Extrusion (FFF- FDM…) |
| Material | ABS, Carbon fiber and composites, Other plastics, PLA |
| Filament diameter | 1.75 mm 0.07 in |
| OS compatibility | Linux, Mac OS, Microsoft Windows |
| Generic material | Yes |
| XY accuracy | 0.003 mm 0 in |
| Max. build size | 355 × 355 × 315 mm 13.98 × 13.98 × 12.4 in |
| Max. build volume | 39.70 L |
| Max. print speed | 250 mm 9.84 in /s |
| Min. layer thickness | 0.02 mm 0.001 in |
| Dimensions | 724 × 775 × 648 mm 28.5 × 30.51 × 25.51 in |
| Weight | 39 kg 85.98 lb |
| Nozzle diameter(s) | 0.4 mm 0.02 in |
| Power input | 110V / 230V | 350W |
| Heated print bed | Yes |
| Heated build chamber | No |
| Automatic calibration | Yes |
| Closed frame | Yes |
| Dual extruder | No |
| Independent Dual Extruder | No |
| Full color | No |
| LCD screen | No |
| Touchscreen | Yes |
| On-board camera | No |
| Mobile app | No |
| 3D scanners | No |
| CNC mill | No |
| Electronics 3D printing | No |
| Laser engraving | No |
| Conveyor belt | No |
| Air filter | Yes |
| Pellet extruder | No |
| USB | No |
| Wifi | No |
| Bluetooth | No |
| SD card | Yes |
| Ethernet | Yes |

Table of Contents
Progress seems to become an integral part of the 3D printing industry. Every now and then, the number of 3D printers coming onto the marketplace has fascinated not only businesses but professionals and individuals as well.
The prices are coming down and the features are increasing. At a comparatively low price tag, one can take home decent 3D printers depending on specific needs.
Fusion3 F410 is been designed to cater to those groups of users who are looking for reliable and fast printers with impressive print quality. However, at the same time, keeping the budget much lower than other industrial-grade 3D printers.
Fusion3 has come up with this machine that exhibits the best qualities that an industrial 3D printer would. But available at a much lower cost.
This 3D printer is designed to help engineers and artists and also prepare students in a classroom setup for bigger aims in life inclined towards the most revolutionary technology. One can consider this machine as one of the most affordable solutions for businesses as well as educational setup.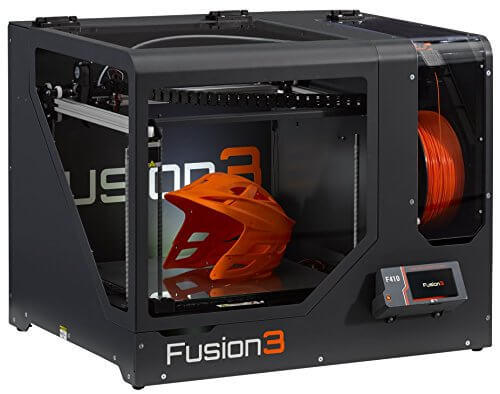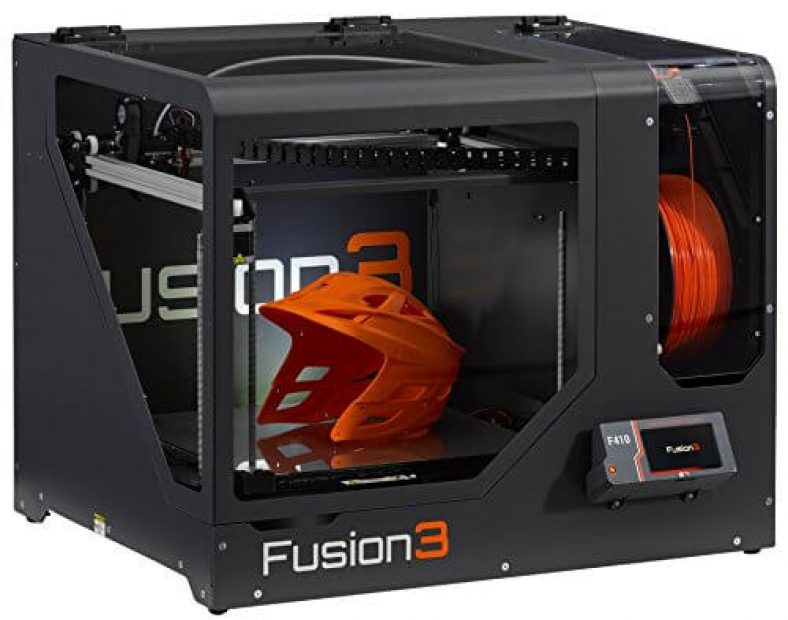 Features
Fusion3 F410 has been manufactured to serve some serious jobs out there. And, the company finds no reason for not trying to become one of the prominent manufacturers of 3D printers. Hence, we have come up with a machine that has not a few but various features to let users enjoy the technology to its fullest.
Interchangeable Printheads:

F410 does not have just two but three interchangeable printheads along with different sizes of extrusion tips. Hence, depending on the model and the speed and precision needed, one can select the desired printhead.
The company has included the 0.4mm nozzle to help users achieve a layer height between 20- to 300-micron. Again, there is the 0.6mm tip to get the layer height between 100 to 400 microns. The last one is the 0.8mm tip which creates layer heights between 200 and 500 microns.
Enclosed Design: The 3D printer has an enclosed design. This is to ensure that the student and beginners working around the machine are safe and do not accidentally touch the hot parts.
Moreover, a closed encloser provides an environment for consistent temperature management. This helps in maintaining the required temperature for printing, hence, increases accuracy and precision.
The feature comes in handy when printing with tricky materials such as ABS and other flexible filaments. Also, it considerably obstructs noise during printing.
Large Print Space: The printer, as mentioned, is not designed for small tasks but for important ones. Hence, it boasts a large print volume and helps users design almost anything.
Hence, making it a perfect fit for prototypes as well as for classrooms were compromising on limiting creativity is not an option. The large print volume also suffices for many professional applications.
Sturdy Body: The 3D printer has an aluminum frame. This makes this metal body printer highly reliable. Adding stability to the structure, the aluminum frame counts for providing the machine with much-needed precision required for important applications.
The sturdy design makes this printer fit inside a lot of business's ecosystem.
Multi-Zone Heated Print Bed: The company has tried to add as many unique features as possible to ensure that the 3D printer stands out of the crowd. And, it has accomplished that goal very well.
This feature is also unique and very helpful in increasing the worth of the machine. The multi-zone heated print bed helps in ensuring a stable temperature of 45 degrees Celsius across the print bed.
This is very useful when working with materials such as Nylon, ABS, Polycarbonate, and many other advanced materials.
Noiseless: Created for classroom setup, this feature was needed for sure. And, the manufacturer has taken into consideration the same and has got the quietest 3D printer that can work in silence without disturbing busy minds.
It also makes this machine the choice for those who work close to their workstation where the printer performs its job. In short, the printer can be placed anywhere without worrying about the distraction it can create because of noise.
HEPA and Carbon Filter: F410 comes with an optional HEPA and carbon filter. This helps in getting rid of the harmful fumes that are generated when working with ABS and a few other materials. This feature can be included in case the working space isn't well ventilated.
Filament Running Out Detection: Once again, the company has come up with something that matters a lot when a printer dedicatedly works for continuous hours.
F410 can detect when the filament is running out and pauses the machine until the filament is reloaded, saving the prints from running.
E3D Volcano hotend: The hotend can withstand high temperatures. And, it helps in including a long list of compatible materials for the 3D printer.
Kevlar Cable System: The 3D printer does not use the traditional rubber belts, however, it includes a Kevlar cable system. This helps in enhancing the speed to the next level and increasing the accuracy of the prints as well.
Full-Colour Touch Screen: The printer has a 4.7 inches color touch screen for helping users change the settings of the machine. One can set almost anything related to the prints. A little tilted screen, which wasn't present before, has provided better reach to the users.
Automatic Bed Leveling: The printer makes it easy for users to set the printer when using it for the first time or whenever the material is changed. One does not have to worry about bed leveling as its automatic bed leveling does the job for users.
Fully Assembled: To provide an even easier setup, the company offers a completely assembled device that does not need much of tweaking when unboxed. Hence, a very attractive deal for those who do not want to get into the tedious job of putting the parts together for printing the first model.
This feature enriched 3D printer is very useful in making the machine fit for many applications within various niches. Still, keeping it as affordable as possible.
Specifications
The machine that covers almost a space of 724 x 775 x 648mm boasts a build volume of 355 x 355 x 315mm. Isn't that huge? It sure is.
The enormous build space is very convenient in providing users with complete freedom of playing around with their creativity and create awesome designs.
With a minimum layer resolution of 20 microns, one can achieve highly precise designs. The maximum build plate temperature that can be reached is 140 degrees Celsius. It has the Bowden extruder and three different sizes of interchangeable nozzles: 0.4, 0.6, 0.8mm.
Price
Coming down to the price, it would seem too less for such highly advanced machines. Those who have worked with industrial-grade printers, available in the $10,000 range, would understand the difference this machine brings to the table.
The printer may not be as large as the ones available within industries, but almost featuring similar benefits is priced at $4599. Small businesses and professionals may find this an attractive deal. But the printer isn't too affordable for home users.
First Impressions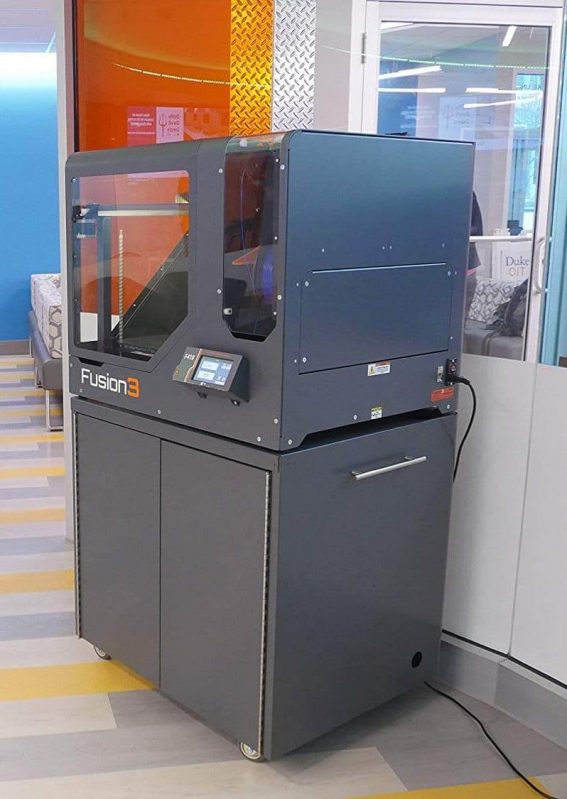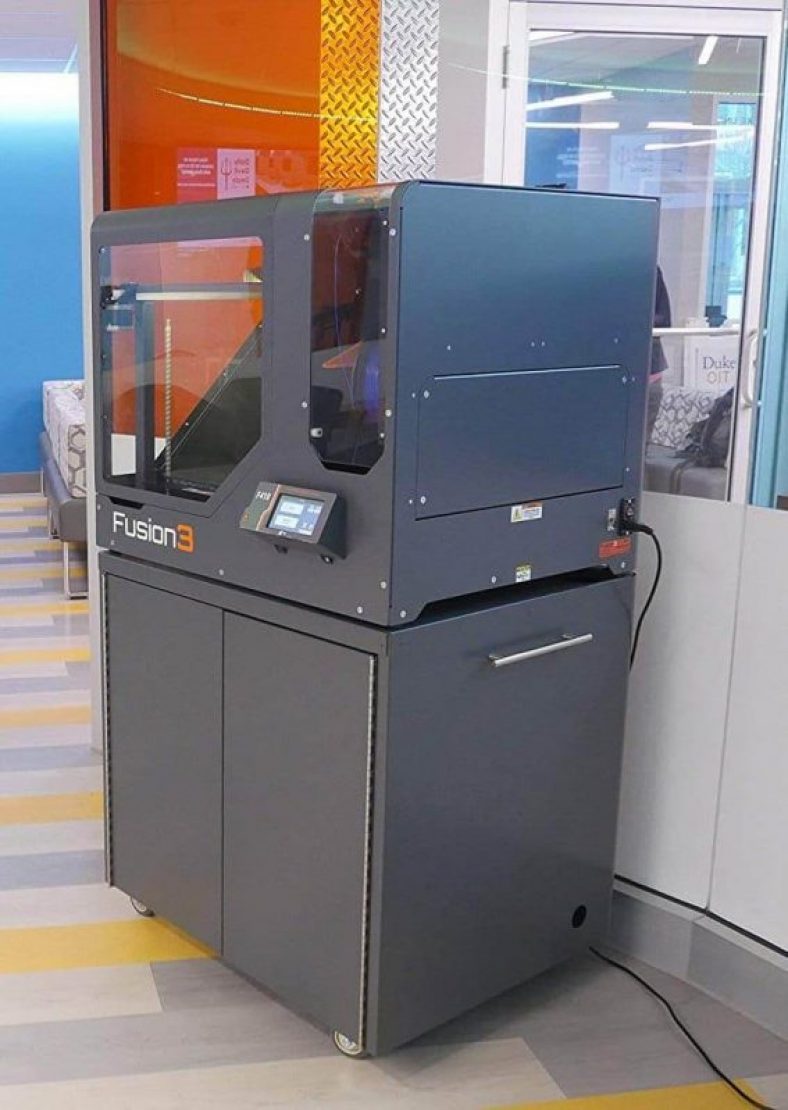 The unboxing of the 3D printer seems really exciting. Taking out the machine that is already assembled out of the box takes away the lot of hard work it may have involved otherwise. The smart-looking 3D printer with professional looks can convince anyone of its amazing features. The 3D printer is carefully packed inside the box to ensure safe delivery to the users.
Setup
Setting this machine for the first time is an easy job. It won't take any extra effort from the users. One just has to load the filament and start printing with F410. Weighing almost 85 pounds, the machine is big enough for users to create almost anything.
The 3D printer has a hinged lid that opens vertically like a car's hood. One can use the touchscreen to set almost everything. It is color-coded. This means that the different light color indicates different things.
Each green light indicates that the temperature for different stages has reached its optimum limit. The display is also used for starting the print job, performing maintenance, and even for running diagnostic checks.
Printing Type/Cost
The printer is an FDM 3D printer. Based on the fused deposition modeling, the printer is easy to manage. The maintenance cost isn't too much if one takes care of the parts of the machine vigilantly.
The filament cost varies a lot. If you wish to keep the operation cost low, choose the cheapest filament, PLA. Understanding that the machine with caliber isn't purchased just for fun, you may be choosing the material depending on the results you need.
Still, you have the choice to opt for third-party vendors with the cheapest offerings as the manufacturer keeps that option open for users.
Print Quality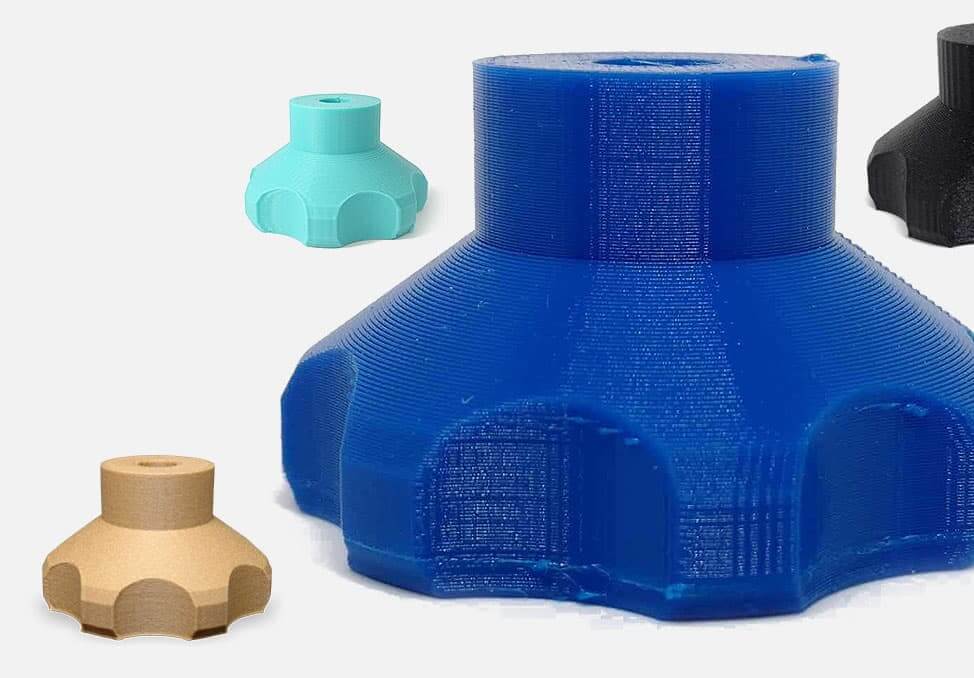 Does this need a lot of explanation? Learning about the different features that have been included in the machine to increase its quality already talks for the print results.
The printer is designed for high precision and accuracy while maintaining the speed of the prints. What else one can expect. Plus, its compatibility with a huge number of filament options makes it easy to choose the kind of results one is looking for by choosing the specific material.
Software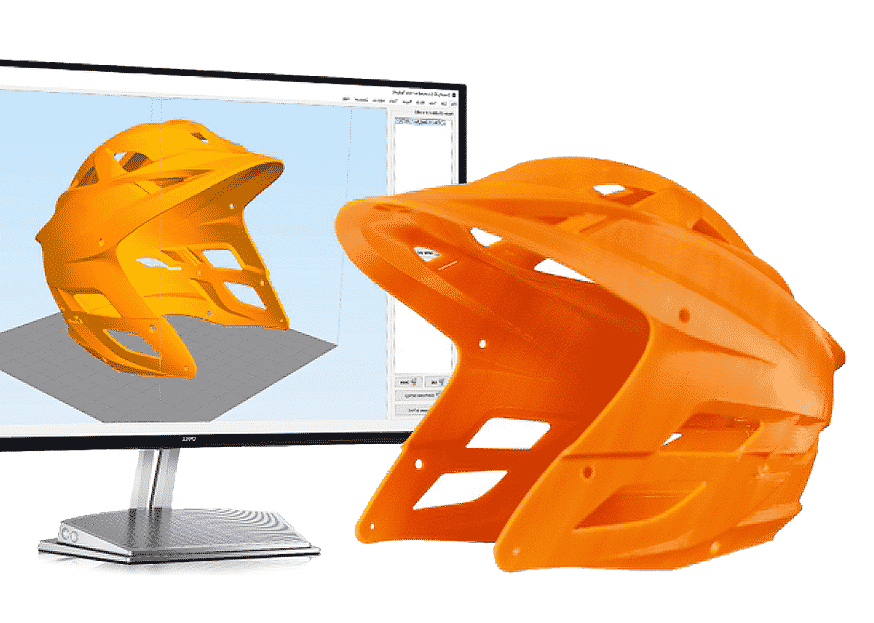 The 3D printer comes with a free license of Simplify3D modeling software. The software is compatible with windows, Mac and Linux operating systems.
This application takes input from the standard files for 3D models and corrects the design faults. Along with that it optimizes and slices the models manufacturing sections.
It also helps in adding support to the designs. One can edit the settings and work with complete freedom when using this software. It is user-friendly and provides beginners with much-needed ease to start and learn as they operate the software.
Learn more about 3D modeling softwares here.
Customer Service
Fusion3 has surpassed every test including the customer service front when assessed on offering the desirable solution. With 2 years warranty, the manufacturer is among the ones providing the longest warranty period for a 3D printer.
Most of all, the team is accessible through email and phone services whenever required.
Parameters Influencing the Buying Decision of Users
One must look from the all-important perspective before spending such a huge amount on a 3D printer.
3D Printer cost: The printer is affordable for industries and businesses who wish to use it for professional applications. However, not accessible to home users. Enthusiasts with a huge budget can even think of getting hands-on this smart device.
3D Print quality: The print quality matches those of high-end industrial printers. And, the machine has a very precise and accurate response for a smooth finish and detailed prints.
3D Print speed: Once again a very competitive option for those looking for a very high-speed 3D printer.
3D Printer capability: The 3D printer is capable of many good things. Considering its huge build space and huge potential coupled with speed and print quality, one can use the printer for several applications.
3D Printer Practicality: Majorly designed for prototypes and educational setup, the printer can definitely be used for many other Jobs.
3D Printer User expectations: Just missing the WIFI touch, the printer maintains to impress everyone with its reliability and stability.
Verdict
The 3D printer is professional and equipped with great features. One can call it a complete solution for those looking a mix of reliability, accuracy, and speed in one single machine. You can trust this device for lots of applications.
The enormous build space with capability for running with different sizes nozzles is a great addition to the 3D printer. In short, Fusion3 F410 is a very useful machine that is capable of some wonderful applications.