Though 3D printing technology is all about printing from imagination, with the help of 3D printing repositories, you can print using somebody else's imagination as well.
Online repositories are like those cherries over the cake that are too hard to resist after having eaten the complete cake.
In this article, we are going to talk about one such cherry that is especially cherished by Gamers.
This metaphorical cherry is an online 3D printing repository dedicated to buying and selling video games and comic book models.
Yeah! Whether you wish to 3D print The Mandalorian, the Gandalf, the Razor Crest, Speeder Bike, or any other of your favorite Gaming models as a collection or for making your stay close to it at your work desk, it is possible!
Thanks to Gambody for curating and making available STL files of all the video games and comic book models.
As soon as you land on this website, you get the chilling thrills of getting one-to-one with your favorite Video Gaming or Comic model.
3D Printing Technology is a manufacturing technology wherein getting in touch with one's realities is made possible using a 3D printing STL design file.
Keeping this logic in mind, the makers of the Gambody website have made available STL files with which Gamers and Game lovers all over the world can bring their imagination about these characters for real.
So, let's get started with this article by looking at how things work at the Gambody website.
GamBody: An Overview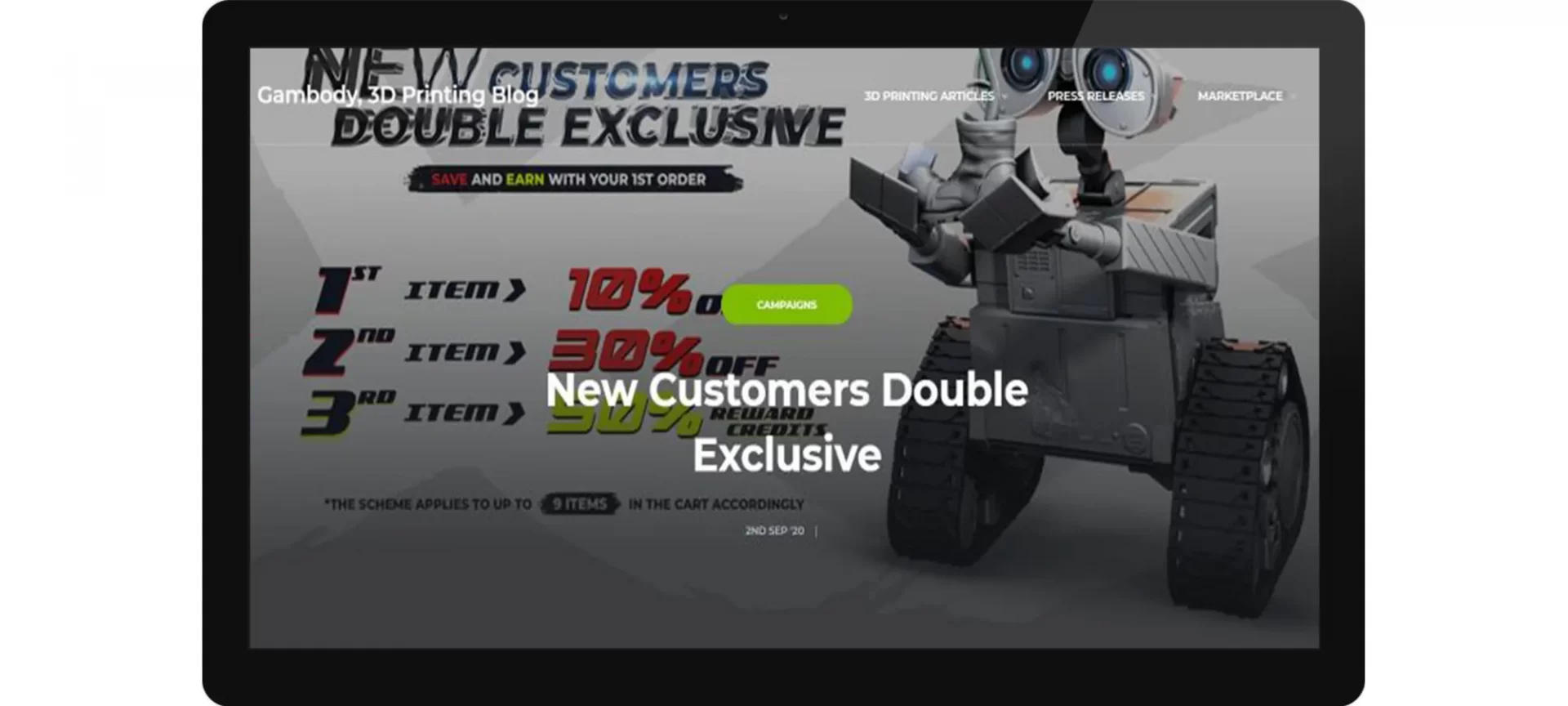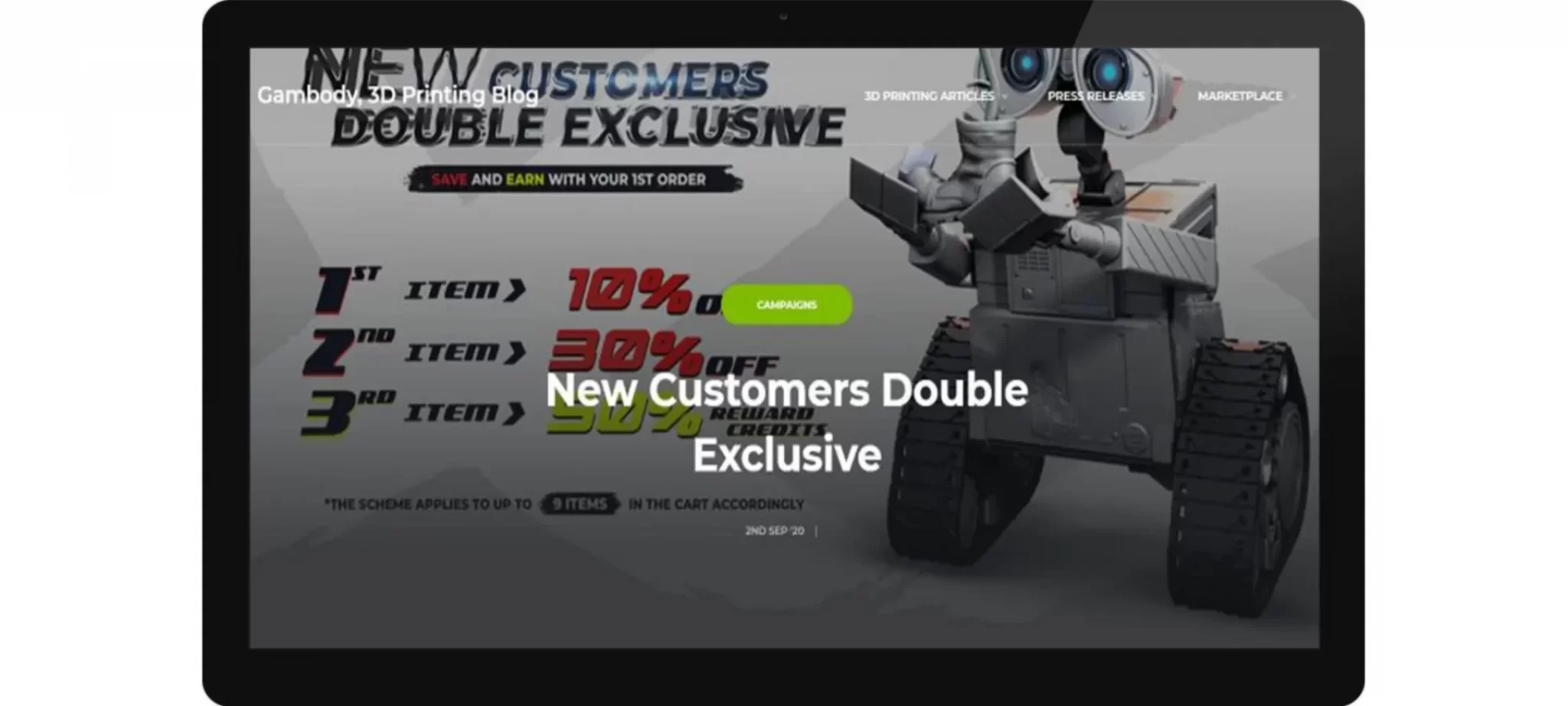 There are so many different online repositories for STL files. So, what is it that makes this particular option a desirable choice for gamers?
Well, the best part about Gambody is its clear and precise user interface.
With minimalistic design and categorization of characters, it is simpler for users to get to their favorite model faster.
Instead of juggling with unwanted choices, finding that one STL file is straightforward.
So, what makes their website user-friendly? Let us take a look at the different features that they offer to the users.
Simple Searching Algorithm for Models
As mentioned before, the team has done an extraordinary job to keep their workflow simple and easy.
It all starts with the searches. Instead of having just one way to look for the desired file, the website offers multiple options.
You can search by typing the name of the character that you wish to 3D print. Or, if you aren't sure what to 3D print, you can check the list of STL files from the Popular section.
All Items, Anime, Avatar, and AvP are mentioned clearly and arranged in a simple manner.
They have also listed categories that relate to different gaming models allowing you to relate to the game model that you are searching, easily.
So, let's say, for example, you wish to Tyron Lannister or Arya Stark, the famous characters from the television series called Game of Thrones.
To do so, you can search for them by typing their names on the homepage of this website, or you can directly select the GOT option from the Menu to reach for the STL files of the characters.
Easy Order Placements for 3D Files
It cannot get any simpler than this. A few clicks and you can already start downloading the file. After you click on that model to proceed, you will find all the details of the 3D model.
For instance, the source files, description, along printing details. For beginners, so much explanation always comes in handy. Hence, you can consider GamBody a beginners' friendly website as well.
The details also include the price for the STL files. In case, you wish to know what other users have to say about the particular file you have chosen, just check the comments posted by previous makers.
If you still wish to continue, click on the Buy Now option to make the purchase. And, it's done. Follow the steps and download the file you wish to 3D Print.
Multiple Payment Choices
Even after putting a great database for STL files, a lot of websites lose interested customers because of the lack of variety of payment choices.
However, Gambody hasn't made that mistake. You get to choose between various payment methods such as PayPal, Visa cards, there is a separate payment option for customers from the UK. And, you can also pay using Stripe, Apple Pay, Google Pay, and Alipay.
What Services does GamBody offer to Users?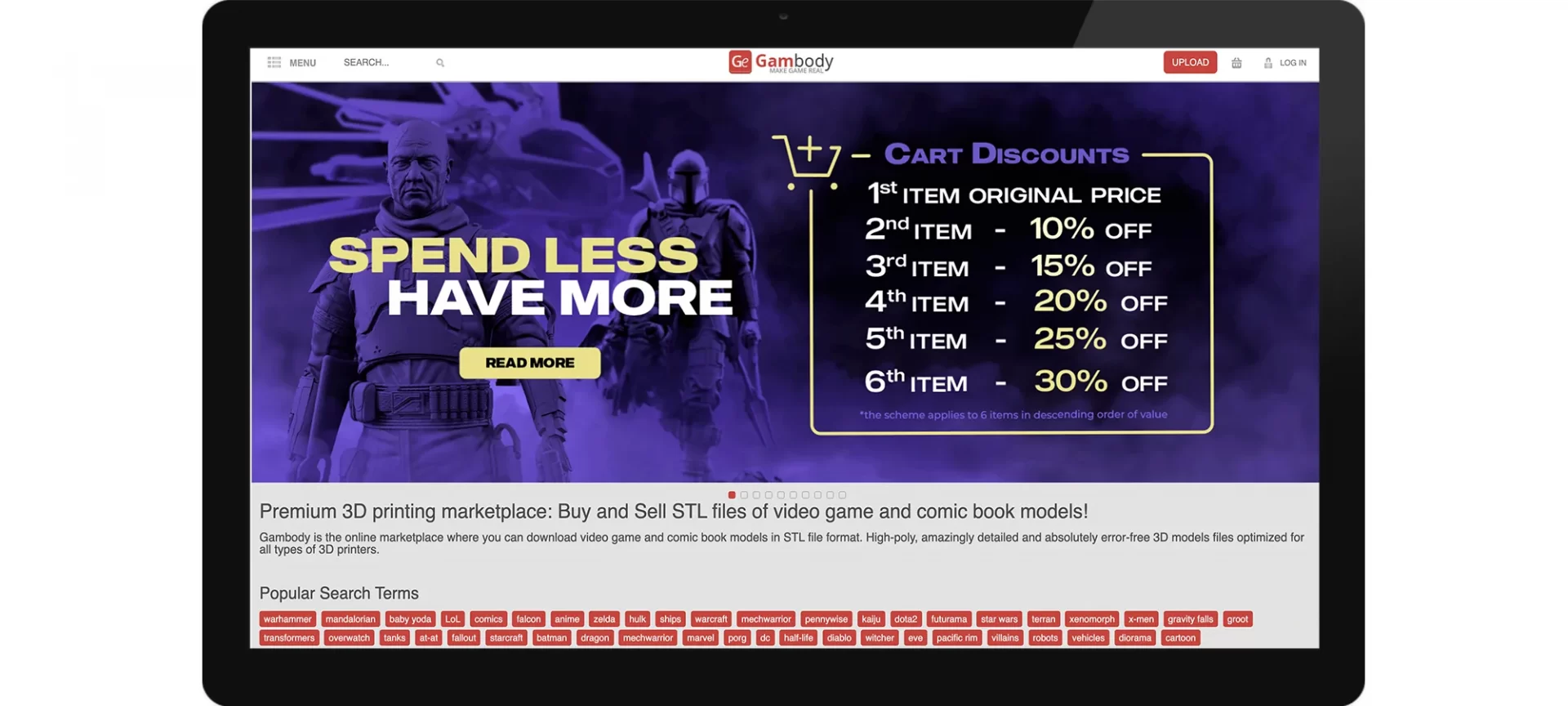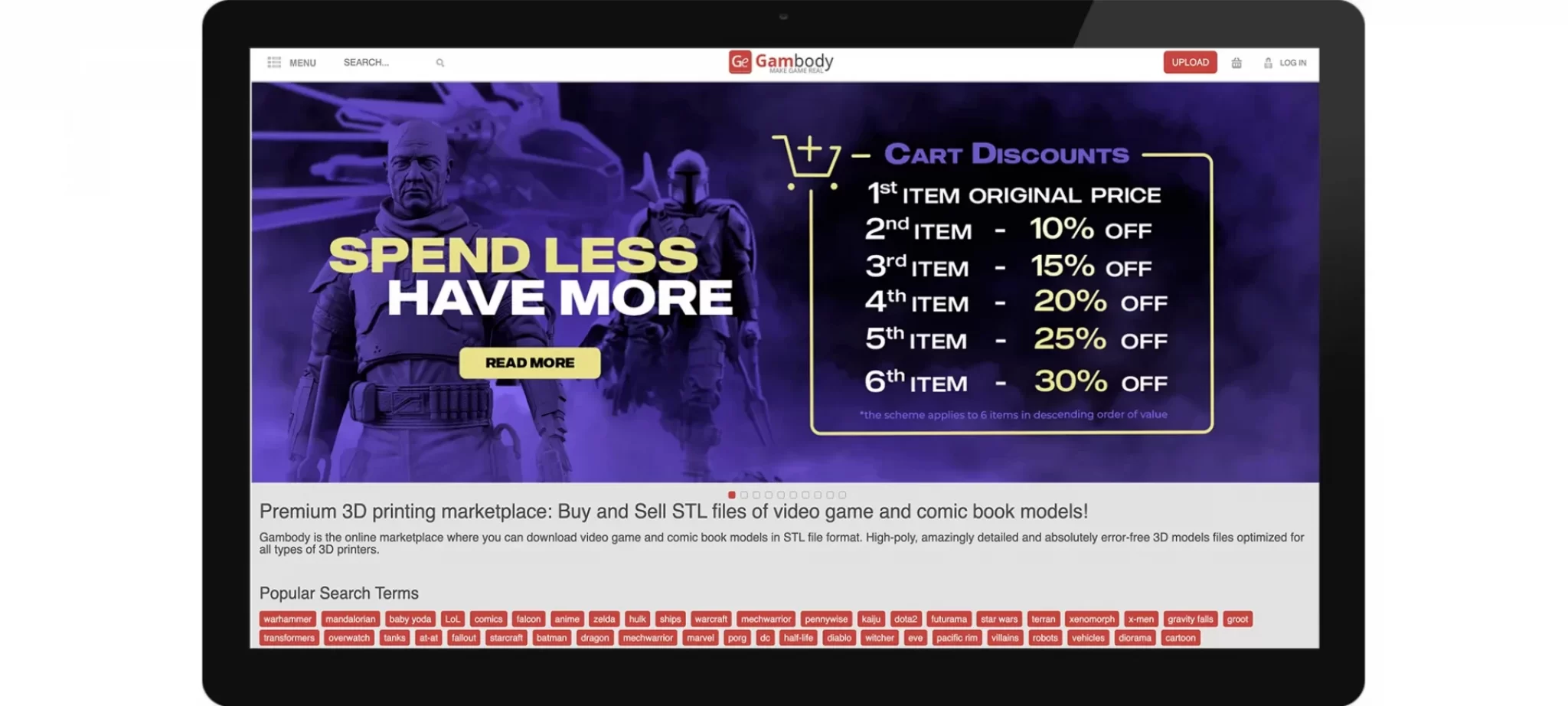 Apart from downloading STL files, there are other things that you can do on this website.
Upload Your 3D Model
It is easy to upload your models on Gambody. The best part is that you can make money doing so. And, all you have to do is create an account. Hence, it does sound like a completely fun platform for users.
3D Printing Services
What if you do not have a 3D printer? Where would you get your favorite models printed, after downloading it from Gambody?
In case you are wondering, Gambody has partnered with Treatstock. So, all you got to do is choose a file from Gambody, print it on Treatstock, and get it shipped to your address.
What's in for the Customers on Gambody?
It seems that Gambody takes its customers too seriously. Hence, you will always find a few offers ongoing over the website.
At the time of writing, we did find a few exciting deals that could help users save a few bucks when ordering the online STL files on Gambody.
Gambody website offers users a significant discount on their purchases.
Do not forget to check the deals whenever you are making a purchase on this website.
Or else, you may miss out on amazing discounts and coupons.
New Customers Double Exclusive
For all those who are buying for the first time from the Gambody website, this offer is targeted towards you! Saving and even earning are made possible for you using this offer.
For the first item that you buy from the Gambody website, you would be given 10 percent off by being a part of this campaign.
If you happen to buy a second item, the savings will increase to as high as 30 percent.
And for the third item, they will reach even higher i.e. as much as 50 percent.
This can go on up to nine items in your buying cart at the moment of checking out from the Gambody website.
You can Learn More about this offer from the Blog mentioned on this website about the same.
Mystery Wednesday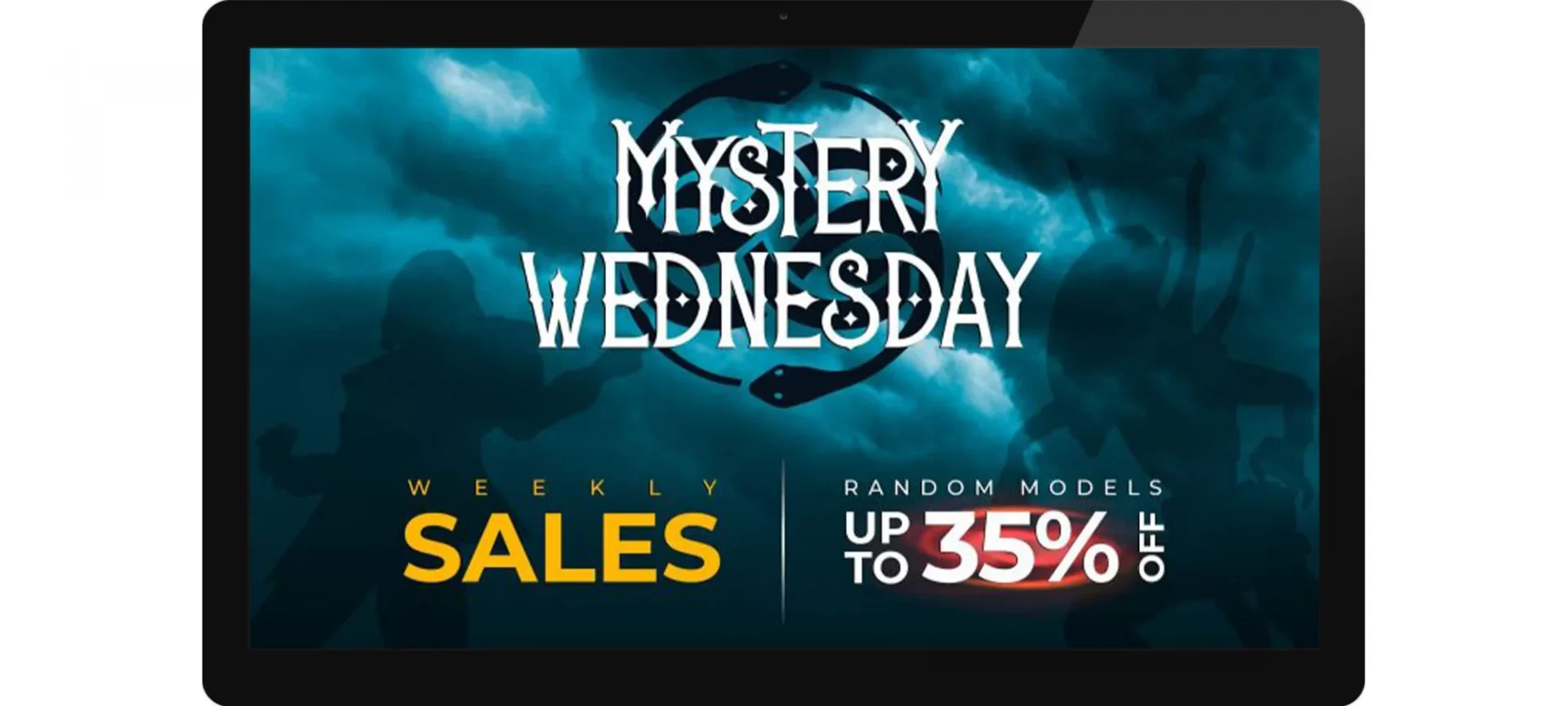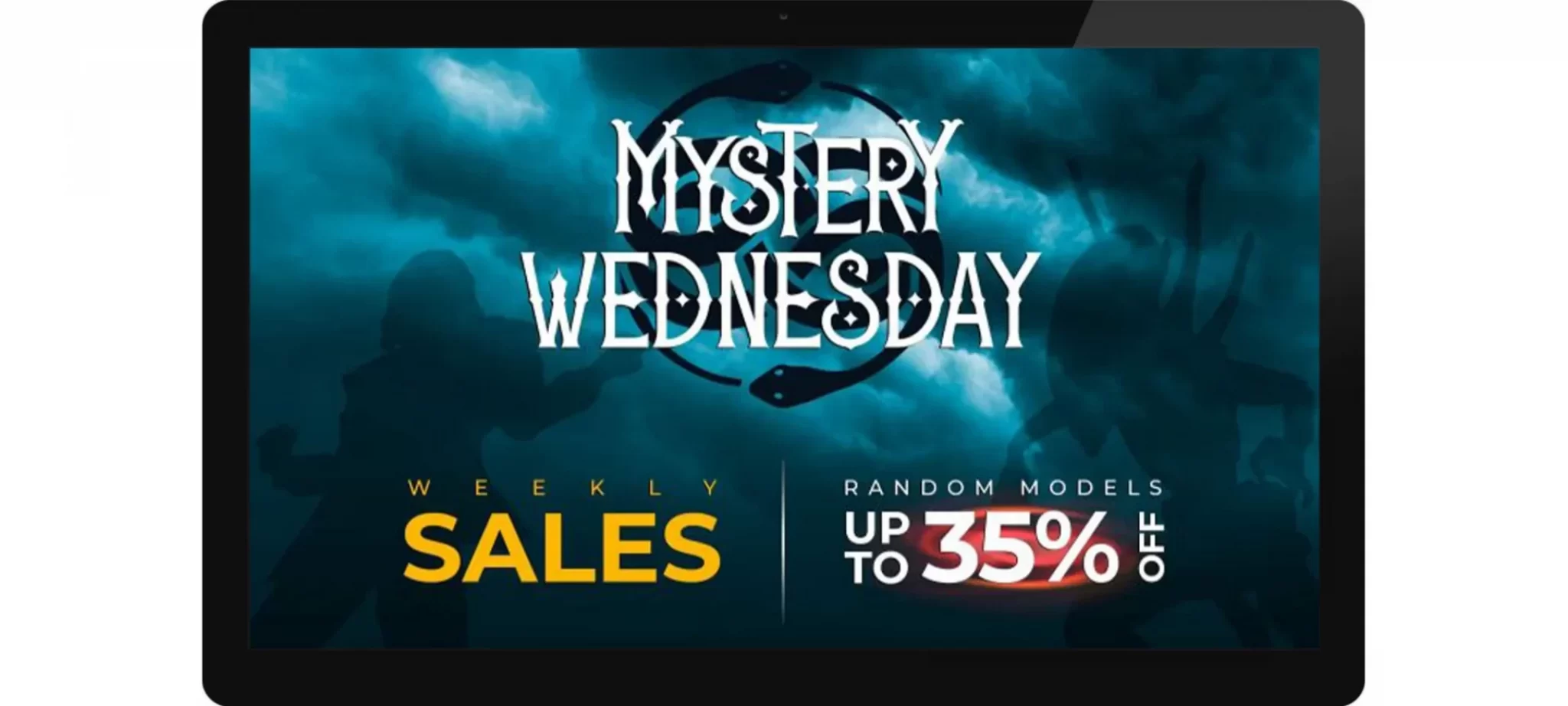 As Mysterious as this offer sounds, so mysterious it indeed is! A three-day sale on random models up to 35 percent is made available to you using this campaign.
Originally when this campaign was started, it allowed 3D printing enthusiasts to buy high-quality models from Gambody with up to 35 percent discount, but from 1st September 2020, this offer has been extended even on Thursdays and Fridays making the campaign not only a single day Mystery Sale but a complete three-day Mystery Sale every week on random models.
To find out more about this offer, please read the blog about the same on the website.
Happy Monday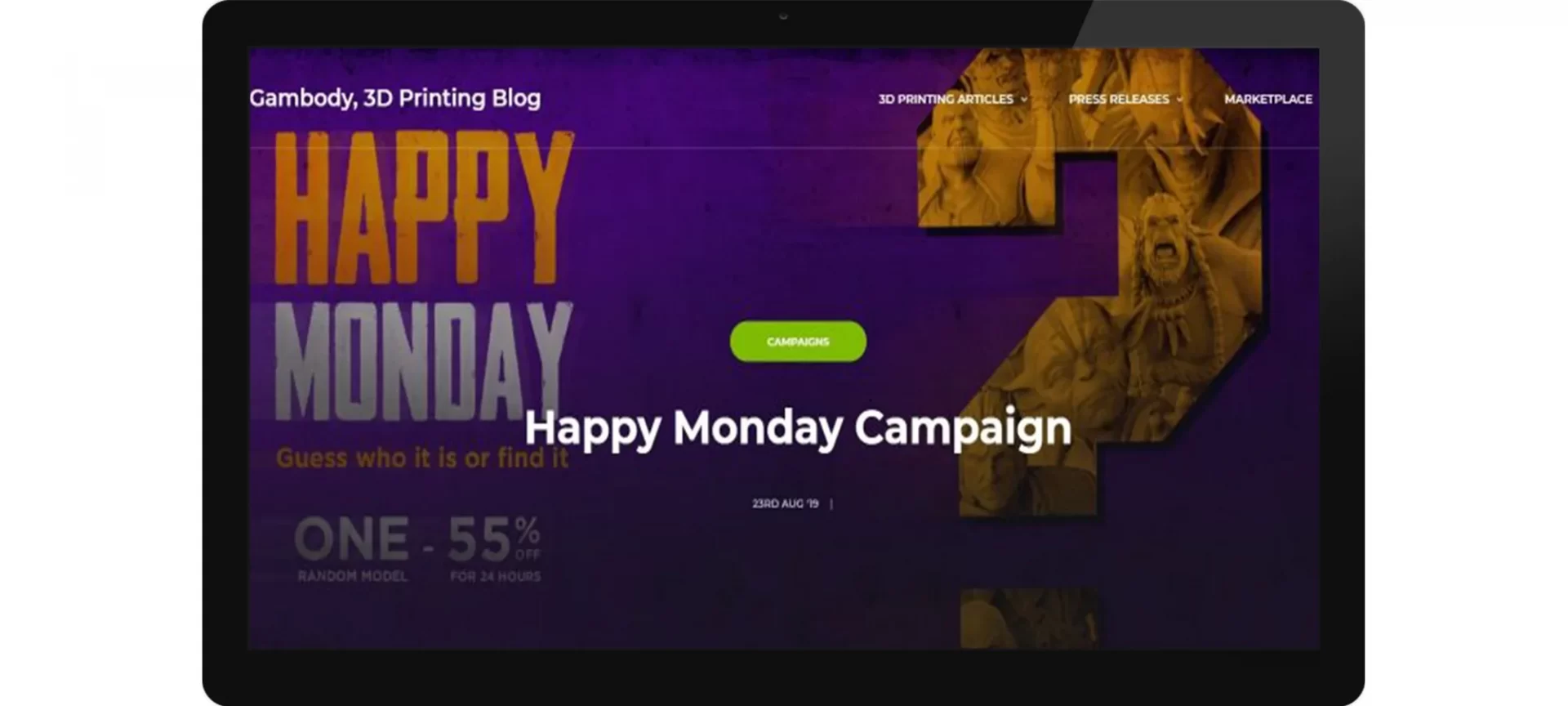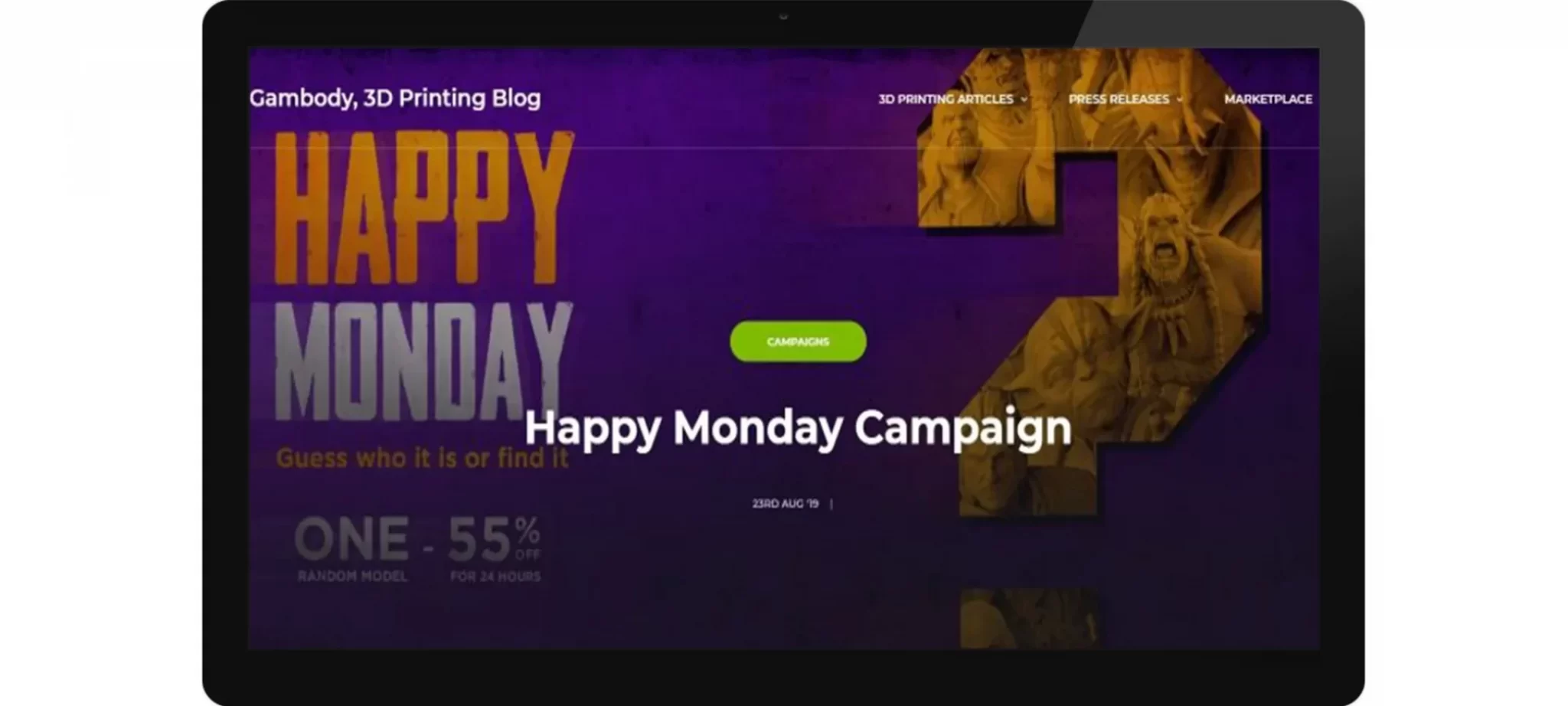 Acknowledging the fact that festivals can also be considered far away by Gaming enthusiasts when it comes to wanting to buy their favorite Gaming models at a discounted rate, Gambody has launched its Happy Monday campaign.
Under this campaign, one randomly selected 3D printing model that is displayed on the Gambody marketplace will be available at a price more than 50 percent off than what is mentioned on the website.
The creative team of Gambody makes puzzles, rebuses, and riddles for making the quest for this discounted model interesting.
These puzzles are displayed on the Gambody-3D Printing Marketplace, which is a Facebook page of this website.
As well as, you can receive it as a newsletter, on your email, in case you are a registered user on the website.
Customer Loyalty Rewards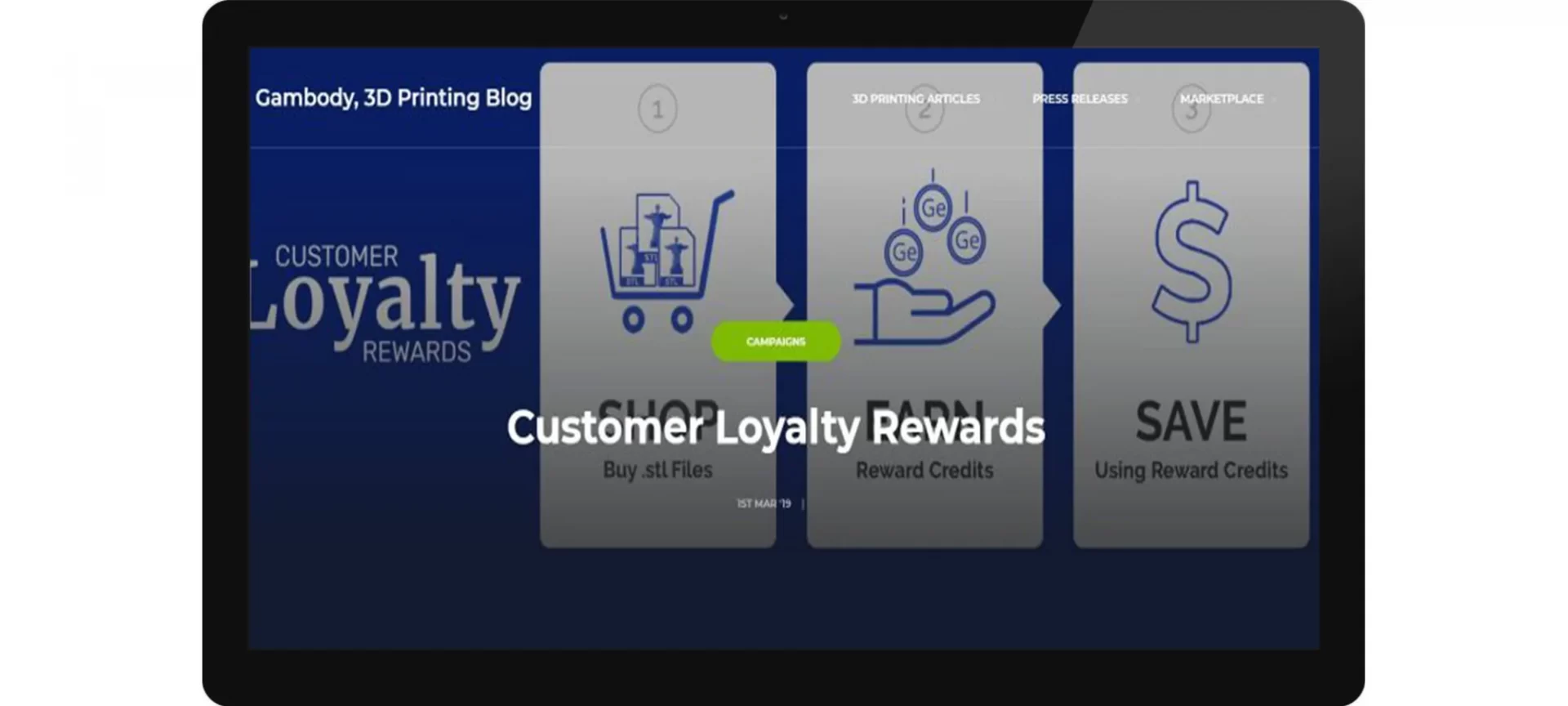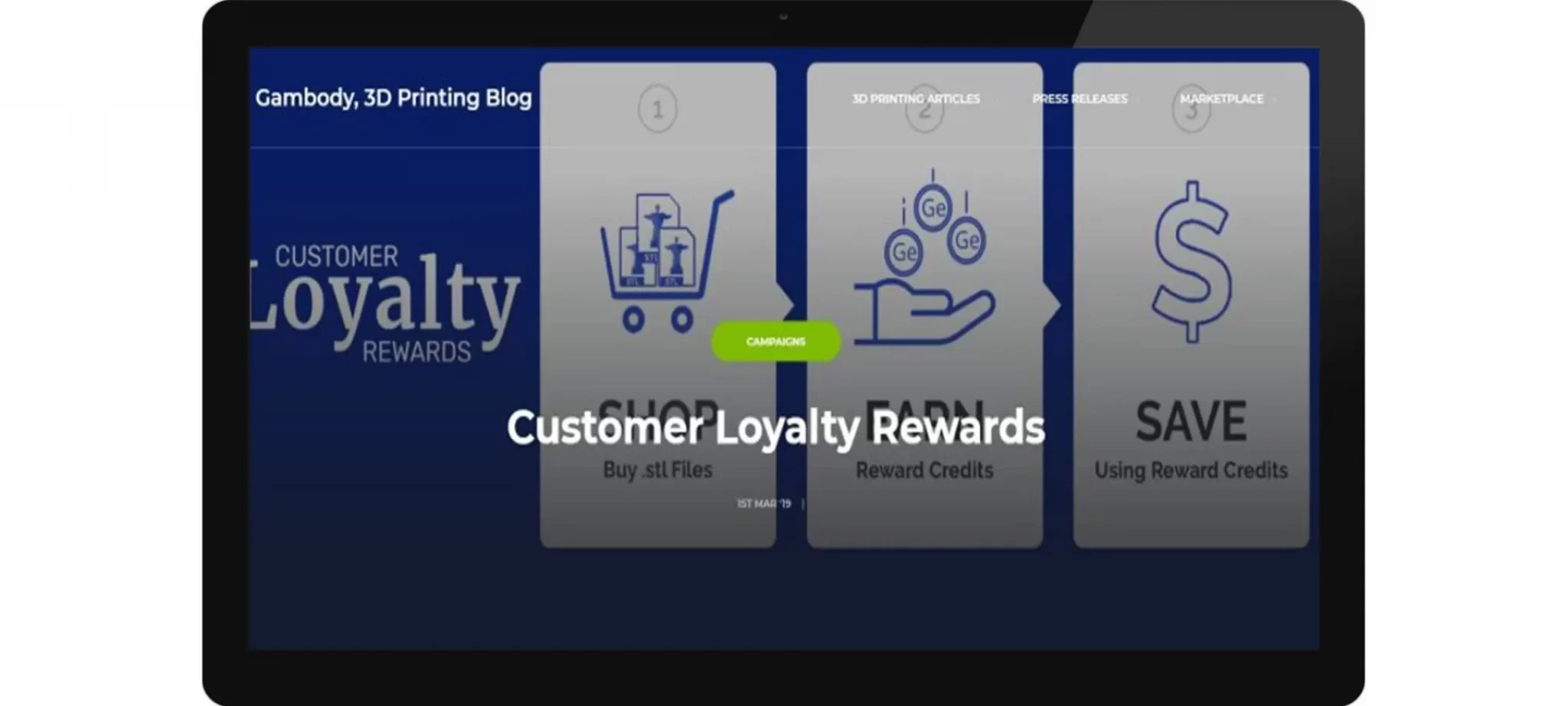 After shopping from the Gambody website, every time you earn some basic Customer Loyalty Reward from the website, which makes you earn some credit for yourself that you can say and use in your next time's purchase.
Under this campaign, a certain sum of money that you've paid to Gambody is given back to you, which you can save to use for your next time purchase on their marketplace.
There is a certain percentage calculating criterion used by the website makers which they've displayed on the Blog related to this campaign.
If you wish you check it out to know about this amazing campaign in a little more depth.
Referral Discounts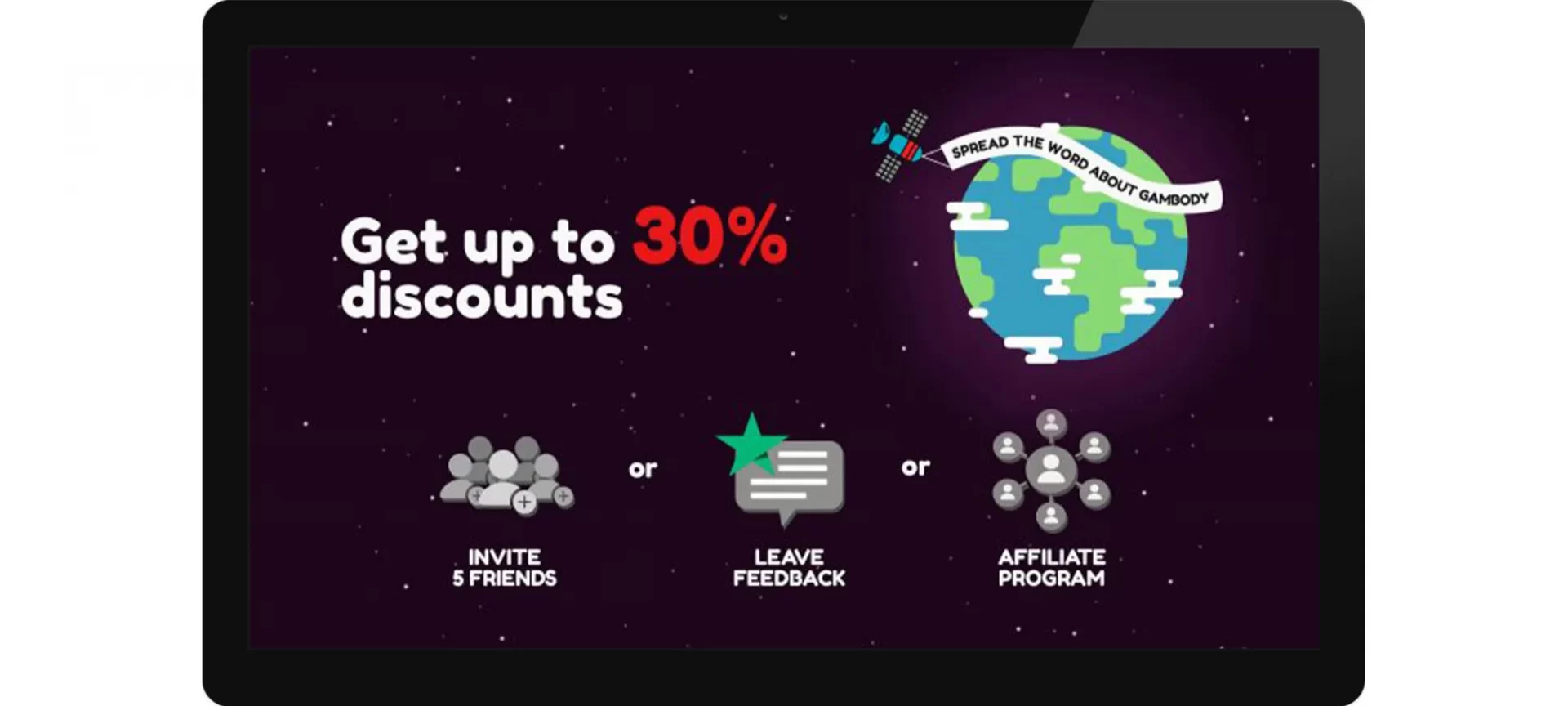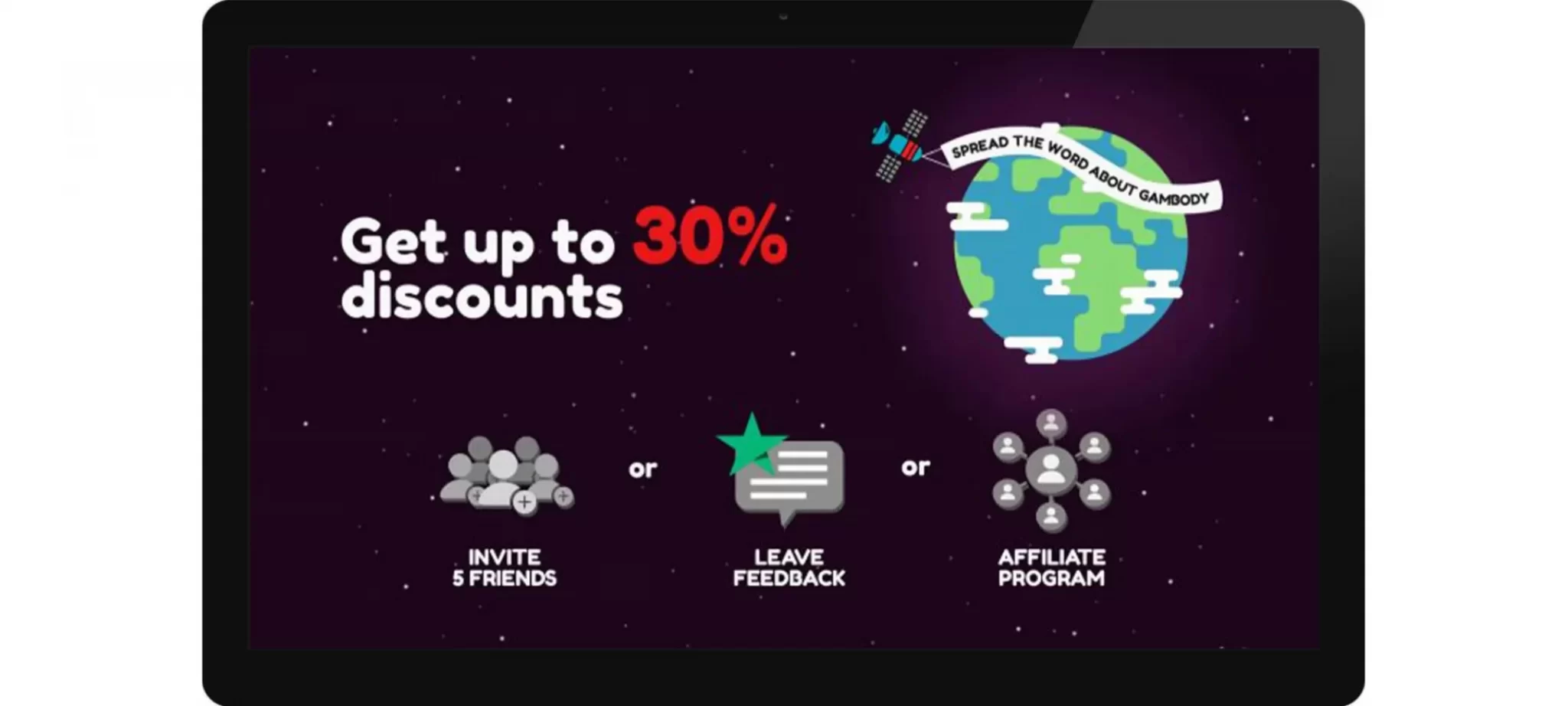 Apart from all the above-mentioned campaigns, Gambody also runs a "Spread the Word about Gambody" campaign, under which you can get three types of discounts on your purchase based on different conditions.
In case you manage to make your five friends sign up with Gambody, you earn yourself a 30 percent discount coupon which is valid on a one-time purchase that you make with Gambody.
By writing your experience of working with this website via Truspilot.com, and having completed the review, or by writing to support@gambody.com, for your next purchase, you earn yourself a 25 percent coupon.
You can join Gambody's Affiliate Program and get an opportunity to earn 20 percent of the total price on each order that is made by the user that you have recommended Gambody to! For participating in this program, you can add Gambody to your Referral ID, share a unique affiliate discount coupon, or place Gambody banners on your website.
Why Choose GamBody?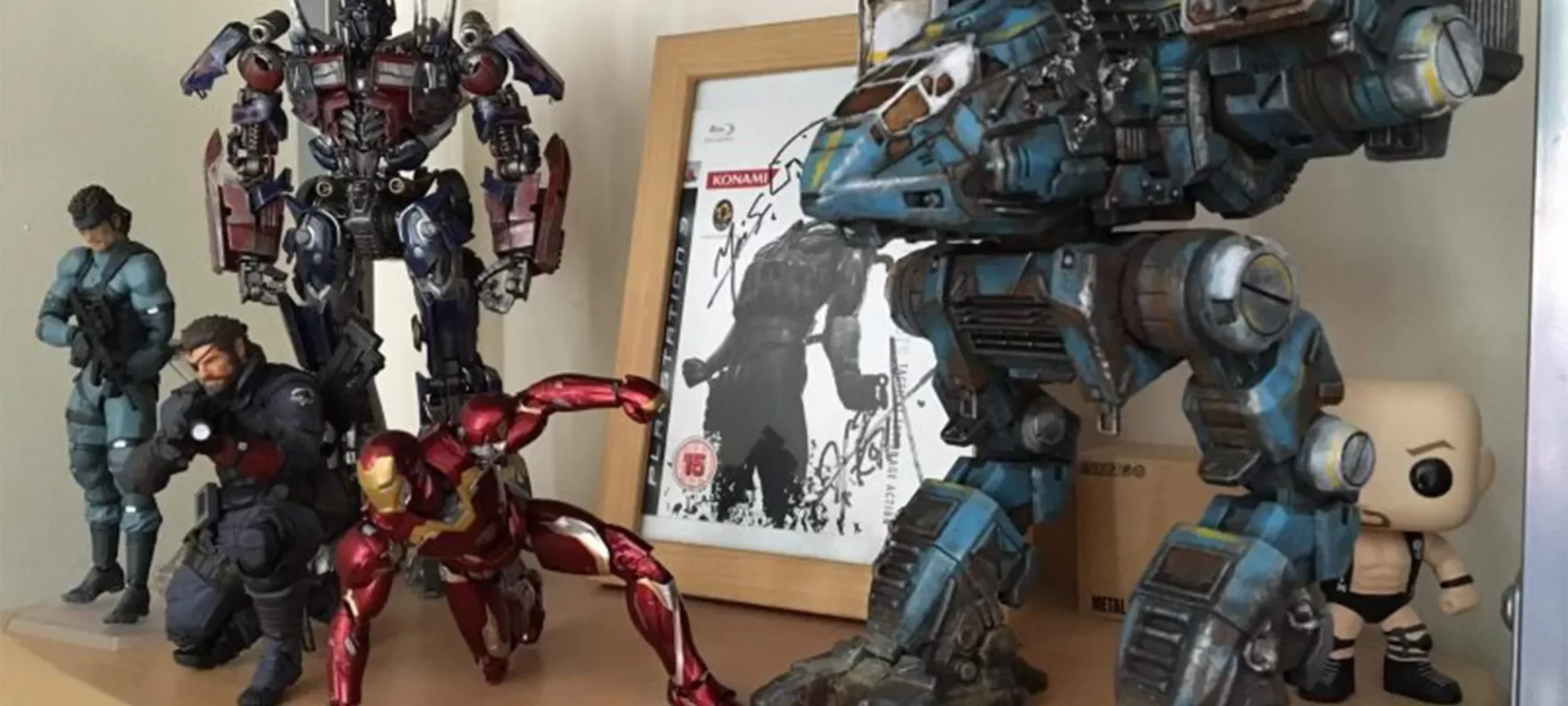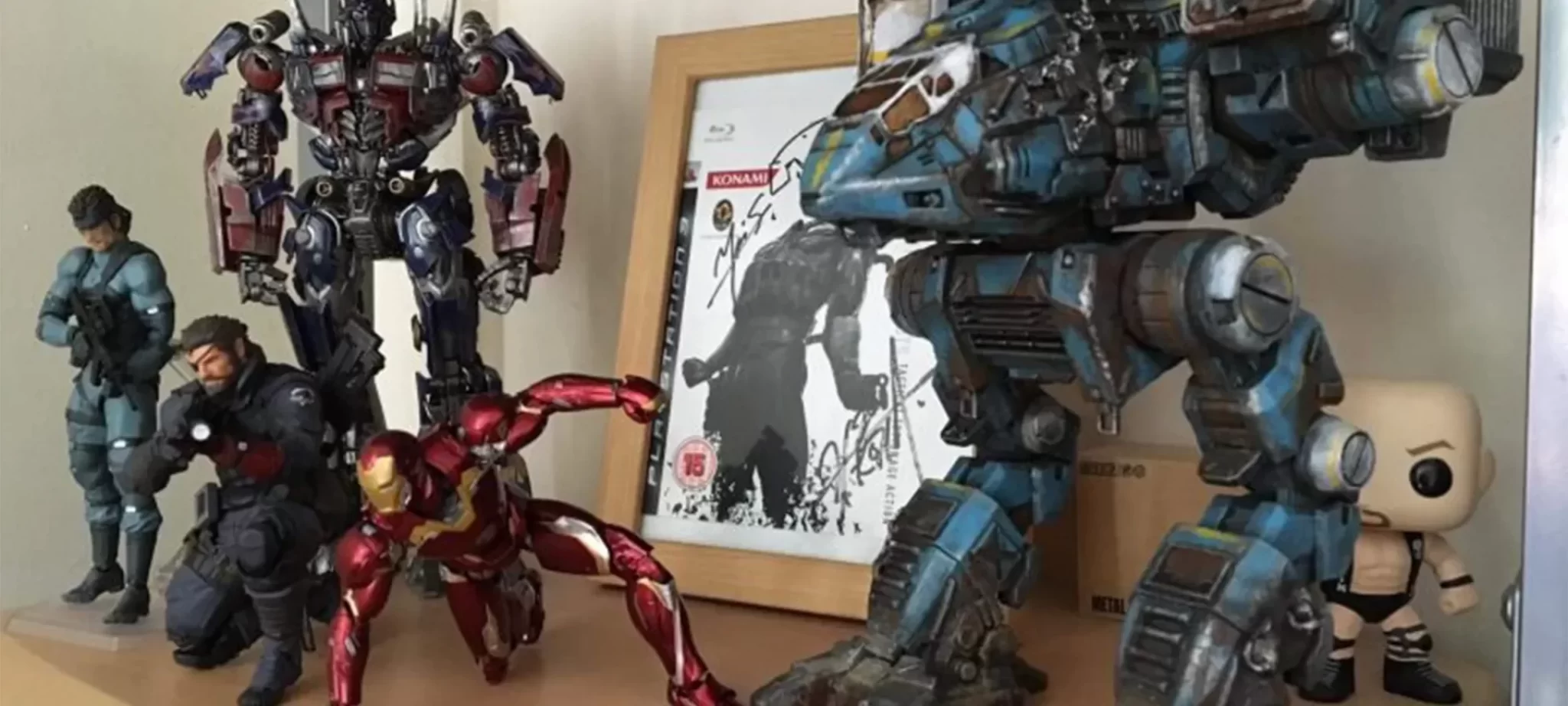 There are a number of reasons why you can rely on Gambody and choose it over other options.
First of all, the Gambody team is highly creative and keeps coming up with ideas that could make a difference in the lives of people.
It is not just an online repository with hundreds of different categories. However, it focuses on working for the interest of a particular group of 3D printing users.
And, what sets the team apart from the rest of the world is their passion to help others. And, these are not words.
Gambody has proved it through their dedication to making a difference in the time of need.
Understanding the problems that the masses are facing during COVID 19 pandemic, the Gambody team has come up with an exciting offer.
It is about the fun face masks model for 3D printing. Users can buy this model for free.
This model consists of files that are in STL file format which is considered an optimized format for 3D printing and is accepted by almost any 3D printer.
To further offer a helping hand, the website-owners could even share the STL files in .mb format on request.
This can run on Autodesk Maya software as well. Before starting to print this model, the website maker recommends you to read the complete section that contains the printing details.
It is to be noted that the model comes in a separate version for FFF and FDM 3D printing. You would also get the customer reviews of people who have bought this model.
Overall, it ensures that you not only get your STL file but have no problems in printing the same.
The Conclusion
It is difficult to find a match for Gambody considering the variety of characters available for gamers as well the offers and discounts the website provides to the customers.
The good part about this website is how the website maker has displayed reviews on almost every model they are offering.
So, you as a customer are also getting genuine feedback from customers like yourself who have used the model before you did.
This feature lets you view the difficulties that you are going to face beforehand.
Also, to mention, all the campaigns that the company runs are very exciting.
And the reason that they are not obvious like they are on other sides creates a sense of inquisitiveness in the brains of customers.
However, the website lacks a little bit of sophistication that you normally get to feel by landing on other websites.
While the workflow of this website is very smooth and short, linking and making it even smoother and shorter can be worked upon.
Because trying to guess whether the gaming model that one is looking for, just by typing or trying to search it through the categories is a little boring.
But overall, the website is unique and a gem of a website for all the Gamers and Comic book readers out there.