3D printing may have been a niche concept up until a few decades back, but things changed and how. As with any modern technology, the evolution of 3D printing has been rapid. What you previously considered impossible is now possible, and in fact, you can get a 3D printer and benefit from this technology from the comfort of your home.
Over the years, 3D printers penetrated almost every facet of life, including education. Today, schools are investing in this technology, for teaching students about this technology and the benefits they can gain, and also broaden their horizons.
If you are looking for a 3D printer for your school, you need to consider a number of factors before selecting one. Some degree of diligence can ensure that you can get the best bang for your buck. In this article, we will highlight the 15 best 3D printers for schools that are not just affordable but reliable as well.
However, before that, we need to ask a key question…
What Qualities Distinguish A Successful Educational 3D Printer?
Since you are purchasing a 3D printer for a school, the foremost factor you need to consider is ease of use.
A majority of students will not just be using a 3D printer for the first time, but it is possible that they have no experience of even seeing one.
Moreover, as students tend to do, they will lose interest if the device is difficult to operate.
In other words, you need to find a user-friendly 3D printer for your school, so that all the students can benefit from it.
Comparison Chart
| Name | Link | Nomination | Overall Rating |
| --- | --- | --- | --- |
| ANYCUBIC Mega S | | Easy to use | 9 |
| LulzBot Mini 2 | | Best For Beginners | 8.9 |
| MakerBot Replicator Plus | | Premium Choice | 9.5 |
| FlashForge Finder | | 3D Printing Beast | 9.8 |
| Monoprice Select Mini V2 | | Most Reliable | 9.4 |
| Sindoh 3DWOX 1 | | Responsive interface | 9.7 |
| Dremel Digilab 3D20 | | User friendly | 9 |
| FlashForge Creator pro | | User friendly | 9.3 |
| ELEGOO mars | | Transnational | 8.8 |
| Qidi Tech X-Max | | Eco-friendly | 9.1 |
| TierTime UP Mini 2 ES | | Super Rigid | 9.3 |
| CraftBot Plus | | User-Friendly | 9.7 |
| Ultimaker 2 Plus | | Precise and Fast | 9.3 |
| Sculpto Plus | | Most reliable | 9.8 |
| Robo C2 | | Eco-friendly | 9 |
List of Best 3D Printers for Schools
ANYCUBIC Mega S
This is a good option if you intend to use it frequently in your classroom. It is a high-quality model at an affordable price for what you get.
It will withstand heavy use; keep in mind that every student will want to take at least one product.
Uses:
Provides incredible features at a low cost, including a heated print bed, a filament run-out sensor, and a more powerful extruder
The filament feeds into the extruder via a geared feeder. The temperatures are high enough to allow the use of the filament, which requires a lot of heat.
The model features an all-metal frame as well as a touchscreen LCD control panel.
Comes almost completely assembled; all you have to do is attach the frame and spool holder
When there is a power outage and the machine stops working, it has an auto-resume feature.
Flexible filaments work well with the extruder. The base is made of textured glass that holds the object securely until it cools, at which point it is easy to remove with a scraper.
This device weighs 24.2 pounds and measures 8.27 x 8.27 x 8.07 inches
Comes with an extra hot nozzle, which is an unusual feature
LulzBot Mini 2
The LulzBot Mini 2 is simple to operate and compatible with a wide range of filament forms. It is an excellent option for schools and hobbyists, as well as anyone looking to invest in a strong and flexible 3D printer.
It is light but solid and based on the noble principles of open-source hardware. The LulzBot Mini is best for printing large, quick prints rather than tiny, detailed prints.
LulzBot Mini has been designed cautiously that using it on a regular basis becomes a genuine pleasure. No doubt, this 3D printer is ideal for your school learning.
Uses:
This printer is mainly used to work with wood filaments.
It offers an open filament system, which is compatible with multiple ranges of materials including PLA Nylon645, ABS+, and many others, so any of your filament needs can be fulfilled using the LulzBot Mini 2.
This remarkable printer obtains fine details.
It has a print area of 6 x 6 x 7 inches, which means it can be used to create the desired object.
This easy-to-use printer is widely used by home users, as it is a desktop printer.
MakerBot Replicator Plus
MakerBot Replicator Plus is a quiet 3D printer that offers a range of advanced features over other similar 3D printers.
It has an open frame that allows for a clear view of the printing process, as well as hollow top, front, and sides that make it an excellent choice for schools and small businesses.
It is simple to set up and only requires you to connect to a WI-FI network and download a user-friendly app or connect the printer via a USB plug on the back of it.
The business provides excellent customer service and makes every effort to respond to all inquiries as soon as possible. Overall, this 3D printer is an excellent option for both educational and technical purposes.
Uses:
Operable from a distance through phone connectivity
Its faster printing speed makes it ideal for beginners.
Users familiar with to FDM process prefer using this printer.
You enjoy a clear view of the printing process.
You can also view and print remotely after creating an account with MakerBot.
The Fused Deposition Modeling (FDM) process is used to 3D print the Replicator Plus. The heated filament is deposited layer by layer on a pre-leveled print bed.
It has a sleek and sturdy black body, a build volume of 16.2 x 17.4 x 20.8 inches, and weighs approximately 18.3 kg, which puts forwards your desired object.
FlashForge Finder
The FlashForge Finder is a high-quality extrusion-technology 3D printer that offers an excellent learning experience in 3D printing in schools. The  FlashForge Finder offers user experiences unparalleled by any other 3D printer on the market.
It is the best and most user-friendly 3D printer, with a 3.5′′ touchscreen and Wi-Fi connectivity, allowing you to print from a mobile device without a wired connection. It is so simple that even a child can use it.
When it comes to entering the creative 3D world, FlashForge Finder leads the way. It is one of the most cost-effective 3D printers for beginners.
Once you get your hands on it, you can upgrade to a printer that supports a wider range of materials and has a heated bed.
Uses:
The FlashForge Finder produces quality prints and is reliable for all its applications. It works accurately, so it will help you greatly in your hobby projects.
The printer is PLA and has a cold glass bed that you can remove. It's fully assembled. The build volume is 140 x 140 x 140 mm, quite small, and limited to a certain print size.
It supports printing from the cloud, USB stick, USB cable, and Wi-Fi, and has a 3.5-inch touchscreen with logical icons for simple operation. It is possible to print with it.
The resolution in low layers is 500 microns and 100 microns in high layer resolution. The positioning accuracy is eleven microns on the X and Y-axes and 25 microns on the Z-axis. The filament has a diameter of 1.75 mm, while the diameter of the nozzle is 0.4 mm.
Monoprice Select Mini V2
The Select Mini is one of the most highly recommended 3D printers for schools. The most appealing aspect of this 3D printer is its low price, available for around $219 or less.
This printer will impress you in every way, from the foam packaging to the fully assembled and pre-calibrated state.
You can select your desired models to print using a built-in screen. Also, you can connect it to your system or to a USB port; it works both ways.
Uses:
Because this 3D printing machine is fully assembled, you can start printing immediately after inspecting the bed leveling, which makes it a good printer for schools
Aside from the cost, it allows you to use third-party filaments, which can help you save money on materials.
This low-cost machine has an all-metal hot end that contributes to better heating
This 3D printer is small enough to fit on any desk and has a small build-in volume
Cura, Repetier Host and other software are supported
A heated print bed that reduces the possibility of warping
Working without a computer or laptop is possible thanks to the LCD control
The transfer of digital files is simple because it includes a Wi-Fi connection
This 3D printer can print difficult parts
Sindoh 3DWOX 1
Competing with brands known for producing the largest number of 3D printers, Sindoh carved out a niche in the market for producing consistent and solid 3D printers.
The Sindoh 3DWOX 1 comes preassembled, requiring the user to do only the bare minimum to understand the machine.
This 3D printer is user-friendly, whether it's the slicing software included with the printer or the mechanism and operability of the parts.
This FDM-based wood printer, which comes in a wooden crate, is widely used for printing large volumes of parts and functional prototypes.
It has a resolution of 50 millimeters and is transported in a wooden crate.
Widely used for printing huge build volumes of parts and functional prototypes, this FDM-based school printer offers a resolution of 50 millimeters.
Uses:
Within its stylish frame, everything stays neat and orderly
Enclosed space provides users with safety, reduced noise, and temperature stability
This printer performs admirably with PLA and ABS.
Equipped with an auto-loading filament
The machine is enhanced with LED lighting and an onboard camera, allowing you to control your printing process from anywhere using your phone.
Your printing requirements can be met by a build area of 210 x 200 x 195 mm
In addition to all of the best features, the 3D printer has hot-swappable build plates. It is a small printer with dimensions of 200 x 200 x 185 mm.
This machine includes a proprietary print head that can operate at temperatures ranging from 180 to 220oC.
Dremel DigiLab 3D20
This 3D printer is ideal for schools and colleges, as well as for students interested in learning more about the possibilities of this cutting-edge 3D printing technology.
Despite the fact that the company's main target market is students, they attempted to create an easy-to-use printer with as many advanced features as possible while attempting to keep the price tag low.
Uses:
If you are a student, this computer is ideal for you because it is simple to operate
Works with SD cards and USBs, so you don't need to attach it to a laptop to use it
Enclosed chambers will keep your learning experience secure
This will help you get the most out of your first 3D printing experience
The printer is simple to put together if you obey the instructions and tutorials. It doesn't have an auto-leveling function, but it's still simple to use if you follow the clear instructions in the manual.
The touchscreen display allows you to change settings and monitor prints as if they were a standalone computer
FlashForge Creator Pro
The FlashForge Creator Pro is a mid-range 3D printer with dual extruders designed to last. An enclosed printing chamber makes for faster dual nozzle prints.
It has a heated build base and a metal case that is heat resistant. When it comes to dependability, the device is fantastic.
The Created Pro printer has a stylish design with a blue LED inside. It also comes pre-assembled, so there is no need to put it together. It's top on the list of printers for schools.
Uses:
Uses two materials of different colors simultaneously, thanks to the dual extruder feature
The Creator Pro is capable of producing high-quality objects. It has a layer resolution range of 100 to 500 microns. When it comes to small items that need great precision, the consistency is not preserved well.
It has a printing chamber that is fully sealed. As a result, the temperature inside the printing station is constant. This also eliminates the need for external ventilation, which is one less thing to be concerned with.
The heat-resistant, 6.3 mm aluminum plate is highly durable. It can easily withstand high temperatures.
The printing area is 152 x 152 x 152 mm, which is not enough space for large projects.
The Creator Pro only works with ABS and PLA, which can be pricey but worth it for the quality.
ELEGOO Mars
You can change the language and visuals by clicking the gear icon at the top right of the paraphraser. You can also view text statistics.
This printer is made of aluminum and has a 3.5-inch touch screen. It is one of the most affordable options on this list and offers good printing for the price.
The ELEGOO Mars uses resin rather than filament, as well as UV light. It does not include resin.
Uses:
In general, a resin printer produces better detail.
This is the printer you need if you want to print internal organs for biology class.
It's also great for printing historical artifacts, fossils, and historical figure busts.
The ELEGOO Mars UV is ultra-thin and will fit nicely on your desk
It will print without requiring you to connect to a computer. It weighs 17.64 pounds and measures 15.8 x 16.5 x 7.9 inches.
Qidi Tech X-Max
This is a large and heavy, safe 3D printing device. The reel holder can hold three reels at once, but only one real can print at a time.
The model includes two bed-leveling options: one that is quick and one that is more careful. The careful option takes a little longer, but once you use it, you can switch to the quick option.
The plate has one side for standard filaments and the other for advanced materials like carbon fiber, nylon, and PC.
Uses:
Because this 3D printer produces a high-quality product, it is ideal for science classes where details matter, particularly biology and chemistry.
It comes with a spare filament guide as a backup, and we all know how important backups are in the classroom. When something goes wrong, you need your backup as soon as possible.
The product is easy to remove thanks to the removable plate.
The printer produces a high-quality product. A five-inch LCD touchscreen control panel controls the menu.
TierTime UP Mini 2 ES
This printer has the potential to be a gem for both manufacturers and beginners. It has limited options, which can be overlooked given its excellent printing capabilities. It has MEM (Melted Extrusion Modeling).
It also allows you to keep the workspace at a comfortable temperature since one front door and one back door support the enclosed space.
This printer works with a variety of materials to achieve finer results. PLA and ABS can be used to make functional prototypes.
Since it is a full plug-and-play machine, this printer is highly recommended for schools.
Working with ABS has some health risks due to the emission of harmful fumes. However, you do not need to function in a ventilated room if you are using the TierTime UP Mini 2 ES.
Since it has a built-in HEPA filter, it filters out 90% of toxic fumes. A carbon filter is included in the HEPA filter, making this printer more authentic.
With its removable printing bed, this printer is extremely user-friendly. Two different filaments can be used to print the same object at two different times.
Uses:
Used to get finer results
Supports PLA and ABS, which can be used to make functional prototypes.
Considered to work in a healthy environment as it has a built-in HEPA filter
It's mainly used in schools for learning purposes as it is easy to use.
The UP Mini 2 3D printer has a front-facing touchscreen control panel from which you can access the majority of the unit's features.
For starters, there is no SD card slot, so direct uploading of STL files is not possible. Instead, you should connect the unit to your Wi-Fi network or tether it to your PC via USB.
CraftBot PLUS
The CraftBot PLUS is hailed as the "best plug-and-play 3D printer." It's an incredibly simple printer for schools. Within minutes, you will be able to open the box and begin start printing.
CraftBot PLUS's features will allow your creativity to shine whether you are a beginner or an expert. It works the same way for everyone!
Uses:
The plug-and-play design includes an onboard LCD touchscreen
The build volume of this printer is 250 x 200 x 200 mm, fairly standard
The construct plate itself distributes heat equally so that printing materials such as ABS do not pose a problem for CraftBot PLUS
The nozzles and bed calibration adjust manually. Three thumbscrews are used to level the bed to get a perfect print.
This simple but successful leveling solution is maintained by repeatedly removing and replacing the build plate, ensuring it will remain rock solid for many prints.
It includes an aluminum heated build plate as well as a removable plate. You can remove, clean, and reinstall the plate.
It can print at low resolutions of up to 100 microns, with any amount you like in the slicing app. G Code can be loaded using a USB drive or by using their program to tether it to your device. The computer can be operated using either USB-connected software or a colorful sensitive touch screen with logical icons.
CraftBot PLUS is always a good option if you want a rock-solid printer, and it ranks high on the list of best affordable 3D printers for schools
Ultimaker 2 Plus
Ultimaker 2+ is a follow-up to the Ultimaker 2. As a result, this printer has similar capabilities with a few enhanced features. In addition, they both serve the same user base.
The Ultimaker 2+ comes with a slew of advanced features. With so many useful features included in this device, printing with the Ultimaker 2+ is sure to be a rewarding experience.
Uses:
The Ultimaker 2+ is extremely simple to set up.
To ensure the machine's high efficiency, the company incorporated a geared feeder. The addition of this feature makes filament swapping a lot easier. It also allows users to choose the proper filament strength.
To help users achieve the desired accuracy, the device can be used with different nozzle diameters. As a result, the machine has better control over the printing process. If you want to increase the speed of your prints, you can use a nozzle diameter of 0.25, 0.4, 0.6, or 0.8 mm.
To load the printer with 3D designs, an SD card is required. The machine comes with a 4GB SD card from the manufacturer. There are no other options for connecting the device to a computer. The printer does not include Wi-Fi or USB connectivity.
The device does not have auto-calibration. To get the best print results, you must know how to do it correctly.
Heated glass build plate provides good adhesion for the first layer
Sculpto Plus
This desktop 3D printer comes with a specially designed app for both iOS and Android devices, making it very simple to use in schools.
Furthermore, the app's interface is simple, as users only need to decide on the quality, support, and strength of their 3D print.
Sculpto+ is an FDM machine that only works with PLA. As a result, it lacks a heated bed, which is not required when printing with PLA.
It does, however, have a detachable print bed. It is also safer to touch. The print area is 200mm x 160mm.
Uses:
Portable and easy to use
The printer comes fully assembled and ready to use; all that is required is to plug it in and feed it filament. Magnets hold the print bed in place
Instead of the standard X-Y movement of the extruder/hot end, this printer employs two rotation axes: one for the print bed and one for the extruder arm
The Sculpto+ 3D printer allows you to remove the print bed and flex it to loosen the filament from the print bed; everything is done via Wi-Fi. This eliminates the need for a computer to be hardwired to the printer, and the Sculpto+ can be monitored from anywhere, including your smartphone.
Robo3D C2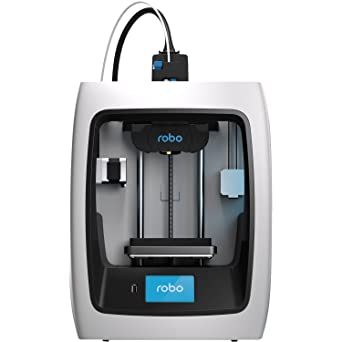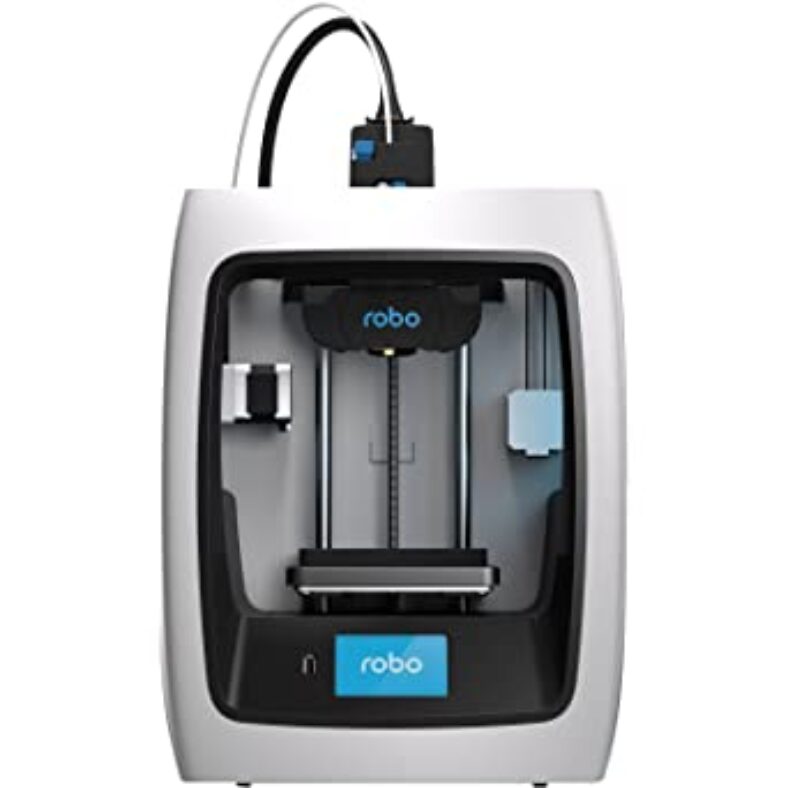 The Robo3D C2 is a small but powerful 3D printer that brings a feature-rich 3D printing experience to any workspace or workplace.
The Robo3D C2 is ready to integrate 3D printing into your workflow without needing a significant redesign of your workspace, thanks to its quick printing speed and integrated touchscreen for standalone service.
Uses:
The C2 has many student-friendly features including partially enclosed printing and a removable (but non-heated) print bed, but the big networking choices make it one of our favorites.
 This printer has a modern and youthful appearance. What is inside, though, is even more enticing.
The 3D printer comes with a plethora of networking options.
The computer can be accessed via a mobile app or a browser-based operation operated by Octoprint. Another attribute that distinguishes the printer is its ability to operate as a Wi-Fi hotspot, which makes it a good printer for schools.
Buying Guide
The use of 3D printing for commercial purposes is becoming more popular because it is both cost-effective and time-saving.
However, with so many different types of 3D printers on the market, selecting one commercial 3D printer for your company can be difficult. Before making a purchase decision, consider the following factors:
3D Printing Technology: There are eleven types of 3D printing technologies on the market. You need to first determine what you want to produce and then evaluate each technology to determine which is the most practical for your learning. Beginners more often use FDM, FFF, SLA, DLP, and MSLA.
Build Volume: The build volume you need is determined by the size of the object you want to create. The inner dimensions of the printer must be considered when calculating the build volume (height, width, and length). A tiny 3D printer, on the other hand, would suffice for small institutions.
Printing Resolution and Speed: Do not skimp on printing resolution! Microns are used to measure it. The lower resolution allows for more detailed printing. Printer speed is important, but perhaps not a deal-breaker for schools.
Customer Service Support: What is the process for putting the printer together? If the computer fails, who should I contact? Is there some kind of 3D printer insurance provided by the company? Companies have dedicated teams to support consumers both before and after they make a buying decision. Some companies have huge online forums where you can ask questions and get answers.
Enclosed Frame: Compared to an open frame, enclosed frames are safer. Temperature changes and room draughts, for example, can wreak havoc on 3D print quality. Closed frame 3D printers minimize particle emissions (from melting plastic) and noise while still protecting the 3D printing process. Open frameworks are fine for PLA prints, but ABS 3D printing requires a more regulated environment.
Frequently Asked Questions (FAQs)
What Is The Price Of A 3D Printer?
A good 3D printer will typically cost between $300 and $5,000, depending on the features.
Is It True That 3D Printing Produces Fumes?
It does, indeed. You should expect fumes to be emitted, especially if you are using ABS plastics. It is preferable to keep the 3D printer in a well-ventilated area, to protect your students.
What Can You Make With A 3D Printer?
Unimaginable designs can be printed using a 3D printer. They can make small objects like nuts and large objects like building models.
What Is A 3D Printer That Is 'Open Source'?
Open-source 3D printers allow you to use any suitable material from any source to print with. This means you can even use third-party materials.
Is There Any Special Training Needed To Use 3D Printers?
Users should become familiar with the printer and the 3D printing method. When you buy a 3D printer, the manufacturer usually includes a user guide, which is useful. You can go to the manufacturer's website for more information.
Conclusion
3D printers have been around for a while. Users are feeling the need to introduce themselves to one of the most revolutionary technologies available as the number of options increases.
It's enthralling to consider printing an entire 3D model in a single pass. Seeing that happen gives us even more reasons to start 3D printing at school.
These 3D printers are inexpensive with advanced features. These are intended for beginners. Hence, they provide the necessary features to make 3D printing simple. If you are looking to buy a 3D printer, this list will undoubtedly help you make a quick decision.
Specifications may not give you a clearer picture of which 3D printer to buy. You can make the best decision by weighing your needs against the capabilities of the printer.
The 3D printers recommended are extremely useful and have been thoroughly tested by numerous users. Furthermore, these options are from well-known brands that provide the highest level of dependability to users.
So, take your time. Examine the details and estimate which features will assist you in achieving your goal.
Happy learning!