"Never judge a book by its cover," contradicts "observing any person for some time can tell you a lot about his or her character."
How would these clichés change in this digital age? "Never judge a company by its website," and "spending some time on a company's website can tell you a lot about the kind of service it provides."
We've spent some time on three companies providing 3D printing services NYC. This article is all about our experience with the time that we spend on their websites.
Although, arguably this article is mostly applicable to the people of New York City because they fall into the same locality.
Due to the coverage of these websites i.e. global, it can applicable elsewhere too. Here's is the first website that we spent some time out to find what's and what's not about them.
MakeLab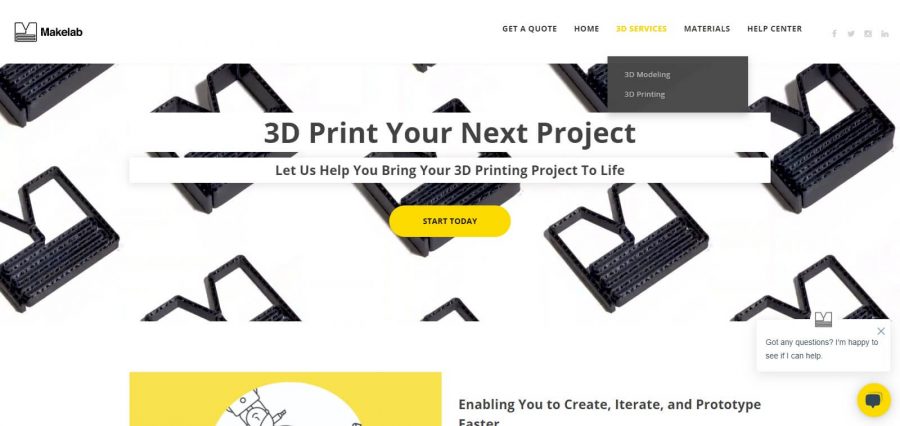 The first thing that drove our eyes' attention after landing on the home of this 3D printing service NYC, is the animation that is present after the text" 3D Print Your Next Project." If you notice the animation for some time, it is actually some sort of a part emerging out from the liquid or vice versa.
And not long after you realize that the design of that part which you are seeing in the animation is the actual logo of the company.
You have five tabs on the home page which are present on a little right to the center top of the homepage. The first one is what most of the 3D printing service NYC seekers are wondering about i.e. Get a Quote.
The second one doesn't make much sense because of its title "Home," which basically means it will bring you back to where you already are. The third one will serve you with a lot of information because it's titled "3D Services." Then you have materials and help center in the end.
After Clicking on the Home Page as a User
Present right before the animation, titled "Start Today," is the first option that you can click on the homepage of this website. Clicking on it would open a Makelab Customer Portal, which you can use to upload your 3D CAD model and receive an instant quote.
There is also an option for those who do not have any 3D CAD files or need further assistance from the company. Clicking on it opens a Let's Talk page wherein you would have to enter details that are asked by the company.
Apart from the basics, the company asks you here, how they can help you and the services that you need from 3D CAD Modeling, 3D Printing, Bulk Order, or all of them.
You can also inform the company about the color in which you want the part or functional prototype. You can also upload files if you have any.
Coming back to the Customer Portal page, you have four tabs, one of which i.e. Dashboard is already open. The other one is Quotes, for accessing which, you need a sign-in.
Then you have Projected, for accessing which, you need a sign-in. The last one is Instant Quote, for accessing which you need, not a sign-in, but a CAD file.
Here too, like the home page, when you scroll down as much as you could your options lined up in three columns i.e. Service, Support, and MakeLab.
Under the title Service, you have Home, Quote, 3D Modeling, and 3D Printing. You have Contact Us, Help Center, and Materials under the column Support. And lastly, under MakeLab you have About, Women in 3D Printing, which looks extremely interesting and Career.
3D Printing Under 3D Services NYC
Bringing your mouse onto the 3D Services tab on the home page gives you two options i.e. 3D Modeling and 3D Printing.
Clicking on 3D printing would lead you to a webpage wherein the company states itself to be a reliable 3D printing services and reveals by asking you if you have a 3D CAD model, you can upload it and get a quick instant quote for the same.
Scrolling down you see six characteristics of the company's services, each one has its own explanation.
Scrolling down some more, you get to see the two familiar options i.e. I want an instant quote, I would like to speak to someone. Clicking on any of those would land you on familiar webpages.
"Upload my 3D model," is the next option that you have, which is a part of the first attempt made by the company to explain its working model.
It's also the first step, obviously. Step two is "choose my project settings," the third one is "start my 3D print."
And then we have the industries in which the website's 3D printed parts and functional prototypes can be used. Going down you will have one more "Connect with our team," option.
Then you have materials listed, and it would make you think if they have given the materials here as well, why have they got a separate webpage on the top? Scrolling down you have FAQs.
Materials you Get
Getting your cursor on plastics, you will have options for PLA and PETG. In resins, you have the standard resin, beneath resins you have engineering resins wherein you have durable, tough, high temperature, grey pro, rigid, flexible, and elastic resins.
In specialty, you have castable wax resin, nylon, and full-color sandstone. The way in which this part is structured or design is making it look like it is stating making things in different ways, wherein what one would want as a user is to state it in one way that is optimized.
Print A World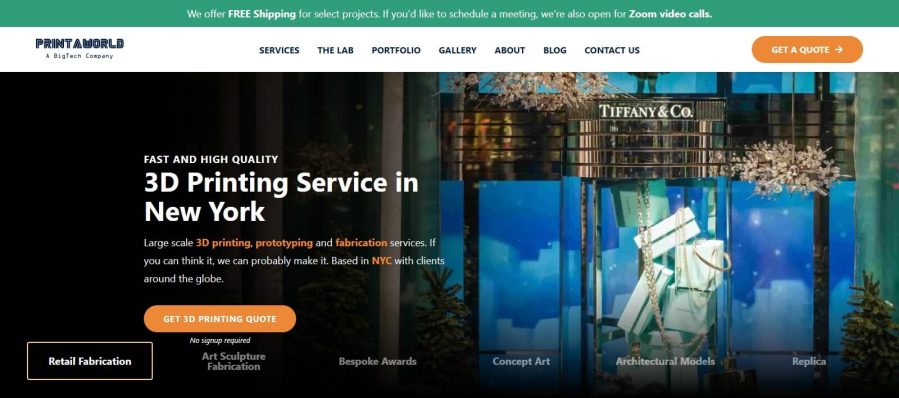 A list of options is waiting to reach out to you as soon as you land on the home page of website prtwd.com which is a 3D printing service in NYC. Seven tabs, six options, Get 3D printing quote, so signup required all these written on the left-hand side of Tiffany & Co.
The line that reads out to you and is at the extreme top is," We offer Free shipping for select projects. If you'd like to schedule a meeting, we're also open for Zoom video calls," how effective is that?
And what urgency must have made the makers of these websites do so, is for them to know!
Services
The first tab, which you get to click amongst the seven tabs that the company has, opens up a webpage leaving you with seven more options.
3D Modeling, Custom Trophy, Sculpture Fabrication, 3D Printing, Laser Cutting, 3D Scanning, and Metal 3D printing. Why has the company separately mentioned metal 3D printing is for them to know!
Clicking on 3D printing would let you see the company's claims about themselves which is," Fast Turnaround and high-resolution 3D Printing Service."
Beneath it is Get A Quote and Call Us. Scrolling down you get three more characteristic claims about the company, made by the company i.e. High Quality, Fast Turnaround, and Large Scale 3D prints.
Followed by, how it works stepwise is, by selecting a material, uploading a 3D file and receiving the quote, pay and print and then shipping or pickup, in whichever ways you like it, which is overall just the same as it was for MakeLab.
Below this you have eight pictures of the company's recent work, zooming them, nothing opens up. Then you have materials, wherein Plastic you have ABS, Nylon, and Flexible plastic i.e. TPU and Resin.
In resin, you have standard resin, Somos resin, Somos water-clear 10122 resin, tough resin, castable resin, durable resin, and high-temperature resin. Notice, how Makelab has a section for standard resin and engineering resin and this website does not.
For sandstone, you have full-color sandstone, in others, you have silicon, in the metal, you have stainless steel.
Scrolling down tells you how Print A World offers Large scale 3D printing which is not a specific type of 3D printing technology and SLA 3D printing. Wonder why the makers have written one type of 3D printing with something that isn't one. It's confusing!
iMakr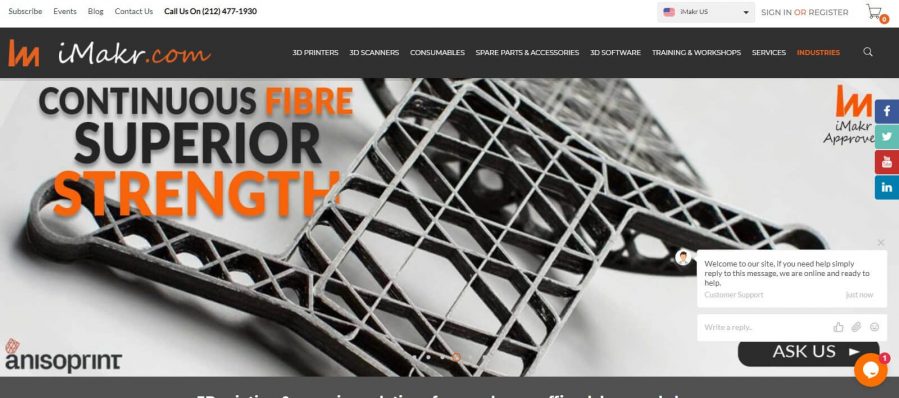 Continuous Fibre support for strength. A new age in metal 3D printing. Complex models, no supports, multiple industries.
New Peopoly Phenom L and Noi… something. Award-Winning 3D Scanning and metrology solutions.
Are the five presentation slides that are going to indulge your eyes when you first land on imakr.com which is a 3D printing service in NYC.
There are eight tabs on this website. Each one of them containing at least four more options, making you think that this is a giant website.
Jumping Onto 3D Printing Services NYC
Strangely what is different about this website than the other two that you've read before is, it gives you an option to rent a 3D printer. How cool is that?
Under the Services tab, you have three columns, the second one of which is about printer services, where the first option that you have is about 3D printer rental.
Clicking on this option opens a webpage where you have two titles, one of which is rent a 3D printer and the other one is rent a 3D scanner.
But the sad thing about this is, there are very few details mentioned on this webpage. So, we are guessing the only way to know about it is by mail to the email id mentioned here.
Clicking onto delivery and installation was very unfortunate because it says "the product is no longer available."
Bringing the Mouse to 3D Printers Would Impress you for Sure
You have 3D printers classified in two ways:
By type.
By brand.
Clicking onto 3D printers would totally blow your mind up because there is another totally different classification. On the left you have 3D printers by brand, industry, there are 3D pens, bioprinters, FDM, SLA, SLM, SLS, and Syringe 3D printers.
As if the classification which is till now twice made wasn't enough, the company has another classification on the right, which enables you to shop by type and sector.
In types, you have FDM, SLA, SLS, and Syringe, whereas, in the sector, you have universities, jewelry, product design, medical, dental, engineering, architecture, and prop making.
There is also Peopoly Phenom Noir priced at $4027 present beneath all these, for reasons best known to the makers of this website.
Apart from 3D printers, you have 3D Scanners which are classified in equal amounts, there are consumables, 3D Software, spare parts and accessories, training and workshops, and industries apart from services.
But even after reading all of these, it made us think, how exactly this website can be helpful. When you scroll down to any of the webpages there are four columns in which the different options are categorized, which are titled Get to know us, let us help you, your account, and how to find us.
The Conclusion
Observing the first and second 3D printing service NYC was almost an exposure to the same kind of websites, in terms of the content and serving that they offered.
Because all you have to do was too pretty much upload your CAD file and know the pricing and place the order if you agree to the pricing.
While observing the third 3D printing service NYC was a little confusing, in the sense that the first two were so straightforward, making the third one look almost too much of information from which very little was useful.
Nevertheless, you can go onto the websites to find your own observation. Also, just to mention that these are not the only websites that providing 3D printing services in NYC, there are many others.
But one thing is for sure, that all the three of them offered in some way or the other many ways to get in touch with them.
So, all of them have somewhere in the back of their heads who are making them that people would be willing to communicate with them after reading about their websites.
Which also strangely leads to one conclusion that only content, doesn't serve the purpose at least for 3D printing service NYC.