gCreate gMax 2 3D Printer
The printer could be a boon for you if you wish to start your experiments with the technology on a usual basis and then scale up to the business level.
PROS
Extensive filament options.
Genuine E3D All metal hotend.
Massive build volume.
Industrial Strength Frame.
Integrated heated bed and BuildTak.
CONS
Temperature generation might be an issue due to the open frame structure of the printer.
Product
Specification
Videos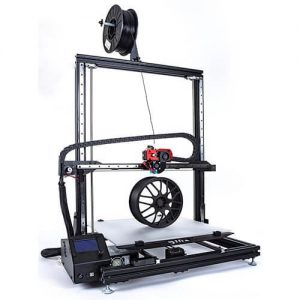 Offering a massive build volume of 457 mm * 457 mm * 609 mm, gCreate gMax 2 lets your print parts in one go. A wireless 3D printing is made possible ...
| | |
| --- | --- |
| Model | gMax 2 |
| Manufacturer | gCreate |
| Price Range | $ 3995 |
| Release date | 2019 |
| Country | United States |
| Availability | Available |
| Classification | Desktop |
| Technology | Extrusion (FFF- FDM…) |
| Material | ABS, Other plastics, PLA |
| Generic material | Yes |
| Max. build size | 457 × 457 × 609 mm17.99 × 17.99 × 23.98 in |
| Max. build volume | 127.19 L |
| Heated print bed | Yes |
| Heated build chamber | No |
| Automatic calibration | Yes |
| Closed frame | No |
| Dual extruder | No |
| Independent Dual Extruder | No |
| Full color | No |
| LCD screen | No |
| Touchscreen | Yes |
| On-board camera | No |
| Mobile app | No |
| 3D scanners | No |
| CNC mill | No |
| Electronics 3D printing | No |
| Laser engraving | No |
| Conveyor belt | No |
| Air filter | No |
| Pellet extruder | No |
| USB | No |
| Wifi | No |
| Bluetooth | No |
| SD card | Yes |
| Ethernet | No |

Table of Contents
gMax 2 was introduced in the 3D printing market, by Brooklyn based 3D printer manufacturer gCreate.
The company has also built desktop 3D printers such as gMax 1.5, gMax 1.5 XT, gMax 1.5+, and gMax XT+ that were released before this printer. gMax 2's launch year was 2019.
This year saw the launch of many desktop 3D printers with huge build platforms.
However, this particular 3D printer, gMax 2 still seems to be one of the best choices among individuals.
By developing gCreate, the company had expanded its on-demand large-format 3D printing services.
As gMax 2 could build parts and functional prototypes that had a bigger build volume, the company could now entertain more customer needs.
The build volume of this printer is 18 inches * 18 inches * 24 inches. And it also featured as a true precision linear motion system that could keep the nozzle system intact with the print bed.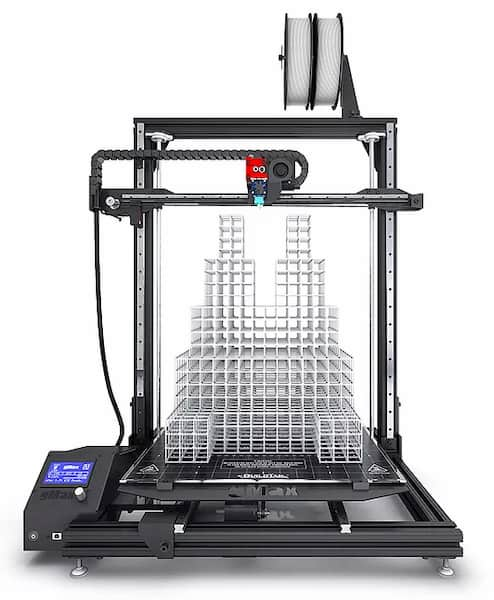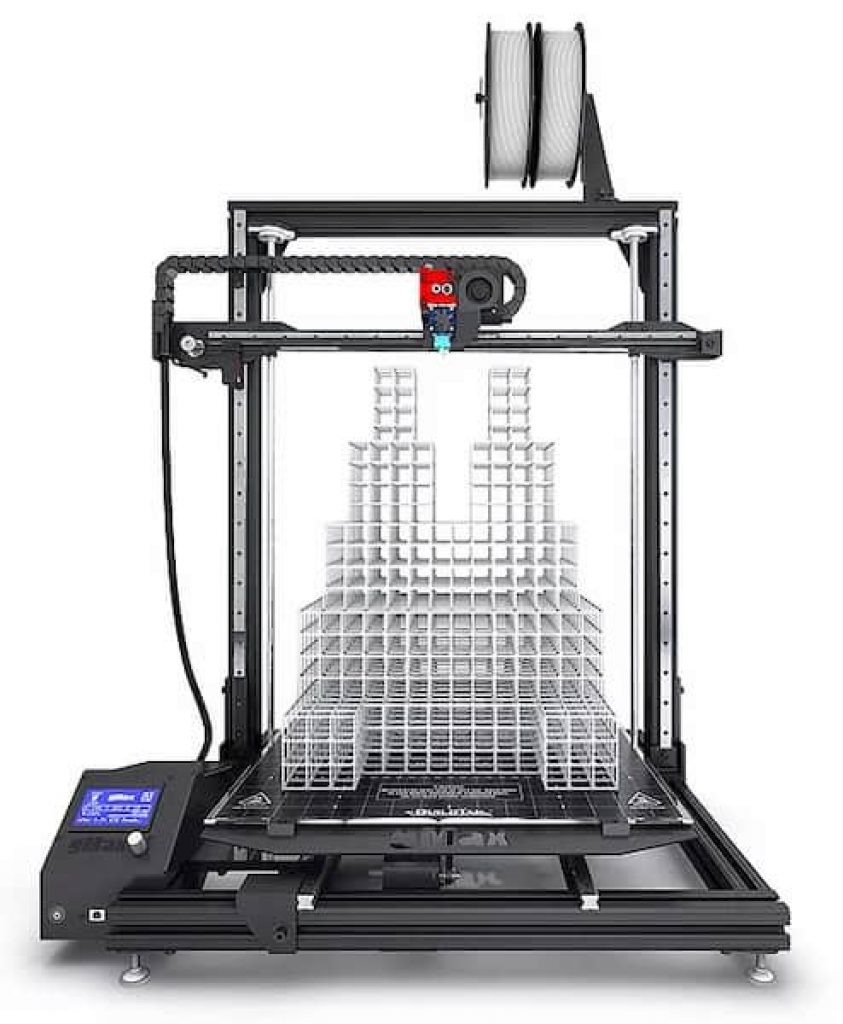 gMax 2 came with a filament run-out sensor, so you'd be alarmed whenever your printer is out of filament, as well, the 3D printing process would stop.
To give you a multi-color and multi-material printing ability, gMax 2 was made compatible with Mosaic manufacturing palette 2.
But that is not it for all the features and specifications of this wonderful printer. There is more to it.
And for exploring the unexplored part that deals with various aspects of the gMax 2, you'd have to read ahead.
This article is meant to serve its readers an in-depth peek into almost every characteristic of this printer.
Enabling them to decide, how this printer is worth buying than other printers available in the same price range.
Features
If the co-founder of gCreate, Gordon LaPlante's words are believed, "The gMax 2 is the result of 2 years of testing and improvements.
It is a completely redesigned workhorse machine using industry-leading components that improve your printing experience at a very competitive price point."
The printer uses all-metal E3D V6 hot ends, which are the best available hot ends in the market of 3D printing.
They can withstand a temperature up to 300 degrees Celsius, and allow you to swap between various nozzle sizes ranging from 0.25 mm to 1.2 mm.
The heated bed has an area of 18 inches * 18 inches which can print various materials such as carbon fiber reinforced with Nylon, PETG, ASA, TPU, and many more.
The build plate of gMax 2 is made up of borosilicate glass and custom gridded BuildTak sheets, including a heated mat with an external relay that can be controlled directly from the printer.
There is a five-inch long fully colored gTouch print management system powered by Astroprint at your disposal.
It will make your printing compatible with the cloud, queue your prints, control the printer remotely, and video monitor it.
Not only can the print management system only is used with gCreate's 3D printers, but also with any FDM 3D printer.
After giving you a little introduction about the variety of features that are gifted to you with gMax 2 3D printer, it's time now to have a look at them one by one, with an explanation.
Large Format Workhorse
The Company boasts about how they have managed to increase build volume by 30 percent. But from which size did it increase 30 percent, if you were to calculate, you need to know the mathematics correctly.
All in all, the gMax2 comes with a build volume of 457.2 mm * 457.2 mm * 609.6 mm.
Also is gCreate is to be believed, gMax2 3D printer has been redesigned from the ground up with all new metal parts and industrial grade materials.
The printer has steel linear rails in the robust genuine 80/20 frame.
Prints with 30 different materials

Credit: gcreate.com
There is a complete list of materials categorized in Prototyping Plastic, Flexible and Soft, Special Compounds and Finishes, Engineering Grade, Metal Composites, and Other Special Materials, and in-house tested materials, with which this printer can print parts and functional prototypes.
All of these materials are a result of an extensive selection of 1.75mm filaments.
E3D Hot ends with wide Nozzle Range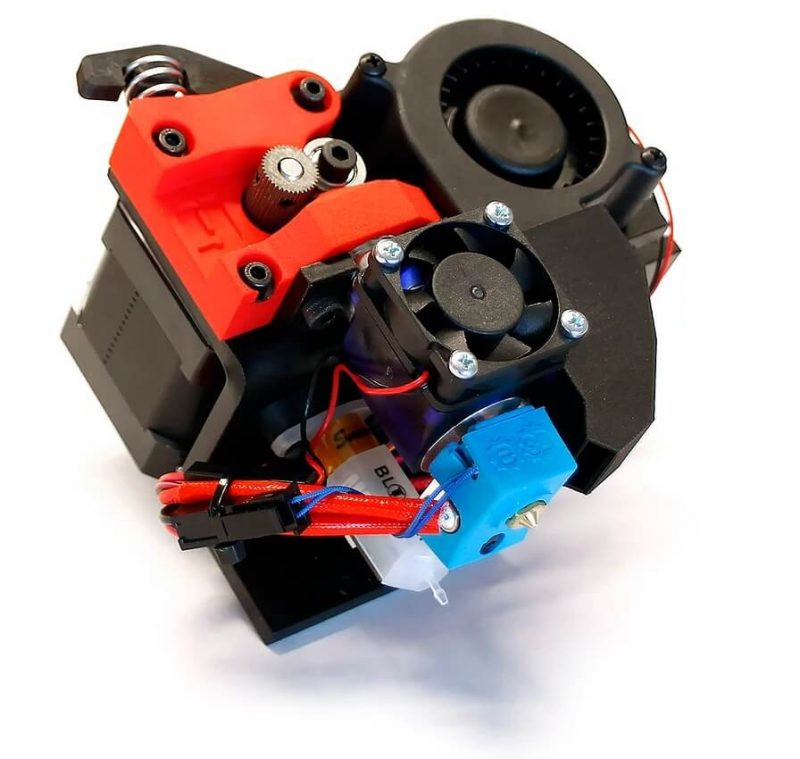 Credit: gcreate.com
These hot ends can withstand temperatures up to 300 degrees Celsius. Meaning that you can print with any material that has a glass transition temperature below 300 degrees Celsius.
The list would include many materials. So, it is because of the use of E3D Hot ends, that you'd have at your disposal, not only the popular materials such as TPU, PETG, etc, but also rare 3D printing materials such as carbon fiber reinforced with Nylon.
In addition to this, the hotends are compatible with a wide range of nozzle diameters starting from 0.25 mm to 1.2 mm.
This would allow you to achieve precision while printing complex shapes.
Touch Controller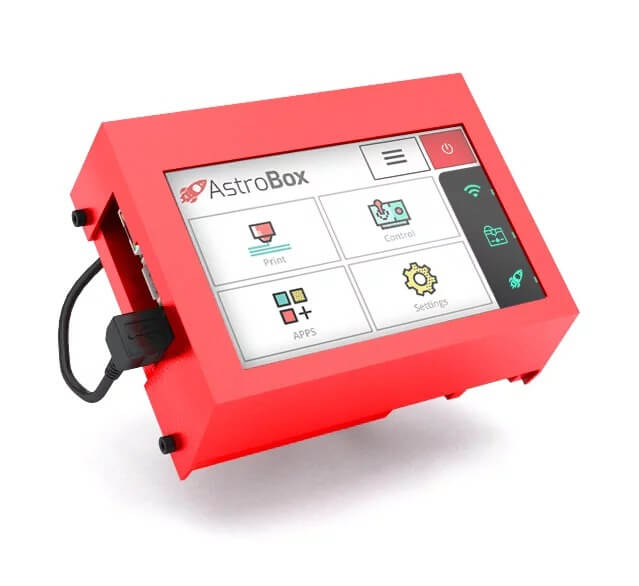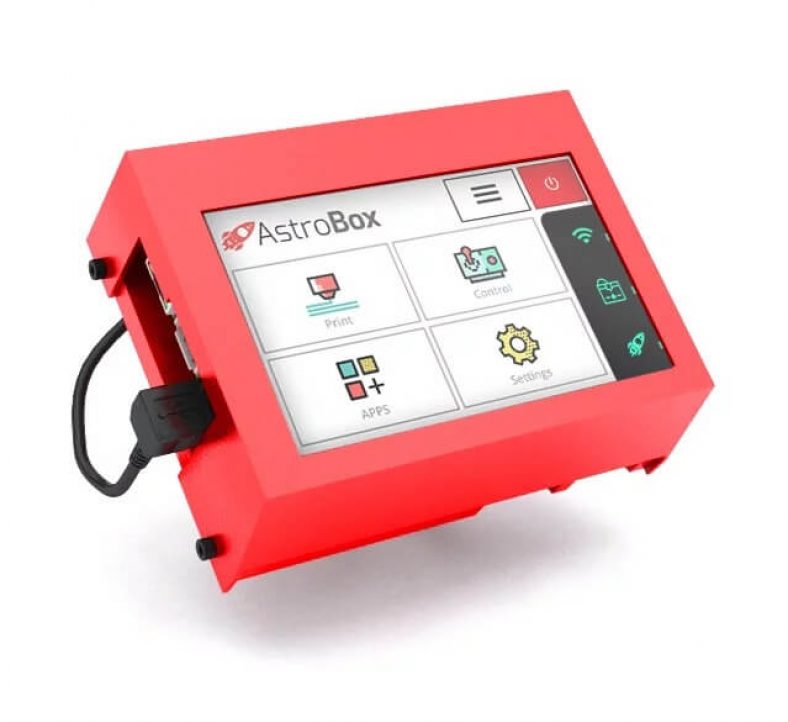 Credit: gcreate.com
The printer comes with Astroprint for extending capabilities of itself and the user interaction that you will do with the printer.
It is a five-inches long touchscreen on which you can also attach the webcam for real-time video streaming.
As well as you can slice and print using this touch screen via the cloud.
There is also an application of Astroprint which you can operate from your smartphone as well as desktop.
Heated bed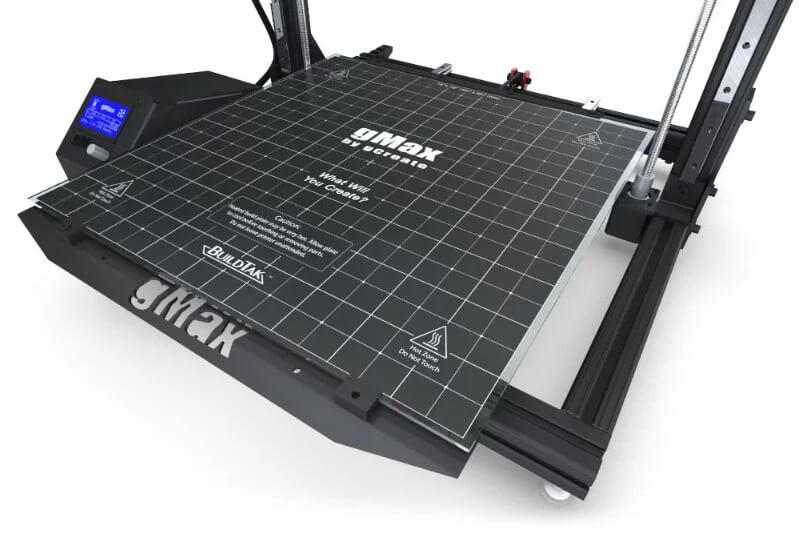 Credit: gcreate.com
gMax2 has 600 watts heated bed that comes with an external relay which is controlled by the printer.
You can adjust the temperature of gMax 2's heated bed layer by layer by adjusting its on-the-fly and turning the bed off remotely with gTouch controller as soon as the printing of a part or functional prototype is completed.
Specifications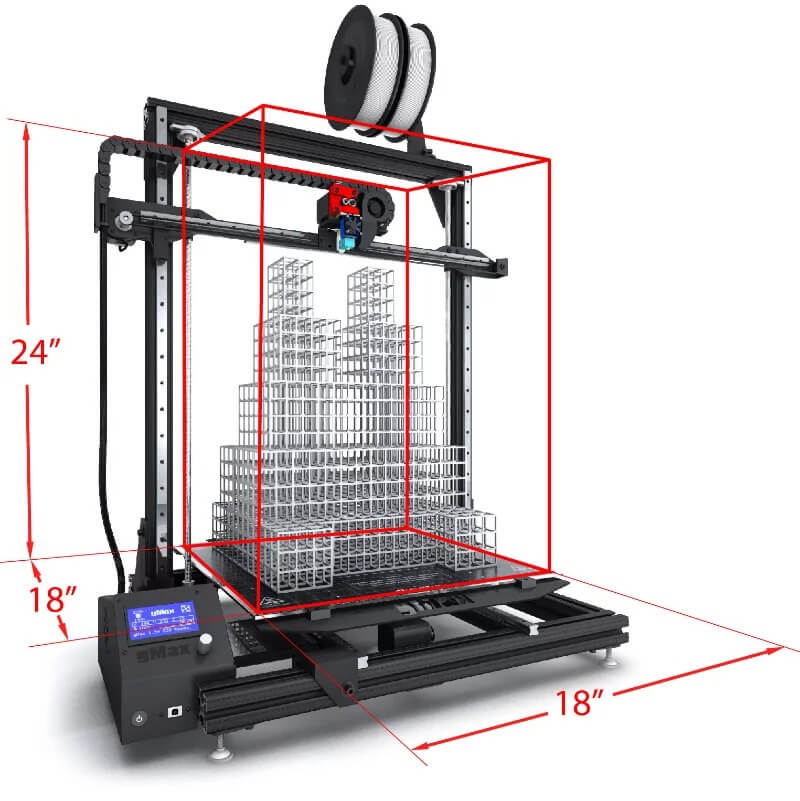 Credit: wixstatic.com
gMax2 is based on Fused Deposition Melting technology, it has dimensions 18 inches * 18 inches * 24 inches from which the print volume offered for printing parts and functional prototypes is 457.2 mm * 457.2 mm * 609.6 mm.
The layer resolution range of the parts and functional prototypes printed by the printer is 40 microns to 720 microns.
As mentioned in the Features section, the printer is compatible with a wide variety of 1.75 mm diameter filaments.
The linear motion of this printer is to ensure using the metal linear guides for X, Y, and Z-axis 4 mm pitch Tr10 10 mm lead screws.
The XY resolution of the printer is 0.000492 inch, whereas the Z-axis resolution is 0.0000492 inch.
The minimum layer resolution offered by the printer as per the company is 0.040 mm.
The printer comes with beds that are 18 inches x 18 inches pre-sanded acrylic (standard), 18 inches x 18 inches genuine Keenovo heated bed controlled by printer with laser-cut, custom bent aluminum, and gCreate custom BuildTak surface (add-on).
Electronics used in the printer are RAMPS v1.4 electronics with custom Marlin firmware.
The power supply is 120v/240v full range Micro ATX (printer uses approx. 40 watts) 120v (only) heated bed plugs directly into the wall.
The nozzle of the printer, as mentioned above is, a Genuine E3D V6 all-metal hotend (0.5mm nozzle included) and it works with a variety of E3D nozzle diameters (0.25mm – 1.2mm).
While the frame of the printer is, also as mentioned above in the features section, Genuine 80/20 Lite aluminum 1.5″ T-Slot profile with powder-coated aluminum and steel parts manufactured in the USA.
The printer comes with NEMA 17 1.68 amp, 1.8 steep angle motors
Pololu "Black Edition" 2 Amp Stepper Drivers motors to make sure the transport of the nozzles happens correctly.
Automatic bed leveling of the printer is done using an integrated genuine BLTouch smart bed leveling sensor with 64 Point bi-linear mesh bed leveling which gets saved to the memory.
And you can connect with this printer using a USB or an SD card, or an advanced Wi-Fi cloud. The approximate weight of this printer is 70 lbs.
Price
The price of this single extruder printer is $3995. And, if you choose to go with the dual extruder, the price will increase by $495.
Which is a fair way to get access to more choices when printing with a variety of materials at the same time.
First Impressions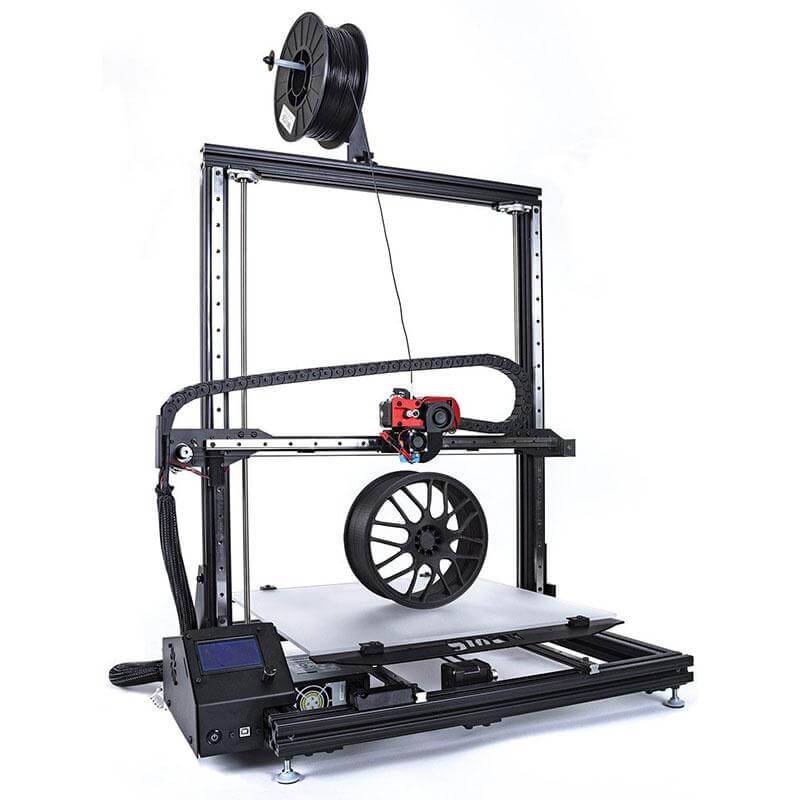 If you have seen an open body 3D printer, you can probably easily associate that printer with this.
The filament spool holder is located on the head of the gMax 2. It is connected to the frame of the printer.
The surrounding of this printer is equipped with a rail that lets the complete nozzle system of the printer travel to the print bed and against gravity.
There is a little display screen on the bottom left body of the printer.
Setup
The printer seemingly looks like a plug and play; at the most, you would have to level the bed of the printer after unboxing it.
But the procedure on how to do so would be mentioned in the instruction manual that would come alongside the printer.
So, hopefully, you would be able to print within minutes as soon as the printer arrives at your place.
Printing Type/Cost
As mentioned in the Specifications section, this printer is based on FDM 3D printing technology wherein a filament is used for 3D printing parts and functional prototypes.
Hence, the printing cost wouldn't be as expensive as it could become with printers based on other 3D printing technologies.
However, to accurately calculate the printing cost for each part, you must consider a variety of variables.
This includes the model's design, infill design, layer height, and a lot many other factors.
Print Quality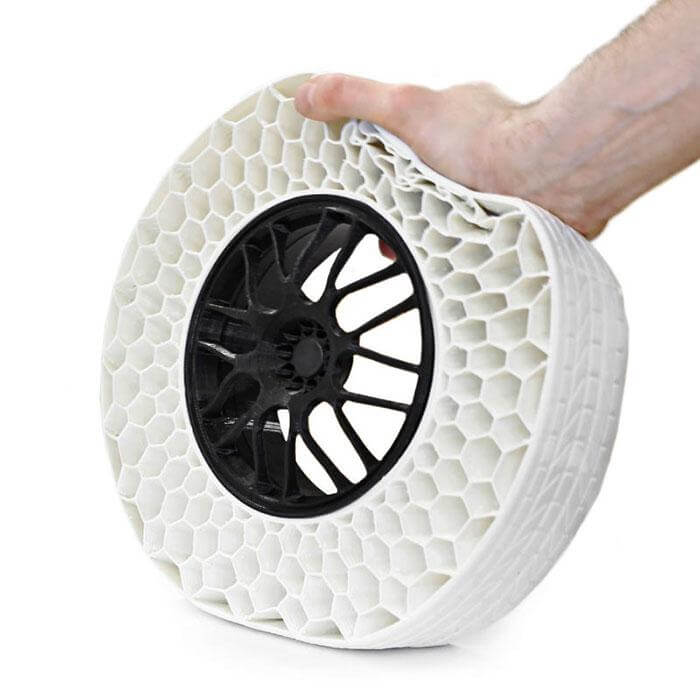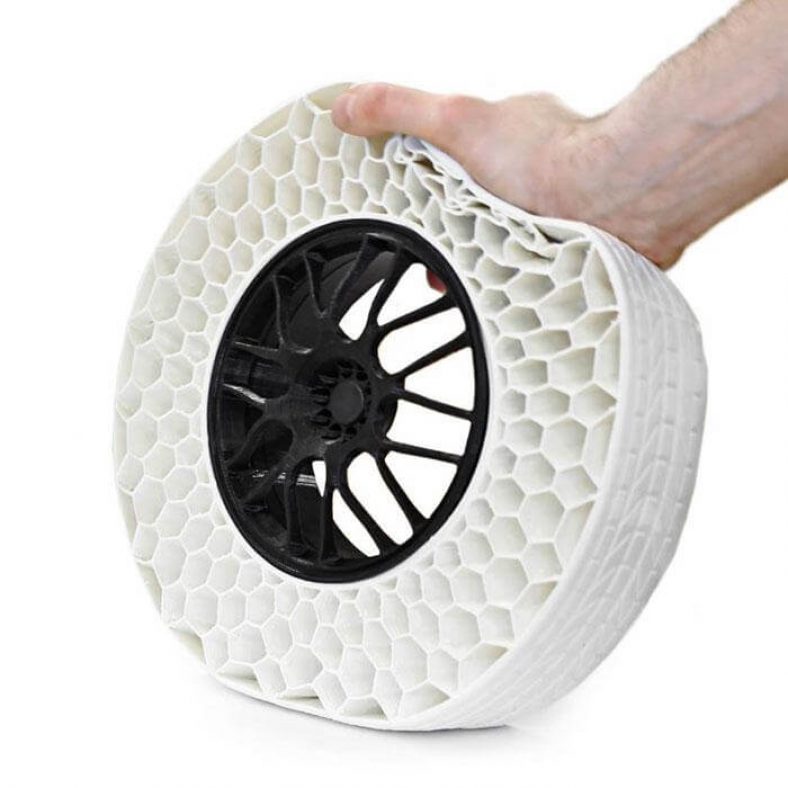 Credit: gcreate.com
Complex mechanical parts and functional prototypes such as a turbine wheel, another wheel that has small concentric circles inside a huge circle can be made on gMax 2.
This makes the printer the go-to printer of manufacturers in the field of engineering.
Also, simple parts and functional prototypes such as a shoe, a coupling, glass, lamp, showpieces, etc., can be created effortlessly on the printer.
Overall, the quality of parts and functional prototypes manufactured on the printer is decent.
These objects that are created on the printer can be put into application in various industries such as engineering and consumer goods.
Software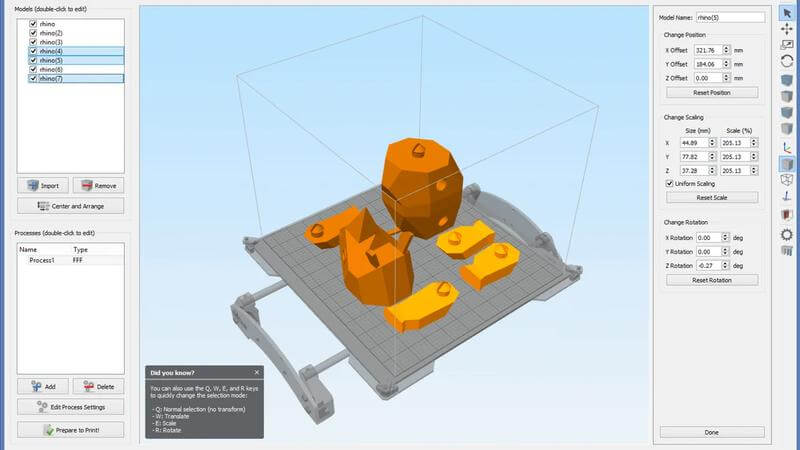 Credit: top3dshop.com
gMax2, as per the claims made by the printer manufacturer, is compatible with popular slicing software such as Simplify 3D, and Cura. Both of these software are easy to operate.
Beginners in the field of 3D printing can find no difficulty in using them, intermediate can upgrade their level and find advanced level tools to play with a 3D design file.
Even professional designers can find their level of comfort when using this software.
Customer Support
gCreate warrants to each of its customers how the Products made by this company are free of defects and conform materially.
The company warrants and would replace any 3D printed created on gMax2 printer for a period of one year after the delivery of the printer to you.
The warranty also applies to all the original components installed by gCreate as part of the full assembly.
For more information regarding the complete customer support provided by gCreate you can contact the company via phone, email, or social media handles run by the company.
Parameters Influencing Buying Decision
Some factors that should be taken into account while purchasing this printer are mentioned in brief, below.
3D Printer cost: Affordable.
3D Print quality: Capable of printing parts and functional prototypes that can be used in many different industries.
3D Print speed: Above average.
3D Printer capability: Capable of printing with a much different range of materials.
3D Printer Practicality: The list of customers of the parts and functional prototypes by the printer include names like Panda, Nasa, BMW, Coca-Cola, Toyota, etc.
3D Printer User expectations: The printer stands wide upon the expectations of small business owners as well as professionals who cannot afford to buy an expensive range of 3D printers.
The Verdict
The printer could be a boon for you if you wish to start your experiments with the technology on a usual basis and then scale up to the business level.