Airwolf 3D Evo 22 3D Printer
Apart from offering larger build volumes, the printer promises to offer high quality layer resolution in each and every part or functional prototype that is built on it.
PROS
Matrix touchscreen.
Air cleaning system.
Thermal management.
Build size.
Multi-material printing.
Water solubility support compatible.
Auto-leveling.
CONS
Weight of the printer.
The exclusivity of the software.
Product
Specification
Videos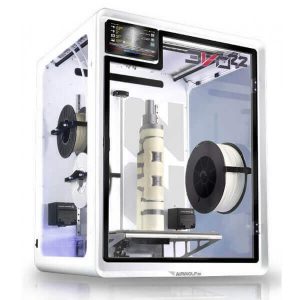 With two internal chamber heaters and a high-temperature heat bed, Evo 22 creates an optimal thermal environment for the formation of strong parts ...
| | |
| --- | --- |
| Model | EVO 22 |
| Manufacturer | Airwolf 3D |
| Price Range | $ 11995 |
| Release date | 2018 |
| Country | United States |
| Availability | Available |
| Classification | Professional |
| Technology | Extrusion (FFF- FDM…) |
| Material | ABS, Other plastics, PLA |
| Filament diameter | 2.85 mm 0.11 in |
| OS compatibility | Microsoft Windows |
| Generic material | Yes |
| Max. build size | 305 × 305 × 578 mm 12.01 × 12.01 × 22.76 in |
| Max. build volume | 53.77 L |
| Max. print speed | 150 mm 5.91 in /s |
| Min. layer thickness | 0.04 mm 0.002 in |
| Dimensions | 712 × 622 × 915 mm 28.03 × 24.49 × 36.02 in |
| Weight | 34 kg 74.96 lb |
| Nozzle diameter(s) | 0.8 mm 0.03 in |
| Power input | 15-amp AC |
| Heated print bed | Yes |
| Heated build chamber | Yes |
| Automatic calibration | Yes |
| Closed frame | Yes |
| Dual extruder | No |
| Independent Dual Extruder | No |
| Full color | No |
| LCD screen | No |
| Touchscreen | Yes |
| On-board camera | No |
| Mobile app | No |
| 3D scanners | No |
| CNC mill | No |
| Electronics 3D printing | No |
| Laser engraving | No |
| Conveyor belt | No |
| Air filter | Yes |
| Pellet extruder | No |
| USB | Yes |
| Wifi | No |
| Bluetooth | No |
| SD card | No |
| Ethernet | No |

Table of Contents
Before moving on to Airwolf 3D Evo 22, let's get a little bio about the company and how it came into being.
Erik Wolf's, the founder of Airwolf started tinkering with 3D printers in his garage in the year 2012.
After a few years of successful tweaking, Airwolf came into being as a 3D printer manufacturer.
After a handful of successful years in manufacturing 3D printers, Airwolf extended itself on the filaments, accessories, and specifically on the industrial 3D printing side.
The company is based in California and holds a Guinness world record for operating 154 printers at the same time.
So, let us explore this interesting 3D printer from this popular manufacturer.
Airwolf Evo 22 bridges between the low-cost desktop 3D printers and the expensive one high-cost industrial 3D printers.
Small businesses that are looking to reinvent themselves by offering their clients something new along the lines of industrial 3D printing parts and functional prototypes can look forward to it.
This printer is almost one foot taller than its predecessor. So, one thing is guaranteed that you are going to have more scope of building greater build volumes than the former 3D printer.
Apart from offering larger build volumes, the printer promises to offer high-quality layer resolution in each and every part or functional prototype that is built on it.
The ability to print with more than 40 materials is a characteristic that is hard to find in other printers falling in the same price range.
We get a sense that this was enough introduction to the machine. So, why not start looking at its aspects in-depth?
Features
Airwolf Evo 22 hosts two built-in chambers and a print bed that can resist high temperatures around 160 degrees Celsius.
The printer manufacturer's brilliance in design i.e. all new Tri-Heat Build Environment allows you to have greater control over the machine's internal temperature.
Ideally, this means that you can create parts or functional prototypes large enough to be utilized in professional industrial applications.
The printer features an oversized air filtration system that works in a volatile manner for containing ultrafine particles and volatile organic compound emissions.
Although the printer produces parts and functional prototypes like industrial 3D printers, it is not necessary to locate Airwolf Evo 22 in large spaces, it can operate well enough in smaller and less ventilated spaces, like other desktop 3D printers.
Evo 22 is equipped with cartridge-style planetary extruder assembly, just as its predecessor did.
Also, the three-bolt reinforced Quick Change hot extruder which was there in the former printer has been kept the same for ensuring faster and a more precise extrusion of 3D printing materials.
But below mentioned is a list of features that are just as fresh as the all-new Airwolf Evo 22.
Tri-heat technology and Genesis Microcontroller
This 3D printer has two internal heaters and a high-temperature bed that ensure the maintenance of precise temperature control and heated airflow for optimum manufacturing of stronger, smoother, higher-quality engineering-grade 3D parts or functional prototypes from materials including ABS, nylon, and polycarbonate.
There is a presence of an Integrated Filament Drying System in the printer that further facilitates optimal printing conditions.
Drying in this printer happens at up to 10 pounds of material at a time for immediate extrusion or long-term storage.
The credit for making EVO an Additive manufacturing center goes to the Airwolf 3D's proprietary Genesis Microcontroller which is fully proprietary and engineered from the ground up.
This part is made to support high-performance industrial manufacturing.
The Genesis board is an automotive-grade 32-bit redundant embedded controller that is responsible for the printer delivering two-three times higher speeds, more precision, and greater control.
This goes even for ultra-high temperatures, making EVO stand apart from any and every other desktop 3D manufacturing system on the market.
Matrix touchscreen control saving the part
A spacious seven-inch full-color touch display makes it easy for you to control everything from saving the part to material selection, also the internal ambient temperature, and expert settings.
All these are available via an on-screen keyboard that can be also used for writing and executing g-Code on the fly.
So, essentially everything that other printer manufacturers offer from the computer attached to the printer is being offered on the printer itself.
All you need a computer then is for 3D modeling and nothing else. For, once the sliced file is fed into the printer, you can play with it easily using the touch screen.
You can start, stop, and resume the 3D manufacturing process on this printer at any time.
This printer allows you to say bye-bye to losing prints due to machine failure, power failure, or accidental shutdown.
Be it your need to pause part production for a minute or a hundred years, PartSave features in the printer ensures the 3D manufacturing process will be ready to continue as soon as you are willing to do it.
Auto-leveling and calibration, and air cleansing system
Auto-leveling is important and lets you have lesser human hands-on manufacturing.
This essentially means that you would be able to be as precise as you wish to be.
In fact, it does mean that using this printer would let you scale up the level of precision than the other printers in the same price range that do not offer auto-leveling and calibration.
It is a very important feature when you are doing batch production, you do not have to adjust the print head level and the print bed level relative to each other according to the design of your part. Overall it decreases your print time.
An oversized air filtration system is fitted in this large 3d printer and works to actively contain UFP and VOC emissions while the desktop manufacturing process is happening.
This is what makes the 3D printer an ideal machine for school or smaller spaces.
Most of the 3D printers have the problem of air-cleansing and due to the melting of plastic, the users of these printers often complain about the smell which is awkward to resist.
Thankfully due to the printer's air cleansing system, there will be some help offered in breathing good air and less smelly air.
Specifications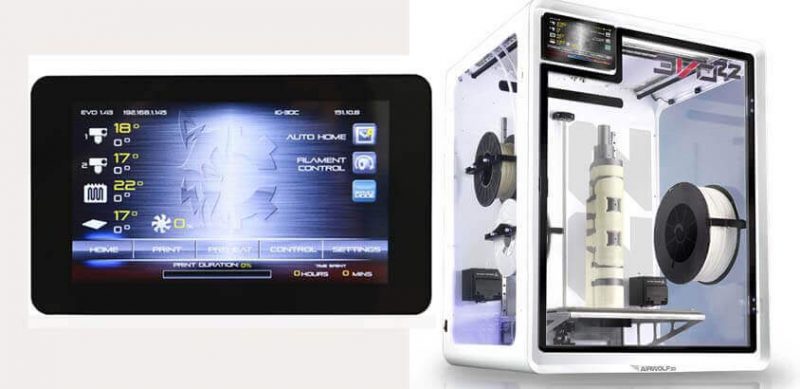 Credit: impresion3daily.es
The weight at which this 3D printer is shipped is 150 lbs, its dimensions are 40 inches * 30 inches * 29 inches. The extruder configuration of this printer is planetary direct drive, and its build volume being 305 mm * 305 mm * 578 mm.
The maximum print speed range of this printer is 100 to 150 millimeters per second. The travel speed of the print bed is more than 125 millimeters per second.
Stating the maximum extruder temperature of the printer is 315 degrees Celsius, which will allow you to print using materials that melt at a higher temperature.
The maximum bed temperature that the printer can withstand is 160 degrees Celsius. The minimum layer height of the parts and functional prototype printed using this printer is 40 microns.
Although the recommended layer height by the manufacturer is 180 microns or above.
As mentioned in the Features section of the printer it can be auto-calibrated.
The materials that you can 3D print using this printer include more than forty metals, including ABS, PC, PP, Nylons, TPE, and TPU.
The filament size of the printer is 2.85mm, whereas the nozzle size of the printer is 0.8 mm which is included with the printer packing, although you can print using a 1 mm nozzle, 0.5 mm, and 0.35 mm too.
The complete frame of the printer is built from one-piece aluminum, polycarbonate.
The Print Chamber of the printer is enclosed, the print plate material is borosilicate glass.
The cooling system inside this printer happens in the dual part, wherein the extruder happens using a single fan.
You can connect the printer using Ethernet, a USB cable, as well as a USB drive. The printer is upgradeable.
Price
The Airwolf EVO 22 3D printer costs $11,995.
First Impression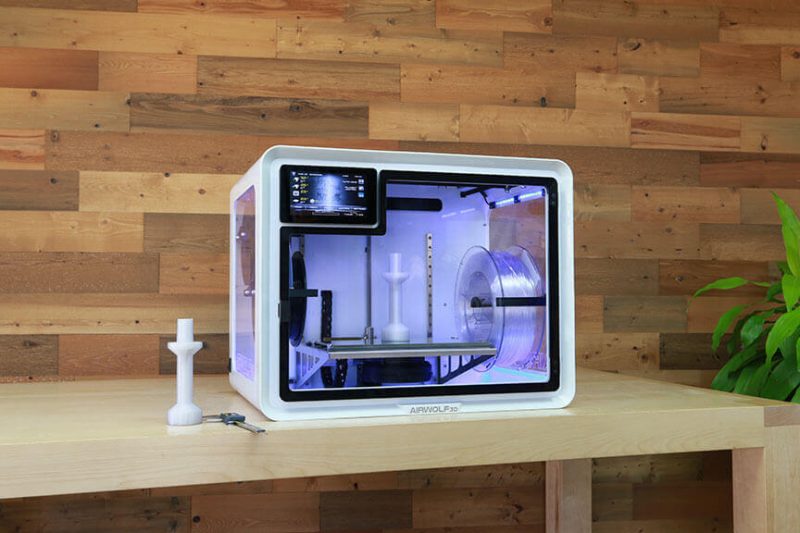 Credit: 3dprintingindustry.com
Airwolf Evo 22 has a cuboidal shape wherein the height of the printer exceeds its length and breadth. The printer has a transparent frame so the inner side of the printer is easily visible to us. You can see the filament spools, the print bed, the sensors, the rails as well as the nozzle system.
The touch screen is placed at the left top of the 3D printer. When seen from its front the printer looks like an impressive machine.
What sets it apart from other 3D printers in the same price range is its transparent body.
This design feature also makes Airwolf Evo 22 more attractive than its competitors.
Setup
The printer comes completely assembled, though you would need to check the calibration settings which is one of the general things you want to look at when a 3D printer is shipped to your place.
Airwolf Evo 22 is safely delivered to you. The style of packaging that the manufacturer has implemented tells you how careful the company, Airwolf is in recognizing how vulnerable these machines could be during transport.
The other thing to look at is the instruction manual and gain an understanding of all the parts of the printer.
Once you are done with that Airwolf Evo 22 is all good to go, start plugging and printing.
Printing Type/Cost
The printer is based on FDM 3D printing technology in which, for printing a 3D part or functional prototype, a filament's spool of the material you wish to 3D print with, is used.
Herein there is no use of a laser to cure the object, hence the printing cost of the parts that are printed with this technology generally tends to be lower than other technologies.
But the complete calculation can only be done when the various other factors are taken into account such as model design, layer height etc.
Print Quality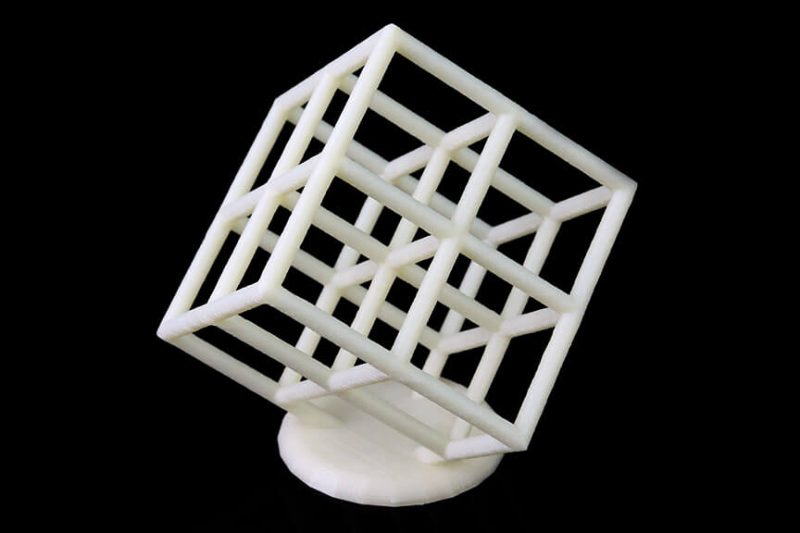 Credit: airwolf3d.com
All the parts and functional prototypes printed using Airwolf Evo 22 are of high quality.
They exhibit the same level of layer resolution which is greater than most of the desktop 3D printers in the market.
For once, you might think that you are paying a little more to own this printer.
But it's the quality of parts and functional prototypes produced by this printer that will compel you to think, the price is worth it.
Software
The printer comes with APEX software. This is an intuitive application that allows users to make finer settings and create high-end models without any hassle.
Customer Support
Airwolf has put up adequate sources of information regarding their printer online.
So, that is a primary source from where you can receive an ample amount of Customer Support.
But of course, there are ways to reach out to the company using their contact number, email address as well as Skype.
Parameters Influencing Buying Decision
The factors mentioned in the brief below should be taken into account while purchasing the printer.
3D Printer cost: Although a little higher in range than other desktop 3D printers, the printer claims to deliver more than those.
3D Print quality: Overall the print quality above average than other printers in the same price range based on the same 3D printing technology.
3D Print speed: Faster compared to others because of the tri-heat proprietary technology.
3D Printer capability: The printer is capable of printing with more than forty metals.
3D Printer Practicality: Parts and functional prototypes manufactured by this printer find their use in many industries.
3D Printer User expectations: Professionals in the field of 3D printing as well as small business owners' expectations would be fulfilled by the printer.
The Verdict
Airwolf has brought a unique product into the 3D printing world which has its own little ecosystem that comprises a lot of built-in features that tend to make 3D printing a lot easier as soon as you run into any outside hiccups.