LulzBot Mini 2 3D Printer
The LulzBot Mini 2 is for serious users who like to nudge the possibilities a little far. The printer is an attempt to add usefulness to the professional applications.
PROS
The 3D printer is very reliable with a sturdy design
The compact design is impressive
Plug and play setup
Automatic bed leveling
Compatible with a large type of materials
User-friendly user interface
It offers a 20 percent larger build volume than its predecessor.
High print speed
CONS
Print quality with high speed isn't very impressive
Small build volume
Product
Specification
Videos

The LulzBot Mini 2, is for serious users who like to nudge the possibilities a little far. Manufactured by Colorado-based Company, Lulzbot Mini 2, ...
| | |
| --- | --- |
| Model | Mini 2 |
| Manufacturer | LulzBot |
| Price Range | $ 1500 |
| Release date | 2017 |
| Country | United States |
| Availability | Available |
| Classification | Desktop |
| Technology | Extrusion (FFF- FDM…) |
| Material | ABS, Other plastics, PLA |
| Filament diameter | 2.85 mm 0.11 in |
| OS compatibility | Linux, Mac OS, Microsoft Windows |
| Generic material | Yes |
| Max. build size | 160 × 160 × 180 mm 6.3 × 6.3 × 7.09 in |
| Max. build volume | 4.61 L |
| Min. layer thickness | 0.05 mm 0.002 in |
| Dimensions | 457 × 339 × 607 mm 17.99 × 13.35 × 23.9 in |
| Weight | 9 kg 19.84 lb |
| Nozzle diameter(s) | 0.5 mm 0.02 in |
| Power input | 100VAC-240VAC | 50Hz-60Hz | 3.2A max |
| Heated print bed | Yes |
| Heated build chamber | No |
| Automatic calibration | No |
| Closed frame | No |
| Dual extruder | No |
| Independent Dual Extruder | No |
| Full color | No |
| LCD screen | Yes |
| Touchscreen | No |
| On-board camera | No |
| Mobile app | No |
| 3D scanners | No |
| CNC mill | No |
| Electronics 3D printing | No |
| Laser engraving | No |
| Conveyor belt | No |
| Air filter | No |
| Pellet extruder | No |
| USB | Yes |
| Wifi | No |
| Bluetooth | No |
| SD card | Yes |
| Ethernet | No |

Table of Contents
While the market shift has brought cheaper and low-cost 3D printers on the table, there are certain things to consider apart from price when opting for a reliable 3D printer.
If your usage is not limited to fun and you wish to explore the commercial side of the technology, you must choose the one looking at other specs and features as well.
The LulzBot Mini 2, hence, is for serious users who like to nudge the possibilities a little far. Manufactured by Colorado-based company, Aleph Objects, the printer is an attempt to add usefulness to professional applications.
When looking at the machine, one may not find it much different from its successor. However, a deeper look would reveal how the company has come up with upgrades with this little device for offering enhanced results.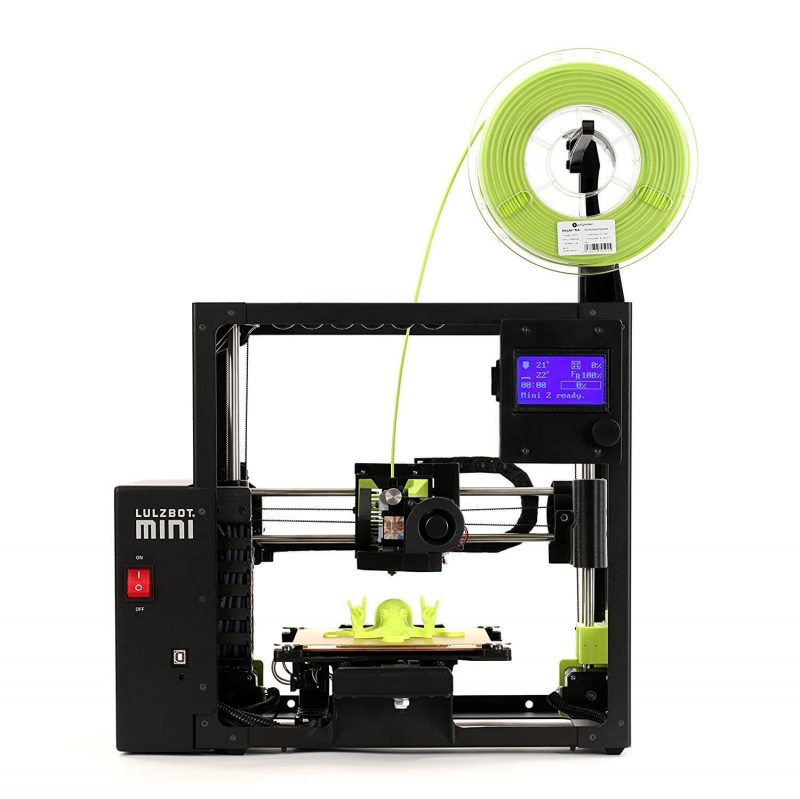 Features
There are many new features that the machine exhibits which certainly makes it different from its successor and worthwhile for extra attention.
With advanced and thoughtful functionalities, this device has been carved for the best results. Using the 3D printer would help you realize what best one can attain from a 3D printer lying in the mid-budget of desktop printers.
Plug and Play Design: The machine comes fully assembled with little to no effort required from the user to start the first print. It won't take more than 30 minutes from unboxing to start with your 3D printing job.
The upgraded Cura LulzBot Edition software further makes the job easier by handling preconfigured profiles for more than 30 materials.
It is Quiet: The manufacturer has utilized Einsy RAMBo electronics with Trinamic 2130 stepper motor drivers. This has helped in reducing the noise while operating. Hence, can be used inside homes without disturbing other members and kids.
Larger Build Volume: When compared to its successor, LulzBot Mini 2 boasts a larger print area. The company claims that the build volume is 20 percent more than the previous version. Giving users more room for exploration and better possibilities.
LCD Screen: The previous version did not have an LCD screen which made it impossible to use the printer without tethering it to a PC. However, with Mini 2, one does not have to worry about that part anymore.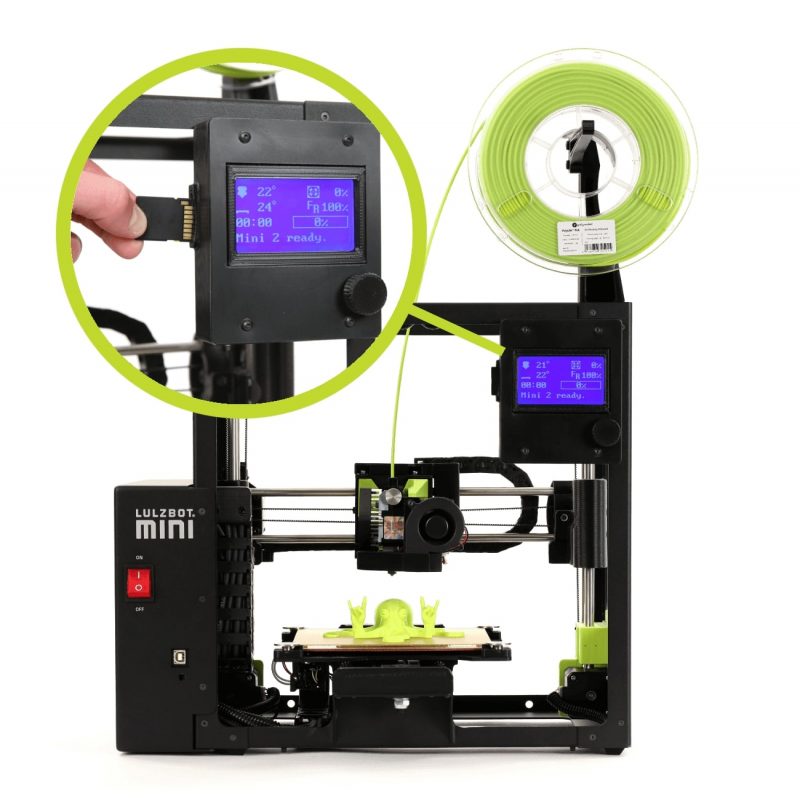 The machine has an LCD screen which does almost everything that relates to the settings of the machine. It is an independent 3D printer that can be run without connecting it with a PC.
Belt Driven Z-Axis: LulzBot Mini 2 uses the belt-driven Z-axis which increases the travel speed of the extruder. At the same time, offering higher accuracy and precise layer alignment. That too, without compromising the resolution of the 3D prints.
Aerostruder Tool Head: Bringing this machine to the use of customers wasn't just about few upgrades from the previous version.
But introducing a completely capable 3D printer with lots of top-grade accessories to provide an amazing experience to the users. Among all the accessories, the machine owns a lightweight Aerostruder Tool Head.
The tool head is designed around the E3D Titan Aero hot end extruder. Because of this tool head, the machine is able to maintain a constrained filament path which ultimately improves compatibility with a greater range of flexible filaments.
Modular Print Bed: Once again, LulzBot has surprised its users by offering another identifiable feature known as the Modular Print Bed System.
A modular print bed system includes a two-piece replacement in place of the standard heated build plates. By two-piece design, it means that the heater is split up from the print surface. Hence, providing easy removal of the print bed.
Another great part about inclusion is that one can easily switch to a raw glass surface from the PEI bed in just the blink of an eye. Hence, further increasing the number of filaments compatible with this smart machine.
Compact Design: The printer offers a compact design to the users. Hence, making itself conveniently adjustable within a home as well as office space. With a sturdy frame and reliable print experience, one can utilize the printer for complex applications with ease.
The 3D printer has got many features that are not available with a similar range of 3D printers. Moreover, the print operation is made super easy by introducing preloaded profiles for more than 30 filaments.
There are many other benefits of using this 3D printer which can only be realized when printing with LulzBot Mini 2.
Specifications
The 3D printer does not have a very huge print space, however, 20 percent bigger than the previous version. It offers 160mm x 160mm x 180mm of build space to its users, offering a decent work area.
Plus, the maximum travel speed of 300 mm/sec is attainable. When working with this device, one can achieve the layer resolution between 0.05mm to 0.4mm.
Hence, helping users to create models with indistinguishable layer difference. The nozzle temperature can go up to 290 degrees Celsius. The print bed can be heated to 120 degrees Celsius.
With many types of supported filaments, one can print using a variety of materials including PLA, TPU, Natural, and Metal PLA Blends, ABS, HIPS, PETG, nGen, Polyamide, Nylon, Polycarbonate, PC, and others.
The 3D printer is compatible with GNU/Linux, Mac, and Windows operating systems. For connectivity, one can utilize USB and SD card connections.
Price
The printer comes for around $1500. The prices may differ with different distributors. The printer is designed to serve the professional applications, hence, it can be counted among the most affordable choices. With the kind of specs that it offers, the price isn't even close to the quality of prints it helps achieve.
First Impressions
The company has done an impressive job to securely box the printer around the clutches of foams. This keeps the machine safe while it is being carried along with large distances.
The neatly packaged 3D printer can be taken out of the box as one machine. Because the printer is fully assembled, there aren't many users who need to do to install the machine after unboxing.
The printer is packaged along with a little pouch that includes tools to keep the printer is best of its health. The pouch contains an SD Card, knife for print removal, pliers, wire cutters, tweezers, small ruler, x-acto knife, hex keys, nozzle cleaner, glue stick, replacement wiping pads and nozzle cleaning pads.
Apart from this, the machine comes along with two filament samples. Users also receive power cables and various documentation and quick start guide alongside a LulzBot sticker.
Setup
As mentioned already, the setup would not take anywhere more than 30 minutes. Using the quick start guide, it is very easy to follow the instructions which include various imagery and simple guide.
The guide also contains the information on the different parts and the components that together create Mini 2.
The instructions contain the information on navigating Cura, retracting filament as well as changing filament. It does tell users to adjust the tool head.
Printing Type/Cost
The printer is an FDM printer that runs on a simple mechanism of combining layers to form the final part. The extruded filament is deposited on the build plate which when solidifies, makes room for the next layer.
After every layer is completed, the build plate moves downward. Using this process, the models are prepared with LulzBot Mini 2.
The cost of printing with an FDM machine is usually low. Moreover, if the company keeps an open ecosystem for filament choice, the cost can further be reduced by choosing the one with the cheapest rate. However, the quality will differ when opting for cheaper material.
The maintenance cost of the printer isn't too high. Keeping the nozzle and printer clean, one can expect the parts to stay tuned up for long.
Print Quality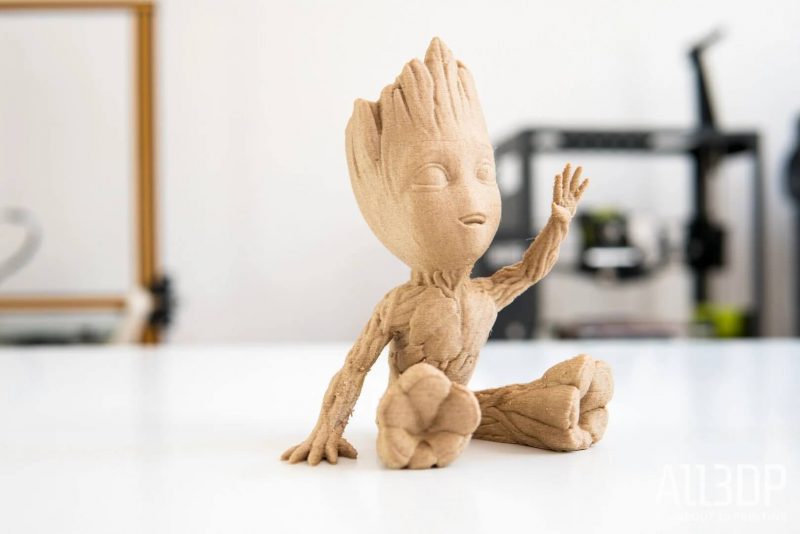 There is no doubt that the 3D printer possesses high accuracy and hence, is capable of creating amazing models with the best surface finish. The accuracy achieved is also marvelous.
From smaller details to complex geometry, everything can be handled using this powerful machine. The printer is capable of handling supports with perfection and is very reliable.
Users may find differences in the layers when printing at the highest speed. However, if speed isn't a huge consideration, one can substantially reduce the difference in layers by using the printer at an average speed.
Software
Aleph Objects has come up with a new version of Cura LulzBot Edition. The new software provides enhanced user experience for those working with LulzBot Mini 2.
The application has been triggered for providing faster load times with an updated user interface which offers tons of slicing options that weren't available before.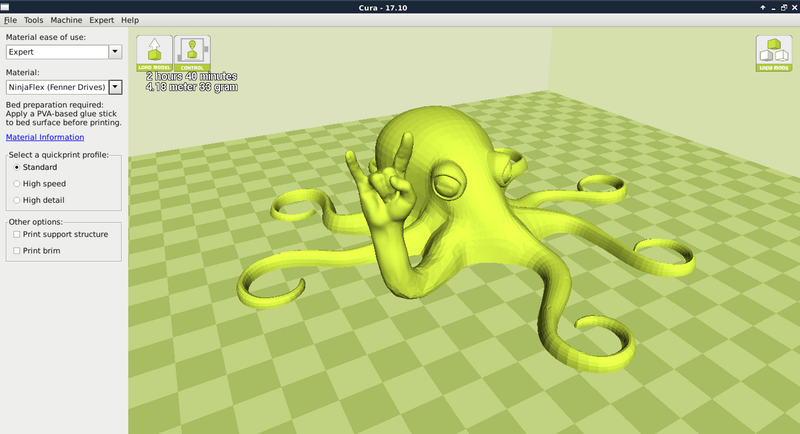 There are various quick settings for printing high detail models, standard ones, or when desiring high-speed print progress.
The software is equipped with preloaded settings of the printer. By choosing among the settings, one can easily start printing in a matter of time. With preloaded profiles for materials and model settings, one can expect to reach the print button in just a few seconds.
However, those seeking to use the custom settings can use the custom option which makes it possible to change each and every setting present already.
From basic settings like infill, temperature, and others, to unique features such as special modes. One can tweak the normal settings that involve extrusion and preheating.
As well as, users can also play around with the predefined commands that let the user go straight to the action needed. For example, nozzle cooling, wiping of the nozzle, X-axis leveling, and whatnot.
Also, the time required for slicing a model is immensely reduced as compared to the previous version of the software. There are different UI changes to make the software as simple as possible for beginners and naïve users.
Customer Service
The company once again beat many manufacturers in terms of fast customer support access. One can utilize the instructions available on the website or can seek one to one assistance using phone or email.
The technical support works seven days a week, hence, available almost every day. Users can seek help from the team as and when required.
Parameter Influencing the Buying Decision of Users
There are many criteria that one must go through when deciding to purchase a 3D printer. It is important to assess the functionality of the 3D printers based on a few major parameters. Here is what to expect with LulzBot Mini 2.
3D Printer cost: The 3D printer is kept in between the affordable and bit expensive desktop 3D printers. With around $1500 price tag, the printer is suitable for professionals and enthusiasts.
3D Print quality: The print quality at slow speed is exceptional. However, one may fail to achieve comparable quality when printing at the highest speed.
3D Print speed: The printer offers high-speed printing. However, one may have to compromise on certain fronts when choosing to print at the highest speed such as layer visibility and others.
3D Printer capability: One can print detailed and complex designs with Mini 2.
3D Printer Practicality: The printer can be used for commercial and learning purposes.
3D Printer User expectations: The printer has met many expectations of the users which were not included in the previous offering.
Verdict
The 3D printer is designed to solve various manufacturing needs. One can use the printer for commercial use as well as utilize the same at educational setups. Given the affordable price, it can also be bought by enthusiasts and artists who are always eager to print with amazing results.