Leapfrog Xcel Industrial 3D Printer
Leapfrog Xcel is well recognized for exhibiting large build space and is equipped with many other functionalities that make it unique and popular. The included features are thought out making the operation and maintenance of the 3D printer hassle-free.
PROS
Dual extruder
Large print space
Automatic calibration
User-friendly User Interface
High Speed
Great Precision
Third-party filaments allowed for printing
Compatible with a large number of filament type
CONS
Expensive
Not suited for home users
Bulky
Product
Specification
Videos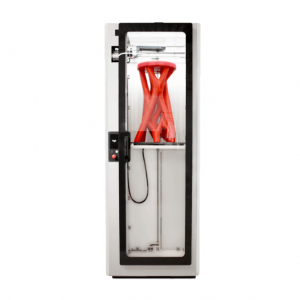 Designed by a Netherlands company, Leapfrog Xcel Industrial 3D printer is made to woo users from every part of the globe by offering an accuracy of ...
| | |
| --- | --- |
| Model | XceL |
| Manufacturer | Leapfrog |
| Price Range | $ 10000 – $ 50000 |
| Release date | 2016 |
| Country | Netherlands |
| Availability | Available |
| Classification | Professional |
| Technology | Extrusion (FFF- FDM…) |
| Material | ABS, Other plastics, PLA |
| Filament diameter | 1.75 mm 0.07 in |
| OS compatibility | Linux, Mac OS, Microsoft Windows |
| XY accuracy | 0.018 mm 0.001 in |
| Max. build size | 510 × 520 × 2300 mm 20.08 × 20.47 × 90.55 in |
| Max. build volume | 609.96 L |
| Max. print speed | 80 mm 3.15 in /s |
| Min. layer thickness | 0.1 mm 0.004 in |
| Dimensions | 1050 × 900 × 2850 mm 41.34 × 35.43 × 112.2 in |
| Weight | 275 kg 606.27 lb |
| Nozzle diameter(s) | 1.2 mm 0.05 in |
| Power input | 1400W @ 100–240V 50–60 HZ |
| Heated print bed | Yes |
| Heated build chamber | No |
| Automatic calibration | Yes |
| Closed frame | Yes |
| Dual extruder | Yes |
| Independent Dual Extruder | No |
| Full color | No |
| LCD screen | No |
| Touchscreen | No |
| On-board camera | No |
| Mobile app | Yes |
| 3D scanners | No |
| CNC mill | No |
| Electronics 3D printing | No |
| Laser engraving | No |
| Conveyor belt | No |
| Air filter | No |
| Pellet extruder | No |
| USB | No |
| Wifi | Yes |
| Bluetooth | No |
| SD card | No |
| Ethernet | Yes |

Table of Contents
With the advancement in the 3D printing technology, it is not only the desktop 3D printers that are being revolutionized, however, those used within industries for large scale production have also shown a huge shift in terms of features and functionality.
The manufacturers of 3D printers are using every possible way to keep the operation as simple as possible. Hence, increasing the accessibility of the printers to those users as well who do not have any prior technical know how to use these machines.
The Leapfrog Xcel industrial 3D printer is one of the lists that offers huge benefits to those working with it.
Leapfrog, the company behind the creation of this 3D printer claims to take 3D printing to the next level. With enormous build volume, the printer qualifies to be among the largest professional FDM 3D printers.
The printer boasts some of the most exciting features that make printing easy and effortless. It offers amazing precision, speed as well as print quality.
Apart from being built for printing large models, the printer opens various other possibilities for its users. Here is a brief review of the Leapfrog Xcel Industrial 3D printer.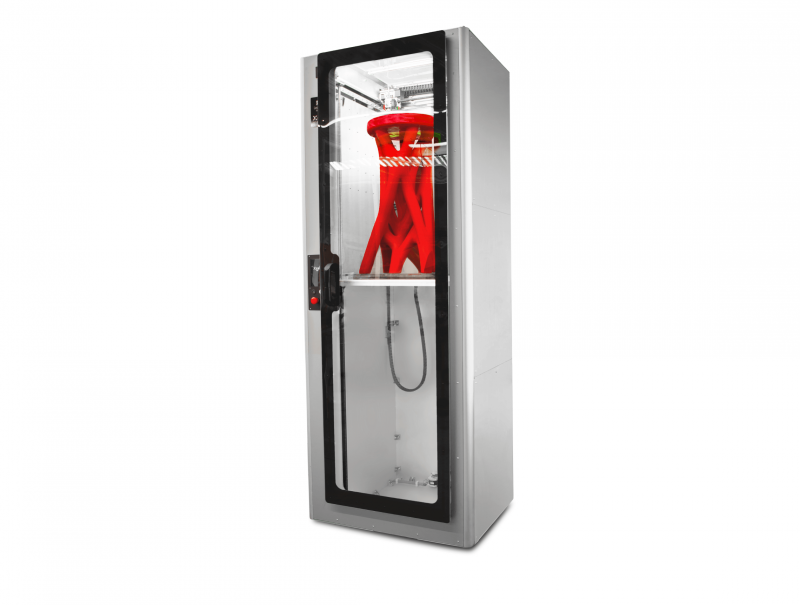 Features
The 3D printer is well recognized for exhibiting large build space and is equipped with many other functionalities that make it unique and popular. The included features are thought out making the operation and maintenance of the 3D printer hassle-free.
Large Build Volume: The first thing that one would notice about the 3D printer is its huge heightened design which surely given an impression of a printer embodying large print volume.
The large print space makes it easy for models that are huge to be printed in one go. Although the printer requires huge space for installation, however, then it wouldn't matter when placed inside an industrial setup.
The machine boasts a build volume up to 610 L. One can print models up to 3 meters in height.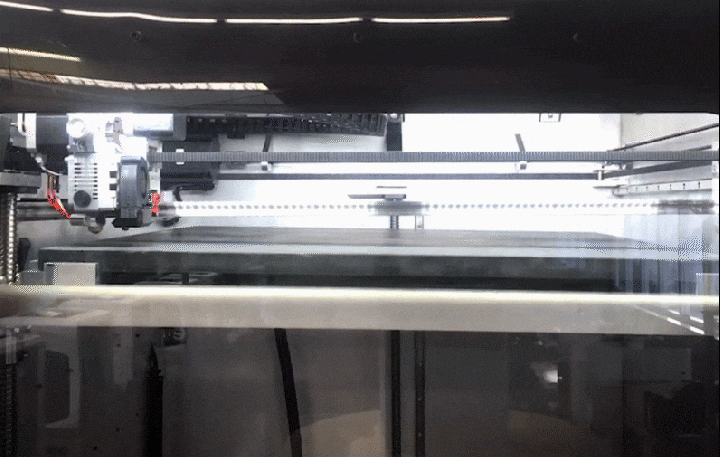 High Speed: The 3D printer, to offer high-speed printing for such huge objects, uses an increased filament flow of the nozzles. Where most of the 3D printers have 6 mm3 /second of filament flow, Xcel offers a flow of 45 mm3 /second.
User-Friendly UI: The Xcel is introduced with a new Leapfrog software version. This software is accessible using a WiFi connection. Users can use it on smartphones, tablets alongside PC.
Hence, working remotely with this machine wouldn't be a challenge. Leapfrog has come up with intuitive software that helps users monitor the entire printing process even when not close.
The software also shows the amount of filament left, the time left apart from pausing, and resuming the printing task.
Auto Calibration: Leapfrog has used PerfectLevel™, its patented auto-calibrating system which is designed to save time and effort. The 3D printer is designed to calibrate the bed all by itself before each use.
Hence, providing users the ease of use and with the highest accuracy possible. The calibration system is efficient and works perfectly every time. Taking out the slightest error that is possible with manual calibration, the 3D printer works best whenever the models are printed.
Enclosed Chamber: The printer is fully enclosed, helping users to carry the printing operation safely and inside a controlled temperature chamber. The printer includes a sliding door which helps the user access the print area easily.
Because of the constant temperature maintained around the build space, the accuracy achieved is highly precise. The other benefits of the closed chamber include reduced chances of warping as well as smoothened model surfaces.
Auto Loading of Filament: The printer has an automatic filament loading design which means that the printing with dual extruders becomes very easy and simple.
The autoload function when combined with filament detection, helps the 3D printer to stop printing when its time to swap the filament while working with a dual extruder.
Heated Bed: Leapfrog Xcel 3D printer has a heated bed for effortless printing. This helps work with a variety of specialized materials. The heated bed allows printing with difficult and tricky materials such as ABS and others.
Built-in Camera:  The printer has a built-in camera inside the build area which helps provide users with a complete overview of what is happening inside of the 3D printer. Users can check the progress of the print remotely using the Leapfrog software.
Compatible to Huge Material Option: The printer is compatible with 3rd party filaments giving users the option to print with a variety of different materials available with different brands.
With an open material system, the machine lets the user choose the filaments they like instead of forcing them to use only the proprietary filaments.
The entire setup of the Xcel 3D printer is very well thought out and being executed keeping every important detail in mind. The printer works its magic when used with its best settings. One can design complete models in just a few clicks when using this 3D printer.
Specifications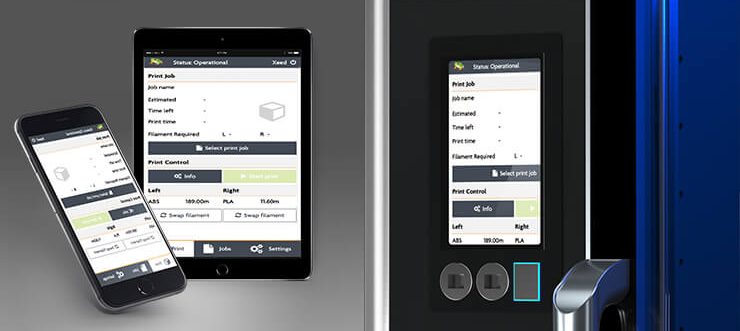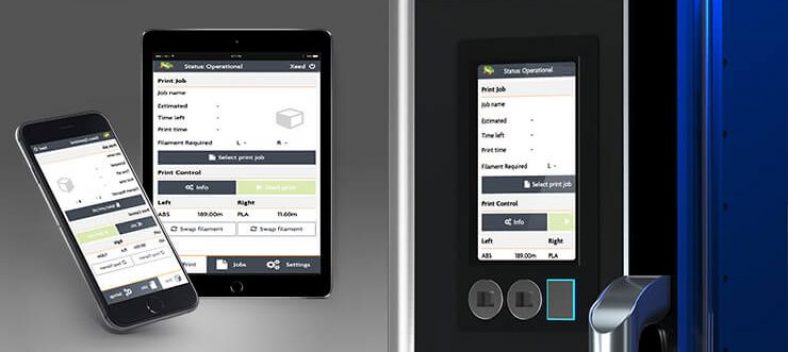 Designed by a Netherlands company, Leapfrog, the 3D printer is made to woo users from every part of the globe. With an accuracy of 18 x 18 x 10 Microns being able to provide layer height between 10 – 600 Microns, the printer sure is equipped with the latest and advanced features.
One can expect the printer to be really heavy with 275 kgs weight. It has a cartesian XY head mechanical arrangement.
Because the printer is available in both single and dual extruders, one can utilize the one required with few changes in the specs of the machine.
The Leapfrog Xcel Industrial 3D printer has a massive body, giving users a total space of 510 x 520 x 2320 mm when using the dual extruder machine.
However, the single extruder machine has a slightest of extra space for printing with 538 x 520 x 2320 mm build space. The printer dimension is itself 1050 x 900 x 2850 mm.
And, utilizes the speed of 80mm/s and a travel speed of 180mm/s, the printer showcases great speed without compromising the print quality.
Price
The price range stays between $30,000 to $32000, depending on the number of extruders the machine owns. The price may differ with different vendors.
Being an industrial 3D printer, the price seems too much and completely unaffordable for individuals and home users.
First Impressions
Leapfrog Xcel Industrial 3D printer is a huge machine. The first thing one would notice is its great size. Alongside this, it also is very stable with an aluminum frame. That provides it the sturdy body it must own for accomplishing printing with larger models.
Setup
The machine comes fully assembled. Users do not need to work for hours to get the machine installed for the first print.
One can unpack the machine and install it at the designated place. It is recommended to decide the place for machine beforehand, otherwise, shifting it from one place to another won't be a feasible option.
This 3D printer has a fully automatic bed leveling system. Hence, the calibration also happens on its own. Only by feeding the filament and with few settings, here and there, one can start printing the first model in a few minutes only.
Printing Type/Cost
The printer is based on FDM technology. Hence, it is one of the cheapest 3D printing technology known.
It utilizes filaments to print models that are affordable and aren't expensive when compared to other materials used for different 3D printing processes such as resin. The normal filament like PLA is highly affordable. Learn more about 3D printing materials here.
Some manufacturers offer cheap options for PLA and other materials as well if one does not want to carry on with the proprietary filaments.
Hence, further reducing the print cost. If one takes care of the machine and its different parts, while regularly cleaning the nozzle and print bed, the maintenance cost would also be restricted to a bare minimum.
Hence, the operation cost won't be such a huge challenge for those willing to pay this huge price for a 3D printer.
Print Quality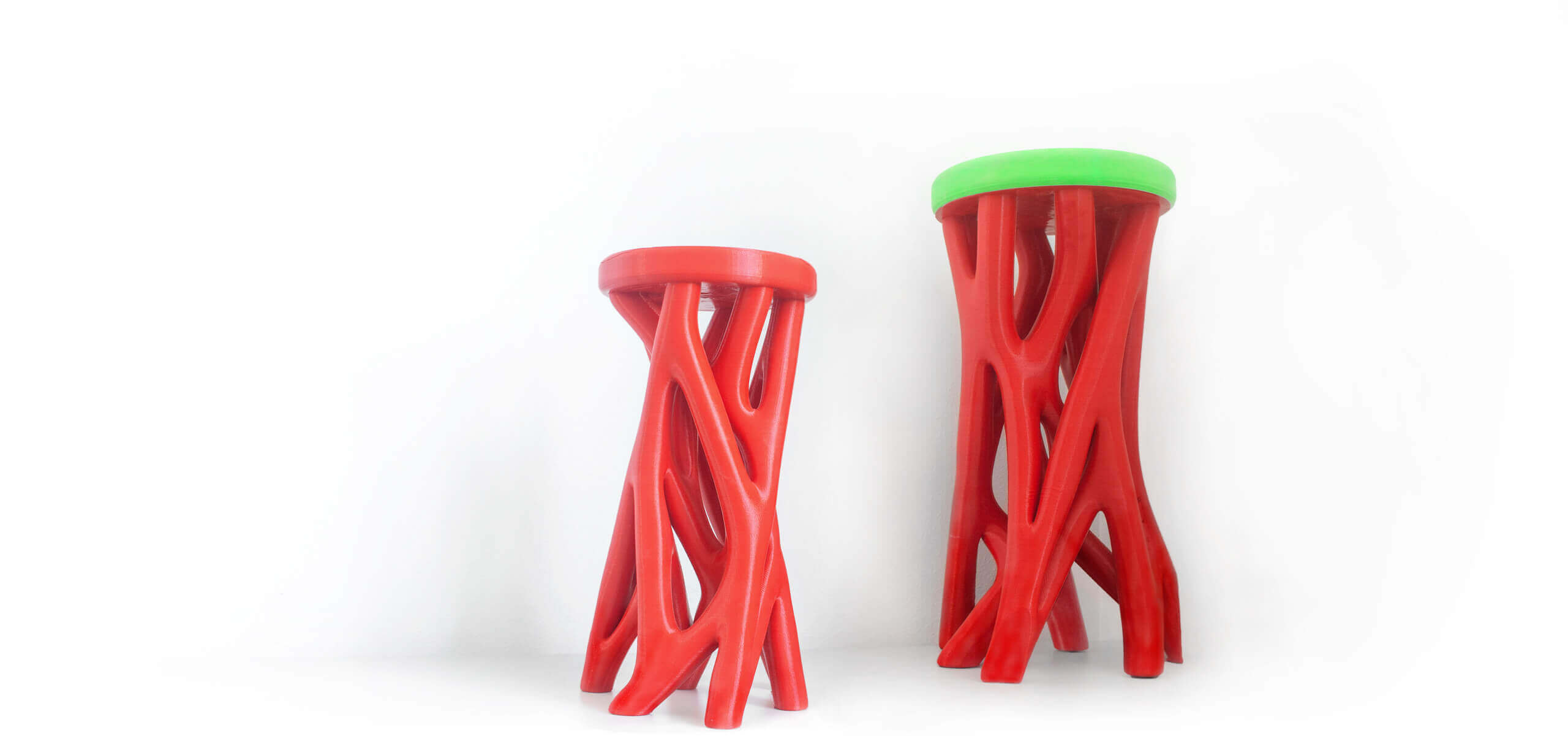 The print quality is very nice. With amazing layer height choice ranging from 10 microns to 600 microns, one gets huge freedom to decide the surface finish one is looking for.
The printer provides accurate results when printing complex models. One can rely on its print quality for accomplishing a variety of applications, from prototypes to production.
Software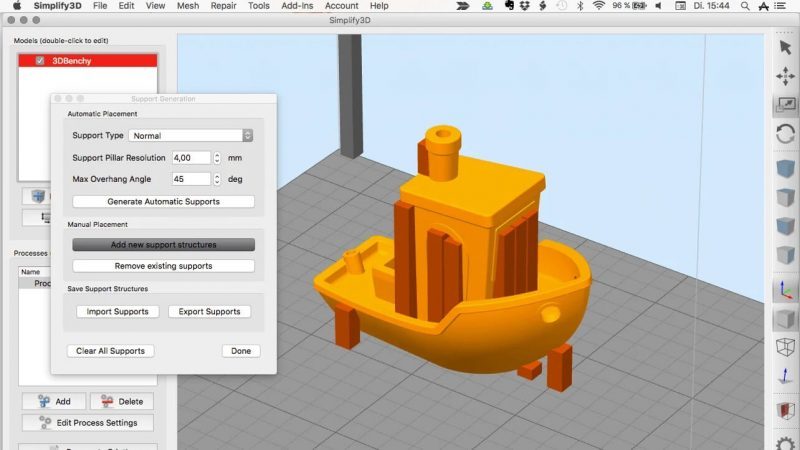 The company offers Simplify 3D software along with the machine. Hence, one can use this software for slicing needs. It is a popular software, hence, Leapfrog chose to offer users the best option.
The application is intuitive and very reliable. It can be used for generating supports and optimize the designs with the best settings.
Apart from this, Leapfrog also offers software for monitoring and accessing the printer remotely. This software is user-friendly and can be used by anyone having a basic knowledge of computers.
Customer Service
The printer comes with a limited warranty of one year. Apart from that, the company also offers a large database for questions and queries on their website that may bother users when working with different designs. The customer support is also active and caters to customer needs as and when required.
Parameter Influencing the Buying Decision of Users
The 3D printer is capable of doing many tasks. However, it may not fit right for certain purposes. Hence, it is crucial to find out the parameters that must be touched before buying the 3D printer. These parameters would help to assess if one needs this machine or not.
3D Printer cost: The printer is expensive being designed for industrial purposes. Being an FDM printer, one may have thought of some leniency in terms of cost. However, it does accomplish the jobs with high accuracy, hence, the price is justified.  It is not suited for home purposes or those with a limited budget.
3D Print quality: Using this 3D printer, one can create highly detailed models. Also, it is compatible with water-soluble material, PVA. Hence, the print quality is further enhanced with smooth surface finish prints. It lets the user choose between the layer height of 10 to 600 microns. One can choose the minimum layer height for hiding any layer difference that may arise otherwise.
3D Print speed: It offers a print speed of 80 mm/s. So, one must not worry about the long hours of a wait when creating designs using the Xcel 3D printer. The travel speed is also highly competitive allowing for 180 mm/s coverage.
3D Printer capability: The 3D printer is an industrial 3D printer. Hence, designed to carry crucial tasks that it does accomplish with perfection. It can prepare detailed and complex geometries without much hassle. Providing users freedom and flexibility to print almost anything in one go.
3D Printer Practicality: Xcel industrial 3D printer can be utilized for prototyping as well as for large production. Giving space and speed to customers, the machine turns out to be very useful in different practical applications.
3D Printer User expectations: There are many happy users who have shared their online reviews for the machine. This is because of the exceptional results the 3D printer is capable of demonstrating.
Verdict
If you have worked with an industrial 3D printer before, you may know how difficult it was to operate these machines a few years back. However, with advancements, the ease of operation has been included in the list when planning the design of the 3D printers.
There are manufacturers who allow for easy access and simple operation of 3D printers without losing the quality of the printed products.
Leapfrog Xcel industrial 3D printer is also among such options that companies can utilize for realizing the best solution. A perfect machine for any industrial setup, just a little expensive.