Makerbot Digitizer
Makerbot Digitizer is one of the most reliable choices in desktop 3D scanning. At a very affordable price, the scanner manages to offer outstanding features.
PROS
Simple construction.
Optimized design.
Easy to set up.
CONS
The scanner manufacturer offers no software tools for cleaning already scanned objects.
Users find difficulty in cleaning dark, shiny as well as fuzzy objects.
Table of Contents
Digitizer is a desktop 3D scanner by Makerbot – a renowned manufacturer based in the USA. The machine uses laser triangulation technology for scanning objects. To scan objects up to 8 inches in height and 8 inches in diameter, the scanner takes up to 12 minutes which is quite fast.
The scanner is extremely easy to operate, thereby creating no trouble at all for beginners in the field of 3D scanning.
It uses unique multi-scan technology for making a precise scan capable of generating dimensionally accurate parts and functional prototypes. Most notable is the sophisticated software that combines more than one scan to develop a pitch-perfect scan of the object.
However, whether the scanner offers good value in return for the money it charges,we can only say after going through the scanner in-depth.
Features
The machine is able to scan tails via various points scattered all over the object in 360 degrees. It's able to deliver a scan quality of 500 microns by scanning various geometries in minimal time.
Below mentioned are some of the most intriguing features of the scanner that separates it from the list of others available in the same price range.
Multi-scan technology
This feature sets the scanner apart from others in the same price range. Makerbot's multi-scan technology scans the object that's placed on the turntable. The part or functional prototype then rotates while the lasers scan it completely.
In case you are not satisfied with the scan result, just turn the object another way around and repeat the process. This way you have two different views for creating a scan of a single object. The real magic happens in the software called MakerWare.
This application combines two different recordings to create a single scan with a finished digital design. The end result is used for creating detailed parts and functional prototypes.
Easy to use
Digitizer is very easy to grasp. Not just for nontechnical users, but also for operators who do not have much exposure to 3D scanning technology.
The scanner manufacturer has designed the device keeping in mind all kinds of users, novice as well as experts. To start scanning an object on it is a piece of cake. It is a simple two-click process.
Compatibility with any 3D printer
The scanner is able to provide users with design files in a standard format. Because of this, the scanner can be used with almost any 3D printer. So, if you already own a 3D printer at your place, Digitizer stands as a perfect match for the same.
Requires no design skills
Digitizer is one among those rare desktop 3D scanners that require no technical prerequisites from the operator. It's a device with simple construction and a mechanism that is straightforward to grasp. Users need no prior degree or education in designing to gain complete control over the scanner.
Portable
Weight only 3 kilograms; Digitizer is currently the most portable device available in the market. It's almost one-third of the average desktop-style scanner. So, you definitely do not have to worry your head when it comes to shifting this device from one place to the other.
Specifications
| | |
| --- | --- |
| | |
| Scan Volume | 8 x 8″ / 20.3 x 20.3 cm (max) |
| Dimensional Accuracy | ± 0.079″ / ± 2.0 mm |
| Scan Speed | 12 minutes (approx.) |
| Software Included | MakerWare for Digitizer |
| File Types Supported | Exported: STL, THING |
| AC Input | 100 – 240 V, ~2 AMPS, 50 – 60 Hz |
| Dimensions | 18.7 x 8.0 x 16.2″ / 47.5 x 20.3 x 41.1 cm |
Makerbot Digitizer is capable of scanning a part with an area up to 20.3 cm * 20.3 cm. The machine delivers scans with an approximate dimensional accuracy of 2 mm.
All the parts and functional prototypes, whether they are big or small, simple or complex in geometries, they're scanned with a detailed resolution of 0.5 mm.
The approximate triangles generated per 3D model by Digitizer are in an order of 200,000. The scanner takes around 12 minutes to scan objects depending on their geometries by processing around 800 steps per rotation. For scanning any object, the scanner manufacturer recommends artificial indoor lights as optimal lighting conditions.
Digitizer weighs only 3 kilograms which makes it suitable to be transported from one place to the other with minimum or almost no hassle at all. The scanner utilizes two eye-safe class-1 laser line generators.
A camera with a 1.3 megapixel CMOS image sensor takes sole responsibility for capturing images from various angles! One can easily connect with the scanner using a USB connection. Lastly, the turntable rotates utilizing a stepper motor with 0.9 degrees step angle and 1/16 micro-stepping.
Price
Makerbot Digitizer is available for $799.
First Impression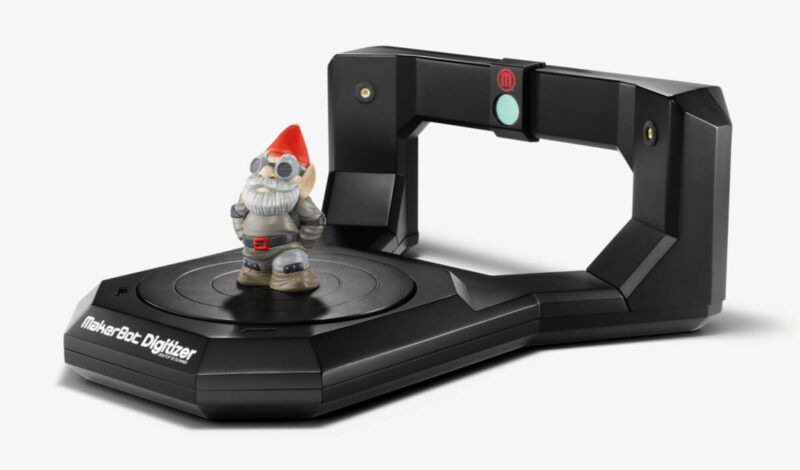 Makerbot Digitizer is delivered to you in a box with:
UK Plug
USB Cable
Calibration Tool
MakerWare for Digitizer software
Setup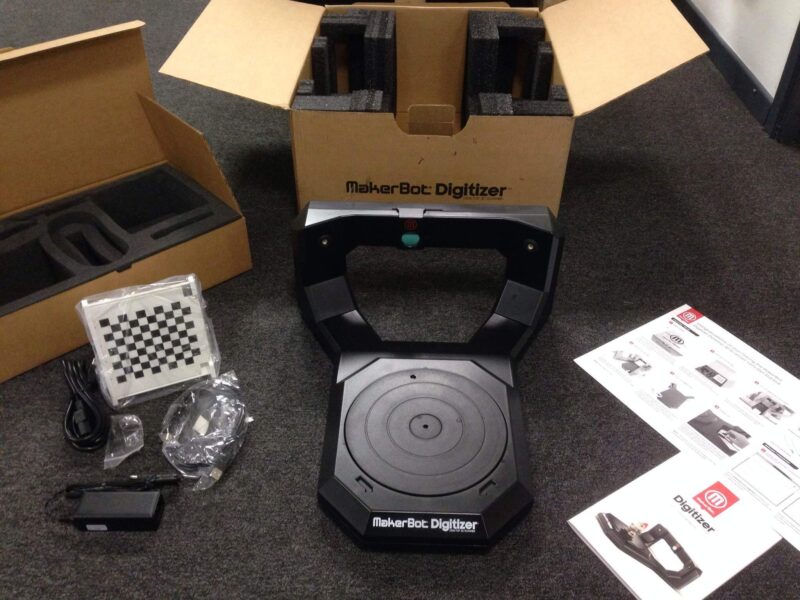 Credit: 3dnatives
After downloading the software from Makerbot's website, the remaining installation process is easy to go. All that users need to do is follow the stepwise guide mentioned in the manual.
From the basic unboxing of the device to setting it up on the table, and hooking it up with the power to finally attaching the USB cables, it's all straightforward.
Once done with all of that, power on the device and permit Windows to detect the new hardware. The installation of the driver is automatic. Calibration is the next step in the setup process to ensure the best quality 3D scans.
Before starting it, ensure the camera's filter is in place over its lens. The manufacturer has put in place a handy calibration tool oriented on the scanner differently during each stage of calibration.
You'd find three letters marked over the calibration tool and your journey would complete by taking it from A to B, to C. Doing all of this, doesn't take much time.
Scan Type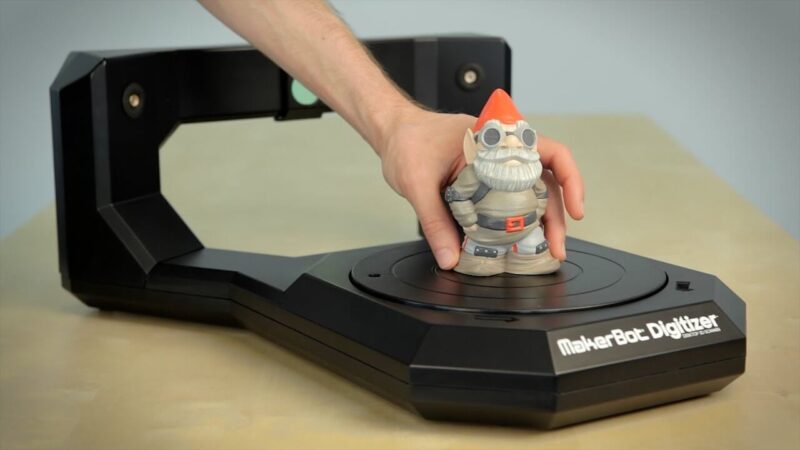 Digitizer uses laser triangulation technology for scanning parts and functional prototypes of varying geometries.
The method starts by placing an object at the center of the turntable which then starts rotating as the laser is trained on it. Meanwhile, the camera captures the reflected light, thereby creating a map of the object.
After the first laser is done, the second one shoots up at the object from a different angle while rotating. Point maps combine with each other for creating the 3D scan that appears on the screen. These lasers are typical of lower power and completely safe for the eyes.
Scan Quality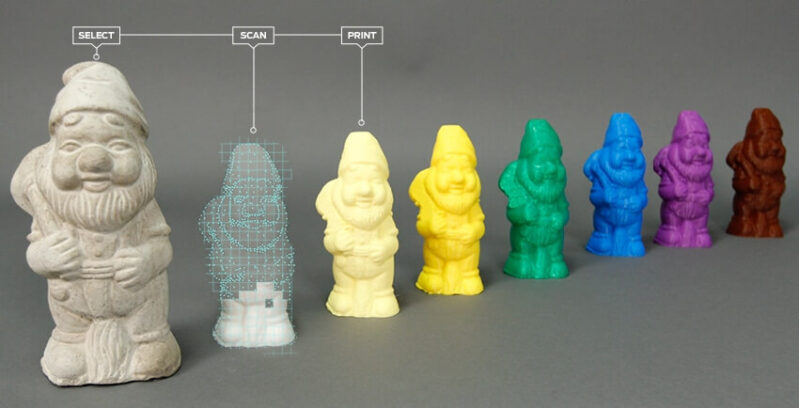 Credit: makerbot
The scanner manages to easily replicate items in high definition. Even the most complicated geometries can be effortlessly scanned to produce dimensionally accurate end objects.
All thanks to the Multi-scan technology that can magically blend two different scans of the same object to create a single scan that is pitch-perfect.
Software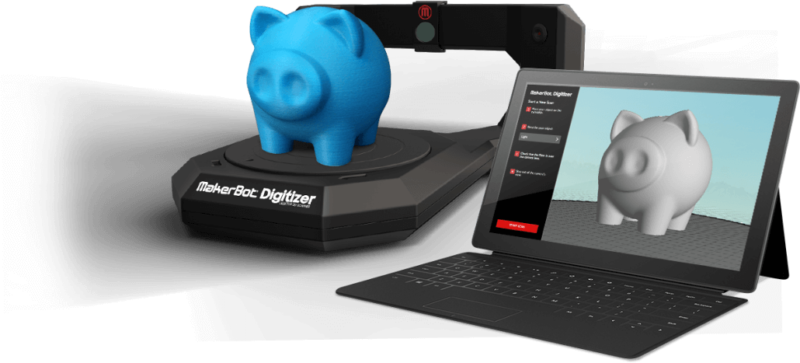 Credit: dream3d
Makerbot hasn't included software with Digitizer. Instead, it requires downloading the latest version of the application from their website. The name of the software is MakerWear. It exports design file formats such as STL, and Thing which can smoothly run on Windows, macOS as well as Linux operating systems.
Customer Support
Makerbot is a highly reputed brand in the field of 3D scanning as well as printing because of its world-class customer support. Users can troubleshoot their problems with the scanner by talking to the technical team, by opening a support case, or by connecting via phone or email.
Parameters Influencing Buying Decision
The key points concerning the buying decision of the scanner are mentioned below in brief.
3D Scanner Cost: Although a little bit on a higher-end, Digitizer's market price is still affordable considering its multidimensional features.
3D Scanner Speed: The scanner manufacturer markets it on the basis of its intense scanning pace i.e. 12 minutes for the highest scan area offered by it. Such a speed is rare to find in scanners available in the same price range.
3D Scan Quality: Digitizer manages to impress by delivering accurate scans using its multi-scan technology. Special credits to the software that blends two scans to create one precise scan of an object with intricate geometries.
3D Scanner Capability: The scanner manages to astonish users by delivering quantity with quality. Its rendering speed with scan volume capability makes Digitizer one of the most capable scanners in the market.
3D Scanner Practicality: Because of being portable and extremely easy to use, the machine can be used in numerous industries such as education, research, tooling, and much more.
3D Scanner User Expectations: The scanner is appealing for intermediate users who are willing to upgrade to professionals in the design field. At the same time, it can be a great start for a beginner looking to make a long-time career in scanning.
The Verdict
Currently, Makerbot Digitizer is one of the most reliable choices in desktop 3D scanning. At a very affordable price, the scanner manages to offer outstanding features such as multi-scan technology, ease of use, and compatibility.
The excellent software which can be upgraded from the scanner manufacturer's website provides sheer convenience. Although a little bit off when printed in certain light conditions, the machine delivers decent quality in minimal time.