3D printing of ceramics is the next trend to emerge, following substantial study into three-dimensional (3D) printing of polymers and metals.
Without 3D printing, fabricating ceramic components with arbitrarily complicated shapes has been extremely difficult.
We will cover the latest improvements in ceramic 3D printing, as well as the historical origins and growth of each technology.
While most 3D printing is done with plastics or metals, ceramic 3D printing, particularly 3D printing clay, is becoming more popular. Vases, bowls, plates, and even medical devices can be printed with ceramic 3D printers, which can make complicated and exact clay 3D models.
Ceramic 3D printing is expected to expand to a $3.6 billion industry by 2028, with applications in 3D printed jewelry, vases, 3D printed medical instruments, and even aerospace.
How Does It work?
Ceramic 3D printers print green pieces of unfinished clay parts that require post-print treatment, such as a fire in a kiln. Ceramic or porcelain 3D printing is similar to normal plastic 3D printing in that it requires a 3D model such as an STL file or G-code.
The portion – the green object – is then printed using ceramic 3D printers. To give the part its completed qualities, the part is normally glazed and then burned in a kiln after printing.
Ceramic and clay material can be 3D printed using a variety of 3D printing technologies:
Paste Extrusion: The process of depositing layers of ceramic onto a build plate using a paste extruder.
Powder Sintering: The ceramic is powdered and sintered one layer at a time.
Binder Jetting: The process of depositing layers of bonding agent on top of layers of powder in a 3D printer. The majority of industrial ceramic 3D printers use binder jetting or powder sintering processes.
Comparison Chart
| Name | Link | Nomination | Rating |
| --- | --- | --- | --- |
| StoneFlower 3.0 | | User friendly | 8.2 |
| DeltaWASP 2040 Clay | | Stability | 10 |
| Cerambot Pro | | Inexpensive | 9.8 |
| 3D Potterbot Micro 9 | | Speed | 8 |
| Formlabs Form 3 | | High Accuracy | 9.6 |
| Tethon3D Bison 1000 | | High Productivity | 8.5 |
| ExOne X1 160Pro | | Versatility | 8 |
| Cerafab S230 | | Massive build volume | 7.7 |
| 3D ceram C3600 | | High-Quality | 8.1 |
| Prodway promaker V6000 | | High-Precision | 9.8 |
List of Best Clay and Ceramic 3D Printers
StoneFlower 3.0
StoneFlower is a German-based manufacturer of clay 3D printers. The StoneFlower 3.0 appears to be the company's only 3D printer available on its website.
They also have print heads, a ceramic 3D printing kit, spare parts like nozzles and augers, a micro printing set, and extruders and control units, in addition to the printer.
Because it uses technology like no other printer on the market, the Stone Flower 3.0 is a fully equipped printer that can make your dreams come true in the field of ceramic 3D printing.
Uses:
The frame of StoneFlower 3.0 is made of metal.
StoneFlower 3.0 can be connected through Wi-Fi, Ethernet, or USB.
A five-inch vivid touchscreen is included with the printer.
TMC Drivers and Nema 23 stepper motors are used to create the mechanism in StoneFlower 3.0.
The StoneFlower 3.0 comes with a tray that you can put wherever you choose.
During an emergency, the emergency stop button allows you to protect the print process.
StoneFlower 3.0 has a printing speed of 30 to 100 mm per second.
This printer's build volume is 480 mm × 480 mm * 500 mm. StoneFlower users have the option of increasing the print size along the Z-axis to 800 mm.
DeltaWASP 2040 Clay
This professional clay 3D printer is a high-quality, fully assembled machine. The device's minimalist delta-styled design and relatively tiny shape, paired with a reasonable build volume, make it an excellent fit for folks who do not want their devices to take up a lot of space.
Because the machine is well built, the amount of wobble is minimal. With a minimum layer height of 50 microns, it can produce unexpectedly smooth and high-precision outputs.
Uses:
The printer comes with an auto-leveling mechanism allowing you to get started on real clay printing as soon as possible.
It has a print speed of 150 mm/s, which is fast.
The machine includes an air pipe connection system, which is required when printing dense materials.
The suspended Bowden system is available on the WASP 2040 Clay, a self-developed solution for Delta 3D printers that reduces inertia onto hanging gantries, ensuring high-quality outputs and increasing printing speed.
LDM was adopted by the printer's manufacturer to allow users to 3D print materials including porcelain, clay, alumina, zirconium, and other sophisticated ceramics.
The manufacturer has included a detachable body section that allows the printer to be operated open or closed as required.
It has a large build volume and can work with a variety of materials.
An extra extruder can be purchased, allowing you to work with clay, porcelain, and other fluid-dense materials to create stunning tableware and vases.
It also contains a resurrection system, which can come in handy in the event of a power outage.
Cerambot Pro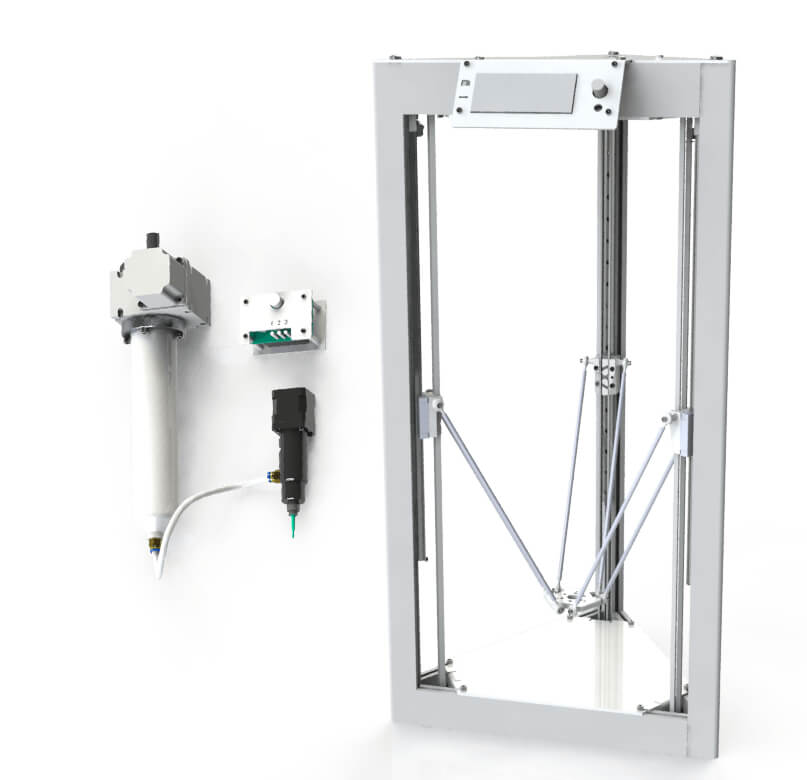 The CERAMBOT Pro is a plug-and-play clay 3D printer that will require only a few minutes to set up. Simply connect the extruder to a 3D printer, load the cartridge with clay, slice the 3D model, and begin printing your sculpture.
The CERAMBOT has a patented worm gear that is more user-friendly at the end. The worm gear system, according to the manufacturer, produces superior print quality and greater stability while also removing air bubbles from the mixture.
Uses:
The CERAMBOT Pro comes with a 57-stepper motor (Nema 23) and a TB6600 driver, as well as a specifically developed worm gear speed reducer.
In addition to these features, the CERAMBOT Pro features an industrial-grade linear guide rail and high-precision motor drive extrusion, allowing for quick printing with 0.1mm mechanical precision.
The company offers a range of nozzle sizes, from 0.8mm to 2mm.
An Air Extruder Kit is also available from the CERAMBOT team, which is compatible with practically all basic FDM 3D printers.
Cura and practically every other major open-source 3D printing slicing software are compatible with this ceramic 3D printer.
3D Potterbot Micro 9
Despite the fact that it is the smallest clay 3D printer on Potterbot's list, it has the fastest print speeds. Its small size allows it to fit into practically any space.
Uses:
The company claims to extrude clay directly rather than using a compressed air method to print the slip.
The company claims to extrude clay directly rather than using a compressed air method to print the slip.
The printer's anodized aluminum rails make it easy to move parts from one location to another.
The Micro 9 has a 1000ml extruder, anodized, long-lasting, and corrosion-resistant parts, and a print speed of 35-60mm/s.
Despite the high print volume, the Micro 9 weighs only 30 pounds with the extruder attached.
The Micro 9 uses its direct extruder to directly print clay, whereas most clay 3D printer brands use compressed air systems to create clay mixed with water and other materials.
All 3D Potterbot materials are food-grade, enabling a variety of different applications.
 It also prints via Wi-Fi, which many people will prefer to print from a USB or SD card.
Formlabs Form 3
The Formlabs Form 3 is the easiest to operate and most reliable clay 3D printer thanks to its abundance of sensors and processes, as well as software that takes the "3D printing" out of 3D printing. Form 3 is the printer to use for high-detail, small-batch, and even quick prototyping.
Uses:
The production sequence for Form 3 is simple and uncomplicated. It all begins with a standard.STL or.OBJ file of the item to be created.
An Ethernet port or a Wi-Fi link links Form 3 to the company's IT infrastructure.
The Form 3's orders and modifications can be directly entered into the Form 3 printer through a 5.5-inch color touchscreen.
It creates the model by selectively hardening the plastic with a 405-nanometer laser beam focused vertically across the liquid resin tank.
On the updated model of Form 3, the light processing unit's laser is integrated with its parabolic mirror, which Form Labs refers to as low-force stereolithography.
Form 3 delivers an added level of accuracy and versatility when transitioning from CAD model to completed component, with a resolution of up to 25 microns and the option to alter layer thickness up to 300 microns.
Tethon3D Bison 1000
Tethon 3D, based in the United States, uses its Bison 1000 clay 3D printer to bridge the gap between design and manufacturing ceramic products.
Tethon 3D is a maker of ceramic powders for binder jetting and photocurable ceramic polymers for 3D printing, as well as a holder of various patents in the field.
Uses:
The Bison 1000 can print using ceramic, glass-ceramic, and even flexible ceramic resins.
The printer has a camera and an application that allows for real-time remote monitoring of the 3D printing process.
With a construction volume of 110 mm * 60 mm * 130 mm and a pixel size of 57 micrometers, it is a big screen.
The Bison 1000 has a heated bed with adjustable heat temperatures.
The printer is fitted with a light engine that houses a UV LED source with a wavelength of 405 nanometers that is suited for producing high-load ceramic materials.
Its heated vat reduces viscosity while also allowing for speedier printing.
In addition, the machine's vat film is scratch and tear-resistant, and it is easily changeable.
Above all, there is a huge, easy-to-read LCD screen on the printer's body that allows you to alter print settings, attachments, lift height, and speed.
ExOne X1 160Pro
More than 20 metals, ceramics, and composites can be printed with this printer.
This Clay 3D printer also includes two decades of experience in producing reliable components while also allowing for some design freedoms that were previously unavailable. The printer needs to be plugged in after the machine is fully assembled.
Uses:
In today's binder jetting technology, the X1 160 Pro offers more than 2.5 times the build volume of competitive systems.
The ExOne X1 160 Pro can print on more than 20 different materials. Composites and ceramics are included in the list.
The printer's print speed is 10,000 cubic centimeters per hour, but the business states that this varies depending on the type of material used.
Their patented system is used in the X1 160 Pro. This system is a three-step process that includes dispensing, spreading, and compacting.
CeraFab S230
The CeraFab S230 has many great characteristics, and it may be used as part of a very productive system that CeraFab has developed via research for developing ceramic parts and functioning prototypes.
Uses:
This clay 3D printer generates the most exact objects that you will see in 3D printing using DLP technology for generating parts and working prototypes.
Massive build volume is the key to unlocking the long-standing issue of lock-in ceramic printing, which the CeraFab S230 has done.
CeraFab S230 Series provides unrivaled returns on investment and high-quality parts and functioning prototypes with dimensional accuracy even in the most complex subtleties, while also being relatively simple to use.
 To make your overall experience easier, you will have a touch screen interface that allows you to control and monitor the entire printing process as well as the parts involved.
3DCeram C3600 ULTIMATE
3DCeram's C3600 ULTIMATE 3D printer is an industrial clay 3D printer. 3DCeram (or 3DCeram Sinto) is a French 3D printer company.
This clay and ceramic 3D printer have a wide build volume of 600 x 600 x 300 mm and can print alumina and zirconia among other ceramics. It has four laser heads, which helps to speed up the SLA process.
Uses:
Four UV Lasers with a wavelength of 405 nm and a diameter of 60 micrometers ensure the quick fusion of various sections of the printed object.
The layer thickness ranges from 0.025 mm to 0.125 mm on every object 3D printed using C3600 Ultimate.
It uses free link support technologies to enable file transfer.
In comparison to its competitors, the printer's cost per part is significantly cheaper.
The C3600 Ultimate, which is based on SLA 3D printing, allows you to print without support structures.
3D Ceram offers a variety of ceramics for printing on the C3600 Ultimate. These materials were created specifically for use with the printer, ensuring a high level of quality.
Prodways ProMaker V6000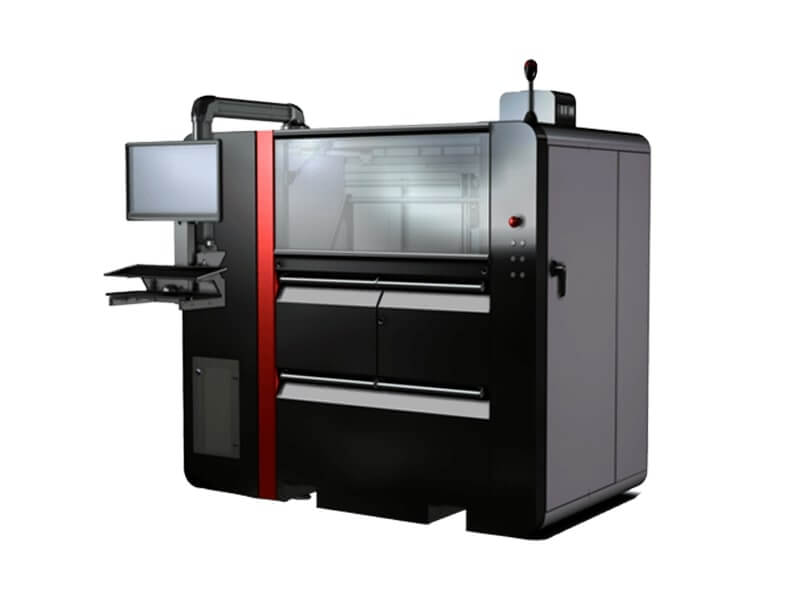 The ProMaker V6000 industrial clay 3D printer is a one-of-a-kind solution for processing very viscous materials, making it ideal for producing composite parts, especially ceramic.
After sintering and debinding, the ProMaker V6000 can manufacture components with very high density, up to 95-99 percent for ceramic, opening up new possibilities for inventive applications.
Uses:
Moving light technology is used by Prodways to produce high-quality prints.
Ceramic resin printing is a specialty of the V6000 3D printer.
It can be customized to work with materials with a high viscosity.
After sintering and rebinding, the printer polymerizes ceramic resins to produce pieces that are up to 99 percent ceramic.
It has a volume of 120 x 157/350/500 x150mm.
 It is most typically used in the luxury, jewelry, electronics, and medical industries, and has a volume of 120 x 157/350/500 x150mm.
With less than 40 mm per layer and hundreds of millions of pixels, the resolution is unmatched.
High accuracy to generate incredibly fine detail with no distortion across the whole build platform
Unparalleled speed of up to ten times that of industry norms
Produces a high number of items without sacrificing quality
Surface consistency is excellent, and post-production finishing is kept to a minimum.
Buying Guide
Ceramic 3D printing is an excellent alternative to plastic. When buying a ceramic 3D printer, there are a few factors to keep in mind.
Here are some crucial considerations that will assist you in making an informed selection when selecting a ceramic 3D printer.
Speed
High-speed printing allows you to print a large number of products in a short amount of time. This function allows you to save time. To achieve the best potential results, choose a printer that allows for high printing speeds without sacrificing print quality.
Printer Size
A small printer is compact and portable, allowing you to save room. The disadvantage of a small 3D printer is that it limits the amount of room you can use to create objects.
A larger printer provides more capacity for building goods, but it also needs more storage space and a larger operating surface.
Printing Quality
The printing quality of a high-quality ceramic model should be remarkable. When looking for a ceramic 3D printer, this is an important aspect to look for.
Enclosed and Open
When looking for a ceramic 3D printer, there are two types to choose from: enclosed and open.
Unlike enclosed models, an open model 3D printer has nothing enclosing the construction area. An enclosure protects against contamination such as dust, wind, and temperature variations.
An enclosed printer also keeps the hazardous fumes created during the printing process out of your home. They are also a fantastic option for high-quality prints and security, but they can be costly.
Printer Cost
The cost of the printer is determined by the characteristics you require. A 3D printer can range in price from a few hundred dollars to several thousand dollars.
If you are new to 3D printing and do not want to spend a lot of money, a tiny, inexpensive machine can be a suitable option. If you are a professional, though, you will want to invest in a more expensive printer with more features.
The Build Volume
You must also take into account the dimensions of your printer. A square or rectangle-shaped construction plate is the most common shape. A tiny printer will suffice if you are a novice.
If you plan to start a manufacturing business, however, you may need to hunt for a device with a bigger build capacity. All of the above printers have a large build volume.
Frequently Asked Questions (FAQs)
What Are Ceramic 3D Printing's Professional Applications?
Ceramic 3D printing may be used to generate a wide range of goods that can be used in a variety of industries, including medical, aerospace, art, architecture, and décor.
Why Is Proper Ventilation Important When 3D Printing?
When your filament or resin is heated, it emits noxious fumes that might irritate your eyes and cause headaches. As a result, 3D printing requires a well-ventilated environment. Some printers, on the other hand, come with an enclosure or a fan, which reduces your exposure to fume extraction.
Is There A Limit To The Shapes That Can Be 3D Printed?
Depending on the scale, 3D printing allows you to create whatever shape you want. Some 3D printer models include built-in model designs that can be printed. Models can also be customized and designed using 3D printers.
Conclusion
Ceramic 3D printers come in a variety of shapes and sizes, each with its own selling point. CeramBot is the most cost-effective ceramic 3D printer among the printers mentioned above.
Because of its multi-function capabilities and highly designed technology, the Cera Fab S series printers are a strong competitor for the top 3D ceramic printers.
Each of these ceramic 3D printers has its own set of advantages, and this article serves as the ultimate buyer's guide for picking the best clay and ceramic 3D printers.