The most popular type of additive manufacturing is Fused Deposition Modeling (FDM) as it is economical and beginner-friendly. It is also known as Fused Filament Fabrication (FFF).
This material extrusion process creates a 3D object by depositing molten filament layer by layer on a build plate. The deposition occurs in a specific way by the slicing software.
In the FDM 3D printing technology, there are four types of printing systems. These include Cartesian, Delta, Polar, and Robotic Arms. Here, we will discuss the Cartesian 3D printers.
What Are Cartesian 3D Printers?
Cartesian 3D printers are the most common FDM printers found in the market. It uses all three axes (X, Y, and Z-axis) to determine the correct position of the print head to 3D print with the plastic filament.
Usually, the print head moves X and Y-axes and the print bed moves up and down on the Z-axis. This enables the creation of strong, precise, and consistent 3D structures. They are reliable machines and simple to set up and operate.
Comparison Chart
| Name | Link | Nomination | Overall Rating |
| --- | --- | --- | --- |
| Creality Ender 3 V2 | | Budget Friendly | 7.2 |
| Lulzbot Mini 2 | | Highly Professional | 7.7 |
| Ultimaker 3 | | Work Horse | 9.2 |
| Original Prusa i3 MK3 | | 9 Points Auto Calibration | 7.9 |
| Makerbot Replicator Plus | | 5th Generation 3D Printer | 8.8 |
| Qidi Tech X-Max | | Eco Friendly | 8.5 |
| Raise3D Pro 2 | | Precise | 8.7 |
| Ultimaker 2 Plus | | Editor's Choice | 8.9 |
| XYZPrinting da Vinci Jr. 1.0 Pro | | Open Filament | 7.1 |
| Lulzbot Taz | | Next Generation Tool Head | 7.7 |
List of Top 10 Cartesian 3D Printers
Creality Ender 3 V2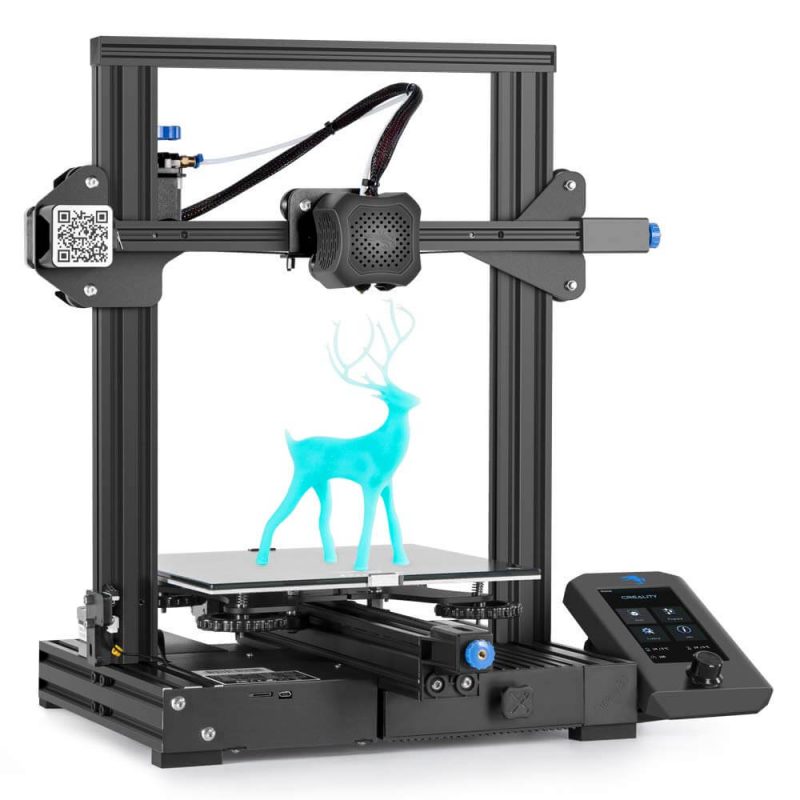 The Creality Ender 3 V2 has some advanced features that are not even found inexpensive large 3D printers. This makes it stand out. It offers high-quality prints, especially when considering the low $200 price tag.
The machine is semi-assembled and requires the user to put parts together before starting to print.
Uses:
The heated print bed allows printing with crucial materials like ABS, PLA, PETG, and TPU. It offers proper adhesion of the first layer resulting in accurate prints.
There is a power outage recovery feature that pauses the printing process when there is a power failure and resumes it from where it stopped after the power comes back.
As the printer is open source, it allows using third-party filament.
The new TMC2208 stepper motor offers 3D printing quietly.
Lulzbot Mini 2
If you are looking for a professional Cartesian desktop 3D printer, then Lulzbot Mini 2 is the right choice. It is for serious users who want to do more than have fun only.
It was manufactured by Aleph Objects, a Colorado-based company. The company has offered various upgrades to enhance this little machine's functionality and results.
The printer has a print space of 160 x 160 x 180 mm with a print speed of 300 mm/sec. The layer resolution can be varied between 0.05 to 0.4 mm.
You can print with a wide variety of filaments. These include PLA, TPU, ABS, HIPS, Nylon, Metal alloy, PC, and others. The machine is compatible with Mac, Linux, and Windows. You can connect through an SD card or USB port.
The machine costs $1500.
Uses:
It is best to be used in homes and offices without disturbing others as it operates quietly due to Trinamic 2130 stepper motor drivers. It also has a compact design. Thus, it can fit on any table.
It allows you to start 3D printing within 30 minutes of unboxing due to its plug-and-play feature and advanced Cura Lulzbot Edition software.
It enables users to build 20% larger 3D prints than its predecessors due to its larger build volume.
The LCD screen offers an intuitive user interface and controls all machine settings. It can operate as a standalone device.
The printer offers precise and accurate results through belt-driven z-axis that increases the speed of the print head.
The machine has an aerostruder tool head on the E3D Titan Aero hot end extruder that is flexible with a great range of filaments.
The printer stands out with its modular print bed system. It has a two-piece design that includes a heater and print surface. Thus, the build plate can easily be removed. Hence, you can replace the PEI bed with a glass bed. This allows users to print with many different types of filaments.
Ultimaker 3
Ultimaker 3 is a workhorse that exceeds all the expectations and is used for various specialized purposes. It is a next-generation machine with astonishing features. It requires low maintenance and is easy to operate. It allows you to create complex designs at a high speed with great accuracy.
The printer has dual extruders with a large build space of 215 x 215 x 300 mm and a maximum speed of 300 mm/s. It has a nozzle of 0.4 mm diameter that can print with a resolution of up to 20 microns. It uses Cura for slicing, which is open-source software. You can connect to it either through a USB port, WIFI or LAN.
It will cost you only $3500 for this extraordinary printer.
Uses:
It is great for small businesses that want to scale up their production. It is used in the aerospace, medical, and jewelry industries to produce highly detailed parts.
The printer can operate for hours without any hassle.
Due to dual extruders, it allows you to print with two colors and materials simultaneously.
The machine is also compatible with PVA, allowing you to create a support that is water-soluble.
You can remotely control and operate the printer through WIFI connectivity, cloud access, and an inbuilt camera.
It offers plug-and-play features and automatic calibration to ease out beginner's tasks.
It is compatible with the third-party filament; both standard and premium.
Original Prusa i3 MK3
The Original Prusa i3 MK3 is the successor of its award-winning predecessors. It also gained popularity among customers due to its new extruder system and other updated features.
The printer is open source with a build volume of 250 x 210 x 200 mm and a PEI coated removable print bed. You can connect to it through a USB port or an SD card. It uses proprietary software for slicing and is compatible with MAC, Windows, and Linux. It comes both as assembled and a DIY kit.
The kit costs $900. You can buy the kit and assemble it yourself to save money.
Uses:
It is a great option for beginners and serious learners as there is a lot to learn from assembling and operating it.
You can create miniatures for fun and sell those for money.
The new extruder placement enables easy changes of the nozzle without the need of redoing the whole assembly line and improves print quality by minimizing resonance and enabling better cooling of the parts.
The optical filament sensor is reliable and is compatible with all types of filaments.
Due to quiet operation, you can use it in homes and small offices without disturbing others.
You can use a third-party filament to minimize material costs.
Makerbot Replicator Plus
Makerbot Replicator Plus is the improved version of the Makerbot 3D Cartesian printers' family. It is quieter and has many unique features that make it stand out among other printers of a similar price range.
The device is 25% larger and 30% faster than its predecessors are. It has a black sleek body with an open frame.
The printer has a large built volume of 6.5 x 11.6 x 7.6 inches and weighs 18.3 kg. It is easy to set up. You can connect to it through WIFI or USB. It is compatible with Makerbot Software, which is user-friendly.
You can have a hand on this professional machine by investing only $2499. The company offers great customer service after the purchase.
Uses:
Makerbot Replicator Plus is best for architectures to create precise models, small businesses for general 3D printing, and trainers for teaching 3D printing.
Due to hollow sides, front and top, it allows you to keep an eye on the printing process.
You can easily control the printer's settings through a control panel that is located at eye level. There is one push button wheel and two other buttons that help in navigating the display. Before printing, that preview of the design can be easily viewed on a cellphone or desktop.
It enables you to choose between 30 different filaments. The filament is stored externally which enables you to check its level of usage and easily load and unload it.
Buy a smart extruder with the printer to keep track of the low level of filament.
The machine produces straight lines with perfection. It is good for 3D printing complex geometric structures and sculptures.
Qidi Tech X-Max
Qidi Technology, the manufacturer, is known for offering powerful 3D printers at affordable rates. X-Max is also a strong Cartesian 3D printer offering a large build volume. Though it is not too low in price, it is worth every penny.
The printer has a print space of 300 x 250 x 300 mm with a single extruder and swappable print head. The layer resolution varies between 0.05 to 0.4 mm. You can connect through USB or Wi-Fi. It costs around $1500.
Uses:
It allows you to print large-size structures without compromising on quality. It is best for architects, science classes, and laboratories.
It enables users to not only print with PLA, ABS, and TPU but with Nylon, PC, carbon fiber, and other tricky filaments due to swappable extruders.
The enclosed chamber helps to maintain a consistent temperature inside to produce high-quality prints and make it safe to use for beginners.
X Max comes fully assembled. Thus, it requires minimal setup before you start printing.
You can easily take out your final prints by either removing the print bed or slightly bending it.
There are two filament holders. Though the machine uses one filament at a time, it allows you to keep another one as a spare.
It is best to be used at home and in small spaces without disturbing others due to its quiet operation.
The printer also offers other features such as assisted bed leveling, touch screen, Wi-Fi connectivity, and print recovery.
Raise3D Pro2
Raise3D Pro2 has raised the bars for others. It provides the consumers and prosumers with all the features they need for day-to-day work.
It has all the great features of its predecessors along with other improved ones. It is appealing to all those who tend to seek professional experience.
The printer has a build volume of 305 x 305 x 300 mm with a speed of 150 mm per second. It comes pre-calibrated and fully assembled. You can connect through WIFI, LAN, and a USB port.
The machine costs $3999.
Uses:
The printer has a dual gear-driven extruder that is 50 percent faster than those in predecessors. It includes an enhanced filament grip that offers reliable extrusion of material.
You can easily change the magnetic swappable aerospace-grade build plate when required.
It enables you to create precise and highly detailed geometric structures with a minimum resolution of 0.01 mm.
HEPA filter helps to filter out harmful dust particles and fumes up to 90%, thus, making it safe to be used in a closed and less ventilated area.
The machine indicates when the filament is running low and pauses printing for the user to refill it.
When there is a power failure the printing pauses and the print process is saved. After power recovery, printing resumes from where it stopped. This saves from huge losses.
You can remotely monitor the 3D printer through WIFI due to the inbuilt camera.
Ultimaker 2 Plus
This 3D printer is among the most reliable and accurate models that you can find on the market. The versatility of this model makes it a great choice. You can reduce operating costs by using third-party filament spools.
The eye-catching features of this printer include an acrylic frame, as well as a solid build volume of 8.8 x 8.8 x 8.1 inches. You can buy this model for $2,500.
Uses:
Setting up this printer is easy. You only need to load the spool holder, adjust the build plate, and plug the printer in.
Replacing and swapping the filaments is easy, thanks to the geared feeder. This feature makes this printer highly reliable.
The printer comes with an Olsson Block Kit.
You can easily transfer digital 3D designs to the printer, thanks to the 4GB SD card.
XYZPrinting da Vinci Jr. 1.0 Pro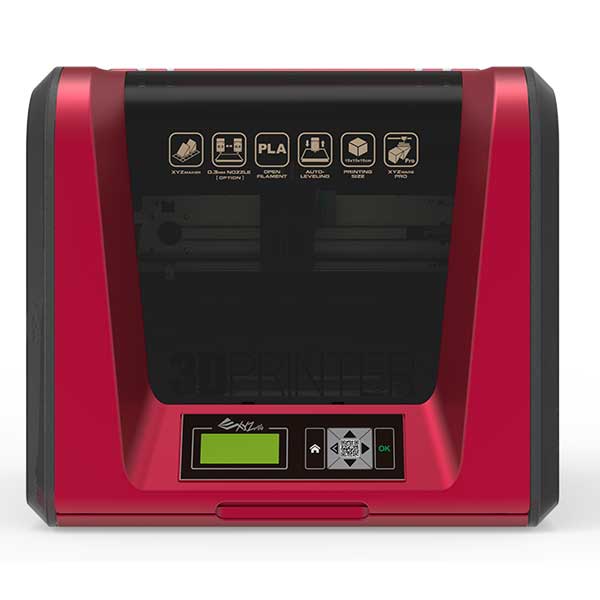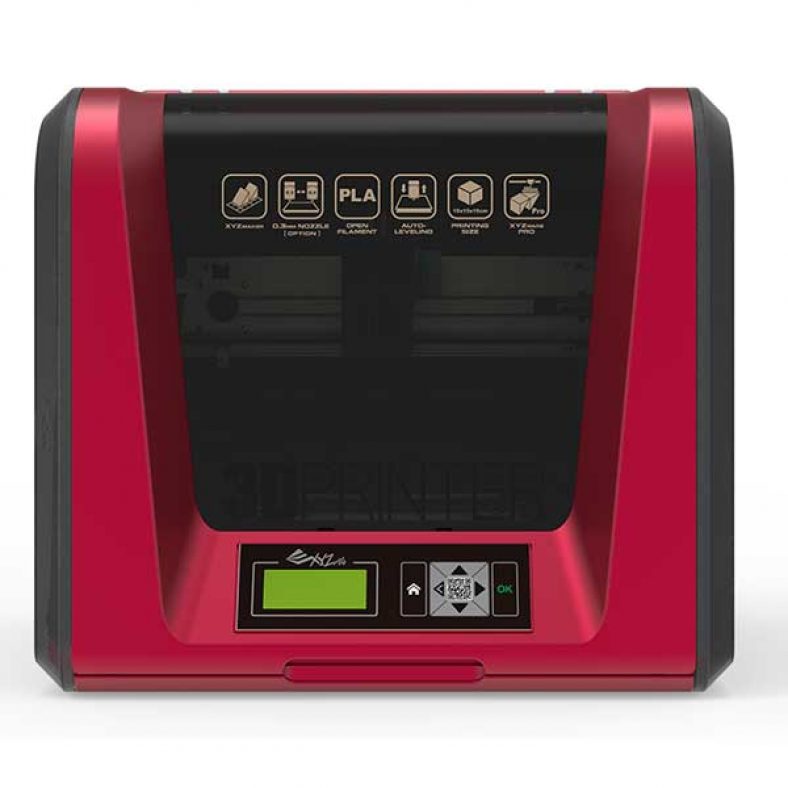 Da Vinci Jr. 1.0 by XYZprinting is an affordable and first-time user-friendly 3D printer. It has a trendy frame with 150 x 150 x 150 mm print space. It weighs 12kg and is easy to carry.
The layer resolution varies from 100 to 400 microns. The printer speed is a maximum of 120 mm/sec. There are SD card and USB connectivity options.
The printer is priced at $349.
Uses:
It is a good option for beginners and hobbyists.
The user can unpack it and start printing without the hassle of assembling it.
It is safe to use due to the enclosed chamber.
It is easy to take out the extruder in one click and clean it. Thus, maintenance is easy.
There are scroll buttons on the printer that allows you to change the settings as per requirement.
It uses filament by XYZprinting only. However, those are affordable.
The 3D printer is compatible with PLA, tough PLA, and PETG only.
It allows keeping track of the printing process through transparent doors.
Lulzbot Taz
Lulzbot 3D printers have always been reliable and powerful. They are open source and allow printing with a wide range of materials. These have impressed various users and professionals.
Lulzbot Taz Workhorse has a 14% larger build volume with various advanced features. It offers better output quality and highly accurate results. It has a build volume of 280 x 280 x 285 mm with layer resolution that varies between 0.05 to 0.4 mm.
The machine costs $2950.
Uses:
It is designed for professional use. It can be used in niches such as automobile, aerospace, and medical industries, etc.
The printer has a heated borosilicate glass print bed that is coated with PEI. It helps in better adhesion of the first layer and allows printing with materials like nylon.
The studier frame of the machine offers stability during printing.
You can print with a wide range of materials due to the steel tool head. These also include strength composite polymers and high heat composite polymers.
It is able to print with great accuracy and precision due to the hardened steel E3D Titan Aero hot end along with 360-degree cooling.
In addition, the automatic nozzle cleaning and auto-calibration make it user-friendly and ease out the task of users.
The users can control all the settings through a 3.5 inches graphical LCD. It is beginner-friendly.
Its modular print bed system quickly heats up the print plate further enhancing the versatility of the machine.
Due to the open design, it gives a complete view of the print progress and works best with materials like PLA.
The printer uses a next-generation tool head that is swappable.
Buyers' Guide
There are numerous factors one should consider when buying a Cartesian 3D printer. These include:
Price of printer
It is one of the most important factors to be considered. It depends on your budget and how much you can invest to buy a 3D printer.
Enclosed or Open Frame
If you are a beginner or want to use it with kids around, it is best to use a printer that has a closed frame design. Enclosed chambers are safer because you do not accidentally touch the heated plate or hot-ends and get burned. However, Open frames are great for learning as it allows you to view the whole printing process clearly.
Wide Range of Filament Support
Almost all Cartesian 3D printers support PLA. However, few with closed chambers and heated build plates are also compatible with ABS, PETG, and other tricky filaments.
Build Volume (width x breadth x height)
The larger the build volume, the bigger models you will be able to produce. If you want to produce large size parts, then you should consider a printer with a huge build space. Otherwise, you will have to produce different small parts of an object and assemble them later. This will impact your product's quality.
Auto Bed Leveling and Magnetic Build Plate
The auto-calibration eases users' tasks and prevents print failure. Magnetic print bed enables you to easily remove the models after those have been completed.
Frequently Asked Questions (FAQs)
What are the advantages of buying a Cartesian 3D printer?
There are several advantages that Cartesian 3D printers offer their user base. One of them is that they are economical due to their traditional design.
They are affordable for most home users and hobbyists. Moreover, they are simple to set up and easy to use.
They have been around for several years and have wide community support. Their parts are easily available in case of any repair and replacement.
Are there any cons related to Cartesian 3D printers?
Cartesian 3D printers are quite large and heavy as compared to other FDM 3D printers. Thus, they take up more space and are less portable than others. In addition, they have slow printing speed and small build volume as compared to Delta and Robotic 3D printers.
Are Cartesian 3D printers open source?
Most Cartesian 3D printers are open source. This means you can use third-party filament and can upgrade the hardware and software with time.
Conclusion
The market for 3D printers is expanding exponentially. There are thousands of Cartesian 3D printers available in the market. Each of them has its own pros and cons.
In this guide, we have listed down the top 10 Cartesian 3D printers that are popular across the globe. By reading this guide, we hope you were able to choose one that best fits your 3D printing goals.