HIEHA SQ1 3D Printer
fSQ1 sets to be one of its kind in terms of performance. This DLP 3D printer makes use of a unique direct UV light printing, abbreviated as DUP technology to achieve unmatched resolution.
PROS
The printer is very compact and easy to manage.
Accurate and reliable.
Pre-assembled
Provides automatic bed leveling
Factory calibrated
It uses the 60W UV LED to process the prints faster.
Print quality is awesome
Offers wired as well as a wireless connection for uploading the 3D models.
You also get to enjoy the hassle-free smartphone remote control
CONS
The consumable cost is higher. And, this includes the FEP film that wears off with time and regular use. You do get a replacement but aren't always in the perfect size. You will need to employ extra efforts in cutting the film to the required size.
Build space is too low.
Product
Specification
Videos

An entry-level printer, yet completely worth its price tag. HIEHA SQ1 3D printer is definitely a true genius when it comes to getting the perfect ...
| | |
| --- | --- |
| Model | HIEHA SQ1 |
| Manufacturer | HIEHA |
| Price Range | $ 299 |
| Availability | Available |
| Classification | Desktop |
| Technology | Resin (SLA- DLP…) |
| Material | Liquid resin |
| XY accuracy | 0.045 mm 0.002 in |
| Max. build size | 115 x 65 x 100 mm 4.53 x 2.56 x 3.94 in |
| Max. build volume | 0.75 L |
| Min. layer thickness | 0.02 mm0.001 in |
| Dimensions | 200 x 200 x 350 mm 7.87 x 7.87 x 13.8 |
| Weight | 6 Kg 13.2 Ib |
| Heated print bed | Yes |
| Heated build chamber | No |
| Automatic calibration | Yes |
| Closed frame | Yes |
| Dual extruder | No |
| Independent Dual Extruder | No |
| Full color | No |
| LCD screen | Yes |
| Touchscreen | No |
| On-board camera | No |
| Mobile app | No |
| 3D scanners | No |
| CNC mill | No |
| Electronics 3D printing | No |
| Laser engraving | No |
| Conveyor belt | No |
| Air filter | No |
| Pellet extruder | No |
| USB | Yes |
| Wifi | Yes |
| Bluetooth | No |
| SD card | No |
| Ethernet | Yes |

Table of Contents
For its price, the HIEHA SQ1 is offering more than its counterparts and the SQ1 review would highlight the reasons, 'WHY'. The DLP 3D printer works amazingly to provide precise results with high part resolution. And, all this comes with various other perks too.
Apart from its commendable print quality, the 3D printer also comes with factory calibration. This makes the task much easier for its users. But if you need to twig the calibration settings which isn't constantly required between prints, you have got the automatic leveling feature.
For those who feel that all these perks aren't just enough to pick this 3D printer, there is more to explore. You can find out reading this HIEHA SQ1 review that the machine is very powerful and exhibits amazing functionalities to ensure high-end output.
SQ1 entails the latest technologies and a comprehensive feature list to leave the competitors behind with huge marks.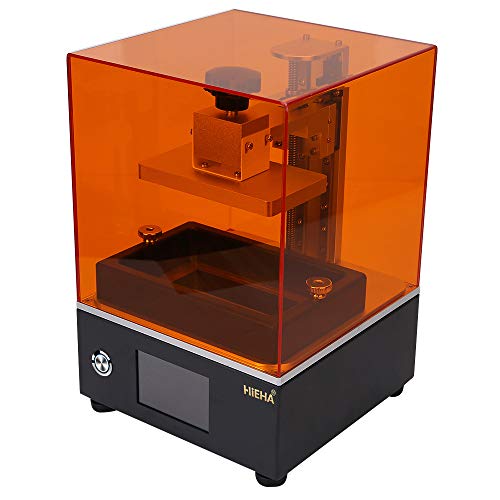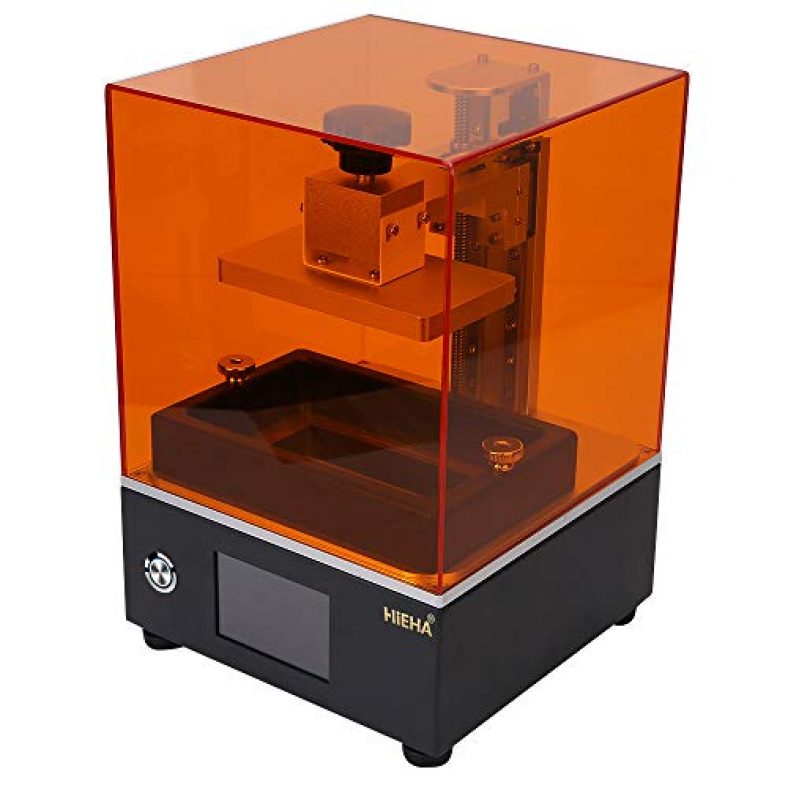 The machine sets to be one of its kind in terms of performance. This DLP 3D printer makes use of a unique direct UV light printing, abbreviated as DUP technology to achieve unmatched resolution.
Being able to print parts with a minimum layer thickness of 20 microns, it does prove to be a very desirable option for those focusing majorly on quality.
Let us read the complete article to understand the various advantages of working with SQ1 as well as the limitations and restrictions it comes along with.
Features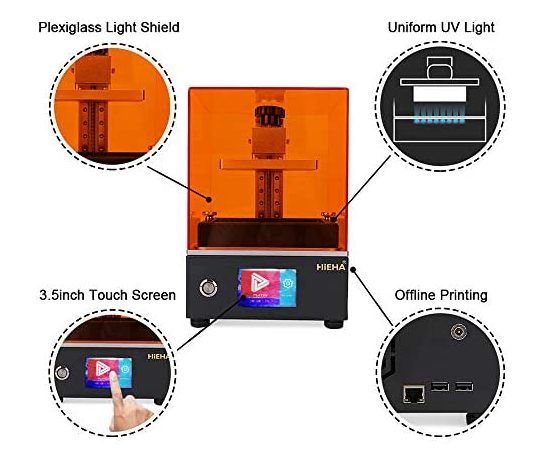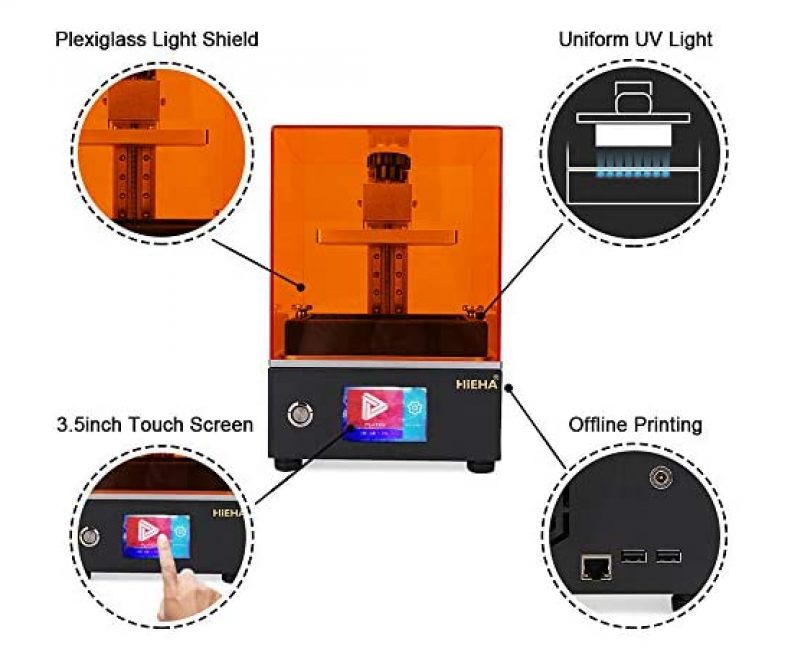 Credit: resin3dprinterstore.com
HIEHA SQ1, being a DLP 3D printer and utilizing a powerful LED source make no mistake in providing the best results to its users. It completes its features by offering the latest set of functionalities to the users for the most affordable price. In spite of its small build space, it gets all the attention from its users for the other benefits it brings with its design.
Here are the most fascinating features of HIEHA SQ1
Sturdy Body
The 3D printer comes with an all-metal finish. The aluminum body is very sturdy and provides the machine with a wholesome look. Over the top, the acrylic cover does the rest of the job for accentuating the looks of the 3D printer.
Assembled Components
You get to enjoy an easy setup with all components fixed together. Yes, the printer comes fully assembled. It does not take more than few minutes to start printing with the machine after unboxing.
Pre-Calibrated and Automatic Leveling
HIEHA SQ1 comes pre-calibrated and offers automatic leveling. Hence, when you need to level the bed, just push the button and see the machine making every effort to get you the best setting.
And, you do not need to invest time and effort in manual leveling. This further eases the task of setting the printer.
Print Resume Function
If your place is prone to a power outage, you must not be daring to start a longer print operation. But with the SQ1 3D printer, you do not have to worry about those small problems. It comes with a resume function.
Hence, whenever the power will go off, the 3D printer will pause and save the current progress of the models. Once the power comes back, the printer will resume function from where it stopped earlier. So, you do not need to face failed prints because of unexpected situations.
High-Resolution Masking LCD
HIEHA makes use of high resolution with 2560×1440 2K HD masking LCD to provide users with ultra-high resolution. It helps you provide 45 microns of XY axis precision.
Automatic Resin Mixing
The printer is highly automated and embodies all the latest features to provide the best output. With automatic resin mixing, you do not need to involve yourself with messy printing.
Quiet Operation
With quiet operation, the printer works silently without bothering your usual work. You can even work beside the printer when its printing. And, the sound won't bother you at all.
Automated VAT Cleaning
How can we forget to mention this feature? This further eases the overall effort of the users. And, comes quite handy.
Specifications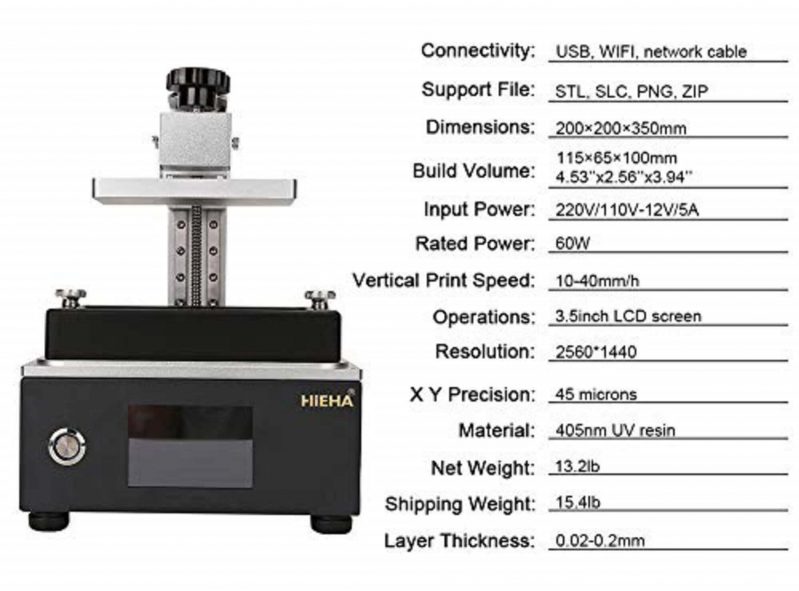 Credit: sears.com
HIEHA SQ1 is a compact 3D printer with a narrow base and bigger height. It has a footprint of 200 mm x 200 mm x 350 mm. This clearly clarifies that the 3D printer is not very huge and would be offering a limited build space. And, that's very true.
You get to enjoy a print space of 115 mm x 65 mm x 100 mm. On the contrary, the 3D printer provides an amazing layer resolution. From a minimum layer height of 0.02mm to a maximum layer height of 0.2mm. You can make precise parts with such detailed configurations. Isn't it?
The 3D printer weighs just 6 kgs. This is light enough and is easy to move from one place to another. For connectivity, the manufacturer has included various options. You can use the USB, Network cable, and even WIFI.
The speed of the printer is not as fast as the FDM printers but is considered enough. Anyway, for the possible part volume, you may not even need a very high speed. After all, the print quality is better with average speed. So, with SQ1, you can carry your work with a speed ranging between 10 to 40 mm per hour.
Above all, the XY precision is also commendable. It's 45 microns. So, you can create highly detailed parts with complex structures.
Price
We usually believe that SLA or DLP 3D printers cannot match the price of FDM machines. However, with time, this has changed. Now, you can buy SLA 3D printers for less cost than it usually was bought for. And, this one specifically is very budget-friendly.
The SQ1 costs $299.99. So, even the homemakers can use this 3D Printer, if they wish to add more quality to their parts and objects.
First Impressions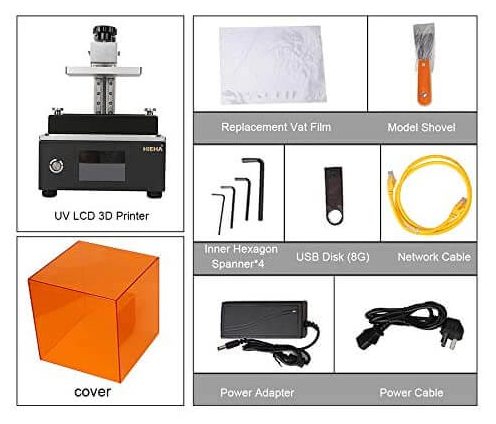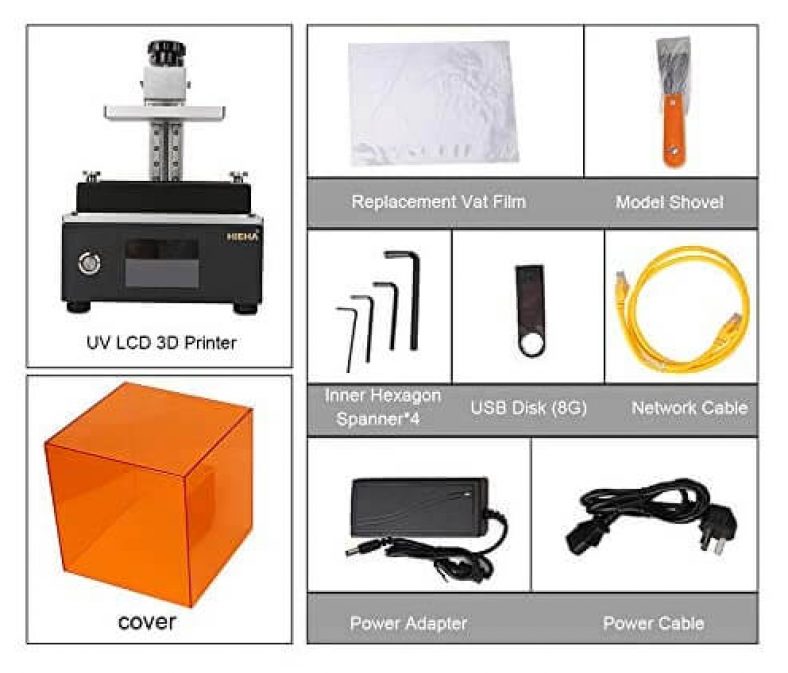 Credit: ubuy.ae
The packing of this 3D printer is done with care. You will find a lot of foam inserts to ensure the safety of the machine during shipping. And, it does accomplish the job very well.
Moreover, the printer does not need any assembly and the package contains most of the parts that are needed to start printing.
You get the printer along with the outer cover. The replacement vat film is also a part of the entire package. Along with that, you will receive 4 different sizes of hexagon spanner, network cable, USB disk of 8 GB memory, power cable with a power adapter, and a shovel.
The only disappointment is that the package does not contain the sample resin. So, when you are ordering the machine, do not forget to purchase some resins too. Or else, you may have to wait for printing your first model even after setting the printer up after unboxing.
Setup
What makes this 3D printer best for beginners is its easy setup needs. You do not have to do any hard work in order to start the printer for the first time.
Most of the job is already taken care of by the manufacturer. For instance, the machine is pre-assembled and does not require any connection of components.
Plus, SA1 comes pre-calibrated. And, you get the option to automatic level the bed. Hence, when you start the printer for the first time, hit the button to level the bed and the work will be done just like that.
The good part isn't over yet. This 3D printer also has the automatic resin mixing feature discussed above. Hence, the printing is less messy and filling of material seems like a kid's job. Above everything, it also provides the VAT cleaning function which will make you fall in love with this amazing machine.
Printing Type/Cost
It is a DLP 3D Printer. The machine works by curing the resin to solidify using the UV light. The LCD screen helps in exposing the UV light to the required resin space. This solidifies the particular area. The process takes place with one layer at a time. And, it continues until the entire model is perfected.
The cost of printing with a DLP machine would depend on a lot of factors. Starting from the cost of material to the complexity of the design, needing more material for support structure and various other parameters. And, it is costly than the parts created with FDM 3D printers.
Print Quality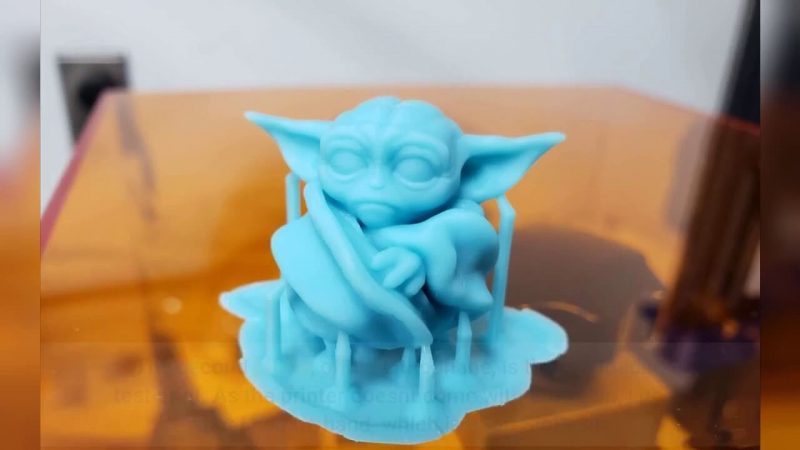 Credit: ytimg.com
Undoubtedly, the SQ1 3D printer is a huge hit among users because of its astonishing print quality. With a possible layer of 0.02mm, the printer manages to produce smoother finish parts. And, it is too easy to work with the fine details along with the complex designs.
Software
The 3D printer works with a ChiTu slicer. As per the company's claims, this professional software takes not more than a minute to slice a 30MB file. You do not have to install a separate slicing app to get the results you have been looking for. It is user friendly and very effective in letting you convert your designs into a printable format.
Customer Service
When wanting to speak to someone from the customer support, you just need to call them. The support team is available for 24 hours. You can get in touch with them whenever you need help with the printer's settings or replacement.
With that said, the manufacturer offers 3 years limited warranty on SQ1. This further increases the trust of the company. And, user feedbacks are also affirmative of their commendable customer service.
Parameters Influencing Buying Decision
Whenever you are looking for a 3D printer, it is obvious to find out its various perks and weaknesses. Hence, here is a gist of the HIEHA SQ1 review to help you make an informed decision.
3D Printer cost: The 3D printer is affordable and costs only $299.99 even being a DLP 3D printer.
3D Print quality: You cannot go wrong with the print quality when opting for this machine. It is very precise and can create layers with 0.02 mm in height. This is quite remarkable.
3D Print speed: This is average. However, with small part volume allowed inside this machine, who needs high speed.
3D Printer capability: Once again the printer does not fail to impress you. It is very easy to set up and works efficiently for creating finer details without any hassle. You can definitely fall in love with its smooth finishes. And, above all, it is very compact and easy to manage.
3D Printer Practicality: Either use it for learning or for application within jewelry or dental applications. You can even create prototypes with this 3D printer. A great partner for small businesses.
3D Printer User expectations: It does cater to the need of customers by fulfilling their expectations to the core. A perfect balance of affordability and function, the printer brings the best of both worlds. What else would you need?
The Verdict
With SQ1, you can create amazing parts with high detailed requirements. Simply turn on the machine, use the automatic leveling, and start printing.
Definitely, you would need to upload the 3D model. It accepts STL as well as few other file formats. And, the software is too good.
Overall, the HIEHA SQ1 review clarifies that this small bundle brings a lot of joy to the 3D printing community. You just have to compromise with the build size though.