NextEngine ULTRA HD
NextEngine ULTRA HD is an accurate, quick 3d scanner that delivers higher throughput. It's a compact choice for professional users looking for efficiently performing scanners without any barrier of scan volume.
PROS
Scan accuracy level up to 0.005 mm
Great price: performance ratio
No scan limits
Based on reliable laser triangulation technology
CONS
The scanner is a little on the higher end than general desktop 3D scanners
Table of Contents
3D Scanner Ultra HD is a professional 3D scanner manufactured by NextEngine – a company based in the USA. The machine features a rotating plate on which the object that is to be scanned, is placed.
Typically, an array of laser beams is projected on the object present on that plate. And as it rotates degree after degree, the object gets scanned from all perspectives.
The scanner manufacturer claims how it takes only two minutes to scan a single facet of any object and around 10 minutes for the complete scan. The full-color scan is easily possible with the scanner which can then be used for creating real-life surfaces and objects.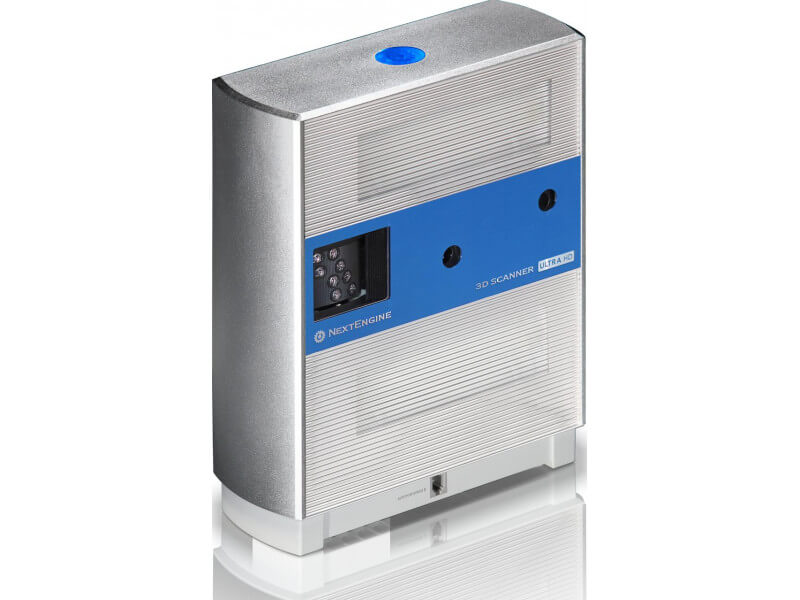 So, how does the NextEngine Ultra HD 3D scanner manage to do all of that? What are the core features that set it apart from the scanners available in the same price range? And what makes it a professional desktop 3D scanner? Well, let's find out by looking at the scanner in-depth.
Features
The scanner uses a self-developed, electro-optical architecture created of an array of solid-state lasers capable of scanning parallel to each other. Its advanced system sanctions high point throughput, data fidelity as well as shadow-free imaging.
Moreover, laser triangulation technology permits users to capture high-quality 3D scans. The best part about it is, there is no compulsion for the operator to use or not use the turntable. Let's look at more such exciting features mentioned below.
Highly accurate scanning
3D Scanner Ultra HD gives equal justice to small as well as large parts or functional prototypes. It is capable of scanning full-color textures as well as intricate geometries with an accuracy of up to 0.005 mm.
The maximum resolution offered by the scanner is in the order of 0.1 mm. Its macro mode is known to capture a density of 268,000 points per square inch at 500 DPI.
Whereas, the wide mode allows for 29,000 points per square inch at 200 DPI. Moreover, the machine includes integrated lighting for creating ideal lighting conditions for scanning wherein there are minimal to the point of being negligible shadows. Even dark, transparent, and reflective parts can be scanned by coating them with spray powder.
Capable of scanning huge volumes
As indicated above, the scanner can be operated in two modes.
Macro mode: capable of scanning parts and functional prototypes with an area up to 130 mm * 97 mm.
Wide mode: proficient in scanning objects with a larger area up to 343 mm * 257 mm.
In fact, the scanner has no maximum limits. So, users can even stretch more than the mentioned maximum capture areas.
Because of the rotating table, it's able to capture large objects in multiple views that can then be patched together to create a huge size scan.
Compatible and flexible software
3D Scanner Ultra HD can be operated from a USB-tethered computer that's compatible with the proprietary ScanStudio software. This application can be used for multiple purposes such as scanning, aligning, polishing as well as fusing 3D models.
The software permits easy assembling of multiple views via its integrated Smart Alignment and trim tools. Also, the program works fine in a standalone condition for creating standard as well as rare file formats such as STL, OBJ, VRML, U3D, XYZ, and PLY files. Moreover, ScanStudio can also feature a SolidWorks integration.
Operators can control everything on the scanner right from the settings panel provided in the application.
The system automatically sequences various kinds of scans using the built-in tools for aligning as well as merging multiple views into a single model. All it needs is a 2.5 GHz dual-core processor and 3GB RAM for installation.
Needs no calibration
The machine takes no time to set up because it can be used even without calibrating. All that users need to do is connect their computers with it and that's all.
This is an anomaly when compared to the competitors available in the same price range. Also, it makes the pre-scanning phase almost effortless for professional users.
Specifications
| | |
| --- | --- |
| | |
| Technology | Laser triangulation |
| Price | $ 2995 |
| Scan volume max | 343 x 257 mm |
| Max. resolution |  0.1 mm |
| Acquisition speed | 50000 points/s |
| Working range | 0.13 – 0.56 m |
| Camera resolution | 5 MP |
3D Scanner Ultra HD's outer dimensions are 223.5 mm * 91.4 mm * 277 mm. It weighs 3.17 kilograms and hence is easily portable in any environment. The machine scans an object using Laser Triangulation Technology. It has an intense acquisition speed of 50,000 points per second.
The scanner is equipped with a 5-megapixel camera capable of capturing images of the objects to be scanned in high resolution.
The maximum scan resolution offered by 3D Scanner Ultra HD is 0.1 mm. It delivers files in various formats such as OBJ, PLY, STL, VRML, and XYZ. The working range of the machine is from 0.13 meters to 0.56 meters.
The maximum and minimum volume of part or functional prototype that can be scanned on the machine are 130 mm * 97 mm and 343 mm * 257 mm, respectively.
Price
NextEngine Ultra HD 3D is available for $2995.
First Impression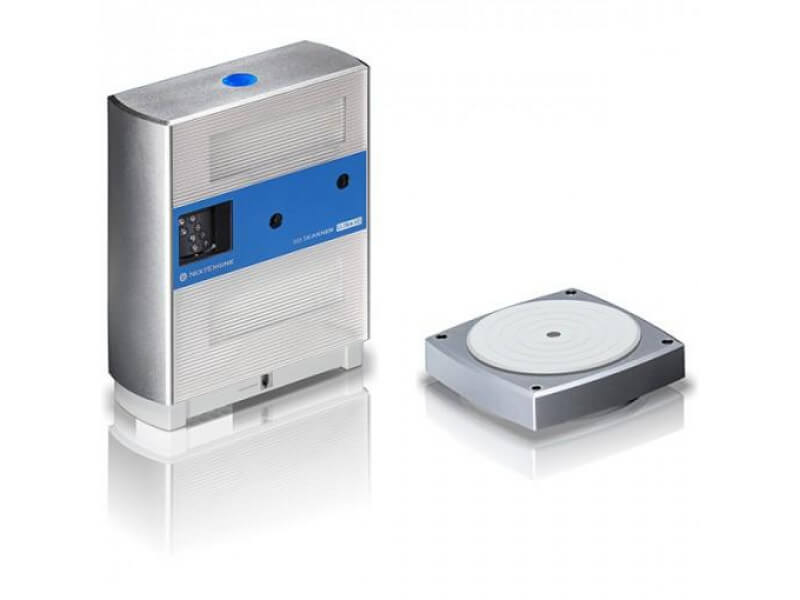 The scanner is delivered in a box that also contains:
An autodrive turntable
A part gripper
A USB cable
A quick start guide
ScanStudio software
A powder pen
A paint pen
A one-year support and hardware warranty
Overall, the machine has a small footprint in a light gray design with blue finishes. Its style and accuracy make it ideal for various applications in industrial design, rapid manufacturing, CGI, and a lot more.
Setup
As mentioned above, the scanner needs no calibration. Hence the pre-scanning phase doesn't take as much time as much as usual desktop 3D scanners do. It's a plug-and-play device that gets you to the scanning phase within minutes of unwrapping.
Scan Type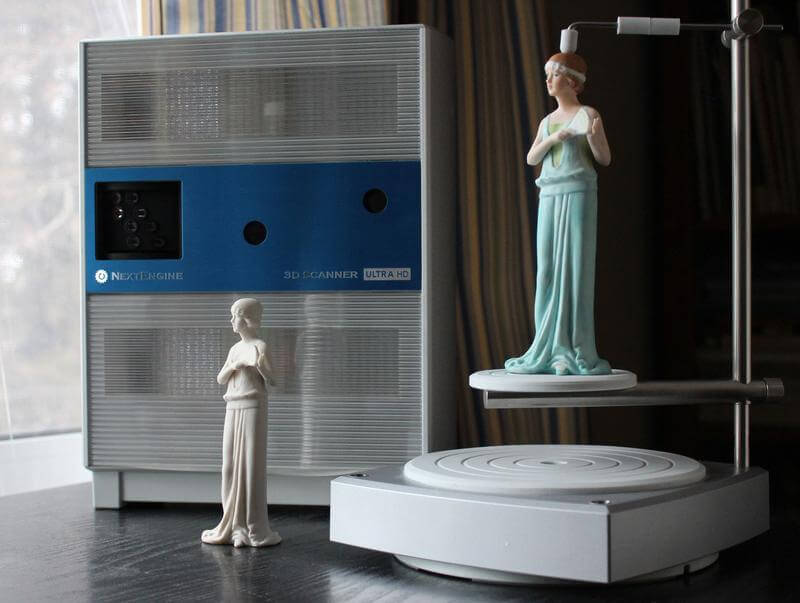 Credit: top3dshop
NextEngine ULTRA HD uses laser triangulation technology for scanning a particular part or functional prototype. Users can make use of the turntable to automatically captures all the aspects of the objects or scanning larger parts in patches and then mixing them.
Operators can also manually turn it apart to capture all aspects of it. While the object is rotated, the laser beam is projected on it at numerous points to ensure all the details of it are captured.
Scan Quality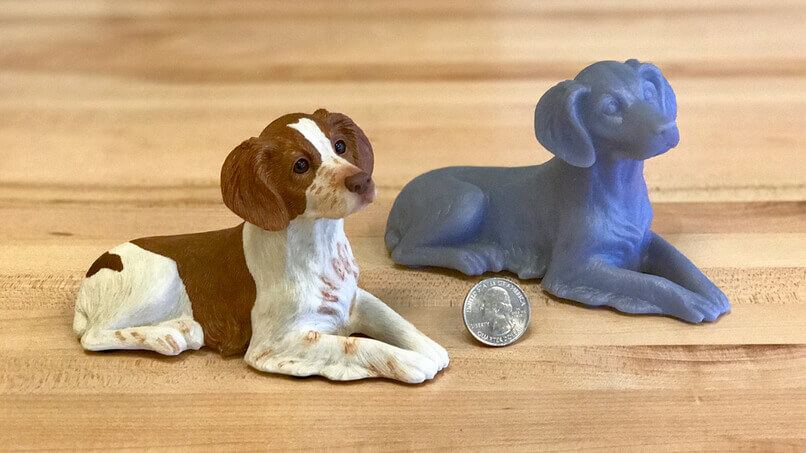 Credit: shapeways
The scanner is capable of scanning full-color textures as well as intricate geometries with scan accuracy of up to 0.005 mm. A single scan can be completed in two minutes, whereas for entire scan, it takes around ten minutes. One scan created from various patches captures all the details.
Software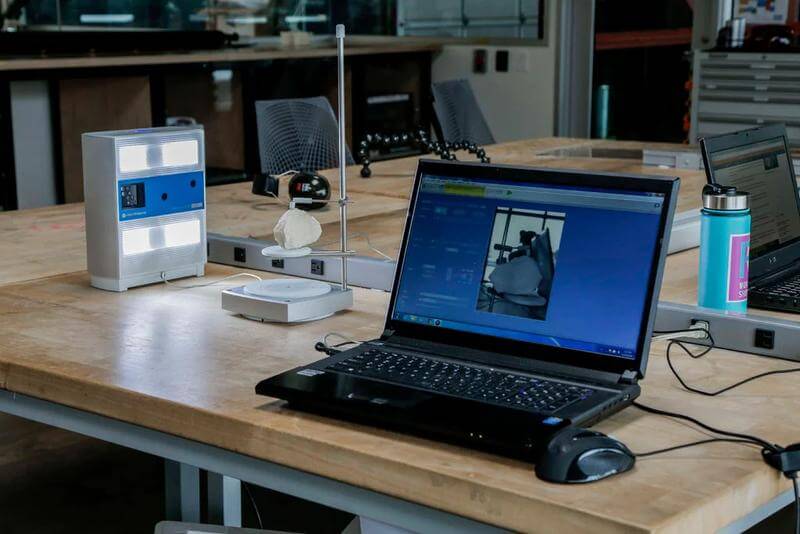 Credit: top3dshop
ScanStudio software contains algorithms that help users filter out background images and quickly adjust the lighting for optimal scanning abilities.
Also, the application makes it easy as well as convenient for exporting a variety of formats such as U3D, OBJ, STL, and VRML. Moreover, it enables operators to fully customize file sizes with intelligent polygon reduction.
Additionally, it provides you with all the tools needed for complete control from the settings panel. The system automatically sequences many different scans utilizing built-in tools for alignment and merging multiple views into a single model requiring not more than a 2.5 GHz dual-core processor and 3GB RAM for installation.
Customer Support
The online support center of NextEngine consists of a video library, detailed articles, live chat as well as screen-sharing options. With that users can also opt for Fast servicing and updates easily. Apart from this, one can always reach out to the technical team via call or email.
Parameters Influencing Buying Decision
The key parameters about 3D Scanner Ultra HD are mentioned below in brief.
3D Scanner Cost: The scanner is on the expensive side of the bar.
3D Scanner Speed: Two minutes for one side scan and ten minutes for a complete object scan is a very short time duration for desktop 3D scanners.
3D Scan Quality: The high-definition camera, two laser beams, and turntable work in excellent coordination with each other to deliver commendable scan quality even while processing intricate geometries.
3D Scanner Capability: Users can scan objects in two different modes according to their sizes. The scanner is capable of working in Macro as well as Wide mode.
3D Scanner Practicality: High-quality scans enable the operators to use 3D Scanner Ultra HD for customized manufacturing, replicating, tooling, full-color 3D printing, etc.
3D Scanner User Expectations: The scanner manages to stand upon professional users' expectations who are not looking to compromise on the quality of scans. The machine also satisfies bulk manufacturers who have a target of producing a maximum number of parts in an optimized time limit.
The Verdict
NextEngine ULTRA HD is an accurate, quick 3d scanner that delivers higher throughput. It's a compact choice for professional users looking for efficiently performing scanners without any barrier of scan volume.
Every feature of the scanner speaks of its user-friendly attribute. It is perhaps, currently the most straightforward device in the list of higher-end scanners.