Objet Eden 260VS 3D Printer
This printer offers outstanding productivity in a size that fits your creative environment. Eden260VS is one of those printers that deliver greater prototyping throughout and faster production even while producing a better surface finish.
PROS
Objet Eden 260VS is a cost-effective solution to the needs of 3D printing.
Using this printer you can create parts and functional prototypes quickly.
Designers can do functional testing before the final product.
CONS
The cost of the printer, seeing the build volume is more than SLA or FDM printers
Product
Specification
Videos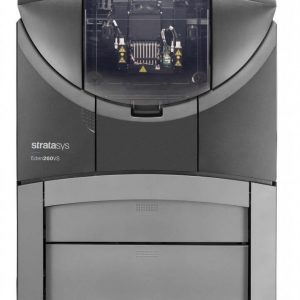 Based on polyjet technology, Object Eden 260VS is a very reliable 3D printer offering high precision and accuracy while building 3D models. Aimed at ...
| | |
| --- | --- |
| Model | Objet Eden 260VS |
| Manufacturer | Stratasys |
| Price Range | $19,800 |
| Country | United States |
| Release date | 2015 |
| Availability | Available |
| Classification | Industrial |
| Technology | Material Jetting |
| Material | ABS, PLA, Thermoplastics |
| OS compatibility | Microsoft Windows |
| XY accuracy | 0.1 mm 0.004 in |
| Max. build size | 255 x 252 x 200 mm 10.0 x 9.9 x 7.9 in |
| Max. build volume | 12.85 L |
| Min. layer thickness | 0.02 mm 0.001 in |
| Dimensions | 870 x 1200 x 735 mm 34.2 x 47.2 x 29 in |
| Weight | 254 kg 559 lbs |
| Power input | 110–240 VAC 50/60 Hz; 1.5 KW |
| Heated print bed | No |
| Heated build chamber | No |
| Automatic calibration | No |
| Closed frame | Yes |
| Dual extruder | No |
| Independent Dual Extruder | No |
| Full color | No |
| LCD screen | No |
| Touchscreen | No |
| On-board camera | No |
| Mobile app | No |
| 3D scanners | No |
| CNC mill | No |
| Electronics 3D printing | No |
| Laser engraving | No |
| Conveyor belt | No |
| Air filter | No |
| Pellet extruder | No |
| USB | No |
| Wifi | No |
| Bluetooth | No |
| SD card | No |
| Ethernet | Yes |

Table of Contents
This printer offers outstanding productivity in a size that fits your creative environment. Eden260VS is one of those printers that deliver greater prototyping throughout and faster production even while producing a better surface finish.
With as many as 15 materials and soluble support, you can create complex parts and prototypes with fine, delicate features and hollow tubes.
Soluble support in the Eden260VS enables easy post-processing of parts and prototypes that are printed using this printer.
Also the part or functional prototype that's printed using this printer cost lower than compared to other printers.
Called as the economical, small-footprint, the Objet Eden260VS rapid prototyping and 3D printing system are among the many ideal solutions that are used to compress your product design-to-manufacturing cycle.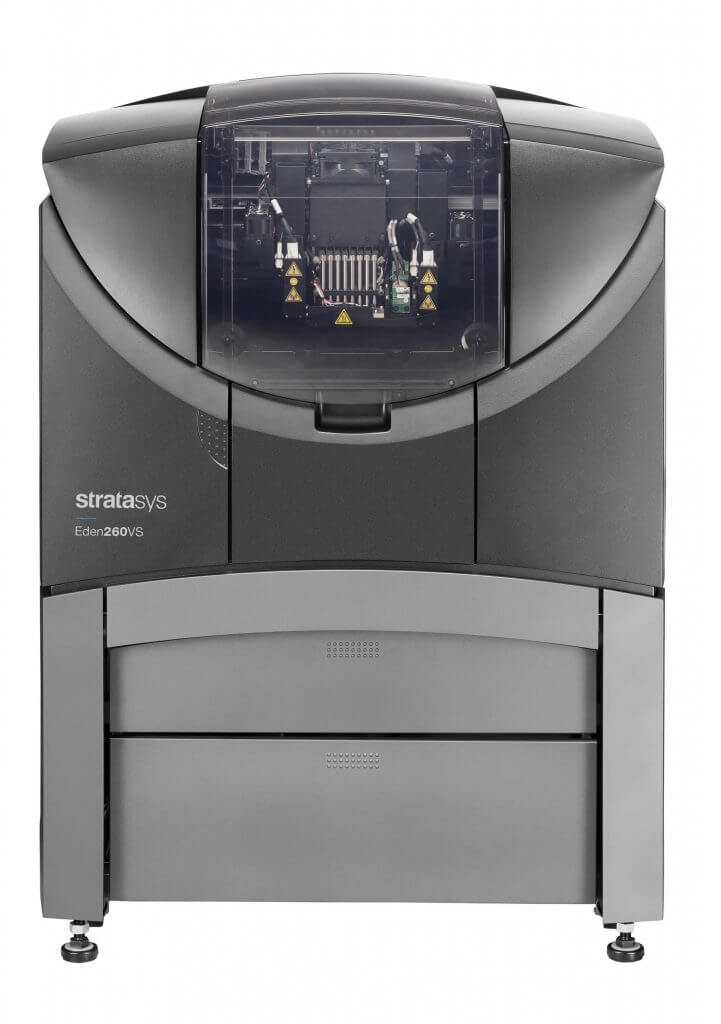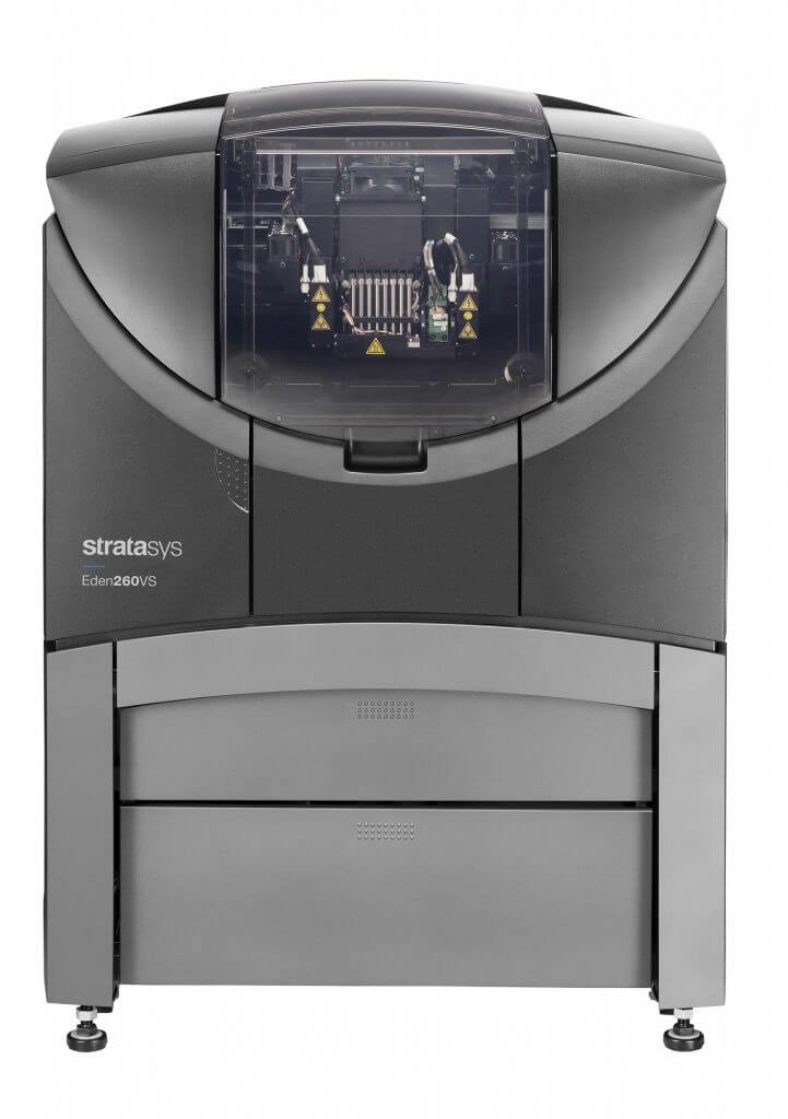 The printer is based on Stratasys' innovative PolyJet technology. The printer provides a complete solution for the accurate building of any geometry – easily, quickly, and cleanly.
Models produced on the Eden260VS are known for having smooth and durable characteristics, with fine details and an outstanding surface finish.
Features
Apart from the amazing list of features that are present in this printer, Objet Eden260V features a soluble support option.
The function of this feature is that it empowers you to easily produce delicate and complex models, and automate support removal for great efficiency.
The printer gives you the freedom to express your product vision with models up to a specific build volume range with ultra-fine layer thickness, smooth surfaces, and thin walls.
Object Eden260VS features 15 distinct 3D printing materials that have a combination of both rigid and flexible materials.
Whilst the Vero family of these materials offers multiple color options. They include white, gray, blue, and black.
The Tango family is ideal for a wide range of applications that requires flexible or soft-touch components.
Using Simulated Polypropylene and transparent materials, the printer creates not only the tough, durable prototypes with living hinges but also snap-fit parts, and clear models with great dimensional stability.
Post Processing is Easy
Along with the selected model material, Eden 260VS users also jets a gel-like support material designed to uphold overhangs. When printing is done, this nontoxic support material can be easily removed with a water jet.
Models made using this printer can be handled and used immediately, without additional post-curing also.
Fast & Cost-Effective 3D printing
With the Objet Eden260VS and particularly when the printing is done in-house, it enables the design teams to quickly produce a high-quality, realistic prototype with moving parts at relatively low cost.
This is when the printer is compared to other methods such as machining or outsourcing. Overall, the design teams can use prototyping on projects where it wasn't feasible in the past due to time or cost considerations.
And this is not just a feature of this printer but an overall achievement of 3D printing technology as a whole.
Quickly create Product Mockups
This printer can quickly produce real working prototypes that design teams can see and touch. The nature of the printer helps bridge the gap between the virtual CAD design and seeing the final product.
When design and manufacturing engineers cannot only use these prototypes as a tool to better communicate how a design looks, but also feels, and operates.
Doing this allows for the product design to integrate with manufacturing at an earlier stage in the development lifecycle and avoid all the flaws that can be otherwise made.
Small and High-end machine that prints with Exceptional detailing
The Objet Eden260VS offers outstanding productivity in a size that fits your creative environment. Users can express your product vision with models up to 255 x 252 x 200 mm with ultra-fine layer thickness, smooth surfaces, and thin walls that the printer promises to offer.
The printer produces ultra-fine detail, ones that are usually only available with high-cost systems.
Product Functional Testing
It is no secret how more prototyping means more opportunity to evaluate whether or not a part will function as intended.
Nothing else but prototypes gives designers the freedom to catch potential flaws before incurring the exponentially higher costs of re-tooling and rework.
So more product functional testing means reducing some of the risks of introducing new products.
For products that include narrow tolerances or intricate details, the printer builds in layers as fine as 16 microns to produce complex geometries, smooth surfaces, and thin walls.
Specifications
The maximum build size that can be printed using this printer is 255 mm * 252 mm * 200 mm.
The resolution along its X and Y axis is 600 dpi, whilst along the Z-axis is 1600 dpi. Accuracy levels offered by this printer are 20-85 microns for features below 50 mm, while 200 microns for full size.
Horizontal layers that can be build using this printer will possess fineness as much as 16 microns.
There are two build speed options offered by this printer i.e. High speed which gives a resolution of 30 microns and High quality which gives a resolution of 16 microns.
The operating conditions of this printer are 18 to 25 degrees Celsius. The relative humidity is 30 to 70 percent. Power requirements are 100 – 200 VAC, 50/60Hz, 14A, 200-240 VAC, 7A.
The build materials with which you can print using this printer are Rigid Opaque: VeroWhitePlus, VeroBlackPlus, VeroGray, VeroBlue. Rubber-like: TangoPlusTM, TangoBlackPlus, TangoBlack, TangoGray. Transparent: VeroClear and RGD720. Simulated Polypropylene: Rigur and Durus. High-Temperature Bio-compatible.
Support materials for printing parts and functional prototypes using the printer are SUP705 (WaterJet removable) and SUP707 (soluble).
Price
The market price of this printer is $19,800.
First Impressions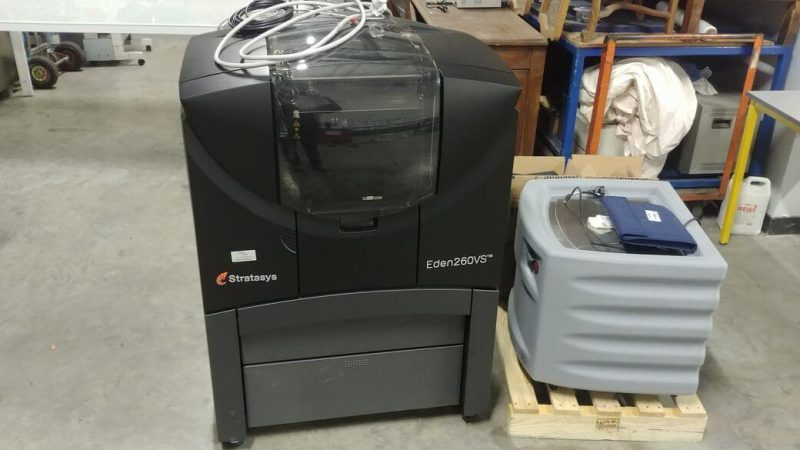 Credit: .exapro.com
There are three parts that the printer consists of:
Printer
A built-in computer that comes along with the printer
The server workstation is provided by the customer.
The basic installation and adjustment of this printer take one day. The operating and training period for this printer takes one more day. More than one and a half-day are required for product design training and practice under supervision.
However, if you are an expert on a 3D printer and know this technology you can speed up this process. The printer has an enclosed design and is sturdy in look.
You have the resin tank and the bottom and print head above it, the mechanism of this printer is pretty much like that of other poly jet printers.
Setup
The printer comes with a start-up kit that includes tools and accessories. The reason behind this is that tools and accessories should be available during the printer's installation and operation procedure.
There is an exhaust adapter that is supplied with the printer. When attached to the back of the printer and connected to an external ventilation fan with a duct, the air is expelled from the printer is discharged directly outdoors.
To set up this printer some requirements are provided by the manufacturer.
The installation area where the printer would be kept should be free of sources of vibration and electromagnetic interference that could affect the proper functioning of the printer.
The floor gradient of the space should be less than 0.5%. And the floor should stay stable in the way it should be able to bear the load of the printer.
The primary requirement, if you are operating this printer through the Internet should be that the server workstation and the printer should be located in the same room.
The cable that is used for connecting them both should not exceed 5 meters.
The communication cable that is provided with the printer should not be extended or replaced with a longer cable. Speaking of the clearance around and above the printer, it should ensure convenient access and service.
The work area around the printer should remain dry all the time. And you should not place the cleaning station within 5 meters.
Shelves and cabinets are recommended to have near the printer. However, they are for convenient storage of tools, parts, accessories, manuals, and materials. So if you do not have one, don't worry.
Printing Type/Cost
PolyJet 3D Printing is that 3D printing technology which is famous for creating smooth surfaces, fine precision using diverse material properties in parts and functional properties.
It works similar to inkjet document printing, the primary difference is instead of jetting drops of ink onto paper.
The print head sprays or jets the microscopic layers of liquid photopolymer onto a build tray and instantaneously cures them with UV light.
The fine layers then, build up to create a prototype or production part.
Print Quality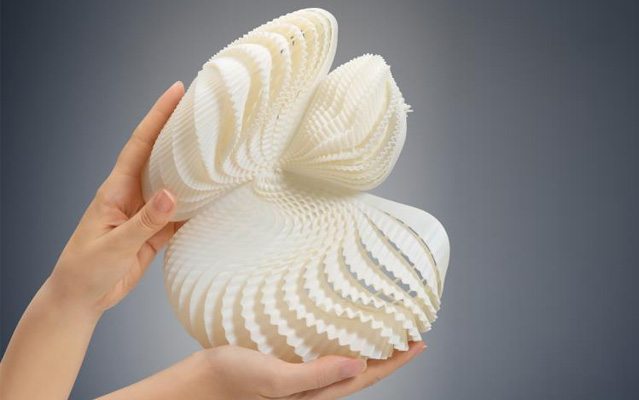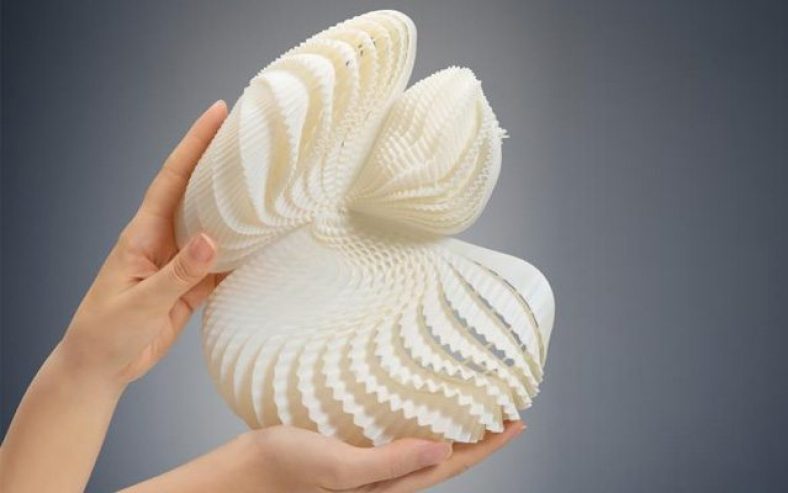 Credit: proto3000.com
Many websites cite beautiful pictures of a coral, hourglass, nested cubes, interlocking cubes, Klein bottle, statues, made by this printer.
One thing in common between all those photographs is the detailing in design that is done in the parts.
Minute structures which were impossible to 3D print using any other technology are done using Objet Eden 260 VS.
The peculiarity that is brought with Poly Jet technology for 3D printing is hugely used and reflected in the parts and functional prototypes that are manufactured using this printer.
Software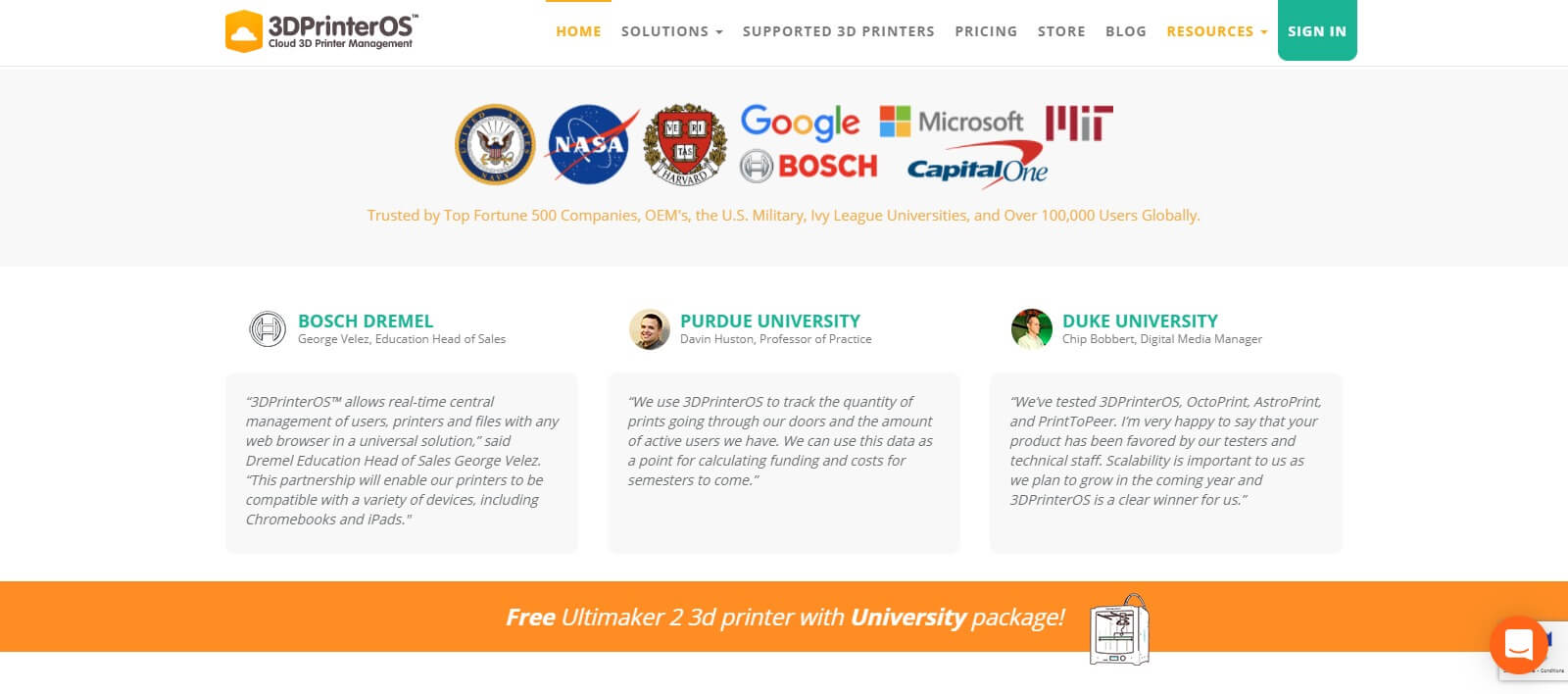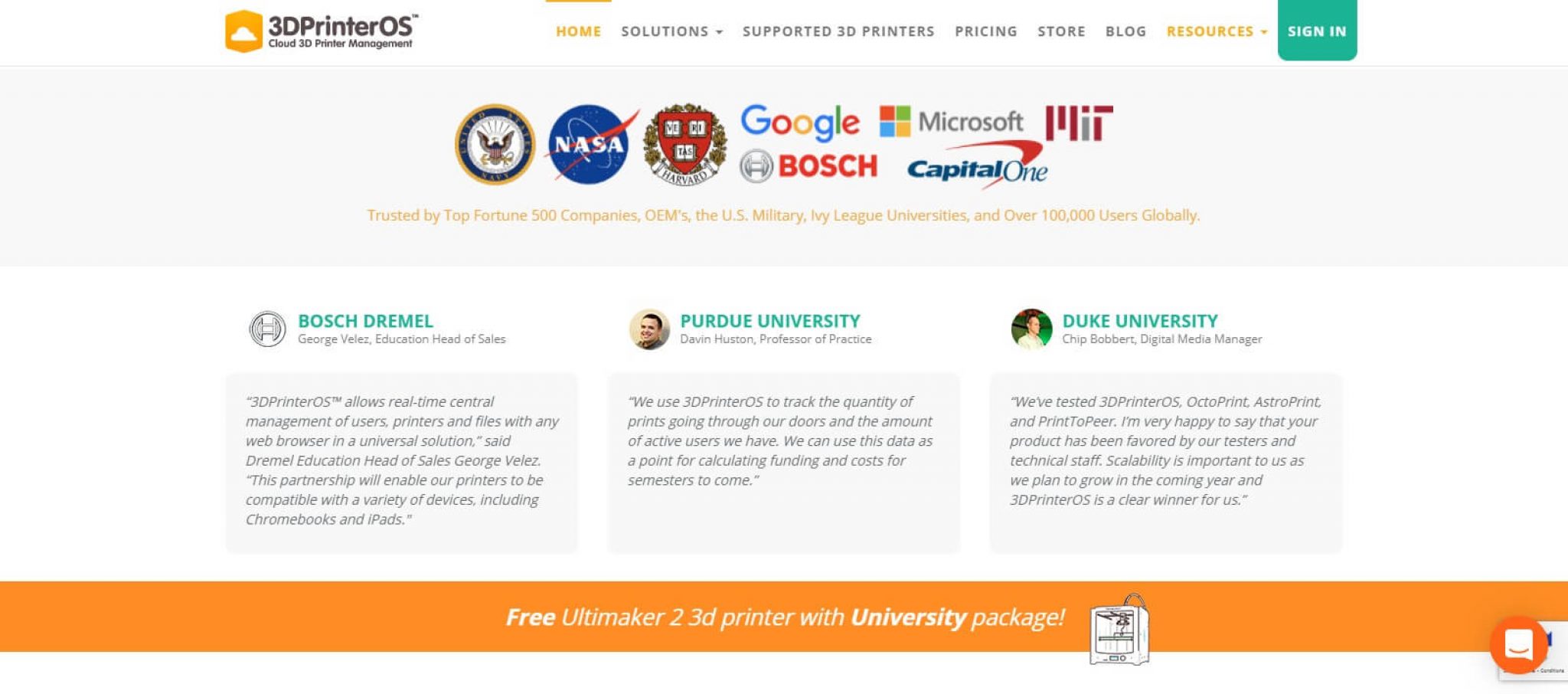 If you are looking for software that can slice files for this printer, the best choice is 3DPrinterOS. With this software, you can remotely manage your Objet Eden260VS 3D Printer and even the whole fleets of Objet Eden260VS 3D Printers (if you are running a print farm).
Not only can you fix and orient your STL model, but also you can slice it with more than 300 slicing parameters in the cloud using saved before slicing profile.
Also, there is version control, which allows users to get back any of their previously tried modifications.
3DPrinterOS is the best choice, whether you are a hobbyist, or you have your 3D hub, or are managing whole fleets in universities or enterprises.
Customer Service
The company has made a printer that is very easy to rely on. So, first of all, it's not a printer that is supposed to be not bought just because the customer support is not good.
Having said that, the printer can be bought in many ways and there are many ways to access customer support.
First of all, for the service to their customer, the manufacturers have got an installation manual which is detailed enough, that once read, any user would not need any support.
However, you can get in touch with the manufacturers via email, phone, or skype.
Parameters Influencing Buying Decision
These are little pointers that you must undergo before buying Objet Eden 260 VS.
3D Printer Cost: As mentioned in the cons section of this review, users of SLA and FDM printers might find a little more to invest in this printer at the initial stage.
3D Print Quality: Above average of any FDM or SLA printer that falls in the same price range. Small parts with even more detailing can be printed with this printer at ease.
3D Print Speed: As said in the specification section before, there are two print speeds that the printer operates on.
3D Printer Capability: Multiple materials can be used to print using this 3D printer so the capability of this printer is commendable.
3D Printer Practicality: Objet Eden 260 VS is known for printing practical dental parts in specific the most.
3D User Expectations: Users can expect their money invested, return to them in terms of the quality that they offer to their clients using this printer.
The Verdict
With its surprisingly real looking aesthetics and ability to deliver special properties, Eden 260VS offers a competitive edge in consumer products prototyping, precision tooling, and specialized production parts. These properties include transparency, flexibility, and even biocompatibility.