Amongst the very many innovations that have happened in the manufacturing field over the last few years, the one that was a breakthrough was additive manufacturing.
Not only did it give a method to industrialists, but also a new perspective to wonder and amaze people by not following what's being done.
3D printers and the methods by which we can one can 3D print are becoming popular since its invention.
Essentials that we need in daily life, items related to electronics, phone accessories, fashion, clothing, and many such things are getting 3D printed.
One particular thing that we use in our lives for making ourselves remember the keys of our vehicles can also be 3D printed.
That's right! You can 3D print keychain using this amazing new technology.
In this article, we are going to show you some steps by which you can do this. Doesn't matter you if have the knowledge or introduction about 3D printing or not.
If you read this article, you will be able to a 3D print keychain for yourself, and maybe if you wish to gift someone, for him or her as well.
Without wasting time on how can you utilize a 3D printed keychain, let's start by how you can do this.
How do I print 3D keychains?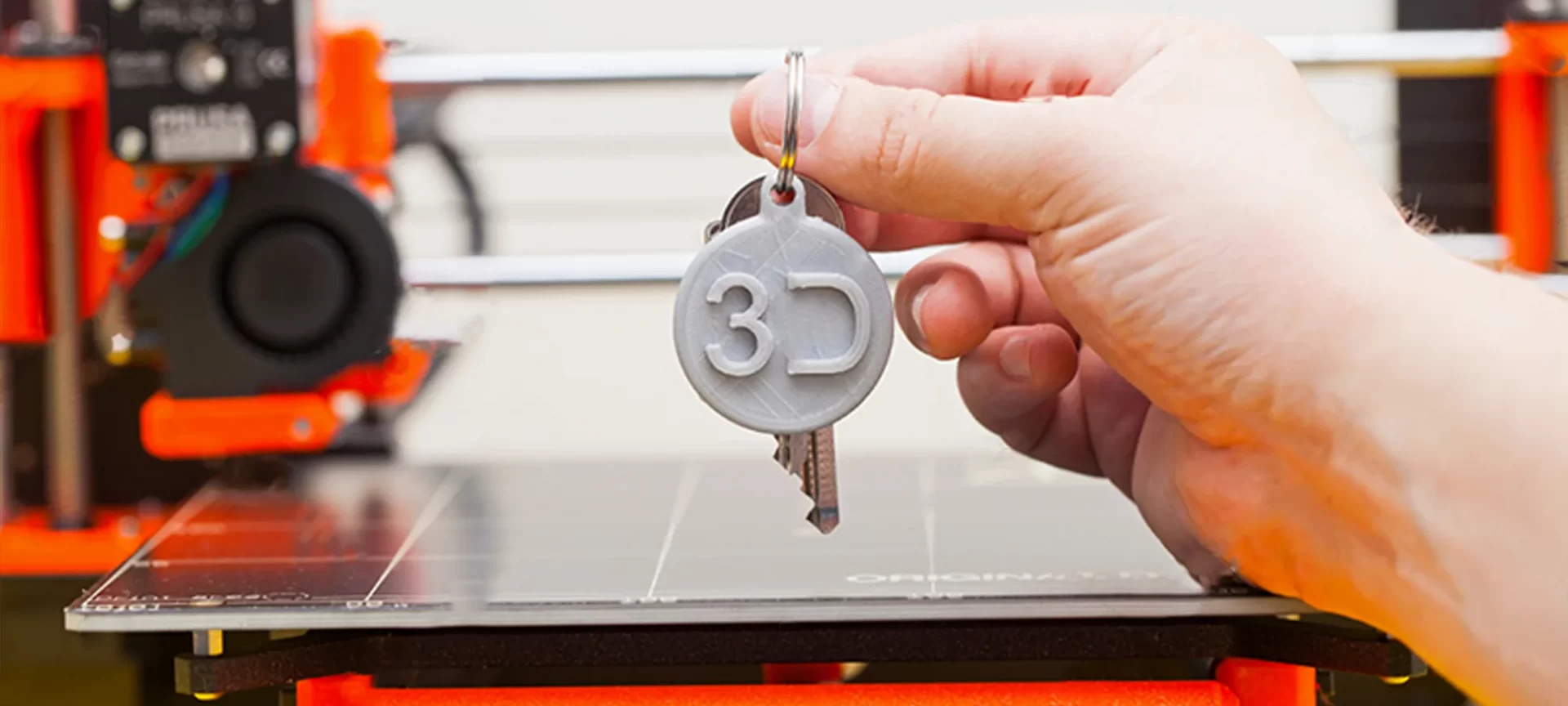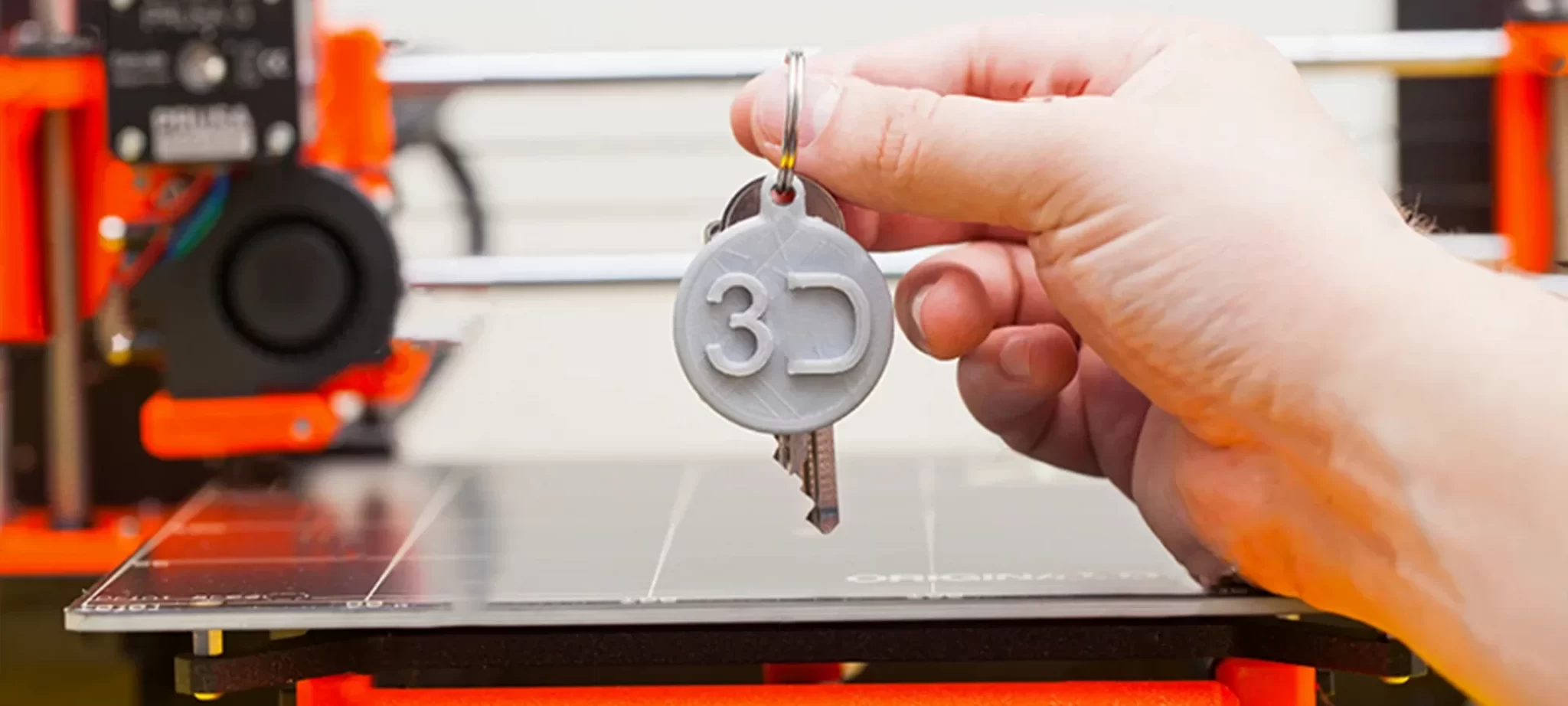 The most obvious option that would come to mind of anyone who does not know much detail about 3D printing is: Buy a 3D printer, learn how to print things, experiment on one or two things, and 3D print a keychain.
The little less obvious option and the one that would come to mind of anyone who knows a little about this technology is: Search online for a design file of a 3D printed keychain, download it and ask someone who has a 3D printer for a 3D print keychain.
A little less obvious option than the one mentioned above is to get the design file from one website and give it to print on some other website. Yes! That's possible.
That's all the basic options that you have for 3D printing. Now let's start with the basic process to make yourself or the person whom you wish to gift, a 3D printed keychain.
Step 1: Creating or Getting the Design File of the Keychain that you Wish to 3D Print
First, let's talk about getting the design file.
Websites from which you can get design files to a 3D print keychain
Yes! Some websites let you download 3D design files for free. Don't believe it? Check the names below.
Cults3D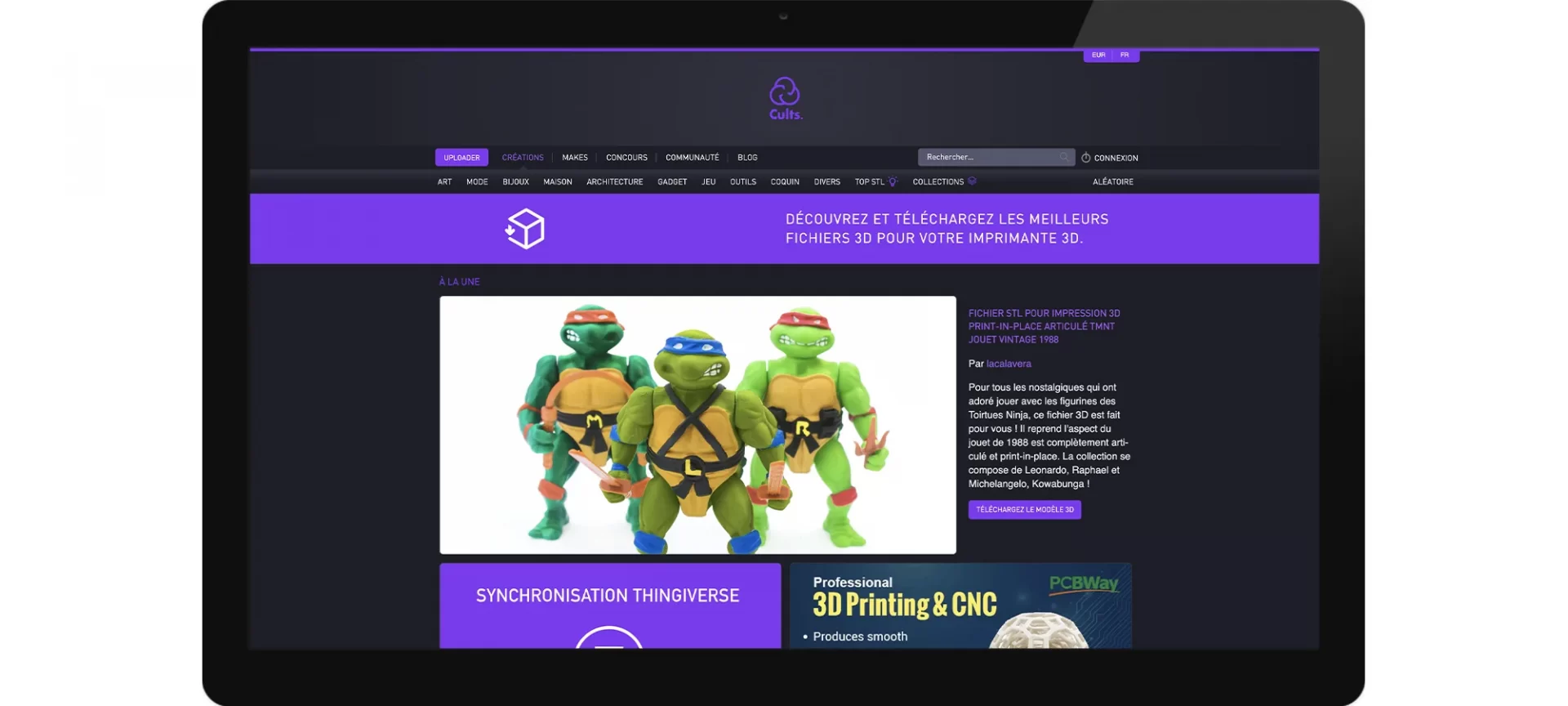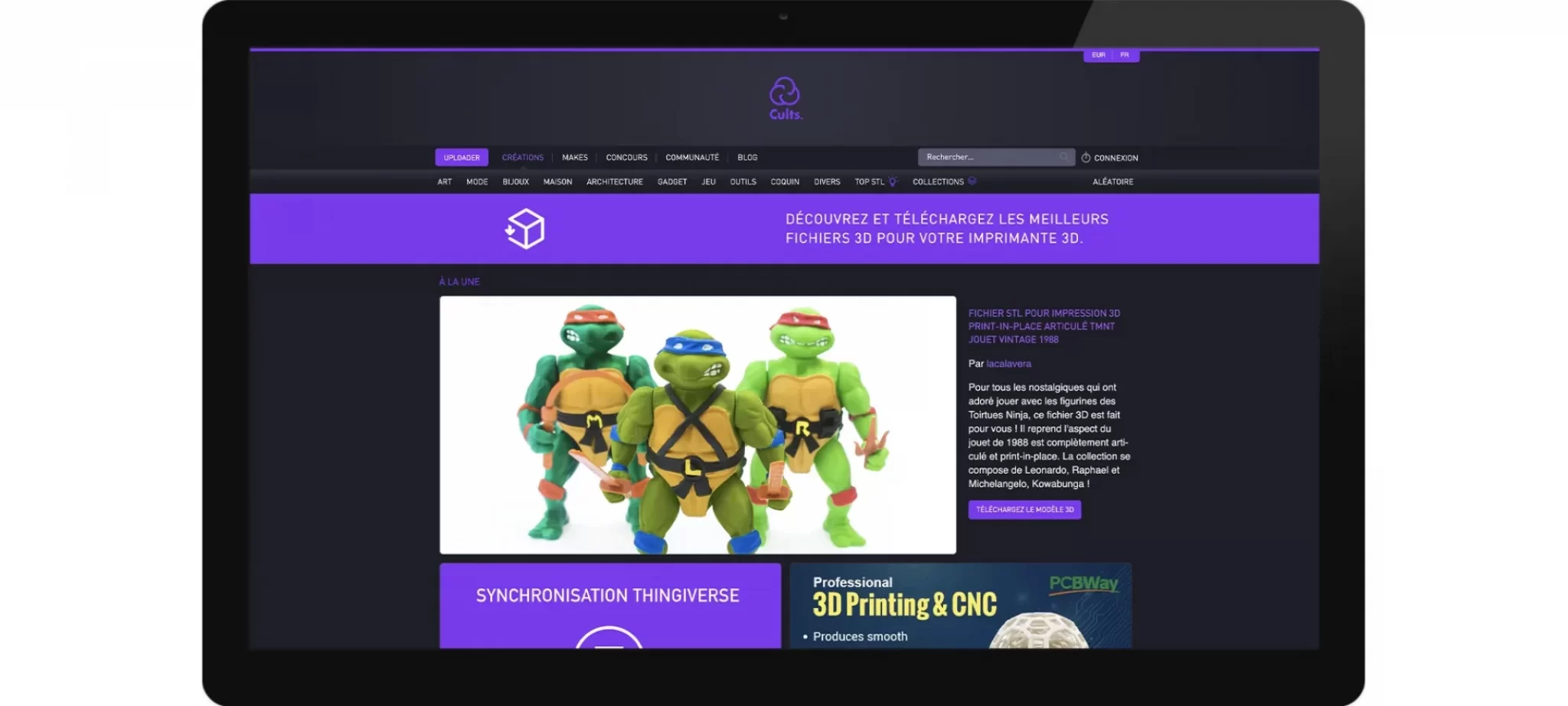 This is one such website where you cannot only get files but also discount for files that need to be bought. Be it a 3D printer, filament, scanner, or files, you can get everything on Cults 3D for the best price.
Although being a professional website, Cults 3D has a social networking website model that connects one designer to the other.
With designers, there are creators of Cults and fans. In short, every person related to 3D printing is on this website trying to create a specific platform for this new type of technology.
This website is a marketplace that connects people who wish to work related to 3D printing technology.
Cults 3D is meant for all owners of 3D printers who wish to make money by uploading their premium and original creations.
The creators of this website believe that everyone doesn't have an artistic soul or the ability to use CAD 3D software and therefore those who do should be appreciated.
Thingiverse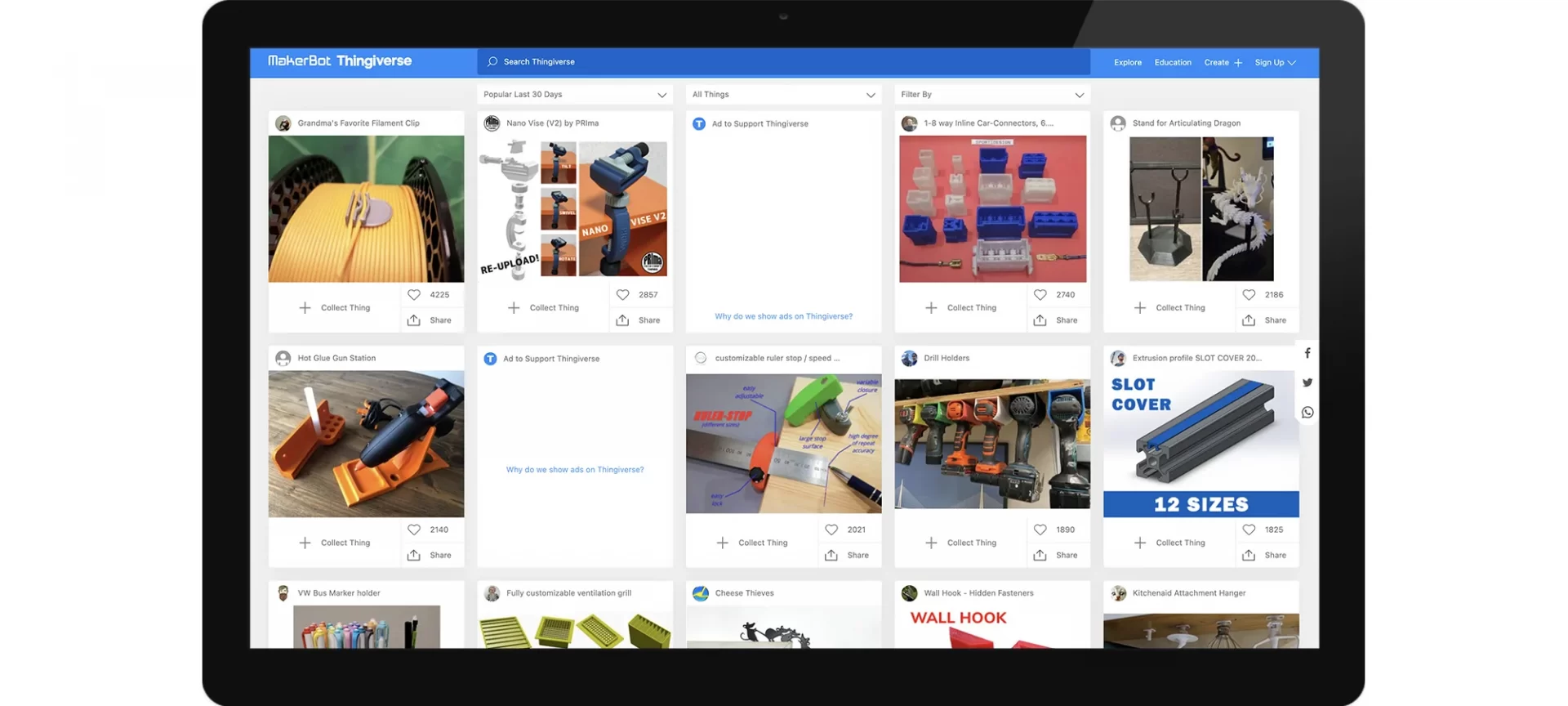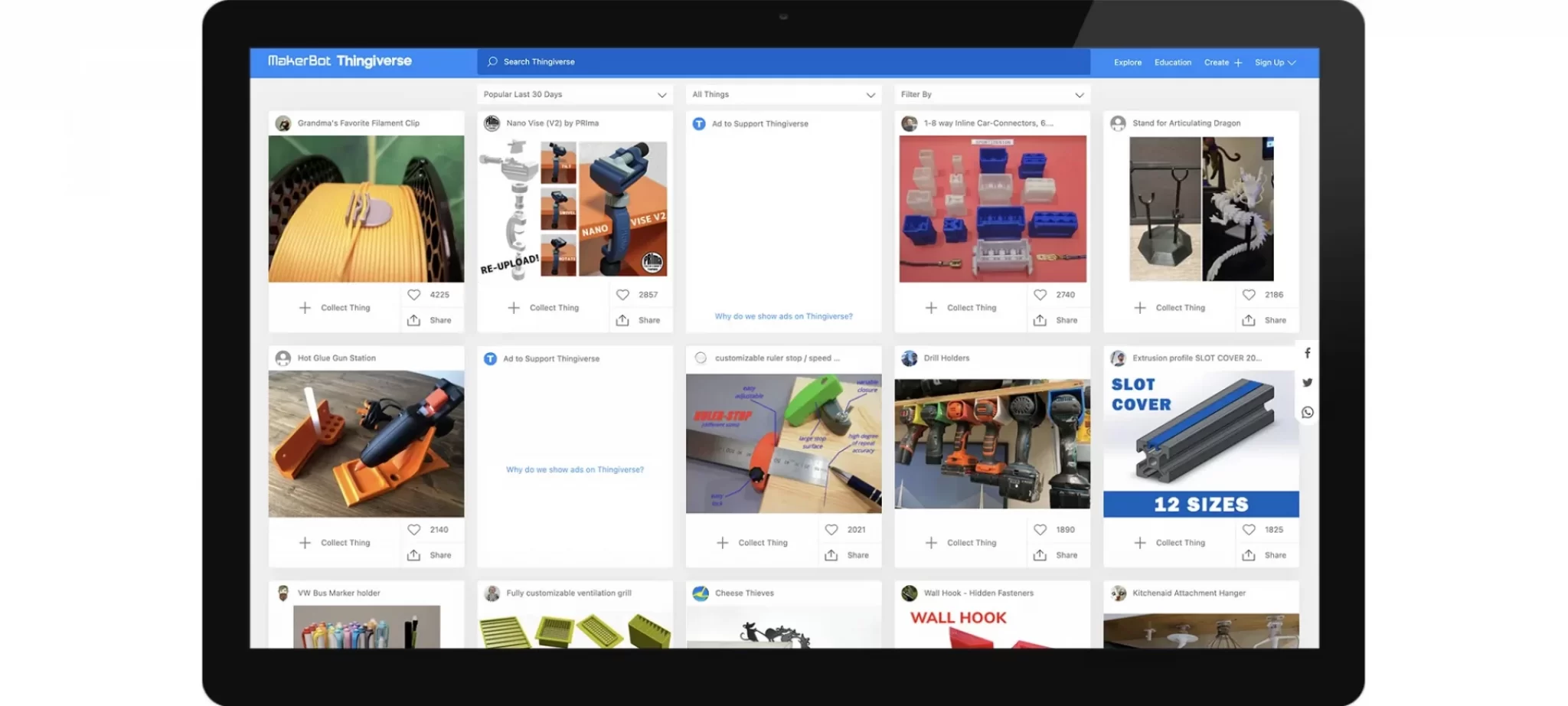 Started in November by Zach Smith, Thingiverse was a companion site to MakerBot Industries, a company that manufactures DIY 3D printer. Four years later, Makerbot and Thingiverse were acquired by a company called Stratasys.
After receiving an Honorable Mention in the Digital Communities category at the 2010 ARS Electronica which is a Prix Ars Electronica international competition for cyber-arts, the number of designs getting uploaded to this website increased and is still increasing.
Thingiverse is a website that is meant for sharing user-created digital design files. It primarily provides free and open-source hardware designs licensed under the GNU General Public License or Creative Commons licenses.
On this website, users can choose the type of user license they wish to attach to the designs they share. Their machines that can be used to create files that are shared by users on Thingiverse are 3D printers, laser cutters, milling machines, etc.
MyMiniFactory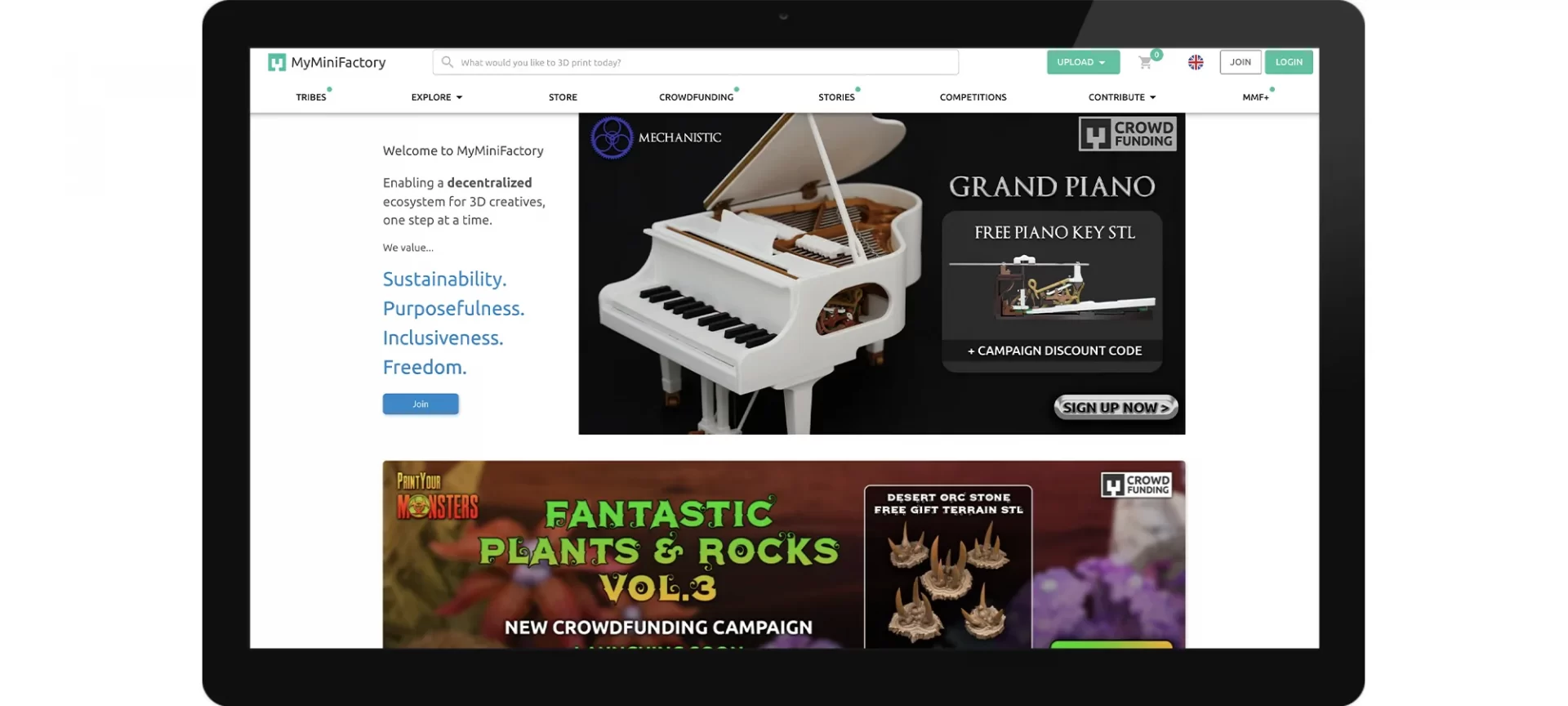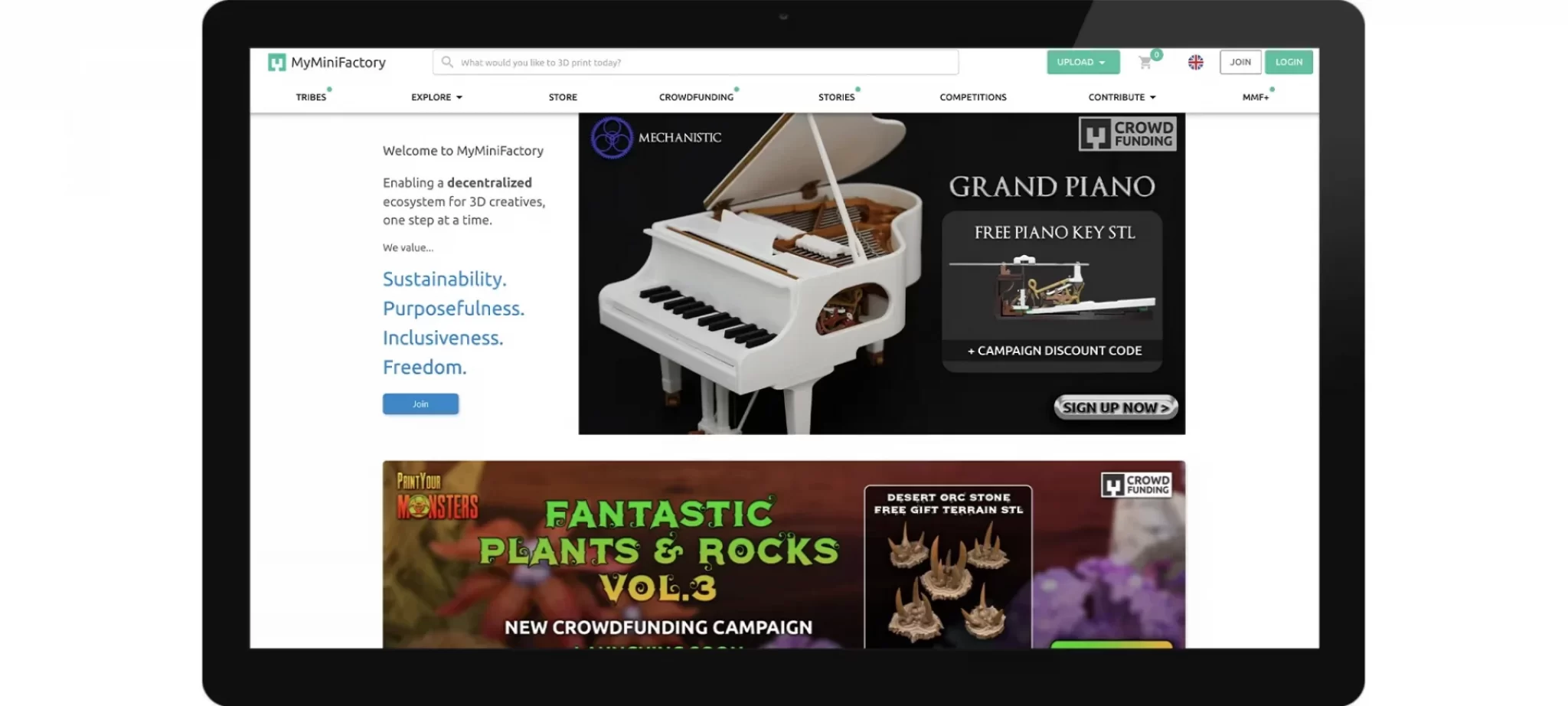 This website is for two kinds of individuals that are associated with 3D printing. It's either for the makers or designers. As a user, you get an option with which you need to search on it, download your file and get it printed.
If you are a maker or designer, you get the option of uploading your files or creations using this website.
The website creators are working to create a decentralized ecosystem for creative minds that new this technology. The ecosystem promises to share free or paid 3D printable designs.
Here files that are uploaded are a guarantee by the website that they are 3D printable.
This website is given to you because they are self-curated by the team of Myminifactory, so there is no chance that you can fail in the 3D printing process after downloading.
Apart from 3D print files, MyMiniFactory is also home to the largest collection of 3D scanned statues and artifacts from around the globe. Once digitized, the scans are made available for free for various kinds of uses.
If you do not wish to get a 3D file for any of the websites mentioned above, you can get a slicer installed on your computer. Search online for some of the best slicers and you will get names like Simplify3D, Cura, Kisslicer, Slic3r, Octoprint, etc.
Slicers are that software which enables you to create a 3D file of your own.
This 3D file works as a medium with which you communicate what you wish to print to a 3D printer. Once, this is done you are halfway down the line in 3D printing a keychain.
Step 2: Uploading the File to the 3D Print Keychain on a 3D Printer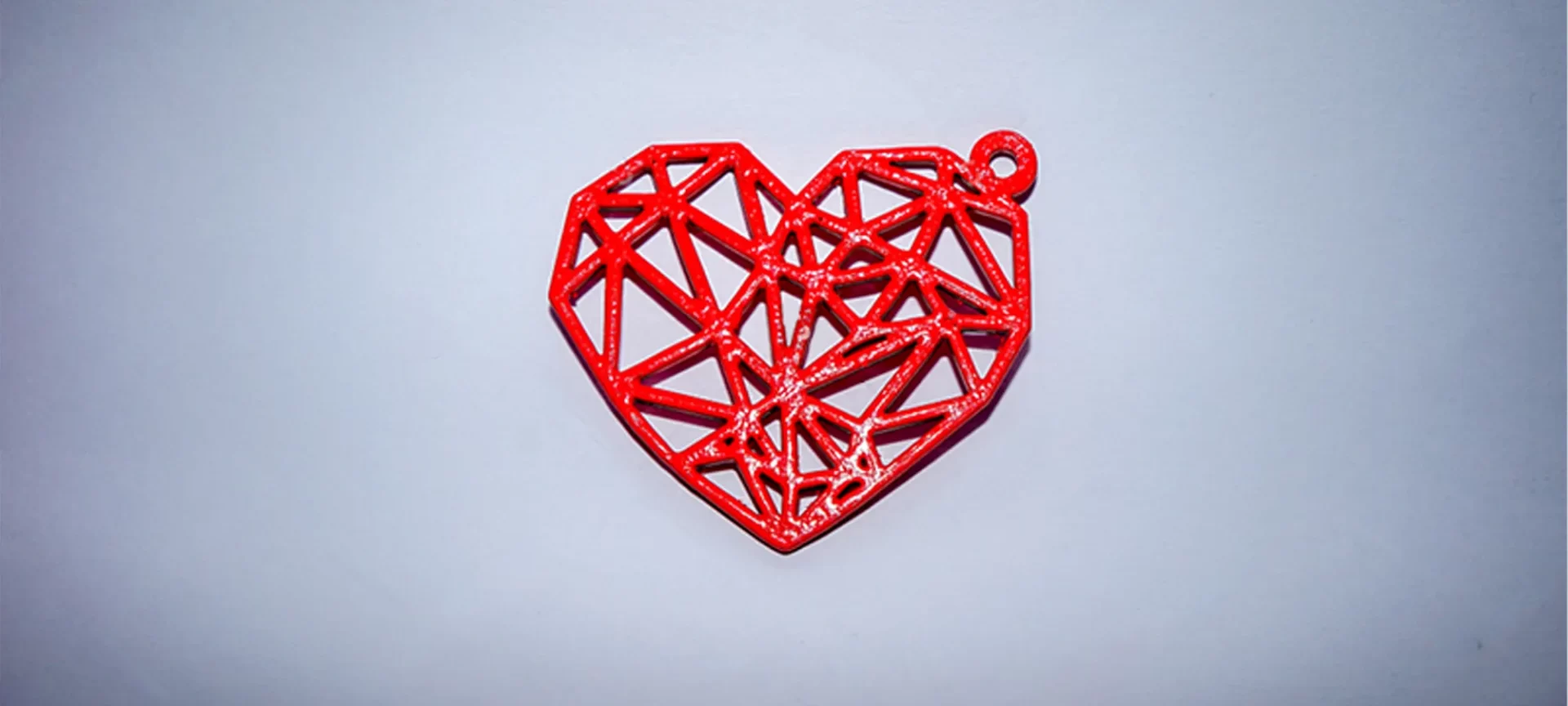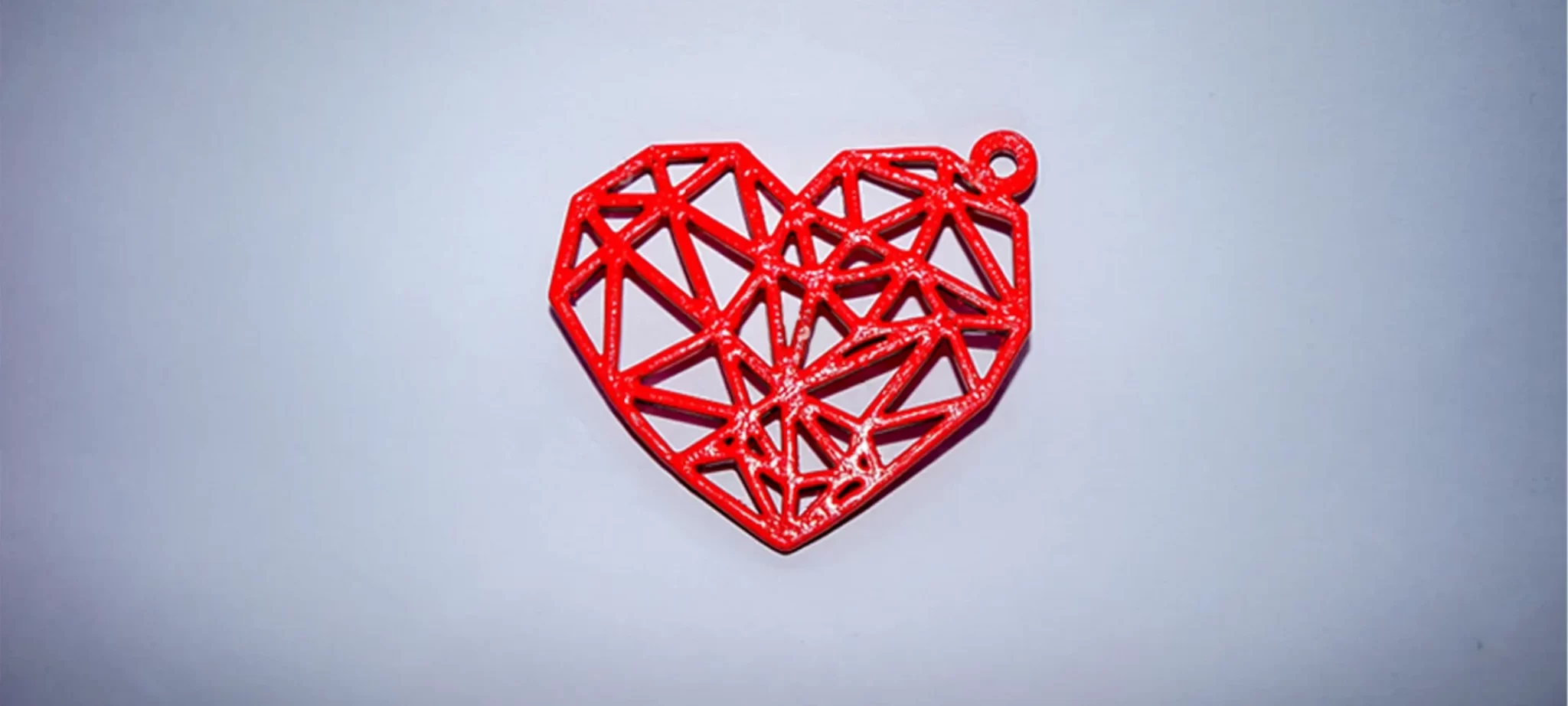 This also can be done in two ways. You can have your 3D printer do this if you do not own one, search for websites that allow you to use their 3D printers for 3D printing your keychain.
In the former, you can connect with the printer via various modes such as using a memory card, a USB cord, or Wi-fi.
In the latter, all you need to do is upload the 3D design file so that the person who is going to 3D print can ensure giving you the same keychain that you wish to 3D print.
One important coding terminology that you need to know about, not necessarily, but for your good, is G-codes. They are the language by which the instructions are processed on a 3D printer.
Once the file is uploaded there is a fixed set of codes that instructs the printer to move in a specific way and make sure about edges and curves that you wish to see on your keychain 3D printed.
Step 3: Post-Processing or Checking the 3D Printed Keychain
If you have a 3D printer are 3D printing the keychain by that means, you will have to undergo the post-processing or cleaning procedure.
Otherwise, you need to check for surface finish and layer visibility and ensure that the quality of the Keychain that you have received is something that you were informed about, before purchasing, by the website. That's pretty much it.
Recommendations for Best 3D Printed Keychains
If you are finding it difficult to make a choice and want to see some of the curated 3D printed keychains, here is the list. You can start exploring these wonderful designs that you might not have seen before and print them bet they are outstanding!
Tabasco Holder from 3D Brooklyn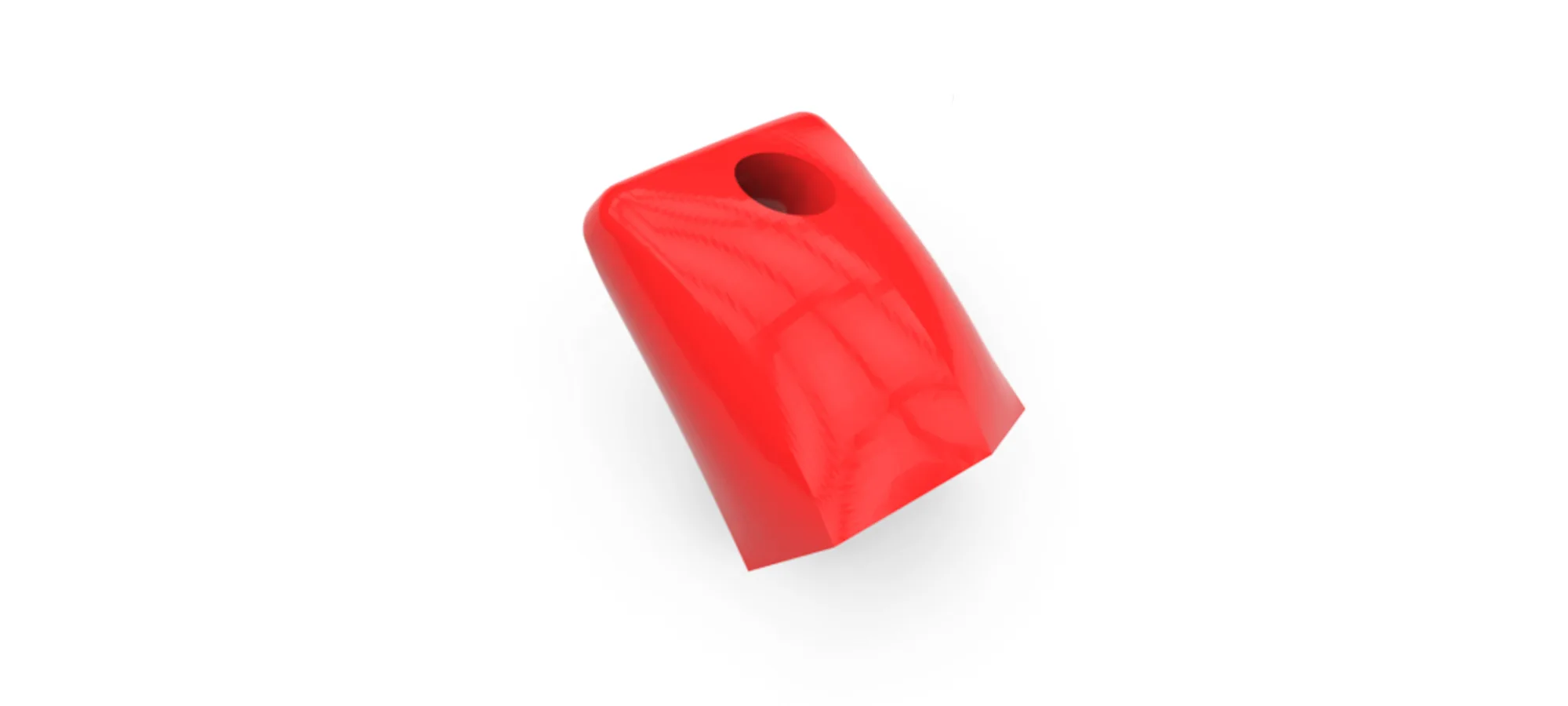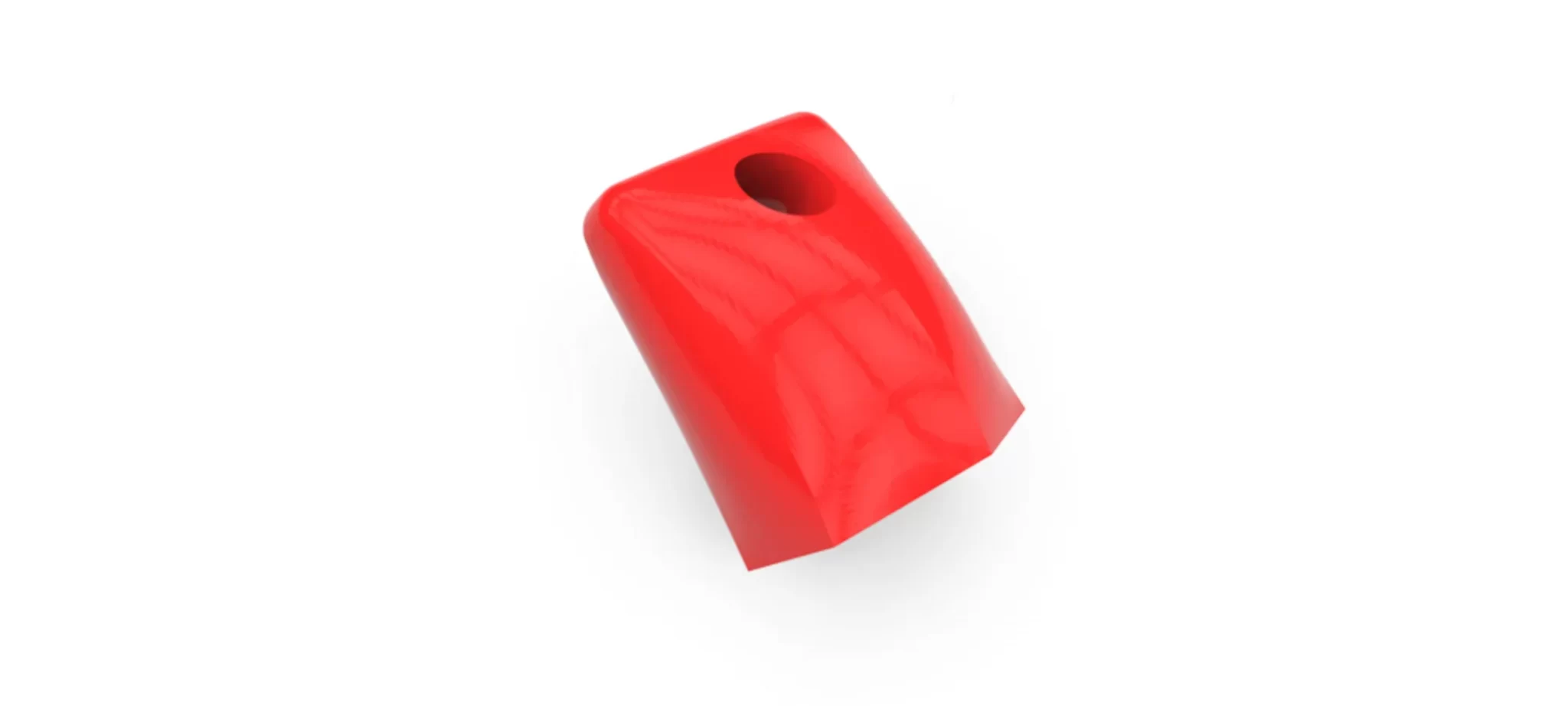 The designer is based in New York. 3D Brooklyn has 41 3D files that you can download from the website. From helicopter toy to the urban hub, you have exciting essentials to download from this website.
Apart from providing 3D design files, on the left side of the home page of the website, there are some episodes of specific seasons that you can also download.
3D Brooklyn also provides you the service to start a new project with the service provider. And then there is a contact number.
As can be guessed from the name of the keychain, this can be used as a cap for the tobacco bottle. Life is either way too short to put up with flavorless food and all you need is a little bit of spicing up.
The dish that you are eating can be tasty by mixing a little bit of Tabasco. And only after getting a bottle for yourself is when you are going to notice the amazing cap that's worn by the bottle's head.
Cool? Isn't it? So the company gives you two things to use after using up the Tabasco that's present inside the bottle. One is the bottle itself and the other is this amazing keychain that is also the cap.
Kitty Self Defence from Brandon Watt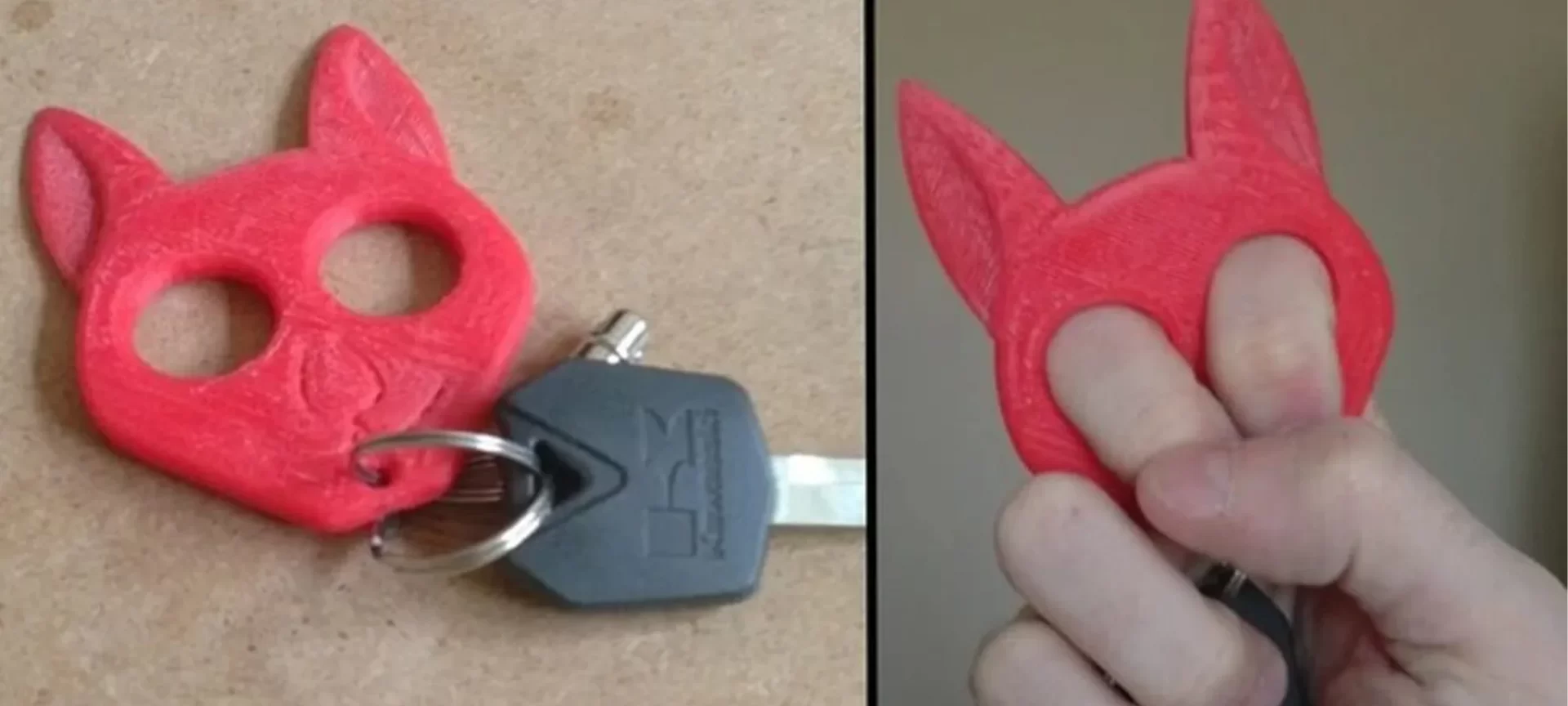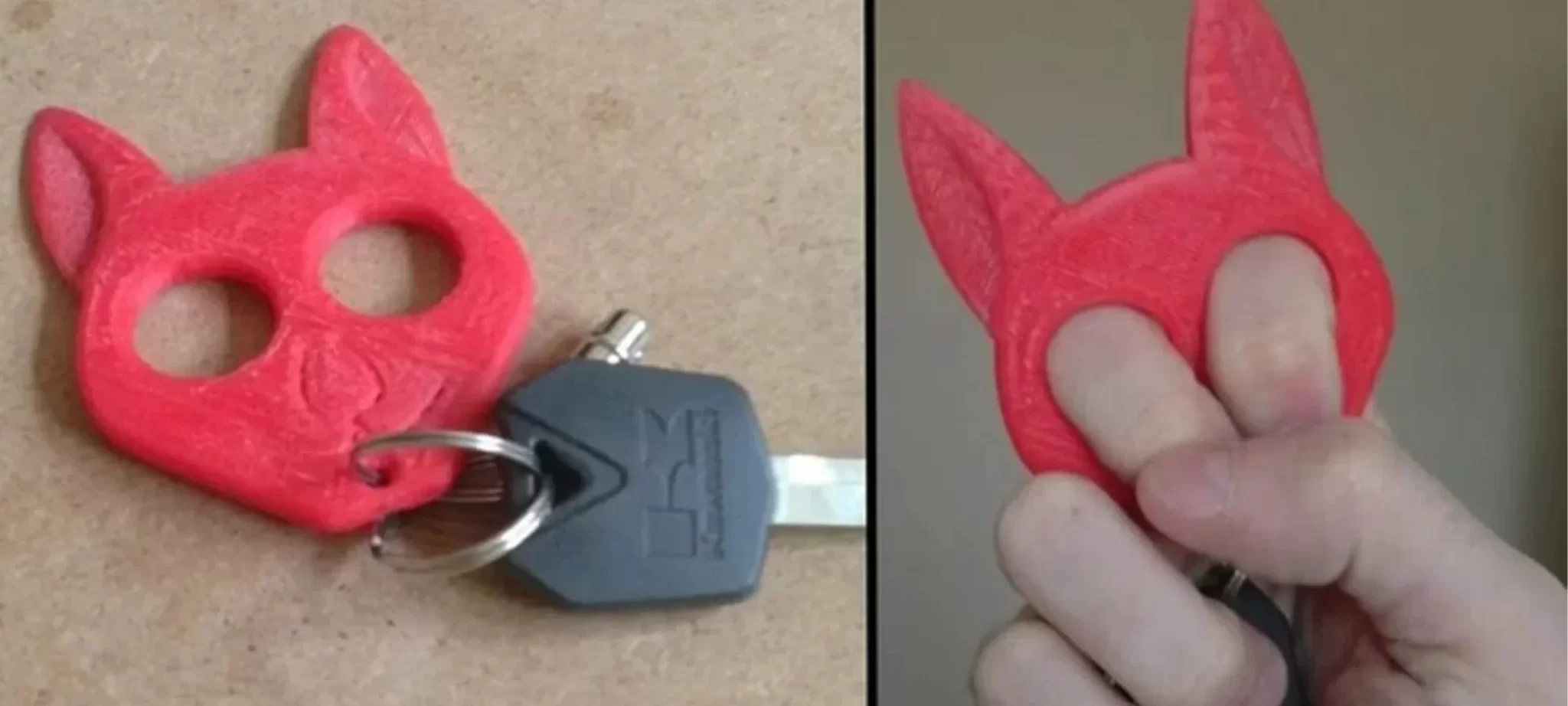 Brandon Watt has 13 designs to his name on Thingiverse. He is followed by 154 individuals and in his, about us section, he mentions the sum up.
Imagination, design, and 3D printing to create something, anything. Brandon appreciates the power of creating that he has and thanking Thingiverse he seems happy about sharing it with you guys.
If you happen to see this picture, it's very specific and you'll notice it with a sense of curiosity.
It's a cute keychain that is made by the designer to feel a little more confident when walking to your car, which is parked in a bad part of town.
The designer also mentions how his mother asked him to create one of these for her because she feels safer when she has it in her purse.
For printing instructions, the designer allows you to scale it up if you find it is too small for your fingers.
And the designer also urges to be responsible for this item, as it isn't a toy. The keychain is there to make you feel safer, and we say, the designer is a multi-purpose-thing-creator. Do you agree?
Strong Flex Door Carabiner from DDF3D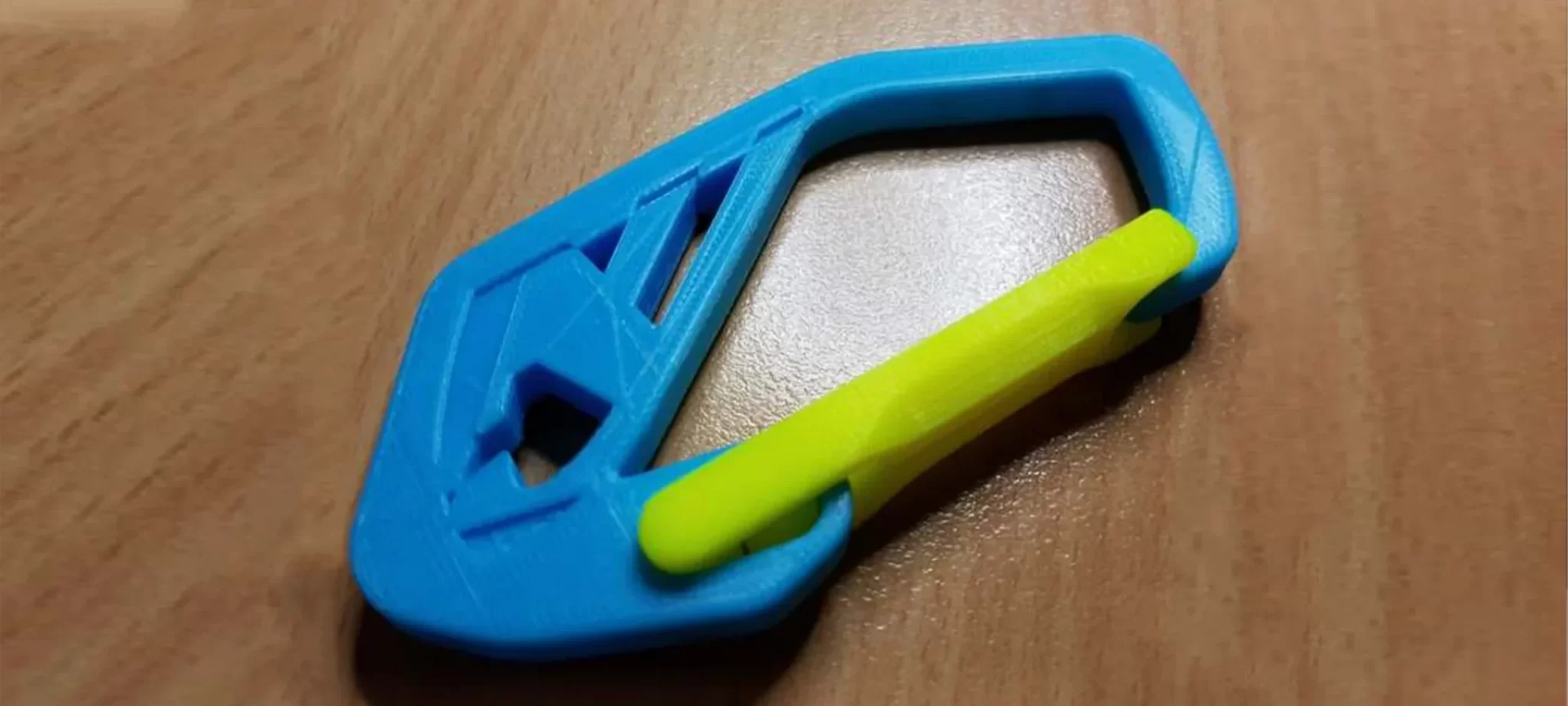 DDF3D aka Charlie 1982 has 23 designs on his profile on Thingiverse. As per the designer, the designer has created a cool and useful 3D printable design that will get everyone high-quality images.
The designer is also associated with Shapeways, so you can take the design that you like from Thingiverse and get it printed from Shapeways. Isn't that cool?
Although it may, may not seem to you, but we need to tell you that this strong flex door carabiner is a very popular model that one can 3D print. Not only is it popular, but also a very quick and easy model to fabricate.
Its quality indicates, how well designed it is and its specificity indicates how eminently useful it is.
Although the keychain is not sturdy enough to carry your weight by any means, it is certainly useful for latching onto keys and bags.
The Conclusion
To 3d print, the keychain is an easy task. All you need to take into consideration majorly is the material with which you wish to print. Again if you are doing it from a specific website, you will get recommendations.
If you are not doing it that way, just check some of the most popular materials like ABS, PVA, PET, HIPS, etc.
And you will get to know about their properties and then decide which one will suit your keychain. Good luck with your first attempt at 3D printing.