Ray RayDent Studio
It is an extremely useful tool for custom manufacturing on demand. Dentists and clinicians can save a lot of time and effort by using RayDent.
PROS
Speedy printing of objects varying in different build volumes.
Capable of printing highly accurate geometries with superb layer resolution.
Offers powerful solutions to dental demands in the industry.
Fits Lab and clinical conditions optimally.
Provides a huge build volume.
Powerful software solution with an amazing set of features.
Robust mechanics and sparkling looks.
CONS
Like every other DLP 3D printer, RayDent too is on the higher end of the budget compared to printers based on different 3D printing technologies
Product
Specification
Videos

Designed by Ray, the South Korea manufacturer, RayDent Studio features its unique LCPS (Liquid Crystal Planar Solidification) 3D printing technology. ...
| | |
| --- | --- |
| Model | RAYDENT Studio |
| Manufacturer | Ray |
| Price Range | $ 10000 – $ 50000 |
| Availability | Available |
| Classification | Professional |
| Technology | Resin (SLA- DLP…) |
| Material | Liquid resin |
| OS compatibility | Microsoft Windows |
| XY accuracy | 0.1 mm0.004 in |
| Max. build size | 100 × 60 × 70 mm3.94 × 2.36 × 2.76 in |
| Max. build volume | 0.42 L |
| Min. layer thickness | 0.05 mm0.002 in |
| Dimensions | 310 × 210 × 370 mm12.2 × 8.27 × 14.57 in |
| Weight | 6.5 kg14.33 lb |
| Power input | 100-240VAC | 50/60Hz |
| Heated print bed | No |
| Heated build chamber | No |
| Automatic calibration | Yes |
| Closed frame | Yes |
| Dual extruder | No |
| Independent Dual Extruder | No |
| Full color | No |
| LCD screen | No |
| Touchscreen | No |
| On-board camera | No |
| Mobile app | No |
| 3D scanners | No |
| CNC mill | No |
| Electronics 3D printing | No |
| Laser engraving | No |
| Conveyor belt | No |
| Air filter | No |
| Pellet extruder | No |
| USB | No |
| Wifi | No |
| Bluetooth | No |
| SD card | No |
| Ethernet | Yes |

Table of Contents
Designed for dental labs and clinics, Ray Dent Studio makes 3D printing more delightful. The printer utilizes LCD technology which provides fast printing with good precision and better uniformity. Due to its compact size, the machine is extremely suitable for in-office use.
RayDent provides different types of resins for a wide range of applications that are not only biocompatible but also water washable.
RayDent Studio is a chairside dental 3D printer for producing customized dental prostheses, surgical stents, etc. The printer manufacturer offers a simple workflow with state-of-the-art 3D printing technology.
RayDent software hosts an intuitive user interface that lets users design a 3D model within a short span of time. It provides a complete solution starting from designing, ending with printing, and curing.
RayDent Studio's design has been acknowledged and appreciated by the iF Design Award 2017 for optimized looks. In short, there is too much to know about RayDent Studio. Let's get started with the printer's review to learn more about it.
Features
RayDent's 3D printer is different from its competitors in many ways. It offers unique features from other LCD-based desktop resin 3D printers and is capable of producing parts with 47 microns resolution.
The manufacturer has managed to produce an entire set of hardware, software, and materials that work in tandem for creating an easy-to-control environment for dentists and assistants.
Fast Printing
RayDent is capable of producing parts with outstanding speed. Its complete 3D printing process, starting right from designing, is well taken care of by RayDent software. Therefore, the workflow is a lot faster than other DLP 3D printers. Also, the LCD that cures parts also runs at a great speed. A result of all of this is fast 3D printing of different objects.
The average time taken by RayDent for 3D printing Dental models ranges anywhere from 40 to 50 minutes. The printing time taken for building temporary restoration falls between 20 to 25 minutes. Whereas, for full and half 3D printing of surgical guides the printer takes 40 to 50 minutes, 25 to 30 minutes respectively.
High Accuracy
RayDent maintains the reputation of DLP 3D printers by printing highly accurate dental parts and models. The average 3D printing accuracy shown by it while creating dental models and surgical guides is 50 micrometers.
Whereas, while printing temporary restorations the printer manages average printing accuracy of 40 micrometers!
Thanks to the LCPS 3D printing technology that makes use of a UV LED light with 405 nanometers in wavelength. RayDent is capable of printing dental parts with two different layer thickness settings of 50 and 100 micrometers respectively.
Large Build Volume
RayDent offers its user a maximum build volume of 100 mm * 60 mm * 70 mm. Therefore, printing large dental parts in one go wouldn't be an issue with the printer.
Users will easily be able to print Dental Models, Surgical Guides, Dental Prostheses, Surgical Stents, and Temporary Restorations. This feature makes the printer an ideal solution for on-demand 3D printing.
Robust Design
RayDent comes in two parts: the printer and the curing part. The former's dimensions are 31 cm * 21 cm * 37 cm, whereas the latter's dimensions are 22 cm * 15 cm * 26 cm.
Such a large body enables users to stably print objects. It weighs 6.5 kilograms while its curing part weighs only 2.5 kilograms; hence it's easy to transport the printer from one place to the other in the room.
Efficient Designing Software
The complete 3D printing process is well-managed on RayDent via RayDent Studio. It permits users to auto-orient the components for attaining the optimal position. Moreover, the software auto-generates supports and does mesh repair.
Also, it slices the layer for path inspection and lets you preview it. In addition, the application allows for optimal printing with PRESET conditions for maximum output.
Labs and Clinical Environment Compatible
The ambient operating temperature recommended for RayDent ranges from 5 to 35 degrees Celsius which is approximately the condition at which dental labs and clinics operate.
Also, the printer is compact in size and can be kept in a corner. Moreover, it is light in weight. Hence, users get a sort of flexibility to move the printer from its location to the desired position.
Multiple Resins Compatible
Users can print with more than one type of resin on RayDent. The printer manufacturer offers different types of resins, some are biocompatible, and others are water washable.
Therefore, dental parts printed using the printer have varying quality as well as applications. The cleaning process for these resins is alcohol-free.
Specifications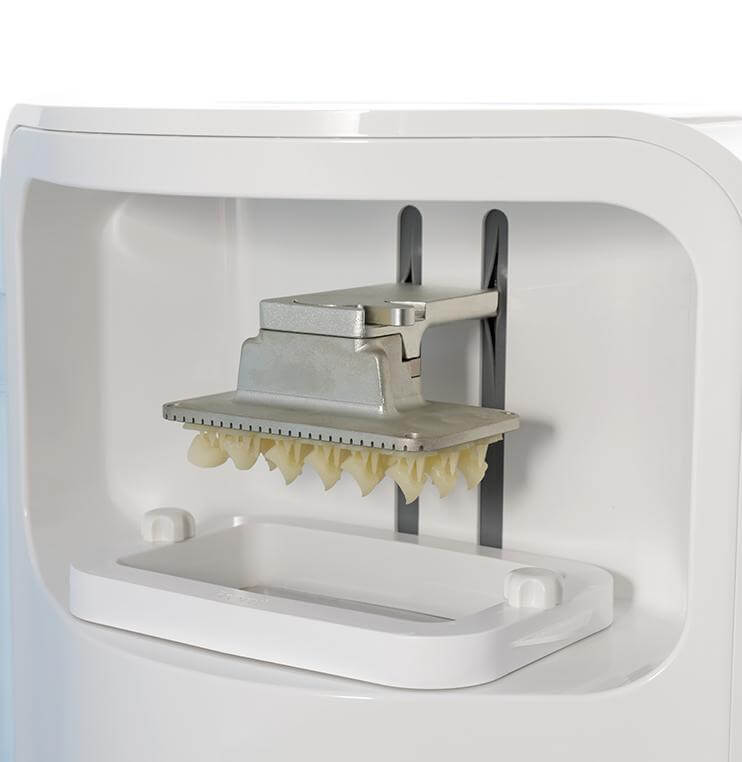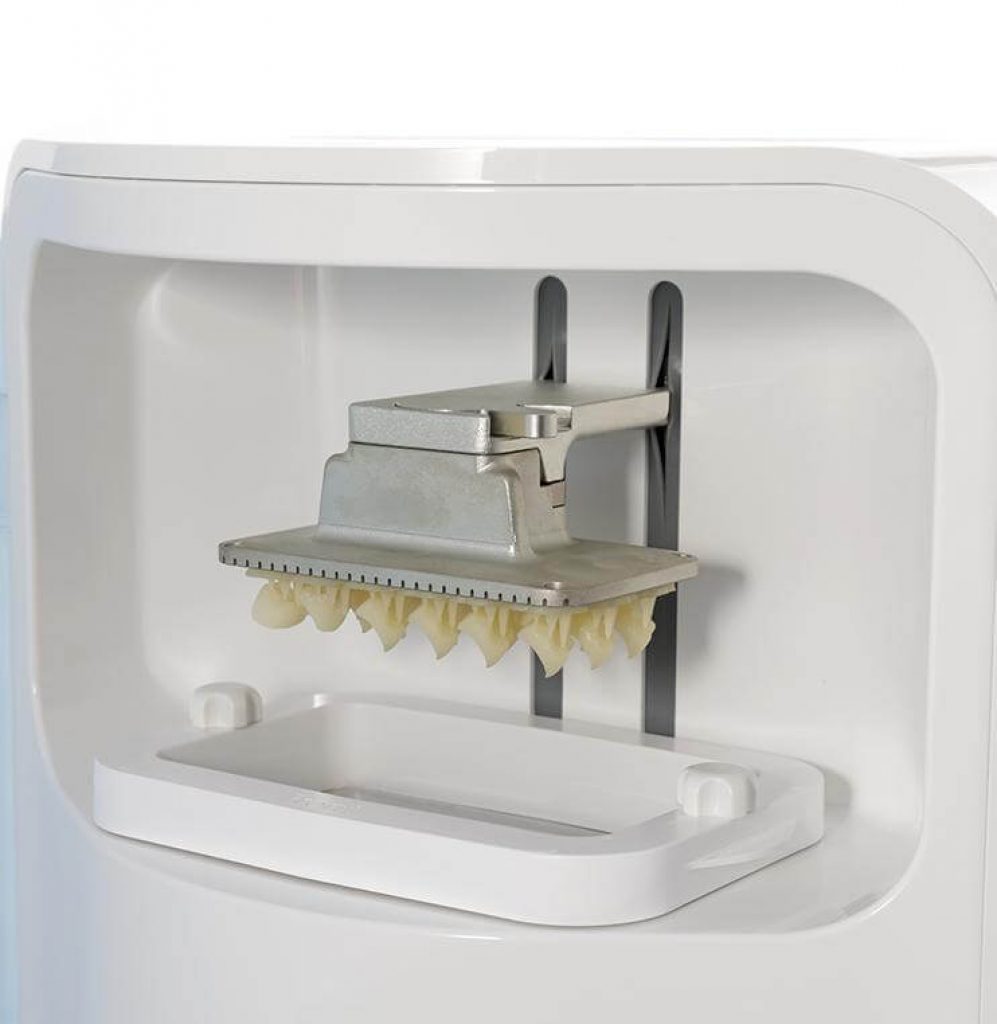 Credit: raymedical.com
RayDent prints objects based on Liquid Crystal Planar Solidification 3D printing technology, which is renowned for producing high-quality surface finishes. The printer offers a huge maximum build volume of 100 cm * 60 cm * 70 cm.
Therefore, enabling users to print dental parts in one go. For layer thickness on objects manufactured on the printer, it offers two options: 50 and 100 micrometers.
A UV specified light of 405 nanometers is utilized by RayDent for curing resin layers into fed geometry. The printer's curing part has dimensions of 22 cm * 15 cm * 26 cm. It weighs 2.5 kilograms and has power requirements of 100 to 240 Volts, 50/60 Hz.
Users can connect with the printer using Ethernet. RayDent has dimensions of 31 cm * 21 cm * 37 cm and weighs 6.5 kilograms. The printer can operate at temperatures ranging from 5 to 35 degrees Celsius.
Price
Ray has priced the printer's hardware at $5500 and software at $3500.
First Impression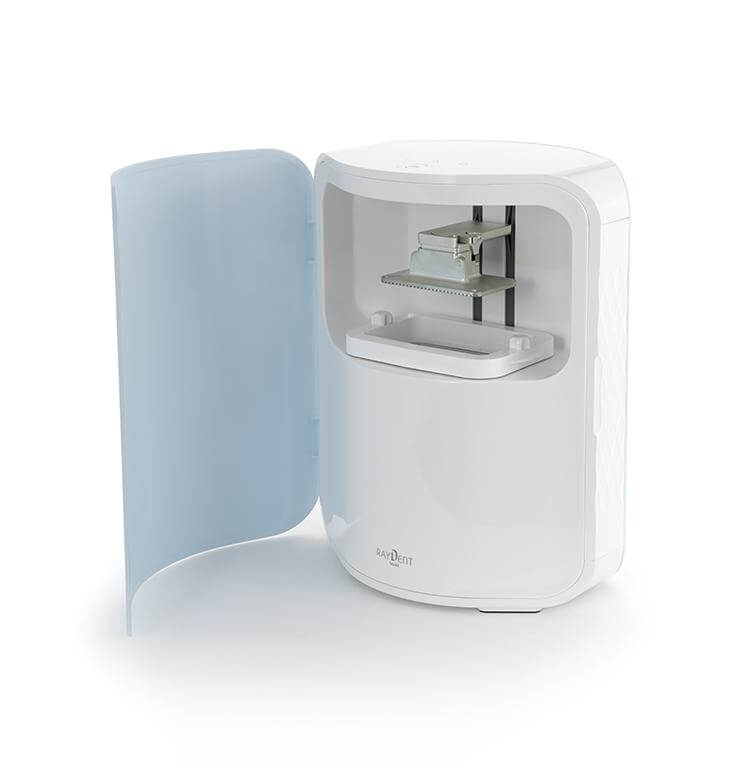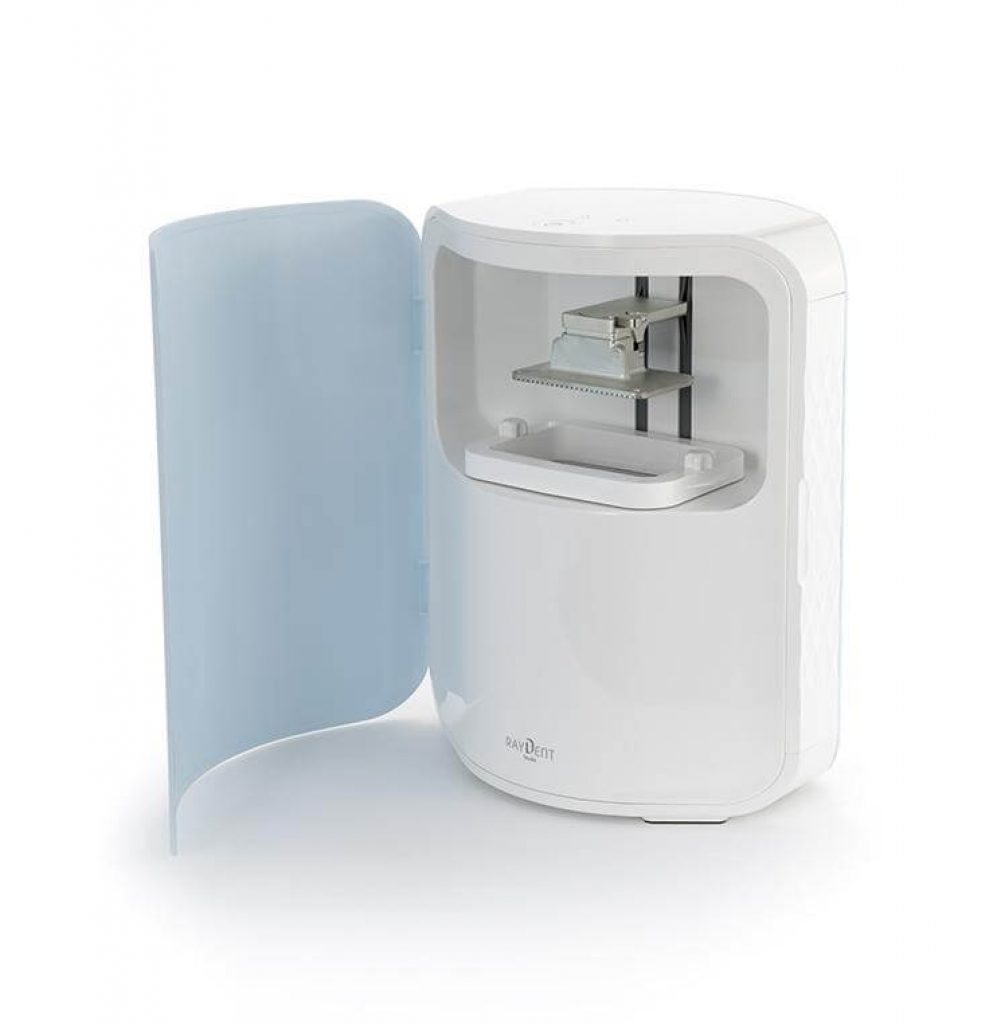 Although being robust, RayDent is compact in design. It comes in two parts: the printer and the curing unit. Both of them come in silver color with a striking finish. These can be opened via doors to access their inside mechanism and storages, respectively.
The casing is very attractive and would easily fit in any dental office. It has a sleek design, and its inner mechanism is very similar to any LCD 3D printer.
Setup
Ray claims that dentist staff can learn all they need to know about RayDent in about 10 to 15 minutes. The printer is a plug-and-play device.
Therefore, starting 3D printing on it does not take much time. Its users need to load files on the printer, change the settings if needed and that's it.
Print Type/Cost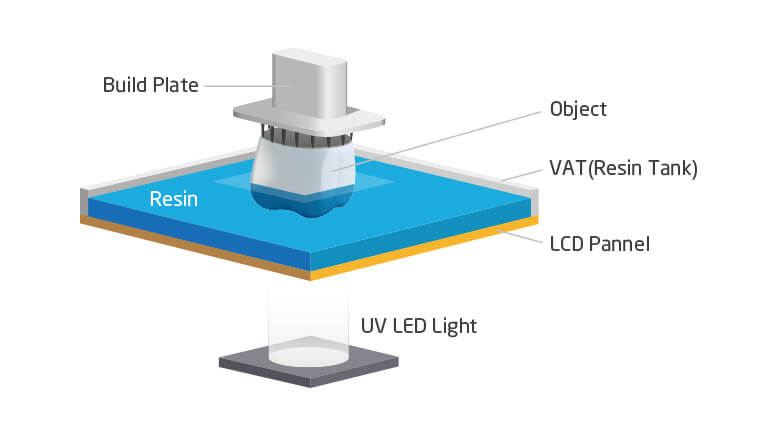 Credit: raymedical.com
Liquid Crystal Planar Solidification utilizes a build plate, object, VAT, LCD panel, resin, and UV LED light source to produce parts or functional prototypes. As soon as a layer of resin is laid, it's exposed to UV LED light source via LCD Panel. A result of this process is the curing of liquid resin on the build plate.
The cost of 3D printing objects using LCPS depends on many parameters like part geometry, the type, and cost of resin, support structures, light source, quality of LCD panel, etc.
However, the cost of 3D printing a part using LCPS 3D printing technology is higher than that with other 3D printing technologies.
Print Quality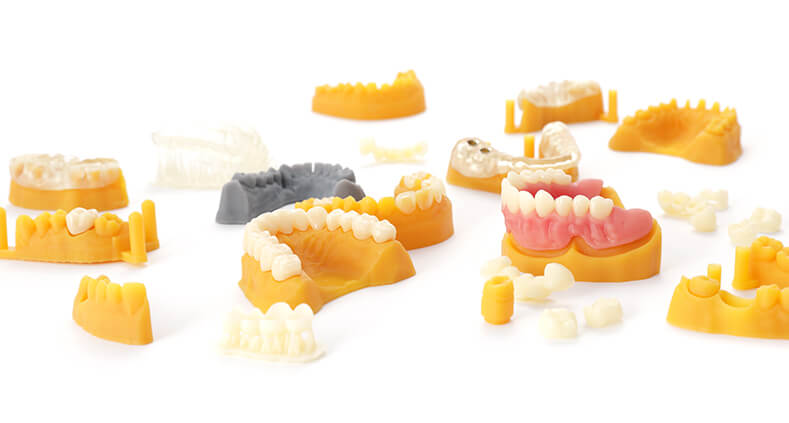 Credit: raymedical.com
RayDent is used majorly for building high-quality dental models, surgical guides, and temporary restorations. It offers high average precision in making different types of dental parts.
Moreover, the printer offers two kinds of layer thicknesses – 50 and 100 micrometers. The UV LED source in combination with the CLD screen makes all of these possibilities to achieve with RayDent.
Software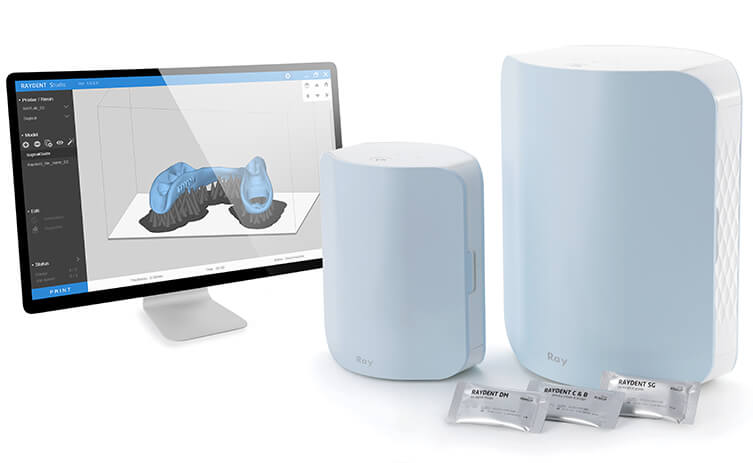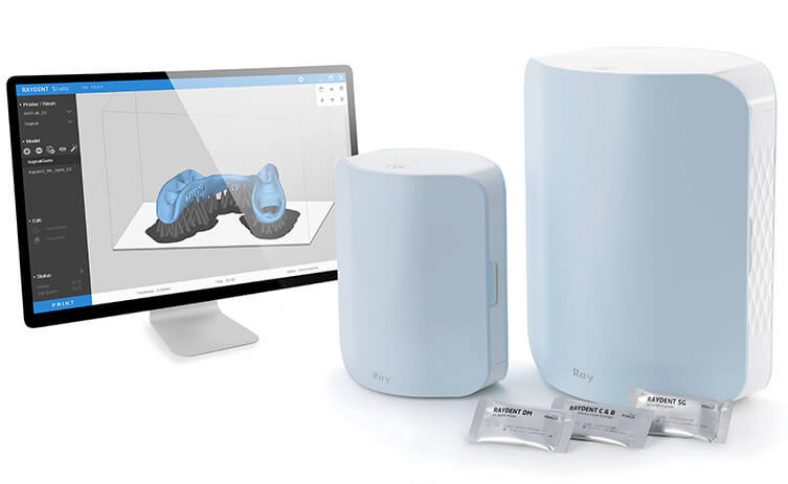 Credit: raymedical.com
RayDent Studio is an easy-to-use application. It offers users controls to automatically orient for optimal positions, generate support structures, and meshes repair.
The software slices layer for path inspection and allows for optimal printing with PRESET conditions for high output. It is compatible with Windows 7 or higher versions and supports file formats such as STL and OBJ.
Customer Support
Ray offers tremendous support by allowing its users to Download its product brochures or call its support team for doubts. Its customers can also generate online inquiries.
The printer manufacturer has an adept technical team taking up all your complaints and is patient enough to listen to the complete problem for suggesting final solutions in one go.
Parameters Influencing Buying Decision
Most fundamental information about RayDent is mentioned in the pointers below.
3D Printer Cost: Although on a higher-end, it's usual for LCPS 3D printers to cost more than other 3D printers. However, the printer is equipped with excellent features and in substantial amounts. Therefore, it's affordable, especially for dental part manufacturers.
3D Print Speed: Due to the presence of LCD panels, the curing process which generally consumes more time is completed in a short period. The phenomenon leads to an increase in the overall print speed of RayDent. Hence a crown can be 3D printed in 20 to 25 minutes, a full jaw surgical guide can be created in 40 to 60 minutes, and so on.
3D Print Quality: LCPS 3D printers are known worldwide to produce excellent quality parts and RayDent sustains the reputation. Parts printed with the printer are known to have two types of layer thicknesses i.e. 50 and 100 micrometers. The average accuracy of printing a Dental model, surgical guide, and temporary restoration is also high in the level of 50 to 40 micrometers. Also, to mention, any of these parts need no post-processing. They are ready to use straight away.
3D Printer Capability: RayDent is capable of 3D printing with different kinds of biocompatible and water washable resins. It cures them using a high-power UV LED source of 405 nanometers in wavelength. LCPS technology provides fast printing with good precision and better uniformity on the printer.
3D Printer Practicality: The printer is mostly preferred by dental manufacturers and labs engaged in the creation of 3D parts such as dental models, surgical guides, prostheses, and temporary restorations.
3D Printer User Expectations: RayDent allows users to play with various resins. The printer uses state-of-the-art technology which permits its operator to print high-quality prints in optimal time. The machine's easy-to-use software expedites the overall workflow and is extremely handy while mass production.
The Verdict
Overall, RayDent is a resin 3D printer featuring LCPS 3D printing technology that uses a 405 nanometer UV light source and LCD panel for curing.
An outcome of this process is dimensionally accurate dental parts like surgical guides, dental models, and temporary crowns and bridges that can be put into the application without post-processing.
It is an extremely useful tool for custom manufacturing on demand. Dentists and clinicians can save a lot of time and effort by using RayDent. However, dental part manufacturers are the ones who are going to benefit the most from the printer as it has significantly low average print types and high accuracy.
The initial investment may seem a little expensive. However, the parts produced are worth more than what you pay for the machine. Also, not to forget how the printer manufacturer allows for multiple material printing! So, users can produce parts of varying intricacies, with different resin materials in high layer resolution and low layer thickness.
Above all, the highly intuitive software RayDent studio is capable of connecting all the factors and expediting the workflow. Its intuitive user interface makes 3D printing with the printer a piece of cake.