RepRapGuru DIY Prusa i3 V2
As always, the Prusa i3 V2 3D printer has left no stone unturned in finding its place among those users who admire results. This machine is great at performing and you can achieve precision and accuracy with the right calibration setting without a hassle.
PROS
It is affordable
Heated build plate
Amazing customer support
Great print quality
CONS
Assembling required
Manual calibration
Product
Specification
Videos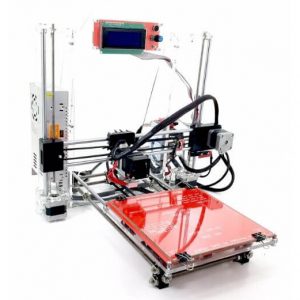 Open frame design and sturdy look, the printer is there to impress you with looks and with features too. Easy to keep an eye on, while the print of ...
| | |
| --- | --- |
| Model | Prusa i3 V2 |
| Manufacturer | RepRap |
| Price Range | $ 280 |
| Availability | Available |
| Classification | DIY/Kit |
| Technology | Extrusion (FFF- FDM…) |
| Material | ABS, PLA, Wood, Fabric, Plastic and more. |
| Max. build size | 203.2 × 203.2 × 177.8 mm 8 × 8 × 7 in |
| Max. build volume | 7.34 L |
| Heated print bed | Yes |
| Heated build chamber | No |
| Automatic calibration | No |
| Closed frame | No |
| Dual extruder | No |
| Independent Dual Extruder | No |
| Full color | No |
| LCD screen | Yes |
| Touchscreen | No |
| On-board camera | No |
| Mobile app | No |
| 3D scanners | No |
| CNC mill | No |
| Electronics 3D printing | No |
| Filament diameter | 1.75 mm 0.07 in |
| Laser engraving | No |
| Conveyor belt | No |
| Air filter | No |
| Pellet extruder | No |
| USB | No |
| Wifi | No |
| Bluetooth | No |
| SD card | Yes |
| Ethernet | No |

Table of Contents
RepRap has been flourishing with time by offering something unique and new with their every new offering. Being one of the leaders in manufacturing 3D printer kits, the company is looked up for results and high performance.
Apart from the exceptional product quality, the US-based company also offers unmatched customer support. The Prusa I3 V2 review highlights the most important aspects of the very popular I3 series from RepRapGuru.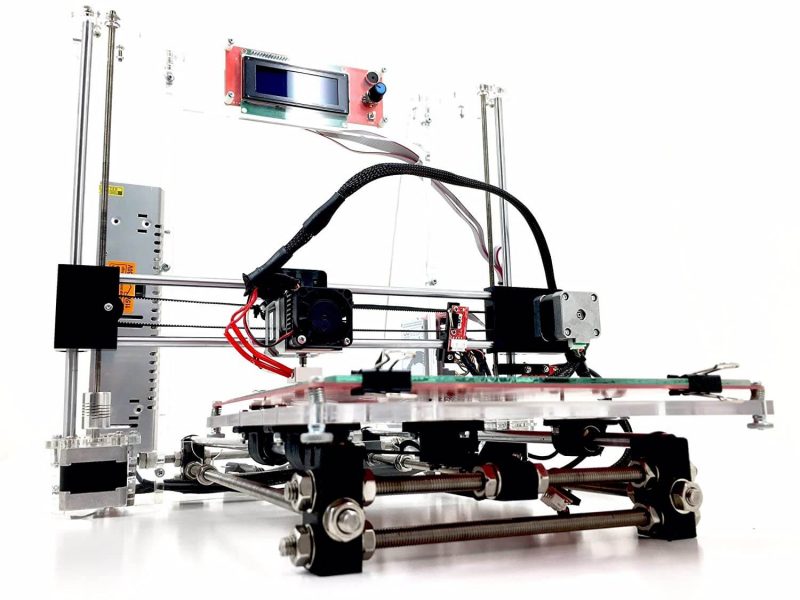 This 3D printer is created to compensate for the limitations I3's flagship version had. Hence, offering its customers better and enhanced results.
As we know about the company, RepRapGuru is popular for manufacturing budget printers. Many homemakers and tinkerers depend on the company for buying their first DIY Kit.
Although this isn't the only company offering affordable machine, it does have huge backing from the 3D printing community for its high-quality products. Instead of the cheaper price tags, the printers from RepRapGuru are precise and accurate.
Though you may have to work a lot more for assembling and calibrating the machine before use, it does pay off later. Those who love to experience things themselves and experiment a lot would definitely welcome this amazing DIY kit for getting into 3D printing.
And, with so many online videos helping users assemble and connect the parts together, it does not seem that much challenging anyway.
Read the complete RepRapGuru DIY Prusa i3 v2 review to find out if the 3D printer is worth your consideration.
Features
Jumping to the features is what you should be doing before buying a 3D printer. You must like to know the various functionalities the machine offers, isn't it? So, here is a list of the features that tag along with this 3D printer.
DIT Kit: Let's just say it one more time, the printer isn't a plug and play design. On the contrary, it is a DIY kit that would need a lot of effort from your end to put the components together.
Sturdy Body: The first look says it all. This 3D printer with an acrylic frame is enough to provide you with balance and stillness when printing. Hence, users can work without vibrations and similar problems. You can make precise parts. Thanks to the sturdy frame.
Open Frame Design: Unlike those enclosed frames, this one is completely open from all ends. However, it does make it easy to keep an eye on the parts being printed on the machine. Printing with flexible materials that require a consistent temperature for printing may seem like a difficult job. However, with the proper setting, you can beat that challenge too.
Spool Holster: In this design, the company has been a lot thoughtful. By using the holster to hang the filament spool, the printer makes more space for the work area. Hence, easing the organization of the different components of the machine.
Heated Bed: This is a great addition to the entire printer's design. A heated bed is something that could provide you the flexibility of printing with more than just PLA. Many materials have a higher melting point and they do require a heated bed to minimize warping. With this feature, Prusa i3 V2 becomes capable of printing with a variety of materials.
Stand Alone 3D Printing: If you would notice, there is an SD card slot on the 3D printer. This means that you do not need to hardwire the printer with your computer to upload the 3D design. You can just save the digital files to the SD card and put that into the slot on the 3D Printer. It will do the job perfectly.
Open Source: There are many individuals who only prefer to go with the open-source firmware. And, there are obvious reasons for the same. With this kind of design, every user can make useful changes to the firmware which every other user can take advantage of. Hence, the entire community grows together.
Customizable: If you are a maker, and an enthusiast, you must always try to find more upgrades for your existing 3D printer. And, this machine would allow you to test those theories in real. The same printer can print the customizable parts for itself. It is as amazing as it sounds.
Affordable: How can we miss that? The 3D printer is very much affordable and offers huge perks at this price range.
Manual Calibration: Although the 3D printer is affordable and home users can go for it, one must consider the trade-offs. For this budget, one must be ready to put in extra effort to calibrate the machine all by oneself. Yes, the printer isn't equipped with auto-calibration. And, if you wish to achieve the best results, you must learn how to do that.
Multi-Material Support: As mentioned before, the 3D printer, with heated bed support, lets you 3D print with a variety of filaments. This certainly is a huge plus for those who are looking for a much serious engagement than just printing for fun. You can print with ABS, Wood, PVA, PLA, and TPE. Hence, it offers you the flexibility to prepare for a plethora of product types and creations.
Specification
With the acrylic frame, the 3D printer offers a build space of 8″ x 8″ x 7″. This is impressive looking at the price tag. It has an Arduino mega 2560 R3 clone microcontroller.
It flaunts an Mk8/9 Direct drive extruder with 1.75mm filament space. The product footprint comes to 17 x 18 x 17 inches and it weighs 15 pounds.
You would need to work for the assembly, it being the DIY kit. And, the machine is compatible with MAC, Windows as well as Linux. The printer also has the user interface control for better flexibility with settings of the prints.
Price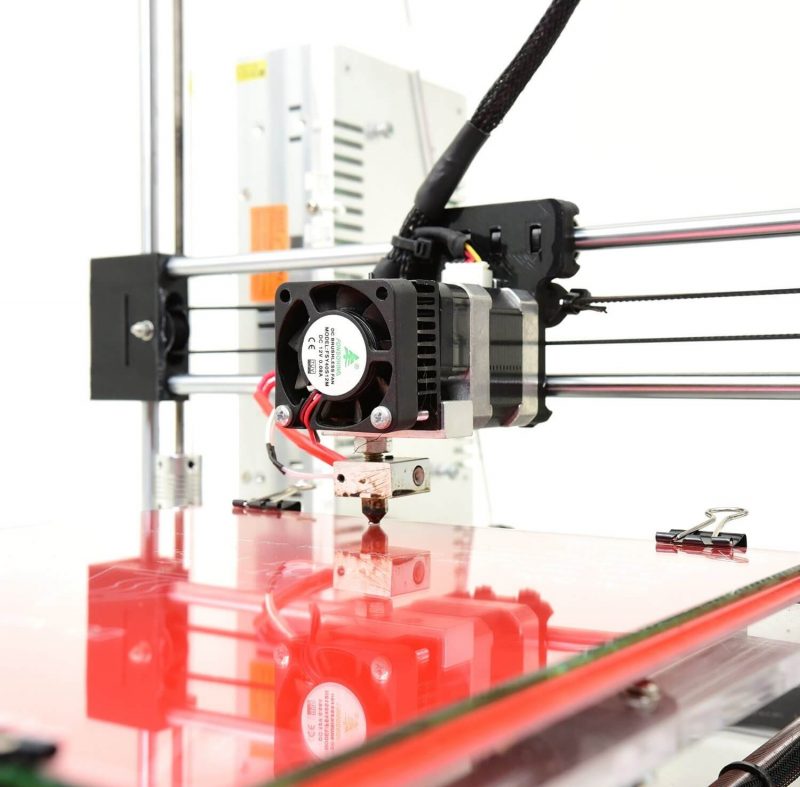 RepRapGuru DIY Prusa i3 V2 costs around $279. This is a pretty affordable printer and can help you start your 3D printing journey without a need for spending a huge amount.
With a few hundred dollars expense, you can own your own 3D printer. And, this does not mean you must compromise in terms of quality.
Prusa printers are popular for their amazing performance. These are difficult to assemble, however, it does bring with itself a huge array of opportunities. From quality to the reliability, you get everything you need to move on.
Best for makers and home users. Although a bit tricky for beginners to assemble, it does offer a huge potential for in-depth learning of the technology.
First Impressions
After unboxing, you would find the different components of the 3D printer snuggled safely inside separate packages. Each one labeled for your convenience.
Unlike the boxes for assembled 3D printer, this one would seem a little smaller. But that's obvious. You still need to connect the components together to complete the 3D printer in one piece.
One thing to note, you do not receive any accessory along with this 3D printer. It's just the different components, the power cable, and the manual for assembling the machine.
You must manage to get the screwdrivers and other tools for tightening the different screws on the Prusa i3 V2 3D printer.
Setup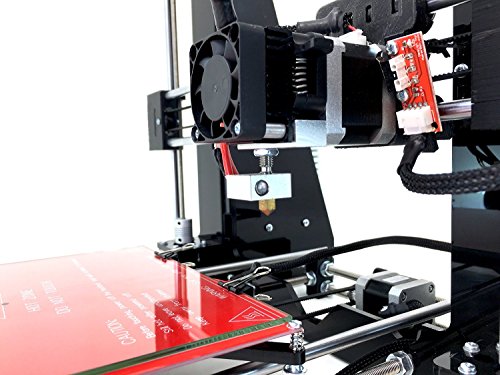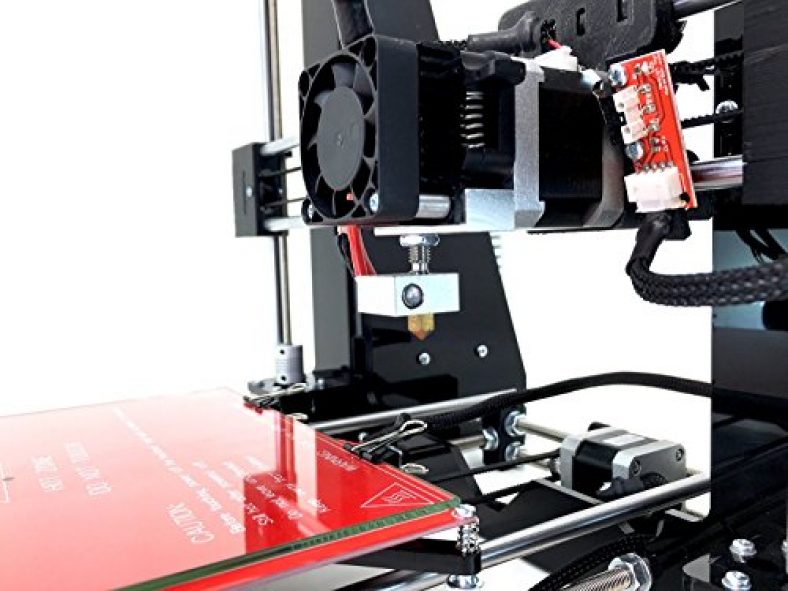 Coming to the setup of the 3D printer, you must be expecting a lot of work from your part. And, this is what it is. When unboxing the parts, remember the name of the components.
If not, do not worry, the manual is well explanatory and helps users in assembling the machine with as much less hassle as possible.
To make the connections, you must follow the instructions clearly. If the manual seems not enough, you can also look for online guides and videos illustrating the setup of the printer. Make sure you connect the parts correctly and check the screws if they are tightened for sure.
Once you do that, you must download and install the software and firmware. This isn't a plug and plays machine. Hence, it would ask for a lot of help from your end to start its work.
After you install the app, you must calibrate the 3D printer from scratch. This is important as the precision of the parts depends on the calibration of the machine.
All this would take hours of your time. And, if you are a beginner, it would be even more hectic. Just be patient and the later results would be worth all your efforts.
Printing Type/Cost
The 3D printer is an FDM machine. This says almost everything about how these 3D printers work. The plastic filament after heating extrudes from the nozzle for preparing the first layer.
The layer is deposited on the print bed. After it sets, another layer is deposited. Hence, the process continues until the entire part is printed out of the machine.
In some cases, depending on the design of your parts, you may require to add support. And, if that happens, you must go through the post-processing steps to remove and smoothen the surface finish.
Printing cost is a variable that depends and varies with each part design. You must consider the amount and type of filament used, the complexity of the parts, etc with various indirect expenses such as electricity bills.
Print Quality
As always, the Prusa i3 V2 3D printer has left no stone unturned in finding its place among those users who admire results. This machine is great at performing and you can achieve precision and accuracy with the right calibration setting without a hassle.
In other words, you do need to work with the settings of the printer to find the sweet spot. If you can do that, the 3D printer will pay off with astonishing results.
Software
The company offers its PrusaSlicer for its 3D printing users. This software was known as Slice3r formerly. PrusaSlicer is compatible with Linux, MAC as well as Windows.
It comes with pre-loaded filament profiles. Plus, it has three different modes of operation: Beginner, Advanced, and Expert. Hence, the users can choose the mode as per the expertise level and work with invited complexities.
Using the software, you can check the number of hours it would take to complete the parts as per the layer height and design. Not just that, the software is available in 14 different languages.
It offers users a user-friendly interface and an intuitive design. Hence, providing enough ingredients for all level of users.
Customer Service
RepRapGuru is popular for its commendable customer service. It provides users the best experience by providing 30 days refund guarantee. The company claims to refund the entire amount if the printer is returned within 30 days.
Moreover, customer support is highly informative and is always ready to help you in need.
Parameters Influencing Buying Decisions
Before you plan to get this budget printer, you must look at all the sides of the coin. The RepRapGuru Prusa i3 V2 review helps you take an informed decision by outlining the important concerns.
3D Printer cost: It is affordable. Build for home users and beginners.
3D Print quality: The print quality is par expectation considering the price tag of the machine.
3D Print speed: Prusa i3 V2 offers manageable speed. And, it is enough for most of the users.
3D Printer capability: You can create all sorts of designs, either with overhands or with complex geometries. Plus, you can print with different filaments.
3D Printer Practicality: Best for home use and for makers and hobbyists.
3D Printer User expectations: Although the 3D printer is cheap and budget-friendly, a few more feature addition would have helped enormously to the beginners. Such as inclusion of tools inside the box, if not automatic, then assisted bed leveling, etc.
The Verdict
When buying a 3D printer, it's important to weigh the options. And, at this price range, Prusa DIY kits do leave many other competitors behind.
Reading the Prusa i3 V2 review, you must have gained this insight. However, it may not seem a good option for those who are not ready to invest this much time fixing the components together.