Robo R2 3D Printer
Combining the best and updated features, Robo R2 does offer users with huge potential to go deeper with creativity and produce amazing stuff. With the astonishing build-up with a plethora of advanced functionalities, the printer is worth your attention.
PROS
Amazing print quality
Compatible with multiple materials
Remote monitoring
Enclosed frame
Automatic calibration
Easy to print
5 inches color touch screen
CONS
A bit noisy
No dual extruder
Product
Specification
Videos

Robo R2 has an enclosed frame that will increase the number of filament compatibility that you get otherwise with an open frame printer. It will be ...
| | |
| --- | --- |
| Model | R2 |
| Manufacturer | Robo 3D |
| Price Range | $ 1299 |
| Availability | Available |
| Classification | Desktop |
| Technology | Extrusion (FFF- FDM…) |
| Material | ABS, Other plastics, PLA |
| Filament diameter | 1.75 mm 0.07 in |
| OS compatibility | Linux, Mac OS, Microsoft Windows |
| XY accuracy | 0.0125 mm 0 in |
| Max. build size | 203.2 × 203.2 × 254 mm 8 × 8 × 10 in |
| Max. build volume | 10.49 L |
| Min. layer thickness | 0.02 mm 0.001 in |
| Dimensions | 425 × 419 × 603 mm 16.73 × 16.5 × 23.74 in |
| Weight | 11.6 kg 25.57 lb |
| Nozzle diameter(s) | 0.4 mm 0.02 in |
| Power input | @ 110-220 V 50-60 Hz AC |
| Heated print bed | Yes |
| Heated build chamber | No |
| Automatic calibration | Yes |
| Closed frame | Yes |
| Dual extruder | Yes |
| Independent Dual Extruder | No |
| Full color | No |
| LCD screen | No |
| Touchscreen | Yes |
| On-board camera | Yes |
| Mobile app | Yes |
| 3D scanners | No |
| CNC mill | No |
| Electronics 3D printing | No |
| Laser engraving | No |
| Conveyor belt | No |
| Air filter | No |
| Pellet extruder | No |
| USB | No |
| Wifi | Yes |
| Bluetooth | No |
| SD card | No |
| Ethernet | No |

Table of Contents
Scared of starting your 3D printing experience with a DIY 3D printer? Many beginners are, so aren't alone. That is why manufacturers have tried to bring assembled machines within the budget that is reachable for individuals from a different level of experience.
While you cannot just trust every other brand out there, few do bring some exciting punch with amazing features at an affordable price. And, Robo R2 review would try to find out the same for this 3D printer, is it worth the try or not.
With a sleek design and corners that aren't sharp and scary, you get to enjoy an aesthetically pleasing look. Also, the 3D printer is more than just a showpiece and works really fine.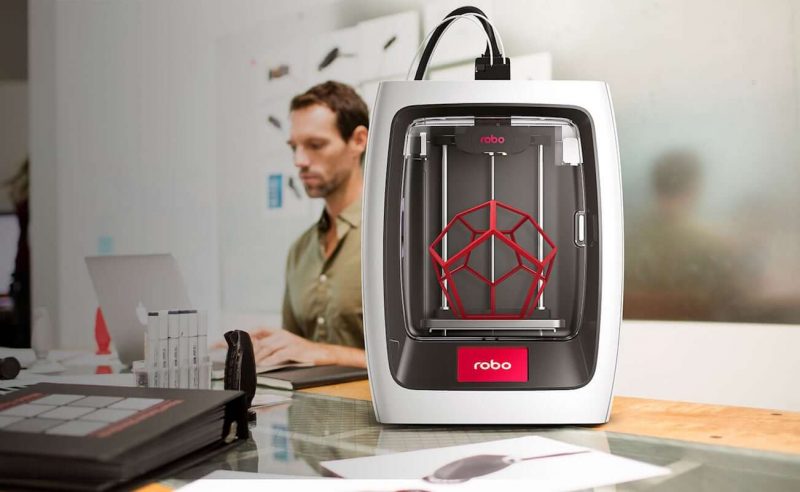 Combining the best and updated features, Robo R2 does offer users with huge potential to go deeper with creativity and produce amazing stuff. With the astonishing build-up with a plethora of advanced functionalities, the printer is worth your attention.
The best part is that the machine can work as a standalone device. This means that you do not need to connect the 3D printer with a computer at all times.
With a WIFI connection, you can upload the digital file with your smartphones too. Well, that sounds like a deal! Apart from all the high-end perks that the printer offers, it does have few limitations.
Let's just find out what the machine entails. Read the complete Robo R2 review to make the final decision.
Features
Have you ever thought of purchasing a machine that could help you reinstall the tools that are lying around because you could not find a spare part for the same?
Or, are you someone who likes to build things around your home yourself? In any case, it is important to look for the features of a 3D printer to understand if that machine will be of any help.
Hence, here is a list of the major features of Robo R2 that makes it such a desirable option for beginners and experts alike.
Completely Assembled: Why to put efforts into connecting the different components together when you can simply unbox the machine and start working. If you need something as simple as this, Robo R2 could help you achieve what you are looking for. You do not need to tighten screws or find the missing piece of the puzzle. Just turn it on and start printing.
Enclosed Frame: Most of us often wary off of a 3D printer because of its unsafe design. For instance, the open frame 3D printers could often lead to accidents with barely heated electronics. Most importantly, if you are working from home, and you have got kids around, you won't like to mess things up and put your children in danger. But this 3D printer handles those concerns superbly. Plus, it helps in maintaining a consistent temperature while your 3D printer. Creating possibilities to work with nuances of filaments.
Heated Print Bed: Along with the enclosed frame, you also get the heated print bed. This further increases your chance to print with materials with different pre-requisites of temperature and other constraints. All you need to do is, adjust the temperature of the build plate as per the necessity of the filament in use. It would help minimize warping and shrinking issues. Hence, allowing you to print with accuracy and precision.
Removable Build Plate: If you have worked with printed parts to get those out of the print bed, you must know the challenges the process brings with itself. However, when you have a removable print bed, things become easier and hassle-free.
Multiple Material Compatibility: Not to forget, as mentioned before, with a heated bed and enclosed frame, the printer becomes capable of working with an array of filaments. PLA, ABS, Nylon, Wood, and whatnot.
Open Source Filament: The company, like many others, do not insist to work with its proprietary material. Instead, you can choose any brand and manufacturer when buying your filament. For some, it may not make a difference. But there are many others who like to print with already tested materials. Hence, this 3D printer is for those who like to try different brands instead of being stuck with one.
On-Board Camera: If you wish to monitor your prints while it's 3D printing, you just have to log in to your cloud-based app to check the same. It provides all the details with remote monitoring such as time left for the completion of the print, completion percentage, etc.
Automatic Bed Leveling: If you are a novice and feel skeptical about calibrating your print bed, this one would take that worry away from you. Rather than investing hours calibrating and leveling the print bed, you just have to depend on the 3D printer for completing that task in a matter of time. With auto leveling, your hard work isn't needed at all.
5 Inches Colour Touch Screen: Once again a huge addition to the design. This 5 inches color touch screen helps you to adjust the settings directly from the printer itself. The intuitive interface lets you control all your settings from this touch screen. And, it does look amazing.
Filament Detection: With so many latest features, the printer also embodies filament detection. Hence, if your 3D printer is about to run out of the filament in between of prints, the printer would alert you of the same. The 3D printer will pause the operation until you reload the filament spool. Therefore, saving your prints from failing in between.
Voice Control: This is a unique feature that you won't find with many machines. In case you own an Alexa compatible device, you can control your 3D printer with a voice. Isn't that fascinating? The manufacturers did try to provide this machine with a completely exceptional quotient. And, they succeeded too.
Specifications
The 3d printer has a footprint of 16.7" x 16.6" x 23.7" and weighs around 25.5 lbs. It offers users a commendable build space of 8" x 8" x 10".
In terms of resolution, the machine does a decent job. You can achieve a layer resolution ranging from 20 to 300 microns. Among all, what is a bit disappointing is the print speed which struggles at 16 mm3/sec.
To connect the printer, you have got WIFI as well as a USB connection. The nozzle diameter stays standard with 0.4mm. It has one extruder which is interchangeable. Plus, the machine can work with more than 20 different filaments.
Price
Robo R2 featured price is $1499. Hence, it isn't very cheap. Those who are looking for a 3D printer for some serious application can check this option. Being stuffed with amazing features, it may be able to help conquer your aims seamlessly.
First Impressions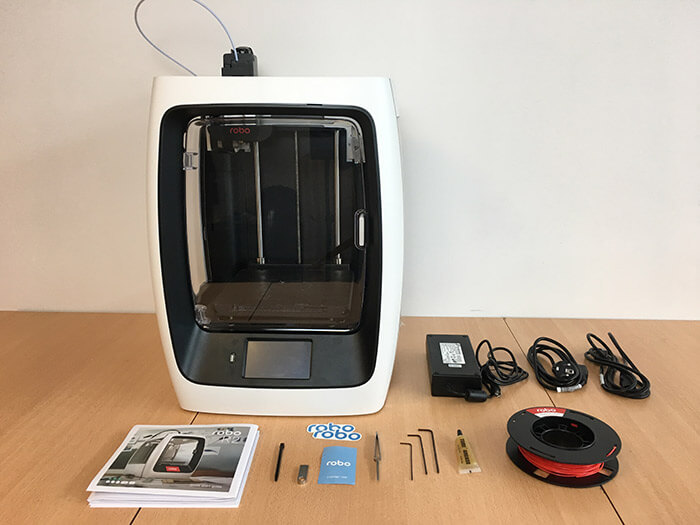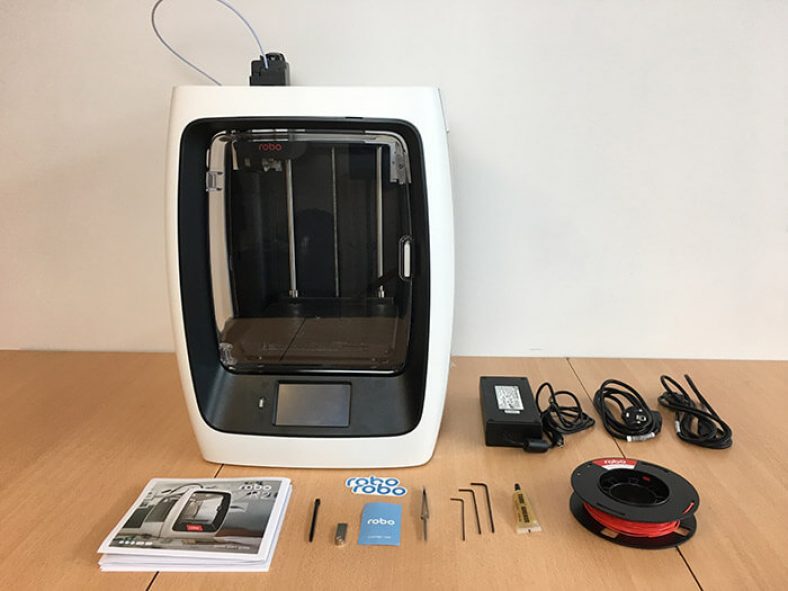 The box is bigger than the machine, which is completely obvious. After you unbox the package, you will find a 3D printer, completely assembled, locked within the foams, and protective gear from all around. This is to ensure that the 3D printer stays safe when shipped.
Because the 3D printer is completely assembled, the box is mostly tidy and contains a few other accessories apart from the machine.
You receive a power cable, quick start guide, filament spool, USB with few sample 3D designs, 1 year Autodesk fusion 360, some tools to accomplish post-processing steps, and the 3D printer of course.
With all these inclusions, you won't need anything else to start printing. It takes a matter of to time for jumping to your first printing experience.
Setup
Setup is like breeze. As mentioned before, the 3D printer is for beginners. It made super easy to set up and one does not have to go through all the trouble to watch the first model being printed.
If you do not have the patience to walk through the tedious steps, this 3D printer is for you. After you unbox the machine and load the filament, all you need to do is start the automated calibration.
In just a few minutes, you would be ready to print your first 3D model. And, you can find one in the USB shipped along with the 3D printer.
Printing Type/Cost
Robo R2 is an FDM 3D printer. In the FDM 3D printing technology, the extruder is heated to the desired temperature which is greater than the melting point of the filament in use.
This heats the material and turns it from solid to flexible form. This is then deposited on the build plate, one layer at a time.
Each layer is cooled and set. Once that happens, the build plate moves down, providing room for the next layer. This entire process repeats until the part is printed completely.
The cost of printing is a bit tricky to calculate if you are doing it for the first time. You must include various factors in doing so. Starting from the complexity of the design to the layer height, you must focus on all indirect costs as well such as electricity bills.
This would help you come up with more detailed expenses you are making on each 3D part.
Print Quality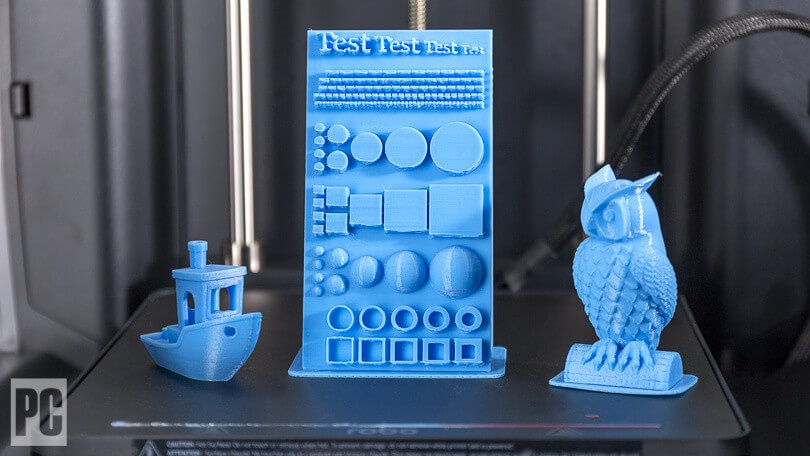 The manufacturers have done an applaudable job in bringing the precision and quality to the 3D parts printed using Robo R2. With a layer height between 20 to 300 microns, you can achieve great details.
Software
Robo R2 is compatible with Cura and this software does not need an introduction, does it? The slicing app is for beginners and experts alike. It has different complexity levels and is very popular among every level of users.
Customer Service
You can reach the support team 24 by 7 using their phone number. They do have skype video support as well. Plus, they offer huge help through their guide and manuals. You will find enough information on their website to get started.
And, they also offer 12 months of warranty on their product.
Parameters Influencing Buying Decision
Buying an expensive 3D printer is something that must be decided with care. You cannot go back and press the redo button. Hence, you must look for the right specifications before you finally pay for the Robo R2.
Check out the quick bites from the Robo R2 review that would help you get a hang of different perks and limitations the printer has.
3D Printer cost: It sits in the mid-range. And, the price is not for those who are just looking to explore a few facets of 3D printing. The price is for those who are serious about going somewhere with technology.
3D Print quality: The print quality is awesome. For this price tag, you are getting what you are paying for. A layer height between 20 to 300 microns is enough to carry most of the tasks.
3D Print speed: Speed isn't very competitive but when the trade-off is the print quality, who would say no.
3D Printer capability: With a combination of print quality and access to a variety of filaments, the printer provides huge capabilities to the users. One can print with varying filaments for different needs.
3D Printer Practicality: The printer is for hobbyists, small businesses as well as home users who are ready to pay extra bucks for quality and ease.
3D Printer User expectations: A dual extruder design would have been highly welcomed at this price tag.
The Verdict
With developments within the 3D printing niche, there have been huge advancements and the 3D printers are becoming cheaper.
However, the $200 3D printer still lacks the gut that you would need for a specialized job. For professional results and ease of use, you need something smarter. Robo R2 is one such offering to the users who feel that print quality is the core for best results.
The Robo R2 review provides examples of how the machine brings quality along with simple operation to fit the needs of all levels of users.