SeeMeCNC Rostock Max V4
Compared to the 3D printers in the same price range, SeeMeCNC Rostock max V4 excels in many areas such as providing the automatic bed leveling probe, touch screen user interface, compatible with a variety of 3D printer filaments, and multiple modes to connect.
PROS
Excellent print speeds.
Fine detailing of prints.
The extruder as well as the heated bed capable of withstanding high temperatures.
Precise layer thicknesses.
Heated print bed.
Optional dual extrusion.
Capable of 3D printing with a wide range of 3D printer filaments.
Table of Contents
Rostock Max V4 is a fully assembled delta 3D printer featuring a powerful A/C heated bed with a metal enclosure. Its improved heated bed enhances adhesion as well as its performance. The printer is equipped with responsive power for reaching higher bed temperatures in minutes.
Measuring 385 mm in height, and 270 mm in diameter, Rostock Max V4 is capable of printing one of the largest build volumes in its class. Moreover, the machine offers increased printing speed and laser-like accuracy capable of 3D printing a custom-built an electric-guitar to a full-sized Iron man suit.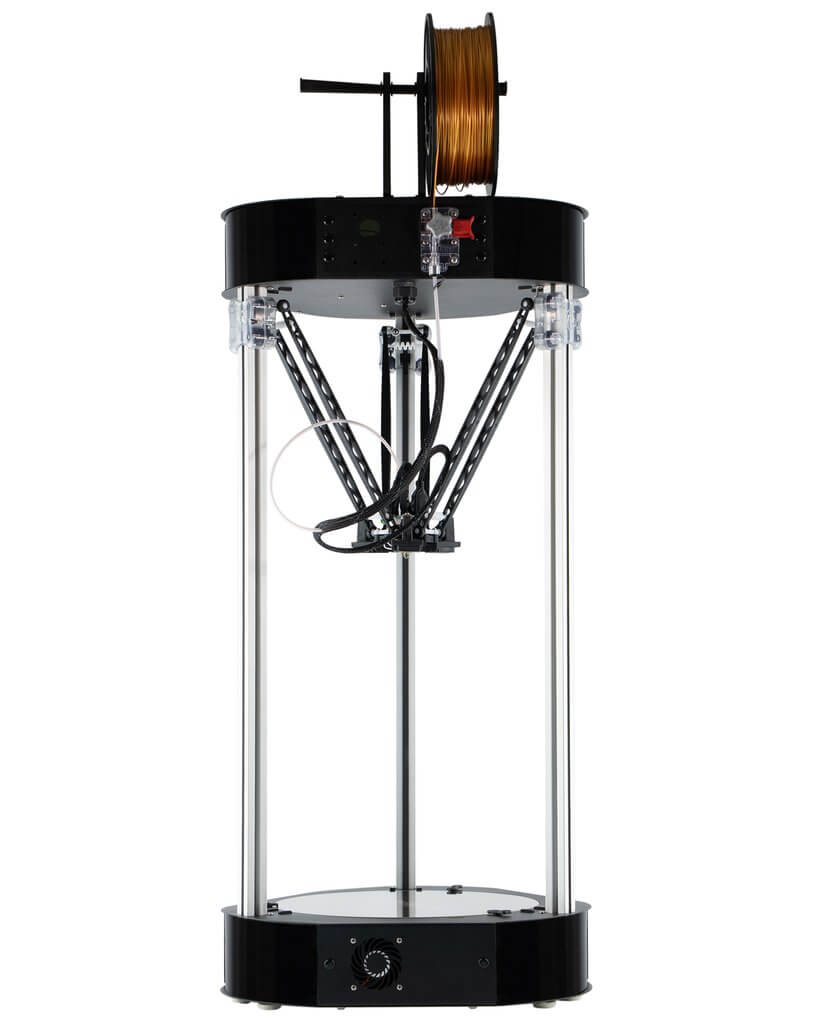 Also, the printer houses a hot end that can withstand temperatures up to 280 degrees Celsius, thereby allowing users to print with filaments of high glass transition temperatures.
So, let's find out what makes Rostock Max V4 so unique in its class that the printer stands strikingly aloof from others offered in the same price range.
Features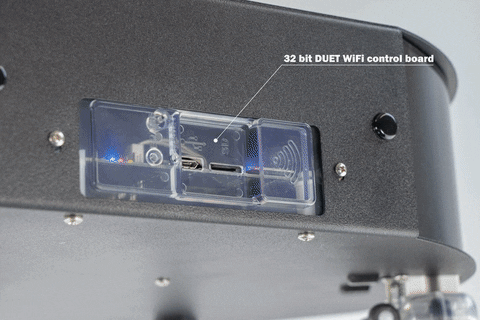 Rostock Max V4's typical heated bed's response time allows users to reach 60 degrees Celsius temperature in approximately 4 minutes. The 32 bit Duet Wi-fi controller provides operators with a smooth, precise, and quiet motion control.
Joined with it for smooth motion are 0.9 degrees stepper motors and a unique low to the point of being negligible maintenance Cheapstake linear motion design. Additionally, its EZR struder accurately drives the filament to SE300 probing hot end. Overall, the printer has many amazing features, the key ones among which are mentioned below.
Touch screen controller with SD card reader
Embedded in the printer's body is a touch screen controller that allows users to interact with it easily. Using the touch screen controller operators can easily control various functions on the printer.
You can stop, pause or start the print. Moreover, it also lets you auto-level the nozzle system by adjusting to the print bed according to the part geometry that's fed into Rostock Max V4.
Exchanging files on the machine is easy. All one needs to do is feed the printer with an SD card loaded with the design files of the part that you need from the manufacturer.
32-bit Wi-fi duet control board
Providing a smooth, accurate as well as quiet motion control is a 32-bit Wi-fi duet control board collaboratively working with 0.9-degree stepper motors and a Cheapstake linear motion design.
This component ensures that Rostock Max V4 doesn't have a random motion and can withstand the changes in speed occurring with the printer's print head's motion.
Moreover, the 32-bit Wi-fi due control board makes certain that the printer makes lesser noise while 3D printing a part or functional prototype.
Auto bed leveling via SE300 probe
Enhancing the overall quality of the heating process in Rostock Max V4 is the SE300 probing hot end. In combination with the printer's heated bed, it works efficiently to reach 100 degrees Celsius in just eight minutes.
This feature enables users to complete their print job in an optimal amount of time. Also, it ensures that there is a considerable amount of accuracy while printing the very first layer of any part of a functional prototype.
This component increases the overall efficiency of Rostock Max V4 and assists first-time 3D printer users by relieving them of the manual bed leveling duty.
Heated bed with the borosilicate build plate
The Rostock Max V4 is equipped with an improved heated bed that improves bed adhesion as well as the entire printing performance. It uses responsive power for reaching higher bed temperatures in minimal minutes. As per claims by the manufacturer, the heated bed takes just 4 minutes to reach 60 degrees Celsius, whereas it 8 minutes to reach 100 degrees Celsius.
Moreover, it provides excellent bed adhesion to various parts made from different filaments. Also, thanks to the heated bed the user can print with filaments that have a higher glass transition temperature.
0.9-degree stepper motors
Assisting the print head of Rostock Max V4 for a smooth and fast movement are the 0.9-degree stepper motors. It allows users to achieve a higher level of print speeds that are rarely possible with printers in the same price range.
Fixed at the supports of the printer, they help the print bed and the nozzle system to reach to its print bed and back while laying a layer and then gradually shifting while printing the complete part or functional prototype.
Compatible with user-friendly software
Rostock Max V4 works fine with Cura software which is known in the world of 3D printing for being one of the most user-centric applications. It allows even naïve users to gain complete control over various print settings that allow printing of excellent surface finishes, and fine detailing over sharp edges and curves.
While beginners can enjoy the non-technical content of this technical application, experts can dive in-depth into designing some of the most intricate shapes and geometries. The software runs well with macOS X, Windows, and Linux.
Optional swappable nozzles, second extruder, and carbon fiber arms
Rostock Max V4 comes with a multitude of options for printing with various nozzles to regulate the flow rate. The printer prints with nozzles made from brass and stainless steel that can withstand high temperatures. The nozzle diameters of these nozzles can be 0.4 mm, 0.5 mm, 0.7 mm, and 1 mm.
Also for users who need to print complex parts with different colors, materials, or supports structures, they can make use of Rostock Max V4's second extruder.
Moreover, for building stronger parts, operators can utilize carbon fiber arms that are capable of holding the nozzle system with even more strength and comfort, thereby delivering excellent movement.
Specifications
See Me CNC's Rostock Max V4 is based on the most straightforward 3D printing technology in the market i.e. Fused Deposition Modeling 3D printing.
Utilizing this technology, the printer is capable of producing parts with a minimum layer height of 100 microns. The machine's build-up allows users to go maximum up to 290 mm * 290 mm * 450 mm build volume.
It provides a maximum travel speed of 350 millimeters per second and comes with an option to include a dual extrusion system. The printer has a maximum printing speed of parts with 0.2 mm layer height in 100 millimeters per second.
Users can connect with the printer via USB, SD card as well as Wi-fi. The machine is capable of providing minimum layer heights of 0.5 mm using a nozzle of 0.08 mm. Its heated bed and hot end can withstand maximum temperatures up to 110 and 280 degrees Celsius respectively.
The printer is equipped with an auto-calibration probe that's able to deviate in the range of 0.08 to 0.13 mm. It offers a commendable step resolution of 0.01 mm.
Price
Rostock V4 fully assembled RTP is available for $1399.
First Impression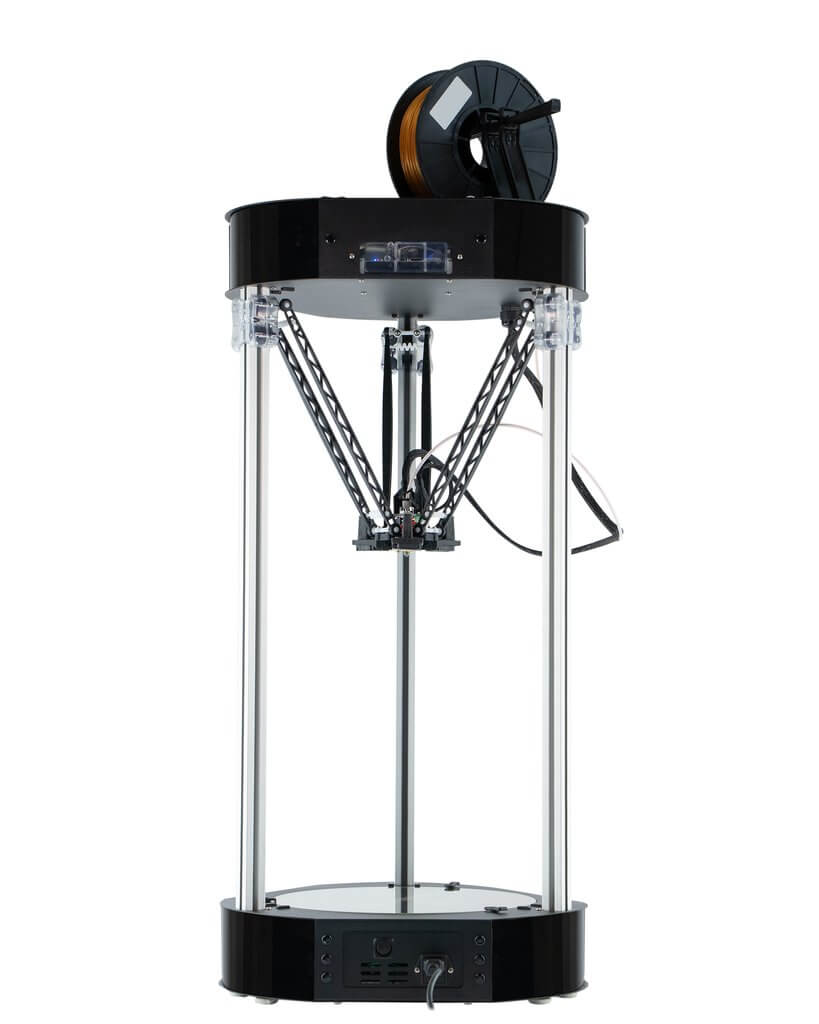 The printer is available in black color. It has a stylish look that makes it stand out when kept with other 3D printers on the shelf. The printer looks suiting for home as well as professional use. Its dimensions are 16.9 inches * 16.1 inches * 35.8 inches. Its spool needs to be mounted on the holder over the camera.
Being a delta 3D printer, it has a cylindrical shape that's supported with three arms arranged in a triangular shape. Each of the arms having rails over them to ensure that the print head can travel with the nozzle system to the borosilicate bed of the printer! A touch screen interface is embedded on the printer's body eases the complete user interaction.
Setup
Rostock Max V4 comes completely assembled and is ready to print straight out of the box. All you have to do is place it over a suitable desk and give it the needed power supply. Users can then turn on the printer, initiate the process using the touch screen interface, and auto-level the heating probe.
The next step is to load the file on the printer which can be done via USB, SD card, or Wi-fi. Once that is done, you start 3D printing with Rostock Max V4.
Print Type/Cost
FDM 3D printing technology is the fairest, efficient and affordable 3D printing technology compared to all others. It makes use of a filament spool for 3D printing a part or functional prototype. Once the spool is loaded in the holder, the heating process of taking the temperature of the spool from room to glass transition starts!
After that is achieved, and the filament is in the melted condition, it's allowed to flow through the nozzle system according to the part geometry. The lying of layers and shifting of the print head continues till the part is completely printed.
Normally, the cost of 3D printing a part or functional prototype using FDM is lower compared to other technologies as there is no use of any laser or UV light source for the curing of objects. However, the cost generally depends on various factors.
Print Quality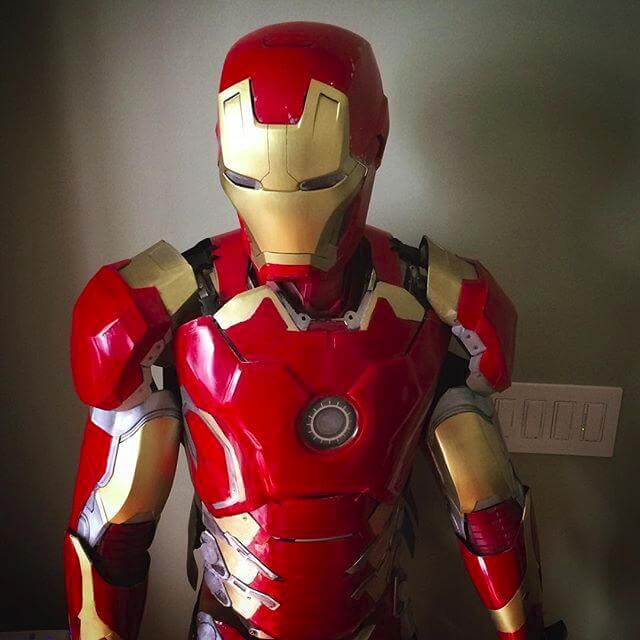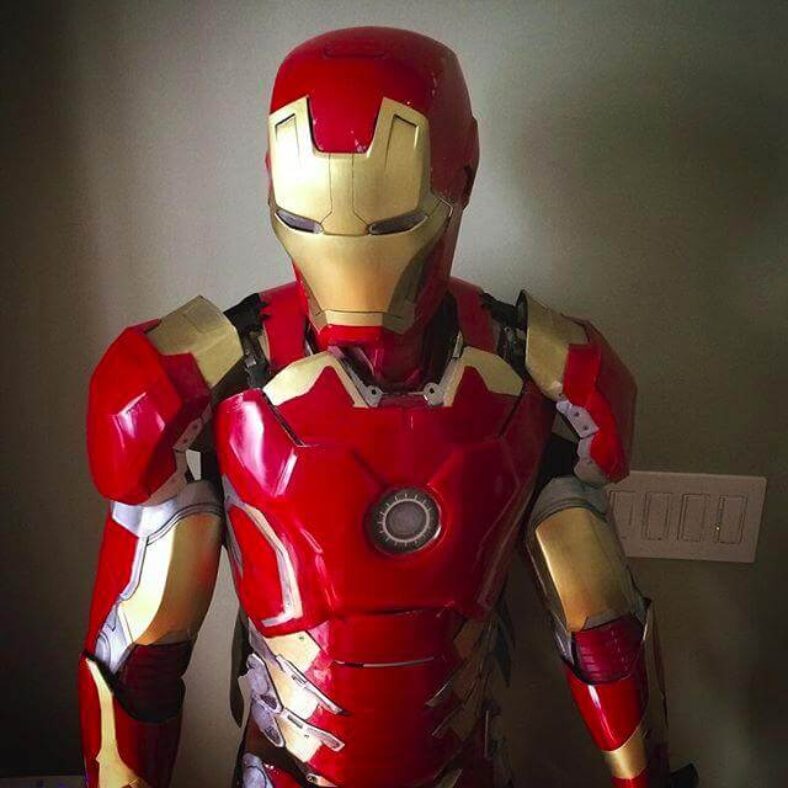 Credit: top3dshop.com
Rostock Max V4 Full kit can print with layers of 80 microns width. It produces smooth exterior surfaces. The kit features a 0.5 mm nozzle that makes you benefit from strong models in fast print times.
Using the printer, users can easily build objects of a huge size such as the Tyrannosaurus Rex skull. The all-steel construction and tank-like build-up make the print head run on rails thereby ensuring a reliable, fast as well as a precise print.
Software
Cura open-source application comes compatible with Rostock Max V4. It is a very user-friendly software that allows even beginners to grasp the designing aspect of 3D printing very quickly.
Customer Support
Rostock offers plenty of material online in terms of the general FAQs, and downloads. Users can also reach out to the printer manufacturer by submitting a request. One can also reach out to the technical team of Rostock via call or email.
Parameters Influencing Buying Decision
Below mentioned are the chief factors concerning the buying decision of Rostock Max V4.
3D Printer Cost: Considering the over functionality of the printer, its cost is sustainable.
3D Print Speed: Being a Delta 3D printer, Rostock Max V4 can provide an above-average 3D printing speed.
3D Print Quality: The printer can provide users with minimum layer thickness and surface finish that is hardly visible and fine.
3D Printer Capability: Beginners in the field of 3D printing as well as educationists are the primary groups of users that See Me CNC targets mainly with Rostock Max V4. The printer has a simple mechanism, and a lot of features to ease the overall user-friendliness.
3D Printer Practicality: The 32-bit Wi-fi controlled duet board enables users for a smooth, noise-free 3D printing experience with good speed for producing high-quality parts and functional prototypes.
3D Printer User Expectations: Even small manufacturers can benefit a lot by buying Rostock max V4 as it consistently produces good part quality and has a lot of efficient components for stable 3D printing.
The Verdict
Overall, Rostock max V4's full kit uses FDM 3D printing technology and delta constructions for producing small parts and functional prototypes with excellent print quality.
Compared to the 3D printers in the same price range, Rostock max V4 excels in many areas such as providing the automatic bed leveling probe, touch screen user interface, compatible with a variety of 3D printer filaments, and multiple modes to connect.
The printer manufacturer has put in place very user-friendly features, as well as kept it compatible with Cura – the open-source designing software which makes the complete job of an operator very easy. Above all, it's available at a very affordable price.