Sunlu S8
Sunlu S8 is a durable 3D printer that is capable of producing several copies of the same thing. It is an affordable 3D printer that offers high-quality products and is capable of mass 3D printing.
PROS
Heated glass bed in the printer makes removing objects easy, also ensuring a consistent print surface.
Contoured large knob guarantees perfect leveling of the printer which minimizes user input making evening out the bed less difficult.
Massive print area makes it possible to print tall or wide objects.
The electrical component of printer houses wires and power generator against the frame which gives them more stability.
Durable, metal frame will not warp and provide immense strength to the printer to keep it away from moving when printing at top speed.
Gantry-style structure of the printer keeps the print area open while printing large objects.
Sunlu S8 is equipped with power interruption sensors.
XYZ stops prevent the entire unit from hitting the ends of the frame, thereby disrupting evenness.
If the filament that you are using for 3D printing parts or functional prototypes is missing or broken, you get an alert.
CONS
Some 3D printed objects may turn out brittle. This may happen especially when creating intricate objects using Sunlu S8.
The printer is loud, as reported by some users and causes a metallic ring as it operates.
Product
Specification
Videos

Hosting a large build volume of 310 mm * 310 mm * 400 mm, Sunlu S8 is a budget-friendly 3D printer. It lets you get a correct estimate about the 3D ...
| | |
| --- | --- |
| Model | S8 |
| Manufacturer | SUNLU |
| Price Range | $ 235 |
| Release date | 2019 |
| Availability | Available |
| Classification | DIY/Kit |
| Technology | Extrusion (FFF- FDM…) |
| Material | Consumer materials (PLA, ABS, PETG) |
| Filament diameter | 1.75 mm 0.07 in |
| OS compatibility | Linux, Mac OS, Microsoft Windows |
| Generic material | Yes |
| XY accuracy | 0.1 mm 0.004 in |
| Max. build size | 310 x 310 x 400 mm 12.2 x 12.2 x 15.75 in |
| Max. build volume | 38.44 L |
| Max. print speed | 100 mm 3.94 in /s |
| Min. layer thickness | 0.1 mm 0.004 in |
| Weight | 12 kg 26.46 lb |
| Nozzle diameter(s) | 0.4 mm 0.02 in |
| Power input | AC 115/230V 50/60Hz AC I DC 24V 15A 360W |
| Heated print bed | Yes |
| Heated build chamber | No |
| Automatic calibration | No |
| Closed frame | No |
| Dual extruder | No |
| Independent Dual Extruder | No |
| Full color | No |
| LCD screen | Yes |
| Touchscreen | No |
| On-board camera | No |
| Mobile app | No |
| 3D scanners | No |
| CNC mill | No |
| Electronics 3D printing | No |
| Laser engraving | No |
| Conveyor belt | No |
| Air filter | No |
| Pellet extruder | No |
| USB | Yes |
| Wifi | No |
| Bluetooth | No |
| SD card | Yes |
| Ethernet | No |

Table of Contents
If you wish to achieve professional-quality prints in your projects, you should look for a steady printer with a secure base. And if there is a printer that can promise that in an affordable price range, it's Sunlu S8.
The printer has many amazing sets of aspects like large build volume, so get ready to read about those in-depth.
Features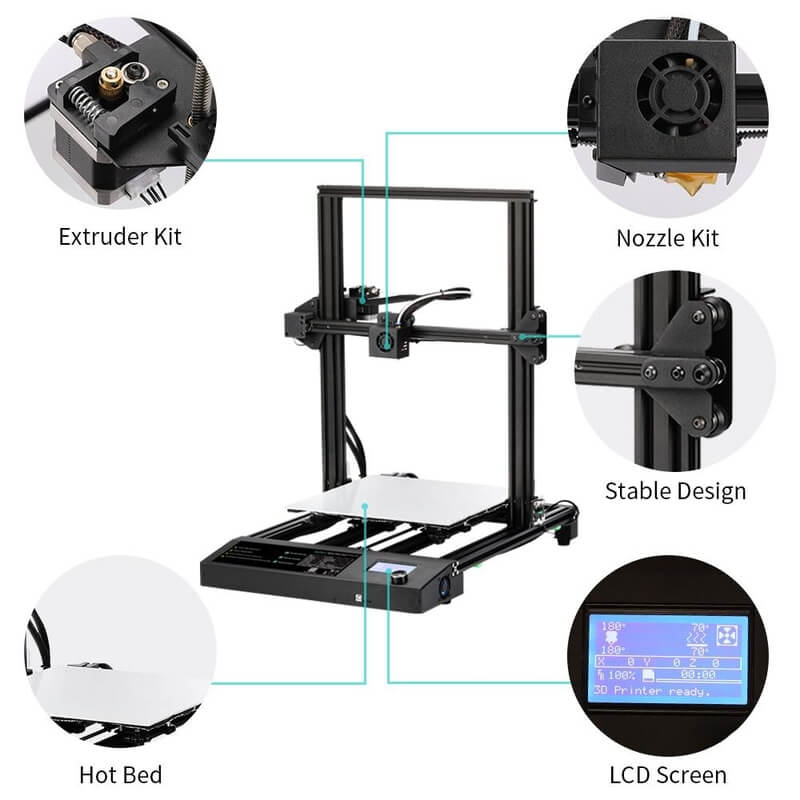 Credit: sunlu.com
The technical attributes of Sunlu S8 are as mentioned below.
Large Build Volume
Sunlu S8 has a generous 310 mm * 310 mm * 400 mm build volume that allows you to print large parts and functional prototypes in one go.
The benefit of printing large objects is that you do not have to assemble and disassemble them while putting them into an application.
Filament Run Out Detection
The fear of getting failed print while creating objects of large size won't be a fear while printing with this printer.
Sunlu S8 is equipped with filament run-out detection which would ensure that you do not overestimate the amount of filament you have or need for making an object and ultimately wind up with a failed print because your spool ran out.
S8 has a filament sensor that would display the condition of filaments that you employ for making various geometries.
Power Loss Resume Function
In case you encounter a power outage while the 3D printing process, you do not need to worry whether your work progress would be saved or not!
Thanks to the power loss resume function in Sunlu S8, you will be able to restart a print from where it was cut off during the power outage and this is a key tool for making sure your hard work doesn't fail.
Three-axis Stop
The most prominent printing feature of Sunlu S8 is the three-axis stops that limit the movement of the print head, thereby keeping it incredibly stable. The dual-Z system of the printer stays fully in sync, adding to the bed-leveling capabilities.
The stiff frame, wire encasement, and power supply cover and keep the power mechanisms from throwing off the accuracy of the printer head.
Specifications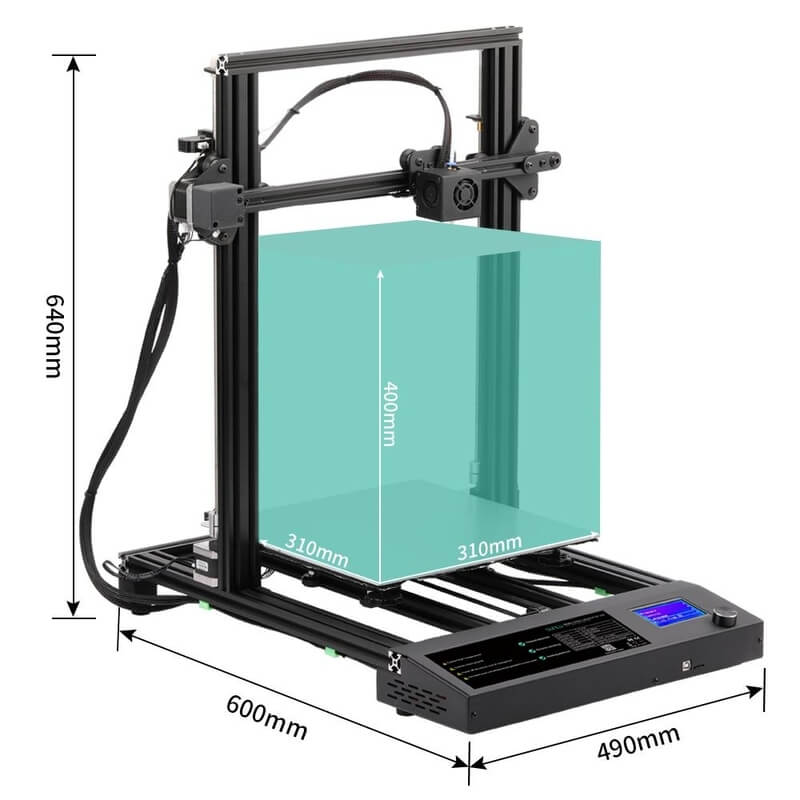 Credit: sunlu.com
Sunlu S8 is based on FDM 3D printing technology. It has a cartesian XZ-based mechanical arrangement. The maximum build volume offered by Sunlu S8 on parts manufactured by it is 310 mm * 310 mm * 400 mm.
Its feeder system is Bowden type and the print head is composed of a single nozzle with a diameter of 0.4 mm.
The hot end of the printer is capable of withstanding 260 degrees Celsius whereas the heated bed of the printer can resist 110 degrees Celsius.
Sunlu S8's print bed is made of glass while the frame of the printer is made of Metal. The bed leveling of the printer needs to be done manually.
For transferring files, you can connect with the printer via an SD card as well as USB.
The printer is capable of printing with filaments having a diameter of 1.75 mm, it allows 3D printing of 3rd party filament as well as consumer materials such as PLA, ABS, and PETG.
S8's frame dimensions of the printer are 600 mm * 490 mm * 610 mm and its weight is 12 kilograms.
Price
Sunlu S8 is available in the market at an affordable price tag of $279.99.
First Impression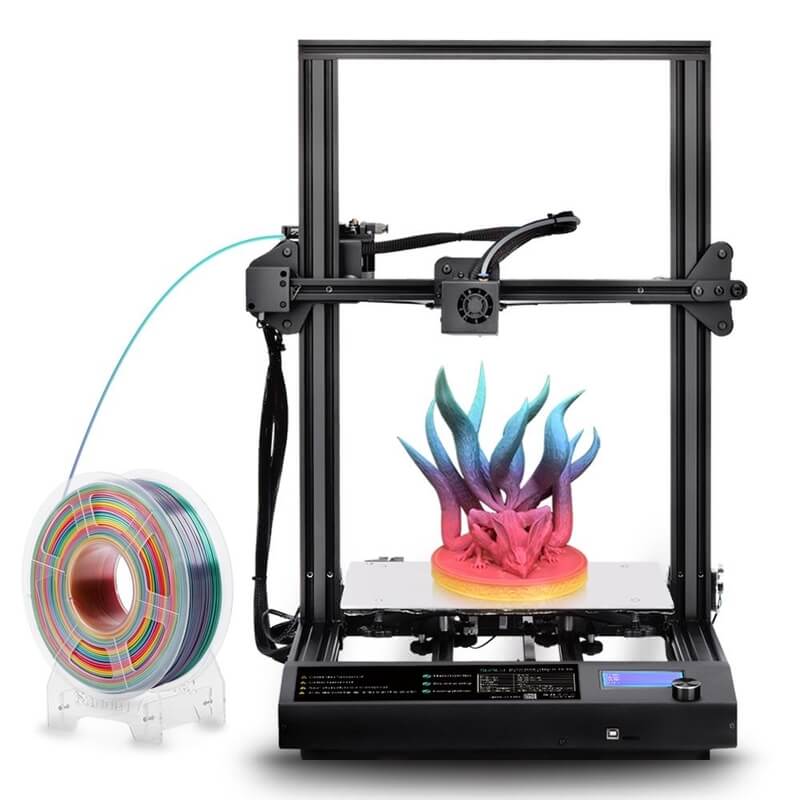 Credit: sunlu.com
The first look of the printer is sleek and modern. It has a huge black frame commanding with an open bed and overhead print mechanism. A gantry style opens up the printing space of S8 thereby giving you more capacity for builds.
Doesn't matter whether you are a professional, kid, an adult, or hobbyist, you can create wider and taller objects for suiting your medical builds, 3D modeling, commercial molds, games, toys, decor, and architectural models.
The flat bottom of the printer houses a plastic panel with an LCD display and settings not only at the front but also at the center.
An encasement houses the wires of S8 that control the large overhead arm which directs the filament along the XYZ axis.
The power supply is out of the way of the moving parts, keeping the arm more stable. Perforations in the sides of the electrical housing keep all the units cool.
The weight of the electrical component matches that of the frame, minimizing horizontal movement even while the printer operates at the highest speeds.
Weighing at slightly less than 35 pounds, the printer is not too heavy to fit on your standard work-desk table. It is obvious that the more secure the base, the steadier the arm will remain when the 3D printing process is on.
Matte black screws in the construction of the printer add strength to the overall design, stiffening the frame and minimizing vibrations. T-shape frame connections keep on adding more stability to keep the tall frame of the 3D printer from moving.
The metal frame pieces and threads keep the gantry frame tight from top to bottom. All the pieces of Sunlu S8 work together for reducing tiny movements that cause imperfections in the final product.
The glass print bed sits above the display, allowing you to look between both areas of the printer quickly. The smooth, clean material provides an excellent surface for more than one filament type.
The shovel and pliers make the removal of glass an easy task for you. With the overhead extruder, the printer hosts a 360-degree sightline of the print object giving you a full view of the project.
Leveling its print bed is more convenient for beginners because of the massive nut that turns by hand. Overall, the contoured design makes the printer more comfortable to operate the leveler.
Setup
This printer arrives at your home in a stiff cardboard box with protective fillers that keeps its inside materials safe. When you open the complete package, you will find it is almost completely intact.
For powering up the printer, it only takes six screws. The gantry frame of the printer is easy to connect to its glass bed with a screwdriver and a solid table with plenty of room.
Metal blocks in T shape and square nuts attached with the screws secure the overhead frame of the printer in its place.
Set up of Sunlu S8 only takes a few minutes. You will get a roll of the SUNLU filament to start using the machine immediately.
When the power cord is in the electrical outlet that is the time when you need to connect a device via USB cable or by inserting a memory card, whichever one is more feasible to you.
Also, set the machine to preheat with the knob present at the lower right of the LCD screen on the front of the base. Getting the complete unit to get fully heated up will take approximately five minutes.
Print Type/Cost
Sunlu S8 is based on FDM 3D printing technology. Meaning that you will need to print parts and functional prototypes using solid filament.
And the process of 3D printing would start by taking the material's temperature to its glass transition thereby melting it and allowing it to flow from the nozzle to lay its first layer.
The process will be repeated until the complete part will be 3D printed. Generally, the cost of 3D printing objects with FDM is lower than with other 3D printing technologies.
Print Quality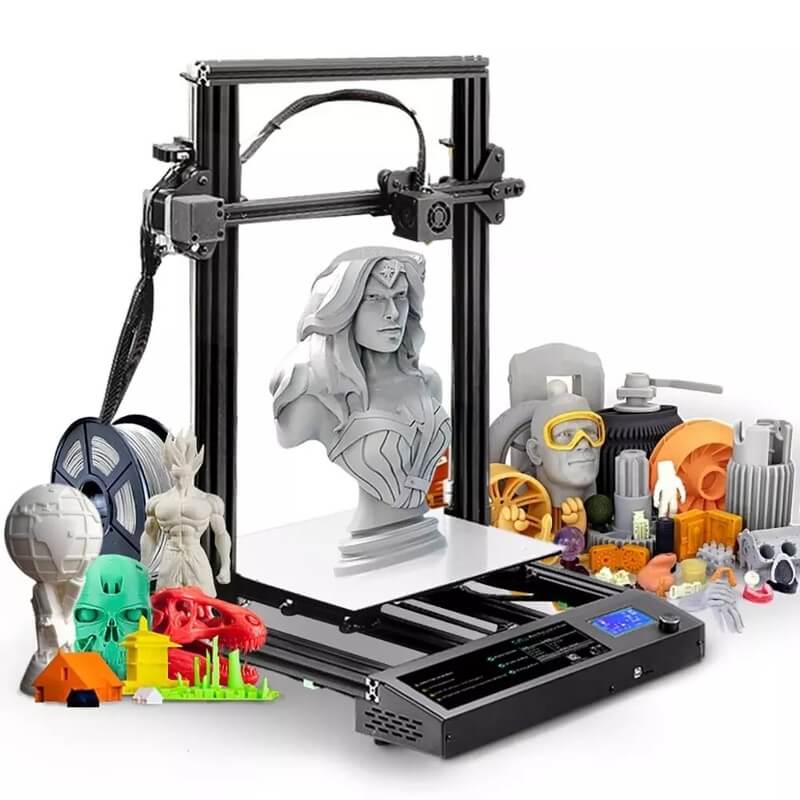 Credit: alicdn.com
The SUNLU S8 is a versatile and simple-to-learn 3D printer. It is proven excellent for beginners and professionals because of the ease of use and its extremely dependable production capabilities.
As a user, you can print anything from models to decor to adapters and braces. For printing objects, you can connect to the printer via USB cable, stick, or memory card.
The acceptable operating area for using the printer ranges anywhere between 20 to 100 millimeters per second! For getting the best quality object, the printer manufacturer recommends using a maximum print speed of 50 millimeters per second.
Although some projects may take three to four times as long to create as other models on the market, the final product is reported to be much more accurate with the SUNLU S8 printer. This model allows you to use a broad range of filament types.
PLA is the most common material that is used extensively with this printer. S8 comes with a roll of SUNLU filament; however, you can also use wood, HIPS, or ABS filaments in this unit.
Since this is a single extrusion model, you will need to know how to clean out its nozzle when switching materials for removing any small particles, and any leftover filament can cause flaws in the next print object.
As SUNLU S8 printer owners you will not have to worry about power glitches and outages affecting the final print, because this machine detects power disruptions and changes.
It pauses the printing process until the power comes back on, thereby creating the project with no overlaps or holes. SUNLU claims how S8 offers a print quality within 0.01 millimeters.
Software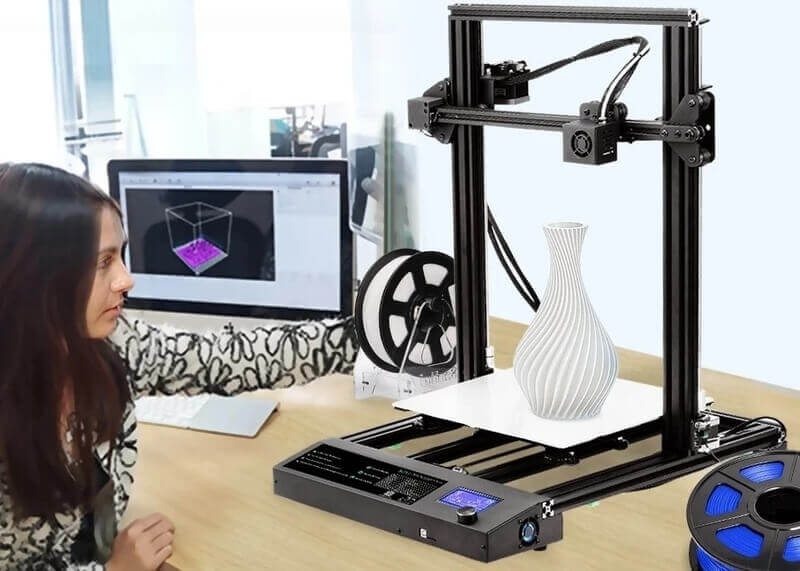 Credit: all3dp.com
Cura and Repetier Host are two software that is suggested with Sulu S8 by the printer manufacturer. Both of them run smoothly on Windows, Mac as well as Linux operating systems and allow file formats such as G-code, STL, AMF, and OBJ.
Customer Support
SUNLU offers its customers a one-year limited warranty on this printer. Customer support and help from technical advisors of the printer manufacturer are available for assistance with setting up the machine or for users having difficulty operating it.
Consumers generally state that this printer is a snap to put together and operate. But a few people mention issues reaching customer support, however, the overall consensus is positive.
Parameters Influencing Buying Decision
Below mentioned is a kind of summary of the main points that we have elaborated in the complete article.
3D Printer Cost: $280 is considered a very affordable price for a printer with such a huge build volume.
3D Printer Quality: The printer is able to print small as well as large geometries with intricacies and a decent surface finish.
3D Print Speed: Being an FDM 3D printer, S8 is able to print at high speed.
3D Printer Capability: You get enough to play with the printer in terms of the materials S8 allows you to 3D print with.
3D Printer User Expectations: The printer is almost able to offer you everything that you need as a beginner in the field of 3D printing.
The Verdict
Sunlu S8 is a durable 3D printer that is capable of producing several copies of the same thing. PLA filament is something that suits the printer like no other.
The printer has features such as a one-knob leveling system which especially aids young users and beginners in setting it up and in operation. It is an affordable 3D printer that offers high-quality products and is capable of mass 3D printing.