Shining3D Einscan Pro
Shining3D Einscan Pro is a neat 3D scanner that delivers excellent results in whichever mode you use it.
PROS
It comes from a reputed and reliable manufacturer.
The machine has very fast scan speeds.
Pro is very convenient when in use.
It delivers excellent quality scans.
CONS
Color scanning is not available with the scanner. It's a paid service.
Table of Contents
With the addition of the new camera unit, EinScan Pro delivers a greater level of support for the mesh. The scanner is primarily aimed at professionals.
It enables structured light scanning from a tripod, but it's also a handheld scanner. The machine is claimed to be three to four times more affordable than other industrial 3D scanners marketed for professional users.
EinScan Pro can capture images ranging in size from 0.03 meters to 4 meters. It has a comfortable and ergonomic design that makes it an ideal choice for long-lasting projects.
Most importantly, it weighs only 0.8 kilograms. There are even more exciting features of this device. So let's have a look at them in-depth.
Features
Below mentioned and explained are some of the most intriguing aspects of EinScan Pro.
Four scanning modes
The scanner allows users to choose one of the four scanning modes:
Handheld Rapid scan: For portable and rapid scans, this one is recommended for large objects with healthy features that do not require high accuracy. So, structures such as large-sized sculptures, automotive bumpers, human forms, organic shapes, furniture, and so on can be scanned.
Handheld HD scan: This one is for capturing objects with high accuracy and high resolution. It is especially recommended for rich details such as castings, automotive parts, and so on.
Fixed scan with turntable: This one is suggested for small objects like industrial components, ornaments, and small artistic pieces. It has the ability to complete a 360-degree automatic scan in few minutes.
Fixed scan without turntable: This one is typically advised for scanning medium objects. It is perfect for capturing highly accurate data and rich details.
High-speed scanning
In the Handheld rapid scan mode, users can scan at a speed of 10fps. Whereas, in the fixed scan mode, a single scan would take not more than 2 seconds.
Compatible with 3rd party hardware and software
This feature gives freedom to the user to choose a 3D printer or a CNC machine. A NX, PRoE, CATIA or Solid edge, Geomagic, Zbrush, or Rhino3D. Also, the scanner can be connected to almost any type of 3D printer.
Specifications
Einscan Pro can deliver single-shot accuracies of 0.1 and 0.3 mm in Handheld HD and Rapid scan modes respectively. Whereas the accuracy level decreases to 0.5 mm when an object gets scanned in Fixed scan mode with or without a Turntable.
Coming to scanning speeds; it's 90,000 points per second in Handheld HD scan mode and 550,000 points per second in Handheld Rapid scan mode.
In case users choose fixed scan mode with Turntable, the scan speed for the single scan is less than 2 seconds.
The distance between points ranges from 0.2 to 2 mm in Handheld HD scan mode, it increases to 0.5 to 2 mm in Handheld Rapid scan mode and 0.16 mm in Fixed scans with or without turntables.
The outdoor operation of Einscan Pro demands the setting up of shelter or cover for avoiding direct sunlight on the scanned object.
The single scan range of the scanner is 210 mm * 150 mm. A light source generates White Light LED from the machine to scan objects of various geometries.
The scanner can produce final scans in OBJ, STL, ASC, and PLY file formats. Its turntable has a loading capacity of 5 kilograms. Einscan Pro needs to be operated in a temperature range of 0 to 40 degrees Celsius. It supports Windows 7, 8, or 10.
Price
EinScan Pro 3D scanner is available for $5058.
First Impression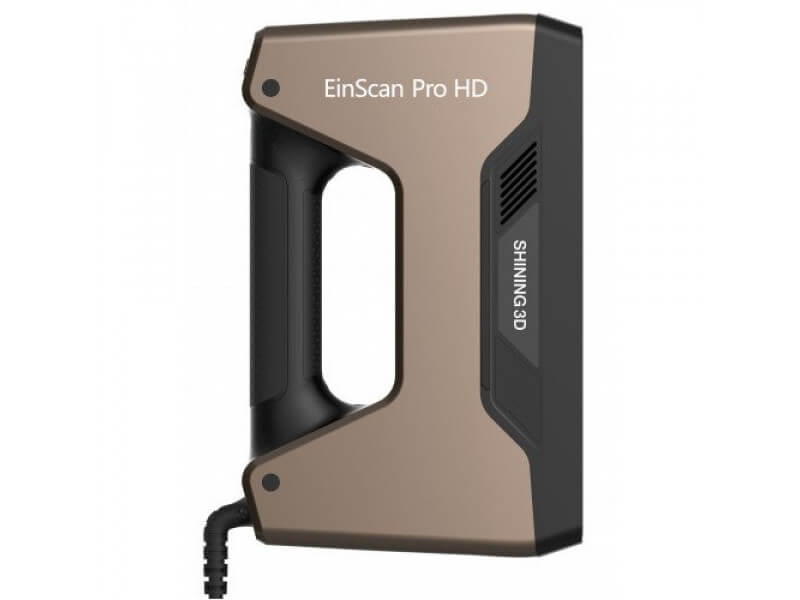 EinScan Pro comes fully assembled in the box with:
Power cable
Calibration board
Turntable
USB flash drive with software on it
Looking at the scanner from its front, you can see its cameras and sensors. A projector in the center with two monochrome cameras on each side ensures of best quality scans.
On the scanner's left, you get to see a multi-colored LED used for indicating blue, red, and green in case of too far, too close, or at a perfect distance.
The plus and minus buttons can be utilized for adjusting the camera exposure before scanning and letting you zoom in or out of the 3D preview during scanning.
Also, users can double-click in some modes for viewing the exposure window before scanning. Whereas, the play button is used for starting, pausing, or resuming the scanning session!
On the right, you can see the cable from a color module that goes into the scanner and the cable that connects to the device via the USB.
Setup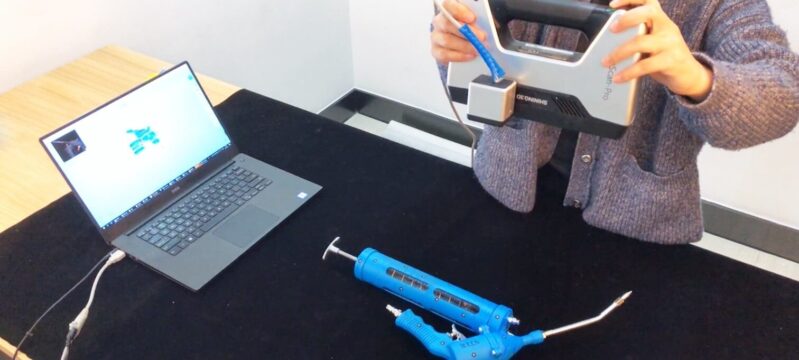 Credit: einscan
Technically, the scanner can be used straight out of the box. But, before using it, logically users need to calibrate it which is also something that's to be done if it suddenly stops working. But don't worry as the calibration process is extremely easy and can be done even by inexperienced users.
The software called EXScanPro can assist you in doing the same. Herein, users should choose the calibration mode. For doing so, the board must be placed on a horizontal surface before starting the scanning procedure.
Once that is done, it needs to be scanned in two different positions on a turntable, and for color calibration; the board needs to be placed upside down until the scanner gets the balance correctly.
Scan Type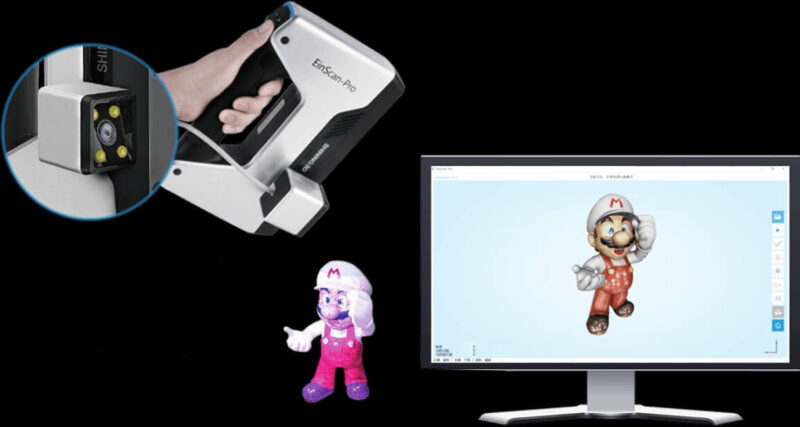 Credit: einscan
EinScan Pro uses structured light technology which works by projecting a pattern of light onto the object for scanning and not a laser line or dot.
The pattern is then projected on the object for use on an LCD projector or some other source of light. This type of technology is used in scanners that work in short ranges and are usually handheld or mounted on the tripod.
Scan Quality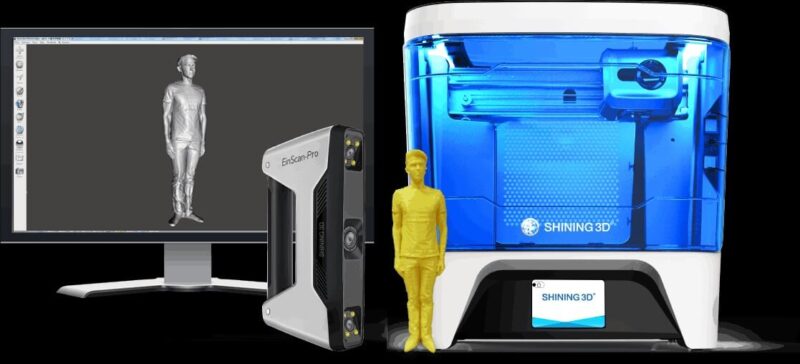 Credit: einscan
EinScan Pro allows users to choose the kind of quality they wish to have by selecting the right mode to print with. Because of which operators can choose to have one from many single-shot accuracy ranges.
Software
EinScan Pro is accompanied by EinScan software that provides many advantages.
Customer Support
Shining3D offers excellent support to users by allowing them to access the documents as well as manuals like the user manual and guidebook online. Also, the software can be downloaded from the same webpage.
Moreover, operators can get answers to basic questions from the FAQ section. Apart from that, the technical team of the scanner manufacturer is always available on call as well as by email.
Parameters Influencing Buying Decision
The summary of the complete article is mentioned in various factors below.
3D Scanner Cost: EinScan Pro is very affordable compared to other professional 3D scanners that deliver just equal in quality.
3D Scanner Speed: Users can scan complete geometry in two scans on the fixed scan with turntable and Handheld rapid scan mode which is very rapid.
3D Scan Quality: Even intricate geometries can be scanned in high resolution in HD scan mode.
3D Scanner Capability: The scanner can be used in four different modes, thereby giving users a sort of flexibility to choose the kind of speed, quality, point distance, texture scan, and align mode they wish to have.
3D Scanner Practicality: EinScan Pro can be used for the consumer as well as commercial applications in various industries such as manufacturing, engineering, design, development, testing, artwork archival, animation, and even human form acquisition.
3D Scanner User Expectations: The machines manage to stand upon professional users' expectations that are looking for a scanner that delivers high quality at high speed. Also, the scanner's portability is commendable. Users can carry it anywhere they wish to for a handheld scan; they can also use the tripod for more sophisticated scans. So, all in all, the scanner is a versatile one that is compatible also with 3rd party hardware and software.
The Verdict
EinScan Pro is a neat 3D scanner that delivers excellent results in whichever mode you use it. It is intriguing how the machine is capable of providing users with the best of both worlds i.e. automation as well as portability.
The scanner manages to offer highly accurate technology at a very affordable price. Also, it is convenient and covers all the standard requirements especially for professionals working in the industry. The optional add-ons are a benefit as they increase users' scanning experience and applications.
Pro comes with software that is not only highly functional but also effective. It is developed keeping in mind specific demands of various industries in which the scanner finds its application.
The program streamlines the entire scanning process thereby permitting the operators to work with CAD models there onwards. Moreover, professional users can enjoy the high speed of scanning as well as the well-designed ergonomics of the machine.