Sindoh 3DWOX 2X 3D Printer
Sindoh 3DWOX 2X is is easy to use, very reliable and provides many benefits to the users and full of great features.
PROS
Quiet to work with
Simple to use
High quality prints
Dual extrusion possible
HEPA filter
Works great with ABS
CONS
Expensive
Best Results with Sindoh's branded filament
Not much freedom for customization
Product
Specification
Videos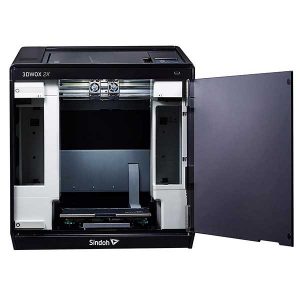 Being a printer that is very reliable, 3DWOX provides many benefits to the users. The printer is an addition to the older release, 3DWOX1, this 3D ...
| | |
| --- | --- |
| Model | 3DWOX 2X |
| Manufacturer | Sindoh |
| Price Range | $ 3499 |
| Release date | 2017 |
| Country | South Korea |
| Availability | Available |
| Classification | Professional |
| Technology | Extrusion (FFF- FDM…) |
| Material | ABS, Other plastics, PLA |
| Filament diameter | 1.75 mm 0.07 in |
| OS compatibility | Mac OS, Microsoft Windows |
| Generic material | Yes |
| Max. build size | 228 × 200 × 300 mm 8.98 × 7.87 × 11.81 in |
| Max. build volume | 13.68 L |
| Min. layer thickness | 0.05 mm 0.002 in |
| Dimensions | 490 × 466 × 573 mm 19.29 × 18.35 × 22.56 in |
| Weight | 31 kg 68.34 lb |
| Nozzle diameter(s) | 0.4 mm 0.02 in |
| Heated print bed | Yes |
| Heated build chamber | No |
| Automatic calibration | Yes |
| Closed frame | Yes |
| Dual extruder | Yes |
| Independent Dual Extruder | Yes |
| Full color | No |
| LCD screen | No |
| Touchscreen | Yes |
| On-board camera | No |
| Mobile app | No |
| 3D scanners | No |
| CNC mill | No |
| Electronics 3D printing | No |
| Laser engraving | No |
| Conveyor belt | No |
| Air filter | Yes |
| Pellet extruder | No |
| USB | Yes |
| Wifi | Yes |
| Bluetooth | No |
| SD card | No |
| Ethernet | Yes |

Table of Contents
Sindoh, a South Korean company involved in manufacturing 3D printers have come up with this latest offering which has already been among users for a couple of years now.
The printer is very reliable and provides many benefits to the users. In addition to the older release, 3DWOX1, this 3D printer, known as Sindoh 3DWOX 2X is full of great features.
Being able to serve beginners as well as professionals at the same time, the printer covers a huge user base.
According to the company, the printer is easy to use a machine that can be used by anyone looking to learn more about 3D printing and its possibilities.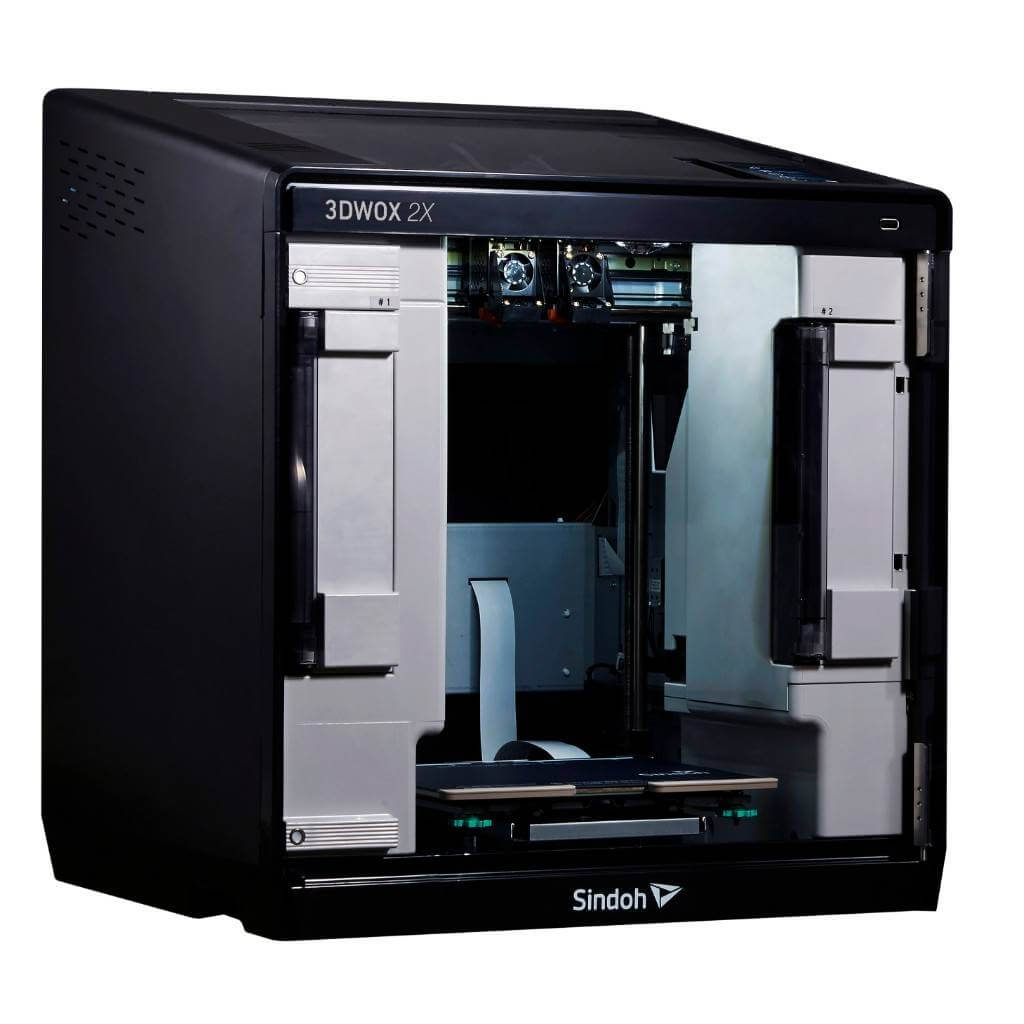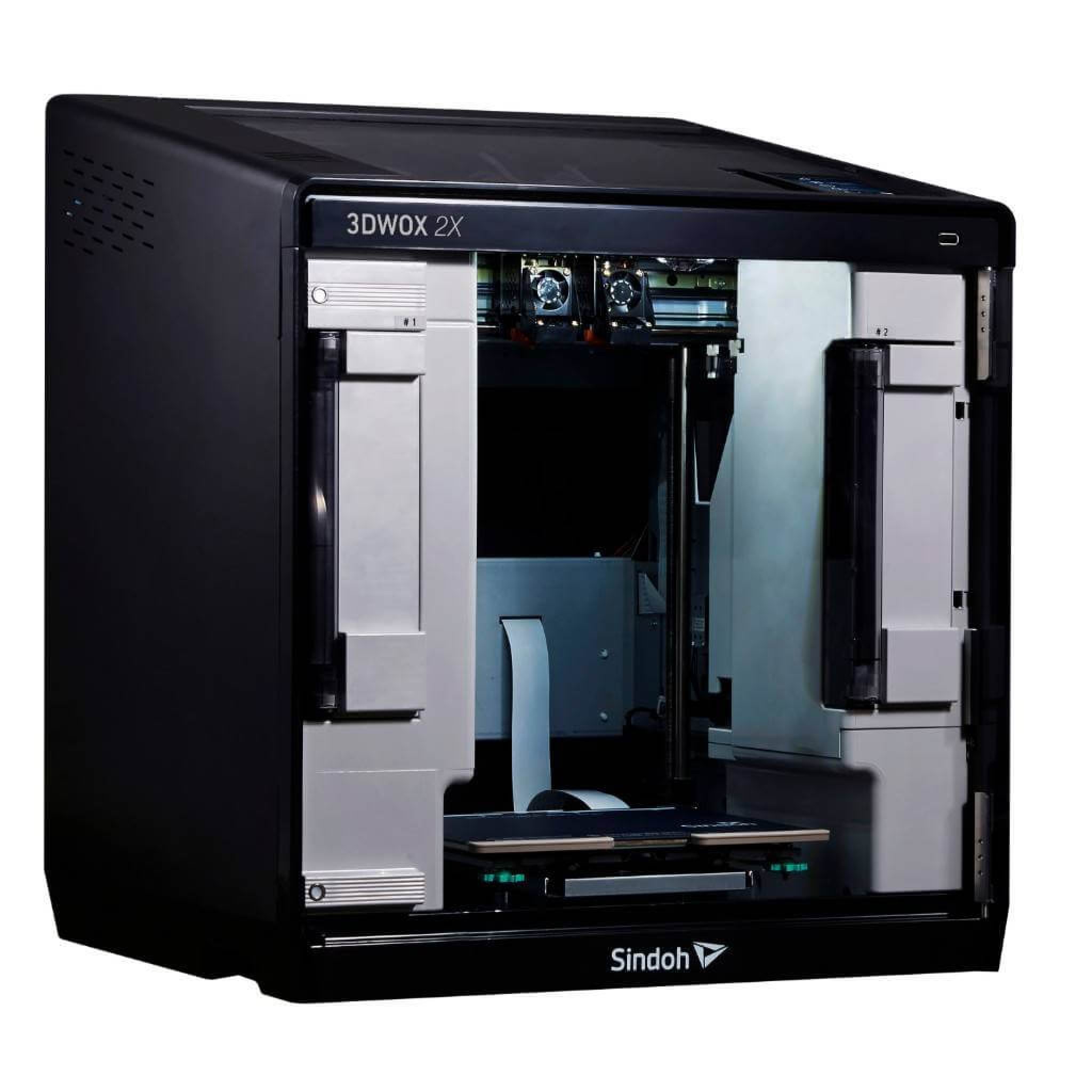 With high-quality print results, one can make use of this 3D printer for realizing complex designs with ease.
The accuracy and resolution offered by Sindoh 3DWOX 2X are worth mentioning. One can rely on this machine for a variety of tasks.
Without losing sight of the print progress, one can easily keep a check on the ongoing process.
There are many things that make this printer one of its kind. The features are many and the printer tries to capture almost every user's need for complete satisfaction.
This is the reason why this printer has been in demand among different niches and diverse customer base.
The plethora of benefits that this printer offers is rare to achieve within the competition.
Some of the unique features that are exclusively part of this machine is also a reason for so much hype.
Features
You would be amazed to find out the plenty of features that this machine owns. The company has tried to take care of the smallest of the factor into account while finalizing the design of this 3D printer. This is very obvious by the advantages it provides to the customers.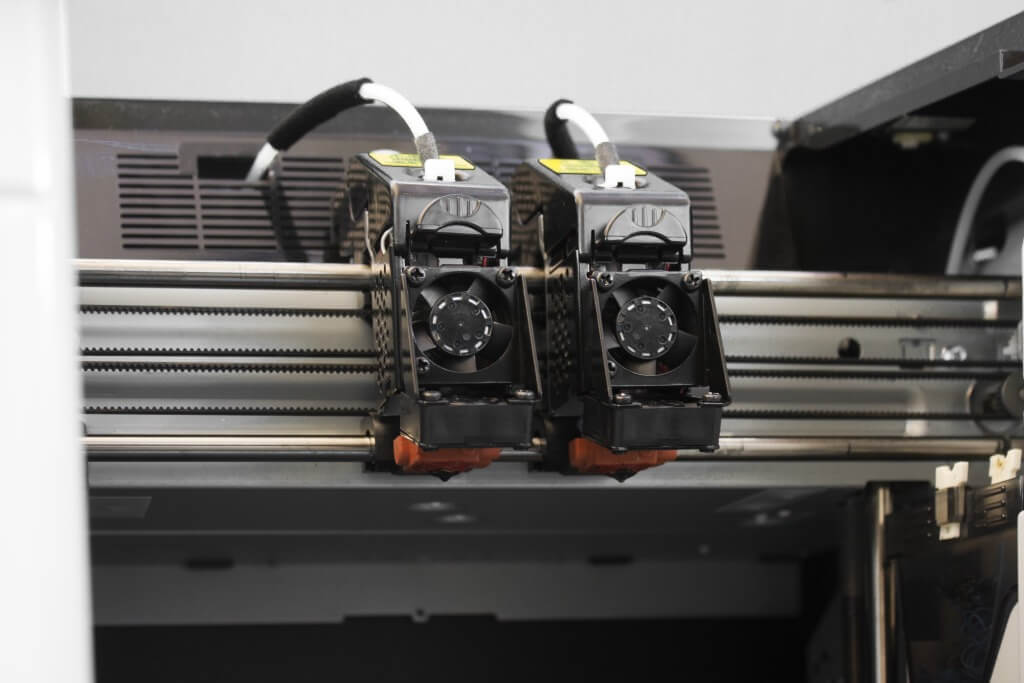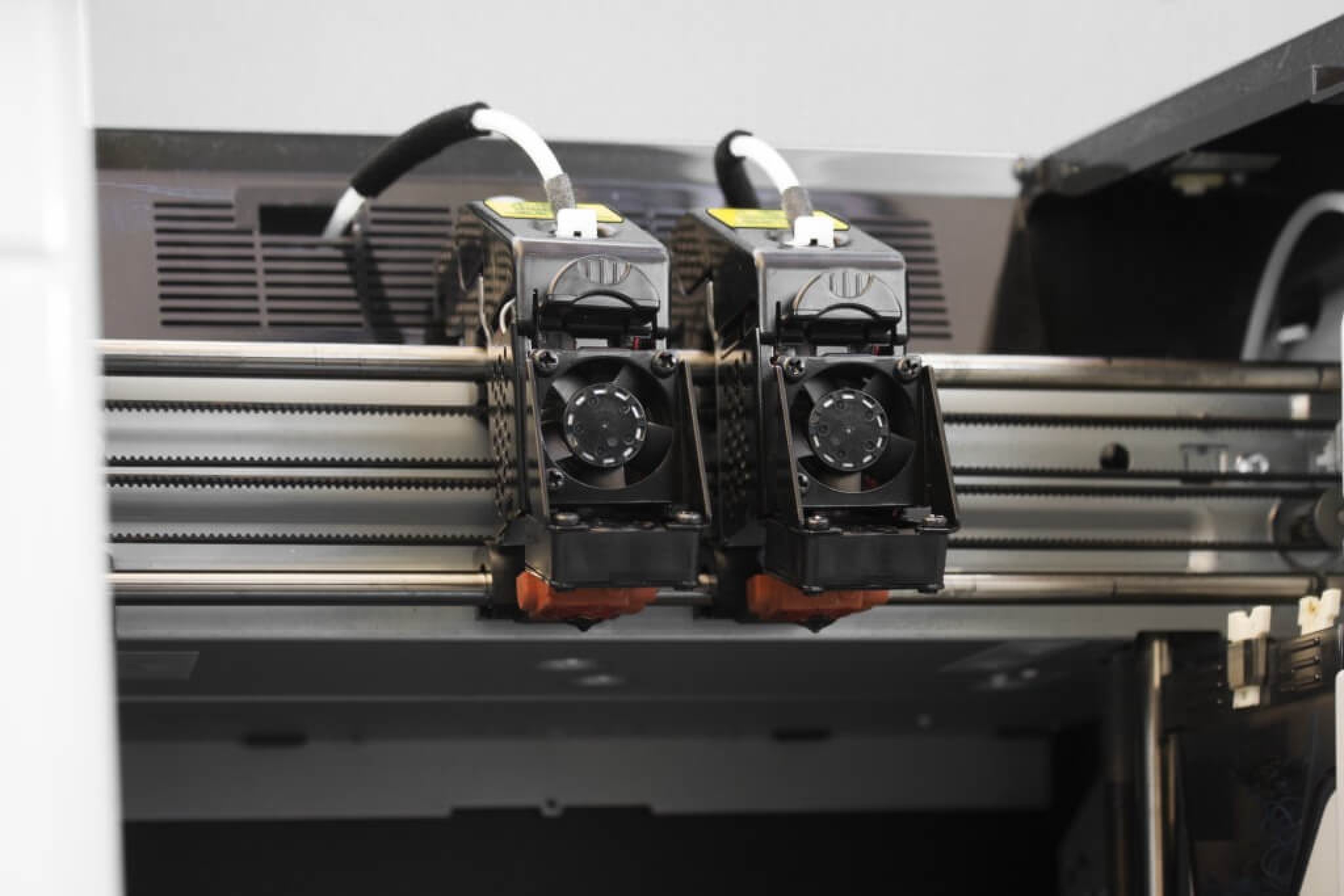 Credit: 3dprintingindustry.com
Dual Extrusion: The device flaunts two independent nozzles. These nozzles have their own extruders as well as hot ends. This helps these extruders to work independently.
It provides the provision to print with different materials at the same time. Either you can utilize two different colors or work with different materials. You can also use one extruder for building water-soluble supports.
Moreover, dual extrusion helps in completing the print faster than it is possible with single extrusion. If the designs are simpler, the dual extrusion will expedite the printing process even further.
Remote Monitoring: Yes, remote monitoring is possible with this device. The machine features a built-in camera to help users check the print progress.
You can install the app provided by the company and view the print happening in real-time. You can save your prints from spoiling by keeping a check on the print progress.
Who would like to lose the expensive filament through failed prints? Also, the camera lets you record the time-lapse video of your print. Isn't that fascinating?
Metal Bed: Now this is what we should be talking about. The feature helps users ease the process of adhesion and removal of prints from the print bed.
The metal bed offered in this printer is heated, coated, and flexible. The print bed can also be removed once the print is complete. So, this solution lets you print without wasting a lot of time on pre and post-processing.
Alexa Voice Control: Aren't you amazed to hear this? Voice control is not new. However, including it as a feature in a 3D printer is something that isn't that usual.
By using Alexa voice control, one can manage the prints with a voice command.
You can pause the print process, provide commands for setting a few parameters and a lot of other things are possible with Alexa voice control. A smart device that understands you is what Sindoh is offering.
HEPA filters: The 3D printer flaunts its HEPA filter that rests inside the closed frame of the machine. This filter works by reducing harmful emissions due to toxic particles.
Colour Touch Screen Interface: The pioneer color touch screen would take your printing experience to a completely new level.
The user-friendly interface helps you manage things simply without struggling to locate the commands. The interface lets you enjoy the settings without a need for touching your PC.
A lot of user does not like to keep a dedicated PC stuck with the printer. For those, this 3D printer is a great choice.
Simple Filament Loading: The complete process is automated. Sindoh was the first company to introduce the complete automated filament loading system when it released the DP200 3D printer.
The same technology has been carried till Sindoh 3DWOX 2X. After clicking the filament cartridge in the specific slot, the machine automatically loads the filament for printing. This helps in storage and swapping between filaments.
Semi-Auto Bed Leveling: This further eases the job of setting the printer for use. There is the provision for manual adjustments and the printer aims at providing complete freedom for desired results.
The features are meant to make the printer's operation easy and simple. Sindoh 3DWOX 2X ensures that the users face no to little challenges when setting and working with the printer.
Specifications
The 3D printer has a build volume of 228 x 200 x 300mm. This is considered as a large space capable of printing almost anything useful. One can even connect the different parts to make larger items.
The device offers high resolution and is about 31 kgs in weight. It offers a filament size of 1.75mm in diameter. With a 0.4mm nozzle size, the printer is able to produce high-resolution prints.
This machine works with different filaments. It supports ABS, PETG, PLA, PVA, and others to help users experiment with a variety of materials. The compatibility with PVA helps users create water-soluble support which makes the post-processing job easier.
Price
The Sindoh 3DWOX 2X price ranges at around $3500. The machine is available on Amazon and through various other distributors. The cost may vary a little bit depending on the offerings by the different vendors.
However, one must realize that the price is very decent for the features this machine offers to the users. Simple mechanism and easy operation make this 3D printer worth the price it comes for.
First Impressions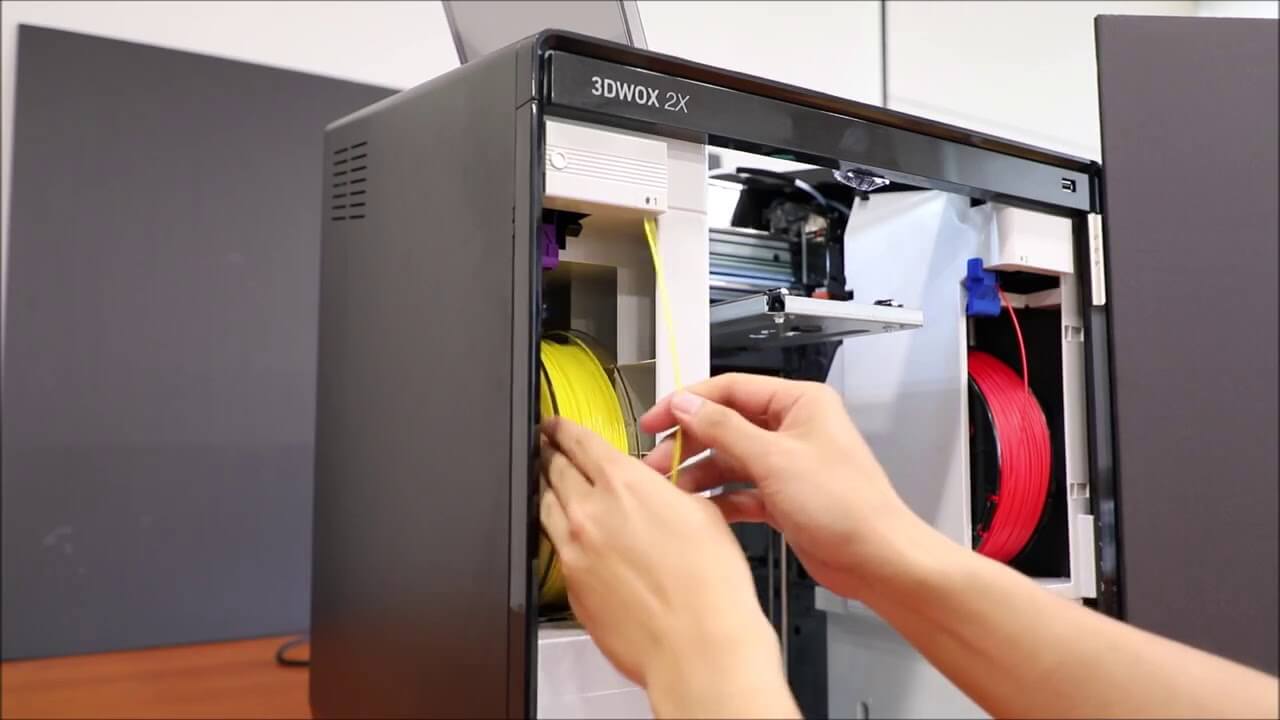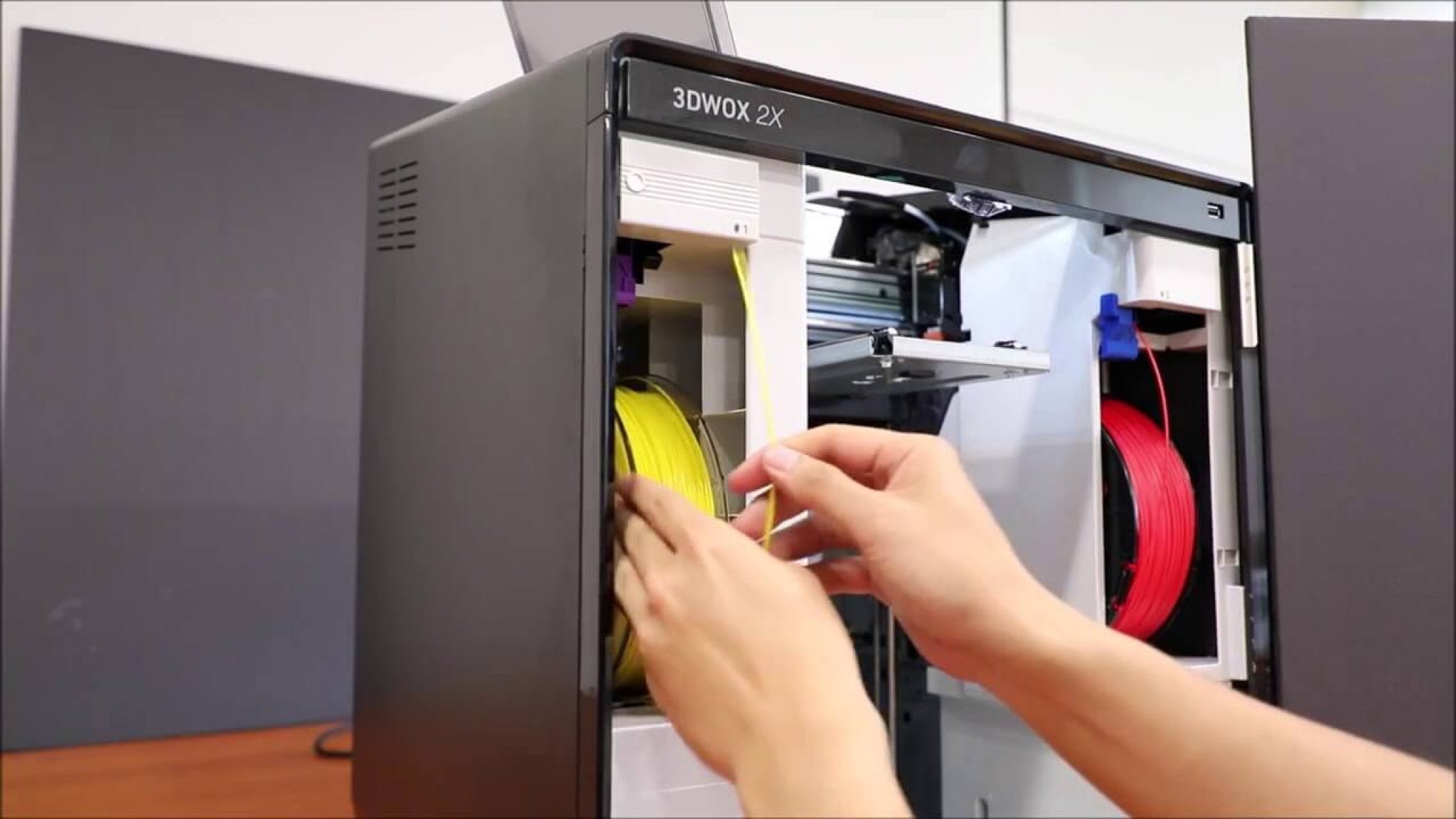 Credit: Youtube – Sindoh Channel
This is a plug-and-play 3D printer. You will like the design as it's sleek and very trendy. A black body with glass covers makes it look stunning. It occupies decent space and can be placed at homes as well.
With the package, you receive the necessary tools for setting the device as well as the ones needed for routine maintenance. Packed in wooden cardboard, the printer stays safe. The unboxing is easy and one won't have any trouble sliding out the 31 kg 3D printer.
The smart device would further guide you through the setup process.
Setup
It is very easy to set up this smart 3D printer. Although the bed leveling is semi-automated, you get every direction flashing on the touch screen for leveling the bed correctly.
Once you do that, you are almost done. The loading of the cartridge is completely automated. All you need to do is slip in the cartridge and the machine will take care of the rest.
You would be delighted to work with this machine which is so easy to setup. For beginners and novices as well, the printer comes as an easy option when it comes to set up the machine for the first time.
Printing Type/Cost
Sindoh 3DWOX 2X is an FDM 3D printer. While the cost of the printer is not for every individual, it is worth the price, if you can stretch your budget.
You can also rest assured that the material and printing cost is decent and manageable. Hence, it is an affordable solution if bought for serious goals or passion.
The machine delivers high-end results and suits everyone who is ready to delve deep into the technical nuances of possibilities.
Print Quality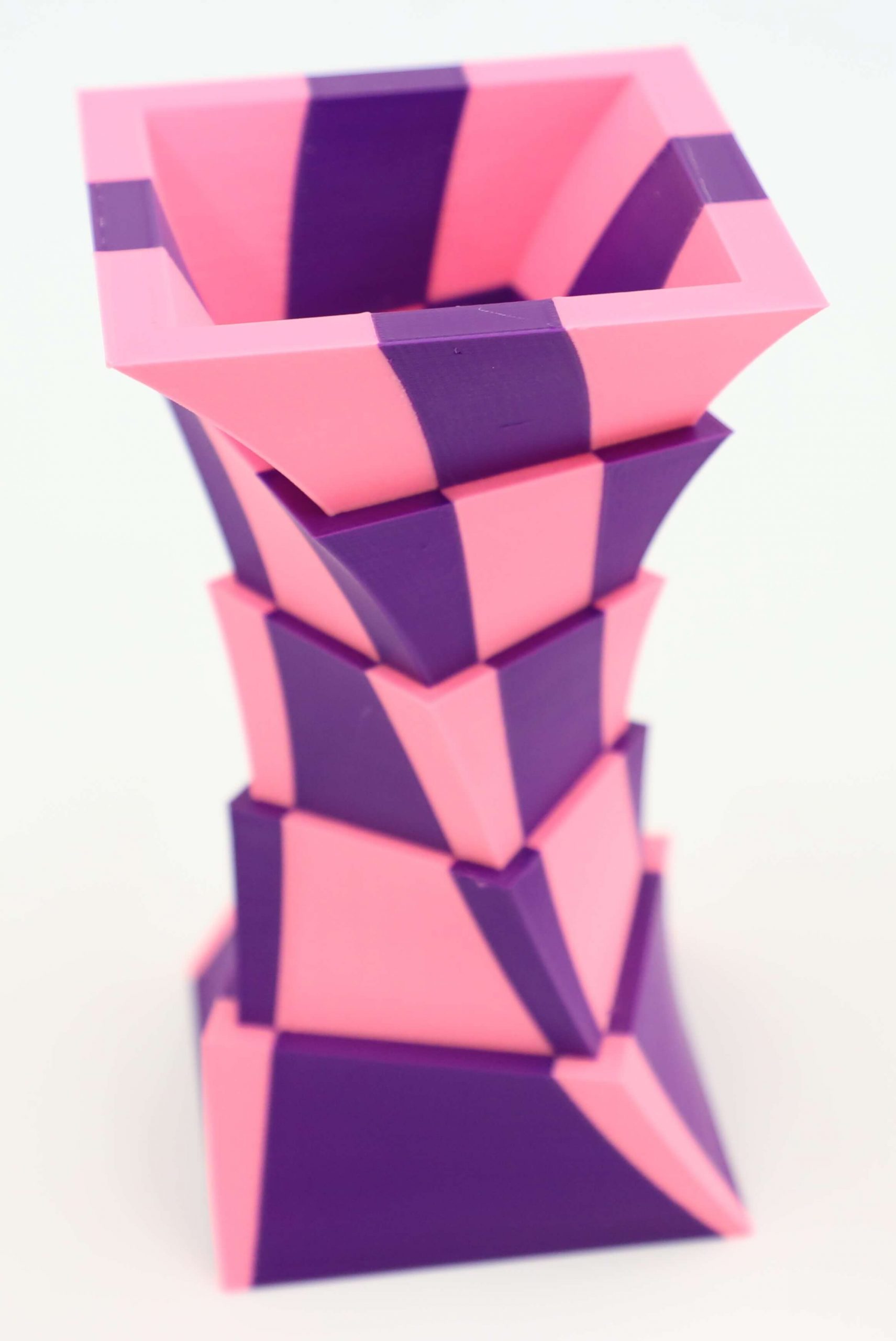 The print quality is excellent. If you have worked with FDM machines, you would know that the surface finish is a huge concern. However, not with this machine. Because it can build support using water-soluble material, one can achieve a nice surface finish.
The printer has a combined 0.4mm nozzle with 50-microns minimum layer resolution to achieve finely detailed prints. And, the print bed as well as hot ends warm up quickly to help start the process right away.
The package also contains a USB thumb drive with lots of pre-loaded models for printing.
You can start printing right away or you can choose to design your 3D print and take your time to set up the print parameters all by yourself for desired results.
If you're not familiar with 3D modeling, you can still download STL files from free online repositories like Cults3D.
Moreover, you would love to print with multiple colors for a pleasurable experience.
Software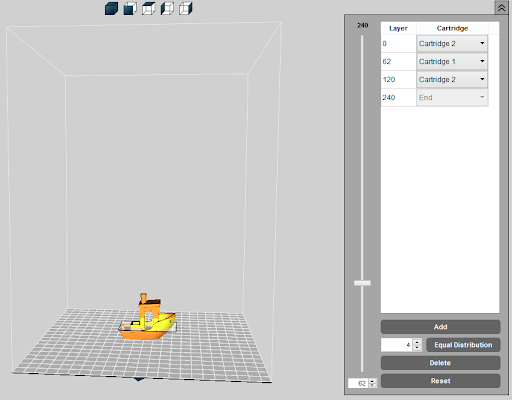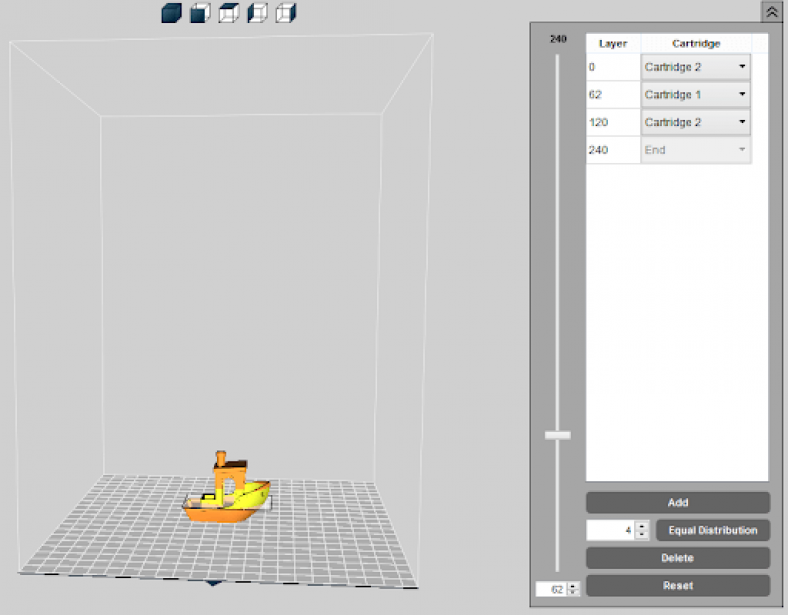 Sindoh 3DWOX 2X slicing software can be downloaded directly from their website. The best part is that the software slices models for generates g-code at astounding speed.
The application also helps in optimizing the design for best support creation and other useful changes required for the best results.
The software also has two settings. One is the easy mode for beginners and another is the advanced mode. This is for those who know how to tinker the settings for achieving the best results on their own.
You can gaze the progress using your smartphones as mentioned before.
Customer Service
The company offers decent support and is very aggressive in providing everything that the users would need to keep the printer up and running.
One can depend on the manuals and guides available on the website. Reaching support is also easy. The manufacturer's warranty is also available on request.
Factors Influencing the Purchase Decision of Sindoh 3DWOX 2X
Based on the 3DWOX 2X review, there are many factors that must be considered before buying this device. One should look at each parameter closely before spending a huge amount on this 3D printer.
3D Printer cost: The printer is expensive, yet affordable for many users. Professionals, as well as enthusiasts, can utilize this machine for achieving desired print results.
3D Print quality: Users can expect great print quality when working with this machine. It is way better than most of the competitions of its own kind. With dual extrusion and support for water-soluble support, users can achieve finer details with ease.
3D Print speed: FDM printers are anyway faster than most of the 3D printing technologies. And, this one is no different. The speed is fast and one can print the parts in lesser time as compared with many other 3D printers. Again, dual extrusion helps complete the job at the earliest.
3D Printer capability: One cannot go wrong when choosing this 3D Printer for useful applications. The printer is capable of producing fine prints and details with the best results. The complex designs and fast processing are possible with this option.
3D Printer Practicality: The printer is designed for professionals and passionate users who like to create unique designs with the best print quality.
The printer is an amalgamation of quality and reliability. Professionals can utilize the printer for specialized tasks as well.
3D Printer User expectations: Users have huge expectations from this machine. The older releases were all hit and with more features, this machine further surges the expectations of the users.
Thankfully, it does provide answers to all the seekers. Either it's the quality or the ease of operation, users can find the machine easing each process in simple steps.
Verdict
The 3D printer is sturdy and accurate. Sindoh 3DWOX 2X, being an FDM machine is faster. However, it does not compromise with accuracy. It can help users create amazing designs in less time.
The device is meant to set examples for many other machines to come in the future.