Stratasys Objet500 Connex3
Objet500 Connex3 is an industrial grade 3D printer built to manufacture parts and functional prototypes that find application in multiple industries.
PROS
Allows printing with more than 1000 material options.
Printing parts with colours is possible.
No post processing needed for 3D printed parts.
Compatible with a user-friendly GrabCAD print software.
Quality of parts is unmatched.
Parts exhibit high quality and smoother surface finish.
CONS
PolyJet 3D printing is a complex process, even for professionals. Hence, Objet 500 Connex3 demands skills and attention for its operation. You may also need the training courses offered by the company. In short, the technology has a steep learning curve.
The printing system demands huge one-time investment.
Product
Specification
Videos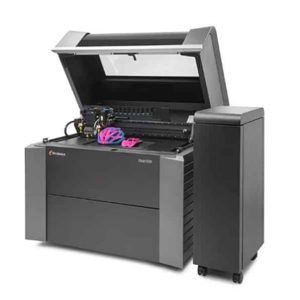 Based on Polyjet 3D printing technology, Stratasys Objet 500 Connex 3 is a professional-grade 3D printer. It is capable of printing with dozens of ...
| | |
| --- | --- |
| Model | Objet500 Connex3 |
| Manufacturer | Stratasys |
| Price Range | > $ 250000 |
| Availability | Available |
| Classification | Industrial |
| Technology | Material Jetting |
| Material | Other plastics |
| OS compatibility | Microsoft Windows |
| XY accuracy | 0.02 mm 0.001 in |
| Max. build size | 490 × 390 × 200 mm 19.29 × 15.35 × 7.87 in |
| Max. build volume | 38.22 L |
| Min. layer thickness | 0.02 mm 0.001 in |
| Dimensions | 1400 × 1260 × 1100 mm 55.12 × 49.61 × 43.31 in |
| Weight | 430 kg 947.99 lb |
| Power input | 100-120VAC 50/60 Hz; 13.5A 200-240VAC 50/60 Hz; 7A |
| Heated print bed | No |
| Heated build chamber | No |
| Automatic calibration | No |
| Closed frame | Yes |
| Dual extruder | No |
| Independent Dual Extruder | No |
| Full color | Yes |
| LCD screen | No |
| Touchscreen | No |
| On-board camera | No |
| Mobile app | No |
| 3D scanners | No |
| CNC mill | No |
| Electronics 3D printing | No |
| Laser engraving | No |
| Conveyor belt | No |
| Air filter | No |
| Pellet extruder | No |
| USB | No |
| Wifi | No |
| Bluetooth | No |
| SD card | No |
| Ethernet | Yes |

Table of Contents
Based on PolyJet technology, Objet500 Connex 3 is a professional 3D printer by Stratasys. PolyJet 3D printing is similar to inkjet 3D printing. However, there is a little difference that lies in the jetting process that the two technologies employ. The former jets ink drops onto paper, whereas the latter jets layers of curable liquid photopolymer onto a build tray.
Objet500 Connex3 is capable of 3D printing with dozens of materials and colors. Hence, enabling the production of parts with varying properties.
For instance, the parts differ in terms of translucencies, thermal resistance, colors, and more. The printer also jets a removable gel-like support material called FullCure 705. It is a non-toxic photopolymer.
In addition, not only the printing system is agile but helps in creating aesthetically pleasing parts with ease. Objet500 Connex3 was the first 3D printer in the world to print with multiple colors as well as materials.
Even today, this PolyJet 3D printer continues to be one of the most popular and reliable choices for manufacturers wishing to create parts with blended colors.
So, what makes this printing system so unique from its competitors? Let's go through a detailed review to understand the same.
Features
Users can load multiple materials on Objet500 Connex3. Hence, enabling users to print parts with a wide range of mechanical, optical, or thermal properties.
For example, non-slip grips, transparent windows, or flexible hinges. Also, there is no need for an assembly for 3D printed parts. Hence, operators can create custom jigs, assembly fixtures, and tools with ultra-fine accuracy and smooth surfaces.
Three Different Build Modes
To cater to the varying needs of its customers in terms of material versatility, quality, and speed, Stratasys has facilitated Objet500 Connex3 with three different build modes. This feature enables professionals to create amazing designs with ease while satisfying the expectations of the users by par.
Also, users can flexibly switch over these modes according to their project requirements. So, if a project requires you to mass-print hundreds or thousands of objects in a limited amount of time, you can go with the speed mode.
In case you wish to print high-quality parts, you can switch to Quality mode. Lastly, for those wanting to print with a diverse range of materials, the printer offers a versatility mode.
Multiple Material Options
Perhaps this is the main reason why professionals are going to love Objet500 Connex3 the most. It offers over 1,000 material options to 3D print.
These materials let you print complex and delicate features. Thereby offering room for immense creativity and experiment.
The materials are capable of delivering special properties such as transparency, flexibility, and even bio-compatibility.
The entire material segment that this printing system offers is divided into three widespread categories: Single materials, Model Materials, and Digital Model Materials.
Realistic Aesthetics
The Objet500 Connex3 allows users to incorporate about 46 colors into a single prototype. Imagine! You have the freedom to choose from basic colors such as true jet black to advanced ones, for instance, sunny yellow. Just switch over from sunny yellow to shocking magenta and you can incorporate hundreds of other beautifully blended hues into your design.
Moreover, thanks to the versatility that the parts printed with Objet500 Connex3 offer. These 3D models exhibit properties such as transparency, flexibility, and bio-compatibility for stimulating the complete design.
Users have enough options to choose from the list of vast material choices to accomplish their final prints.
Ultra-flexible
The triple-jetting technology permits owners of Objet500 Connex3 to print with multiple materials simultaneously. Therefore, for a single print job, you can utilize up to three different materials:
In the form of a mixed tray.
In the form of a mixed-material part.
Mixing materials for forming new digital materials.
Also, users can avail the option of scheduling and minimizing material changeovers. This feature permits the entire team to work together as a team on a single machine.
As Objet500 Connex3 allows printing with three different types of material, it becomes easier to perform print jobs sequentially than parallelly.
High Throughput
Objet500 Connex3 uses a wide print head, which makes it faster than others. It scales up very well. Being a PolyJet 3D printer, it does not trace or outlines parts. Instead, the printing system sweeps across the build tray while depositing resin droplets, several inches wide.
Moreover, adding multiple parts to a single print run increases the build time by a tiny percentage. Therefore, offering mass production at a faster pace than traditional manufacturing techniques.
And this applies to all the printers in the Objet series. Hence, they are all considered perfect choices for high throughput environments.
Specifications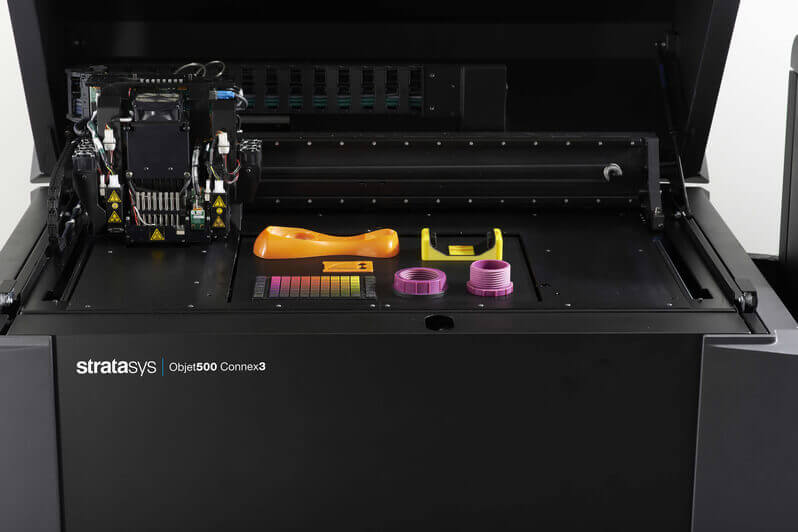 Credit: javelin-tech.com
Objet500 offers a build size of 490 mm * 390 mm * 200 mm. The footprint of the printer is 1400 mm * 1260 mm * 1100 mm.
On the other hand, the material cabinet is 330 mm * 1170 mm * 640 mm in volume and weighs 430 kilograms.
When it comes to the printer's accuracy, users can expect a high level of precision. Its X, Y, and Z-axis resolutions are 600 dpi, 600 dpi, and 1600 dpi respectively.
In addition, the typical minimum layer thickness possible in objects manufactured by this system is as fine as 16 microns.
There are three build modes with which you can print objects on Objet500 Connex3. Firstly, The Digital Material mode offering 30 microns resolution.
Secondly, the High-Quality that provides 16 microns resolution. Last but not the least, the high-Speed mode supporting 30 microns resolution.
The minimum layer thickness offered by Objet500 in every part is 0.02 mm. Thanks to Stratasys' proprietary PolyJet 3D printing technology.
A suggested operating temperature ranges between 18 to 25 degrees Celsius. You can connect to the printer via Ethernet.
Price
Please contact the manufacturer to get the quote for Objet500 Connex3.
First Impression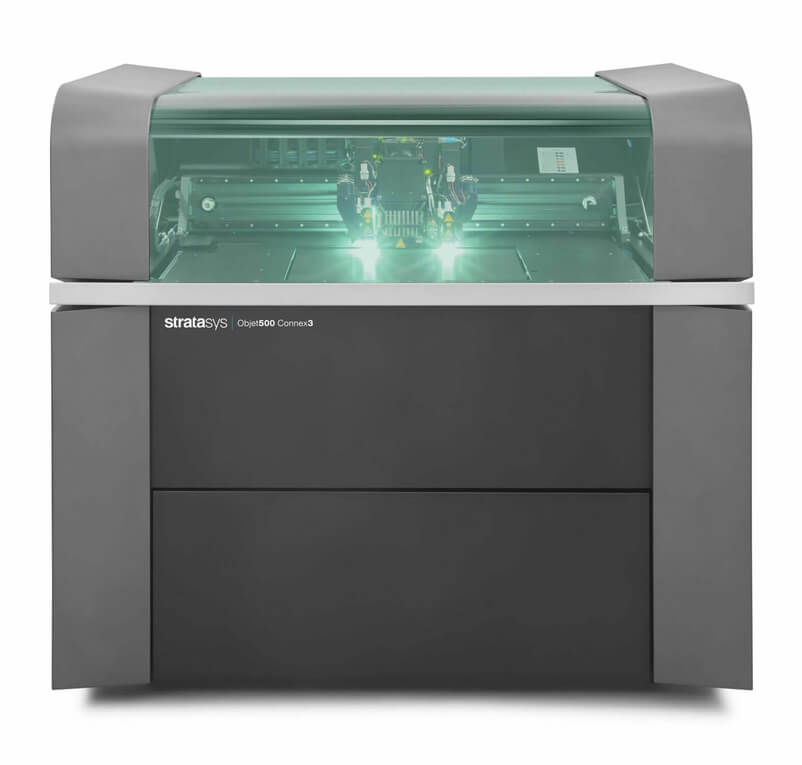 Credit: javelin-tech.com
Stratasys delivers the entire printing system in two units:
The material tray, and
The printer.
The Objet500 Connex3 includes a see-through glass. This enables users to monitor the print chamber while the work is in progress.
With a wide and easy to open door, it's hassle-free to access the inner print chamber for removing the printed part or accomplishing other manual settings.
Also, the manufacturer ensures that the machine reaches safely with all the components intact. Hence, the packaging is secure.
Setup
Objet500 Connex3 is a professional grade 3D printer. Hence, you may require technical assistance to complete the installation. Thankfully, Stratasys has got you covered. The company offers several maintenance plans as well.
In addition, you can also refer to the various courses Stratasys offers. Those wanting to hone their skills to create better quality parts with the Polyjet technique can enroll in Stratasys's training program.
In short, it may seem like a difficult task in the beginning. However, after a little experience, and proper guidance from the manufacturer, users can excel at printing with the Objet500 Connex3 3D printer.
Print Type/Cost
PolyJet is an impactful 3D printing technology that produces smooth surface finishes and dimensionally accurate parts.
It builds parts by jetting thousands of photopolymer droplets onto a build platform. And, finally curing the material with UV light.
Polyjet is one of the fastest as well as the most accurate technologies currently available in the market.
The cost of printing parts via PolyJet is expensive compared to FDM, SLA, or SLS 3D printing technology. However, the overall cost depends on many factors like part geometry, curing source, printing material, etc.
Print Quality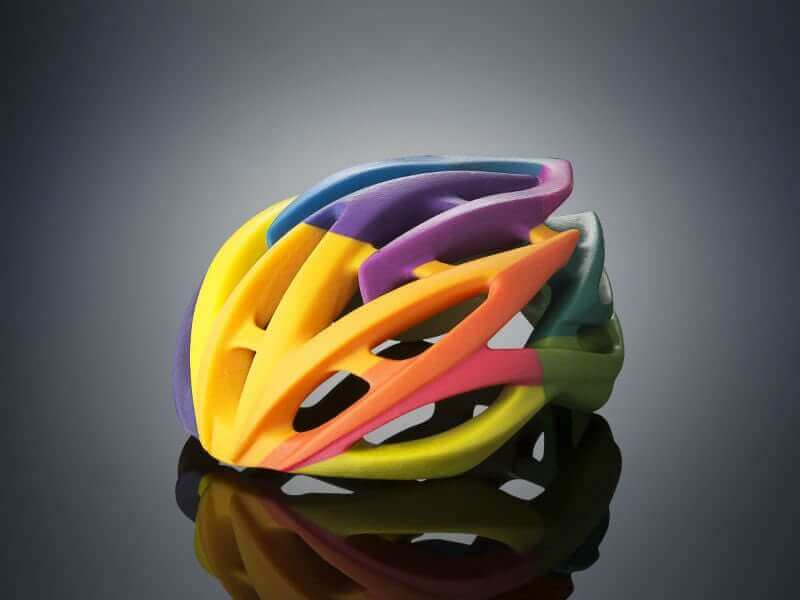 Credit: treatstock.com
Objet500 Connex3 can create parts with 0.014mm layer resolution. It is possible to produce thin walls and complex geometries using the widest range of materials.
Hence, one can create various designs with varying complexities. Such as Molds, jigs, fixtures, and other manufacturing tools, and whatnot.
Software
The printing system is compatible with easy-to-use GrabCAD software. It simplifies the traditional 3D print preparation workflow. At the same time, provides optimized printer usage, thereby letting users print high-quality objects much faster.
Moreover, users can use various quick design choices such as print directly from CAD, organize print queues, monitor material levels, and more. In addition, the application allows users to work with detailed views of their models.
Precisely, GrabCAD is a very intuitive application equipped with advanced controls, yet user-friendly workflow. Hence, helping beginners as well as experts with their unique requirements.
Customer Support
Stratasys is a popular name within the additive manufacturing niche. Its market spread over 31 locations. In addition, the company has more than 2000 employees. In order to serve clients from different geographical locations, Stratasys has a dedicated technical assistance team.
You can connect with their support team by email or phone. Additionally, to ease their support services, Stratasys has put into place 'The Support Centre' for online users. It offers FAQs, Case Studies, Troubleshooting guides, and much more.
Above all, you can opt for their education and training courses to learn about Polyjet 3D printing technology and their various 3D Printers.
Parameters Influencing Buying Decision
Before you purchase Objet500 Connex3, do not forget to go through these important factors.
3D Printer Cost: As mentioned already, the printing system is expensive and it isn't affordable for small-scale industries. To get the exact price of the machine, please contact the manufacturer or the resellers.
3D Print Speed: Objet500 Connex3 has a commendable build rate compared to other professional 3D printers available in a similar price range. Hence, one can print colorful models at a faster rate.
3D Printer Quality: With 0.02 mm layer thickness, it is possible to print high-quality parts with ease. In addition, smart technology allows intricate designs without any hassle. In short, the parts produced using Objet500 Connex3 are precise and offer high accuracy.
3D Printer Capability: As mentioned above, the printer can print with more than 1000 materials and that too using multiple colors. It offers amazing strength and pleasing aesthetics. Users can print Molds, jigs, fixtures, and various other manufacturing tools.
3D Printer Practicality: Objet500 Connex3 brings flexibility to every stage of production and product development. In fact, it was the first printing system to allow 3D printing with multi-materials and colors simultaneously. Hence, offering large-scale industries complete their manufacturing jobs quickly with the highest level of part accuracy.
3D Printer User Expectations:  It fulfills almost every need of the users. The only exceptions being the expensive price tag and bulky footprint.
The Verdict
In a nutshell, Objet500 Connex 3 is an industrial-grade 3D printer built to manufacture parts and functional prototypes that find application in multiple industries.
The printer creates dimensionally accurate parts, irrespective of the complexities in design. Moreover, it enables users to fabricate parts with multiple materials and colors.
Adding to the user's flexibility, the manufacturer offers three different print modes for varying project requirements. The machine can easily print beautiful and functional prototypes catering to varying needs of properties.
Such as rigidity, transparency, opacity, and bio-compatibility. So, if you wish to experiment with ideologies of 3D printing with complete freedom, try Objet500 Connex3.