Thingiverse is a huge name when it comes to 3D printing repositories. But, it's not the only one. In fact, with the evolution of 3D printing new repositories which are even more efficiently functioning than Thingiverse have come into existence.
So, which are they? How to access them? And what are their pros and cons? Well, that's all going to be covered in this article. We are going to present to you a list of the 10 most reliable Thingiverse Alternatives. Just stay tuned!
10 best Thingiverse Alternatives
Below are some of the best companies offering 3D models for those wanting to start printing right away. Overall, they have free as well as paid models on them which you can download to be free of the efforts that you need to give in for designing them. So, let's get started.
Turbosquid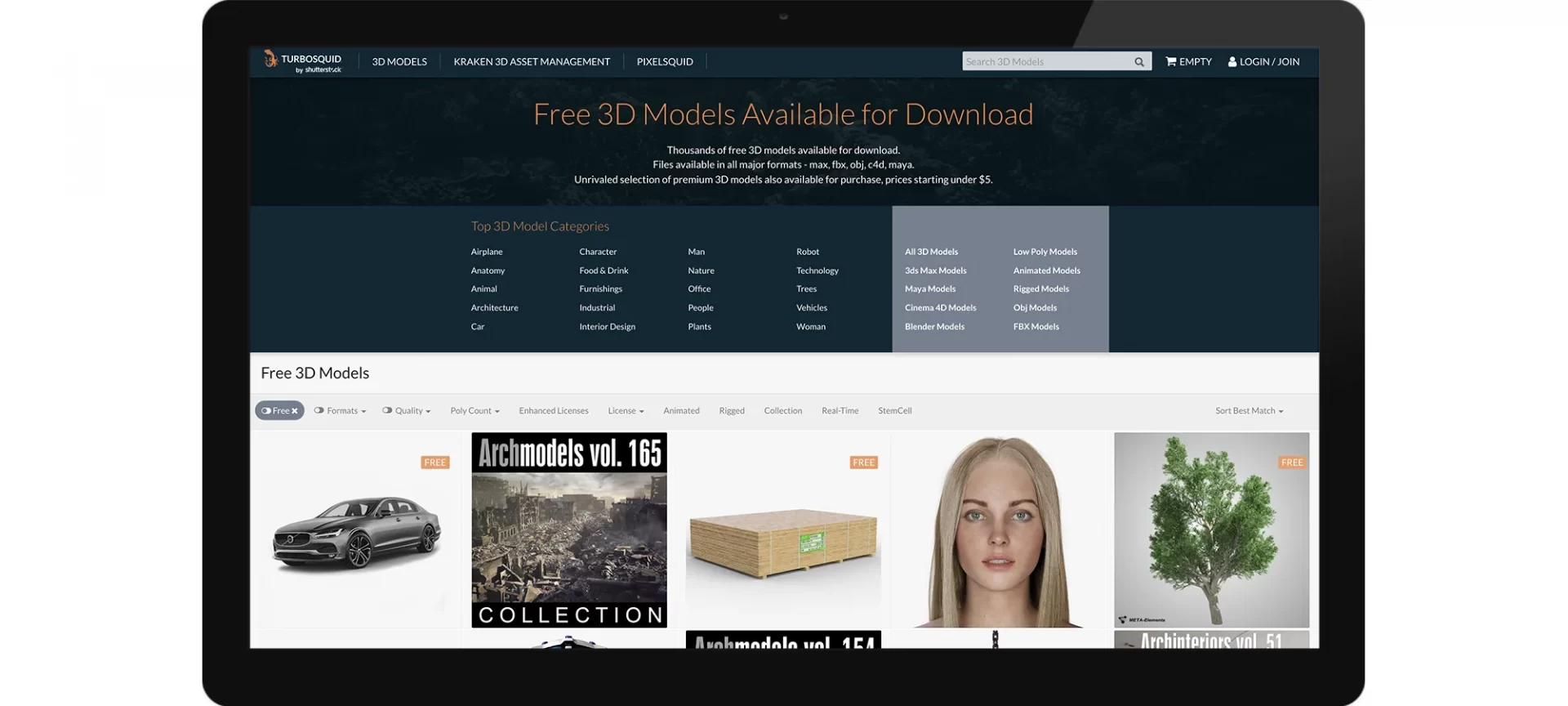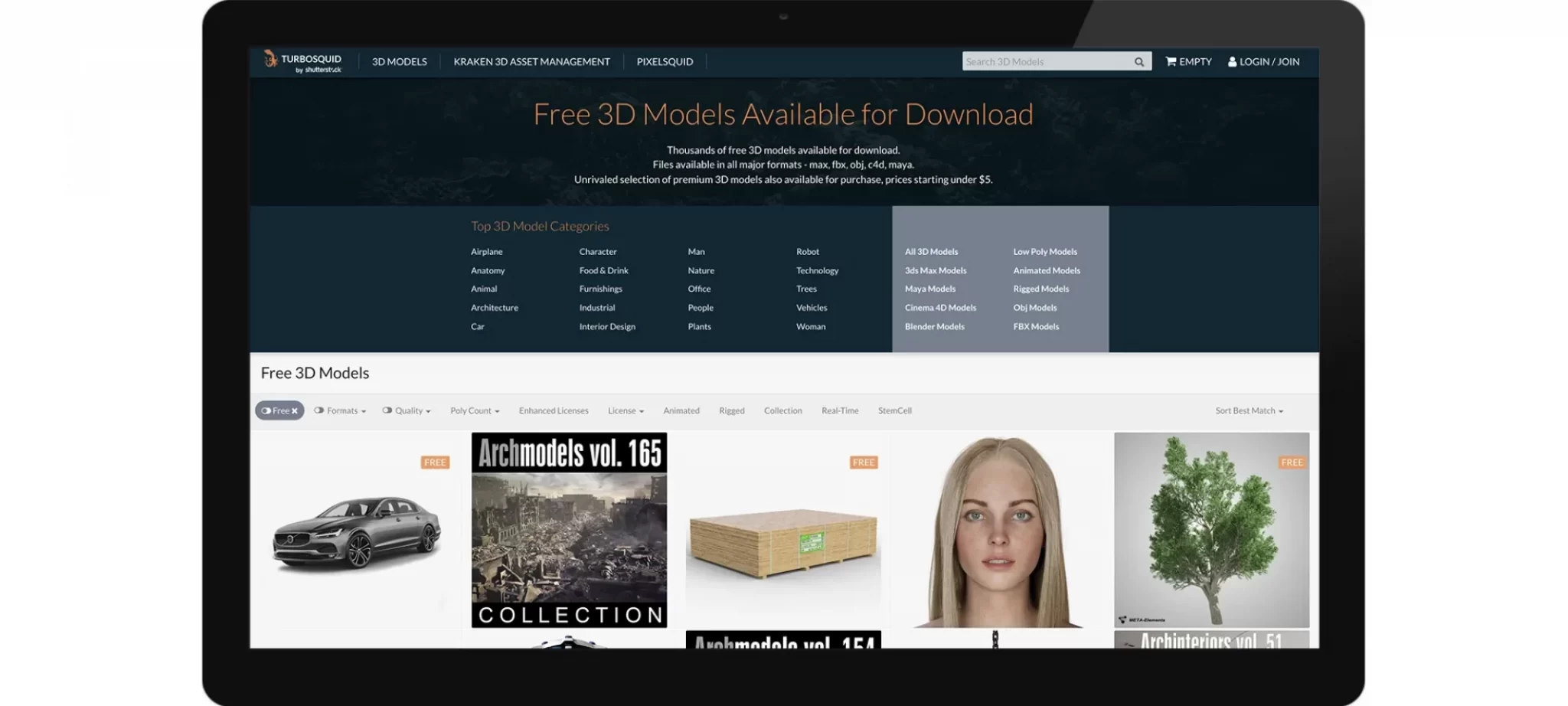 The company offers a neatly designed platform for accessing 3D models. Apart from 3D models, you can also check:
Kraken 3D Asset Management: A 3D content collector powered with an AI ingestion engine that takes your 3ds Max, Maya, and Cinema 4D content to a whole new level with tools such as auto-tagging, keywording, and rendering, thereby letting you pinpoint exactly what you're looking for. Available in two pricing options: a) Kraken Pro at $599 per month and Kraken Enterprise available at a customized price.
Pixelsquid: Providing you powerful pre-rendered images from multiple angles. Its growing library has thousands of spinnable, pre-rendered objects that are built particularly for 2D designers. The images are neatly distributed in categories such as Architecture, Art & Media, Characters, Currency, Fashion & Beauty, Food & Drink, Furnishings, FX Holidays, Industrial, and Interior Design.
PROS:
Twelve different categories to filter from make the search simple.
If you purchase a model that doesn't work for you, you can simply return it to get store credit for buying another model that actually works for you.
24*7 support by professionals to assist via chat or support ticket.
CONS:
Most of the designs you will come across on this platform are of premium quality which is paid.
3D Shook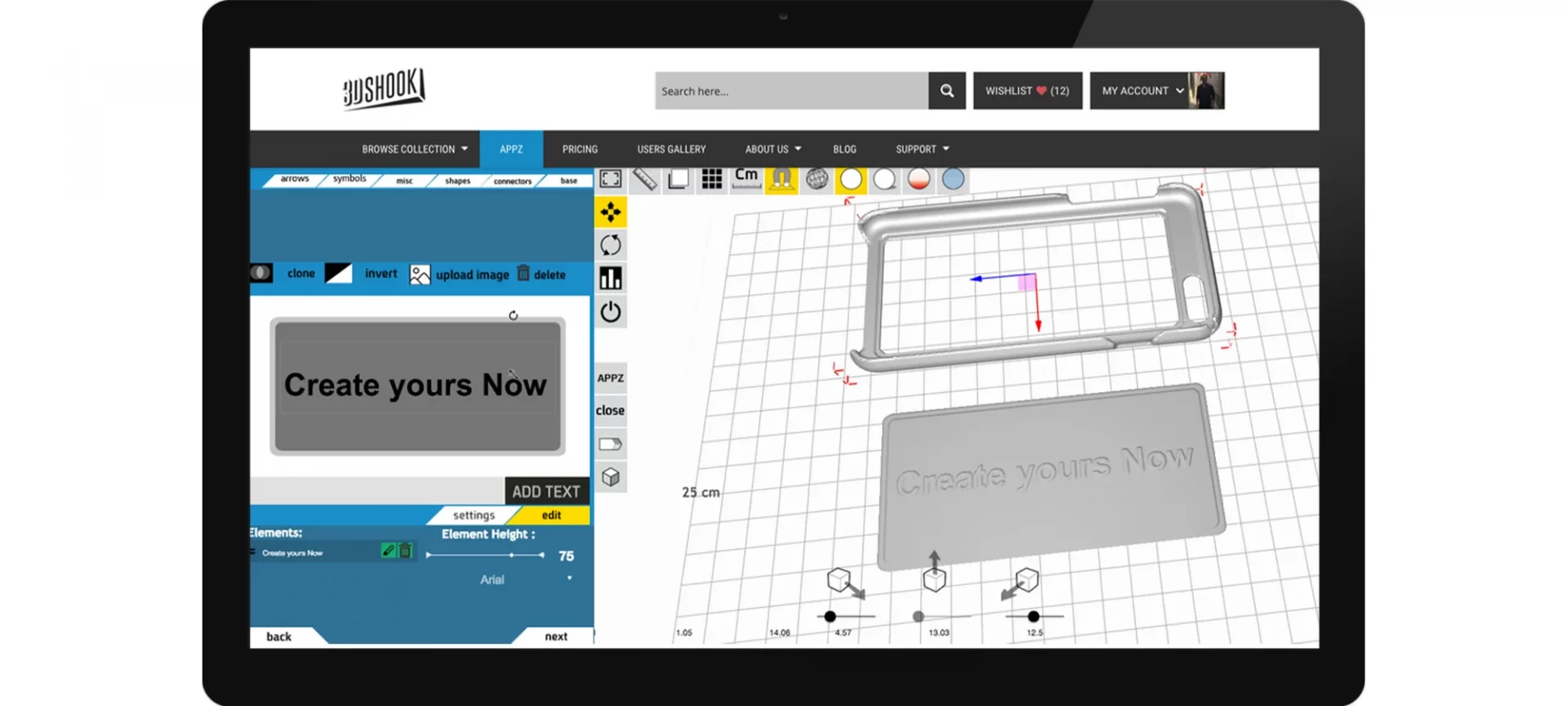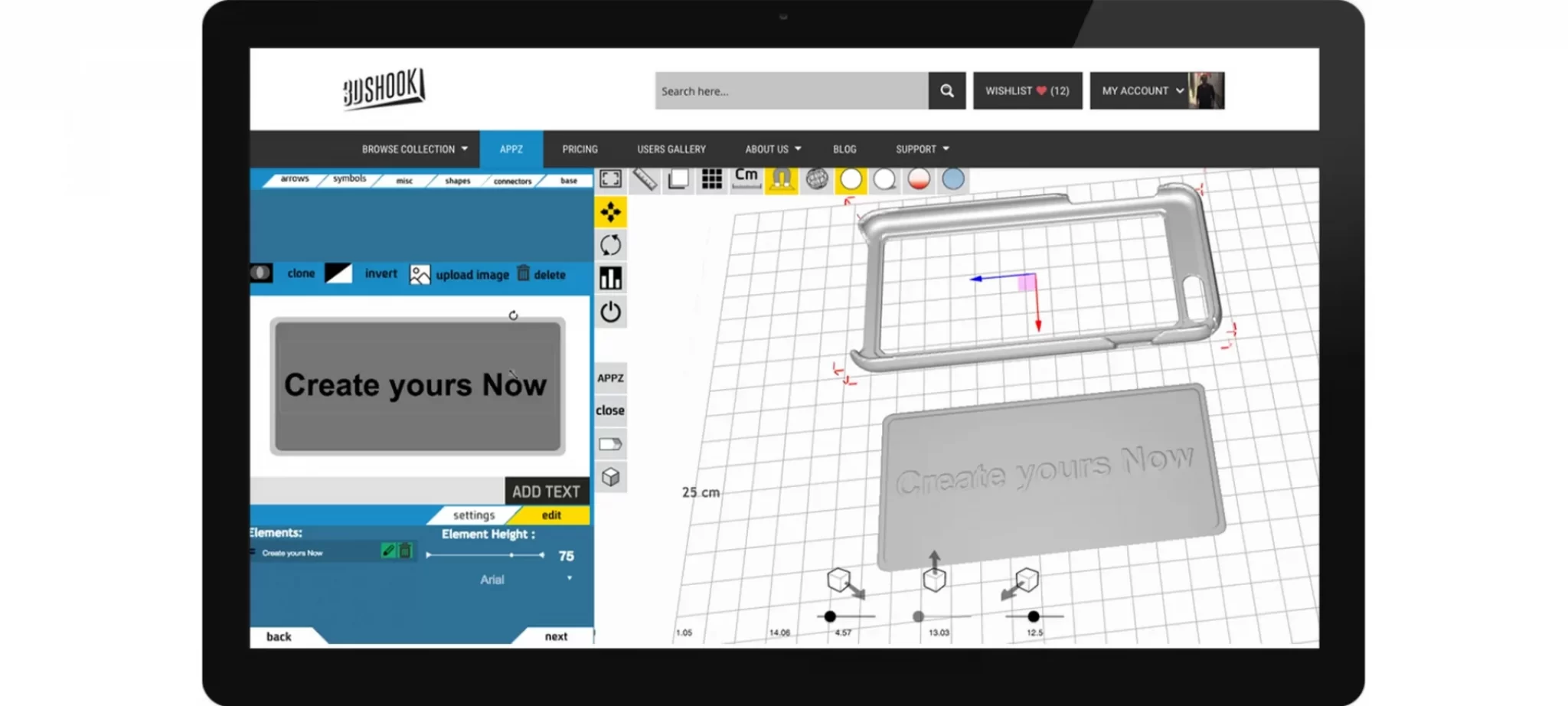 Primarily meant for home 3D printing, 3D Shook offers searching over more than 40 categories! As per their claims, the uploaded 3D models are fully tested, functioning, useful, professionally designed models that are print-ready for your desktop 3D printers.
While the time of writing this article their 3D models count is somewhere around 6000 plus in 42 categories and the product count is at 1600.
They are the most unique 3D printing Thingiverse alternatives that you'd find online because they offer file packs as 40 files for $25, 100 files for $50, and so on.
By just enrolling with 3D Shook, you can become a member and can access a wider array of 3D models. Most importantly, the company has ensured to offer the website in different languages.
And, so we are guessing, it reaches out to a larger audience than most of the alternatives, which are only available in English.
They also run an application for Android which you can download from Google Play Store. The company also exhibits 3D printers for purchase.
PROS:
Not everyone can upload on 3D Shook, they have their own design team of nine professional designers dedicated to doing this task of uploading highly useful models.
Their catalog is tidily categorized into various industries allowing you to search more efficiently.
They sell file packs which no other 3D printing repository does.
CONS:
The number of 3D models available is very small.
You must log in to download 3D models from 3D Shook.
3D Export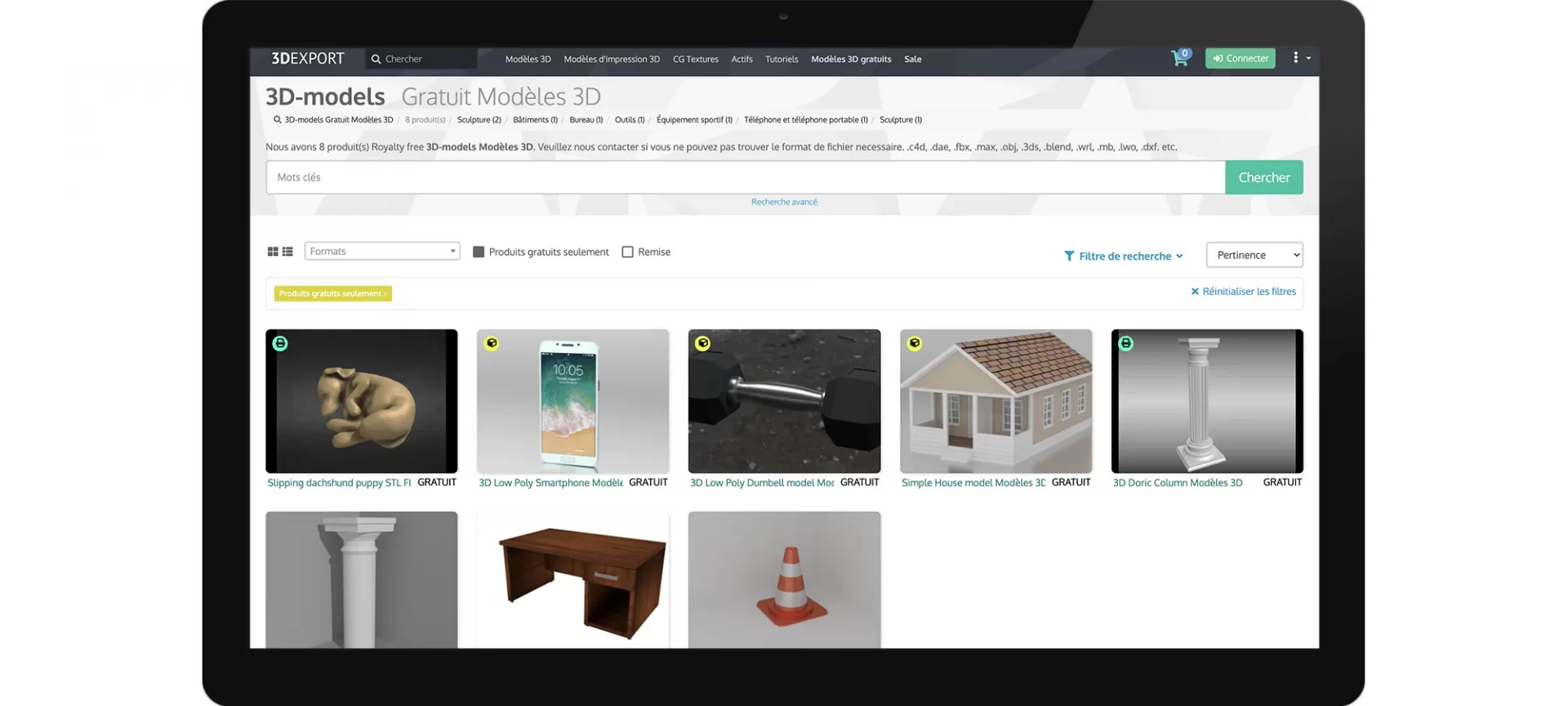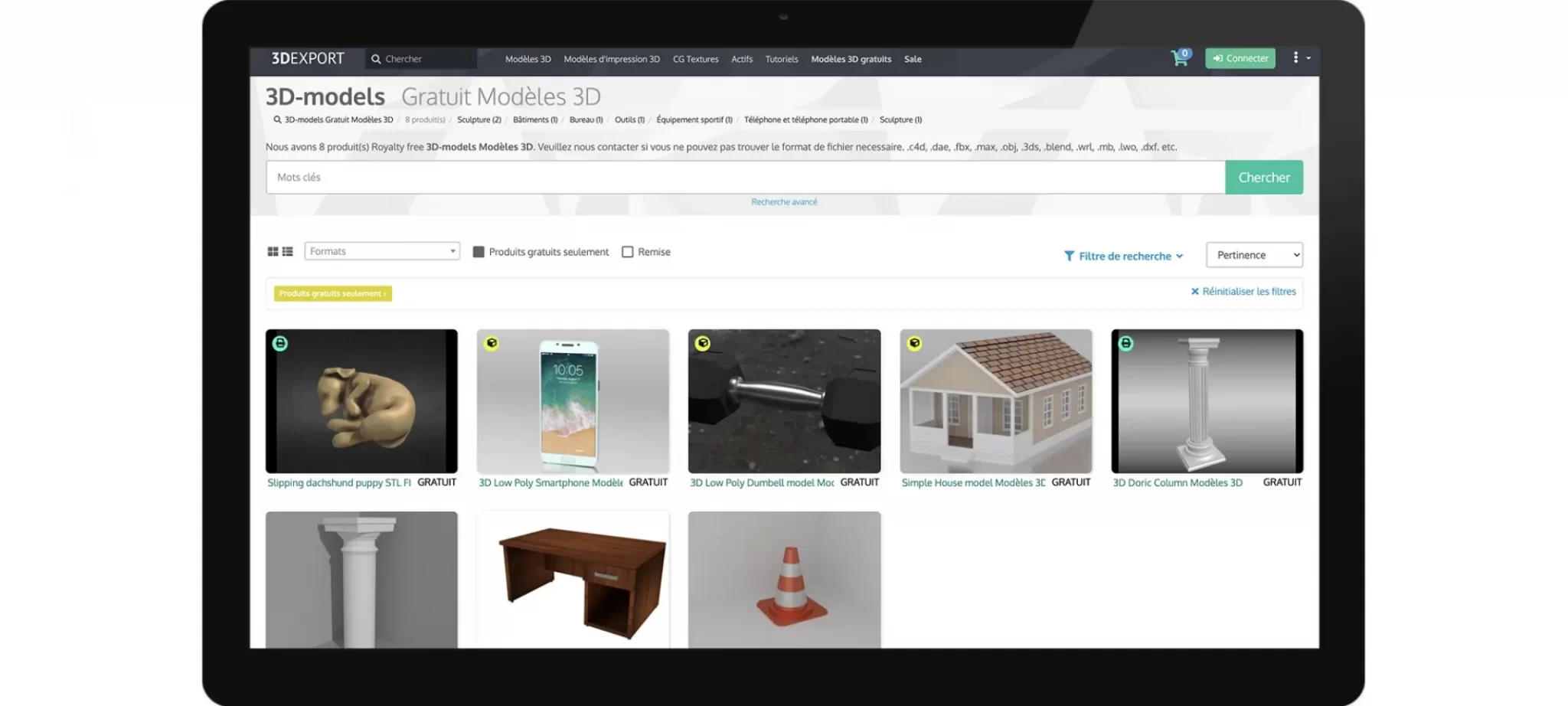 Apart from 3D Models, 3D Export is a host to 3D Tutorials, CG Textures, and HDRIs. One thing peculiar about 3D Export is the sub-categorization of numerous categories that you have under 3D Models.
Just to give you an idea, under 3D Models, there is a category named AirCraft. Under this category, you have thirteen more sub-categories like Bomber, Commercial, Drone, etc.
There is also a category named 3D Print Models, the same rule of sub-categories applies to its 10 categories as well.
At the time of writing this article, the platform claims to have 252708 models. Unlike other Thingiverse alternatives you can not only buy 3D models from 3D Export, you can even sell 3D models using this platform. A section of 3D Export also deals with VR and AR.
PROS:
The detailed categorization on 3D Export lessens the time for searching for the perfect 3D model that you are looking for.
The 3D Tutorials and online courses offered on it take you from beginner to intermediate and intermediate to expert.
They convert the 3D file you need in whichever format you demand.
CONS:
You need to Sign In to download even free 3D printing models.
Repables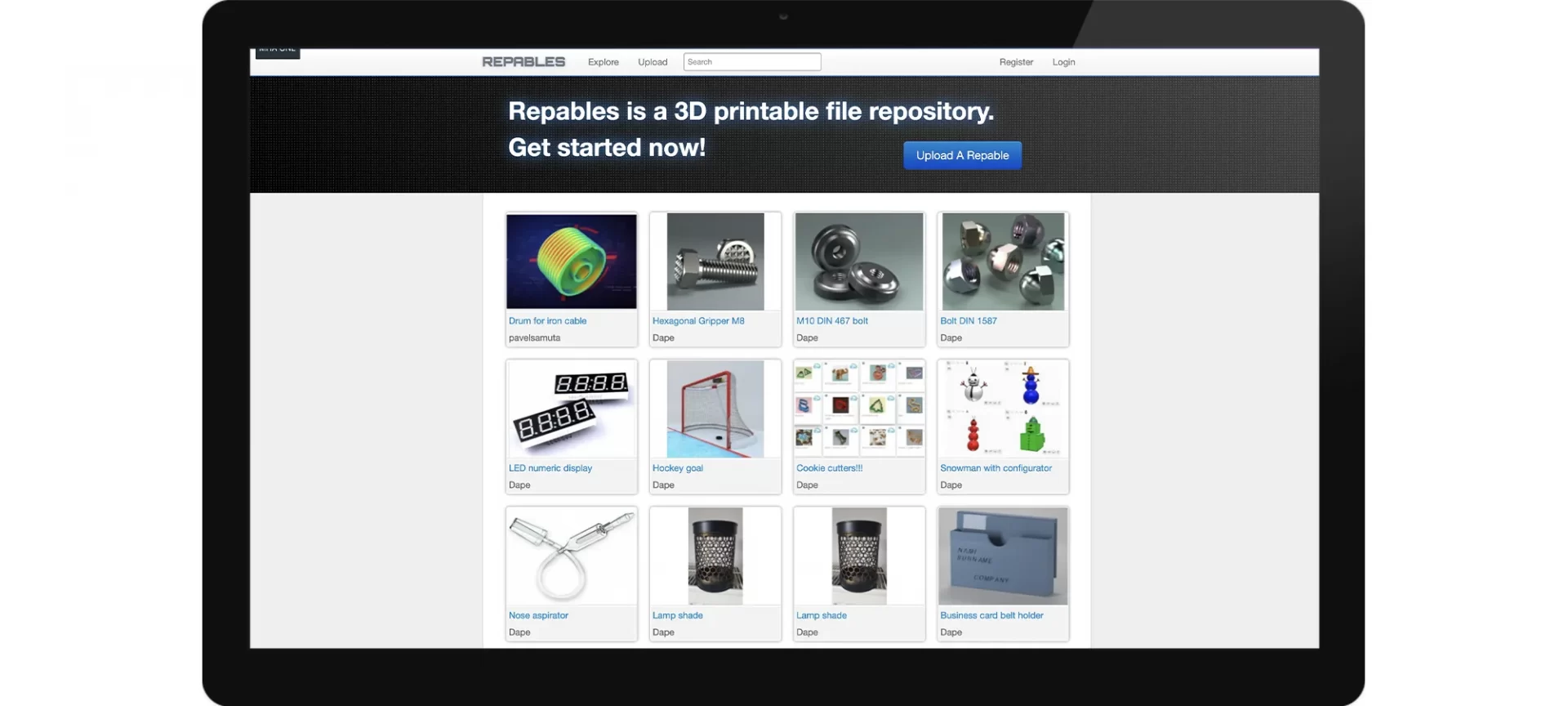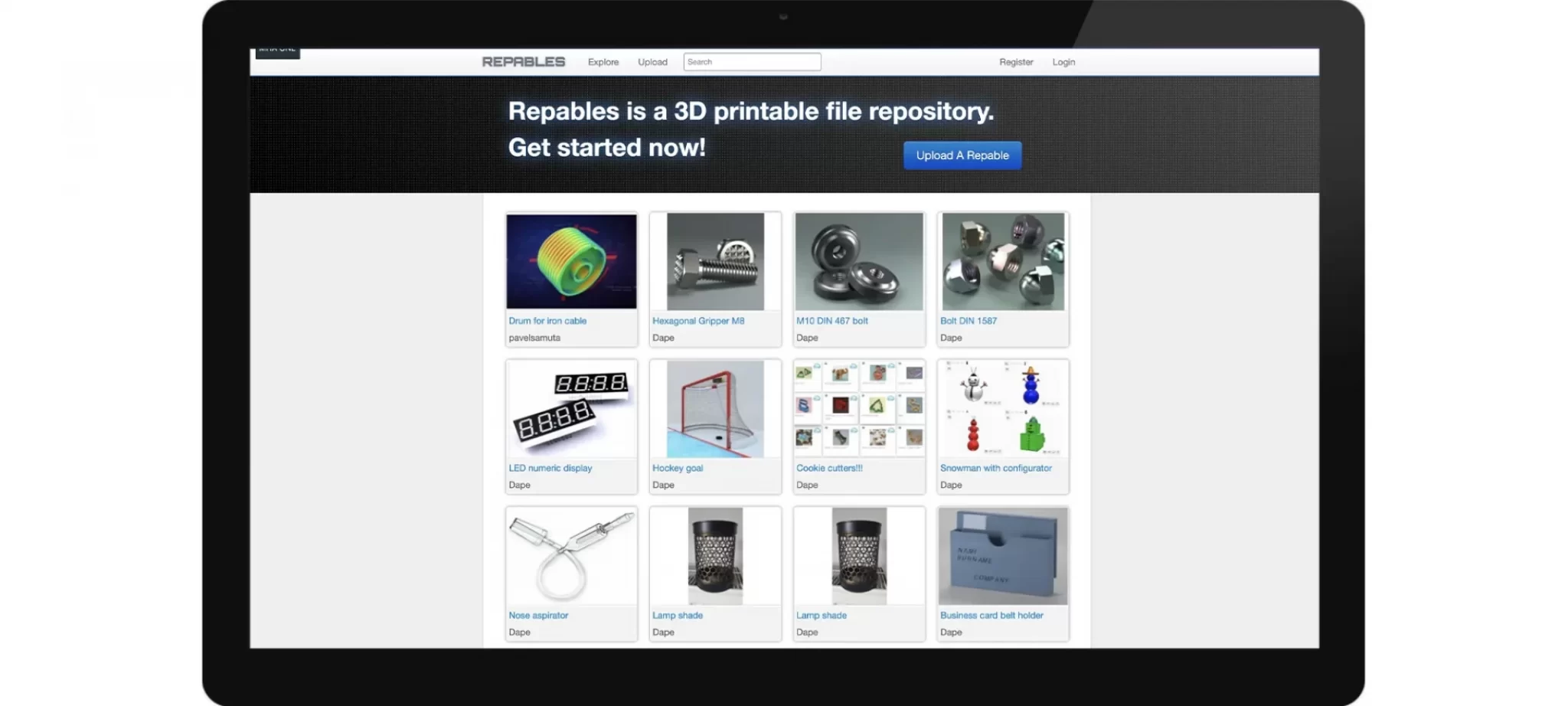 This one's a raw 3D printing repository; you would not find 3D models neatly categorized into various industries or in any other manner as you do on other Thingiverse alternatives.
All you have to do is search according to your name and look whether it has made its way to Repables or not. You can even upload your own creation.
But for doing either of that i.e. downloading or uploading you need to be registered with Repables. Their registration process is simple; you need an email id that's it.
A lot of models on Repables deal with Mechanical parts or functional prototypes. You'd easily find gear motor, CNC 3DP Laser Engraving about some of the other parts, tapered roller etc., on Repables.
You can also find toys like a submarine, bone cookie cutter, dressing tables 3D models, etc. If you are an expert in the field of 3D printing and are looking for raw ideas to experiment with, you can find them on Repables.
PROS:
Its raw outlook makes the platform completely original. One can upload 3D models that may range from a variety of different categories.
A simple search tool would not create any confusion of missing out on any categories.
CONS:
You need to register with Repables for uploading or downloading from it.
If you are used to categories, you might find the interface dull and boring.
Youmagine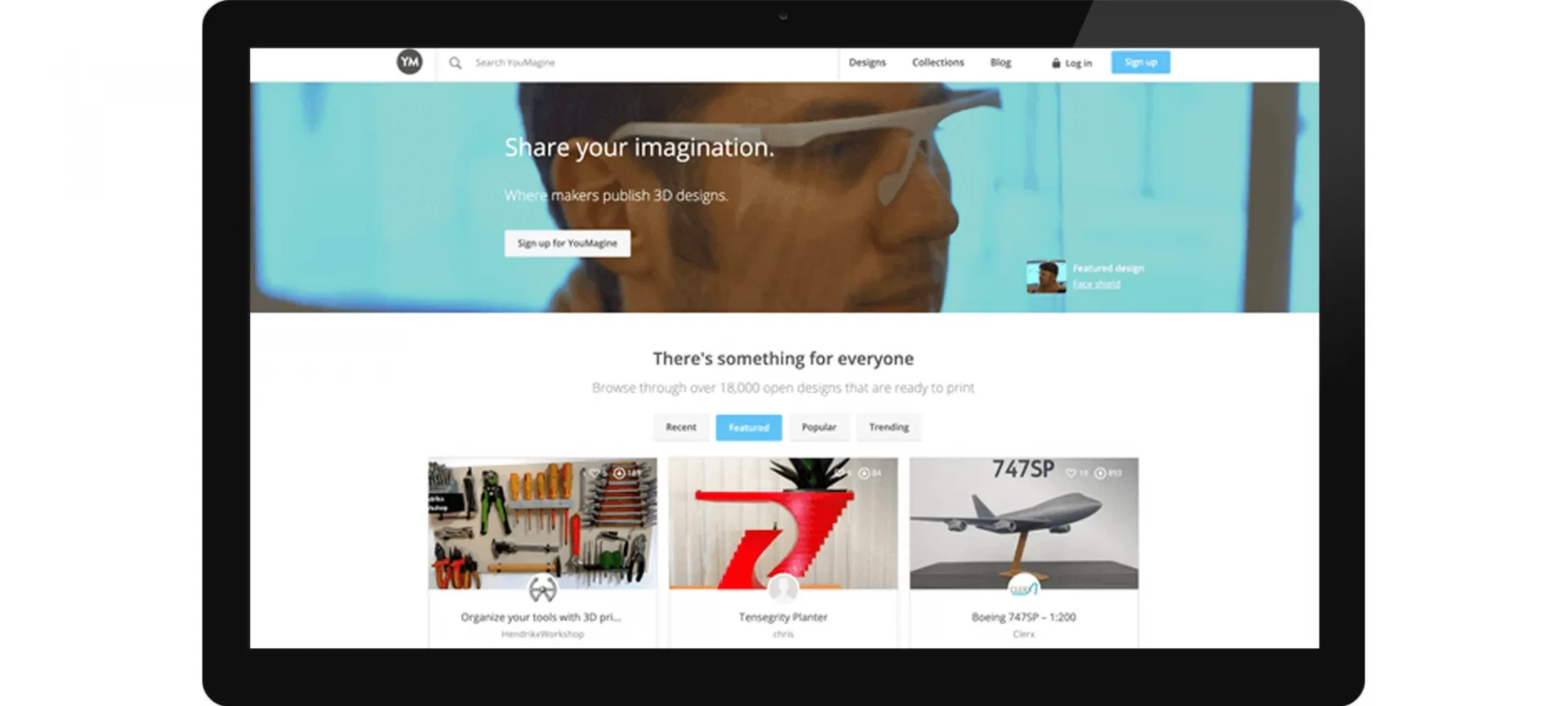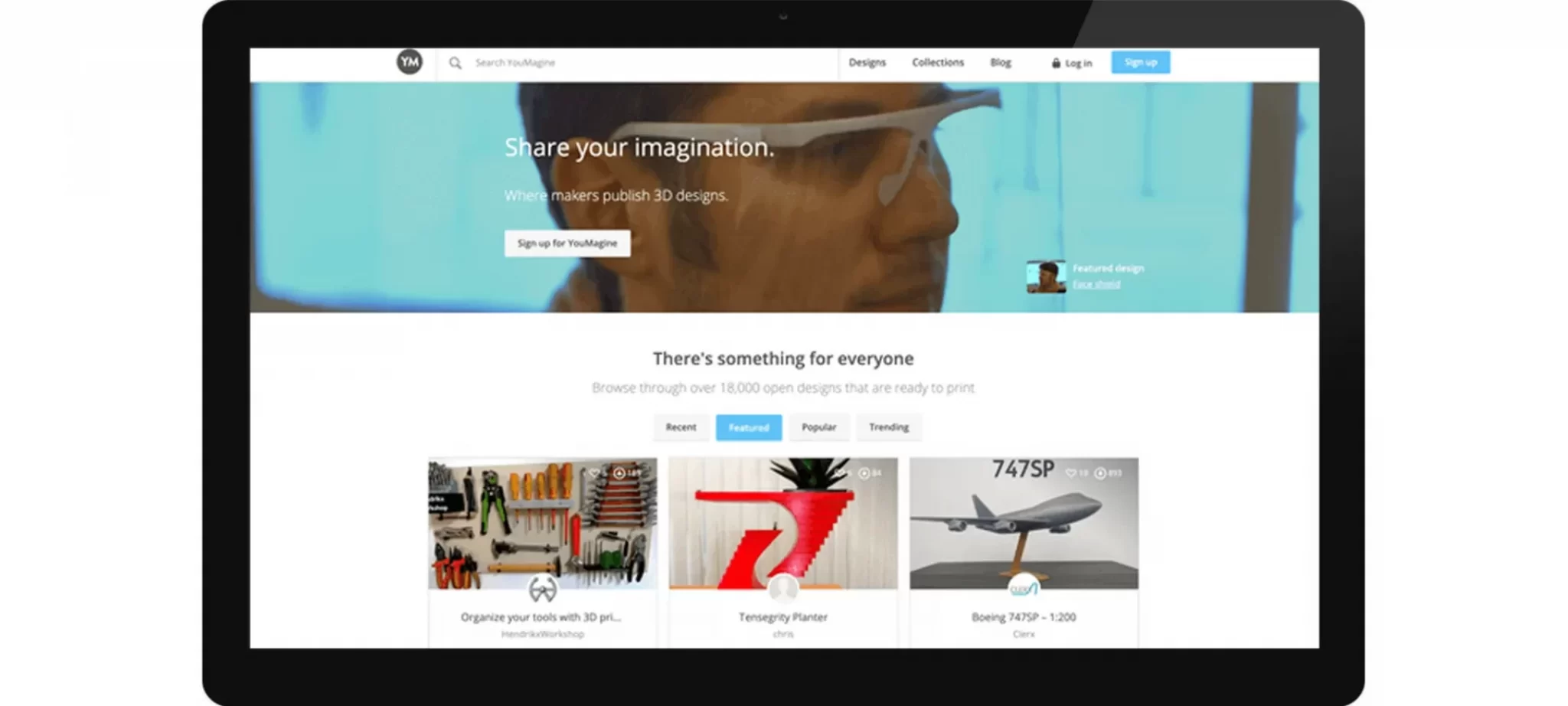 Every now and then Youmagine's creators curate to you their collections which can be:
Printer specific: Ultimaker 2, Ultimaker 2 upgrades.
User-specific: Toys, animals, etc.
Situation specific: Covid-19.
This is what separates it from other Thingiverse alternatives on our list. Apart from the collections, you can also navigate via the normal: Recently uploaded, Featured, Popular, and Trending 3D models. At the time of writing, the website claims to have 18000 open designs that are ready to print.
PROS:
Offers you a uniquely curated collection by their designers.
Open designs to choose from in various segments.
You don't need to Sign Up for downloading a free design.
CONS:
There is no general industrial-wise categorization available on Youmagine.
MyMiniFactory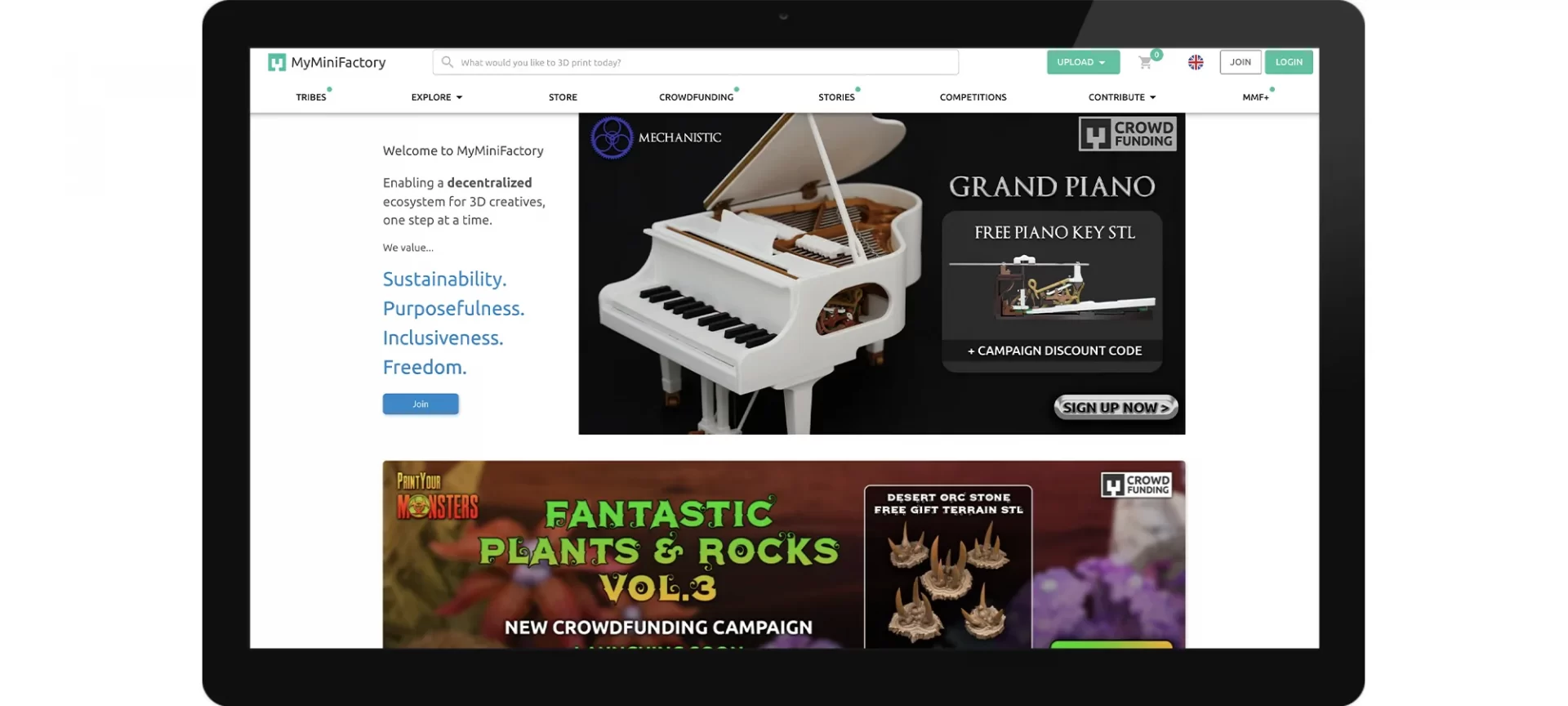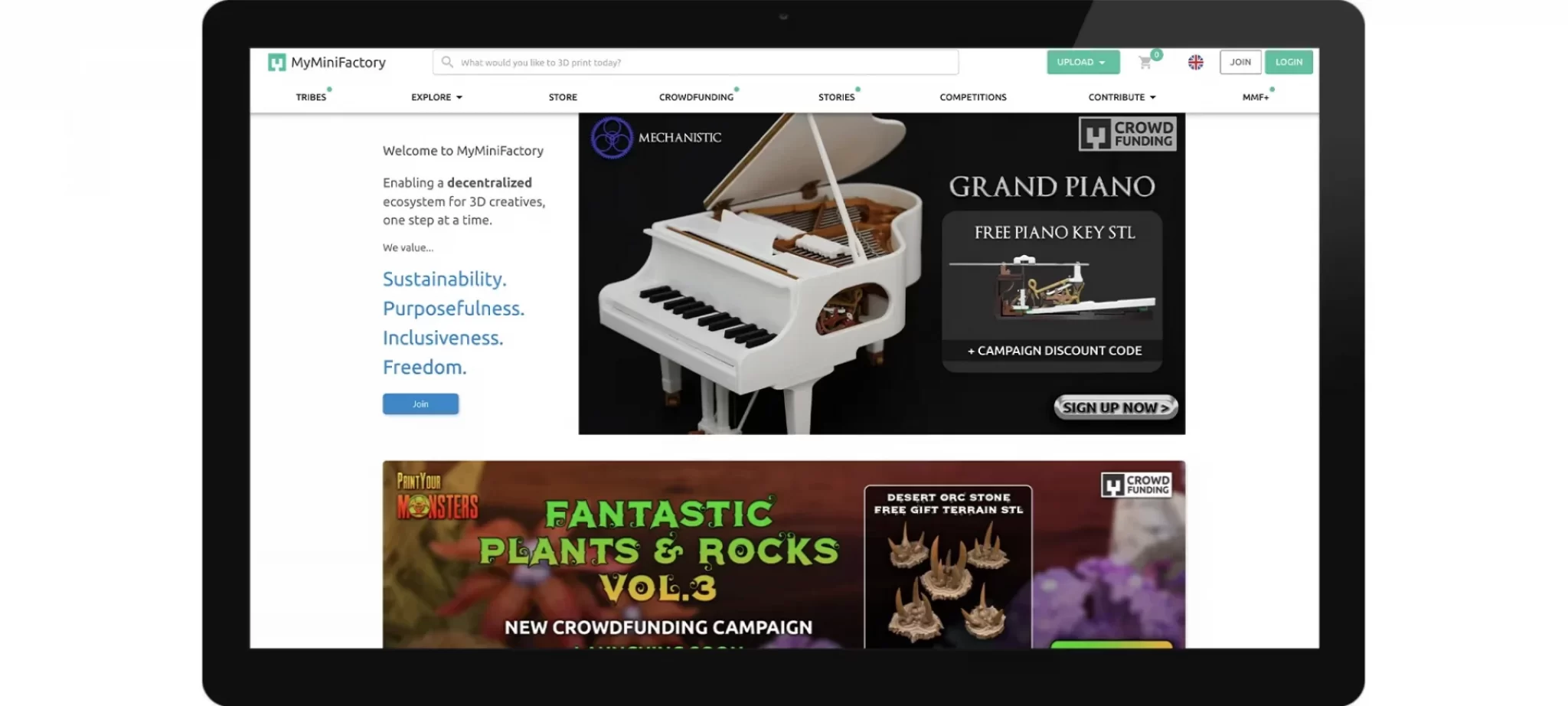 It has been around since 2013 and the website of the company has grown organically because of the popularity it holds.
It started by handpicking and testing a selection of 3D designs, after which it opened up to collaboration with more and more 3D designers who were allowed to share their work freely. The selection of prints is not only varying but also affordable.
And unlike other Thingiverse alternatives, MyMiniFactory states that every file must pass a software check before it's published, thereby reducing printing errors. In 2018, MyMiniFactory opened an online shop that to date continues to gain traction.
It offers the members an opportunity to monetize their designs. Moreover, the website also has a very cool competition feature, in which users can participate with their respective designs and win prizes.
PROS:
Their backend team is a mix from all over the globe thereby giving you a blend of all even in 3D models they offer.
The website is neatly categorized according to various industries.
CONS:
Beginners might get confused while visiting the website by seeing so much content and variability.
Cults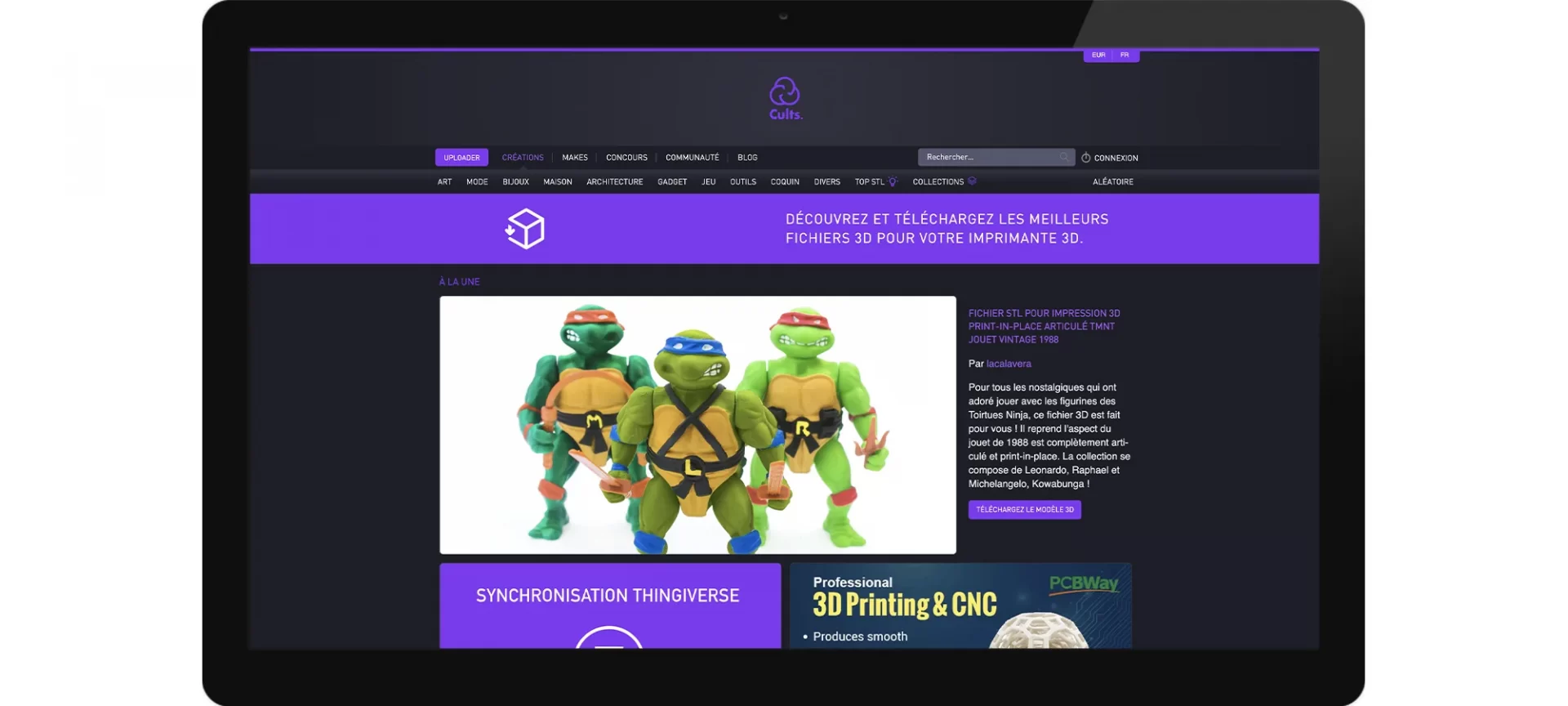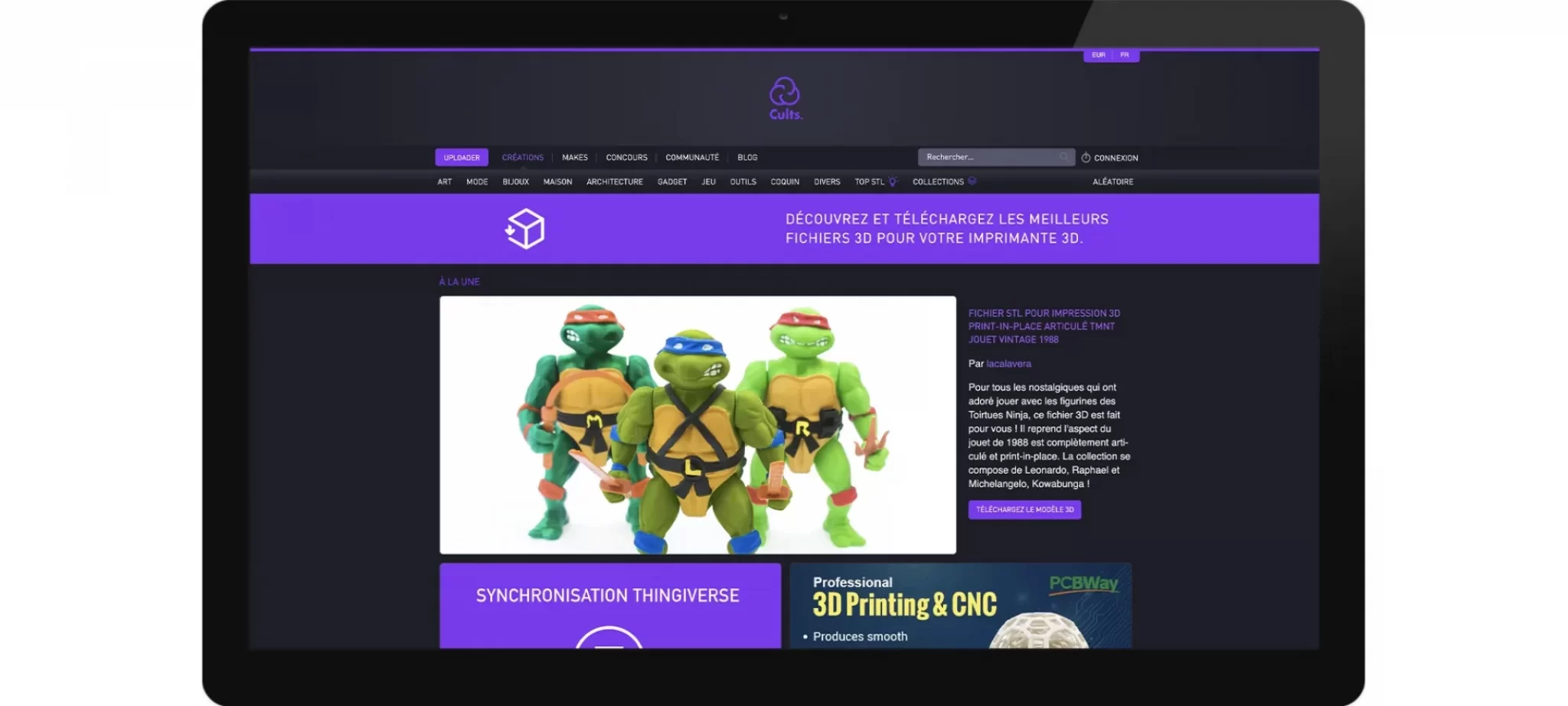 Cults is a pretty amazing one from the many available Thingiverse alternatives considering it's also the first independent 3D files marketplace platform which was founded in 2014.
Cults claims to have 800,000 members worldwide, with 85,000 designs hosted which are quite impressive given the very small management team of three people. Apart from these figures, several notable features that help Cults stand out in the crowd are:
There are numerous promotions that come and go across the board, including sales and discounts on filament, accessories (like blue tape), and 3D printers.
As a user, you have a lot to be excited about because all the necessary accessories for your printer are available here in one central hub.
Like MyMiniFactory, here too, there are quite a few competitions being held at any given time. By participating in which you can test your skill set and who knows you can also turn out to be a potential winner! And above all, you get high-quality imagery and a tidy interface throughout the website.
PROS:
Very live home page.
Amazing categorization.
Displays popular STL files, latest by 3D makers worldwide.
Keeps itself up to the mark and the users upgraded with the updates.
CONS:
Charges 15 percent commission fees to designers who sell using their platform.
CG Trader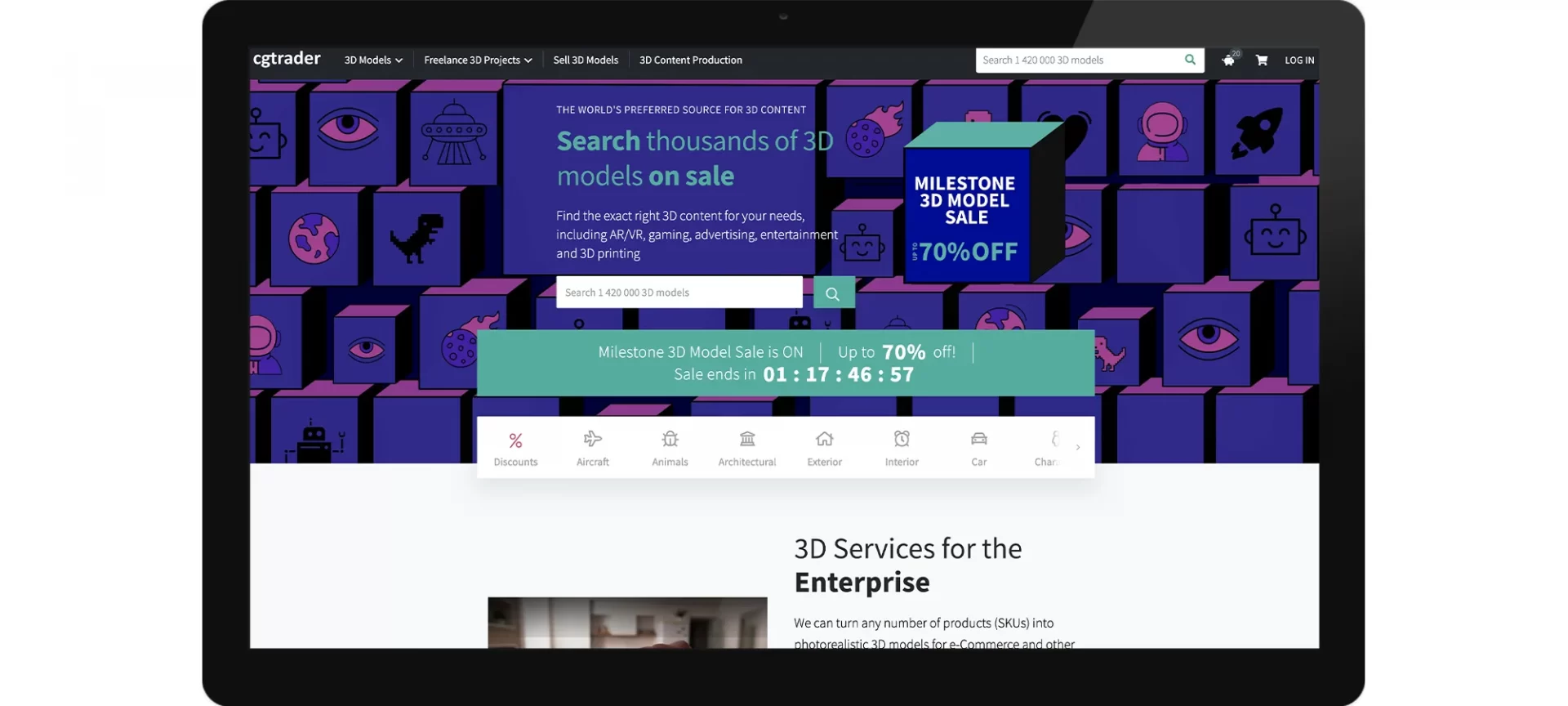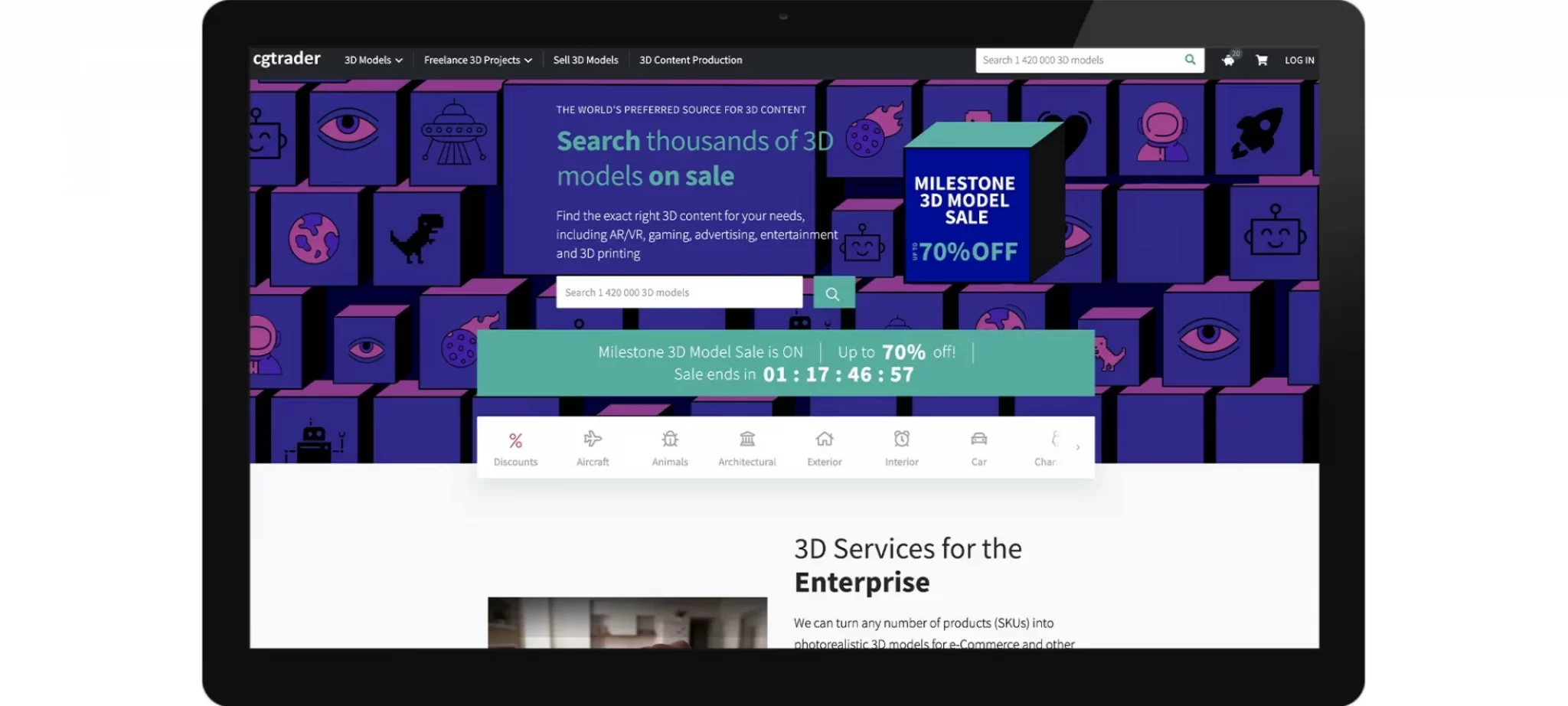 Found with the aim of being an online commerce platform, in 2011, CG Trader has 3D designs that could be purchased and sold while proactively valuing 3D designer content.
One of the services offered by CG Trader is the opportunity for customers and online retailers to alter your 2D designs into 3D content which can then be used for augmented reality or other showcase purposes. This is something no other Thingiverse alternatives offer.
PROS:
Detailed categorization decreases the search time for finding a 3D model close to the one you wish to print.
Lets you host a Freelance project and even sell your models.
CONS:
Mostly displays paid 3D models.
3Dagogo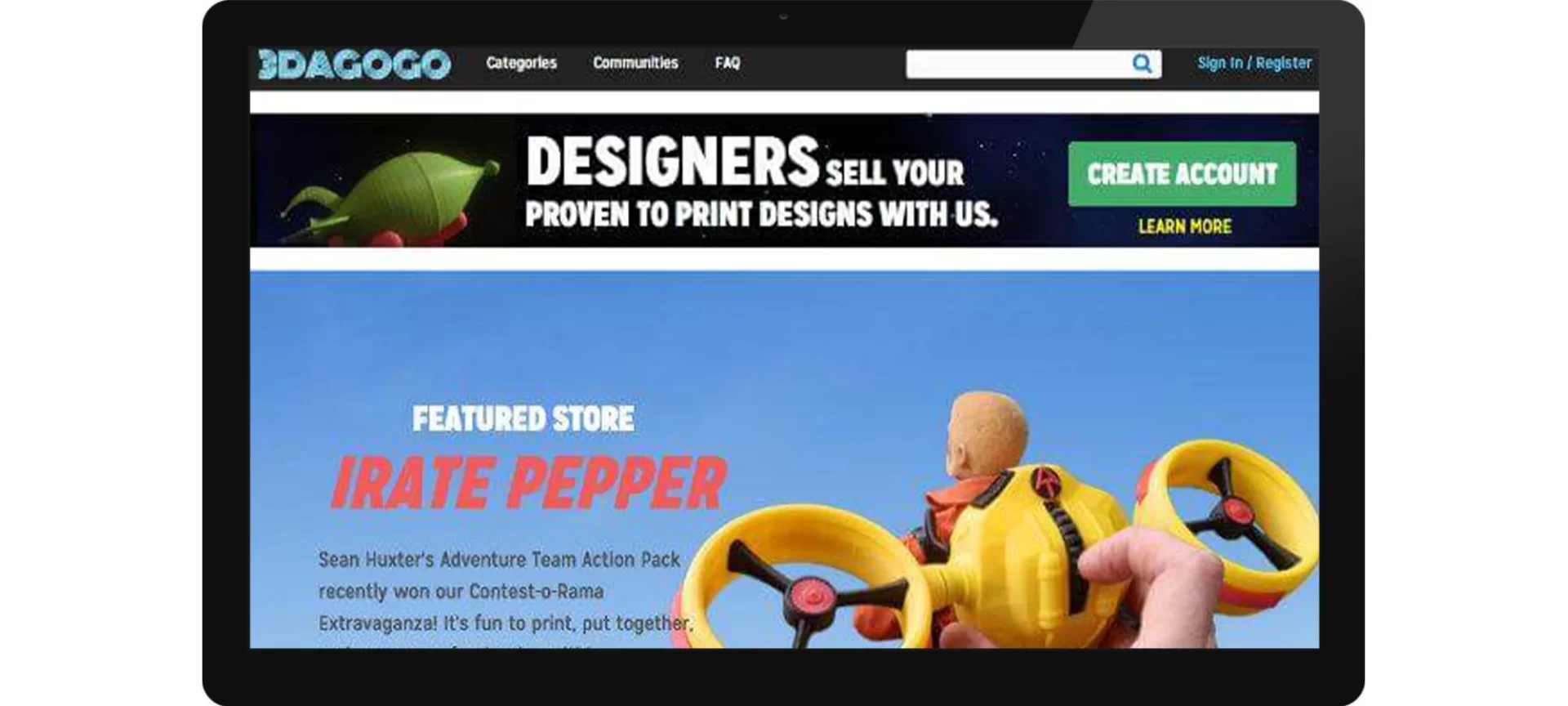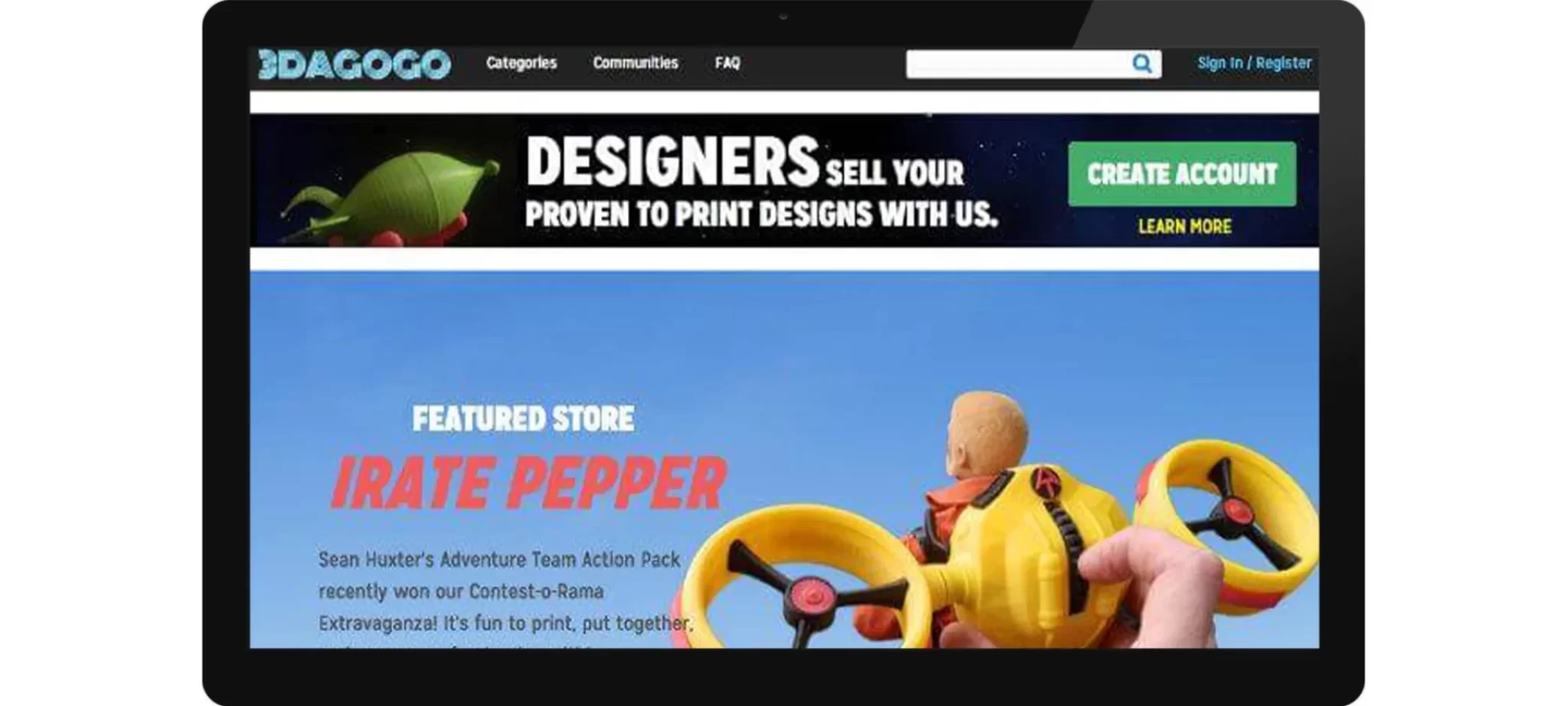 3Dagogo offers 3D print models from various categories that are paid as well as free. They range anywhere from more practical designs to aesthetic and artistic models.
You get the freedom to explore both ends of the 3D printing spectrum with 3Dagogo. Designers and consumers both are said to equally benefit from certain protections that the website covers.
The designer community is secured through infringement rights while the consumers have the option to request a refund within 14 days of purchase in case the print that they've purchased is not compatible with their 3D printer. Likewise, the community help center is available to take on any queries related to the 3D model that you buy.
PROS:
Free and affordable designs are available on offer all the time.
The website has a user-friendly interface.
CONS:
Is not meant for every class of the 3D printing community.
Pinshape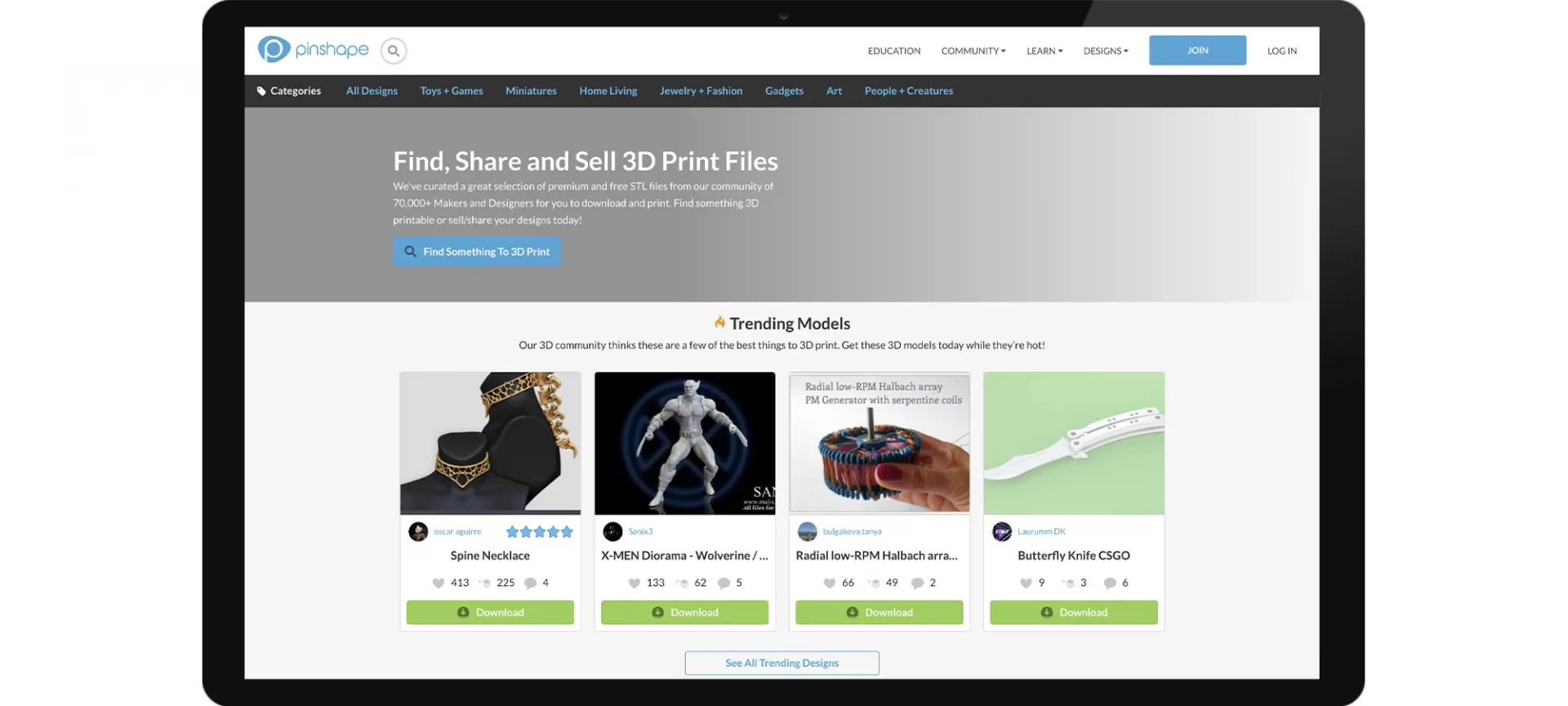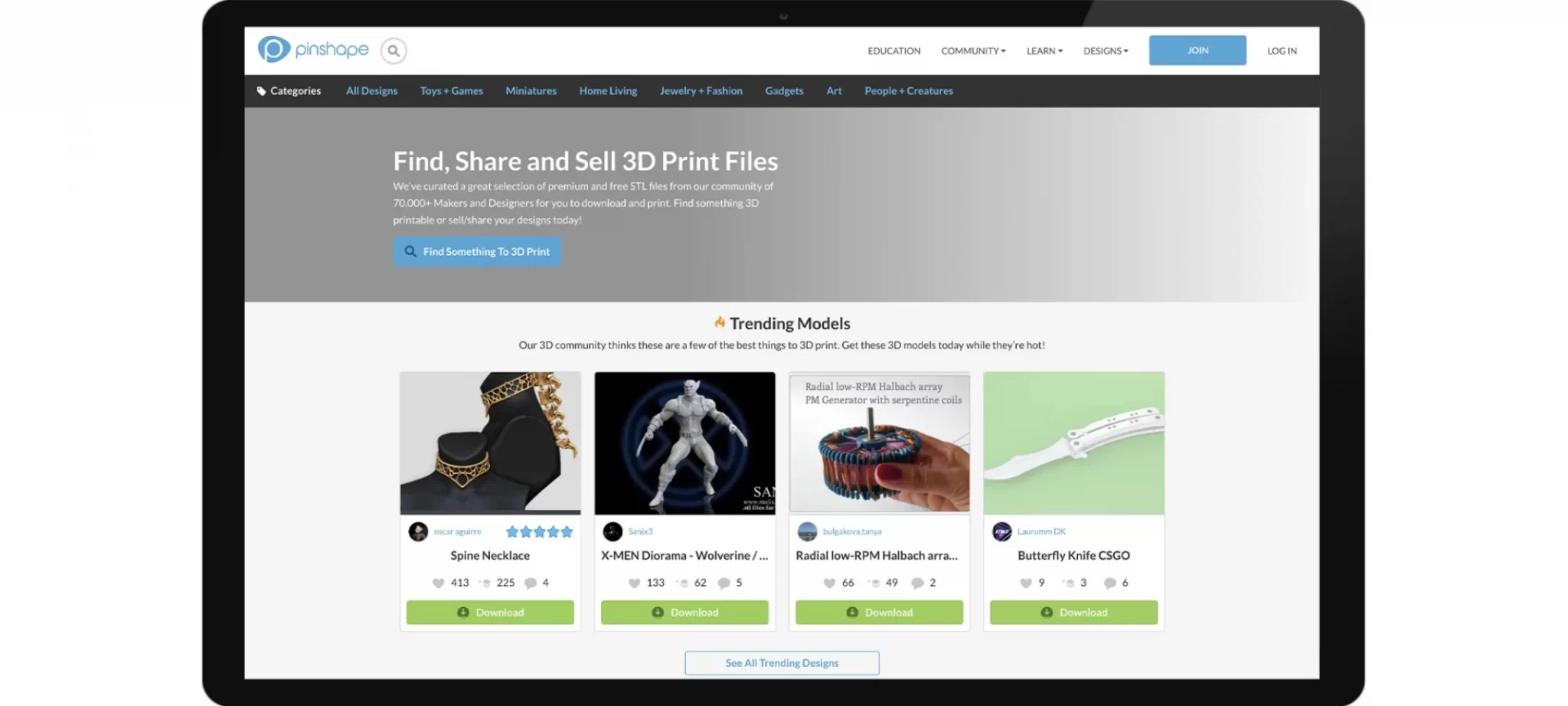 Just like other Thingiverse alternatives this one too is on a mission to make 3D printing simple and fun. The company claims itself as an online marketplace – a platform where users and designers alike can be united in a Venn-diagram-like fashion.
If you are a maker you are provided the opportunity to select from a range of designs offered by designers of varying levels. In case you are designers you can showcase your talents in an engaging and evolving entity.
PROS:
Provides a platform that benefits the designers as well as you.
Have 3D models in various categories.
CONS:
The user interface is not that engaging.
The Conclusion
Above mentioned are the Thingiverse alternatives that are best in their own ways. Each one has something unique to offer that the other does not.
So, while wanting to download it's best to choose one of them according to your requirements! Almost every one of these mentioned above alternatives has some of the other in the domestic 3D printable models so, for that, you can go with anyone.