SLM 280 Production Series
What sets SLM 280 Production Series apart from the other industrial 3D printers is its ability to offer manufacturers customization in choosing the number of lasers as well as its power.
PROS
Consistent gas flow ensuring high part quality.
A permanent filter module improving uptime and reduces costs.
Closed-loop powder handling increases safety and material quality.
CONS
Requires huge one-time investment of money as well as efforts.
Table of Contents
SLM 280 is an industrial 3D printer manufactured by SLM Solutions – a 3D printer manufacturer based in Germany.
The printing system creates objects using Selective Laser Melting 3D printing technology. Users can go a maximum up to 280 mm * 280 mm * 365 mm in terms of the building envelope.
To ease the build process and to ensure that the complete part is exposed to the building field, SLM 280 utilizes two fiber lasers. Because of this, operators can achieve an 80 percent higher build rate.
Additionally, a patented bidirectional powder coating helps in reducing the manufacturing time of parts that are individually manufactured.
SLM 280 has an open system that offers many options for optimizing the production processes which are required with individually set process parameters for carrying out developments in various materials. Moreover, a specialized monitoring system enables a high level of process control which in turn leads to top-notch quality for the build parts.
But, how does the printer rank when weighed from the ratio of money: value? Well, let's find out.
Features
SLM 280 is a third-generation machine that is designed especially for production environments. It features multiple lasers, closed-loop powder handling as well as upgraded process control that is ideal for demanding applications that require high productivity.
The printing system features a build plate that is 25 percent larger than standard mid-sized machines which allows users to fit more parts per build.
Below are some of the striking features of SLM 280 that separate it from other industrial 3D printing systems.
Melt Pool Monitoring
The printer manufacturer has equipped SLM 280 with a tool that helps you visualize the thermal emission of the melt pool in the SLM 3D printing process. SLM 280's printing system records the thermal radiation that is produced from the melt during the complete production process.
The melt pool monitoring feature enables users to a sequential output of thermal emission plot images of individual layers. Also, it lets you detect irregularities and defects in parts. Moreover, operators can log, and document build jobs using melt pool monitoring.
All of this means a controlled 3D printing process that assures high-quality parts and functional prototypes.
Recoater Cleaning Station
Developed for simplifying not only the cleaning, maintenance but also the installation world on the SLM recoater, the cleaning stations fulfill multiple purposes. For starters, it stabilizes the mounting for maintenance and lets users safely handle the 3D printing process.
Moving on, the station also hosts a 360 degrees rotation for full maintenance access. There is a drip tray included in it that permits easy residual powder collection. Lastly, it also grants safe storage of recoating mechanisms. The station's dimensions are 730 mm * 310 mm * 350 mm.
Three Independent Conveying Routes
This is a unique feature of the modular powder supply unit which is a part of SLM 280's massive 3D printing process. It helps transport powder between the PSV and the SLM machine.
The first route lets users supply freshly sieved metal powder to the SLM machine. Whereas, the second route returns the excess metal powder from the overflows back to the PSV.
Lastly, the third route utilizes a manual suction device for removing the excess metal powder from the process chamber which is then conveyed directly back to the PSV.
Inert Gas Chamber
The complete 3D printing process is carried out in an inert gas atmosphere that has an efficient inert gas circulation. Herein, a reduced amount of gas consumption is a result of a secured and efficient operation.
Whereas, an optimal amount of flue gas removal from the process chamber is achieved whenever a new gas flow is utilized for optimum processing conditions.
Additionally, the attainment of constant conditions on the work surface along with the bean entry glasses is also effectively safeguarded from contamination.
Permanent Filter
A long-life filter makes certain that the part quality throughout the builds is without any interruptions. In addition to this, it also ensures that there is no changing of filter cartridges which leads to a reduction in consumable costs.
Also, this allows for a safer operation that avoids loaded filter housing exchange. Moreover, it permits the dry mixture waste disposal without hydrogen formation with reactive materials thereby keeping the entire environment safe.
The permanent filter module works by catching not only the soot but also the condensate particles from the process gas stream in a sintered plate filter.
It is purged with gas as well as the waste material that is coated with an inhibitor dropped in a bin for dry disposal whereas the clean gas returns to the process chamber.
Laser Power Monitoring
The printing system also hosts a laser power monitoring part that is fixed permanently on the axis. It measures and illustrates the nominal as well as actual power while the ongoing 3D printing process.
This part actively warns users and highlights spots with critical laser power deviation. As well as it allows operators to document the laser power for each scan vector during the entire build job.
Layer Preparation Tool
SLM 280 houses a tool for leveling the recoater height and adjusting the overlap area. It enables reproducible adjustments for recording lip height, within a micrometer. As a result, each and every build job has a certain level of consistency with which it is exposed to the laser for sintering.
Build plate handling device
The specialty of this part is that it allows easy removal of parts up to 180 kilograms by using substrate plates. It has a two-speed electronic lifting and lowering that gives a flexible option for the user to remove the building part with ease.
Specifications
The maximum build volume offered by SLM 280 is 280 mm * 280 mm * 365 mm. The printer is available in three different 3D optics configurations:
Single fiber laser, either of 400 or 700 Watts.
Twin fiber laser, either of two 400 or 700 Watts.
Dual fiber laser, either of 700 or 1000 Watts.
SLM 280 offers its users a build rate of 113 cubic centimeters per hour. The parts and functional prototypes manufactured on the printer has variable layer thickness starting from 20 micrometers to 90 micrometers.
Its minimum feature size is 150 micrometers. The beam focus diameter of its laser ranges anywhere between 80 to 115 micrometers.
The maximum scan speed of SLM 280 is 10 meters per second. It has an average inert gas consumption in process at the rate of 13 I per minute which changes to 160 I per minute during purging. The printing system's compressed air requirement is as per ISO 8573-1:2010 [1:4:1] 7 bars.
Price
To get access to SLM 280's price, users need to request a quote from the printer manufacturer.
First Impression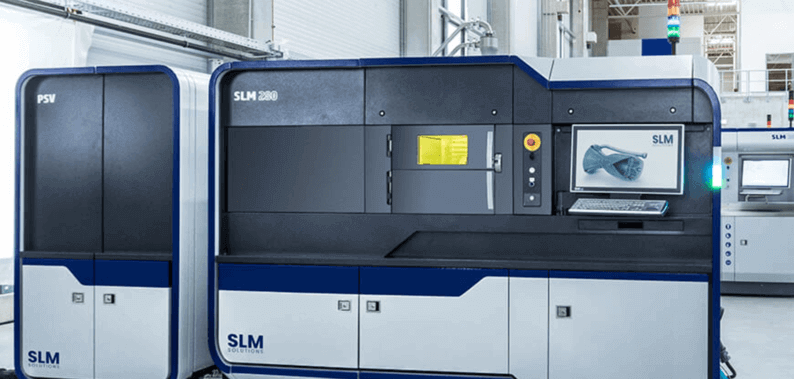 The white and blue color design on SLM 280's body manages to catches our eyes from a distance. SLM 280's printing system comes in two units.
Apart from the unit that hosts the print chamber, users also get a PSV unit that is connected to the former unit. A huge touch screen interface on the print chamber holding unit's body makes the work a lot easier for the operator.
One can control, as well as monitor various functions that take place on the printer. The printer chamber can be accessed using a door handle. And unlike other industrial 3D printers, SLM 280 does not feature a transparent print chamber that allows users to monitor the printing process from outside.
Both the units have compartments at their bottom for storing as well as hosting certain mechanisms for processing the resins.
Setup
Like most other industrial 3D printing systems, SLM 280 comes with on-site assistance who takes you through the entire 3D printing process.
There are many parts that the material process through before finally developing into an object and each one of them has their own functionality.
So, yes starting your first 3D print on the printer is not like some typical desktop 3D printers. It will take some hours of your time, but once gone through it completely your work will be easier for the upcoming prints.
Print Type/Cost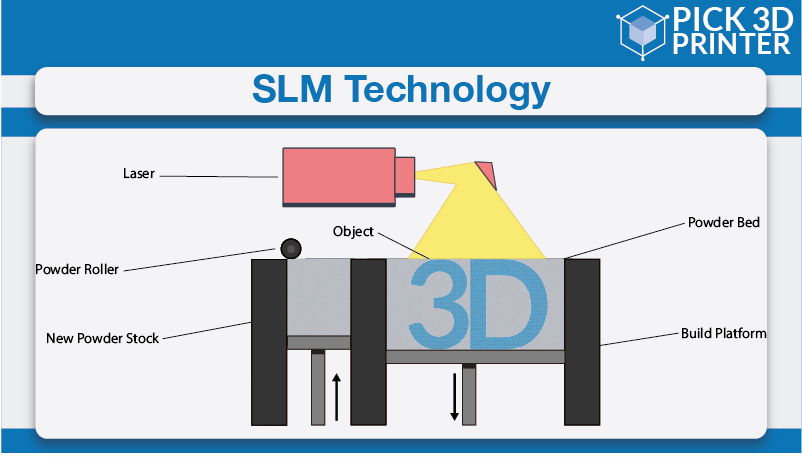 SLM 3D printing technology is similar to DMLS i.e., Direct Metal Laser Sintering. Both of them fall under the metal fusion umbrella.
Typically, in SLM the laser melts the metal powder together, layer after the other until the complete model is made. But on the very molecular level, the metal powder is melted together which results in a homogeneous part.
Particularly the process starts with filling the print chamber with the metal powder. A high-power laser source fuses a two-dimensional slice of the part by particularly melting the powdered material.
Once that is done, the build plate then drops down by the height of one layer and the coater spreads another layer of fresh metal powder for a similar process.
The entire process takes place in a controlled atmosphere. After the part is 3D printed it is removed from the build plate.
Normally, the cost of 3D printing a part with SLM 3D printing technology is a little expensive than general FDM or SLA 3D printing. Because those two techniques are not used for processing metals which require more parts to work upon them.
Print Quality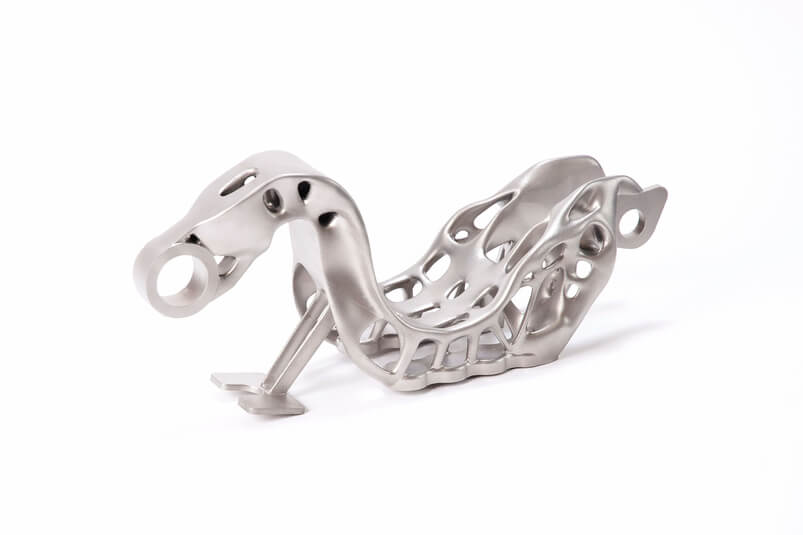 Credit: slm-solutions
SLM 280's most highlighted feature is its excellent part quality. The machine provides a patented laminar gas flow that creates a clean process environment thereby increasing the quality throughout the entire build.
A powder transport, sieving as well as storage is contained within an inert gas atmosphere for maintaining the powder quality.
Parts and functional prototypes such as brackets, cross jet units, Monolithic thrust chamber have already been built using the printing system.
These are small but intricate parts and watching their pictures you can sense how the machine provides dimensional level accuracy even while manufacturing the most intricate geometries!
Software
SLM 280 is integrated with SLM Build Processor and open software architecture that offers its users the freedom to run standard parameters. Operators can even optimize these factors to meet specific production needs and gain a competitive edge.
Customer Support
SLM is a world-class 3D printing system manufacturer that offers top-quality customer support with any sort of troubleshooting required with its machines.
Users can reach out to its Global help desk via call. Apart from that, one can also search for the sales office of SLM nearby in various countries.
Parameters Influencing Buying Decision
Below mentioned are the chief factors that shouldn't be looked over while buying the printer.
3D Printer Cost: Typically, like every other industrial 3D printer, SLM 280 demands a huge one-time investment.
3D Print Speed: Compared to SLA, FDM, or DLP, SLM 3D printers are known to operate at lower print speeds and SLM 280 is no different.
3D Print Quality: SLM 280 enables users to produce some of the most exquisite quality parts and functional prototypes that are not possible to create with FDM, SLA, or DLP 3D printing technologies.
3D Printer Capability: Users can create objects of variable layer thickness from 20 to 90 micrometers using the single, twin, or dual 3D optics configuration.
3D Printer Practicality: A laminar gas flow offers the consistency that's needed for developing high-quality parts with ease.
3D Printer User Expectations: The printer benefits manufacturers in the field of typical tool manufacturing industries such as Aerospace and Defense, Automotive, Energy, Healthcare, etc.
The Verdict
What sets SLM 280 apart from the other industrial 3D printers is its ability to offer manufacturers customization in choosing the number of lasers as well as its power.
Added to this are benefits such as a huge build envelope, dedicated material handling components, automated powder handling, and a permanent filter to ensure the safe handling of inert gas.
Although available for a huge one-time investment, the printing system is worth a go for manufacturers aiming towards high-class part quality with smooth operation.