Thor3D Calibry
Thor3D Calibry is a very affordable 3D scanner with the unique capability to perform large 3D scans.
PROS
Light in weight.
Portable.
Capable of doing large-size scans.
Has an intuitive interface with a touchscreen and buttons.
Available at an affordable price.
CONS
Software processing is slower compared to others.
The scanner does not deliver as good small object scans, as it does with large-sized objects.
Table of Contents
Calibry is an extremely affordable handheld 3D scanner with unique abilities to perform scans of large-size objects.
It provides striking ergonomics such as light in weight, touch screen interface which does not seem much in general. The scanner is said to be a suitable option for scanning medium to large-sized objects.
The machine makes use of structured light technology and can also capture textures and colors, thanks to its 2.3-megapixel camera. It can scan complex surfaces such as shiny, reflective as well as furry ones with ease.
Calibry's user-friendliness, compact-sized nature, and fast yet accurate 3D scanning make it extremely popular among various users.
Having stated so, is the scanner reliable given the cost it's available at? We can only answer that question after having gone through this in-depth review. So, let's get started.
Features
Below mentioned and explained are some of the most striking features that separate Calibry from its competitors.
Built-in Touch Screen
Calibry's body hosts a touch screen interface that permits users to see what they've scanned thereby eliminating the need for a computer screen. Also, operators can control a lot of functions from this touch screen.
Lightweight and Portable
The scanner weighs less than a kilogram. So, it's extremely easy to carry as well as transport from one place to the other. This gives the user flexibility while scanning objects of vivid geometries.
Speedy capturing
Calibry is capable of scanning 35 fps. All of this comes down to up to 3 million points per second. This is way more compared to most other scanners in the same price range.
3 tracking modes
The machine allows you to track by geometry, texture, or markers depending upon your project needs. By offering this much variability, the manufacturer has made things pretty simple for the operators.
Specifications
Light source

White LED

Price

5790 $

Accuracy

Up to 0.1 mm

Point resolution

Up to 0.6 mm

Depth of view

55-95 cm

Field of view

Min – 280 x 360 mm
Max – 490 x 650 mm

Texture resolution

2.3 MP
Calibry delivers accuracy of up to 0.1 mm per meter. It has a point resolution of 0.6 mm with a depth of view ranging from 55 to 95 cm. The minimum field of view that the machine can offer is 280 mm * 360 mm, whereas the maximum is 490 mm * 650 mm.
The scanner is based on white LED structured light technology and has a frame rate of up to 35 fps. Its data acquisition speed is up to 3 million points per second. It features a four-inch-long touchscreen interface to ease user's interaction with the machine.
Price
Calibry is available for $5790.
First Impression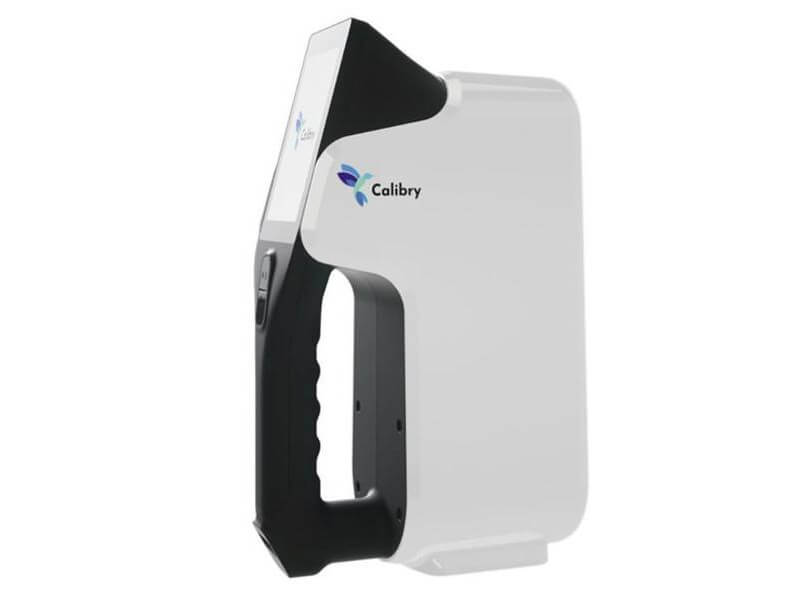 The scanner comes along with its calibration plate. Thor3D packs the scanner and the plate in two different packages which are great as it eliminates the chances of interaction between both parts during transit.
At first glance, you'd find that the calibration plate is bigger than the usual, which leads to a bigger packaging than the usual ones.
All the accessories are contained in a single and robust cardboard case. Herein, everything is well packed into thick Styrofoam. The box in which the calibration plate is delivered contains supports required to hold it as well as the scanner in place.
An instruction manual included in the scanner's box provides a stepwise guide to set up hardware and software and lets you start with scanning straightway.
The scanner comes with:
A cable for connecting the scanner to the adaptor.
A 5-meter long USB cable.
An adaptor to connect the scanner with a power source and PC.
A power cable and charger.
Two packs of markers.
A large calibration plate.
Acrylic supports for the calibration place and the scanner.
Note that the software isn't included in the kit. It can be downloaded from the manufacturer's website.
Setup
Setting up the hardware is very simple. A cable connects the scanner to the adaptor and a small metal part is meant for connecting everything together.
The 5-meter long USB cable goes from the adaptor to the PC and the power cable connects the adaptor to the power outlet. You'll obviously have to get all of this connected to get it started.
The scanner manufacturer insists on connecting the power cable at the very last after connecting every other cable. This, they recommend avoiding damaging the scanner. For starting with scanning, it's recommended to calibrate the scanner, however, note that it's not mandatory.
To get this done, the large calibration plate should be unfolded and erected on two acrylic supports. Whereas, the remaining 5 acrylic panels can become a stand for the scanner! After all that is done, you can start the procedure from the machine's touchscreen interface.
Note that during the process, the scanner needs to be placed in seven different positions that might be close, far, or at different orientations and angles. After this process is completed, users can choose a 3D scanning capture mode directly from the main screen menu and start scanning.
Scan Type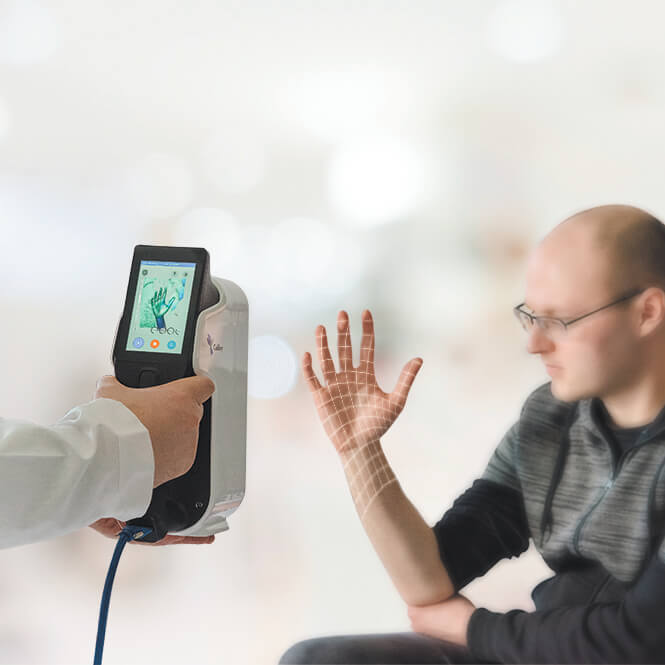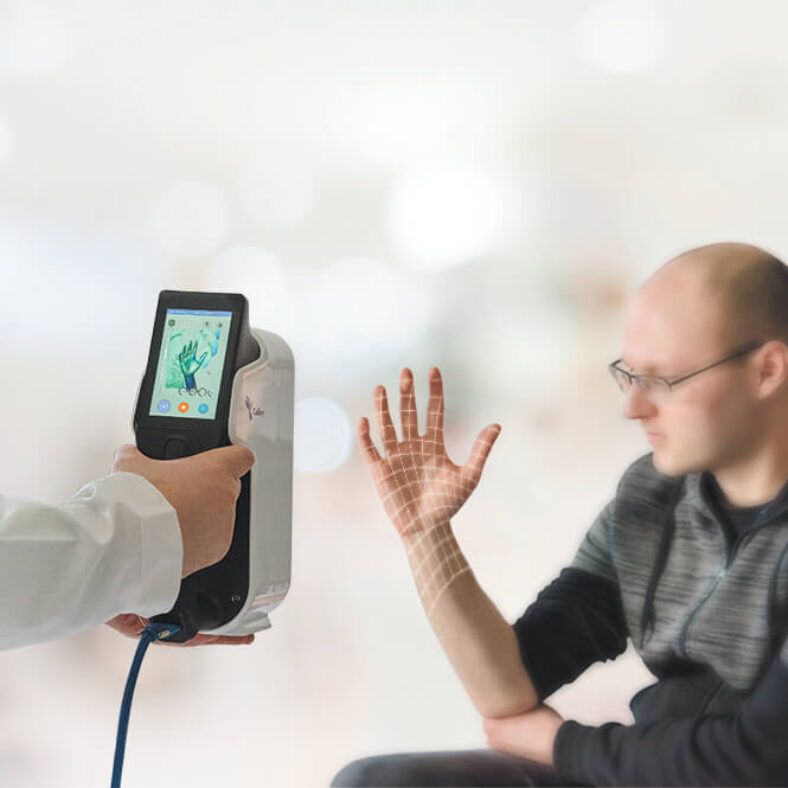 Credit: Twitter / Thor3D
The machine relies on structured light scanning technology for capturing objects, parts, or humans. So, the scanner casts a typical light pattern onto the object. After that is done, the camera captures this pattern's deformation allowing the software to measure the object's underlying surface and its topology.
Scan Quality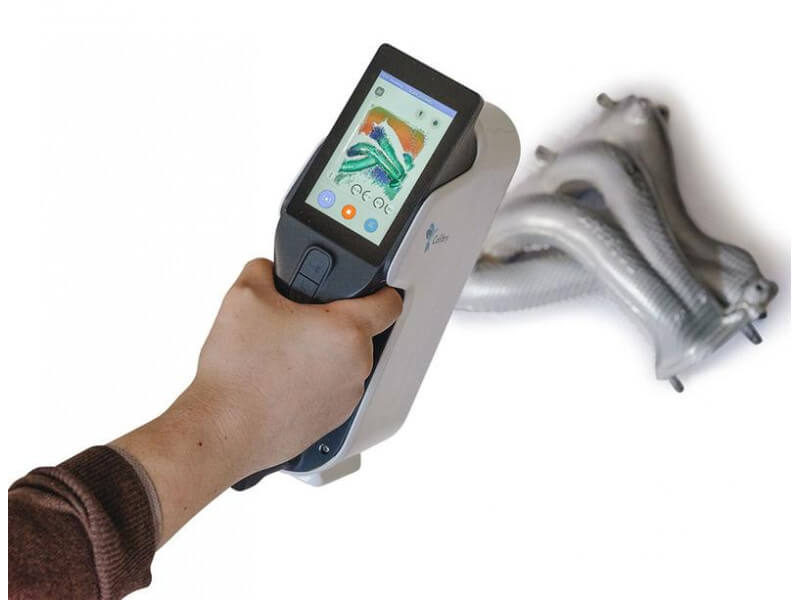 Credit: top3dshop
The result of scanning a human using Calibry is pretty good. Although the hair part is always difficult as in the case with other machines based on the same technology, everything gets generated automatically. So, it's a huge relief for the end-users. Also, the mesh is clean and detailed.
When it comes to scanning leather shoes, the scanner does a commendable job of creating highly detailed scans of even including the stitching between leather and rubber sole.
Software
Calibry needs to be operated with its proprietary software named Calibry Nest. Not only it's light but also fast to get with a minimal size of 72Mo.
Its installation doesn't take much time, users need to dedicate only a few minutes of their time. Also, it requires no setup at all, it automatically detects the scanner whenever connected.
An interesting feature of this application is the possibility to mirror its screen interface directly on the computer. Doing so permits for faster manipulations and easier workflows in special cases!
Overall, the software is easy to use and serves the purpose of transforming the sets of captured frames into a colored 3D mesh.
Customer Support
The online support center on Thor3D's website offers lots of materials of a different type that makes working with the scanner a lot easier for every user! For more technical assistance you can always reach out to the technical team of the printer manufacturer via phone or call.
Parameters Influencing Buying Decision
Below mentioned are the key factors that one must keep in mind before buying the scanner.
3D Scanner Cost: Considering its striking features in mind, though the scanner's price is a little bit on the higher end of the bar, it's not only justified but also affordable.
3D Scanner Speed: Calibry captures 3 million points per second which decreases its overall scanning time. This is the highest it gets in the price range the scanner falls into.
3D Scan Quality: Above average.
3D Scanner Capability: With three different alignment modes, Calibry makes working with it a lot easier compared to other scanners. Also, a touch screen interface eliminates the need of working with a computer. Moreover, the machine delivers fantastically when scanning medium to large size objects.
3D Scanner Practicality: The scanner finds its use in the field of Arts, Medical, reverse engineering, and body scanning.
3D Scanner User Expectations: Overall, it's a versatile scanner that pleases every sort of user whether it be a beginner, intermediate, or professional. For the novice it has the ease of use to offer, for anyone looking to upgrade their skills, the machine provides functional tools, and for experts, Calibry supports in-depth settings to enhance their end scan results for generating a dimensionally accurate model.
The Verdict
Calibry is a very affordable 3D scanner with the unique capability to perform large 3D scans. Although it doesn't work on objects smaller than 200 mm in length, its hardware is an instant success.
Also, the embedded user-friendly touch screen interface and lightweight yet robust body make it not only functional but also appealing to the user.
Paired with great software, Calibry works fine for beginners and people not willing to dive into many complexities with scanning. It offers amazing ergonomics – probably one of the best when compared with machines available in the same price range. Despite its limitations, the scanner manages to range out with its exciting features and work up to the mark.