3D Systems Sense
The 3D scanning process of 3D Systems Sense is extremely smooth and easy. It produces attractive 3D objects that can not only be easy but also quickly 3D printed.
PROS
Relatively affordable.
User-friendly software.
Huge scanning area.
Easy to operate.
Capable of scanning large objects.
CONS
Tethered by a cord.
Can be operated with a PC only.
Doesn't work up to the mark with small objects.
USB cable too short.
Table of Contents
The Sense 3D scanner is very light in weight. It looks like a ray gun at some sci-fi convention. The scanner can be held in your hand and moved around the object.
The machine emits an infrared patterned beam onto the object present in front of it from its bottom. The beam gets affected by the middle webcam.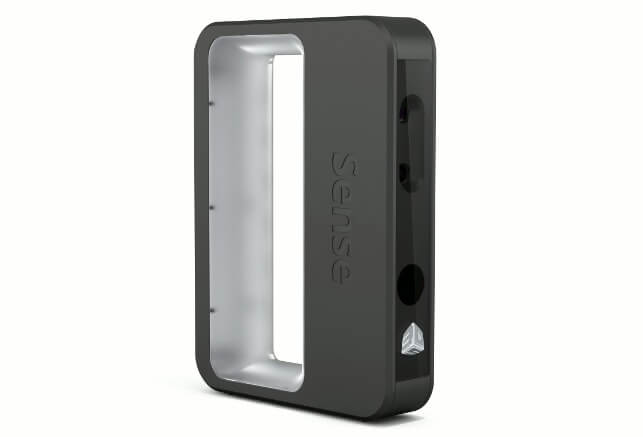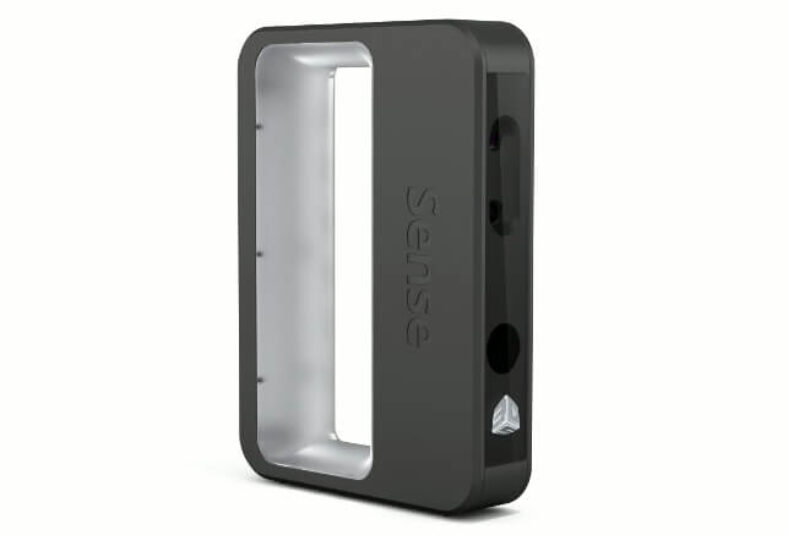 A normal webcam is present at the top of Sense which is utilized by the software to translate the images that it captures into the surface colors of the object.
Features
Below mentioned and explained are the striking features of the Sense scanner.
Simple scanning process
Sense's scanning process is very simple. It starts with the software choosing the size of the object, either from the options provided for a person's head, shoulders, or full-body or from a size range either small as at least 8 inches to as large as up to 3 meters.
As hinted by the software, users need to point the machine at the object, hit the space, and walk around it by following a series of on-screen prompts meant to keep you at the perfect distance from the object and track it while you move. Note that, in case you are too far away from the object, it loses the track of it.
When the scan is in progress, the software creates a rough model of the object painted in as it detects the shape.
Ideal for medium-sized objects
Sense 3D works best with medium size parts and functional prototypes. The scanner is claimed to provide a resolution of 0.9 mm.
While the smallest scannable object on it is a cube measuring 0.2 meters on each side. Going to the other end of the scale, Sense is capable of scanning objects as large as 3 meters on each side.
The entire system of Sense lets users rotate the object, letting you do head and shoulders scans on a rotating chair.
Editable result
The end-scan provided to you by Sense is editable. You can cut out the bits that you do not need and smoothen the object.
All of this process is fairly intuitive. This is because even when you are not satisfied with the end-scan, you still hold the power to change it according to your imagination. So that nothing gets reflected while making a model.
Good quality scan results
The simple scanning process of Sense produces decent results not only with medium-sized objects but also with larger ones. Generally, well-lit objects don't get overlapped elements in their scans or large holes in them.
Sense does an interesting job with head and shoulders scans as well as full-person scans. Also, it does fantastic work of building a 3D mesh and then creating a simple final object from the collected data.
Multiple file formats
The final scan can be exported in STL, PLY, or OBJ file formats. So, you do not need to worry whether the resulting scan would be compatible with most of the 3D modeling software or not.
Mostly STL files are used the most. But when it comes to delivering the color information of the object, that's when PLY and OBJ file formats come into play.
Moreover, Sense's software is directly linked to the 3D system's Cubify object service which gives you the facility of ordering the 3D print that can be shipped to you. Other than that, it also lets you sell the 3D scan or a 3D printed model in different sizes and materials.
Specifications
| | |
| --- | --- |
| | |
| Technology | structured light technology |
| Price | 359 $ |
| Depth Image Size | 240 x 320 pixels |
| Depth Resolution | 39.4 mil (1 mm) at 1.6′ (0.5 m) |
| Image Size | Color: 240 x 320 pixels |
| Dimensions | 7.0 x 5.1 x 1.3″ (17.8 x 12.9 x 3.3 cm) |
| Supported Operating Systems | Windows 8 (32/64-bit) and 7 (32/64-bit) Mac OS X 10.8 or later |
The minimum scan volume that Sense can scan is 0.2 m * 0.2 m * 0.2 mm whereas the maximum stretch is up to 3 m * 3 m * 3 m. It has an operating range starting from 0.35 m and ending at 3 m.
The field of view of this scanner is 45 degrees * 57.5 degrees * 69 degrees. Its depth image size is 240 * 320 pixels and its depth resolution is 1 mm per 0.5 meters.
The machine's dimensions are 17.8 cm * 12.9 cm * 3.3 cm. It can be connected using a USB cable and needs a consumption of around 2.25 Watts.
Price
Sense is available for $359.
First Impression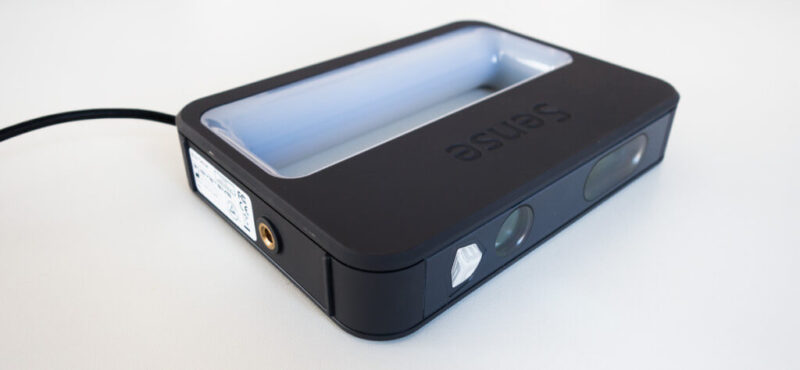 An Apple-ish flat white box carries the scanner to your place. A quick start guide and the device are present in it.
Designed to be handheld vertically, The Sense can be put on a tripod as well. Its front displays the 3D Systems logo, beneath which there is a window. An infrared laser pattern is projected from it helps to scan the object.
Setup
After unpacking your scanner you need to create an account on Cubify which is easy. It asks for general details, after giving which the account is created. Then, you need to download the sense software on your computer.
Once that is done, activate your Sense scanner in three simple steps:
Plugging your scanner's USB connector into the USB port present on the computer and clicking on the Sense icon to open the software.
Choose one from the two available options of whether you have your activation code or not.
Click on activate the scanner.
After that, you can start scanning the first object on the scanner.
Scan Type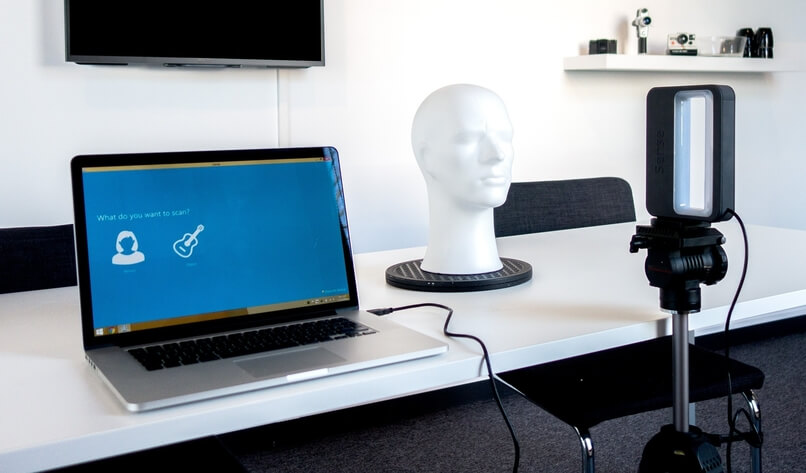 Credit: 3dscanexpert
Sense uses structured light technology for processing objects of varying geometries. The process is fairly simple, it utilizes a UV light source, camera, and software for creating an end-scan file.
Scan Quality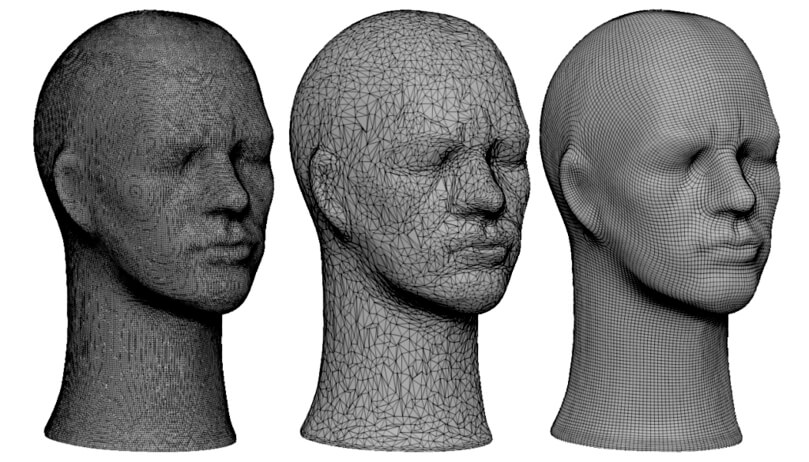 Credit: 3dscanexpert
Sense manages to produce decent-quality prints of objects as well as human body parts. It is able to deliver detailed scan files that are capable of producing dimensionally accurate parts.
Software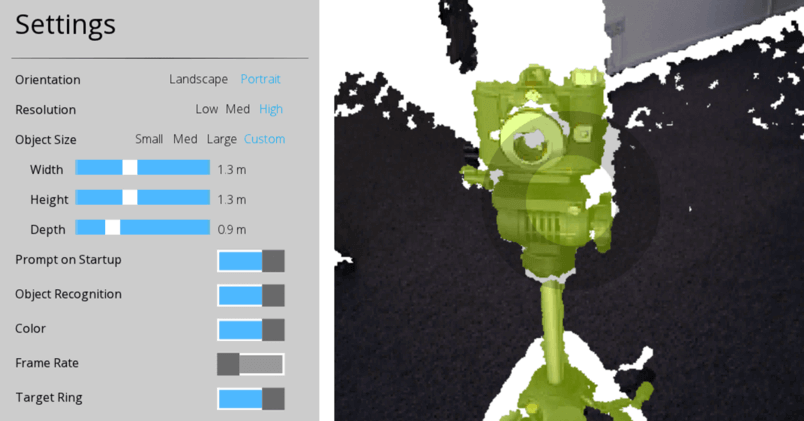 Credit: 3dscanexpert
Sense's software can be downloaded for both Mac as well as PC from the 3D System's website where you can register the serial number of the device and retrieve an activation code. Both versions of the software are similar in function. They are easy to use and generally ask the user if you wish to scan a person or object.
There are several settings present on the software settings screen that allow you to use it either in Landscape mode or portrait mode. The resolution setting present in the application relates to the density of the 3D data captured, not the color information. If you adjust it to a lower number, it makes usual scanning happen at a faster rate.
Note that, if you are willing to scan very large objects, you would not need extremely dense mesh. But, experts recommend using high settings for smaller objects. The frame rate option exhibits the real-time frame rate on which Sense does the capturing. This tool makes it easier for you to know how much your computer can handle!
Customer Support
3D Systems is known worldwide for its support. There are many ways of reaching out to its technical team, the most common one being via phone or email. Also, there is much material available online which you can also refer to, for solving your doubts.
Parameters Influencing Buying Decision
Below mentioned are some of the most important factors that are good to know before buying Sense.
3D Scanner Cost: Considering the amazing list of features the scanner can provide, $359 is a very reasonable and affordable cost that the manufacturer seeks.
3D Scanner Speed: Because the process is fairly simple, it doesn't take much time to get the end scan.
3D Scan Quality: Scan qualities of objects and human body parts processed on Sense are superb. It's rare to find a 3D scanner that's able to deliver this quality in the same price range.
3D Scanner Capability: Sense is capable of scanning objects of varied geometries, shapes, and sizes. Thanks to its high-quality camera and UV LED source, the complete coordination of its components leads to an optimum level of efficiency that users can utilize for producing scans that are capable of creating precise parts.
3D Scanner Practicality: The scanner can be used in various fields such as education, reverse engineering, and 3D printing.
3D Scanner User Expectations: Sense is a gift for all beginners in the field of 3D scanning. Because of the device they can get access to various features that aren't accessible otherwise.
The Verdict
The most important highlight of Sense is the Prime Sensor that it uses for ensuring the resulting scan is of decent resolution.
Note that the component is capable of delivering fine detail like MakerBot Digitizer or the David SLS-1. The scanner is best suited for scanning subjects like people and statues in particular.
The end-scans are worthy of creating a 3D model out of them. Also, the 3D scanning process is extremely smooth and easy. It produces attractive 3D objects that can not only be easy but also quickly 3D printed.