Voxeljet VX 4000 3D Printer
This printer is for all the manufacturers who want to offer their clients huge build volumes of parts or functional prototypes by sand 3D printing. So using Voxeljet's VX 4000, you get quality served with quantity.
PROS
Highest build volume for sand 3D printing.
Excellent layer resolution.
Seamless integration.
Maximizing productivity.
CONS
Cost is a huge concern for anyone who is not a well-established player in the 3D printing market for years.
Also, can this printer system be equally efficiently used for making small parts, as it can be batch productions and big parts, is a concern.
Product
Specification
Videos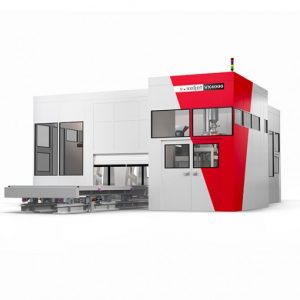 A 3D printer based on Binder Jetting 3D printing technology, Voxeljet VX 4000 is the largest known machine for building sand moulds. It features a ...
| | |
| --- | --- |
| Model | VX4000 |
| Manufacturer | voxeljet |
| Price Range | > $ 250000 |
| Release date | 2015 |
| Country | Germany |
| Availability | Available |
| Classification | Industrial |
| Technology | Binder Jetting |
| Material | Ceramic |
| OS compatibility | Microsoft Windows |
| Max. build size | 4000 × 2000 × 1000 mm 157.48 × 78.74 × 39.37 in |
| Max. build volume | 8000.00 L |
| Min. layer thickness | 0.3 mm 0.01 in |
| Dimensions | 19000 × 9300 × 4300 mm 748.03 × 366.14 × 169.29 in |
| Heated print bed | No |
| Heated build chamber | No |
| Automatic calibration | No |
| Closed frame | Yes |
| Dual extruder | No |
| Independent Dual Extruder | No |
| Full color | No |
| LCD screen | Yes |
| Touchscreen | No |
| On-board camera | No |
| Mobile app | No |
| 3D scanners | No |
| CNC mill | No |
| Electronics 3D printing | No |
| Laser engraving | No |
| Conveyor belt | No |
| Air filter | No |
| Pellet extruder | No |
| USB | No |
| Wifi | No |
| Bluetooth | No |
| SD card | No |
| Ethernet | Yes |

Table of Contents
Voxeljet is an industrial printer manufacturer in two important categories i.e. Prototyping as well as Serial production. In both of the important categories, there are four 3D printers.
VX 4000 is a serial production type. Voxeljet is also offering 3D Printing Solutions in the categories of Sand Casting, Investment Casting, Architecture and Construction, Polymer Sintering, Mock-Up's and Models, and Technical Ceramics.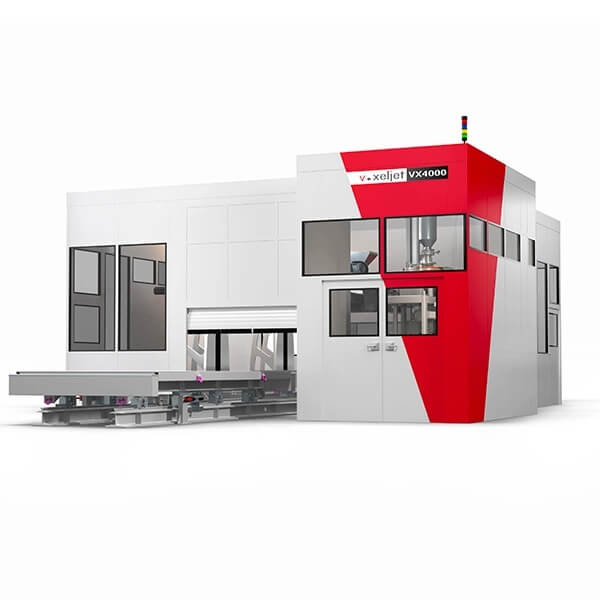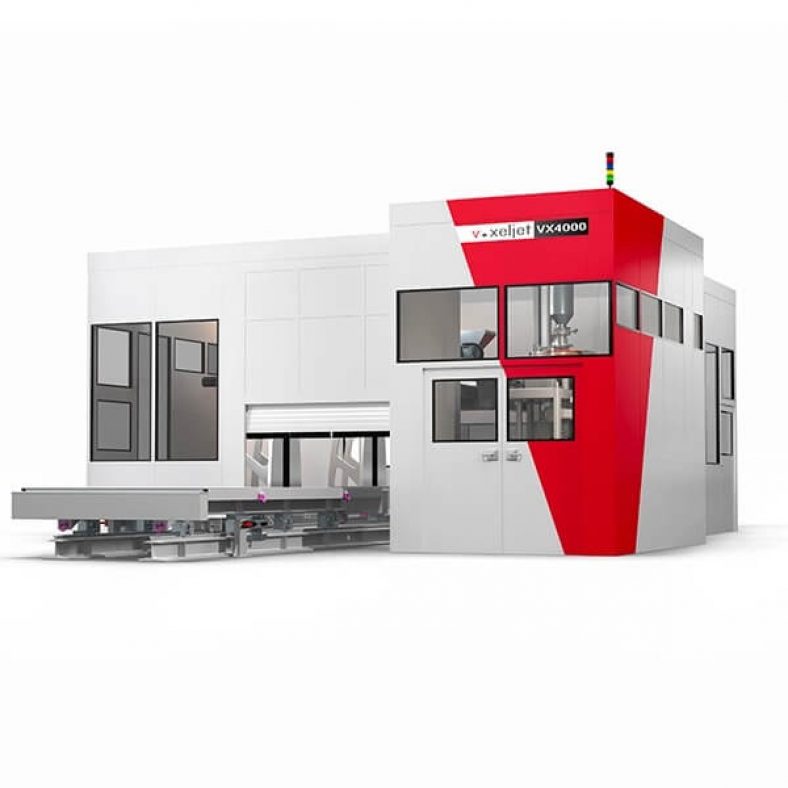 As a company, Voxeljet is also into making parts and functional prototypes with 3D parts on demand.
The company was born from a start-up from the Technical University of Munich and has been supporting its customers with innovative 3D printing solutions for more than 20 years.
The initial years of development of the company were productive for the metal casting industry, but the current applications of the company's technology extend far beyond.
Currently, the products of this company help streamline conventional, cost-intensive manufacturing processes to more economically attractive, simplify research into new materials as well as lightweight construction developments.
In this article, we are going to state different aspects of the printer such as its features, specifications, print quality, setup, first impression, and a lot more.
Features
VX 4000 is a large-format 3D printer system manufactured for producing any type of object from particles.
The printer offers six times more build volume than the largest commercially available 3D printer offers.
A wide print head is used inside the printer prints layers in two passes.
Voxeljet VX 4000 ensures speedy manufacturing of individual parts and functional prototypes, as well as small batch production.
Alternately inserted building platforms inside the system design allows the printer to print 24*7. VX4000 has a robust design and is equipped with high-quality technology.
Flexible in producing parts and functional prototypes
Print speed and print flexibility are two of the most competitive areas in which Voxeljet VX4000 provides excellent results.
For ensuring that the parts or functional prototypes are delivered to the market in a faster time, the development is reduced as well as the production times in the design and function is also decreased.
The manufacturing limitations of conventional processes are removed using the additive production method.
All the parts and functional prototypes manufactured on this printer are lighter and more efficient or simply going beyond the limits of what is possible currently in terms of build volume.
There is also a possibility for users to transfer from one VX series to the other while printing parts or functional prototypes of larger or higher dimensions.
Smart to operate and seamless integration
Although the Voxel VX 4000 has many things to do, the operation of this printer system remains simple because of a well-thought-out ergonomic concept across the entire Voxeljet series.
It is the use of foundry-standard materials that allows the molds, parts as well as models to be processed quickly, within a short span of time.
Maximize productivity and making precise parts or functional prototypes
VX4000 is one of the most economical printers that are able to give a productive volume of 139 liters per hour.
This print volume is unmatched in the industry in terms of being huge.
All the parts or functional prototypes printed using this printer has a resolution of 300 dpi.
Even the finest details can be imaged with the highest precision using Voxeljet VX4000.
Larger format components such as four-meter long can be made using this printer.
Flexibility and reproducibility
VX4000 offers both, the installation space, as well as the precision and the speed for producing large-format shapes or smaller parts in series quality, production of these parts and functional prototypes, happens efficiently and in a cost-effective manner.
The printer works with a bidirectional print head technology with which it is able to print parts or functional prototypes as large as a construction field of four meters in length and two meters in width in just two passes.
A robust printer that can operate using foundry-standard materials
VX4000 is capable of producing enormous volumes, because of its innovative as well as adapted printing processes.
It is to be noted how the weight of the operating resources is not transferred to the machine components that are sensitive.
The 3D printed forms can be effortlessly integrated into existing value chains.
VX 4000 uses furan resins for 3D printing parts or a functional prototype.
As mentioned above, the print head of this printer works producing a resolution of up to 300 dpi, which enables the printer to reproduce some of the most complex component geometries that are precisely made up to extremely small design.
Such designs are ideal for supplementing the existing product or even for cushioning volatile production peaks.
Specifications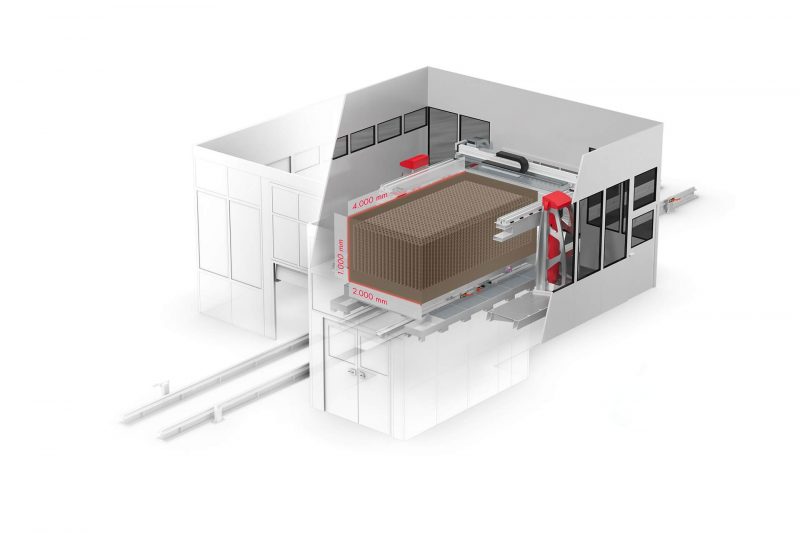 Credit: voxeljet.com
Used for making parts and functional prototypes that are made for mold making, as well as production in the Aerospace, Automotive, and Aviation industry, VX 4000 is based on Binder Jetting 3D printing technology.
The printer has a large scale print volume and was launched in 2011.
It has a closed material system, with a print size metric of 4000 mm * 2000 mm * 1000 mm and a layer resolution of 300 dpi.
Price
For knowing the exact price of this printing system you need to request a quote. But the estimated price of it is more than $250000.
First Impression
Credit: voxeljet.com
VX 2000 is claimed as the world's largest 3D printer for sand. When fitted at a workstation, it appears as a giant beast of a machine system.
A huge print bed comes out and goes in via the print bed shutter which can be seen half opening.
There are transparent windows all over the body of this printing system to let one monitor the printing process when it is going on.
A door is present on the right of the print bed, which is probably for the gas chamber.
Setup
All the setup is completely done by the manufacturers, all you have to do is take some training for understanding the mechanism of this printer and that can be done in many ways.
You should go through the basics of the printer and all the material available for it, via the internet.
Your doubts after going through all this material would be entertained by the technical team of Voxeljet via call, email, as well as personal assistance via Skype too.
Print Type/Cost
Binder Jetting is an additive manufacturing process on which this printer is based. Here an industrial printhead selectively deposits a liquid binding agent onto a thin layer of powder particles.
It belongs to the class of powder bed fusion, where neither filament spool nor a resin is used for 3D printing parts and functional prototypes, rather powdered material is used.
This powder can be made from metal, sand, ceramics, or composites. These powders are used for building high-value and one-of-a-kind parts and tooling.
The process, as in every 3D printing processes is repeated layer by layer, using a map from a digital design file, until the final object is complete.
Binder Jetting 3D printing technology was developed at the Massachusetts Institute of Technology in the early 1990s.
The company named ExOne obtained the exclusive license to this method of 3D printing in 1996. In 1998, the company launched its first commercial binder jet 3D printer for metals named the RTS-300.
Being the world's largest sand 3D printer as per Voxeljet's claims, it uses sand powder for making parts and functional prototypes.
Binder jetting 3D printing technology is unique in the sense that it does not employ heat during the build process.
This technique prints quickly entire layers of many parts that are supported by the loose powder in the job box, eliminating the need for a build plate or supports in most instances, using a wide gantry of printheads.
Thus, binder Jetting is preferred by experts all over the world because it has the ability to print a large number of parts or large parts in a quick and cost-effective manner.
Finally, when the parts are printed in powder, they are sintered together at one time after the shape has been formed, resulting in a high-quality microstructure with superior grain isotropy.
And this is the main reason why experts prefer using this method if they can afford it in their project.
Although the print cost of printing a part or functional prototype using this method is more than other methods, it is worth it, because of the unmatched high quality of parts and functional prototypes produced using this technique.
Print Quality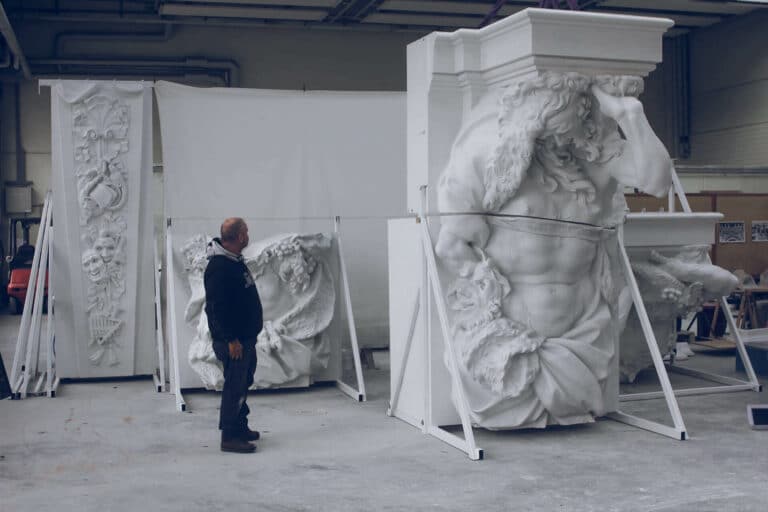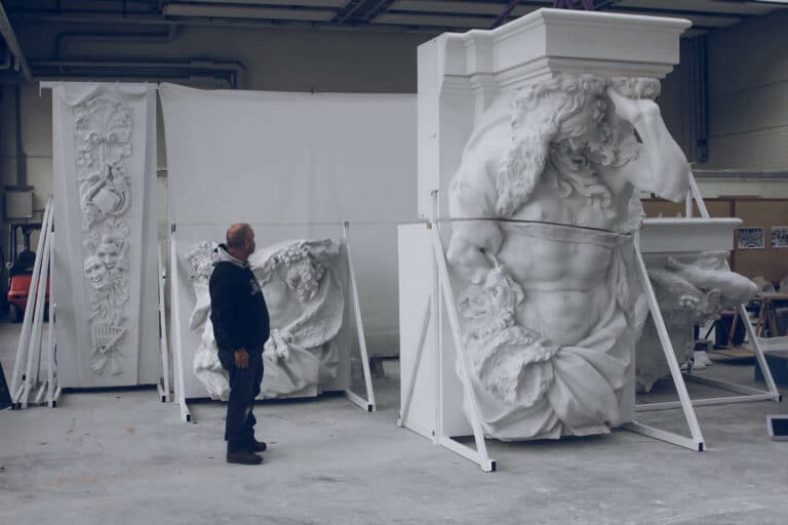 Credit: voxeljet.com
As mentioned in the above paragraph, the quality of parts and functional prototypes printed using binder jetting technology is always high.
It allows one to have a high surface finish as well as a smooth texture that does not need almost any post-processing.
The layer resolution of parts and functional prototypes made by this printer is 300 dpi.
Once the printing process is completed, the printed components can be separated from unglued material.
After that, they are prepared for further processing, wherein because Voxeljet uses a resource-friendly material and unglued powder residues can be fed back into the production cycle, depending on the material system used.
Software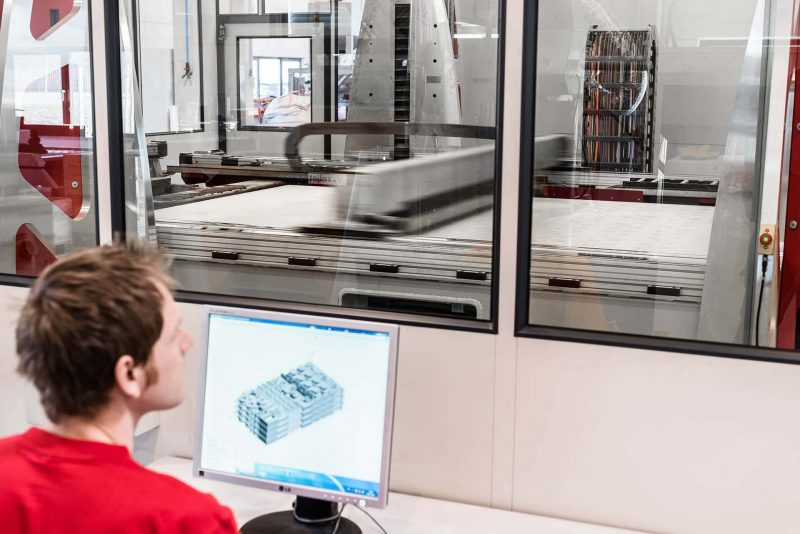 Credit: voxeljet.com
The system software, during the binder jetting process, breaks down the shape that is defined in the CAD data into thousands of thin layers that make up the mold.
This goes even for the complex bionic internal structures as well as for the products linked with each other without contact.
Even such parts or functional prototypes can be produced using Binder jetting process.
Customer Support
The support and services department at Voxeljet consists of Voxeljet Academy, Material Certification Lab, Financing, Refurbished 3D Printing Systems, and Distribution Worldwide.
The first one can be an answer to all your questions regarding any printer system that you've purchased from the company.
If you want you can also reach out to the manufacturer via phone, email, Skype, or in person.
Parameters Influencing Buying Decision
When you are out there in the market, you are probably looking for a comparison chart that can be used for finding out the best one suited for your 3D printing operation.
That is when the below-mentioned factors can be handy.
3D Printer Cost: Very expensive.
3D Print Speed: VX 4000 can build 139 liters per hour.
3D Printer Quality: The layer resolution of parts or functional prototypes build on VX 4000 is 300 dpi.
3D Printer Capability: VX 4000 can be used to print various types of sands such as classic quartz/silica sand GS14, GS15, GS19, GS25, Cerabands, and Chrome Ore.
3D Printer Practicality: The printer system can be used for developing special and individual shapes, medium series production, as well as supplementary production.
3D Printer User Expectations: The printer system primarily targets huge industrialists in the field of the 3D printing industry and is also able to fulfill their expectations. A proof of this is the case study mentioned on the webpage dedicated to this printer on the printer manufacturer's website.
The Verdict
In a nutshell, this printer is for all the manufacturers who want to offer their clients huge build volumes of parts or functional prototypes by sand 3D printing.
Build by Voxeljet, and compatible with all the VX series by the same manufacturer, this printer is a gem of a machine when it comes to building objects for an application that demands hugeness.
It should be also not how the printer offers flexibility, and how it is based on the binder jetting technology which offers high-resolution parts and functional prototypes.
So, you get quality served with quantity while using Voxeljet's VX 4000.