There are many ups and downs of having a puppy, much like have children. You need to bring them home and suddenly discover something.
There are always a lot of things you didn't think about, consider, or even know about them. The fact that everyone says pets are easier than kids, is not true at all.
All you guys reading it out there would agree that it's not true because they disturb your routine, not once or twice in the night, but even more than that.
And when you are raising a spunky puppy, the one who is more interested in biting your toes than sleeping, you know this.
If you've had to be out of the house, working all day long, you just feel that your dog would be saving all the energy until you come and then start playing with you and harassing you.
This article is concerned with dogs. It's about 3D printed dog toys. For all those who have spent way too much money on toys and the dog isn't even looking at those toys currently!
Imagine what the pet supply chains are going through! 3D printers bring to you an amazing experience to share with your dog.
Who knows the likes and dislikes of your dog better than you?
So, here's a thing, have you ever imagined manufacturing a 3D print dog toy for your dog? Whether it's the shape of the bone, or something else.
You will be able to 3D print it for your dog and make sure that that toy will be played with by your dog.
After going through a huge list of 3D printed dog toys, we bring to you the 8 most cute and funny 3D models. Here we go.
Ball And Scoop Launcher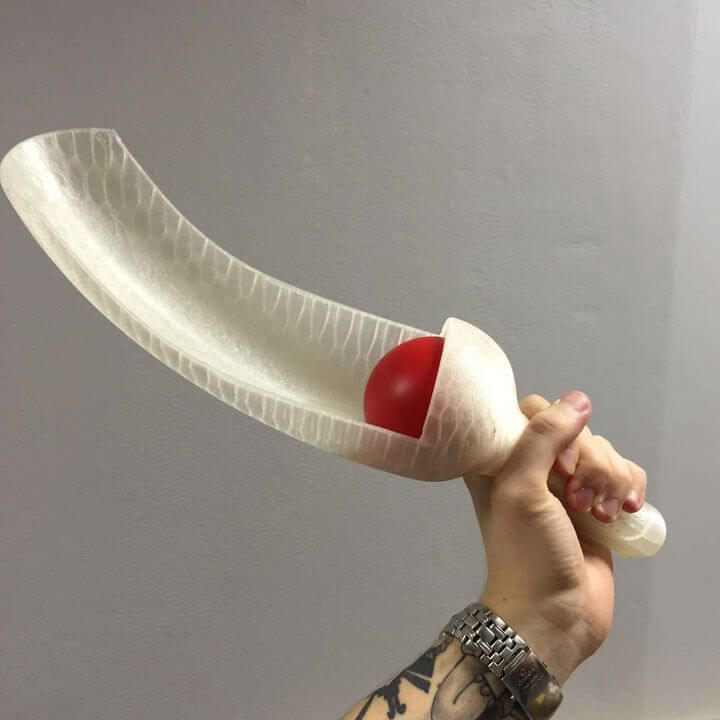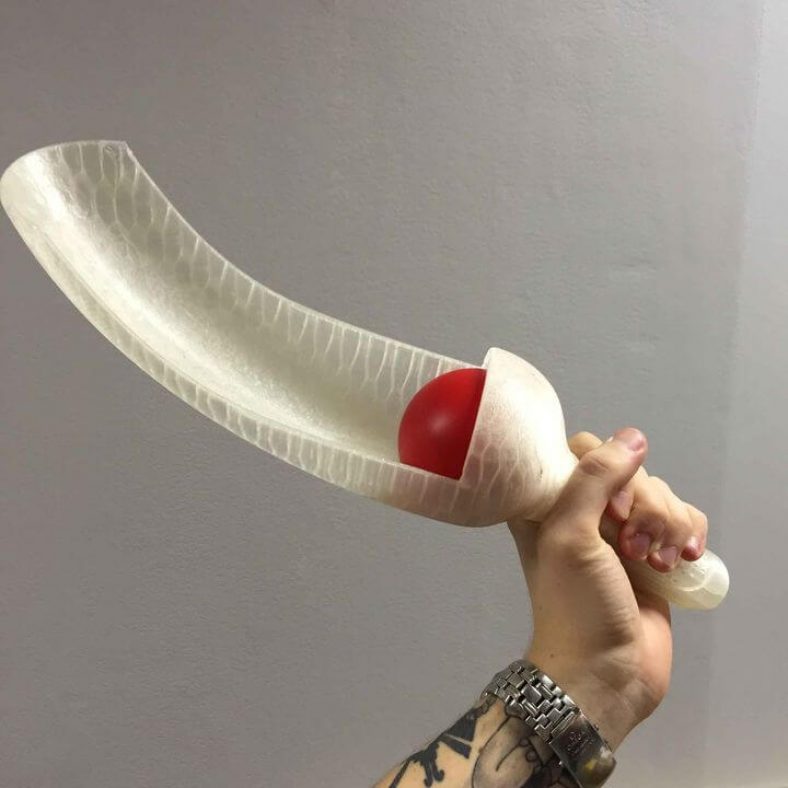 It is said a proven fact that we just can't match a dog's energy at times. No matter what we try to do but there is always one thought in the mind of a dog's master," Where is he or she getting this much energy from?"
The dog toy that we are talking about, is just for times like those. This toy enables you to get the attention of your pet dog in the most 3D printable way it can be.
With this ball launcher all, you need to do at times when your dog is hyper and you aren't is to sit back and relax. This toy will get your dog running far and make sure the energy he or she has come down.
If you look at the picture of this 3D printed dog toy, you would know that it has an easy design. It shouldn't be hard to print and handle the dimensions of this toy yourself. But if dimensions are still a problem for you, make sure you decrease the percentage of it.
The name of this designer is Lloyd Bolts and this design is available on MyMiniFactory.
Since the time it has been uploaded, over 500 users have downloaded this toy. It is a safe toy that can be used for your dog. All you have to do is invest the energy of your arm, and that's it.
Facts About MyMiniFactory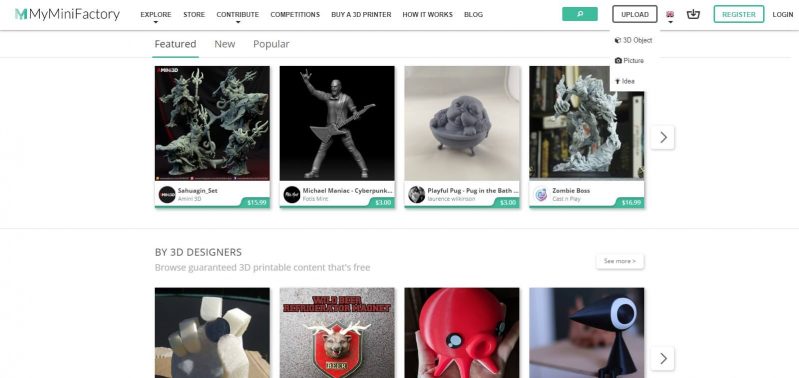 MyMiniFactory is a platform that works to create a decentralized ecosystem for 3D professional designers to share free or paid 3D printable designs.
Each object's design that is uploaded on this website is guaranteed 3D printable as the MyMiniFactory curation process means that any file uploaded on the website is validated for its 3D printability on a standard desktop 3D printer.
Amongst many other things that MyMiniFactory is home to, it is also the platform where you can find the largest collection of 3D scanned statues and artifacts from around the globe.
This collection is called the Scan The World and it uses a range of 3D scanning techniques to capture art from across the globe.
It was in June 2018 that this website opened an online STL file store. It is in this store that the 3D designers can sell 3D printable files.
The store is for professional 3D designers who wish to create successful brands and make a living from their designs.
Portable Bowl & Water Bottle Carrier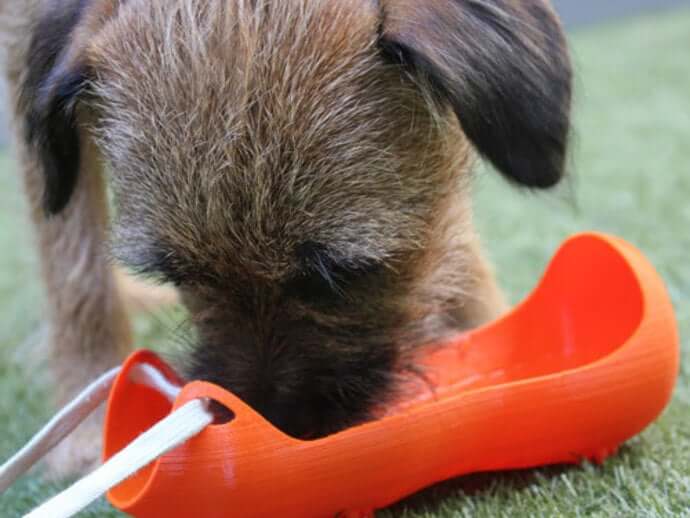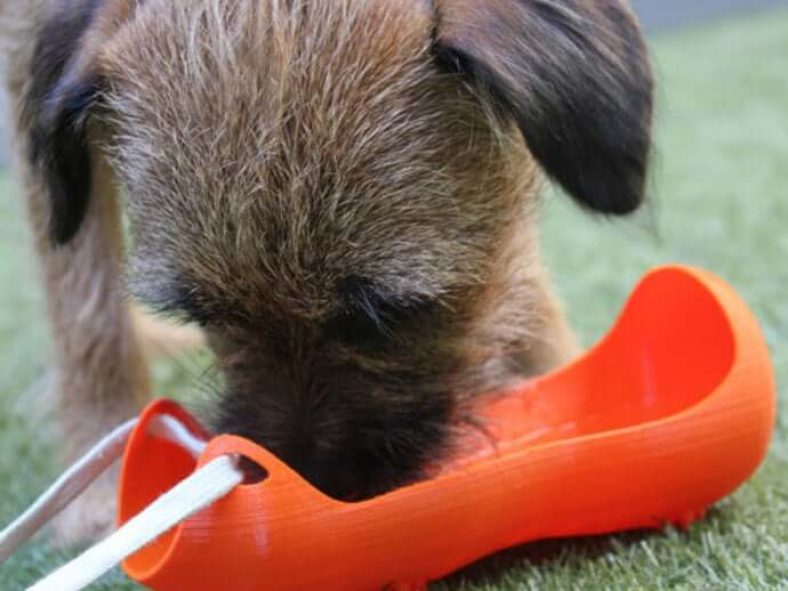 Dadhoc the designer speaks of how he had a 3D print dog toy on his profile at Thingiverse. He kept his dog hydrated with this bottle carrier that can be doubled to be made like a bowl.
He designed this specifically to work with 16.9oz Poland Spring bottles which is one of the more ubiquitous water bottles around his neck of the woods.
The paw prints that he saw kept it from rolling around whenever set down, but he usually held in his hand while using it. So he included a version without the paw prints but a little matching with the cap so that people know it's the dog's bottle.
For printing this, you can run a string through the two holes. This string will act as a shoulder strap and also help to keep the bottle in tightly.
The build took the designer two hours and forty minutes using the Replicator 2. The designer printed this with supports and 0.30 mm layers. As the build uses supports, the bottom side of this 3D print dog toy could do with a bit of sanding.
Facts About Thingiverse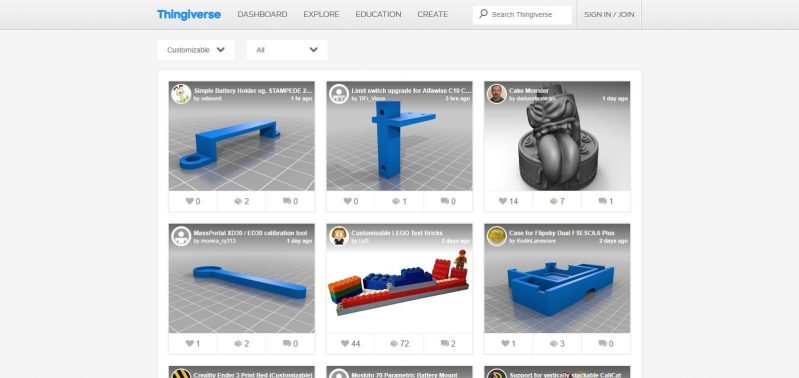 It is a website that's dedicated to the sharing of digital designed files by users. It is a platform unlike any other that aims to provide free files primarily.
Users are given an option to choose the type of license they wish to attach to the designs they share.
3D printers, laser cutters, milling machines, and many other technologies associated with additive manufacturing can be used to physically for creating files on Thingiverse.
Overall, Thingiverse is a wide platform by users worldwide. A good number of technical projects use Thingiverse as a repository for shared innovation and dissemination of source materials.
Because of the same reason, many of the object files are for purposes of repair, decoration, or organization.
Bow-Tie Nameplate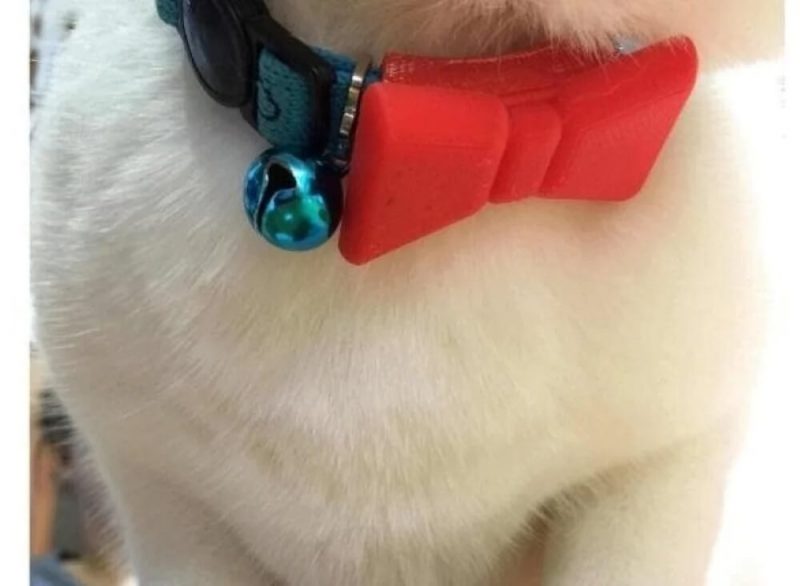 The creator of this design is based in Japan and has created this for dogs as well as dogs. In the summary of this design, on his profile, the designer claims this as an accessory item that you want to give your pet's collar.
This accessory, he goes on to say, is been composed of two parts:
The base which can be used throughout your pet's collar.
The stopper which is possibly used for replacement of the nameplate.
You can change to dress up these parts. The settings recommended by the designer are to keep the length of the collar between 18 to 22 centimeters.
And before printing this, you will have to change the name on it as per the name of your pet. Remember the file should have extension .stl.
Facts About Cults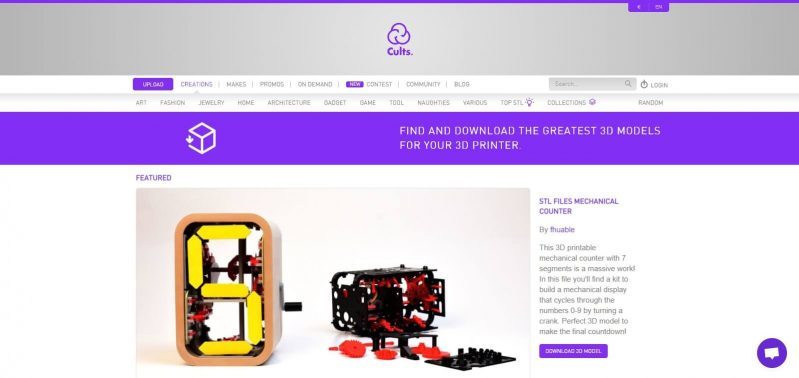 On its website, Cults claim to be a marketplace that connects designers and people, just like one of those platforms where demand meets supply, typically.
Cults are also dedicated to owners of 3D printers who wish to make some money by offering their premium and original creations on this website.
4Not keeping it much formal, Cults is a social network that brings together all the fans of the 3D printer world to interact and speak about anything and everything they wish to.
Cults also stand for generosity, thanking its Promotions category, all 3D printing personnel looking for discount coupon codes for buying 3D printers, filaments, 3D scanners, and other accessories can get it at Cults.
Floating Toy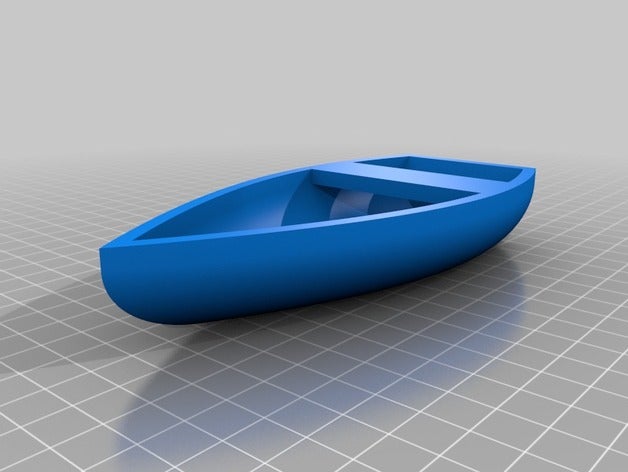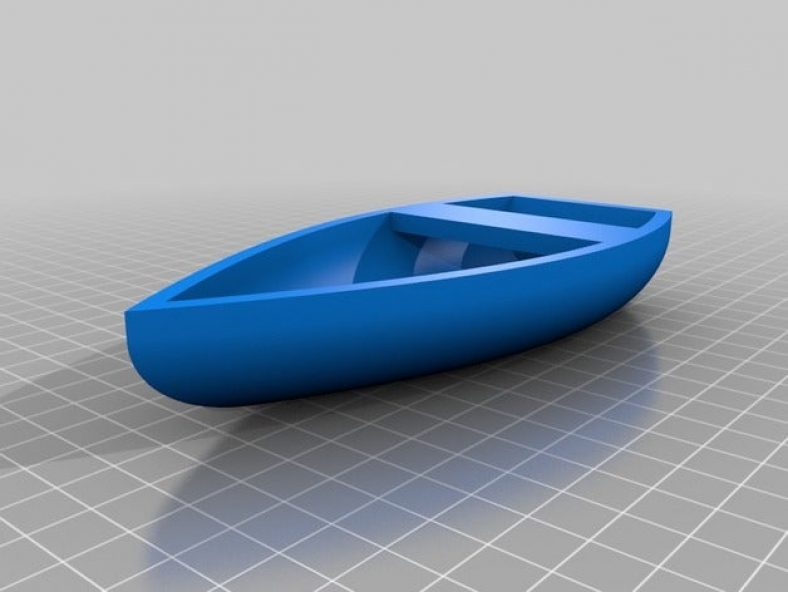 This toy gives you the ability to play fetch with your dog traditionally as well as with the modern watery spin.
Additionally, it encourages such a dog that is more land accustomed to try its hand, or paw, at swimming.
Although printing this is a little complex, but according to the designer's recommendation, it doesn't need supports.
You have to that there's an intricate pattern on the 3D printed dog toy's side that might cause some issues.
To ensure that doesn't happen make sure your printer well-calibrated before going into the print this dog toy.
The designer also recommends a 20% infill. A designer named Ashley Cawley has made it and you can get it on Thingiverse.
FriSBEE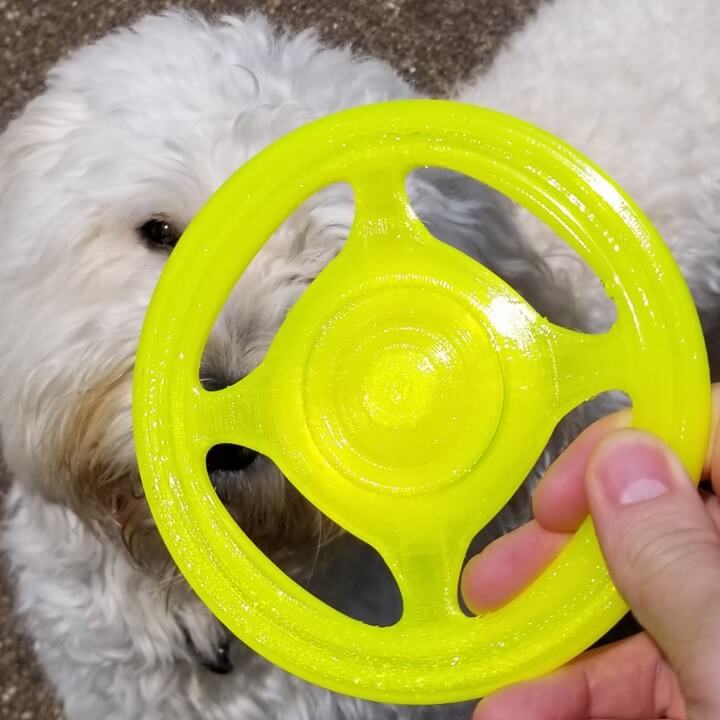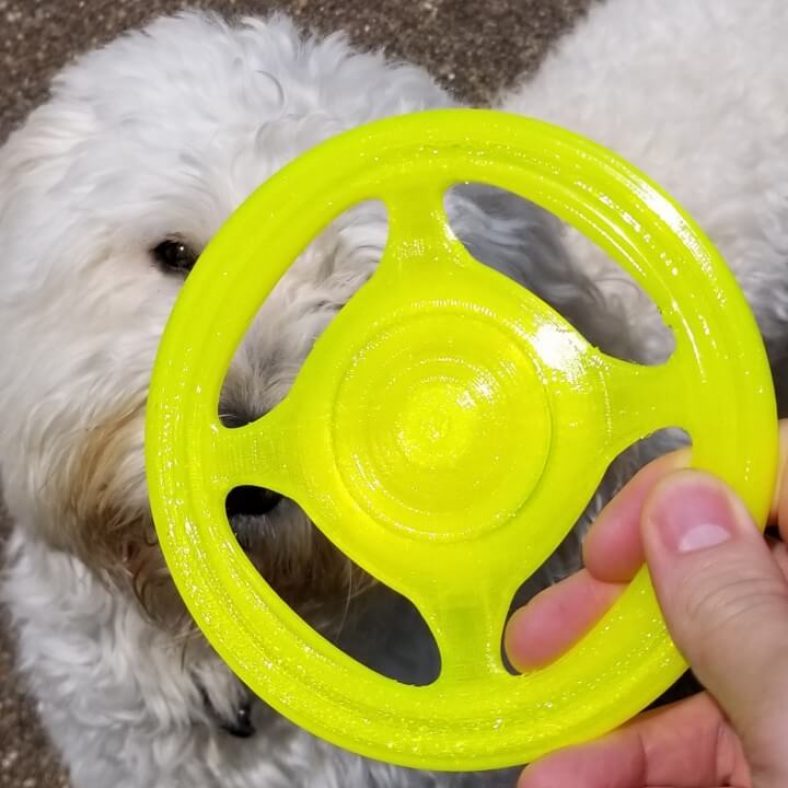 What other great way do you have to change the game of "Go-Fetch," with bone, than Frisbee? The best part about this is, it cannot be only used for playing that, but also for playing anything with your dog.
It's an all-rounder dog toy! Dog's love chasing it, and the other thing about FriSBEE is that they are easy to print. So is the case with this model as well.
It is very easy to print. Getting this would leave all other dog masters jealous. The recommended infill by the designer is 10-100%. This design is made by StuffByRyan and is available on Myminifactory.
Photo Enhancer
3D printing this design and adding treats to it would enable you to attach it to your phone.
How else can you get the solution to the very much evident problem that pet's face i.e. not looking into the camera, just when you want them to! This gift is a solution to that. The gift is also recommended because of being simple and easy to print.
The designer of this design recommends a 10% infill with no supports. And you can print it using multiple options like PLA or ABS, according to the designer.
Chuckrockz has created this design that has been till now, downloaded by more than 150 people, it's safe and helpful.
Poop Bag Barrel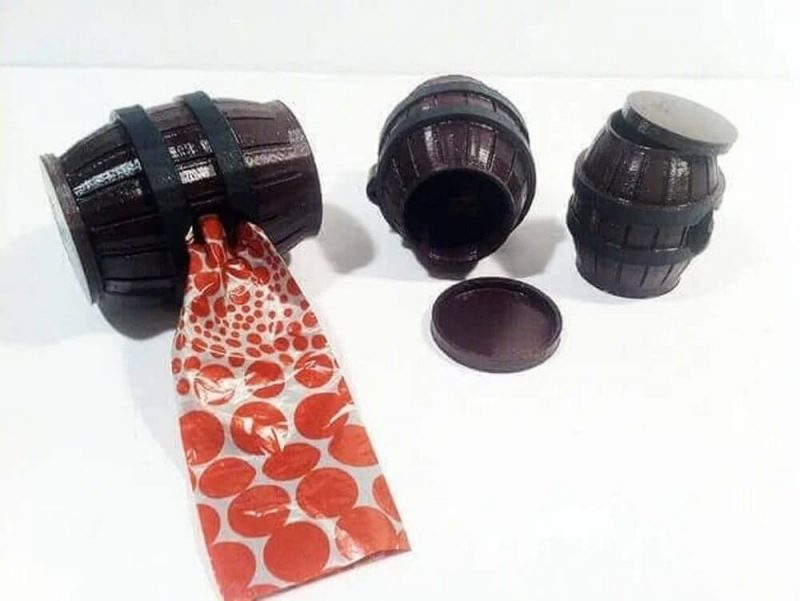 How else could you make the joyless task, look joyful? The answer to this question is, by making it creative. Poop barrel is an ideal way to store those necessary doggie bags.
Not only does it easily attaches to a leash or slides into a jacket pocket, but also it brings a little fun to an otherwise joyless task.
The design of this dog toy shouldn't be too complicated to print. However, it is recommended by the designer to use a printer with overhangs, then no supports are needed.
Rosetylerr has designed this and it's out there on Thingiverse for you to download it. Do it and make interesting the task, which is boring.
Bone Holder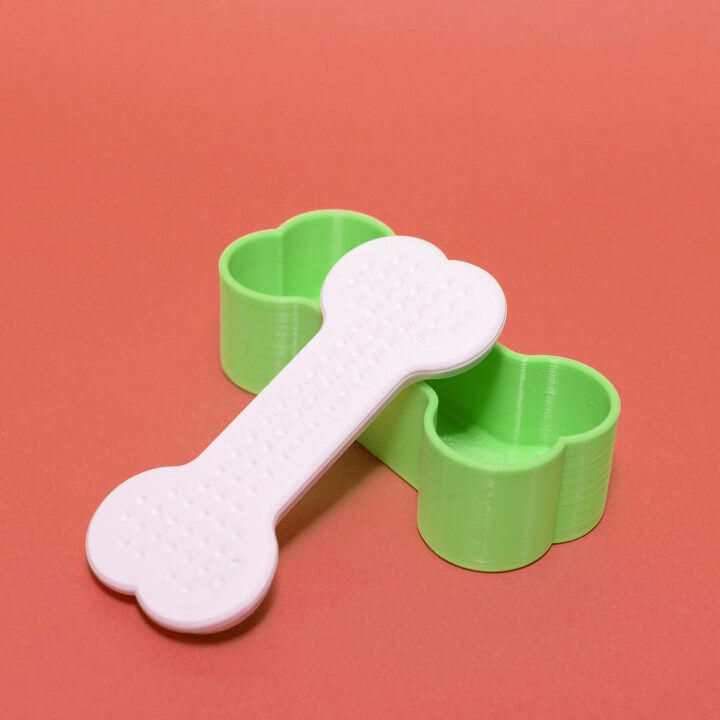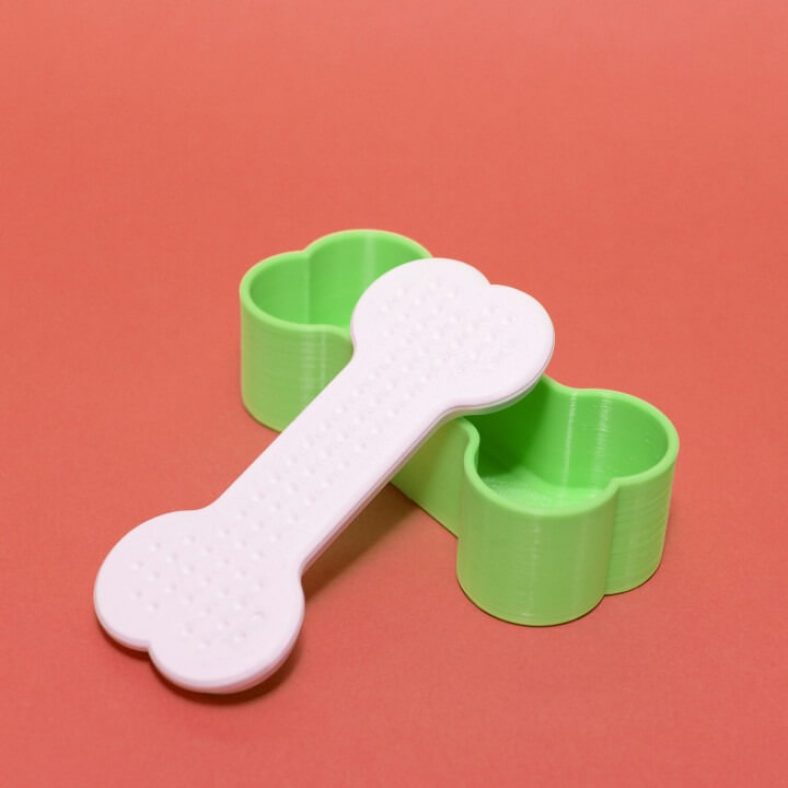 This little container is not only a super cute and efficient way to store your dog's treats but also you can throw it in a purse or a backpack without worrying about dirtying your other items.
The design of this dog toy is very easy to print. There aren't any complex structures that are involved. So, even a desktop printer with not many techy features can print this design.
The design of this dog toy is available on Myminifactory. It has been designed by Clockspring and has been downloaded by more than 80 people who haven't had a single complaint while 3D printing it. So, what are you waiting for?
The Conclusion
I don't know about the satisfaction that your dog would have while playing with these toys. But, you can boast a lot like a master if you were to 3D print a dog toy, one amongst these that are mentioned on the list.
There is a certain sort of possessiveness that you gain after you have 3D printed it, rather than bought it from the store.
Also, if you aren't aware of this technology, you can learn fun facts about this technology.
So, as a combination of efforts and adventures, you can finally lead to the product that is too classy as your dog's toy!