There are various materials used in 3D printing, with different characteristics, and for specific parts. One of the most commonly used materials is plastic.
Different types of plastic are compatible with different technologies for 3D printing. Some of them include FDM, used for manufacturing automotive and consumer goods. SLA is used where you require a smooth surface and high precision.
On the other hand, PolyJet is a more controlled process, ensuring high quality. SLS is commonly dense and has high stability.
Plastic 3D printing is now available using different types of plastics. Some common types of plastics are, PLA (Polylactic Acid), ABS (Acrylonitrile Butadiene Styrene), PC (Polycarbonate), and Nylon.
What Is Plastic 3D Printing And How Does It Work?
3D printing uses computer-aided design (CAD) to create 3D objects using a variety of materials. It uses a layering method, similar to 2D printing, to create the desired object. They work from the ground up and pile on layer after layer until the object looks exactly like the design.
A 3D printer uses molten plastic to create the desired output. Plastic is forced out of a tiny nozzle moved by the computer according to the design required to print. 3D printing uses multiple layers, i.e. layers are placed on top of one another, to produce the final item.
Depending on the quality of the printer, the result is either a stunning 3D model or many 2D lines of plastic sitting on top of one another.
What Are The Benefits Of Plastic 3D Printing?
Makers of 3D printers claim that it is up to 10 times faster than other methods and 5 times cheaper. Plastic 3D printing offers great advantages for companies and individuals.
The users have a choice between different plastics with different properties. They can easily print larger parts.
3D printing is comparatively cheaper and a great way to cut costs. It is also more efficient compared to injection molding, so you do not need all the molds for the production process. In fact, all you need is a 3D file.
Plastic 3D printing is also the perfect method for rapid prototyping, as it allows for many iterations easily and at a lower price. Rapid prototyping can substantially reduce the cost of product development and design.
It also helps you to save time for development and testing for the research team, as they can easily test and make required adjustments to the product.
Comparison Chart
| Name | Link | Nomination | Overall Rating |
| --- | --- | --- | --- |
| Original Prusa i3 MK3S | | Editor's Choice | 9.5 |
| Creality Ender 3 | | Excellent for beginners or makers on a budget, high quality in low cost | 8.5 |
| Anycubic Photon S | | Refined for Fabulous detail | 9 |
| Stratasys J750 | | Unmatched aesthetic performance | 9.5 |
| HP Jet Fusion 580 | | Accurate and full-spectrum color automated production | 8 |
| Natural Robotics VIT | | Reduces creative and mechanical obstacles in complex shapes | 9 |
| Sinterit Lisa | | High precision, plug and play SLS printer | 9.5 |
| Peopoly Phenom | | Most popular large format MSLA printer | 9 |
| TRILAB DeltiQ 2 | | Revolutionary Printer Control | 9.5 |
| CEL RoboxDual | | Easily affordable and user friendly | 8.9 |
List of Best 3D Printer Plastic Type
Original Prusa i3 MK3S
It is available as an assembly kit, which is the best way to know your printer, as you assemble it screw by screw and learn about the design and functionalities. It is also available as fully assembled and factory tested.
Uses:
Fully compatible with a wide range of various types of materials, including PLA and flexible material, or durable prototypes from PETG, ASA, Polycarbonate, and Polypropylene.
It has a built-in filament sensor, which detects any type of color and filament and is not susceptible to mechanical wear.
It uses the Mesh Bed Leveling process to compensate for microscopic imperfections of the print sheet.
Creality Ender 3
The Creality Ender-3 is one of the best FDM printers if you are on a budget. It is an open-source 3D printer and is partially assembled and competed by Creality.
It is considered great for beginners and 3D printing projects for every school and student especially, as it provides a deeper understanding of machinery and robotics.
Uses:
A high filament path improves compatibility with flexible filaments.
Uses industrial-grade circuit board.
CNC machining of the Y-rail mounting groove for precise positioning and keeping the solid frame with the high precision printing quality.
Anycubic Photon S
The Photon S is a desktop 3D printer that uses resin 3D printing technology. It provides excellent print quality and a simple user interface, targeting those who require detailed prints at low costs. This printer is highly optimal for individuals and small-scale use.
Uses:
LCD-based SLA Printing.
Quick slicing, more accuracy for leveling.
Offline print.
Photon slicer is extremely faster compared to an open-source slicer.
Stratasys J750
Stratasys J750 is a digital anatomy 3D printer, offering unlimited possibilities. It uses PolyJet technology, which is a powerful technology used to produce smooth and accurate results with microscopic layer resolution.
It can be used for prototypes or medical models with the most intricate details. The J750 Digital Anatomy printer is the solution for ultra-realistic anatomical simulation.
The Stratasys J750 is capable of 3D printing up to six different materials in a single print, with over 360,000 colors available.
Uses:
Great quality, highly realistic results.
Most accurate representation of targeted pathology to practice on, to enhance surgical skills.
Suitable for industrial use.
HP Jet Fusion 580
The HP 580 3D printer can help you to produce intricate and smooth parts, taking additive manufacturing to the next level.
It is a compact device tailored for small/medium-sized product development teams, design firms, and universities. You can use eight chemical agents at a time with this 3D printer.
Uses:
Produce brilliant, full-color functional parts while maintaining optimal mechanical properties.
Complete voxel control allows designers to influence every detail of their part.
The HP 580 is at least 10 times faster than its competitors in the same price range.
3D printer surfaces are considerably smoother on a comparative basis.
The HP 580 integrates material mixing and loading and automatically extracts and reuses leftover material.
Natural Robotics VIT
VIT, by Natural Robotics, is an SLS printer designed for different types of polymer powders, at an affordable price.
This printer solves the main problems that users identified when they tried 3D printing, as claimed by the manufacturer.
Uses:
For individual use and small-scale productions.
Designed to reduce creative and mechanical obstacles in terms of complexity in shapes of the parts, which makes it ideal for fast production of prototypes.
Laser technology allows for diverse materials.
7-inch touchscreen that allows you to control the settings easily.
Sinterit Lisa
Sinterit Lisa is a high-precision benchtop SLS 3D printer. This model is plug-and-play and is designed to work at full capacity from the start. It allows you to print multiple objects at once.
Lisa SLS 3D comes from Poland. Each unit they create goes through extensive testing, as well as precise design calibration.
Uses:
High print accuracy and proper dimensions, same precision as industrial machines.
It can print your innovations with internal features and movable connections in one assembly.
Results are of high resistance and durability.
Peopoly Phenom
Phenom is the latest 3D printer by Peopoly and uses the MSLA (LCD+LED) approach. MSLA is much faster than other resin technology. It has a customized light engine that has more light distribution than other MSLA technology printers.
It also has a cooling system to improve print results as well as extend the life of the mask. Further, Phenom does not limit the resins that can be used, as you can use any kind of resin to produce results with a few adjustments to the settings.
Uses:
This printer has an LCD screen and UV LED as compared to a UV laser.
It is controlled through a small touchscreen on the front of the printer, which is easy to use. It can be used to control every function of the 3D printer including moving the print bed up and down, setting the brightness of the UV light, and starting and stopping prints.
TRILAB DeltiQ 2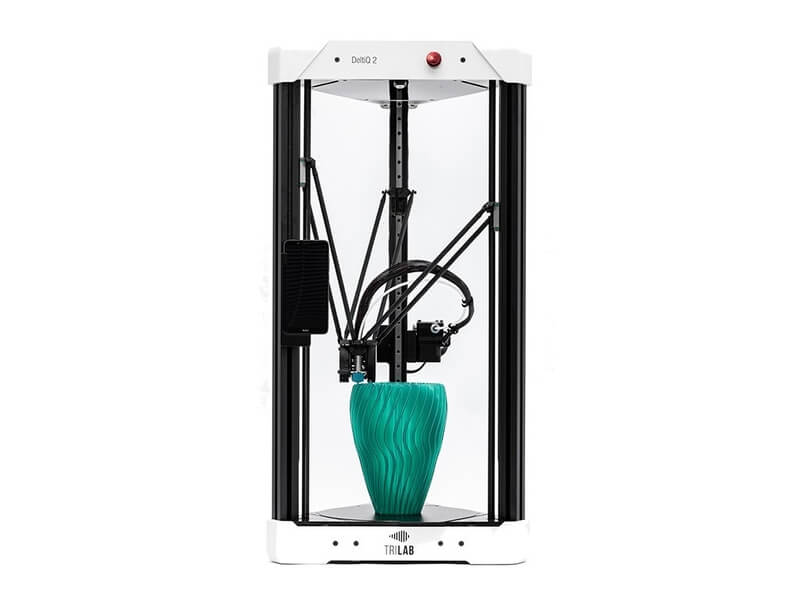 The TRILAB DeltiQ 2 is a reliable printer made with high-quality parts that are used for professional printing in business and in the lab. It can produce prints of high quality for a filament-based 3D printer.
The DeltiQ 2 comes with a removable touchscreen control panel. This smartphone device is programmed to provide all the statistics and control over the 3D printer.
Uses:
TRILAB DeltiQ 2 is a professional delta 3D printer.
Technical materials like ABS/ASA, Nylon, or Nylon with CF can be printed on DeltiQ 2.
The model is static during printing, which results in perfect quality print over the entirety of the model's height.
Unconventional and unexpected model orientation can be safely printed for even better surface quality.
TRILAB Delta control allows you to control the printer as per your needs. DeltaControl wireless display allows access to everything needed to control the printer using the DeltaControl app in any PC/Mac or smartphone.
CEL RoboxDual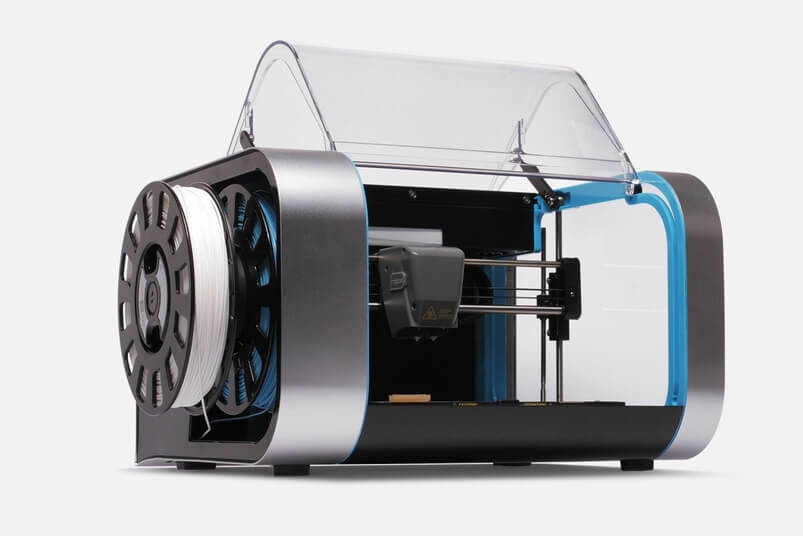 This 3D printer is an upgrade on the previous model, offering a DualMaterial Head, two extruders, and allowing you to print with multiple materials. The concept behind the name Robox is a robot in a box.
Robox offers better features, resolution, and reliability than printers that cost 10 times their price.
Dual material printing enables us to print even those parts that were previously difficult or impossible, by creating a support structure with material that can easily be dissolved from the model or can be peeled away.
Uses:
Compatible with a wide range of materials.
You can easily print with multiple materials.
Easy to use design with high potential.
Buyer's Guide
The first thing to consider before you decide to buy a plastic 3D printer is how often and what you want to print. If you require 3D printing infrequently, you can hire a service rather than investing in a 3D printer.
However, the fact of the matter is that 3D printers are cheaper than ever and you can surely find one within your budget.
If you need to use a printer often, you need to consider the type of 3D printer you need. There are currently 11 major 3D printing technologies. Out of these 11, only a handful of models are relevant to home 3D printing and desktop 3D printing.
If you are not looking to invest a great amount of money in 3D printers, you can consider FDM (fused deposition modeling) and vat polymerization (typically SLA, DLP, or MSLA). For professional 3D printing, you can consider expensive SLS (Selective Laser Sintering) 3D printers.
FDM is the most common printing method used in desktop 3D printing. A thermoplastic filament is heated and extruded through the nozzle, depositing the molten in layers of the print bed.
These layers are fused, building up through the print, eventually taking the shape of the finished part that they want to print.
Stereolithography (SLA) is an additive manufacturing process, worked by ultraviolet (UV) laser. Using CAD or CAM software, preprogrammed shapes and designs are drawn, by UV laser, on photopolymer. It is a subcategory of vat polymerization.
SLS printers create new layers by focusing a laser to a point inside a vat of powder. The powder solidifies as the laser moves to the next location. This process is ideal for printing complex industrial parts and detailed objects.
Lastly, you should consider the features that you should look for in a 3D printer. Safety features are extremely important to consider, especially if the printer is being set up in a home with children and pets, or a school. A quality user interface can take your printing experience from extraordinary to mind-blowing.
A heated bed is important for most users, as the first few layers of the print are critical to the foundation of the final product. Axis adjustability, fine-tuning a printer often involves tightening and loosening the tension on one of the 3 main axes.
Depending on the type of prints required by a user, after deciding the printing technology that you may be interested in, as per your requirements, you can compare the different features offered by the plastic 3D printers, in order to decide the best-suited printer.
Frequently Asked Questions (FAQs)
Where Plastic 3D Printing Is Used?
Plastic 3D printing enables you to produce functional shapes while using less material and proving much cheaper than traditional manufacturing. Plastic 3D printing is used at homes and in schools, as well as industries, depending on the buyers' requirements.
There are small-scale printers as well as large-scale printers. It enables you to increase productivity, create prototypes, and make changes in a much quicker manner.
What Are Some Of The Plastic Printing Technologies Used Today?
Plastic 3D printing is developing fast, and new technologies are being introduced with each passing day. It includes different technologies that you will have to choose from, depending on your requirements.
Are Plastic 3D Printed Parts As Strong As Traditionally Manufactured Plastic Components?
3D printed parts are not as strong as traditionally manufactured parts. They use a layer-by-layer technique of manufacturing. You cannot manufacture all of the strongest plastic materials using 3D printing.
Conclusion
Plastic 3D printing has proven revolutionary in the past years. This development enabled manufacturers and researchers to reduce their lead-time and wait time by more than half.
Creating prototypes is now revolutionary, as they do not need to wait for days just to make small iterations.
For home users, it has proven great as well as they can make small parts that are hard to find in the market or decorative items that they can print easily instead of hunting in the market.