DWS XFAB 2000
The specificity that the company offers, that XFAB 2000 offers, when combined with the specificity that you can have while purchasing will strike the perfect coordination. In simple words, it'd be harmonious if you buy this printer with a long term goal in 3D printing.
PROS
Auto Calibration
Moving print bed
Accuracy and detailing in minute parts and their edges.
CONS
Resin bottles are to be bought from the company.
The price of the printer makes it look un-affordable to the experimental beginner in the field of 3D printing.
Product
Specification
Videos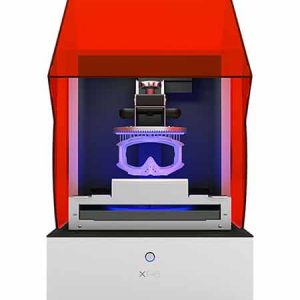 A plug and play 3D printer that offers this big build volume is something eccentric. But with eccentricity, the manufacturers of the printer have not ...
| | |
| --- | --- |
| Model | XFAB |
| Manufacturer | DWS |
| Price Range | $ 6600 |
| Release date | 2015 |
| Country | Italy |
| Availability | Available |
| Classification | Professional |
| Technology | Resin (SLA- DLP…) |
| Material | Liquid resin |
| OS compatibility | Microsoft Windows |
| XY accuracy | 0.25 mm 0.01 in |
| Max. build size | 180 × 180 × 180 mm 7.09 × 7.09 × 7.09 in |
| Max. build volume | 5.83 L |
| Min. layer thickness | 0.01 mm 0 in |
| Dimensions | 400 × 606 × 642 mm 15.75 × 23.86 × 25.28 in |
| Power input | AC 240/100 V 50-60 Hz |
| Heated print bed | No |
| Heated build chamber | No |
| Automatic calibration | No |
| Closed frame | Yes |
| Dual extruder | No |
| Independent Dual Extruder | No |
| Full color | No |
| LCD screen | No |
| Touchscreen | No |
| On-board camera | No |
| Mobile app | No |
| 3D scanners | No |
| CNC mill | No |
| Electronics 3D printing | No |
| Laser engraving | No |
| Conveyor belt | No |
| Air filter | No |
| Pellet extruder | No |
| USB | Yes |
| Wifi | Yes |
| Bluetooth | No |
| SD card | No |
| Ethernet | No |

Table of Contents
XFAB 2000 is an SLA 3D printer manufactured by an Italian company called DWS Systems. Apart from manufacturing 3D printers, the company develops technological solutions especially for reducing the time required for manufacturing industrial products like jewelry, fashion, dental, and various other designs.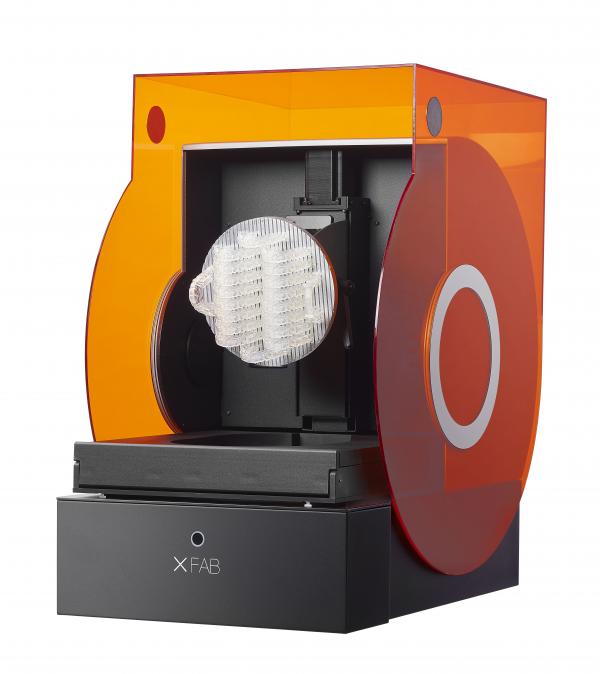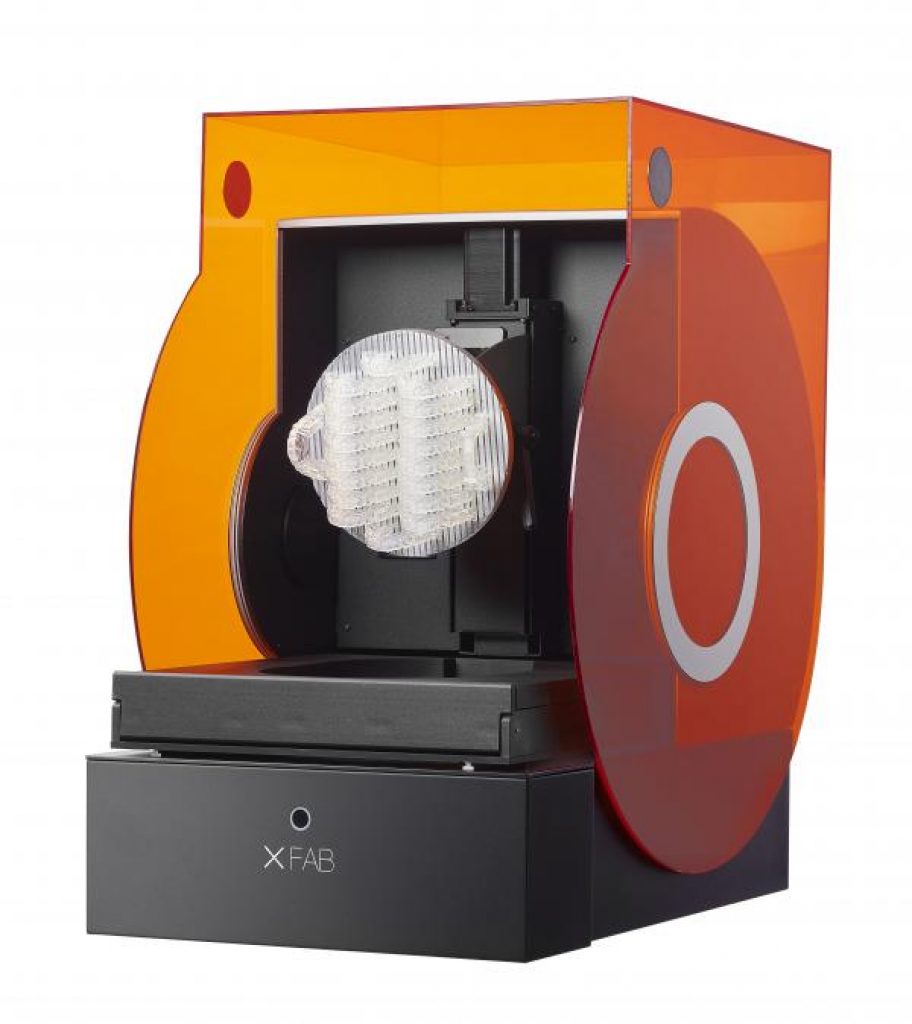 As claimed on the company's website, this printer is primarily marketed for small goldsmiths and designers who wish to choose a new method for manufacturing than the traditional one. XFAB 2000 claims to be the best 3D printer for the digital era at low costs.
Some of the most common applications of this printer can be seen in the production of fashion accessories such as vulcanized rubber molding such as cufflinks, zip pullers, eyewear, key chains, studs, brooches, and some solid models for detailed casting.
Apart from XFAB 2000, the printers that are claimed on the company's website to do printing in a similar segment are:
XFAB 2500 HD
XFAB 3500 HD
028J
029J
029JL2
029XC
XPRO5
XPROQ
The number of printers that the company has got, shows the company's attempt to offer all sorts of solution to all economic class who wishes to work in jewelry and fashion by using 3D printing technology. In this review, we are going to focus on XFAB 2000 and we will start with features of the same.
Features
Like its predecessors, XFAB 2000 keeps the tradition of producing highly detailed accurate, and precise parts that were started by DWS, going.
Extremely user-friendly software, specially designed material cartridges make up for a quick and mess-free installation. Below mentioned are some of the noteworthy features of this printer.
Fast and Precise Printer based on Stereolithography
One of the major differences between XFAB and printers that are available in the same range is the technology on which this printer is based.
Stereo Lithography is known to produce parts with a lot more dimensional accuracy than Fused Deposition Melting. So, if you compare one on one, XFAB 2000 with a printer that is in the same price range, but based on FDM technology, XFAB 2000 will have more points to impress than to depress.
And one of the major reasons behind it is the inherent ability of SLA printing to print a part or functional prototype with higher quality than FDM.
Allows You to Plug and Play
XFAB 2000 is amongst those printers which allow its users to plug itself and start playing with it. This is an important feature because not every printer has such a kind of option.
Generally, printers demand a little bit of joining of parts, screwing of bolts and nuts related to the joining, etc. Before starting to print. In comparison to that XFAB, just needs to be unpacked from its shipping box, plugged with its power wires, and start printing.
DWS manufactures the materials to print on its own
This feature is as rare as not to be found in 3D printers. If it's a resin-based printer, like SLA printers are, the resin bottle can be bought from other sources because the resins are common. But that is not the case with XFAB 2000.
To make sure the user gets exactly what the printer demands, DWS also manufactures and sells especially compatible resins. What this does is, as a manufacturer and as a user you get a sense of assurance as well as trust, whenever something goes wrong that you haven't used a material that wasn't recommended.
On the other hand, arguably, it does have a downside too that you aren't able to print with material that every other printer is printing with, but given the assurance mentioned above, the downside is affordable.
Intelligent Cartridge System
XFAB 2000 uses an intelligent cartridge system that makes changing the cartridge a simple task. This feature is said to have been added in the printer by the manufacturer because of complaints about the leak and high tray consumption in printers.
It is because of this feature that XFAB 2000 guarantees no leakages and no consumption losses. The price of this cartridge is somewhere between $200 to $400.
Printing with Variety Of Materials
XFAB 2000's patented technology enables its users to print with a large variety of materials. The list of materials includes; acrylate resin, ABS, polypropylene rigid opaque or transparent rubber for castable wax, and ceramic.
XFAB 2000 has five jewelry material options that are developed by none other than the R&D team of DWS. These materials come in cartridges that come with easy installation bottles making a material change quick and easy as mentioned above.
Specifications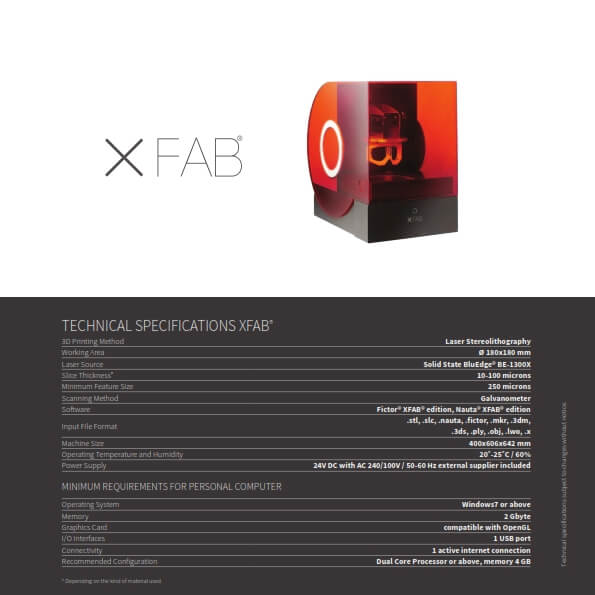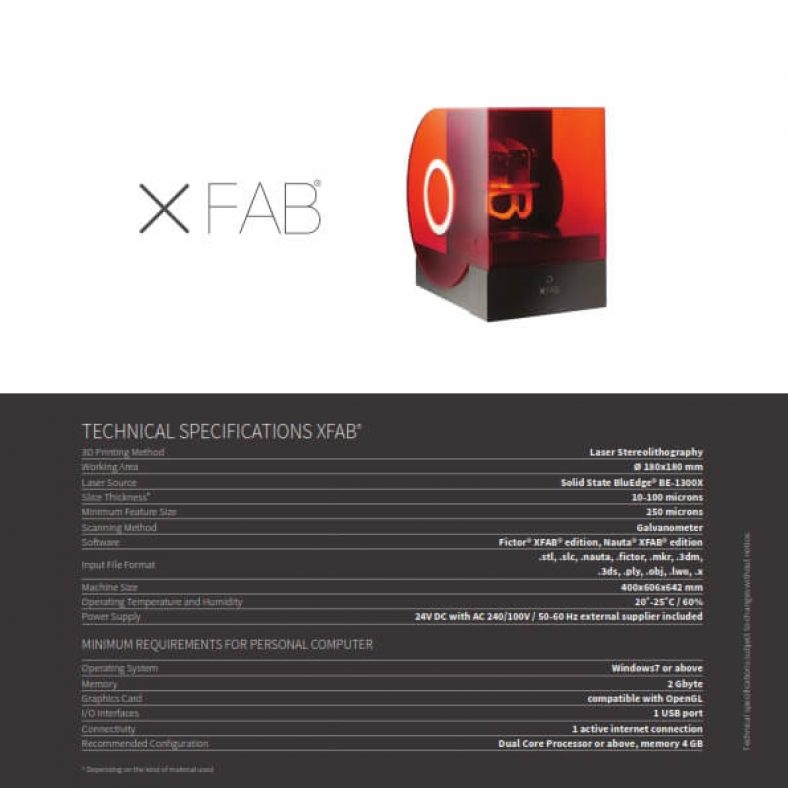 Credit: 3dhubs.com
As mentioned above, this printer is based on Stereo Lithography. The print volume of this printer is 180 mm * 180 mm * 180 mm.
The laser source used by this printer is Solid State BE-1300 X. Slice Thickness of this printer ranges from 10 to 100 microns.
The operating Temperature of XFAB is 22 to 25 degrees Celsius. The scanning method used in this printer is Galvanometer.
XFAB 2000 weighs 31 kilograms and the electrical consumption by this printer is 160 Watts.
Price
$7540 is the market price of this printer.
First Impressions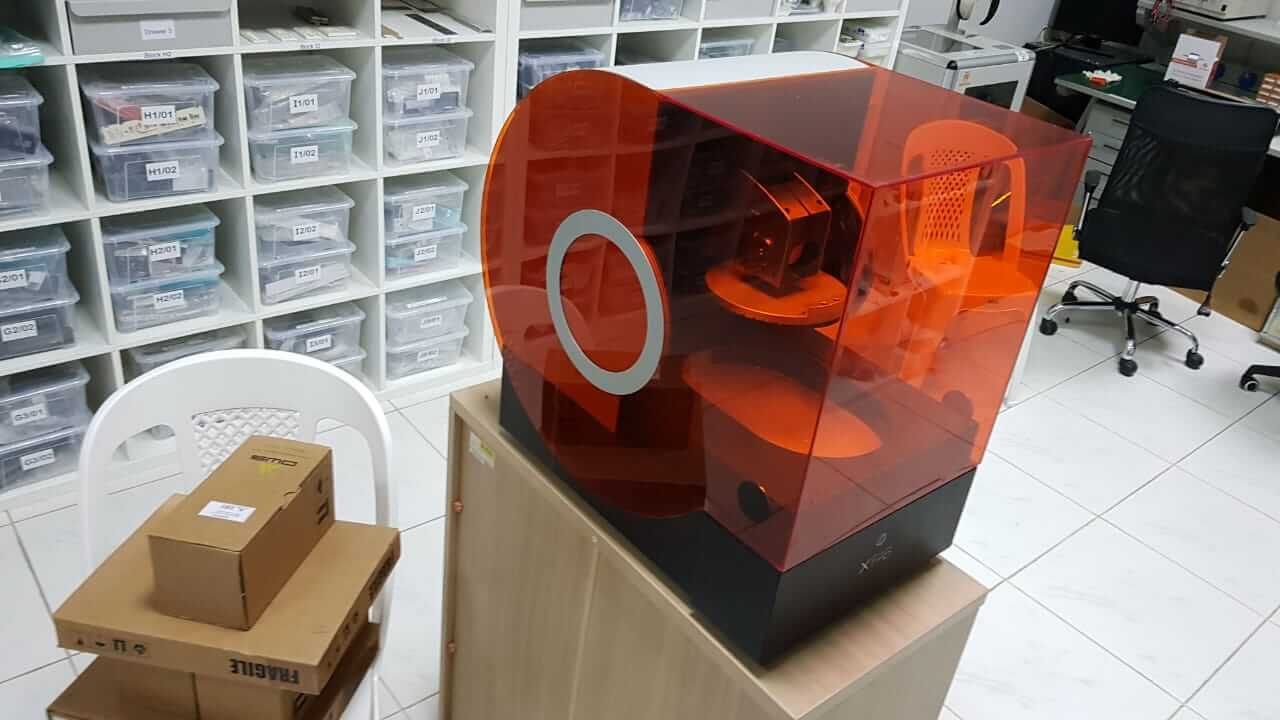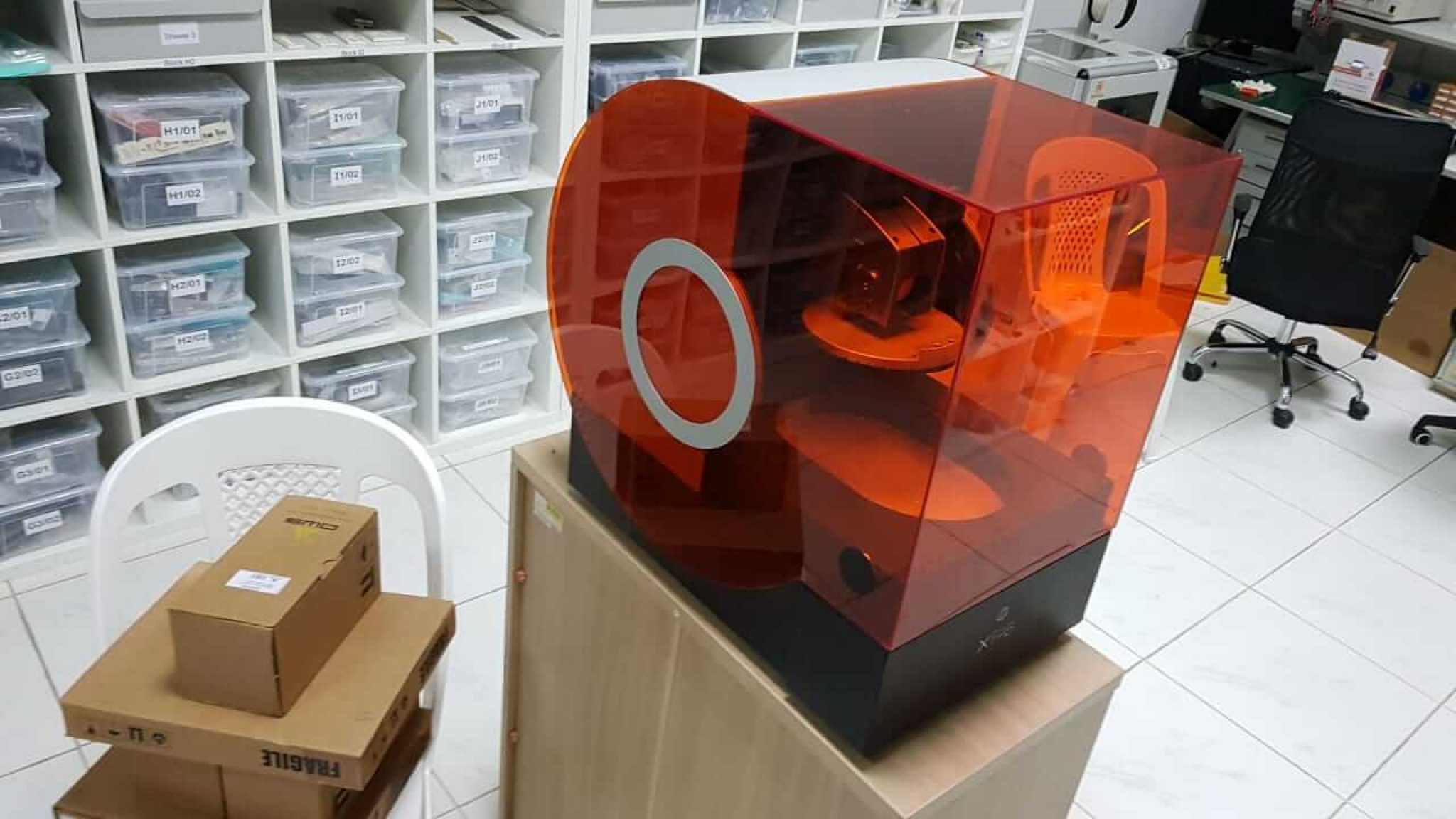 Credit: 3dhubs.com
XFAB 2000 would have been a perfect rectangular machine if not for the circular extension on one of the two lengths of that rectangle. It is an enclosed printer that florescent type color on the top and black at its bottom.
The bottom part has the machine's logo and a button or button type design just above the machine's name or logo.
This button type looking structure has an LED rounded on its sides which turns on as soon as the printing starts and vice versa.
The enclosure opens up when you lift it from the left and right end with your left and right hands.
After opening that you would be able to see a bed at the bottom. And the circular-shaped moving head would be a little more accessible to you.
It has to move, in a way that it faces the bed of the printer and then you can start the printing process.
The bottom of the printer has this resin tank, where you have to fill one amongst many selected resins that are available from the company's website.
Setup
After removing the printer from its box, you have to empty the resin in the resin tank that's present at the bottom of the printer.
Filling it to the level, you'd have to open the enclosure and make the circular print head face the bottom tank of the resin.
You'd also have to adjust the nozzle height according to the part that you are wishing to print. All of this can be done via the computer that you are operating the printer with.
You'd also have to choose the slicing software and set it up completely according to the part of the functional prototype that you are willing to manufacture.
The nozzle height, the nozzle diameter, and such settings can be done from the slicing software.
Once the print head reaches the resin tank, XFAB 2000 has the feature which enables it to auto-calibrate according to the settings that are made respective to the part or functional prototype that you wish to produce.
All of this information that you need is available on YouTube videos in the channel DWS.
You can also get this information via the company's website, by contacting them, and from the printed manual that comes with the printer.
Printing Type/Cost
SLA printing uses resin to develop a part or functional prototype. It produces parts and prototypes with more accuracy than FDM. Here a light source is generally used to cure or solidify the part or prototype.
The printing cost of SLA printers is higher than that of FDM considering the quality that they produce which FDM printers do not.
But, the cost of XFAB 2000 is even higher and a simple yet silly reason for that is the cost of its resins is higher.
Amongst the other factors that contribute to building the printing cost of a printer, they are as average as of any other SLA printer.
Print Quality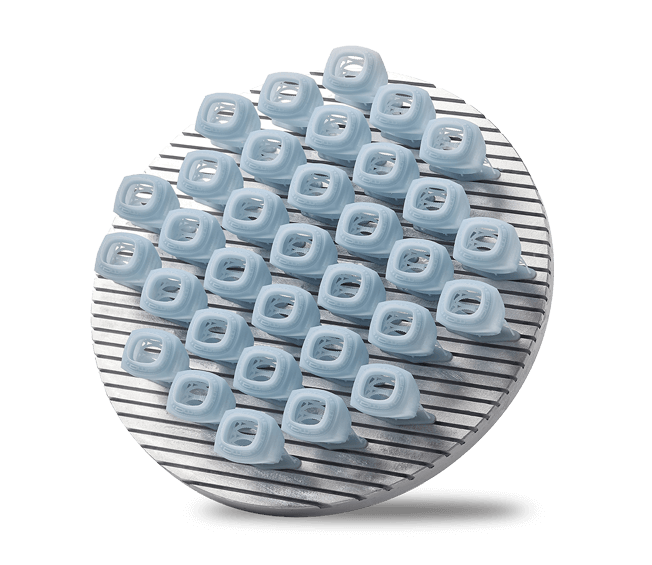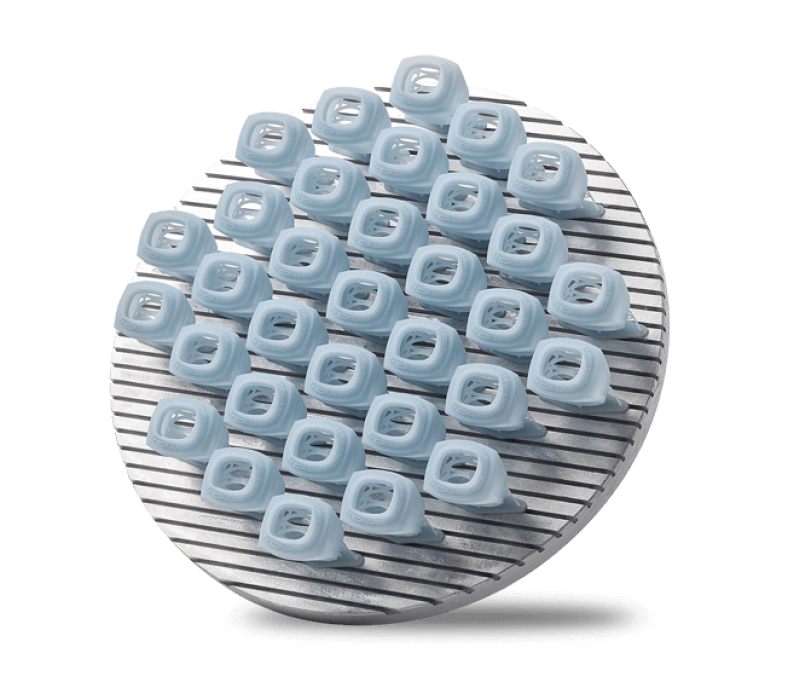 Credit: europac3d.com
Due to features like auto-calibration of the nozzle and the moving print bed, XFAB 2000 has got the flexibility that one would demand in a 3D printer to have.
Especially because XFAB has marketed itself to be a printer that is created to serve the jewelry and fashion industry, one would expect more from XFAB in terms of minuteness. XFAB 2000 has the minuteness and detailing that is required in printing jewelry parts.
Curves and edges where layer thickness is reflected the most, XFAB 2000's manufacturers have worked on it and designed the mechanism which does not fail to deliver.
The other thing that contributes to XFAB 2000's print quality is the company made resin bottles.
There is a sense of a certain sort of standardization when you read a company that manufactures printers also manufactures the accessories of the same.
The other sense that is accompanied by this is the sense of coordination. Although there have been cases where both these senses can go wrong, they are lesser than otherwise.
The resin bottle cost is expensive, no doubt about it. But then they are also very different in terms of quality that is being served in the market.
DWS's website sells and recommends its resin to different types of printers that it has.
Apart from anything that is a very caring step taken by a company that manufactures various types of printers in various types of segments.
Software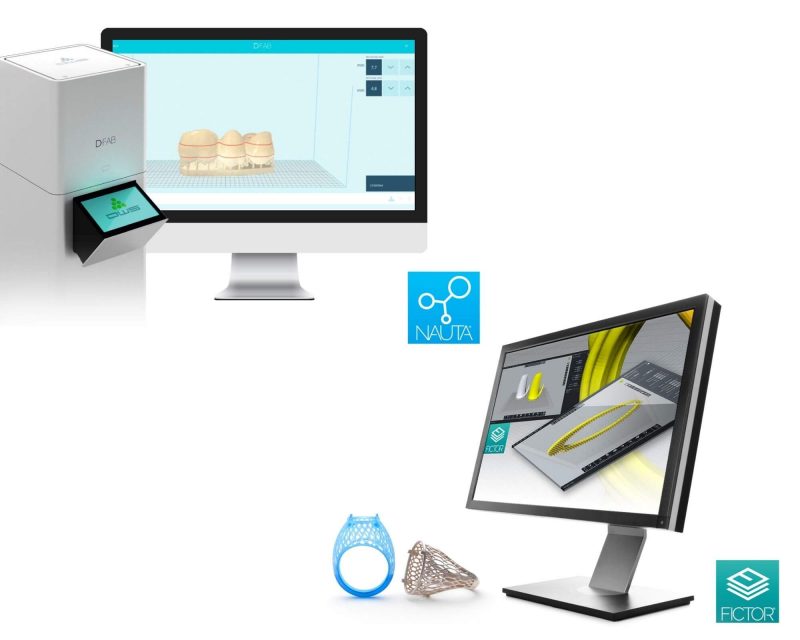 Slicing software that can be used with XFAB 2000 is Fictor XFAB Edition and Nauta XFAB Edition. The input format of files in this printer are .stl, .slc, .fictor, .mkr, .3dm, .3ds, .ply, .obj, .lwo, and .x.
THE minimum PC requirements of this printer are Windows 8 or higher, the printer has 4GB RAM, one USB port, and an active Internet connection.
When the printer has features as XFAB 2000 does, the slicing software pretty much manages the essential elements of printing.
So, is the case with the above-mentioned software too! Alignment, nozzle height, calibration, print head, post-processing, and whatnot.
Arguably, it demands users to be a little techy, but then if you are buying a printer of the price that XFAB 2000 is, chances that you aren't techy at all are very rare to find.
Customer Service
Look at the peculiarities that you need to deal with while operating this printer! It has its resins which are manufactured and recommended by the company.
It has marketed itself as a jewelry and fashion specific printer. When a company does so, communicating this part with the consumer is a tough task overall.
And eventually, when a printer lands up to the consumer's workplace he or she has many questions to ask.
In that scenario, if you do not have a good customer service team, it is possible to be as renowned as DWS is? Or flood the market with the number of options that this manufacturing company has for many specific domains?
Parameters Influencing Buying Decision
Here's our brief comment on the cost, quality, speed, capability, practicality, and user expectations of XFAB 2000.
3D Printer Cost: Affordable for intermediates and experts in the field.
3D Print Quality: Above average SLA printers.
3D Print Speed: As fast as the manufacturer can offer in this price range.
3D Printer Capability: Too Specific.
3D Printer Practicality: When in use, you get to know the exact layer visibility that is seen in the parts and prototypes.
3D Printer User Expectations: The Company is known to be specific and users expect accordingly.
The Verdict
The specificity that the company offers, that XFAB 2000 offers, when combined with the specificity that you can have while purchasing will strike the perfect coordination. In simple words, it'd be harmonious if you buy this printer with a long term goal in 3D printing.