Afinia H480 3D Printer
This printer is an award-winning printer. In 2012 it was termed the printer with "Best Overall Experience" and "Easiest Setup" by Make Magazine and in the same year, it was also termed as a printer that was "Easiest to Use," by Printing Buyer's Guide.
PROS
The printer has an open platform.
Its price is affordable.
Afinia H480 is a good entry-level DIY printer.
This printer is portable and relatively lightweight.
CONS
Printing with this printer requires patience.
IT has a smaller build area compared to the price at which it comes.
Product
Specification
Videos

Targeted more towards casual printing and more towards prototyping, the Afinia H480 is a classic machine. Laying their specific towards the sticking ...
| | |
| --- | --- |
| Model | H480 |
| Manufacturer | Afinia |
| Price Range | $ 1299 |
| Release date | 2012 |
| Country | United States |
| Availability | Available |
| Classification | Desktop |
| Technology | Extrusion (FFF- FDM…) |
| Generic material | Yes |
| Max. build size | 140 × 140 × 135 mm 5.5 × 5.5 × 5.3 in |
| Max. build volume | 2.65 L |
| Heated print bed | Yes |
| Heated build chamber | No |
| Material | ABS, PLA |
| Filament diameter | 1.75 mm 0.07 in |
| Min. layer thickness | 0.15 mm 0.006 in |
| Automatic calibration | Yes |
| Closed frame | No |
| Dual extruder | No |
| Independent Dual Extruder | No |
| Full color | No |
| LCD screen | No |
| Touchscreen | Yes |
| On-board camera | No |
| Mobile app | No |
| 3D scanners | No |
| CNC mill | No |
| Nozzle diameter(s) | 0.35 mm 0.01 in |
| Electronics 3D printing | No |
| Laser engraving | No |
| Conveyor belt | No |
| Air filter | No |
| Pellet extruder | No |
| USB | Yes |
| Wifi | No |
| Bluetooth | No |
| SD card | No |
| Ethernet | No |

Table of Contents
If you are specifically looking for a 3D printer that can give you the printed part and prototype and no other fancy add ones like LED lightings, a touch screen interface or any other, Afinia H480 is where your search has to end.
This machine was created by its manufacturer in 2012 and it might seem to resemble a few of you to UP Plus 2 3D printer. So, here's the thing to solve your confusion out.
Up is the brand name of Beijing TierTime Technology Co. Ltd. Which is a Chinese manufacturing company and Afinia is the private brand or so to say OEM partner of this company so, whether you get UP Plus 2 or Afinia H480, you get the same machine.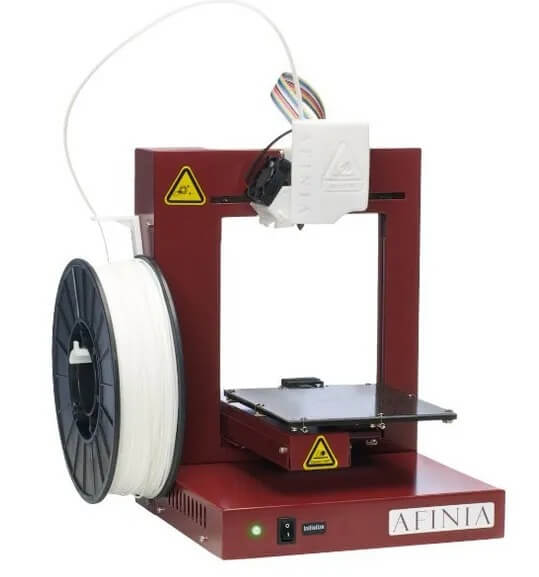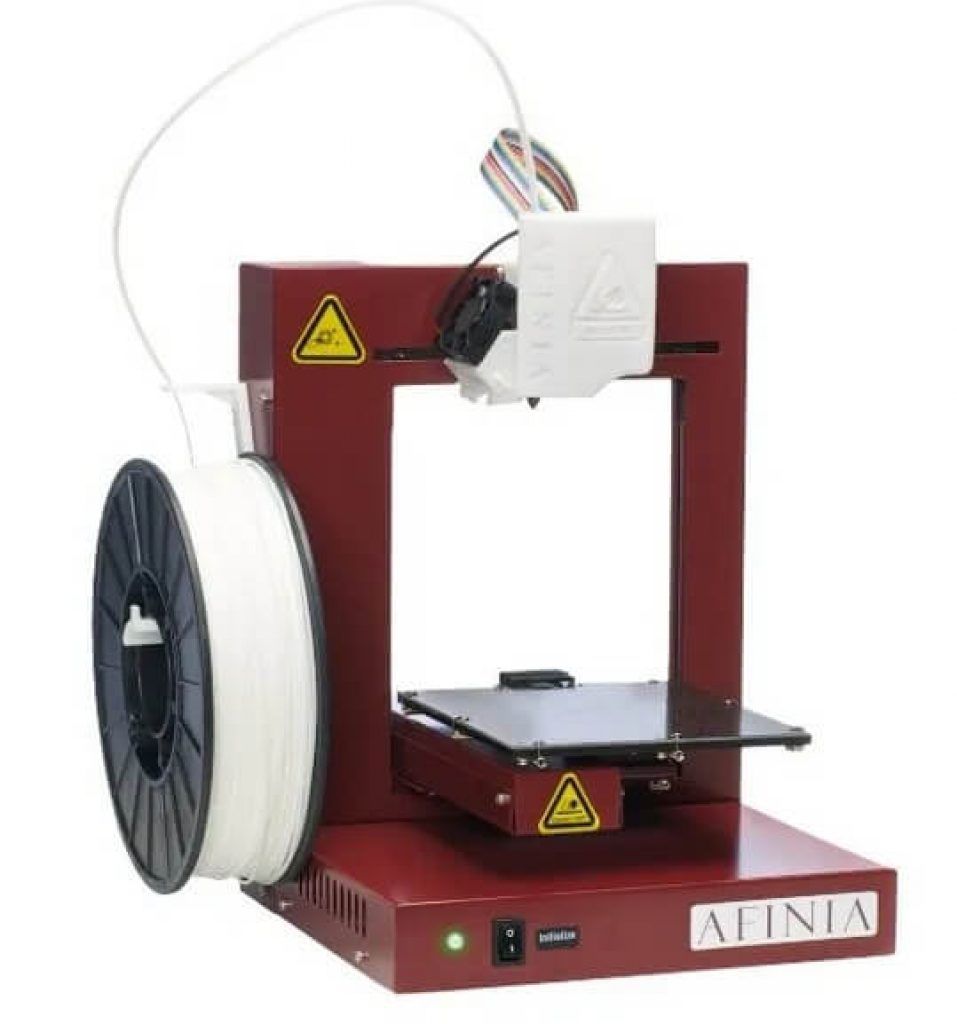 Coming back to the introduction of this printer. Yes! Afinia was developed in the time when 3D printing technology was not as much developed as it currently is, partially because of that and partially because the manufacturers felt that there would be a huge crowd of people who would be asking from the manufacturer's a simple machine that could 3D print, is why Afinia is kept in the way it is.
No sort of fancy services, designs, or mechanism, just pure raw technology! Having said that let's go to the next section of this article i.e. list of features that the printer possesses.
Features
This printer is an award-winning printer. In 2012 it was termed the printer with "Best Overall Experience" and "Easiest Setup" by Make Magazine and in the same year, it was also termed as a printer that was "Easiest to Use," by Printing Buyer's Guide.
Let's look at some of the interesting features of the printer and help ourselves to understand why it must have been an award-winning in the times when the awards were given to it.
Comes with Limited List Of Things And Is Ready To Use: For starting to print with this machine you need to unbox it and that's it. The Afinia H480 comes with a software installer disc, three perforated cell boards, and 1.5 pounds of ABS filament to help you start with the printing process straightway.
Wants You to Think Harder About Your Design And Figure Out Different Ways To Print: Afinia H480 has a smaller than usual build area. So when you actually think of a design and how easily it can be printed in 3D printers that offer you the option of 3D printing parts with greater build volume, here is another printer that opens up a different spectrum of ideas i.e. how would you break that design into parts and print it on this printer?
This is a very important feature of this printer that it brings out innovative ideas in you by asking you to give in a little more effort than what you usually give.
Although people can complain about this in a negative way, not everyone has seen a professional at work. A professional 3D designer or user can print the same part from different printers getting used to the features that the printer offers and it's no rule that only some designs can be printed in some printers.
Build Platform Provides Better Adhesion and Can Be Auto Calibrated: The material with which the build platform is made of, is a mixture of glass and epoxy. Glass is a standard material that's been used by a lot of desktop printers as a print bed material, but when it is combined with epoxy it makes up for a mixture that is known to give better adhesion to layers that are printed over it. Afinia H480 is an FDM 3D printer so deposition is going to happen layer after layer and it's the first layer deposition that matters like no other.
Afinia H480 has an auto-calibration feature that uses nine points system to automatically calibrate the printer's printing bed. The nozzle is detected assuring the user that the print bed and nozzle are at a particular distance before the printing process starts.
Beeping to Indicate That The Machine Work Has Been Done: This is the most unique feature of Afinia H480, it showcases how the company wanted its printer to be much optimized. Afinia has a sound-producing electronic instrument that brings the sensor's message to it and produces the user to make sure he/she acknowledges that the work has been done. For example, when the files have been loaded into the onboard memory, it will produce the first beep and let you know that you can disconnect the USB cable from the printer and that now is the time when the printer should be allowed to print autonomously.
Then when the extruder temperature has been reached, you'd be alarmed by three consecutive beeps to alert yourself that the printing has started.
And finally, the last beep will come in a row of five which will signal you that the printing has completed. Now, this couldn't have been done in a better way. Agreed that there are chances of missing these beeps around and what if the sound-producing device doesn't work or whatsoever!
But then there are chances also that the system that we currently have in the printers also not working well. Like we have a filament detector is printers nowadays. Is there a complete guarantee that it always works without flaws and nothing will ever go wrong with it? We don't think so.
Specifications
Afinia H480 comes with very many things and to start with specifics, we would like to start with its body. The material from which this printer is made is a folded steel frame.
Afinia H480 comes with a direct drive extruder, a heated build platform, and an auto-leveling bed. The printer lets you print with 1.75 mm PLA and ABS filament.
The printer only moves on X-axis, while the print bed moves along the Y and Z axis. Afinia H480 has a build volume of 140 mm * 140 mm * 135 mm and the maximum temperature it can withstand is 260 degrees Celsius.
The layer thickness resolution that this printer offers in every part and functional prototype that's printed is 150 microns.
Price
The printer is priced at $1299 which puts it in the mid-price range i.e. above desktop printers that range from $200 to the price at which the printer is priced at.
First Impression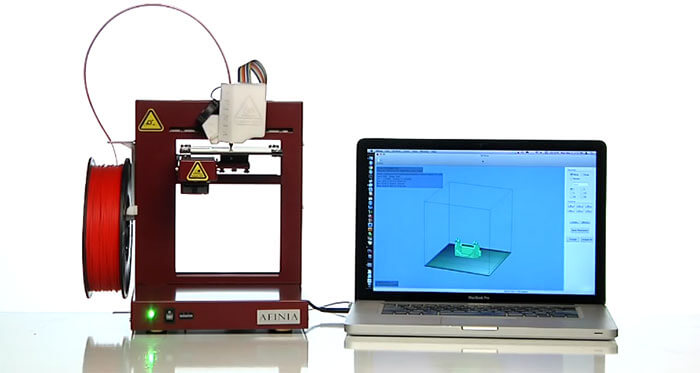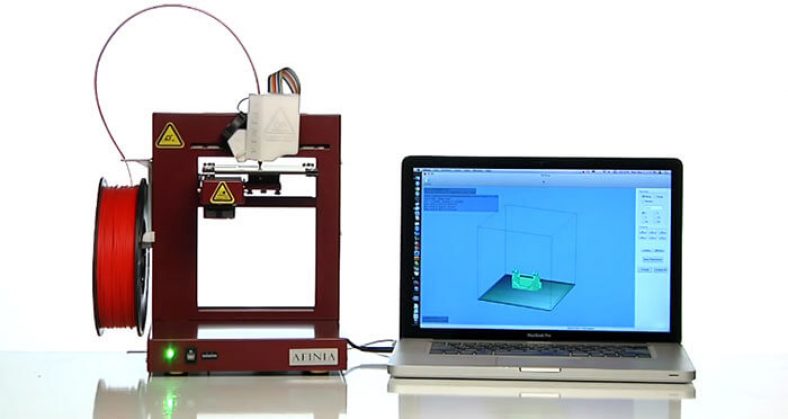 The Afinia H480 is ready to go printer that requires very less setup. The machine looks very raw and that's what sets it apart from the printers that you would have seen until now.
Even the printers that have an open design are very techy nowadays so this one without any user interface or very many buttons might seem a little old. But, it is for a fact raw.
There is a start button at the bottom left of the machine, the spool holder is on the side. When you unbox the complete printer, you get an ABS spool as you get with every printer.
You would be shocked to see the completely open build platform that Afinia offers. Also, the nozzle calibration is to be done manually. The printer has many options through which users can stay connected to it.
Setup
H480 comes in a cardboard box with surplus foam padding to ensure that any part of the printer does not get damaged during the transport.
What accompanies the printer in its drive from the manufacturing plant to the place where it is finally delivered is the user manual, power supply, a spool of ABS filament, three boards for three BuildTak sheets.
In another small box comes the accessories that the manufacturer offers to ensure the user is safe side if anything minutely needs to be changed in the printer. This box consists of the spatula, tweezers, snippers, a knife with six blades, and a pair of safety gloves.
The user manual completely walks you through the complete installation process, how to fix the filament spool by clipping it into the spool holder which is located at the side of the printer.
How you need to thread the filament through the guide tube and insert the protruding end of the filament into the extruder and so on.
BuildTak is a thin, durable plastic that helps in providing optimal printing surfaces for 3D printing objects to adhere to while they are being printed. In short, it's support material. Setting up the complete printer takes no more than 20 minutes.
Printing Type/Cost
As you can read above, the printer doesn't offer printing service with very many filaments and also utilizes very little electricity. Not much larger parts can be printed on it.
So almost every factor that increases the overall printing cost, is either absent or not possible in this printer. Due to which the printing cost of this printer is lower than the industry standard.
Print Quality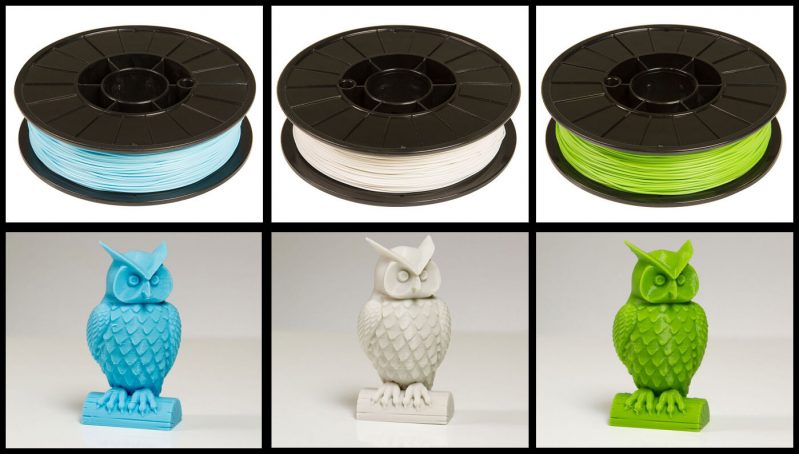 Websites that have tested this model report an average overall score as far as print quality is concerned. Like if 5 was the maximum print quality that printers in the similar price range produce, Afinia H480 manages to keep a score of 3 on an average.
It is good seeing that there are printers on the list which are today's printer which is very much techy than this printer.
Software
The printer comes with custom software that is compatible with Windows and Mac. The printer features a user-friendly interface that allows users to edit imported files with options including size scaling as well as changing the layout and orientation.
The software can automatically generate support material that's needed for files that you import in it. This makes your prints more precise and the risk of damaging your actual print is the bare minimum.
Customer Service
What sets Afinia apart from other companies is its customer support. Imagine the experience of a company that is working in the industry for 20 years! Afinia is extremely dedicated to its customers for providing all the support that you need when you need it.
Parameters Influencing Buying Decision
A quick review to ensure you before going to buy a printer whether or not to purchase it!
3D Printer Cost: As mentioned in the pros and cons sections, the overall cost is affordable to you if building parts and functional prototypes with larger volumes are your only requirement.
3D Print Quality: Industry standard.
3D Print Speed: Lower than normal.
3D Printer Capability: Parts with dimensional accuracy can be printed with this printer.
3D Printer Practicality: If you have dealt with a more automatic printer, you'd probably want to prefer that one before this one. However, if you are professional or an intermediate, you'd probably buy this printer to learn to be a little more innovative than what you already are.
3D Printer User Expectations: Don't expect much, as mentioned in the review before, the printer is completely raw or even rawer than what you can think of.
The Verdict
This machine is interesting and brings a lot many different things to the picture because the competitors and printers that are made in today's world come with a lot of fancy facilities that are then termed as "features."
But the fact is, you may not need them. It's for all those, you love 3D printing and buy a 3D printer because they only want to print in a 3D fashion. Not for some sort of business!
You got to be a passionate lover of this technology to buy this printer which, because it is raw, enables him to stay connected with the history of 3D printing technology.
It is also for all those designers for whom innovating is essential to growing and they always look down for breaking their printing job into steps and try to lessen them!