Dremel Digilab 3D45
Dremel Digilab 3D45 promises reliability and safety to all. The printer has a fully enclosed system, plastic chassis. There is a touchscreen from which the printer needs to be operated.
PROS
The printer is easy to set up and use.
There is an excellent print quality that the printer produces, whether it's a part of a functional prototype, regardless of the industry you wish to use it in, it will deliver up to the mark.
The printer sets in front of the world a perfect example of safety and reliability. Often those two are considered counterparts of each other and the printer that has the former lacks the latter. But with Dremel Digilab, the manufacturer has proven that both can be present in almost equal amounts.
3D45 has a comprehensive ecosystem that is tailored for education.
CONS
Whenever you are printing in this printer using a third-party filament, you'd notice that the print quality is lower than what it was.
Although it can print with some materials that are advance when you typically turn on to materials like Nylon, the printer starts to show some tantrums.
The closed system that this printer has limited creativity to an extent.
Product
Specification
Videos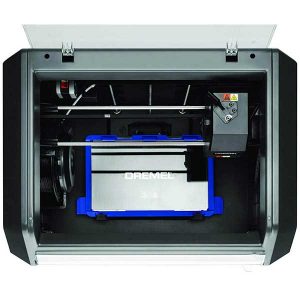 The company has marketed this printer primarily for professionals in the field of 3D printing. But if you are a small business owner or an enthusiast ...
| | |
| --- | --- |
| Model | DigiLab 3D45 3D Printer |
| Manufacturer | Dremel |
| Price Range | $ 1799 |
| Release date | 2017 |
| Country | United States |
| Availability | Available |
| Classification | Desktop |
| Technology | Extrusion (FFF- FDM…) |
| Material | ABS, Other plastics, PLA |
| Filament diameter | 1.75 mm 0.07 in |
| OS compatibility | Mac OS, Microsoft Windows |
| Generic material | Yes |
| Max. build size | 254 × 152 × 170 mm 10 × 5.98 × 6.69 in |
| Max. build volume | 6.56 L |
| Min. layer thickness | 0.05 mm 0.002 in |
| Dimensions | 514 × 406 × 404 mm 20.24 × 15.98 × 15.91 in |
| Weight | 19.4 kg 42.77 lb |
| Nozzle diameter(s) | 0.4 mm 0.02 in |
| Power input | 100-240 V 47-60Hz |
| Heated print bed | Yes |
| Heated build chamber | No |
| Automatic calibration | No |
| Closed frame | Yes |
| Dual extruder | No |
| Independent Dual Extruder | No |
| Full color | No |
| LCD screen | No |
| Touchscreen | Yes |
| On-board camera | Yes |
| Mobile app | No |
| 3D scanners | No |
| CNC mill | No |
| Electronics 3D printing | No |
| Laser engraving | No |
| Conveyor belt | No |
| Air filter | Yes |
| Pellet extruder | No |
| USB | Yes |
| Wifi | Yes |
| Bluetooth | No |
| SD card | No |
| Ethernet | Yes |

Table of Contents
What makes a printer best suited for classroom and professionals in the field of additive manufacturing? A printer that's has certain prerequisites such as it is accessible and reliable every time you look up to it for printing?
Or A printer that has mastered the art of producing quality prints in relatively low time? We would say both! A balance of the former and latter is very rare to find and so is Dremel Digilan 3D45. A rare 3D printer that is easy to use and dependable.
It is also an option that is very affordable for those who require safety and reliability apart from quality and fast printing. So let's dive in straight to look at what are the features of this printer which does not upset teachers, and also has something for professionals.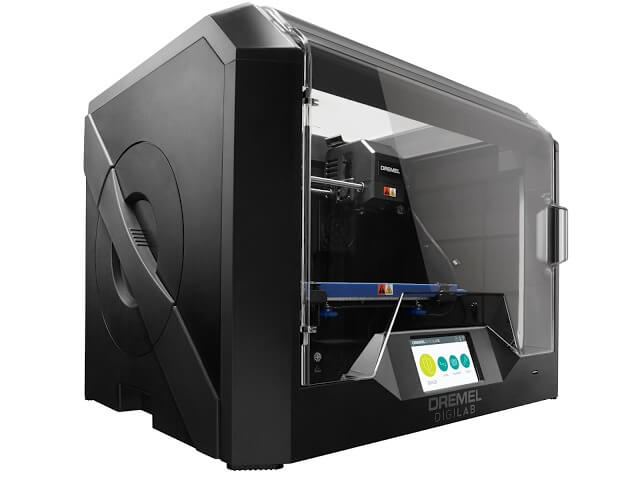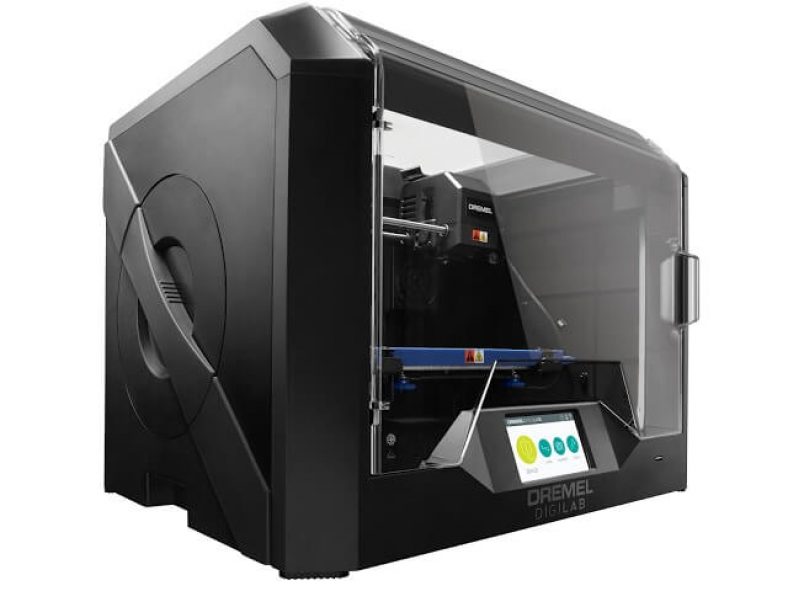 Features
The printer has what it takes to produce large prints and is also compatible with a range of different filaments. On one hand, it has a provision of good bed adhesion, on the other, it's reliable and safe.
Overall this printer is easy to use because it has a list of amazing features. Read more to find out which ones are they!
The Manufacturer Is A Reliable Name In 3D Printing Market: Dremel has designed this as it designs every other product that carries its name. The company claims that 3D45 can run for hours without failure.
There is a camera inside the printer which is of 720 pixels resolution. It allows remote monitoring of the printing process from outside of the printer. One can watch this print process from anywhere because the printer has options to connect with it in many ways.
There is an application named Dremel Print Cloud which also allows you to upload your initial prints remotely and the 5 inches IPS touchscreen makes navigation through 3D45's menus damn easy.
Because the printer is fully enclosed, it includes quality components like a mental hot end with smart technology that helps in reducing clogging. There is also a superior print bed heating element that maintains a steady temperature throughout the printing process.
Advanced Materials Can Also be Printed: If it makes you wonder why this printer is specifically used in academic institutions, it's because of this feature. Often when printers only have limited options to print with, what happens is they are only meant for small businesses and not for academic institutions wherein research takes place. Dremel Digilab 3D45 can print with materials that require high printing temperatures such as Nylon polycarbonate and EcoABS also.
Precise Printing Of Parts And Functional Prototypes: This feature is a gift of many parts that are included in the printer. To start with there is a heated bed and a build platform that can be removed. So while continuous printing, when you require to take the printed part out to build another one, you can do that with ease. The bed-leveling of this printer is semi-automatic because it uses a two-point system and not the nine-point one which would have made it fully automatic.
The printer comes with a 4.5-inch touch screen interface that lets its user operate parts of the printer easily from it. All in all, each one of this part helps you to print parts and functional prototypes that have a layer resolution of 50 microns.
Built-In Camera: Dremel Digilab 3D45 comes with an integrated 720-pixel camera that allows its users to monitor and control multiple machines remotely. Meaning that you can not only use this camera to watch what's happening when it's printing, but you can also create time-lapse videos with the footage that you capture. Every user can watch their printing process by using a cloud-based slicer named Dremel Print Cloud. Apart from somewhat lagging and halting, the camera works fine.
Direct Extrusion System With Easy To Operate Mechanism: Dremel 3D45 operates on a Cartesian axis system and is known to be a lot more rigid than other printers operating on it. It's rigid because it's accurate than a delta or polar configuration. The print head of the printer moves in the X and Y axis whereas the print bed moves on the Z-axis, this movement maintains complete accuracy and speed.
A direct extrusion system means that the print head of this printer uses a motor for feeding the filament by directly mounting on it. What this does is, it makes filament loading easy and contributing to the extrusion system's core claim of being very easy when in operation.
Specifications
Designed for professionals and academic institutions, Dremel Digilab 3D45 claims of having a build volume of 10 inches * 6 inches * 6.7 inches with a heated glass build plate.
3D45 is capable of providing a layer resolution range of 50 to 300 microns whenever needed. The printer has a printing speed of 150 mm per second which is impressive seeing the price range that it falls into. The metal hot end can reach up to a temperature of 280 degrees Celsius.
The build space of this printer is 23 inches * 19 inches * 19 inches and it's based on FDM 3D printing technology. The printer has an internal storage space of 8 GB and it allows you to print with Nylon, Eco-ABS, PLA, and PETG.
Price
The printer is priced at $1799 which is affordable seeing the long list of features that the printer has and how useful it is for academic institutions to let students research using it.
First Impression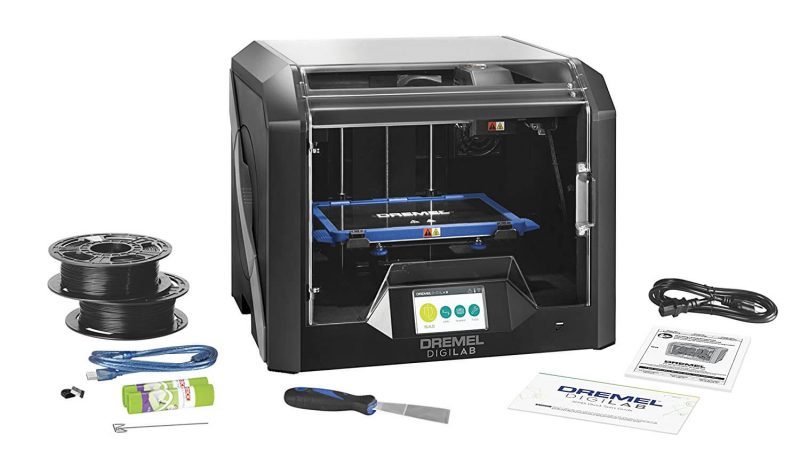 The printer has a fully enclosed system, plastic chassis. There is a touchscreen from which the printer needs to be operated. Because the printer has a robust ecosystem it will be easy to use the printer in classrooms.
There are hardware and safety features in the printer that makes it a perfect printer for classrooms. The printer has a good design, if you know little basic about enclosed designed 3D printers, you would get to know to look at this one that temperature settings won't be much of an issue because you'd be able to heat up faster than if it were open.
Similarly, cooling can be a little issue but then you have doors that can be opened up so the air would consistently reach all parts of the print.
Setup
On average it would just take you 10 minutes to load filament for starting your first print in Dremel Digilab 3D45. The printer has semi-automatic bed leveling so calibration would take you not more than five minutes.
You can also check the bed leveling after each print just to ensure how much it has changed and avoided the error. One might find the spool holder of this printer very small to hold spools of filaments of different materials.
However, it does mean that materials have to be kept externally with the front door and compromise on controlling the temperature.
It takes less than 10 minutes to completely set up, the wifi also gets connected with the printer in less than two minutes.
Printing Type/Cost
Overall the printing cost of this printer is high. Because most of the factors that determine the printing cost are higher than the industry standard.
To start with there is a high print speed, high layer resolution, the printer allows you to print with complex materials, and you can also print parts of large build volume and complex geometries using this printer.
The printer is also going to consume more electricity than others in the same price range because it has more features than them. So, the printing cost is higher than the industry standard.
Print Quality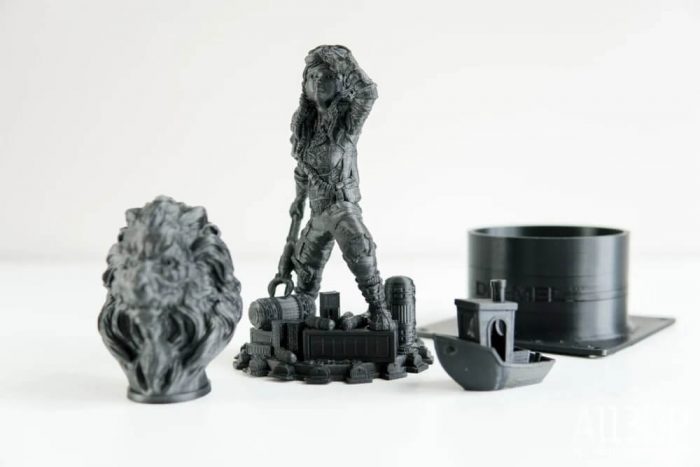 Websites that test this printer's print quality by printing materials such as 3D Benchy, square with a hole, hexagons, overhand model, nut and screw and so on report very good.
The layer thickness of prints varies from 0.1 mm to 0.2 mm but the printer doesn't show any sign of sight to complain. Even while printing a phone case or a combustion engine you get to see a perfect surface finish on each of the parts.
Be it angular parts or inclined ones, the printer stands the test of printing materials with varied geometries and can produce parts and functional prototypes with dimensional accuracy.
Software
Dremel Digilab 3D45 uses Dremel Digilab slicing software to slice parts and prototypes. This software is based on the award-winning software Cura which is used by professionals worldwide to exchange and print parts and functional prototypes.
Cura was designed by Ultimaker which is a very renowned name in the 3D printing industry just like Dremel. The software has an intuitive interface that allows you to use recommended settings as well as customize them.
One can preview their prints using this software by clicking on the layer view. This feature allows you to get a surety that what you are printing is complete as you wished to or to change and make some edits for the better.
The only downside of this software is that it doesn't have all the plugins that are available in Cura. So for professionals who have already worked with Cura, it would be a little point of trouble because they are used to the software.
Customer Service
There are times when you get to read a lot of negative reviews about a company saying how they weren't able to produce service like what their customer demanded.
Don't worry Dremel is no such company. Dremel's customer service staff is not only friendly but also is easy to talk to over the phone. They also offer you to stay with you online until your problem is completely resolved.
Parameters Influencing Buying Decision
Whether the printer's cost is justified or not, the print quality fine with the industry-standard or less? The print speed, how's that compared to other printers?
The overall practicality and capability of the printer and what should its users expect from it. These are the question that we will answer briefly in this section.
3D Printer Cost: The company primarily is looking to target academic institutions for research and making the technology available to students to learn it and professional designers. For both of those, overall the cost seems justified.
3D Print Quality: Apart from the two points mentioned in the Cons of the printer, it delivers excellent quality prints.
3D Print Speed: Compared to other printers, the print speed is just average. Nothing much higher, nothing very low.
3D Printer Capability: Dremel Digilab 3D45 is capable of producing parts of larger geometries with high precision.
3D Printer Practicality: The printer is very useful for academic institutions.
3D Printer User Expectations: Small businesses would be a little disappointed and want the printer to be priced a range lower than what it currently is.
The Verdict
The conclusion of this printer, like any other printer, depends on what your needs and wants are. It could be an excellent printer or a highly limited one depending on the users' wants and needs.
Dremel Digilab 3D45 promises reliability and safety to all, those whose needs and wants are satisfied with it or not!