Atom 2.5 Ex
Atom 2.5 EX's dual extrusion system makes the printer more appealing than normal Delta 3D printers. Also, it has the charm of 3D printing parts faster than Cartesian 3D printers.
PROS
Dual extrusion system.
Multi-color 3D printing.
Display screen.
Heated build plate with glass material.
Hotend with PTFE tube lining.
Automatic bed leveling.
High print speed.
Huge build volume.
CONS
Removal of already 3D printed parts is quite difficult with Atom 2.5 EX.
Product
Specification
Videos

Equipped with an autocalibration feature, Atom 2.5 EX is a professional delta 3D printer with dual extruders. The printer boasts a decent print ...
| | |
| --- | --- |
| Model | Atom 2.5 EX |
| Manufacturer | ATOM |
| Release date | 2017 |
| Country | Taiwan |
| Price Range | $ 2299 |
| Availability | Available |
| Classification | Professional |
| Technology | Extrusion (FFF- FDM…) |
| Material | Standard (PLA, ABS…) |
| Filament diameter | 1.75 mm 0.07 in |
| OS compatibility | Linux, Mac OS, Microsoft Windows |
| Generic material | Yes |
| Max. build size | 220 x 220 x 345 mm 8.66 x 8.66 x 13.58 in |
| Max. build volume | 16.25 L |
| Min. layer thickness | 0.05 mm 0.001 in |
| Dimensions | 420 x 420 x 930 mm 16.54 x 16.54 x 36.61 in |
| Nozzle diameter(s) | 0.2 mm 0.008 in |
| Heated print bed | Yes |
| Heated build chamber | No |
| Automatic calibration | Yes |
| Closed frame | Yes |
| Dual extruder | Yes |
| Independent Dual Extruder | No |
| Full color | Dual Color |
| LCD screen | Yes |
| Touchscreen | No |
| On-board camera | No |
| Mobile app | No |
| 3D scanners | No |
| CNC mill | No |
| Electronics 3D printing | No |
| Laser engraving | No |
| Conveyor belt | No |
| Air filter | No |
| Pellet extruder | No |
| USB | Yes |
| Wifi | No |
| Bluetooth | No |
| SD card | Yes |
| Ethernet | No |

Table of Contents
The printer comes from a renowned manufacturer in the field of 3D printing i.e. Layer One has collaborated with various firms to deliver excellence in the field.
Based in Taiwan, Layer One came into the limelight after their work with automotive brand Chrysler. Atom 2.5 EX is a fully integrated desktop 3D printer with dual extrusion from two in one nozzle.
Another collaboration of Layer One happened with a Hollywood production house named Visual Creatures. This one for featuring a TV spot marking the 90th anniversary of the iconic automotive brand. A sleek 3D printer that had amazing photographic skills was needed and Atom fulfilled their choice like no other.
Atom 2.5 EX is said to combine industrial-grade precision and durability in a sleek, beautiful package. you must be curious about what's inside the printer that makes it so worthy. Aren't you?
Well, don't worry! We've got you covered in this article with every piece of information regarding its parts and functionalities. So, let's get started.
Features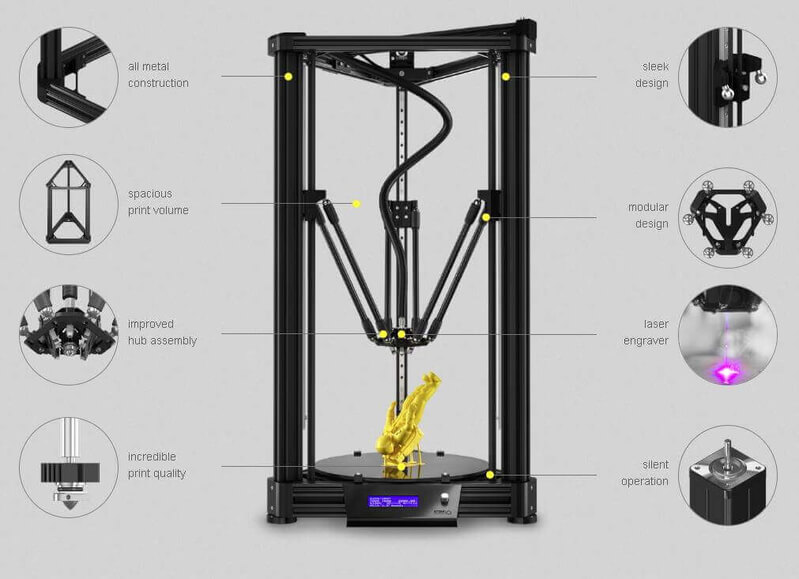 Credit: 3dprint.com
What makes any 3D printer efficiently functional is the set of features that differentiate it from others. And below mentioned are some of such features of Atom 2.5 EX and their explanation that separates it from other printers in the same price range.
Sort of making it special than its competitors. We will go one by one decoding the printer so that you get to know why it's actually worth buying this printer.
Two in one Dual Extruder 
Being an FDM 3D printer, it's rare to get one with a dual extruder in the price range that Atom 2.5 EX is offered. So, hats off to Layer One for their efforts.
Now, coming to what does a dual extrusion system do that makes a printer so appealing? Well, normally dual extrusion systems are known to print in different modes such as Mirror, Duplicate, etc.
Atom 2.5 EX also allows you to print with two different filaments. This actually means that the work done by a 3D printer that has a single extruder can be done in half the time by Atom 2.5 EX.
So, if you purchase this printer for mass production of parts and functional prototypes you would be able to finish a product in half the time than other manufacturers with a single extruder. Isn't that magical?
The dual extruder can also work the other way round. It can build a single object in half the time than single extruder 3D printers.
Talking specifically about Atom 2.5 EX, it features a single nozzle design that allows the use of dedicated, dissolvable supporting material which is very useful while making intricate geometries.
The printer also permits two-color printing. Imagine! All the beautiful geometries that you have observed in more than one color can be 3D printed. How wonderful, isn't it?
No Manual Leveling
Atom 2.5 EX has an automatic bed leveling system. So, as soon as you feed the printer with a sliced 3D printed file, it will adjust the height of the nozzle system from the print bed automatically.
Meaning that you will not have to open the screws and adjust the height manually. Manual leveling of the print bed according to the part's geometry is a bit of a hassle especially if you haven't done it before.
Additionally, automatic bed leveling will ensure that you have got the first layer of your print correct. The first layer of any part is said to be it's fundamental.
If that is not laid correctly, the complete part can fail or has higher chances of failing when put into application. Thanks to Atom 2.5 EX's manufacturers, you as its users will never have to face such an issue.
No Oozing, no Scraping
Though there are more intricacies while printing Atom 2.5 EX than normal single extruder 3D printers, it does not ooze out. Additionally, you require no scraping or fuss while removing parts that are already 3D printed.
If the nozzle oozes out, the melt flow rate increases and there is more amount of melted material on the print bed than needed.
This will decrease the overall print quality of the part. But unlike other 3D printers, Atom 2.5 EX does not let the nozzles ooze out.
A Quick-Release Heated Glass Build Plate
For decreasing the overall print time, Atom 2.5 EX has installed a heated build plate. And it does not take a lot of time to get it heated.
On the other hand, because of heating up the build plate, you can print with filaments that have a higher glass transition temperature.
Also, the build plate is made of glass material which will mean that your 3D printed parts will easily be stuck on it. And you would require no painting tape or other glues for good bed adhesion. This will also lead to a decrease in the overall cost of printing a part with the printer.
Hot End Lined with Thicker PTFE Tubing
Nozzle system is the heart of a 3D printer. So, if you have a nozzle that can withstand high temperatures and can reach those temperatures within a short time, your complete process of 3D printing will expedite.
That's exactly the case with Atom 2.5 EX. Its hot end can reach even high temperatures within a short span of time, thereby letting you start 3D printing instantly.
Thick PTFE tubing safeguards the transfer of melted hot filament from the nozzle to the print bed. This is essential because if the transfer material is not good, the complete 3D printing process can fail at the very start.
But PTFE is a trustworthy and reliable material that will ensure that even the material with highest melting point will be easily transferred using it.
Customized Spool Holder
Atom 2.5 EX is a dual extruder 3D printer, meaning that you can print using two different filament spools at a time. Therefore, you will definitely need an extra safe arrangement that you do not necessarily need with single extruder 3D printers. And this involves more intricacy.
Customized spool holder, like the one in Atom 2.5 EX safely ensures that the complete material is made to pass through and connected with the nozzle system and the extruder.
You can rely on its calculation which will never fail and stop the 3D printing process in the middle. It's a tried, tested, and proven arrangement for safe 3D printing of parts and functional prototypes.
Specifications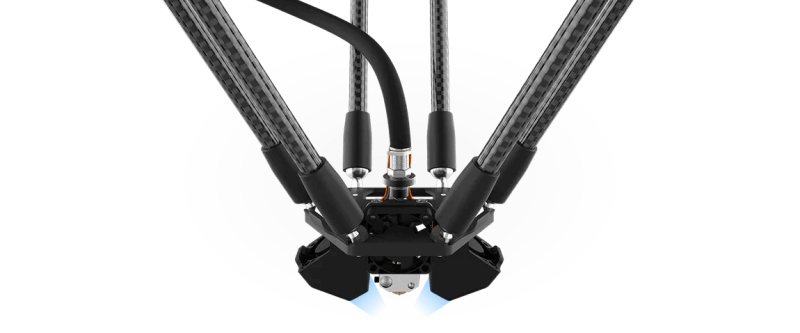 Credit: atom3dp.com
Atom 2.5 EX is based on standard FDM 3D printing technology. It features a dual extruder and has a delta-type construction. Typically, three support structures stand tall from the triangular base as compared to two support structures in the Cartesian type 3D printers.
The printer lets you print parts and functional prototypes of a maximum build volume of 220 mm * 220 mm * 345 mm. Every object manufactured with the printer will have a minimum layer thickness of 0.05 mm.
Atom 2.5 EX has 420 mm * 420 mm * 930 mm dimensions. Its nozzle diameter is 0.2 mm and the filament diameter is 1.75 mm.
You can connect with the printer using a USB cable or SD card. Because it is a Delta-type 3D printer, you can print with super-fast speeds.
Price
The manufacturing price of Atom 2.5 EX is $2299 without laser engraver and $2498 with a laser engraver.
First Impression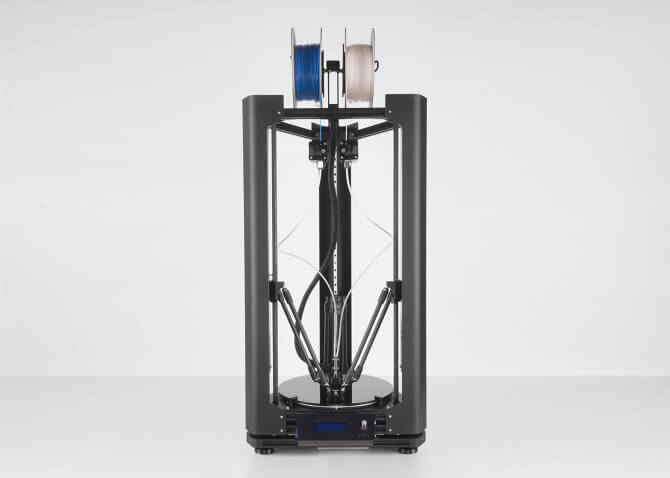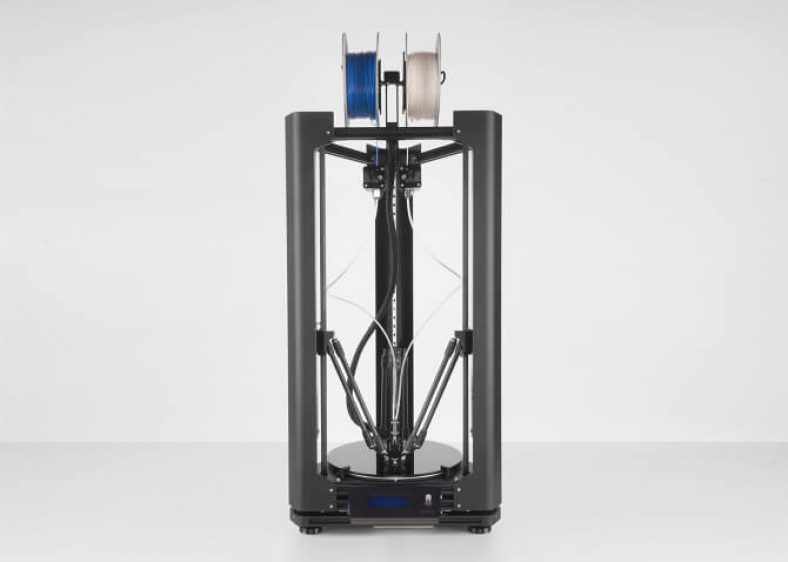 Typically, Atom 2.5 EX looks very similar to Delta 3D printers. Three support structures stand tall supported by a triangular base.
Each one of those support structures carries rails over them allowing the print head and nozzle system to move up and down after the start of the 3D printing process.
The complete body of the printer is transparent, thereby allowing you to monitor the complete process via your eyes.
There is a display screen present near the front base of Atom 2.5 EX. This display screen lets you view various settings and also notifies you of the progress.
Setup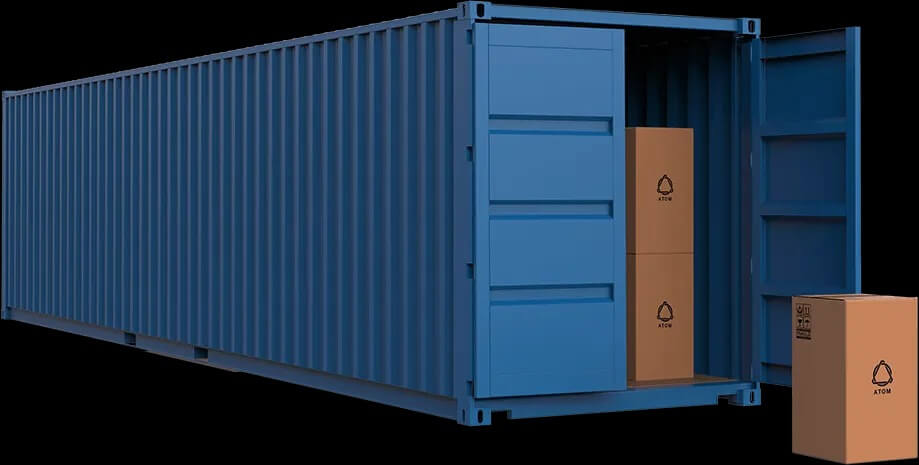 Credit: atom3dp.com
Atom 2.5 EX is a plug-and-play 3D printer. You can simply take the printer out from the box in which you receive it, connect to the power supply, turn the printer on, initiate the setup, upload the file using one of the modes of connection and start printing.
However, you do get a manual with the printer which you are advised to read before starting to 3D print.
Print Type/Cost
FDM 3D printing is a simple process to manufacture parts and functional prototypes. It is easy to understand especially for beginners in the field.
Herein, a solid filament spool of material is fixed on the filament spool holder which is connected to the extruder and the nozzle system.
After that, the material's glass transition temperature is known and the extruder's temperature is made to reach the same.
Once the temperature is reached and the filament has melted, it is allowed to flow from the nozzle to the print bed. The flow is regulated via the geometry of the part that is fed to the printer.
One by one layer is laid until the geometry of the part is completed. Then, the 3D printed part is cooled down and sent for post-processing.
FDM 3D printing is a simple process that sometimes needs the help of support structures as well.
The cost of 3D printing a part via FDM 3D printing technology is lesser than that with other 3D printing technologies.
Although the cost depends on various factors such as the geometry of the part, the geometry of the support structures, level of infill, the type of filament you are 3D printing with and its cost, etc, it's relatively lower.
Print Quality
As mentioned in the specifications section, every part manufactured via Atom 2.5 EX has a layer thickness of 0.05 mm which is very minute. Hence the parts that are manufactured via this printer will have good surface finish and can be used for many applications.
Customer Support
Layer One offers technical support via various means. The basic and the most logical ones are via phone as well as email. There is plenty of material also available online for download.
The machine's firmware, assembly instructions, and other files are also available to solve your doubts regarding Atom 2.5 EX.
Parameters Influencing Buying Decision
The basic buying factors of the printer that you need to look at in brief are sorted and mentioned below.
3D Printer Cost: Beginners may find the printer on high-end, but considering its features especially the dual extrusion system the cost is pretty justified.
3D Printer Quality: Considering Atom 2.5 EX is an FDM 3D printer, its print quality is above average.
3D Print Speed: Atom 2.5 EX is a Delta 3D printer that has more speed than Cartesian 3D printers of the same price range. Also, its dual extrusion system gives it an edge like no other.
3D Printer Capability: You can print with more than one 3D printer filament at a time. Also, the printer lets you do multicolor 3D printing.
3D Printer User Expectations: Experts will love to play with this machine as it will stand upon their expectations at a pretty affordable price.
The Verdict
Atom 2.5 EX's dual extrusion system makes the printer more appealing than normal Delta 3D printers. Also, it has the charm of 3D printing parts faster than Cartesian 3D printers.
Overall, the printer is suited for manufacturers or professionals in the field of 3D printing that are interested in real experimentations with design and iterations.