Botspot BotScan NEO
BotScan NEO is a professional 3D scanner with many premium features. It aims to offer the best user experience by including automated procedures and functions.
PROS
Scans larger objects in less than a minute
Modular design with customizable option
82 sensors for capturing complex of surfaces
Easy to assemble and disassemble
Automatic features
Can be operated using a mobile app
CONS
Occupies space
Not suitable for objects less than 500 x 500 x 500 mm dimension
Very expensive
Table of Contents
The Botspot Botscan NEO is a smart 3D Scanning System, capable of capturing accurately along with colorfast 3D data.
The machine is very efficient in acquiring digital images of people as well as other larger objects. That too, in a fraction of a second.
One does not need to come in contact with the scanner to process the scans. Using the revolutionary photogrammetry 3D scanning technology, the device ensures the highest safety of people scanned with this system.
Offering an array of amazing features backed with automated workflows, Botscan NEO happens to be the ideal scanner for precise and mobile 3D scanning.
Being a complete body 3D scanner, the scanner is larger in design, still manageable for professional use. The manufacturer, Botspot is based in Germany and ensures that the device qualifies for various industrial and medical applications.
In case you are planning to purchase this 3D scanner, do not forget to read our complete review to understand the device a little better.
Features
To start with, you would love its modular design, especially knowing that it is customizable for specific uses.
Using the combination of photogrammetry along with the structured light, Botscan NEO is able to scan colored meshes that are highly accurate. In terms of user experience, the company has coupled the device with an intuitive mobile application.
Overall, you will have no problem working with this professional 3D scanner. Thanks to its various premium features that further enhance the capabilities of the device manifold.
BotScan Modular Design
Understanding the difficulty that customers often find when dealing with a large format 3D scanner, the manufacturer has come up with a modular design. BotScan needs no special attention for assembly or disassembly.
The easy-to-click and connect design not only makes it easy to install but considerably reduces the transportation efforts.
In addition, it comes with modular expandability. So, you can customize the scanner based on your specific usage.
12 Flash Units
With the help of an indirect flash system, designed using 12 flash units, the scanner provides the perfect brightness needed for acquiring 3D models with their original colors.
The lights also help in capturing the minute of the details with ease. Hence, offering the best quality results to the users.
You do not need multiple tries to get the optimal scans. In just the first attempt, you can come up with the most stunning 3D models, covering all the intricate features and colors.
Best Camera Sensors
Do you know that the 3D scanner is a host to no less than 82 high-quality camera sensors?
Yes, the device can click photos from numerous perspectives and coordinate the pictures together to complete the scan in a matter of a second. Also, these scans are of the highest resolution with no room for deviation from the perfect output.
Automated Workflows for Fast and Easy Scanning
The BotScan 3D scanner flaunts various automatic procedures offering the highest scan efficiency. In addition, the automated workflow ensures apt scan calculation. Further easing the overall efforts for attaining the best results.
Light Pattern Projection
Not every surface is easy to capture. Some are complex ones and require additional attention. Therefore, the manufacturer's BotScan NEO hosts multiple beamers installed for projecting a light pattern over the object.
This results in fast as well as precise scanning of those surfaces that are highly demanding. Hence, if you are working with this scanning system, you are certain to achieve high-resolution 3D models, no matter the complexity of the object's surface.
True-to-scale Digital Models
BotScan NEO includes markers. Hence, the device can easily scale the scanned objects, preparing true-to-scale 3D models.
Safe Ventilation System
To provide users with safe and secure scanning within a relaxed atmosphere, the 3D scanner comes equipped with an exhaust system. Not only the exhaust helps ease the working room temperature but protects the machine from any unfavorable damage.
Coupled with an Intuitive App
As discussed earlier, the manufacturer offers an intuitive and easy-to-use app for operating the scanner for a hassle-free experience.
The app controls almost every function on the device and comes with a user-friendly interface. It cannot get any easier to scan a human body through a mobile app.
Smart Safety Lock
Another important feature is the scanner's lockable system that securely safeguards the scans when not in use. Further, the smart safety lock helps in flexible mobile usage of the scanner.
Specifications
| | |
| --- | --- |
| | |
| Technology | Combination of Photogrammetry & Structured Light Technology |
| Price | 20000 $ |
| Footprint | 3050 × 2460 mm |
| Maximum Scan Size | 1000 × 1000 × 2000 mm |
| Resolution | 0.1 mm |
| Capture Textures | 16,384 × 16,384 pixels |
| Number of Sensors | 82 sensors |
Flaunting a footprint of 3050 × 2460 mm, the 3D scanner can scan a maximum object size of 1000 × 1000 × 2000 mm.
On the contrary, the minimum object size scannable using the Botscan NEO is 500 × 500 × 500 mm. When it comes to pleasing users with its efficiency, the scanning system ensures high-quality results with 3D resolution down to 0.1 mm.
Talking about the maximum resolution in polygons, you would be delighted to know that the scanner is scalable up to 40,000,000. It does have the low poly option too. Not only can it capture textures up to 16,384 × 16,384 pixels, but can scan 16.7 million colors.
As mentioned, its design includes 82 sensors which are customizable up to 120 in number. The device includes an active exhaust system along with pattern projection.
To sum it up, the BotScan NEO not only delivers in terms of size but quality as well. Hence, offering a complete package for the highest satisfaction of its users.
Price
Please contact the manufacturer for the price of the BotSpot BotScan NEO 3D scanner. Being a very capable and industrial scanner, you can expect the device to be expensive. It is certainly not suitable for home use.
First Impression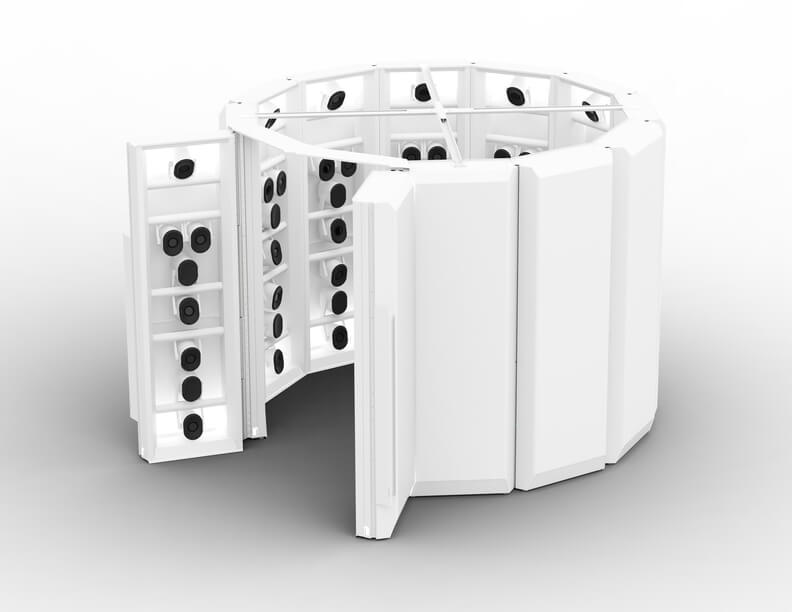 Looking like a separate small cabinet, with cameras pointing individuals from every direction, the Botspot BotScan NEO comes with a footprint of 3050 × 2460 mm.
The scanner has a door for the entrance that locks before the scanning process begins. Overall, a stunning looking, but huge scanner to accommodate.
Setup
You must seek help from the company's technical team for ensuring the correct installation of the device.
Scanner Type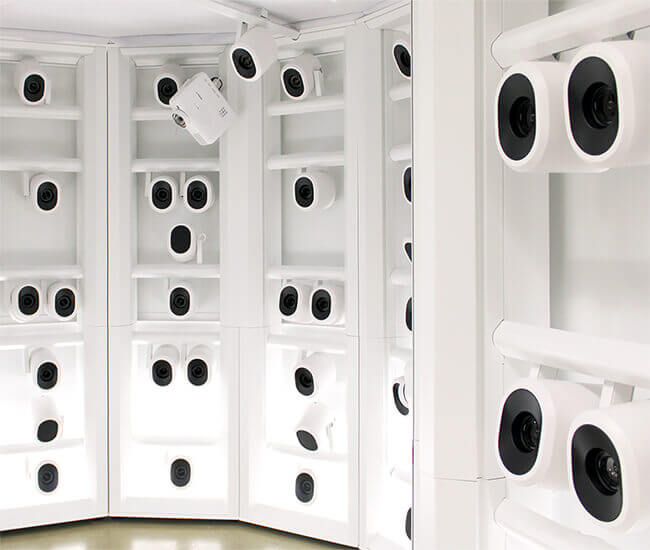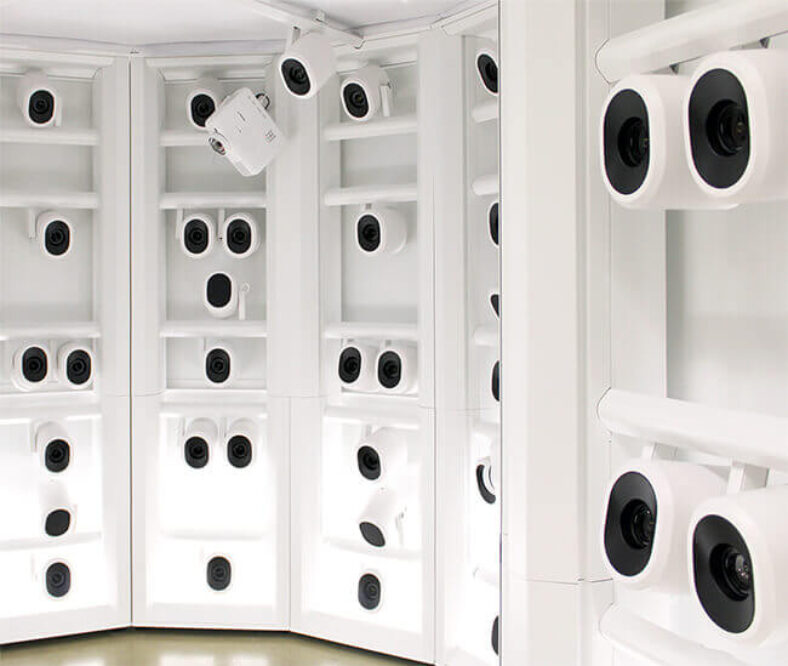 The scanner is based on the combination of photogrammetry and structured light technology.
Scan Quality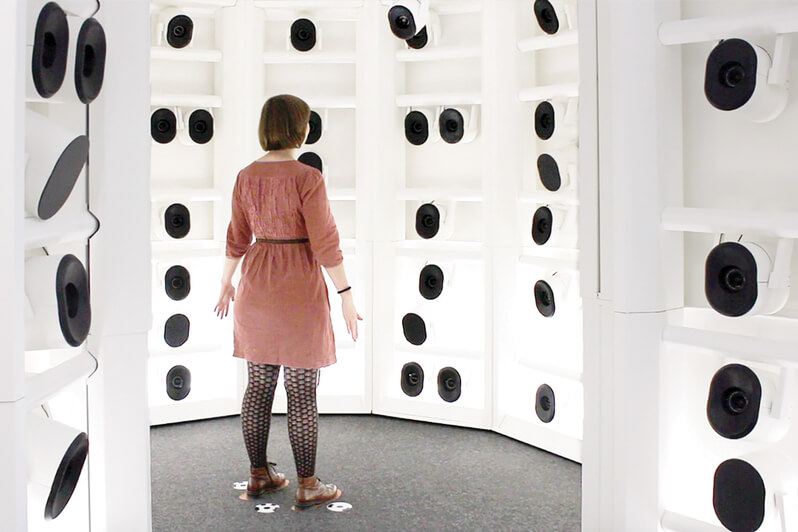 Credit: wista
With 0.1 mm resolution and texture support for up to 16,384 × 16,384 pixels and 16.7 million colors, the scanning system does have the best features up its sleeve. It is very accurate and precise and can capture complex surfaces as well as intricate details.
Software
BotScan NEO is compatible with the company's botspot SENSOR CONTROL. However, for additional ease of operation, users can also choose the optional application, botspot AUTOMATION SUITE.
Customer Service
The company manages its product, backed with strong support. You can either call the direct number of the customer care team or write an email.
For buyers, the manufacturer offers product maintenance, product upgrade, relocation and transport, and other services. The team is always ready to answer your queries related to their technology as well as the scanning system.
Parameters Influencing Buying Decision
Before investing a large sum of money in a 3D scanner, it is important to have a complete understanding of its capabilities. So, here is a quick review of important points related to BotSpot BotScan 3D scanner. Find out if the scanner is suitable for your specific needs before making the buying decision.
3D Scanner cost: Although you must contact the manufacturer for the exact price of the scanner, it is certain that it will be expensive. Given its size and capabilities, it won't come cheap.
3D Scan quality: The scanner is very precise. It can capture textures up to 16,384 × 16,384 pixels, and with 16.7 million colors. Also, with a 3D resolution of 0.1 mm, it can acquire intricate details with ease. The accuracy is very impressive and it can digitize humans as well as larger objects.
3D Scan speed: Well, you would really be astonished by its speed. Able to scan an entire person in a fraction of seconds, the device is very fast.
3D Scanner capability: With 82 sensors, possible to expand to 120, the BotSpot BotScan NEO is highly capable in terms of accuracy. Most importantly, it can scan larger objects, with a maximum dimension of 1000 × 1000 × 2000 mm.
3D Scanner Practicality: The application expands to a number of fields. Either you need a full-body scan or want a scanner for health or industrial application, the BotScan NEO will do a wonderful job. In addition, it can also be really handy for VR / AR / MR applications.
3D Scanner User expectations: When talking about precision and speed, it really is unprecedented. However, the price may seem a little expensive for small-scale industries and small clinics.
The Verdict
BotScan NEO is a professional 3D scanner with many premium features. It aims to offer the best user experience by including automated procedures and functions. In addition, the mobile app support further eases the overall operation process.
Overall, this is a very capable 3D scanning system, designed for complex applications. If your needs are closer to what BotScan NEO offers and you can afford this device, you certainly can opt for this amazing machine.