Nylon has a long history of use in the 3D printing industry. It may be used with both material extrusion and powder bed fusion 3D printing. Nylon is a polyamide-based synthetic polymer with high tensile strength.
It is tough, long-lasting, and a little flexible. It also has the property of becoming hygroscopic. It absorbs liquids in this way. When you have to dye your printed part a specific color, nylon is a fantastic choice. Nylon filament, on the other hand, has a short shelf life and is difficult to store.
Nylon is frequently used for functional parts because of its unique toughness to flexibility ratio. Prosthetics, medical equipment, connectors, and live hinges are just a few examples.
Comparison Chart
| Name | Link | Nomination | Rating |
| --- | --- | --- | --- |
| Dremel Digilab 3D45 | | Advanced features | 9 |
| Lulzbot mini 2 | | Flexible | 8 |
| Qidi Tech X-Pro | | High Precision | 9 |
| Qidi Tech X-Max | | High intensity | 9 |
| Ultimaker S5 | | Reliable | 10 |
| Ultimaker 3 Extended | | High Quality Results | 9.4 |
| Ultimaker S3 | | Easy to Use | 8 |
| Febtop Tech Optimus C1 | | High accuracy | 9 |
| Renkforce Pro3 | | User-friendly | 7 |
| SeeMeCNC Rostock Max V4 | | Fully Assembled | 8.2 |
DREMEL DigiLab 3D45
Dremel 3D printers are built to be reliable and long-lasting equipment, with a nearly 90-year tradition to uphold. Dremel's Digilab brand products are designed to help users get started with 3D printing and develop their knowledge of the technology.
Dremel 3D45 is one of the most affordable Nylon 3D printers on the market. It has a 254 x 152 x 170 mm build capacity and an all-metal hot-end direct drive extruder.
Uses:
More modern materials that demand high printing temperatures, such as Nylon, polycarbonate, and EcoABS, can be handled with the Dremel DigiLab 3D45.
The heated bed and removable build platform on the 3D printer provide a maximum build capacity of 10 x 6 x 6.7 inches.
The bed leveling system is semi-automated and employs a simple two-point system.
The Dremel DigiLab 3D45's 4.5-inch color IPS touchscreen tells customers how much each knob should be moved to smooth out the print area.
When printing items, the Dremel DigiLab 3D45 has a precision of 50 microns.
The Dremel DigiLab 3D45 features a whole enclosure in addition to the high-temperature extruder.
LulzBot Mini 2
Newcomers to 3D printing may perceive it as a difficult process. This model has been thoughtfully developed with these newbies in mind. This printer includes a lot of features that operate right away. For home users, designers, engineers, manufacturers, and architects, it is the go-to alternative.
In a nutshell, everyone searching for an easy-to-use, low-cost desktop 3D printer. LulzBot Mini 2 has a lot of advantages that make it a good choice.
Uses:
It is capable of providing a high level of detail.
Mini 2 is an open-source printer that can print on a variety of materials.
Its open filament technology works with a wider variety of materials, including PLA, Nylon 645, TPU, ABS+, and many others.
It makes it simple to use a variety of 3D software applications so that you may focus on the one you are most comfortable with. You can just download the LulzBot version software.
It has a nickel-plated copper alloy print nozzle that cleans itself.
It has a 6 x 6 x 7-inch print area, which is more than enough to produce something unique
Every time you use it, it will automatically calibrate the bed.
QIDI Tech X-Pro
This lightweight printer might be a beginner's best friend thanks to its enclosed printing chamber. It is simple to use at home to create your own unique models. The box includes everything needed to keep the printer's pieces together.
The printer has an outstanding print speed. It includes everything you will need to get started 3D printing nylon. There are also tools and instructions to work with this 3D printer.
Uses:
It distinguishes out because of its enclosed printing chamber, which also helps the machine keep a consistent temperature for cooling.
It comes with two extruders that feed filament to the print head.
When you use the Qidi X-Pro, taking your finished model out of the system is simple. It includes a removable "aviation-grade" aluminum bed as well as magnetic plates that can be simply bent in and out. You have the ability to bend readily.
The unit weighs less than 28 kg and has dimensions of 230 x 150 x 150 mm, making it easy to keep in any room of the house or on your desk.
Cura and Simplify3D are the programs you will need if you are utilizing the Qidi X-pro slicer software.
The printer works with FDM technology.
Qidi Tech X-Max
Because of its strong performance and capacity to generate high-quality prints, Qidi Tech X-Max is the best Nylon printer out there.
It contains all of the features you would expect from an FDM-based nylon3D printer, including air purification, silent printing, automatic bed leveling with a single button press, and Wi-Fi.
It comes with a decent modeling workspace as well as two extruders that let you try out sophisticated and general materials one at a time.
Uses:
This Nylon 3D printer has a build volume of 10.6 x 7.9 x 7.9 inches, which is quite large.
It creates two extruders that can work together or independently. Which is used to handle standard materials like ABS and PLA, and which is used to handle specialty materials like carbon fiber and nylon.
The dual Z-axis of this Nylon 3D printer is its most essential feature since it lets you manufacture huge items.
Print resolutions ranging from 0.05mm to 0.4mm are available.
Qidi Tech-X Plus assists 3.75 mm third-party filaments, saving you a lot of money.
Filaments can be fed into it in two ways: ordinary materials filaments can be printed outside, while advanced materials filaments must be printed inside because they demand continuous temperatures.
The 4.3-inch touch screen will walk you through the printing process, making it simple to get the required thing out of the printer.
It comes with a curved metal construction plate that can be removed.
Ultimaker S5
The Ultimaker S5 debunks the misconception that Nylon 3D printers are exorbitantly expensive and offer nothing new to users. It is not cheap, but the diversity of tools and functions it offers more than makes up for it.
Uses:
This is a large-volume desktop 3D printer.
All Ultimaker models have a sturdy body in common.
You can 3D print in two different colors and materials. It is possible to print with two extruders.
For finer details, a smaller diameter nozzle can be utilized with swappable print cores.
The 3D printer can print using a wide range of materials.
Printing can also be done with PVA. This means that post-processing can be sped up by employing this soluble material as support.
With the 3D printer, you get pre-sets. As a result, it may use an NFC scanner to recognize the materials and alter the settings accordingly. This makes it easy to use for beginners
You can pause the print on the Ultimaker S5 in order to replace the filament. Later, you can pick up where you left off with the process. The user can also print with different materials at the same time.
Bed leveling is a breeze with the Auto Bed Leveling function.
The Filament Flow Sensor allows the user to keep track of the amount of filament that is still usable.
Users can also use third-party filament.
Ultimaker 3 Extended
Ultimaker 3 Extended is a substantial update to Ultimaker 3 and a new addition to the Ultimaker family. Even if you are new to 3D printing, you will be able to produce professional results with the Ultimaker 3 Extended nylon 3d printer.
It is simple to use because its features are user-friendly. If you already have your hands on a 3D printer, you are ready to start releasing your creativity with 3D printing.
Uses:
The Ultimaker 3 Extended has a substantially larger working surface.
It has an automated bed leveling feature. A leveled bed is a requirement for a flawless 3D print.
The Ultimaker 3's extended auto bed leveling feature prevents poor adhesion and printing quality. Because the extruder follows the tilting of the bed, if the bed is not properly positioned, you will end up with a mess! This is all fixed with the auto-leveled bed.
The nozzle lifting technique on the Ultimaker 3 Extended prevents the nozzle from dragging and harming the print.
It is simple to set up and can be put together without the help of an expert.
ABS, PLA, PVA, and Nylon can all be utilized without any problems. When using ABS, lifting issues are common, but they can be totally resolved by attaching a Lexan door, which will better control the chamber's temperature, or by employing an adhesion raft.
Ultimaker S3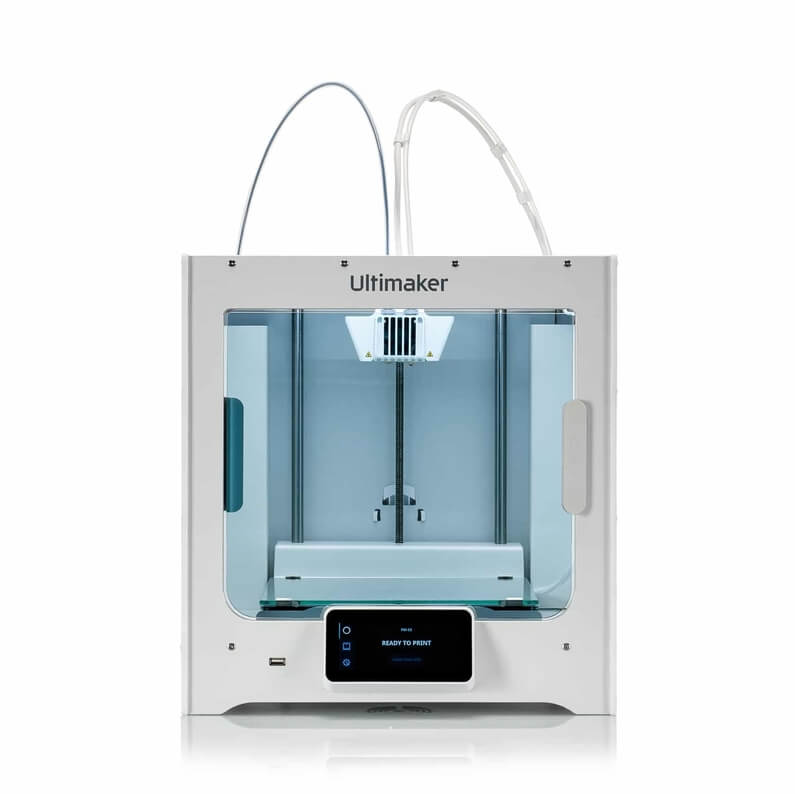 Unlike its predecessor, this computer has made every effort to exceed the expectations of its consumers. Ultimaker has released Ultimaker S3 following the success of its previous machines in the 3D printing community.
This is a next-generation machine, featuring a twin extruder and a host of other capabilities to enable the user to stretch their creativity even more. The machine is extremely capable of handling a wide range of problems and can easily execute even the most complicated designs.
Uses:
Dual extrusion is used in this 3D printer.
The machine can handle both PVA and nylon. This means that a water-soluble substance like PVA can be used to print the support structure.
The print core of the 3D printer can be removed.
The auto bed leveling feature in the Ultimaker 3 and Ultimaker 2 Plus provides WIFI connectivity.
In addition to cloud access, the PVA 3D printer has a camera built-in that enables remote monitoring.
Febtop Tech Optimus C1
This model is an FDM-based Nylon 3D printer, laser engraver, and CNC milling machine. It comes pre-assembled with a built-in case body that keeps it stable and gives it a good look. You can quickly swap between functionalities by removing the modular tool heads from their arrangement.
Uses:
It has a filament sensor that warns you when the filament is close to run out, preventing unsuccessful projects and issues in the middle of a project.
It also has an air filtration system for removing hazardous contaminants from the printing process.
This printer makes very little noise and operates at a decibel level of less than 40.
Table games, small figurines, and miniatures, among other things, are prototyped and manufactured on a small scale. The 0.1mm precision is ensured by the 0.4mm caliber.
The user-friendly touch panel of the Feb top Tech Optimus C1 allows for the most relaxed interaction with the printer.
The Optimus 3D printer's 1.75mm filament allows you to create a wide selection of materials with a lot of adaptabilities.
The Optimus C1 can generate with a maximum layer height of 0.6mm inside a building space of 280x280x280mm. PLA, nylons, ABS, resin, wood, metal, and other materials may be directly printed, and it can engrave aluminum, wood, PCB sheet, and other materials.
Renkforce PRO3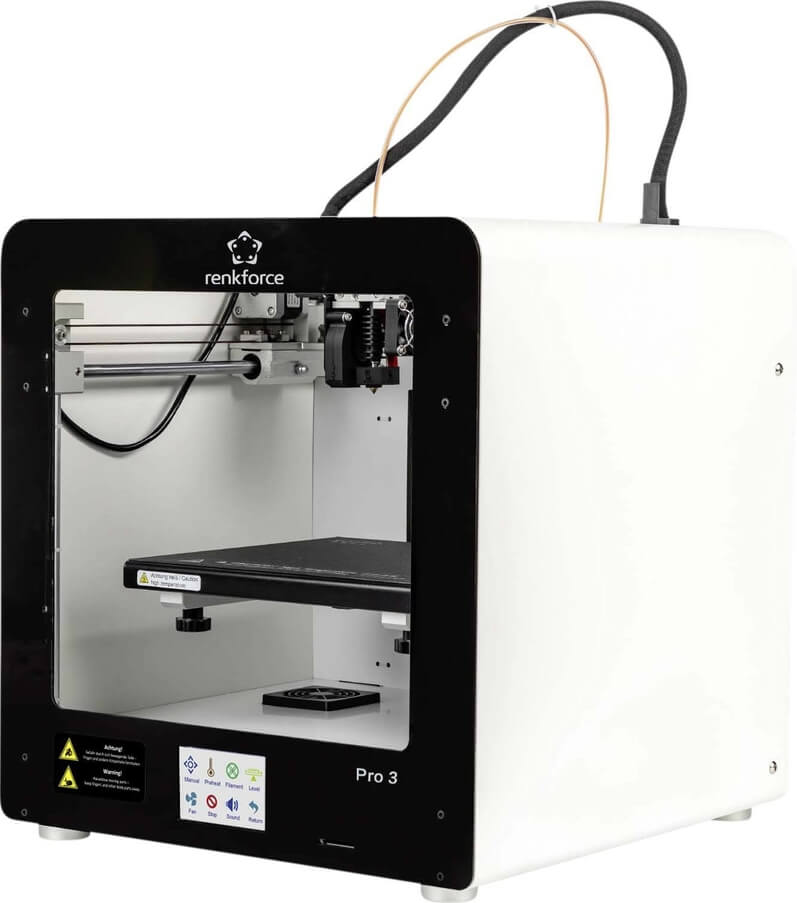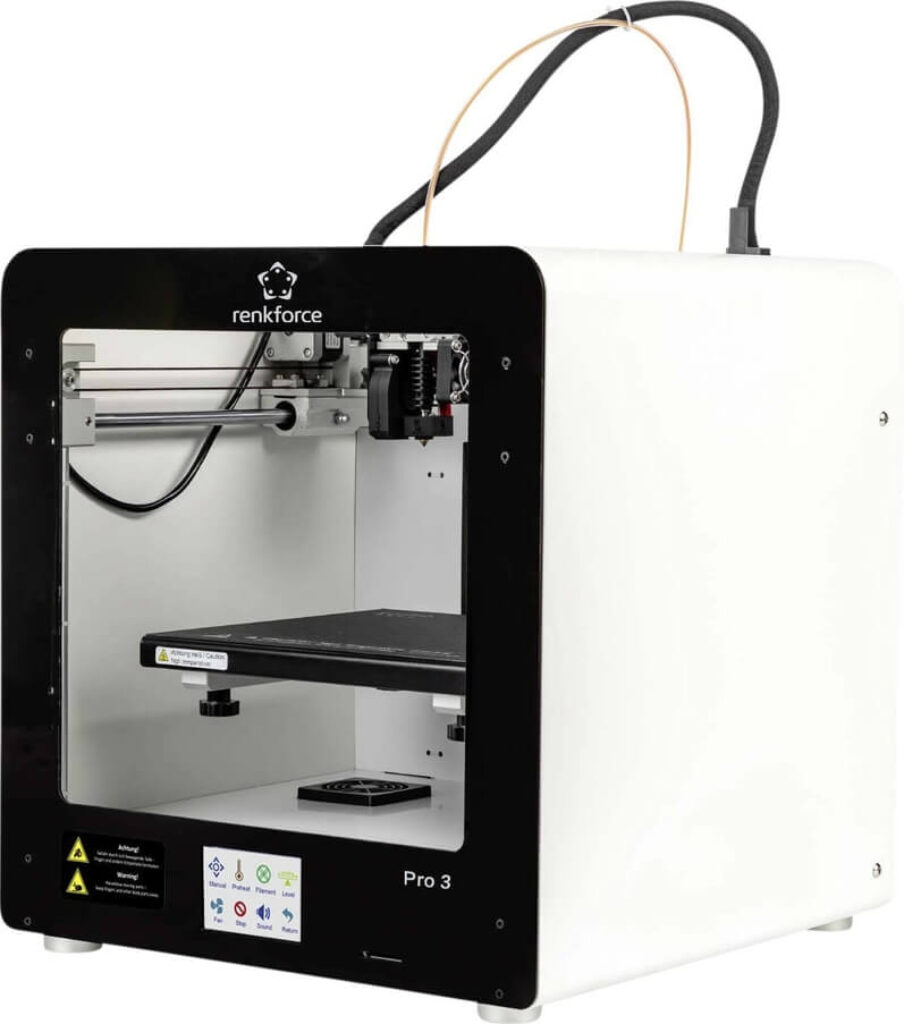 A totally closed case with a sturdy frame architecture built of aluminum profiles is advantageous, and this printer provides just that.
The Renkforce PRO3 Nylon 3D printer measures 395 x 400 x 425 mm and weighs roughly 22.2 kg due to its strong build. Industrial linear guides perfectly position the print head, and they continue to perform accurately and evenly even after years of use.
Uses:
The Renkforce PRO3* Nylon 3D printer can handle practically any 1.75 mm filament.
PLA and PLA compounds are used in the printer (wood, aluminum, copper, bronze). Some of the materials utilized are ABS, PETG, HIPS, PC, PP, nylon, TPU, TPE, and carbon fiber.
This amount of material flexibility is made possible by the heatable construction platform, among other things.
The maximum print size of the Renkforce PRO3 3D printer is 200 x 200 x 150 mm.
The printer is extremely easy to operate.
The printer is controlled by a 3.5-inch color touchscreen that displays a simple menu for operation.
You can load your models into the printer and print them offline using an SD card.
The thickness of the layer can be adjusted between 0.05 and 0.3 mm.
For easy removal of your finished models, utilize a removable magnetic mat that you place on the print bed and remove after the print is finished.
SeeMeCNC Rostock Max V4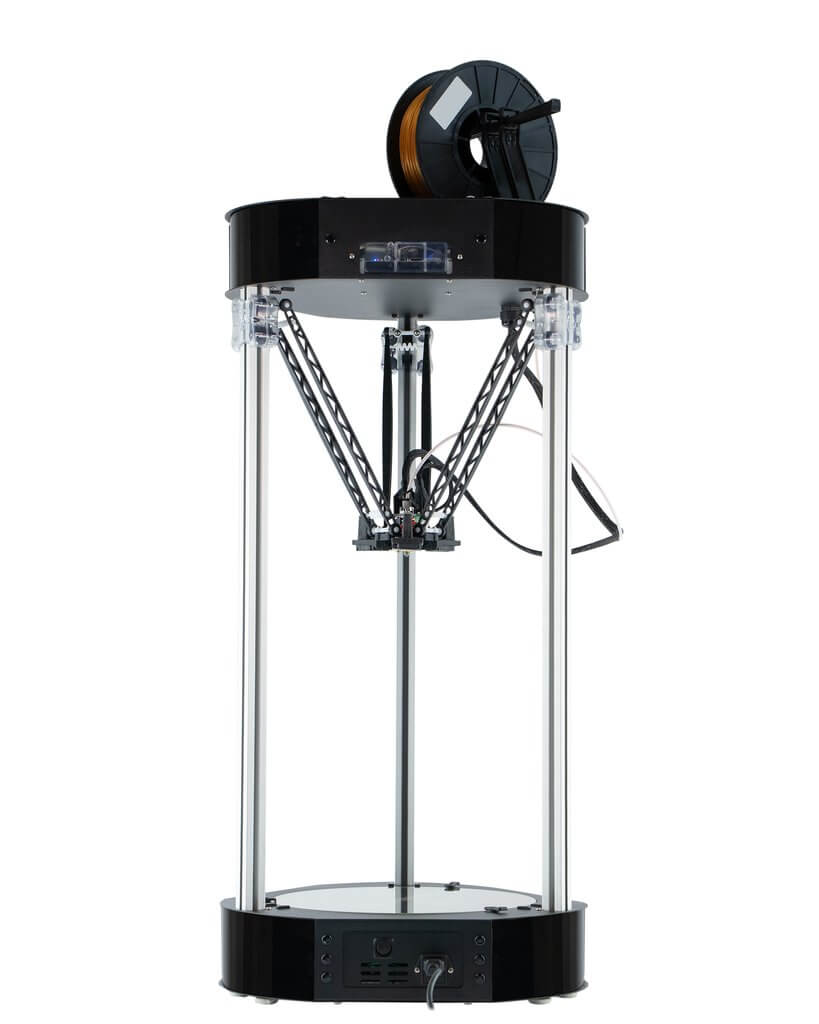 The Rostock Max series is made by an Indiana-based American company. This company is well known for its nylon 3D printers. It is based on a 2012 RepRap design with a few changes, including the Kossel.
The Rostock Max v4's delta design is one of its primary selling advantages. This is not something you will see often with nylon 3D printers. It is fascinating to see the print head move around when printing.
When this open-source 3D printer moves its three arms up and down in synchrony, it appears almost mystical.
Uses:
It can be used by individuals who do 3D printing as a pastime as well as those who work with 3D prints professionally.
Restock Max V4 is capable of doing any task with less noise.
Bowden print heads are lighter than Cartesian counterparts and move more quickly and easily. As a result, printing is more efficient and consistent.
Delta robot 3D printers have a reputation for being challenging to calibrate. They do, however, give tangible benefits.
It boasts a new, larger heated bed. It also includes a borosilicate glass construction plate that is exceptionally flat. You may print practically any material on the build plate, including PLA, ABS, Nylon, and others.
Its SE300 auto-leveling hot end guarantees consistency and reliability. Making certain that each of your prints is perfect. It is perfect for prototype and engineering work because it can print Nylon, a tough, industrial-grade material.
A 32-bit Duet Wi-Fi board comes standard on the Rostock Max v4. It also features an auto-leveling feature and a touchscreen controller. It has a big construction volume. For Nylon 3D printers, this is larger than what is normally termed big format.
The printer's dimensions are 430mm x 410mm x 910mm. It has a 1.75mm x 0.5mm nozzle and prints at a speed of 350mm/s. It has a layer resolution of 0.01 mm along with a maximum bed temperature of 110°C.
Buying Guide
Connectivity
This function is not necessary if you only intend on buying one or two machines, but if you plan on building a farm, you will realize how useful it is. You will save time searching through directories for files, and you will be able to manage a lot more PCs with just one computer.
Auto-Leveling of the Bed
This function informs the machine that the bed is somewhat slanted, which must be adjusted in order to achieve a smooth initial layer. It also protects the build plate from being struck by the nozzle.
Material Compatibility
In this case, the end-user has no control over the printer settings or the materials that can be used. You will wish you could have modified the printer for higher speeds and the ability to print a larger selection of materials as you gain skill.
FAQs
Filament Costs 
The price is determined by the filament quality and the size of the objects you want to print. A printer that is operated on a regular basis is likely to require a monthly one-kilogram roll of filament. Costs can be cut by eliminating filament waste.
 What Is Nylon Filament, And How Does It Work?
Nylon is the name given to a family of related materials known as polyamides, rather than a single component.
Because of its strength, flexibility, durability and, it is commonly employed in a number of applications. It is perfect for machine parts, mechanical components, gears and bearings, and dynamic loads, among other things.
What Is The Benefit Of Using Nylon Filament?
Nylon is a robust, long-lasting, and flexible material. It has a lower brittleness than PLA and ABS. It is made entirely of thermoplastic, which means you can re-melt it and reuse it without losing any bonding characteristics.
What Are The Temperatures At Which I Print Nylon Filament?
While the actual temperature will depend on your printer, the filament you're using, and your preferences, the recommended temperature range for Nylon filament is 210-250°C, with a bed temperature of 70-110°C. It is necessary to have a heated bed.
What Filament Sizes Do I Require?
The size of filament you will need depends on your printer. 1.75mm and 2.85mm filaments are now available. Most printers can only print one of these sizes, so make sure you are using the right one.
The Amount Of Power Consumed?
3D printers use around the same amount of electricity as a residential fridge over the course of a year, or about £60. If left unattended for a lengthy period of time, some models will enter idle mode, which consumes electricity.
When Printing With Nylon Filament, What Print Speed Should I Use?
The actual pace will vary depending on your printer and personal preference, but the suggested print speed is normally 30mm/s to 40mm/s.
Conclusion
Nylon filament is renowned for its toughness and durability, as well as its flexibility. Despite the fact that ABS is known for its durability, Nylon is a step up in terms of impact resistance, abrasion resistance, and flexibility.
Nylon is one of the best industrial 3D printer filaments because it is highly robust, resistant to heat, large shocks, and impacts, and it does not scratch or wears down easily. Nylon is also one of the most versatile 3D printing materials available, as it can be used as a filament in FDM, as well as a powder in SLS and MJF.