Creality CR-100 Mini
The printer does an excellent job of making the advanced technology a little more accessible to kids. And this is not one of those typical 3D printers wherein educationists do all the work, and kids have to nod.
PROS
Print quality is comparable to professional-grade 3D printers.
Let's kids create their toy dream factory.
Plays a considerable part in educating users with 3D printing technology.
CR-100's tiny design fits in any room's corner.
The printer encourages secured and environment-friendly 3D printing.
Automatic bed leveling.
It starts 3D printing in three steps.
Reliable.
The printer has a truck-like appearance.
CONS
CR-100 Mini allows printing small build volumes.
The closed print chamber is complicated to deal with.
Table of Contents
CR-100 Mini is a manifestation of the phrase "tiny design and high technology." It's one of those rare children's 3D printers meant to inspire them creatively.
Creality claims how its machine will expand kid's interest into a more fantasy world. Children can create new things whenever they wish to. On top of that, it's completely safe and environmentally friendly.
All of this makes sense when one connects "3D printing: the technology of the future" and "Children: the ones who'd be ruling tomorrow." By letting them DIY customize their own toys, kids can learn state-of-the-art manufacturing technology.
Good deal, yeah? Perhaps, the printer can also be a valid medium connecting the kids and parents, providing them some fun time together.
Having stated so, let's dive into CR-100 Mini's world to find out what all makes this printer so intriguing?
Features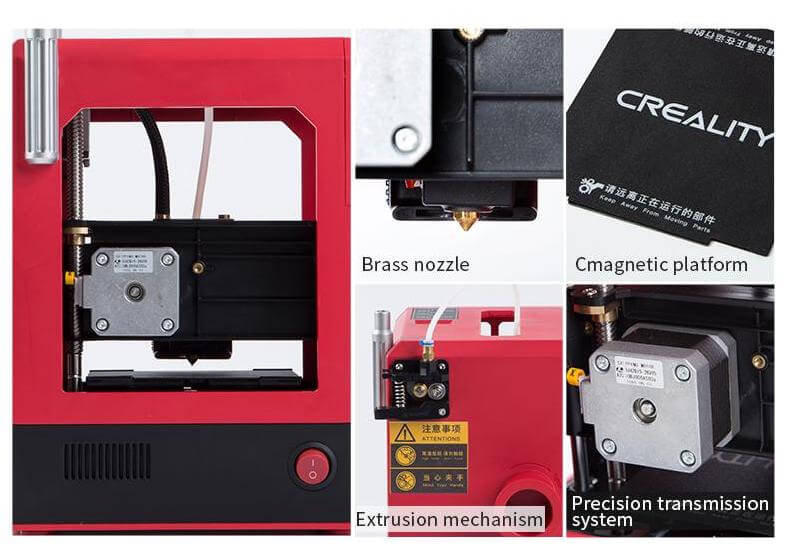 Credit: creality3dofficial.com
Creality's kid-friendly machine hosts amazing features that let users create gifts and more of decent build volume in one go.
One Button Printing
CR-100 mini comes with remote control. So, the user can operate the 3D printer without actually being physically near it. Also, to note, the machine starts in three steps:
Feeding the filament.
Inserting the SD card.
Pressing the knob.
C-100 mini-features on body controls for easy access to various processes. Such as start, home, heating, or cooling. Hence, making it easier for young minds to learn to operate the printer faster.
Intelligent Leveling
To ensure that the nozzle is at the correct height from the print bed without any effort, CR-100 has an automatic bed leveler.
This feature will make the first step of 3D printing a piece of cake for the users. What all one needs to do is press a button to get started with leveling.
So, the first layers of the user's prints will be accurate. Moreover, a decrease in the overall human intervention will lead to an increase in print efficiency.
Additionally, automatic bed leveling will not consume as much time as manual bed leveling. Meaning that the overall print time will decrease.
Safe and Reliable
Environmental concerns are well-taken care of while designing CR-100 mini. So, one can rely on the printer and use it at home.
Equipped with a flame retardant fuselage the printer safeguards the operator from any heat danger. Additionally, the machine hosts high-quality electrical components that are not only safer but also secure.
Delicate Appearance
The designers of CR-100 mini have paid specific attention to make it kid-friendly, and that's visible from its truck-like design.
The two transparent windows at its front are like a truck's headlight. Just below it is a spring design. All of which work in perfect coordination to strike an impression in front of a kid.
CR-100 mini is portable. Its sides let one have a peek inside the printer's mechanism. Overall the machine looks like a giant toy truck.
If the wire that connects its inner mechanism with the back weren't present, one could hardly tell the difference at first glance.
Full of Optimally Designed Parts
The four main components that make up CR-100 mini are:
Brass nozzle
C magnetic platform
Extrusion mechanism
Precision transmission system.
Creality has placed them most optimally. Although they are mini in size, their contribution to the 3D printing process is enormous. The small-sized brass nozzle allows the user to precisely manage the flow rate. A magnetic platform makes the process of removing objects above it easy.
The compact extrusion mechanism of CR-100 enables fast heating of filament spools. It'll ensure the temperature reaches from room to glass transition within minutes.
Lastly, the tiny precision transmission system's duty is to ensure symmetry in the geometry and reality of the part.
Specifications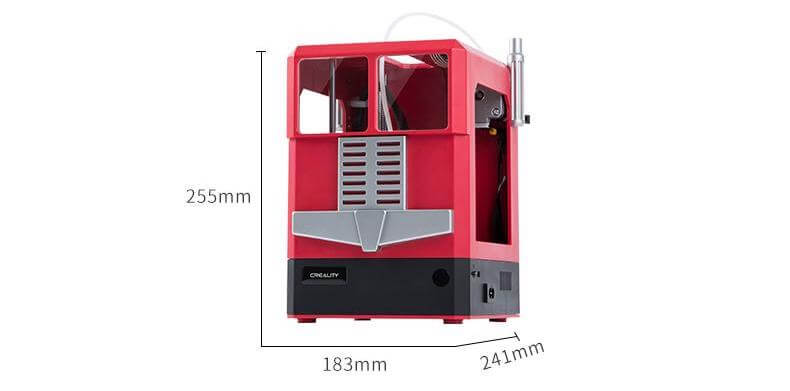 CR-100 Mini offers a build volume of 100 mm * 100 mm * 80 mm. So, printing kid toys like aircraft, storage boxes, castles, garage kits, figurines, vases, and bears need just one shot.
The machine's size 241 mm * 183 mm * 255 mm is also compact, suiting the room corners. The printer weighs 2.8 kilograms, implying that transportation from one place to other won't be much hassle.
The printing method employed by CR-100 Mini is FDM – conversion of solid filament into liquid, and then their solidification will lead to the production of parts.
For conducting the complete 3D printing process, the printer employs a single nozzle, which is generally how other 3D printers of the same price range operate.
Although falling in the affordable range of 3D printers, CR-100 can deliver a 0.1 to 0.4 mm layer thickness range.
CR-100 is compatible with 3D printer filaments of a diameter of 1.75 mm. It has two working modes:
Online
On SD Card i.e. offline.
CR-100 mini is compatible with multiple file formats such as STL, OBJ, and more. It has a standard nozzle diameter of 0.4 mm.
Lastly, CR-100 needs a rated power of 50 Watts and power supply input AC 100 to 240 Volts for operating smoothly.
Price
While writing this article, Creality CR-100 Mini is available for $89.
First Impression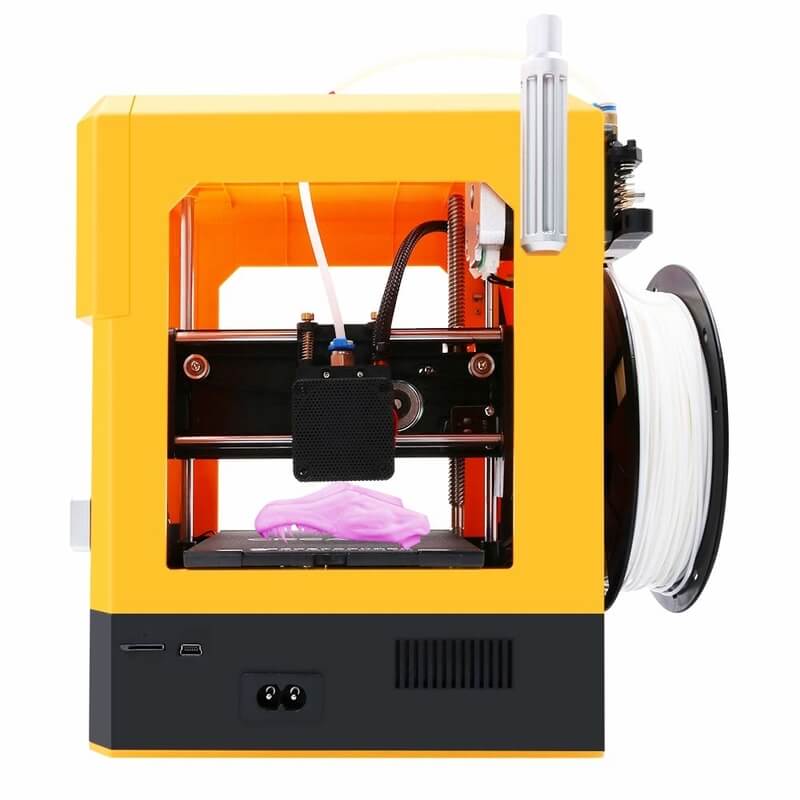 CR-100 Mini is available in Red, Yellow, Orange, and Blue. Its truck-like delicate appearance makes it even more kid-friendly than its functioning.
The two windows visible from the front surely let one get a view of its inner mechanism. But, for anyone who is up for a detailed view of the print chamber, the sides of the machine would satisfy like no other.
The overall look of the CR-100 Mini is compact. It's tiny and portable. There is an on/off switch on the side. Moreover, the body of the machine has an SD card and TF card slots over it.
Print Type/Cost
FDM 3D printing consumes a solid plastic filament and squeezes it through a hot end – another name for the nozzle. In this method, a fusion of multiple layers leads to the production of objects.
Note how the filament material is allowed to melt past glass transition temperature. Until it finally extrudes in a pattern, either next to or on top of previous extrusions.
Eventually, the fused layers will form a part. Widely accepted as the simplest way of 3D printing, FMD is fairly cheap and efficient. FDM 3D printers dominate the 3D printing market to date.
The cost of 3D printing per part with CR-100 Mini is cheaper compared to other 3D printers. And the reason for this eccentricity is FDM 3D printing technology.
It does not utilize a specialized source for curing layers like laser or UV LED, etc. However, the overall cost of 3D printing a part on any 3D printer depends on various parameters like the geometry of that object, the material used for 3D printing, cost of that material, support structures, amount of infill, etc.
Print Quality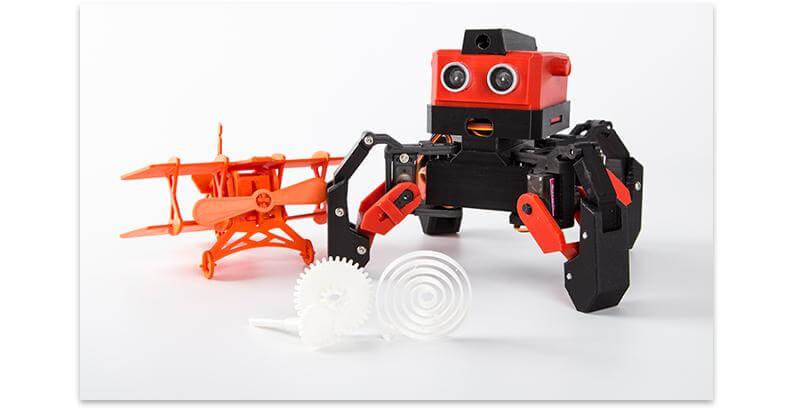 Credit: creality3dofficial.com
0.1 to 0.4 mm is a layer thickness that's hardly visible with naked eyes. So, CR-100 Mini offers decent print quality.
Clicks of printed Models like aircraft, storage box, castle, garage kit, vase, and bear are present on Creality's website. All of which are praiseworthy. Although CR-100 Mini is an FDM 3D printer of low cost, it maintains a certain standard of print quality.
Not every FDM 3D printer that you'd encounter in the same price range will have this aspect. So, all thanks to the features such as automatic bed leveling, brass nozzle, extrusion mechanism, C magnetic platform, and precision transmission system. Each of them contributes in some or manner to its print quality.
With CR-100 Mini one can customize gifts for friends, family, customers, and teachers. Kids can fulfill their dream of creating a toy factory with various models and variants to play with.
Software
The chief factor contributing to any 3D printed part's quality is its file. The software assists user in the creation of the foundation file of any object.
Whether it's a massive part that finds its application in industry or a toy, every part's 3D model must be made and sliced. Only then can it be fed to a printer for 3D printing.
Three recommended software by Creality for the creation of parts with CR-100 Mini are:
Repetier Host
Simplify 3D
Note that all three are open-source software. Meaning that not only are they compatible with CR-100 Mini but also with other 3D printers.
These softwares are easy to understand and intuitive. Even beginners can get a hold of them in no time, while experts can play in-depth with their advanced functions.
Customer Support
Creality offers online support via Forum, Firmware Download, warranty and returns as well as certifications. Apart from this, one can always reach out to the printer manufacturer via email.
The technical team of Creality is very cooperative. So, answers to all your doubts about CR-100 Mini will be satisfactory.
But before reaching out directly to the manufacturer, we recommend going through the Firmware download section in case of downloads. Also, check out the warranty and returns, and certifications. By getting clarity about doubt, one would no longer need to write to them and wait for their reply.
ParametersInfluencing Buying Decision
We've tried summarizing the complete article into six different aspects concerning CR-100 Mini.
3D Printer Cost: There are few kid-friendly 3D printers available for under $200. Among them, CR-100 Mini manages to stand out. Not only with its looks but also with its functionality. Hence the cost is seemingly affordable.
3D Print Speed: FDM 3D printers have more speed than 3D printers based on other 3D printing technologies, and CR-100 Mini is no different. It has above the average print speed that'll make prints possible in hours.
3D Print Quality: Although FDM 3D printers are not much known for their quality compared to other 3D printers, CR-100 Mini delivers reasonable print quality seeing the cost at which it's available.
3D Printer Capability: CR-100 Mini is capable of automatically leveling its print bed. Starting the printing process also requires just three steps. Added to it is the printer's capability of producing toys and educating kids. Impressive, isn't it?
3D Printer Practicality: The printer stays quiet even while subjected to 3D printing a part or functional prototype. It starts in no time and continues without making much noise. So, it's a tool for which "functionality speaks louder than its mechanism's noise" stands true, yeah?
3D Printer User Expectations: Definitely, via the marketing put in place by Creality, CR-100 Mini primarily seems to appeal to caring parents searching for a tool that they can teach their kids. Apart from that, the printer is also for beginners with similar expectations to learn.
The Verdict
Creality CR-100 Mini is safe and reliable. By buying it, users would not subject their kids to any unknown dangers. In fact, the printer does an excellent job of making the advanced technology a little more accessible to kids. And this is not one of those typical 3D printers wherein educationists do all the work, and kids have to nod.
By its design, functionality, features, ease of use, color variants, and tiny components, CR-100 Mini manages to hold an interaction with the kids straightway.
After teaching a kid its basics, there would be no more need for a mediator. Unless something unfortunate happens and the printer manufacturer is to be contacted. And there are not many drawbacks apart from the small build volume and a complicated print chamber.
With so many plusses, we guess these two minuses can be dealt with, yeah? What do you say?