3D Printing Technology is no longer considered a complicated hobby that only adults can tune to. Anyone can get started with it as 3D printing is a very relevant technology.
Currently, it has its presence in almost every industry, from automobiles to smartphones, from jewelry to handicap aids, 3D printing is being used daily.
This gives provides you with enough reason to introduce your children to the technology today itself. Thankfully, there are various 3D printers for kids which offer safety as well as a lenient learning curve.
There are many reasons why you should encourage your children to take up this hobby. To start with, 3D Printing technology encourages creativity!
You can get a finished product in your hands within hours by using this technology. So essentially what 3D printing does is accelerate the traditional design cycle of Inventing, then Planning, thereby creating, and then finally optimizing and seeing the scopes of improvement.
To a child who is ready to dip his feet into the world of Engineering, this is an enormous benefit. It will provide him the needed hands-on expertise and put an end to his question: how all products are designed and fabricated?
And this is what almost every engineer's life is for i.e., seeing the design that has been in their mind being turned into a real physical thing that they can hold in their hands within hours.
It is also the best way to show your children how fun engineering could be when put into practice. But which 3D printer to buy for your kids? Well, we have got you covered with that.
Comparison Chart
| Name | Link | Rating |
| --- | --- | --- |
| Creality Ender 3 | | 7.7 |
| Flashforge Finder | | 7.8 |
| Monoprice Voxel | | 8.1 |
| Dremel Digilab 3D20 | | 8.6 |
| Monoprice Select Mini V2 | | 7.9 |
| Qidi Tech X-Plus | | 8.7 |
| Sindoh 3DWOX DP200 | | 8.5 |
| Toybox | | 8 |
| Ultimaker S3 | | 8.6 |
Best 3D Printers for Kids
Below mentioned are a few of our handpicked 3D printers for kids which are affordable, safe, easy to use, and experiment by kids.
Creality Ender 3
There's no doubt that the Creality Ender 3 is an amazing printer and has raised many eyebrows in the 3D printing community for a good reason.
Although having a budget price tag, it boasts a slew of quality specs that you won't even find in higher-priced models.
The Ender 3 comes with a variety of features that allow for hassle-free use by kids and at the same time, it proves to be advanced for entry-level 3D printers.
It's in general ease of operation is something that makes the 3D printer a perfect gift to introduce your school-going child into the world of 3D printing. Doing so will spark a lifelong love for engineering and an understanding of robotics.
When delivered to your place, the Creality Ender 3 is partially assembled and will require a fair amount of work to get it up and running. So, basically, it's not one of those plug and plays.
Instead, it actually takes longer for putting it together compared to its sibling the Creality CR-10, which is also claimed to be pre-assembled.
The instructions of how to assemble the printer? Is provided on a tiny pamphlet that's delivered inside the package, which makes the complete task easier for you.
All the tools that you need to operate this printer have been provided in it thereby making the printer a great project for school kids.
The printer runs on a Cura 3.0.2 slicing application and can be updated with the latest version as soon as it's available online for free.
This software can be interacted with the printer via USB or be used to output G-code to a microSD card in cases when you want to print without a computer.
However, in scenarios wherein you're looking for the ultimate configuration, the Raspberry Pi model 3+ with OctoPrint allows you to connect the 3D printer via a USB port in place of a PC.
And the best part about this is that it can run the printer and also be accessed over Wi-Fi. In fact, you can even go ahead and hook a USB camera for a closer look at the ongoing 3D printing process.
Flashforge Finder
This is the 3D printer which seems almost as if it was designed for everyday home users. Not only its chunky red plastic frame gives it a satisfyingly sturdy feel, but also the motors and drive train of Finder are largely hidden away which makes it appear as if futuristic.
When kept on a desk, the 3D printer does not look out of place on your desk beside the everyday tech of now. The front face of the machine is gorgeous and contains a clear color touch screen. Overall the complete Flashforge Finder looks completely unintimidating, perfect 3D printer for kids.
Finder is also a hassle-free 3D Printer in which you can use the default settings, and complete your initial build in under an hour. It produces an extremely low amount of noise and heats up fast.
The printer has one of the simplest yet most useful features i.e. the removable build plate! Using which you can remove your printed parts and functional prototypes without damaging them.
Monoprice Voxel
The Monoprice Voxel comes has a simple design that features an enclosed black plastic frame. Not only is this entry-level printer easy to set up but also it can print with most of the available print materials, as it has a heated bed.
The Monoprice Voxel could be a great choice to have at home for your curious kid who's trying to get the hang of 3D printing technology.
It's a plug-n-play device that involves a pretty straightforward setup process: once you've unboxed it, remove the packaging material, tape, and zip ties from the printer's interior.
For slicing the Voxel uses the Polar Cloud, which is free online software that enables you to control and follow up on the printer remotely using any type of web-connected device.
The software is compatible with Voxel's in-built camera, allowing you to monitor every aspect of the progress of your prints on your tablet or smartphone.
Once you have registered on the software, you'll be able to upload 3D files, as well as create them in a basic editor.
The 3D printable models can then be sent to your device for printing directly from the web. Unlike other printers, you would require no PC.
Dremel Digilab 3D20
The Dremel 3D20 is easy to set up and use for kids with a tad bit of help from their parents. The printer comes fully assembled and with a 500 grams filament to start you off with.
If you compare it with other closed enclosure 3D printers for kids under $1,000, it has a very large build volume.
So, if you want to print big projects such as huge action figures or other 3D printed toys, this printer could be the perfect printer for you.
It's reliable as you would expect any Dremel printer should be, and if you do run into problems, the company's USA-based customer service will help you get your printer working again.
Another key aspect that makes the Dremel 3D20 one of the best 3D printers for kids is its safety. The printer only prints PLA filament, and therefore it makers haven't featured on it a heated bed.
This also means that there's no risk there for your child to burn themselves. Moreover, the 3D printing software compatible with Dremel 3D20 is also very simple to use.
They offer their version of Cura – and if anything does go wrong, you have a 1-year warranty.
Monoprice Select Mini V2
If there is a one-word description that can be given to this printer it's "sturdy!" Mainly, the Monoprice Select Mini has a sheet steel structure, the printer is basic, but in a satisfyingly industrial manner with no effort made to conceal the bolt heads.
However, the printer's significant moving parts are nicely covered for preventing damage or injury. It seems like the printer belongs in a laboratory with a white-coated tech operating it.
If you are a science-loving teenager, you will definitely fall in love with this! The printer has a full-color screen which is extremely impressive and probably the clearest that you will ever see on any sub $1000 printer.
Although not a touch screen, it does have a nice tactile clicky wheel near it all mounted onto a fancy brushed steel plate.
The Manual that comes with the printer for its setup states that the printer comes pre-calibrated but user reports suggest you need to do some tweaking to the constructed table to get it leveled.
Not to state that doing so is a tough process, it's a little tedious and is something that will have to be carried out by a cautious older adult.
Feeding the filament is an easy task. Monoprice recommends using Cura, Repetier, Replicator-G, or Simplify3D applications, all of which are known to have astonishing compatibility with the printer.
They are highly regarded, and a person used to computers will have no problem navigating their way around a number of these with some practice.
Qidi Tech X-Plus
What makes this printer an ideal 3D printer for kids is the way the printer manufacturer has designed it to be safe, reliable, by filtering out any fumes and also kept it in the affordable range. The printer checks all the above-mentioned points.
It has a closed enclosure for 3D printing parts or functional prototypes which not only keeps your child safe from the hot extruder and print head but also keeps the printing temperature consistent thereby giving the finished prints a smoother surface area and less warping.
The printer's standard extruder is completely suitable for perfect PLA and ABS printing. It can also be replaced with other extruders in case you want to print at higher temperatures for filaments like Nylon or PC.
For those who want a 3D printer for kids that is also precise, this is perfect you get to play not only with the popular filaments but also others.
The solid frame of Qidi Tech Plus weighs the printer down so that its vibrations don't affect your model's surface finish, thereby improving an already accurate 3D printer.
Additionally, the large 4.3-inch touchscreen is also great for kids and easy to use. In case you do have any problems, Qidi's customer service pledge to respond within 24 hours. Above that, the printer comes with a 1-year warranty.
Sindoh 3DWOX DP200
Unlike most 3D printers' look, you will see the DP200 differentiates from them by appearing more like a home appliance than a piece of laboratory equipment.
The Large translucent front opening of the printer makes it seem something like a toaster, so your kids are bound to feel familiar if not anything else! All the mechanics, as well as the filament spool holder, are included inside the printer.
The Plastic panels that hide 3DWOX DP200's inner systems feel quite solid and give you a great sense of it as a well-tested item.
Because the filament is contained inside this printer body, it is somewhat bigger than a few of its rivals.
But, overall its uniform block shape makes it a lot easier for you to keep on a desk besides more open designs that need space for one to get filaments as well as removable covers.
The DP200 comes fully assembled, so the initial steps when it is delivered to you are: a) plugging it in, b) including the filament and c) calibrating the mattress.
Like in the case of FlashForge Finder, the color display in this 3D printer as well guides you through the calibration procedure, thereby making it a super simple job.
Also, the printer includes Sindoh's own 3DWOX Desktop slicing software which has two modes, simple and innovative.
They will give you as much control over your document preparation as you desire. The former mode is well-designed and will provide you with dependable, quality prints in many circumstances.
Toybox
As the name indicates, the printer is primarily manufactured for kids and is super simple to use as well as navigate. Also, Toybox is completely safe to use and creates hours and hours of educational fun.
The best part is when you buy a Toybox 3D printer for your kids, as a value-added service you get access to their extensive toy library.
With that, you can easily print some fun Easter egg-related goodies, mini F1 cars, or tanks; you can do so for free, all at the press of a button. These are ready-made 3D printable files that you can directly print.
In case you or your kids are superhero fans, Toybox lets you print Batman action figures! The basic price of Toybox 3D starts at $299. Overall, the Toybox is tested and proven to offer great value for teaching your kids about design, color theory, and the basic principles of engineering.
All this; your kids learn while printing their entire toy collection from their 3D printer! You can print using PLA filament which is cheap to stock up on. Moreover, you can even design your own models via your iOS and Android apps.
Ultimaker S3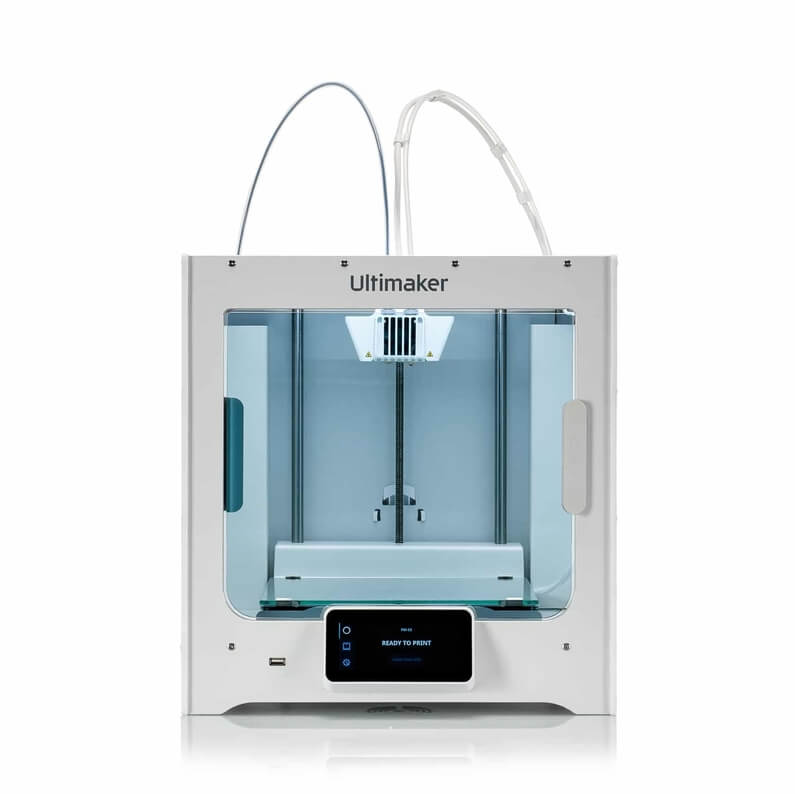 Although being more expensive than the other 3D printers for kids we recommended in the list, the Ultimaker S3 is a premium machine capable of extraordinary things for those with a bigger wallet.
To start with, unlike the other printers on this list, the Ultimaker S3 offers a dual extruder system. This can be extremely handy for teaching kids about how to print two materials at once or printing two different colors simultaneously.
Moving on, it's incredibly accurate it can give you layer height of up to 20-microns accuracy that is barely ever seen among FDM 3D printers.
Continuing, the 4.7-inch touchscreen is not only large but also easy to navigate for 3D printing.
The Ultimaker allows you to use 2.85mm filament and has an open filament system so you can use other filaments that aren't made by Ultimaker with this 3D printer.
Overall, S3 is a simple, sleekly designed, and extremely accurate 3D printer for kids who want to test the limits of their abilities.
The Conclusion
3D Printing is a really rewarding hobby not only for adults but also for children! A good 3D printer for adults is easy to find, but a good one for kids is very hard to search for. Kids need a 3D printer that has to be super safe, and as easy to use as possible.
Because they are normally more curious to the extent of being sometimes dangerously so. Therefore it's extremely important to keep any hot, sharp, or otherwise harmful parts away from them.
As you might have noticed, all our recommendations are either Plug'n'Play or semi-assembled FDM 3D printers that you can get straight to printing within 15 minutes of opening the box.
We haven't recommended any SLA 3D printers for kids because they're more complex, and the resin materials and fumes can be irritant.
We also don't recommend any 3D printer kits for kids because assembling them can be technical, and any 3D printer for kids shouldn't be that confusing, instead, it should be as simple as possible to set up and use.
Normally a 3D printer for kids should have a closed enclosure that can filter out fumes and keep kids away from hot parts. It should be simple to use and quick to set up. It should be compatible with a slicer that should be easy to use.
It's good if it can auto-calibrate and has features such as preventing errors like the end of filament detectors, filament clogging detectors. It should be a lightweight and smaller size.
Even if it does not have all these, 3D printers for kids must have a closed enclosure, especially if the printer has a heated bed. Because heated beds are something that makes it possible to print even with tougher filaments like ABS and PC.